Record LGBT Hate Violence in 2017
Coalition Denounces Hostile Climate in Latest "Crisis of Hate" Report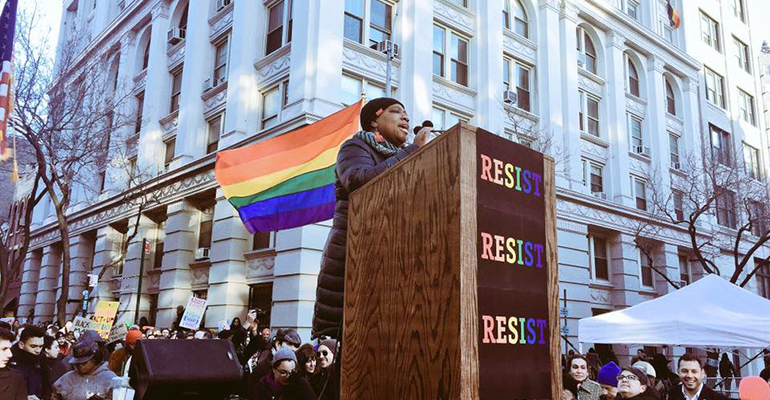 Never in its 22-year history has it been this dire, this dangerous, to be LGBT, says the National Coalition of Anti-Violence Programs in its latest report. On Monday, Jan. 22, the group released its annual national research report, detailing 52 cases in 2017 in which members of the lesbian, gay, bisexual, transgender, queer and HIV-affected communities were targeted and killed for who they were.
The record number of LGBT hate violence homicides—the equivalent of one homicide of an LGBT individual for every week of last year—represents an 86 percent increase from 2016, according to the report. "A Crisis of Hate: Report on LGBTQ Hate Violence Homicides in 2017" squarely places the blame for the spike on what Anti-Violence Project executive director Beverly Tillery called "the escalation of violence" across America.
"This report is a wake-up call for all of us," said Tillery in a statement. "Our communities live in an increasingly hostile and dangerous climate, after a year of anti-LGBTQ rhetoric and policies coming from the White House, Federal government agencies, state and local sources and in our communities across the country."
The NCAVP is a program of the New York City Anti-Violence Project, a national coalition of local programs and affiliate organizations dedicated to creating systemic and social change.
Among the findings:
Transgender women and queer, bi, or gay cisgender men made up the overwhelming number of victims.
Researchers noted a significant increase of reports of homicides of queer, bi, or gay cisgender men, from 4 reports in 2016, to 20 in 2017.
Since 2012, NCAVP records show what the report called "a consistent and steadily rising number of reports of homicides of transgender women of color."
NCAVP collected information on 27 hate-violence related homicides of transgender and gender non-conforming people in 2017, compared to 19 reports for 2016; 22 were of transgender women of color,
Of the total number of homicides in 2017, 71 percent of the victims were people of color:
31 (60 percent) of the victims were Black
4 (8 percent) were Latinx
2 (4 percent) were Asian
1 (2 percent) was Native American
Nearly 60 percent of the total number of homicides in 2017 involved guns, including three people who were shot and killed by police.
Who were the victims who lost their lives because of hate in 2017? The report shows 67 percent of the victims were age 35 and under, and an equal number (32 percent) either knew their attacker or were killed by a stranger or someone who sought them out for sexual companionship.
Violence for these victims comes in many forms, and is often intersectional. Recently, one woman thanked the endangered Deferred Action for Childhood Arrivals (DACA) policy, which so far has protected her from deportation, in giving her the strength to come out as a victim of sexual violence. She did so in a video tweet posted by the Human Rights Campaign on Jan. 19.
"'It wasn't until I had DACA that I felt human enough to walk into a police station and report my abuser.' – Yuridia, a queer sexual violence survivor, credits DACA for bringing her out of the shadows," the HRC tweet says. "The stakes are too high. Congress must pass the #DreamActNow."
More than half of the 52 anti-LGBT homicides were committed in five states, with the majority in Texas (7) followed closely by New York State (6), Georgia (5) as well as Louisiana and Florida, with four each. Two victims were from California: Fresno and San Francisco, and both were cisgender men.
Imer Alvarado was shot multiple times in Fresno last May. He was 34 and active in the drag community.
Anthony "Bubbles" Torres was murdered in San Francisco's Tenderloin district in September. The 44-year-old was known as an activist and gender nonconforming performer.
Of the 22 transgender women of color named in the report, Mesha Caldwell was a 41-year-old beautician whose body was found along a dirt road in Canton, Miss. in January; the body of Ciara McElveen was discovered in February after being stabbed to death in New Orleans. She was 25. Both women were misgendered in the news media following their deaths.
Savyon Zabar was a 54-year-old cisgender gay man who was well-known on the club scene and considered a leader in New York City's gay Latinix community. He was found strangled to death inside his Manhattan apartment a little more than a year ago; a man identified as a massage therapist was arrested and charged with his murder.
And there are 47 more stories just like theirs.
Since the report documents violence in 2017, it does not include the two trans murders so far in 2018, one of whom, young Viccky Gutierrez from Honduras, was found murdered in her Los Angeles apartment on Jan. 10. As suspect has been arrested in her case.
The NCAVP report profiles each victim of hate violence homicide, featuring photographs and the stories of these 52 individuals lost to fatal, anti-LGBT crimes.
"NCAVP will continue to say their names and re-commits to doing all we can to prevent hate violence and support survivors," Tillery added. "We must bring more attention and action to deal with this epidemic of violence and work across all of our diverse communities to protect those most vulnerable and stand up to the hostile forces that have created this unacceptable climate of hate."
"The time for addressing this crisis of violence," said Tillery, "is now."
Read the full report at https://avp.org/Crisisofhate
Black & LGBTQ+ inclusive wall mural cited for multiple code violations
The idea was to make a mural that addressed pending legislation in Tallahassee that would affect the rights of minorities & the LGBTQ+ people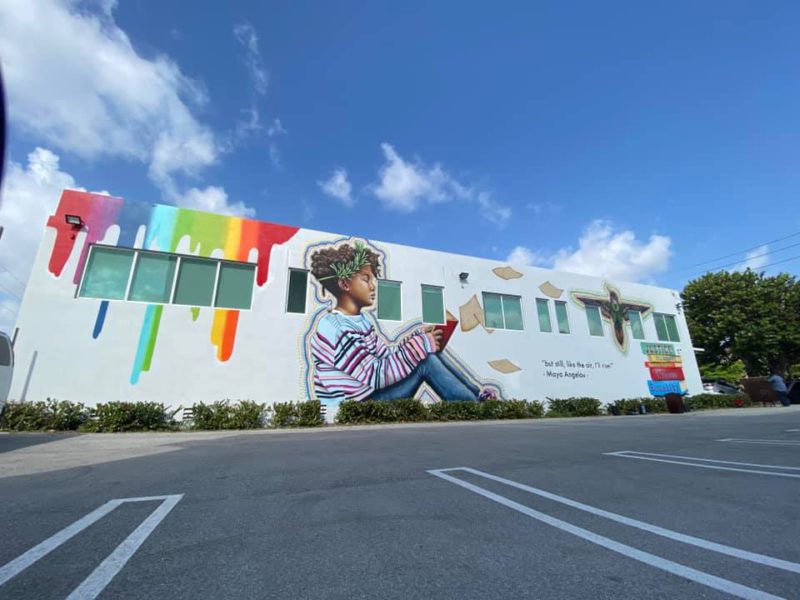 MIAMI SPRINGS, Fl. – A colourful wall mural in Dade County has attracted the ire of municipal authorities who say the mural, which includes a child of color reading a book, a verse from a Maya Angelo poem, and an LGBTQ Pride rainbow symbol, violates building codes.
The United Teachers of Dade union has been cited by Miami Springs for code violations after it unveiled the mural on its office building the Miami Herald reported this past week.
"If you do not see the word mural on an ordinance this does not mean it's allowed, means you should make an inquiry with the Building & Zoning department first and present your mural," Miami Springs Councilwoman Jacky Bravo said in an email to the Herald. "We are not talking about a small stamp on the wall. Seems like they took a blind eye on this one, and unfortunately has caused an issue to be dealt with."
The Herald reported that was it unveiled last March, and was titled 'Rise' to send a message to lawmakers in Florida's capitol in Tallahassee as a series of laws were being introduced that negatively impacted the minority and LGBTQ+ communities in the state.
Today, we unveiled "RISE", an art mural that depicts the importance of #publiceducation and its crucial role to ensure a functioning #Democracy; it symbolizes the resilience of our community and their continuous fight for #justice and #equality. Stop by UTD and check it out ! pic.twitter.com/hfS94WoYhl

— United Teachers of Dade (@UTD_AFT1974) March 19, 2021
Luis Valle, a Miami-based artist who was commissioned by the United Teachers of Dade union to paint the mural told the paper, "The idea was to make a mural that addressed pending legislation in Tallahassee, at the time, that would affect public schools, as well as the rights of minorities and those in the LGBTQ+ community. It is about inclusivity for all people and all cultures."
Although the UTD Union had submitted and paid for a permit, the Miami Springs City Code Compliance Department, which requires permits be obtained before work commences, had already issued a "notice of violation" on March 25 to the union site's property owner, UTD Building Corp., for violations that included:
–improper size of wall sign
–improper placement and/or width of wall sign
–improper construction of sign
–failure to comply with applicable color palette
"Failure to correct the violations by the time due shall cause this case to be set for hearing before the code compliance board and may result in fines, costs and/or a lien levied against you and the property," the notice said. "Fines imposed shall not exceed $250 per day for a first-time violation."
The city gave UTD until April 24 to correct the violations, according to the notice. Potential fines, as of Oct. 13, could run as high as $43,000 the Herald noted.
Currently discussions are ongoing. "UTD reviewed all the codes before contracting our mural artist in order to perform our due diligence," United Teachers of Dade President Karla Hernandez-Mats said in an emailed statement to the Herald on Oct. 11. "Additionally, we spoke to a former council member to double check our findings and that individual also concluded that the Miami Springs City Codes did not address this topic."
"The art piece is not a sign for the building or our organization; it has no logo or company name on it because it is an artistic expression in the form of a mural with no other intent," Hernandez-Mats' added.
Attempts by the Miami Herald to reach Miami Springs Mayor Maria Mitchell, and City Council members had been unsuccessful by this past Thursday afternoon, however the next Miami Springs City Council meeting is at 7 p.m. on Monday, Oct. 25.
Vermont high school homecoming halftime show turns into a 'drag show'
"The crowd was decked out in LGBTQ+ affirming clothing- the stands were completely packed. It was just so heartwarming to see"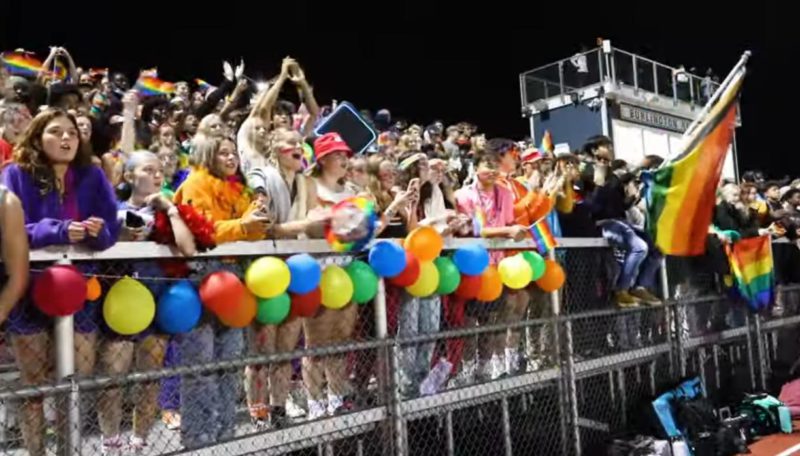 BURLINGTON, Vt. – A quintessential annual Fall time-honored tradition held across America's on high school football fields are homecoming games. This year a mix of students and faculty members Burlington High School, along with some participants from South Burlington High School, added a touch of 'drag' to the halftime show.
"Things went amazing," Ezra Totten, student leader of the Gender Sexuality Alliance at Burlington High School, told the Associated Press, speaking about Friday night's event. "The stands were completely packed. It was just so heartwarming to see."
The school's principal, its Athletic Director, and other staff were fully supportive with Andrew LeValley, an English teacher and GSA adviser, the faculty member who created the idea along with a boost from Burlington High Athletic Director Quaron Pinckney suggested that the show be held at the homecoming game's halftime.
Pinckney, who is Black, told the AP that the school gave him the space to "uplift my voice" and that he was able to reciprocate and "uplift the voices of another marginalized group and share a space in the athletics realm that doesn't normally get shared."
The crowd was decked out in LGBTQ+ affirming clothing, costumes and waving Pride flags raucously cheering as the 'drag ball's' performers paraded and danced to show support for LGBTQ+ students and the larger LGBTQ+ community. They commenced the halftime show with a runway-style event while they lip-synced to singer Todrick Hall's "Rainbow Reign."
Burlington High School's halftime drag show
LGBTQ+ Non-profit will build 8 homes for LGBTQ youth in Western states
Encircle is a non-profit organization with the mission to bring the family and community together to enable LGBTQ+ youth to thrive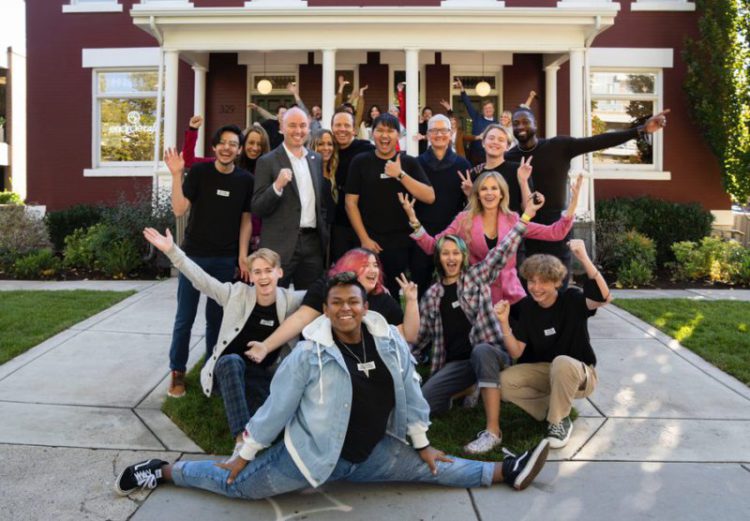 SALT LAKE CITY – A Utah-based non-profit announced Wednesday that the organization has raised more than $8 million dollars to build eight new homes in four Western states to provide services for LGBTQ youth.
Encircle, which provides mental health services for LGBTQ youth, will build the new homes with locations in Arizona, Idaho, Nevada and Utah. The new homes are dedicated for providing safe spaces, resources and preventing teen suicide. The organization currently has locations in Salt Lake City, Provo and St. George, Utah, and recently construction has begun on locations in Heber, Logan and Ogden, as well as in Las Vegas, Nevada.
The fundraising efforts had kicked off this past February with donations from NBA Basketball's Utah Jazz team owners Ryan and Ashley Smith and Apple CEO Tim Cook, the first openly gay CEO of a Fortune 500 firm. The lead singer of Imagine Dragons Dan Reynolds and his wife, recording artist Aja Volkman, and retired NBA superstar and Jazz part-owner Dwayne Wade, whose 14-year-old daughter Zaya is Trans, all partnered together to give a total of $4 million.
In a press conference Wednesday, "Encircle's mission is very personal to me because I see myself in so many of these young people," Apple CEO Cook told reporters. "It's not easy when you're made to feel different or less than because of who you are or who you love. It's a feeling that so many LGBTQ people know far too well."
Proud to support @encircle2gether's life-saving work providing resources to LGBTQ+ youth in Utah & surrounding states. Great to be with @GovCox, @AbbyPalmerCox, @RyanQualtrics, Ashley Smith, @DwyaneWade, and @stephylarsen as we celebrate the opening of Encircle's first cafe. pic.twitter.com/E6nN23Uc4m

— Tim Cook (@tim_cook) October 13, 2021
Encircle executives and the group of celebrities were joined by Utah Republican Governor Spencer Cox who praised Encircle's efforts.
"What Encircle has done is provided that piece of acceptance, even if — especially if — there is no acceptance anywhere else," the governor said. "There is a place where they can go where they can feel loved."
Wade, reflecting on being the parent of a Trans child, "I stand here as a proud parent of a beautiful daughter that's a part of the LGBT-plus community," he said. "I don't have all the answers. I don't know everything, but I'm willing to listen."
Today is what it's all about. Thank you @encircle2gether for your commitment to the LGBTQ+ community! https://t.co/jisSsqbYfc

— DWade (@DwyaneWade) October 13, 2021
Encircle is a non-profit organization with the mission to bring the family and community together to enable LGBTQ+ youth to thrive.
On its website the non-profit lists its current support services including its new café which is open "Monday through Friday between 3-8 PM folks ages 12-25 are welcome to just drop-in, hang out and enjoy our safe space. Friendship Circles, its weekly groups [which] allow you to tell your story and connect with peers in a safer space facilitated by our community, and LGBTQ affirming therapy."