Playwright's brilliance shines through rough "Bloodbound"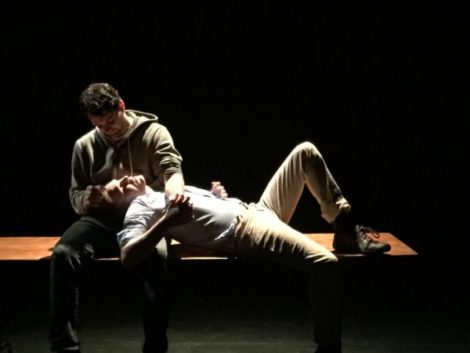 "Bloodbound," now onstage at the Highways Performance Space in Santa Monica, is the world premiere of a new Michael Kearns play, and as such it should be an exciting prospect for anyone who has followed the career of this Los Angeles legend.
Kearns has made his reputation – as an actor, an activist, and a behind-the-scenes force in theatre – by pushing boundaries, both public and private.  That has meant nudity (there's none here, for the record) and sexual content, of course, but it's always been his desire to delve into uncomfortable subject matter that has raised his work above the level of mere titillation; he has made the effort to address the kind of issues that scare most people off – most ferociously the subject of AIDS at a time when it was only discussed in whispers, if at all, within mainstream culture – in the hope of breaking down barriers, taboos, and stigma. He has always delighted in going where no one else has yet dared, or at least going one step further, and as a result his material has always been edgy and provocative.
In 2018, however, audiences are a bit harder to shock.  Even in the dangerously regressive social atmosphere that has manifested itself since the election of our current president emboldened the voices of prurience and bigotry, there are very few taboo discussions left to have.
Though that may not be the reason, Kearns has chosen to turn his spotlight inward with "Bloodbound," and it works to his advantage.
Delving deep into his own life – both past and present – Kearns has constructed a free-form narrative in which he pokes and prods the demons that lurk within his memory and have, presumably, been poking and prodding at him all along.  The play is a thinly-veiled autobiographical piece in which an actor-turned-playwright (getting older, openly gay, veteran of everything from soap operas to guest-shots on "The Fall Guy" to porn) has decided to lay bare the deepest secret of his past.  Before doing so, however, he must first secure permission from the man who shares that secret – his straight big brother, currently serving a long term in prison for the violent barroom murder of a former childhood friend.  The brother, of course, has secrets of his own; through re-enactments of past scenes from their lives, both together and apart, the two men slowly unravel the complex web of influence that has been woven around them by a shared transgression from many decades before.
Before getting to the big reveal, Kearns divulges a host of other secrets, too.  "Bloodbound" is more of a confession than an autobiography, a litany of sins acknowledged and released (if not quite repented) by an author deconstructing his own life for public observation.  It's this quality of candid self-exposure that brings power to the play, far more than the nature of its content.  Illicit drugs, rampant sexual misconduct, externalized and internalized homophobia, unthinkable acts of violence – we've heard it all so many times that we scarcely raise an eyebrow upon hearing it again; but Kearns explores these things within a narrative that is essentially a heartfelt unbosoming, so that we hear them in a different way.  He makes us into confidants, not spectators, and makes the experience into something that feels almost sacred instead of merely sensationalistic.
Structurally, Kearns' piece is almost post-modern in its approach, a collage evoking theatrical styles that range from the gothic introspection of Tennessee Williams to the absurdist surrealism of Samuel Beckett to the bleak neo-naturalism of Sam Shepard.  Framed by a conceit in which the playwright character (his name is Vincent) conjures scenes from past and present, it follows no linear storyline, but rather moves back and forth through time in a pattern that ultimately leads to the climactic revelation which ties the brothers' individual life stories inexorably together.  Shot through with melancholy, but peppered with dark, self-referential humor, it aims to entertain even as it makes us uneasy before releasing us – along with its characters – with its final act of confession.
It's also a play that revels in language.  Kearns is a true wordsmith, and – although he excels in creating conversational dialog – his plays truly come to life when he allows them to sail away on flights of linguistic adventure.
All this seems like the basis for a thrilling evening of theatre; and it should be, in fact deserves to be.
Unfortunately, in its debut incarnation at Highways, one can only catch glimmers of its magic.  The performance feels like a workshop production – more than a staged reading, perhaps, but nowhere near a fully-realized presentation.  There is no set, to speak of, only a few pieces of furniture and a black curtain which occasionally opens or closes; the lighting is similarly utilitarian, mostly the room's own fluorescents and a couple of strategically-placed professional instruments.
Of course, bare-bones production values are hardly a barrier to a great performance; magnificent theatre can be made in an empty room by the light of a single candle, provided the director and cast have done their work.
Here, however, the actors seem under-rehearsed; it's as if they are still in the process of discovering their characters and wrapping their minds (and their tongues) around Kearns' florid language.  They have not yet managed to make these words their own, and as a result they have a hard time taking us along through the highs and lows of the play.  Indeed, this sometimes creates difficulty in following the through-line of the story, and as a result there are some important moments which end up being more confusing than revelatory.
This is not to say there isn't some fine work on display.
Gordon Thomson (best known from his days as Adam Carrington on "Dynasty"), who plays Vincent's brother Anthony, has an ease of bearing and a commanding voice that are a perfect match for this kind of material.  Mike Bash and Hunter Lee Hughes, who play the younger versions of the brothers, have a tender chemistry that makes the close relationship between these two men tangible and believable.
Greg Ainsworth is less successful as Vincent.  As the show's narrator and central figure, the character serves not only as a stand-in for the play's author, but as a master of ceremonies, and Ainsworth fails to achieve the larger-than-life quality necessary to give "Bloodbound" the shape that its free-form structure requires.   Much of this seems due to a struggle with the words (perhaps a function of opening weekend jitters), but it also has to do with a performance style geared more for on-camera subtlety than theatrical flourish.  That underplaying serves him well, however, when he steps into the show's more intimate scenes, allowing him to convey Vincent's inner journey with a quiet, humble grace.
Despite their obvious talent, though, the show's quartet of actors seem to be in over their heads.  It is, of course, the director's job to help the cast chart its way; to guide the pace, orchestrate the rises and falls of the action, and to isolate and emphasize the key moments so that they are delivered with the full weight they deserve.  Mark Bringelson, a longtime collaborator with Kearns and a professional with an impressive resume both behind and ahead of him, has surely attempted to accomplish some of these all-important tasks, but the results fall short – suggesting that scheduling obstacles may have contributed to the not-quite-finished flavor of the proceedings.
Whatever the reason, the result is that this should-have-been-electric premiere performance is, instead, far from perfect; even so, as a new contribution from an important LGBT luminary, it is worthy of attention.
What comes through at Highways, despite the rudimentary staging and the unpolished performances, is the unmistakable voice of a playwright who has something important to say.  Kearns has never been one to keep things hidden – after all, he was the first actor to admit on television that he had contracted HIV – and, in many ways, this new work feels like the culmination of a lifetime of divulgence.  The difference here, perhaps, is that instead of opening himself up for the sake of social activism, he seems to be doing it out of a need to make sense of his own life.
As a result, "Bloodbound" feels like his most honest play to date, a work that is all the more intimate for being so public.
Julia Scotti, the movie, is just Funny That Way
Life is funny that way—not working out quite the way we thought it would. And that is ultimately the point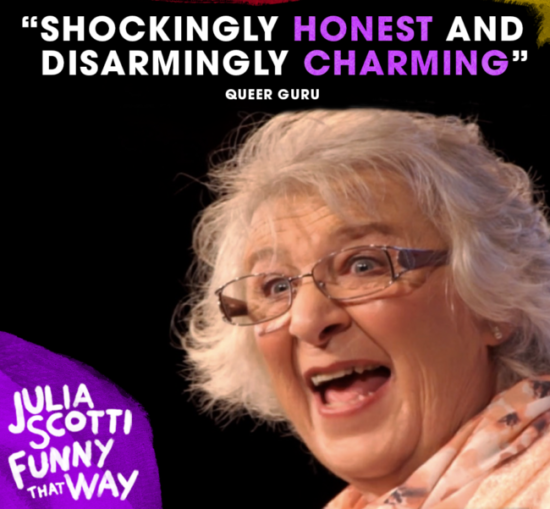 WHITING, NJ. – "You are a piece of work, Julia!" Simon Cowell blurted during her landmark America's Got Talent debut. Julia Scotti had just completed her audition for the show that ended not only with a standing ovation, but with the revelation that she had once upon a time been a stand-up comedian named Rick. As that news crossed the faces of the four judges, their collective jaws dropped. "I mean like you come out as the nice little granny school teacher all sweet and then you go into your routine and like WHOA. Talk about surprises – they are never ending with you, are they?" Cowell finished.
With Julia Scotti, the surprises never end.
Her latest surprise for the public is a gem of a film, Julia Scotti: Funny That Way. It is a documentary of her journey from the days of Rick, the up and coming comic who performed on bills with Chris Rock and Jerry Seinfeld to Julia, who is wowing millions.
Of her transition, Julia has remarked. "It is NEVER an easy process whether you're a public figure or not. You are essentially killing your old self and ending your old life. And with that comes the history you've built with friends and family. Some are very accepting, but most are not. That is why the suicide attempt rate for Trans folk is still at 41%."
Funny That Way does not spare us the heart-breaking fallout from the virtual "death' of Rick Scotti.  Filmmaker Susan Sandler weaves Julia's story, the losses and damage, to her rebirth, healing and the reuniting with her kids after a 15-year estrangement.
Julia and Susan sat down with us on the podcast Rated LGBT Radio to talk about the film. "This is a story and like all stories, there is a beginning and a middle and an end. In the end, I want the audience to know there is HOPE. It is bumpy at times, joyous at times. It is not just isolated to my life. You can have that in your life when you walk through that door of your own truth and come out the other side and when you look back on all you went through, you go 'what the hell was I so afraid of?' Look how happy I am." Julia explains.
Susan had never directed a documentary before, but as one of Hollywood's master story tellers, and a Golden Globe nominee, she was unfazed. "The impetus behind this film was falling in love with Julia, her, then and now. If you are working from a really rich, complex, compelling character –which is Julia—that is the GIFT. All of my nerve endings, my story telling, told me this was dynamic documentary, and that's the form in which I wanted to tell it."
Susan took five years to research, document and interact with Julia's past. She went through old footage of Rick Scotti's stage acts and restored many of them so they could be used in the film. She brought on composer Matt Hutchinson for a beautiful score, and animator Sam Roth for whimsical cartoons that tie the story together.
Before the filming started, Julia had just re-connected with her son Dan, and daughter Emma.  A decade and a half ago, when Julia announced to her then spouse that she was in fact a woman transitioning, her then-wife retaliated by taking their kids away.  Dan and Emma spent their whole adolescence not knowing Julia at all. The story of that pain is told in Funny That Way.  Susan wanted to show the relationships real-time in the film as they came to reconnect with Julia. "We were just at the beginning stages of reconciling," recounts Julia. "I did not want them feeling like I was just reconnecting with them because I wanted them in this film. I did not want to distance them even more."
Dan and Emma were onboard, however.  Also on board, albeit only by phone, was Kate. Kate was  Julia's last wife, described as Julia's "love of her life". Kate supported Julia emotionally and spiritually through out the entire transition process.  One of the most poignant moments in the film was Julia hearing Kate describe the end of their relationship.  Kate's support was significant, but once Julia became fully Julia, it was evident to both that their relationship had changed and they had to let it go.
Susan captured many live moments of Julia's evolving life. She caught the very first time that son Dan ever called Julia "his mother" and the effect was pronounced. Also caught in the film was a moment when Julia and Dan are watching Rick's old stand up routines. One such performance takes Julia by surprise—it was a routine that she had not remembered ever doing. It was a set where then Rick expressed his revulsion to transgender women in no uncertain terms. Julia sat shocked.
"My sensibilities have been 'woked', I think that is the term for it." She told me about that experience. "Thinking back, I was going through issues and aware that something was not right internally. It frightened me to no end. Looking at that clip, I am totally ashamed of what I did. It embarrassed me."
"I knew it was me. I knew I was there. But I don't feel a connection with that person. That is the truth."
The film does not dwell long on the past shames and regrets. It arcs to the present where an adult daughter gets to see her parent's comedy routine for the very first time.
Some of the greatest joy in the film is witnessing the growing relationship between Julia and son Dan. Dan is sweet and compassionate, and they both have a deep love of comedy. Through their discussions and collaboration on things funny, we witness something decidedly not funny, the deep re-kindling love they have for each other.
The film will make you laugh, and cry, and laugh again. New clips of Julia's now famous turn on America's Got Talent shows her more personal reflective moments over a life changing triumph.
The only regret director Sandler has about the film is how it will be brought to the public. "I am happy to be brining the film now for the people who have an appetite for it. For the truth, the humor, the complete emotional honesty. But I mourn. I mourn the moments not being able to sit with you in a theater. And experiencing the film with you. It was supposed to be seen by audiences, and then give them the opportunity to go down the street and see Julia live at a club." But, life is funny that way—not working out quite the way we thought it would. And that is ultimately the point.
Editor's Note: The film was originally slated for theatrical release which was delayed then put off by the coronavirus pandemic.
Julia Scotti: Funny That Way is available now on digital platforms! That means you can rent or buy it online, at places like iTunes, Apple TV, Amazon, Google Play and more.
Here's the full list of where you can find it.
DIGITAL
iTunes
Amazon
Google Play
Xbox
VUDU
FandangoNow
Vimeo On Demand
CABLE / SATELLITE
iN Demand Movies
Verizon
AT&T
Vubiquity
DirecTV
Dish
Telus
Gigi Gorgeous to launch 'Queerified' podcast
The now-celebrated star and activist fist began her rise to stardom with the creation of her YouTube channel in 2008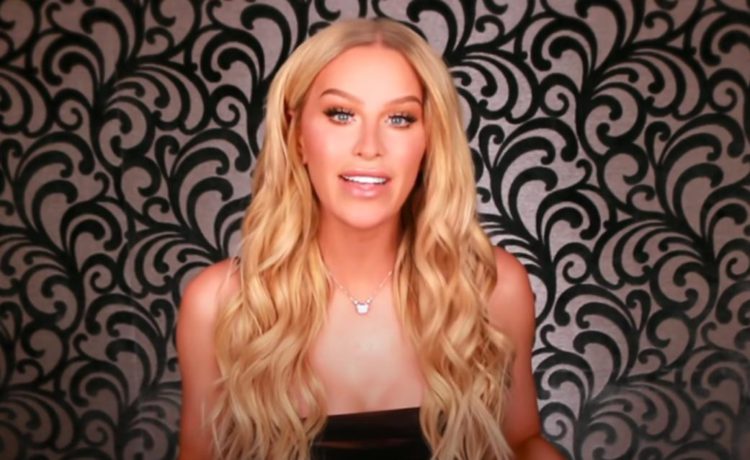 HOLLYWOOD – We all know there are a lot of podcasts out there, but there is always room for one more – especially when it comes from Gigi Gorgeous.
The social-media star, TV personality and transgender activist has announced the launch of "Queerified," a weekly podcast she will co-hosted with longtime best friend Marc Lamentac – better known as Mimi. Timed for a Pride Month premiere, the show will be built around discussions between the two friends, touching on topics such as growing up queer, life lessons and successes, and the celebration of "queer joy" every day. Gigi and Mimi will also be joined by special guests in the LGBTQIA+ community and beyond.
Says Gorgeous in a statement, "On 'Queerified,' I wanted to start a conversation that is empowering, entertaining and humorous, having an open dialogue about the issues and experiences that made me the person I am today."
The now-celebrated star and activist fist began her rise to stardom with the creation of her YouTube channel in 2008. Still a student at a high school in Toronto, she posted beauty, fashion and makeup tutorial videos, while offering viewers encouragement and inspiration to stand up to bullying and harassment by expressing themselves authentically. encouraging viewers to express themselves in the face of bullying and harassment. At the age of 19, she came out in a video as a gay male, and in 2013 announced that she was a transgender woman.
The next year, she documented her transition on YouTube, eventually laying the groundwork for the documentary "This Is Everything: Gigi Gorgeous." In 2019, she published the memoir, "He Said, She Said: Lessons, Stories and Mistakes From My Transgender Journey." The same year, she married fellow activist Nats Getty, a model, artist, and designer whose fashion line Strike Oil is currently being sold at Saks to benefit Pride charities.
"Queerified" – which launches Wednesday, June 16 – is produced by podcast network Ramble, a division of Cadence13. Chris Corcoran, chief content officer for the companies, says, "Gigi has a larger-than-life personality, and an equally powerful voice as an activist. As Pride is celebrated around the world, we're excited to welcome Gigi and Mimi to the Ramble and Cadence13 family."
The show's producers have set up a toll-free hotline (in the U.S.) for listeners to offer feedback and leave comments for Gigi and Mimi, at 844-QUEERYS (844-783-3797). "This is totally a space that's safe for you," reads the description for their podcast.
Colton Underwood, Greyson Chance+ more Amazon Live Pride Festival!
Greyson Chance and former Bachelor star, Colton Underwood, will be streaming live to discuss how they show their Pride, answer fan questions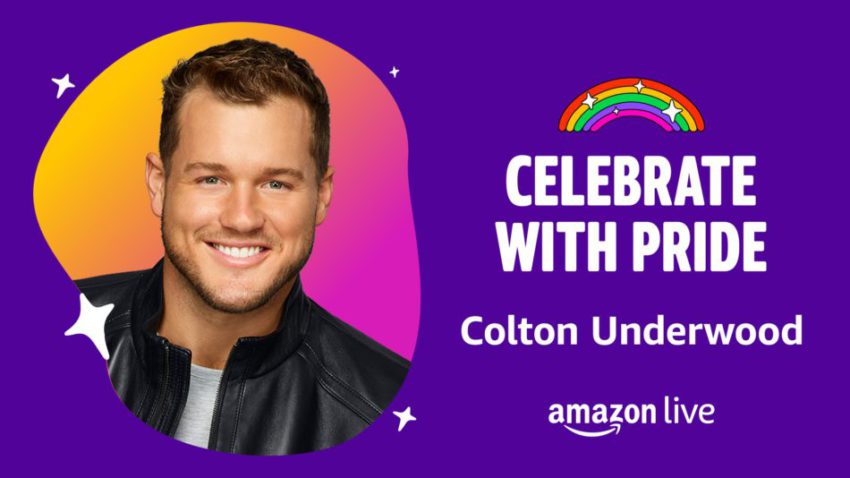 SEATTLE, WA. – Happy Pride Month! Amazon Live is hosting its first-ever Pride Festival this Thursday (6/10) and Friday (6/11) from 3-6pm ET. Your favorite celebrities and influencers, including recording artist, Greyson Chance and former Bachelor star, Colton Underwood, will be streaming live to discuss how they show their Pride, answer fan questions, and share their top Pride picks across fashion, beauty, books, movies, and TV.
Customers can watch HERE via desktop, mobile, or through the Amazon Live Shopping app on Fire TV. Customers can interact directly with the celebrities and influencers via live chat, and easily shop the products and brands discussed through a carousel that updates in real-time.
The scheduled events are as follows:
DAY ONE (6/10):
3PM ET: Greyson Chance will perform from his upcoming EP Trophies, releasing on June 25, and share his curated selection of Pride merch.
4PM ET: Jo Duree will stream a "get ready with me," inviting viewers to do their makeup alongside her as she shows top tips and tricks.
5PM ET: Pride House LA is throwing the ULTIMATE pride variety show! Featuring top products, you will be fully entertained with special guest performances and amazing talent!
DAY TWO (6/11):
3PM ET: Colton Underwood will discuss his life, answer viewer questions, and share the products that help him show off his pride.
4PM ET: Jake Warden will demo a Pride makeup look.
5PM ET: Olga Von Light will discuss her coming out story, and share some favorite Pride related merchandise and why the products are meaningful to her.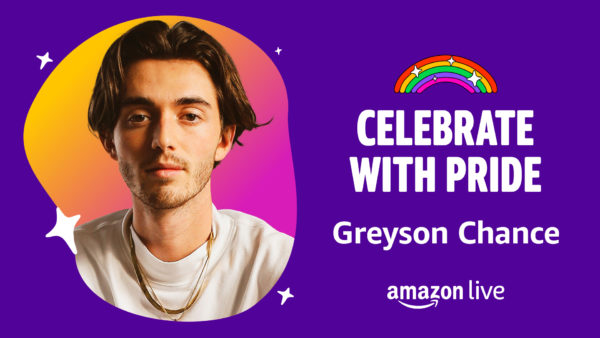 We'd love to have you join! Check out this blog post for more information about how Amazon is celebrating Pride Month.