February 1, 2018 at 5:55 pm PST | by Robert Williams
Dallas does Los Angeles and y'all came out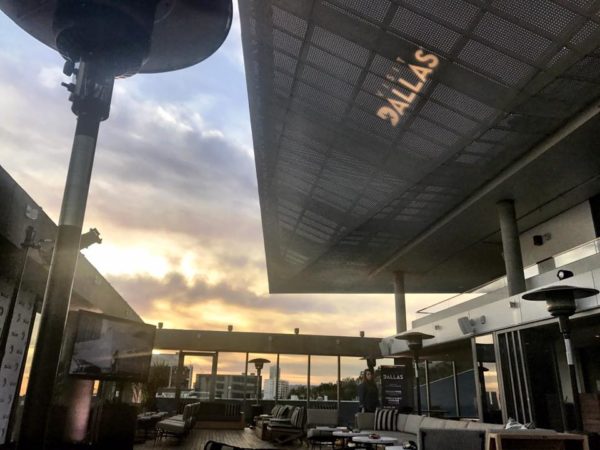 A slew of LGBT influencers, including Olympian Greg Louganis and West Hollywood politicos Abbe Land and Mayor John Heilman, attended a cocktail reception hosted by VisitDallas on the roof of the Jeremy Hotel on Monday night. The not-for-profit organization promotes Dallas as a progressive city and held the reception with the goal of cleansing Dallas of its 1980s-era, J.R. Ewing reputation.
"We are here to talk about why Dallas is a great destination for the LGBT market and educate people about all the wonderful things there are to see and do here." VisitDallas President and CEO Phillip Jones, an LGBT ally, said.
"When people come to Dallas they are amazed at the city's transformation. It's a progressive city, it's a diverse city and it welcomes and embraces people from all walks of life," he said.
Businessman and founder of the Resist March Brian Pendleton erupted in applause when Jones described the role VisitDallas had in defeating the Texas "bathroom bill," which would have restricted transgender bathroom use.
Jones lobbied the legislature on behalf of VisitDallas to defeat the bill, finding an ally in moderate Republican and Texas House speaker Joe Straus. Power companies like Amazon and Exxon Mobil teamed up with LGBT rights groups, law enforcement agencies and a bi-partisan coalition of lawmakers to kill the bill a second time in August of 2017.
John McGill, who along with business partner Jarrod Freeman, handle the LGBTQ national strategy for VisitDallas, said West Hollywood and Dallas are two cities with a lot of friends in common. Hosting the event here was a natural way for the cities to stay connected.
"We want to strengthen that relationship and jointly support each other's efforts in the ongoing fight for equality and for organizations both cities are committed to like The Trevor Project and GLAAD," he said.
Collins Avenue Productions CEO Jeff Collins and Joseph Ferraro, a Vice President at Bravo, attended the event along with promoters Jeffrey Sanker and Tom Whitman, Director of Entertainment Media for GLAAD Jeremy Blacklow and Visit West Hollywood CEO Tom Kiely, among others.
For more information on Dallas or the VisitDallas organization, go to visitdallas.com.