Adam Rippon gets sassy
Out figure skater makes history en route to Winter Olympics, rips Mike Pence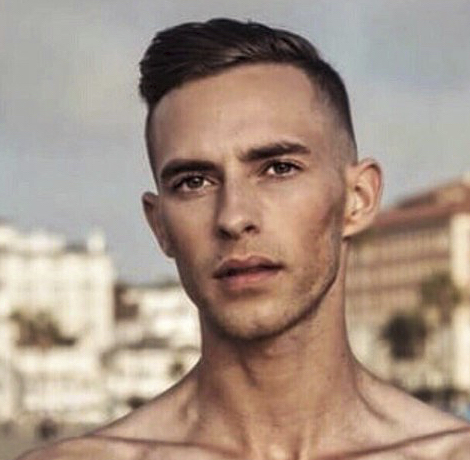 Adam Rippon's selection to the United States Olympic Team marks the first time an openly gay American man has qualified for any Winter Olympics. Originally from Clarks Summit, Pa., he has been based in Los Angeles for the past six years. He is coached by Rafael Arutyunyan and trains with Ashley Wagner and rival Nathan Chen.
Rippon had success early on in his career becoming the first junior man to win back-to-back world junior titles in 2008 and 2009. At 28, his skating career has soared since he came out publicly in October, 2015.
The Blade caught up with Rippon before he left on Feb. 5 to represent the United States at the XXIII Olympic Winter Games in Pyeongchang, South Korea. The opening ceremony is tonight (Friday, Feb. 9). The games run through Feb. 25. The men's short and free programs are Feb. 16-17.
READ MIKE PENCE CONTROVERSY STORY HERE:
Headed to the Olympics to cheer on #TeamUSA. One reporter trying to distort 18 yr old nonstory to sow seeds of division. We won't let that happen! #FAKENEWS. Our athletes are the best in the world and we are for ALL of them! #TEAMUSA

— Vice President Mike Pence (@VP) February 8, 2018
Then he directly addressed Rippon tweeting, "@Adaripp I want you to know we are FOR YOU. Don't let fake news distract you. I am proud of you and ALL OF OUR GREAT athletes and my only hope for you and all of #TeamUSA is to bring home the gold. Go get 'em!"
.@Adaripp I want you to know we are FOR YOU. Don't let fake news distract you. I am proud of you and ALL OF OUR GREAT athletes and my only hope for you and all of #TeamUSA is to bring home the gold. Go get 'em!

— Vice President Mike Pence (@VP) February 8, 2018
LOS ANGELES BLADE: Let's start with the beginning of your short program at the U.S. Figure Skating Championships which also served as the final criteria event for selection to the U.S. Olympic team. You lined up on the side of the rink instead of the middle, struck a bitchy pose and glared at the camera. Johnny Weir called you the sass master.
ADAM RIPPON: I told my choreographer that I needed it to be in your face and fun. I also wanted it to be bitchy which is why I stared right into the camera. I practiced that look in the mirror a thousand times.
BLADE: Halfway through that same short program, you skated up to the judges and held up your finger as if to say, "Hold on, watch this." Bold, ballsy and the crowd loved it. What was the thought process behind that move?
RIPPON: I wanted to do something that my younger competitors would be too intimidated to do and I have qualified for the U.S. Olympic team as the oldest rookie since 1936. I'm super excited.
BLADE: This was your third attempt at qualifying for the U.S. Olympic team. What is it like to achieve one of your dreams?
RIPPON: To realize that goal after three attempts is incredible. I considered retiring after not making the team in 2014, but I felt I had more to give as an athlete. I would never know if I didn't try and I have been focused on being my best.
BLADE: You have had your share of injuries including a broken foot one year ago. At Skate America in November, you dislocated your shoulder in your free skate attempting a quad lutz. You stood up, popped your shoulder back in place and landed eight triples to win the silver medal. What the hell?
RIPPON: I have been using the mentality that nothing is going to get in my way. I had dislocated my shoulder in practice a few months before and wanted to cry blood and throw up. Everyone said it wouldn't hurt as much the second time, but they lied. After I moved it back in place I made eye contact with my coach and saw doubt. I thought, if he thinks I might stop then I am absolutely not stopping. I am going to take it one step at a time and keep going — do it three times if I have to and show those bitches.
BLADE: Right before that shoulder incident, you had a little run-in with the referee. She made you clean up bugs off the ice right before you skated. Weirdest thing ever?
RIPPON: That was one of the most bizarre things ever in an international skating competition. I had picked up a huge wasp while I was warming up because I knew if I skated over it, it was going to be crunchy. Right when I was starting my program she blew the whistle at me and called me over like she was Judge Judy. Really, are we really doing this right now? I know she doesn't think I am going to do some rink maintenance.
BLADE: You ended up skating around with a tissue, cleaning up bugs.
RIPPON: I told her I would do it if she gave me an extra 30 seconds. That can't ever happen again. I was trying to focus on my skate. I skated back over to my coach and he shoved me really hard which snapped me back into it. The shoulder happened next.
BLADE: You won your first U.S. national title three months after coming out in October of 2015. Since that time, your skating has been more powerful, consistent and confident. Is there a parallel?
RIPPON: Completely. My success as a skater and coming out go hand in hand. Figure skating is a performance sport and I wear my skating on my sleeve. In years past I didn't really know who I was, so when I came out I felt like I was representing myself. The stories I was reading about other athletes coming out helped me to realize nothing was going to change. You can be an out gay athlete and be successful, even more than before.
BLADE: It's common in elite figure skating to have adoring teenage girls watching your every move. In your case, the LGBT community has also hitched their wagon to your star. What do you think of your status as a gay icon?
RIPPON: Hitch your wagon to a star, it will take you far (laughing). Sometimes we feel unrepresented and I think it's important to stay visible. I follow the careers of other LGBT athletes and I know that it comes with backlash. I am fully embracing all of it. I consider everyone in the community to be my brothers and sisters.
BLADE: Do you feel their presence?
RIPPON: I feel their presence. There have been so many different people coming forward to engage with me and I am comfortable with it. I'm glad that I shared my story and that it is resonating with people.
BLADE: You have said in the past that your skating outfits are an expression of your personality. Your two outfits at U.S. Nationals featured leather, sheer fabric and sparkles. Any surprises for Pyeongchang?
RIPPON: I am getting together with my costume designer, Braden Overett, to make some minor changes and Olympify them. I usually just tell him I want to skate in something slutty. It takes my mind off the competition because I can't believe I am wearing it. It takes a village and he is one of the villagers.
BLADE: You recently shot down the rumors that you wear butt pads during your competitions with the following statement: "There's been a lot questions to whether I compete with butt pads on and I'd like to set the record straight and let it be known that no, it's just my real butt. Thank you for your interest, comments and concern. Love you."
RIPPON: People were defending me saying the pads helped when I fall. I also heard things like, "What a beautiful performance, are the butt pads really necessary"? I mean c'mon, I'm wearing very thin pants out there. I thought it would be funny if I addressed it directly. Yes, I have the butt necessary to make it to the Olympics.
BLADE: Because of your sport, music must be a big part of your life. What is on your personal music playlist right now?
RIPPON: I love music. It's something I work out to and its part of my sport. On the personal side, I like EDM (electronic dance music) — David Guetta and deadmau5. I also like all the gay staples — Beyoncé, Astrid S, Lady Gaga, Lana Del Rey.
BLADE: What are you hoping to take from your experience in Pyeongchang?
RIPPON: It has always been my dream to be an Olympian. I can't wait to walk into the opening ceremonies and also to see the Olympic rings on the ice for the first time. Then it's down to business. I'm going to zero in on what needs to be done to have the best skate of my career.
BLADE: Are you ready?
RIPPON: I am ready for this opportunity and grateful for this opportunity. I feel powerful on the inside and the outside.
The voice of Los Angeles Dodgers baseball, legendary Vin Scully has died
"The game is the thing, not me," he told The LA Times in 1998. "I am just a conduit for the game. I am the guy between the expert & the fan. I am not the expert"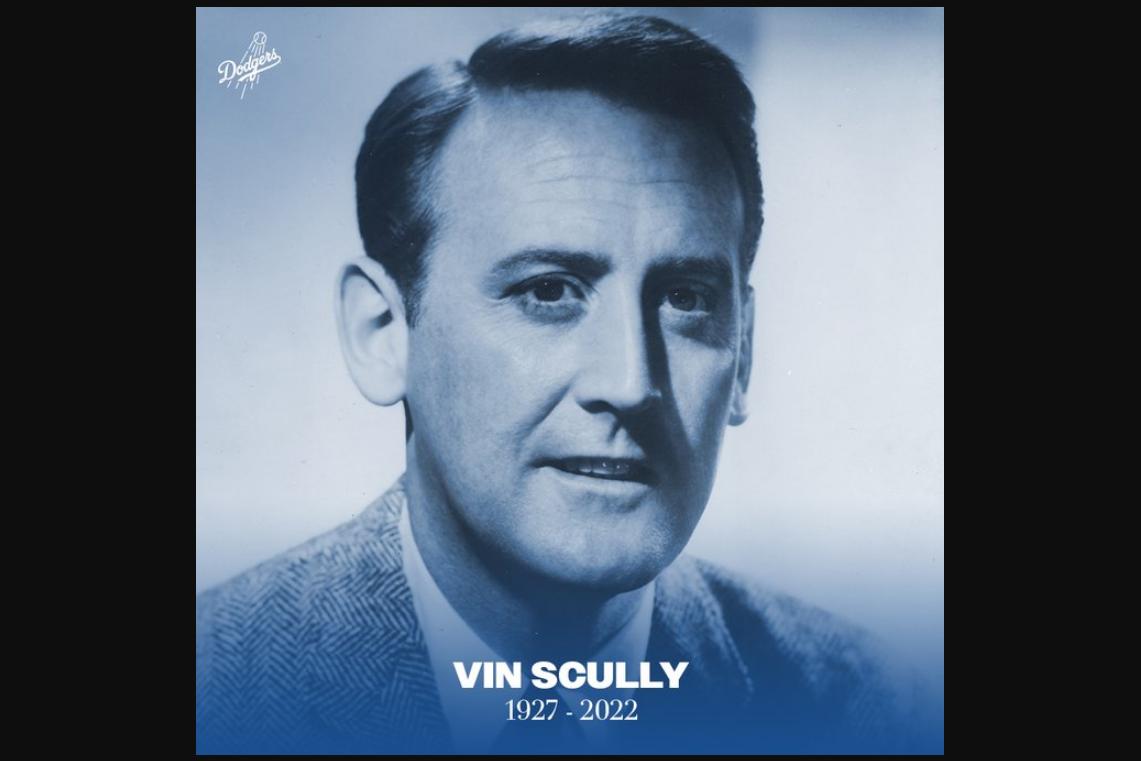 LOS ANGELES – The iconic phrase "It's time for Dodgers baseball" voiced by Vin Scully, ringing out at the home of the Los Angeles Dodgers for over 60 years was termed "the heartbeat of the Dodgers," by the team as it sadly announced the legendary broadcaster's passing at age 94 Tuesday.
"We have lost an icon," said Dodger President & CEO Stan Kasten. "The Dodgers' Vin Scully was one of the greatest voices in all of sports. He was a giant of a man, not only as a broadcaster, but as a humanitarian. He loved people. He loved life. He loved baseball and the Dodgers. And he loved his family. His voice will always be heard and etched in all of our minds forever. I know he was looking forward to joining the love of his life, Sandi. Our thoughts and prayers go out to his family during this very difficult time. Vin will be truly missed."
California Governor Gavin Newsom expressed his condolences Tuesday evening after the news broke of Scully's death. In a statement the Governor said:
"Vin Scully was a master of his craft. A native son of New York, his unmistakable voice will forever be synonymous with Los Angeles.
When the Dodgers moved from Brooklyn in 1958, Vin came with them. For more than six decades, he provided the soundtrack for generations of baseball fans. He was a master storyteller whose calls had an unparalleled musical quality that was a source of comfort for millions.
Over his remarkable career, Vin consistently demonstrated the remarkable ability to improvise poetry, a true artist whose love for the game rang through every Dodgers broadcast. He was quite simply the greatest of all time, and will be sorely missed not just by his family and friends but by millions of baseball fans."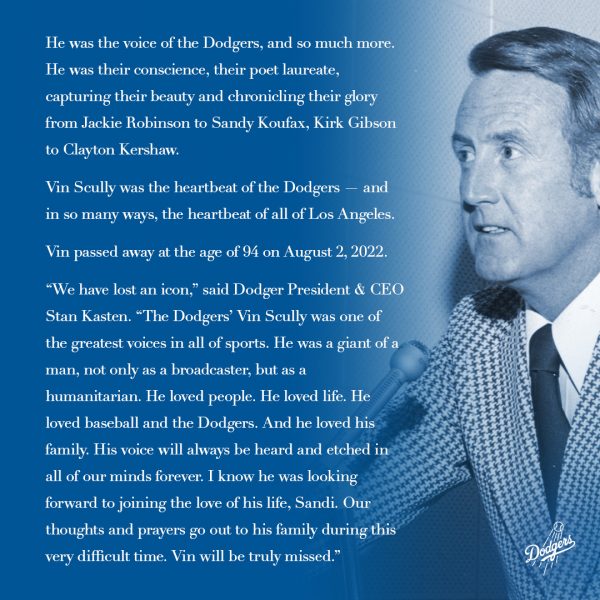 LA's hometown station KTLA 5 reported that Vincent Edward Scully was born on Nov. 29, 1927, in Bronx, New York. He began his legendary career at Fordham University, where he worked on the school paper and for the college radio station.
He latched onto the then-Brooklyn Dodgers in the 1950s and followed the team to the West Coast where he would become synonymous with Dodgers baseball for the next 67 season.
Scully retired from calling Dodgers games after the 2016 season, eight years after announcing his original plans to step away from the game he loved.
He was a MLB Hall of Fame inductee in the 1980s, becoming one of only a handful of announcers to receive the honor. In 2016 he was awarded the Presidential Medal of Freedom by President Barack Obama.
Earlier this year, he was awarded the Baseball Digest lifetime achievement award.
California U.S. Senator Alex Padilla remembered the Dodger broadcaster in a statement:
"Angela and I join Los Angeles—and baseball fans around the world—in mourning the passing of Vin Scully. From Opening Day to the World Series and every inning in between, for generations of fans, Vin Scully's voice meant it was time for Dodger baseball. Growing up in the San Fernando Valley in the 1980s, I spent many evenings dreaming of playing baseball in the major leagues while Vin's voice narrated the action.
"Vin's unparalleled storytelling and love of sports allowed him to transcend baseball. Many fans recall Vin's unique calls on some of the most memorable football games and golf tournaments of the 20th Century.
"While he became a legend for his talents behind the microphone, he will be remembered best for his decency beyond the broadcast booth. A few years ago, as California's Secretary of State, I had the opportunity to introduce Angela and our boys to Vin at a voter registration event before the game. He was incredibly gracious to my family, as he was to all fans. He always made time for fans—regardless of age or occupation—whenever and wherever he met them. Vin Scully was truly an ambassador for the Dodgers, Los Angeles, and the entire sport of baseball. Our hearts go out to the entire Scully family."
In a Facebook post, Out Dodgers executive Erik Braverman expressed his sadness at the passage of the team's legendary broadcaster:
August 3, 2022
From KTLA:
The LA Sparks donate shoes to homeless youth honoring Brittney Griner
The shoe drive was originally an initiative by Griner to help those in need in the Phoenix metropolitan area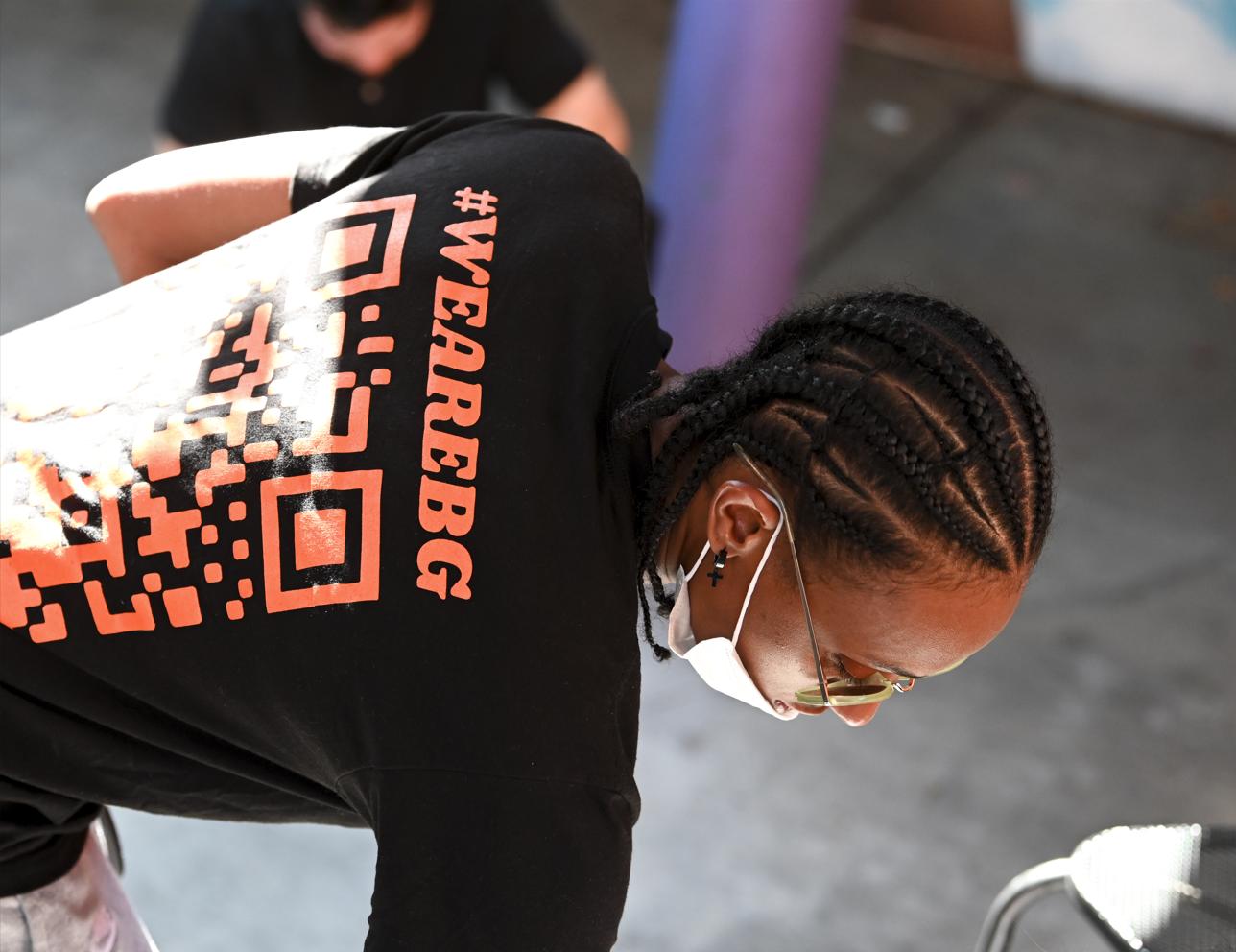 HOLLYWOOD – Led by Los Angeles Sparks guard Brittney Sykes, the WNBA championship team's executive staff donated dozens of pairs of shoes to Covenant House California for children experiencing homelessness this past Monday.
The shoes were donated, in part, to honor WNBA Phoenix Mercury star Brittney Griner who currently remains detained in Russia.
The shoes were collected throughout the WNBA season in collaboration with Griner's team, the Phoenix Mercury, and her annual Heart and Sole Shoe Drive. As the Mercury visited all 12 cities with WNBA teams, people were encouraged to bring new or lightly used shoes to be donated to local causes. The nonprofit HavASole also contributed to the shoe drive.
The shoe drive was originally an initiative by Griner to help those in need in the Phoenix metropolitan area.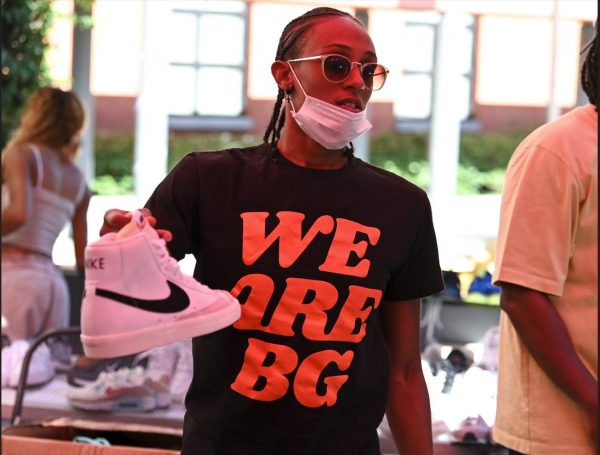 As Griner remains detained in Russia, the drive was expanded throughout the league in her honor. The local shoe drive was held in Los Angeles on July 4 when the Sparks and Mercury faced off in the Crypto.com arena, KTLA reported.
Covenant House California (CHC) is a non-profit youth shelter that provides sanctuary and support for youth experiencing homelessness, ages 18-24. In their mission statement the organization notes: "We believe that no young person deserves to be homeless; that every young person in California deserves shelter, food, clothing, education … and most importantly, to be loved."
CHC provides a full continuum of services to meet the physical, emotional, educational, vocational, and spiritual well-being of young people, in order to provide them with the best chance for success in independence.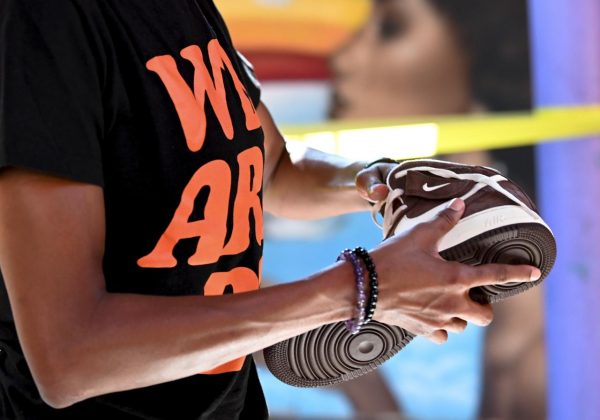 Officials at Moscow's Sheremetyevo Airport in February detained Griner — a Phoenix Mercury center and two-time Olympic gold medalist after customs inspectors allegedly found hashish oil in her luggage. The State Department has determined that Russia "wrongfully detained" her.
"I'd like to plead guilty, your honor, but there was no intent," Griner told a Moscow judge during the second hearing in her trial, according to the New York Times. "I didn't want to break the law."
President Joe Biden and Vice President Kamala Harris spoke with Cherelle Griner earlier this month and U.S. Chargé d'Affaires Elizabeth Rood delivered a letter from the president to the WNBA star in answer to a letter Griner had written to Biden pleading for his assistance in gaining her freedom.
Secretary of State Antony Blinken after Brittney Griner's guilty plea reiterated the Biden administration remains committed to securing her release.
"We will not relent until Brittney, Paul Whelan, and all other wrongfully detained Americans are reunited with their loved ones," tweeted Blinken.
Los Angeles to host 2028 Olympic Summer Games July 14 through 30th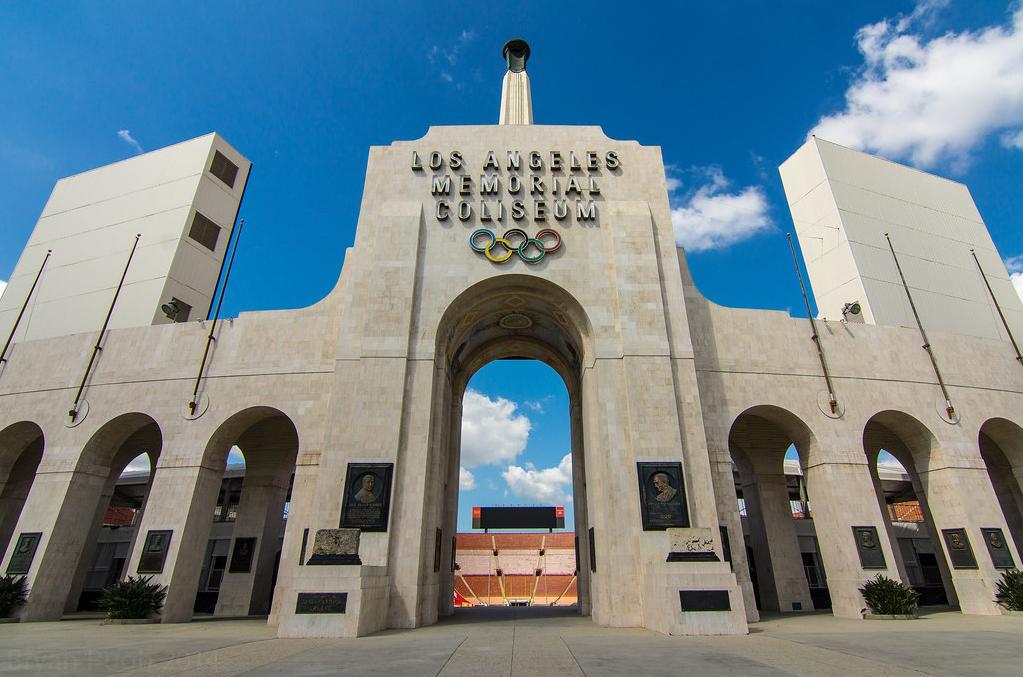 LOS ANGELES – In a news conference Monday, Los Angeles Mayor Eric Garcetti, International Olympic Committee president Thomas Bach alongside IOC member Nicole Hoevertsz, the Los Angeles Olympic coordination commission chair, announced that the City will play host to the Summer Games in 2028.
The Games will begin with a dual opening ceremony at the Coliseum and SoFi Stadium on July 14, 2028, and continue through July 30. The Paralympics will follow, starting on Aug. 15. There will be venues across Southern California for the various international sporting events and completions.
"With set dates in hand, Los Angeles is ready and excited to host the Olympics for the third time and the Paralympics for the first time in history," said Mayor Garcetti. "The Games represent a once in a lifetime opportunity for LA — a bold investment throughout our communities with equity and progress as the main focus. This will bring vast opportunity into every corner of the city ensuring a lasting legacy for future generations of Angelenos."
"Los Angeles is a special place for sport," Hoevertsz remarked. She had competed in the 1984 Summer Olympic Games, which were also held in Los Angeles, as athlete in the synchronized swimming competition for Aruba.
"It's wonderful to see the continued progress of the LA28 Games and especially terrific to witness the positive impact the Games can have on the community well before the Olympic flame ever reaches American soil. We have much to continue to plan and celebrate as we prepare to deliver the beauty and excitement of sport to the world. The confirmation of the Games dates now gives LA a firm deadline when it will need to be ready to welcome the world."
The Orange County Register reported that LA 2028 will receive at least $2 billion from the IOC, up from $1.7 billion had the city hosted the 2024 Games and the largest payout ever to an Olympic host city. Los Angeles also will receive the IOC's 20 percent share of the 2028 Games surplus. With the deal, LA 2028 will receive 80 percent of those Olympics' surplus. LA 2028 initially projected a $166.1 million surplus in 2015 documents, an estimate considered conservative by several longtime Olympic bid analysts.