February 9, 2018 at 7:28 pm PST | by Karen Ocamb
Anti-LGBT Prop 8 lawyer gets Senate Judiciary confirmation
The fierce 2008 battle over anti-gay marriage Prop 8 seems like it was eons ago. But the fight in California was so profound it left scars and visceral memories of what was at stake in losing, then winning back, equality. Prop 8 forced politicians and voters to take a public stand for or against LGBT rights. It's doing that again, this time in the form of a pro-Prop 8 federal judicial President Trump nominee. But in 2018, with so much chaos happening every day, few are paying attention to the far right wing stacking of the judiciary, the third branch of government in the democratic system of checks and balances.
On Friday, a potential day of reckoning drew closer. The New York Times reported that the highly regarded Rachel L. Brand, the No. 3 ranking official behind Attorney General Jeff Sessions and Deputy Attorney General Rod J. Rosenstein, is leaving the DOJ after nine months on the job with unrelenting attacks.
This is critical since Trump has often decried as a "witch hunt" Special Counsel Bob Mueller's investigation into Russian interference in the 2016 election and has made clear his "disappointment with Sessions for recusing himself and Rosenstein's hiring of Mueller. If Trump fired the two, at least Brand would be the safety net for the investigation and perhaps the country. With her gone, Trump could make a recess appointment to avoid Senate confirmation and make Watergate's "Saturday Night Massacre" seem like a kiddy party.
But who might Trump pick to replace Brand and who might lead an outraged protest if Trump fires Sessions and Rosenstein and orders Brand's successor to fire Mueller?
Thursday's Senate confirmation hearing for Trump's nominee to the U.S. District Court for the District of Utah, Howard Nielson Jr., might offer some insight. Nielson was an attorney for the pro-Prop 8 ProtectMarriage.com and California Democratic Sens. Dianne Feinstein and Kamala Harris were adamantly against Prop 8.
Prop 8's conspiratorial aftermath
In 2008, Feinstein, a conservative Blue Dog Democrat, came out in support of marriage rights for same sex couples and appeared in TV ads for the No on 8 campaign. Then-Attorney General Kamala Harris followed her predecessor Jerry Brown's lead in not defending Prop 8 in court.
When the Supreme Court dismissed a 9th Circuit appeal and let stand the District Court ruling that Prop 8 was unconstitutional, Harris officiated the marriage of federal Prop 8 plaintiffs Kris Perry and Sandy Stier in San Francisco City Hall. She also grabbed a cell phone and spoke with out Los Angeles County Registrar-Recorder/County Clerk Dean Logan when LA-based Prop 8 plaintiffs Jeff Zarrillo and Paul Katami encountered a glitch in getting their marriage license.
So imagine their ire when these senators faced Nielson Jr. during his Senate Judiciary Committee confirmation hearing. Not only had Nielson been part of Chuck Cooper's law firm defending ProtectMarriage.com (Cooper is now representing Attorney General Jeff Sessions), but he filed a motion to overturn District Court Judge Vaughn Walker's Prop 8 ruling that Prop 8 was unconstitutional because Walker is gay.
That motion stunned and infuriated many in the legal community, as Slate's esteemed legal reporter Dahlia Lithwick wrote in "Too Gay To Judge?" in 2011.
"Today, a court in San Francisco heard arguments about one of the most contemptible legal claims advanced in decades: that Vaughn Walker, the federal judge who voted last spring to strike down California's ban on gay marriage, was too gay to decide the case fairly," she wrote.
"They don't say that Walker, who retired from the federal bench last February following his Prop 8 ruling, is biased in favor of gay marriage because he is gay. Instead ProtectMarriage argues—see this April 25 motion to vacate Walker's ruling—that Walker, who has lived with his partner for 10 years, may have ruled for gay marriage so that he himself could get married and someday enjoy the benefits of marriage," Lithwick wrote.
"The motion to vacate is thus rooted in their argument that 'no judge is permitted to try cases where he has an interest in the outcome.' And since 'no one would suggest that Chief Judge Walker could issue an injunction directing a state official to issue a marriage license to him, yet on this record, it must be presumed that that is precisely what has occurred,' his ruling, they insist, must be scuttled," Lithwick continued.
But Prop 8 proponents provided no evidence that Walker ever sought to marry his longtime partner. "So they rely instead on the argument that he is gay, and that's enough," she wrote, adding that Walker, a George H.W. Bush appointee, had ample opportunity to get married before hearing the case.
Lithwick cites Sherrilyn Ifill, who wrote in The Root that 'the effort to besmirch Judge Walker's integrity is eerily similar to earlier campaigns against black and female judges."
"In the late 1970s and early 1980s—as a bumper crop of minority federal district judges appointed by President Jimmy Carter presided over employment-discrimination cases brought under Title VII of the Civil Rights Act of 1964—recusal motions were filed by defendants seeking to remove black judges from hearing these cases," Ifill wrote. "Black judges pushed back firmly against attempts to question their impartiality and framed what has become the universally accepted understanding among the bench and bar: that judicial bias cannot be assumed based on the racial, gender or other status of the judge."
Lithwick then hones in on the "what if?" argument that propped up the whole Prop 8 campaign. "Given that [Walker] hasn't chosen to get married when and where he could, it hardly makes sense for ProtectMarriage to claim that his anti-Prop 8 ruling is the functional equivalent of 'issuing an injunction directing a state official to issue a marriage license to him.' Is merely imagining a potential conflict of interest sufficient to create one? Where, precisely, do imaginary claims about imaginary judicial life plans stop?" she asks.
In then-AG Harris' brief against Nielson's motion to vacate Walker's ruling, she wrote: "Just as every single one of the attempts to disqualify judges on the basis of their race, gender, or religious affiliation has been rejected by other courts, this Court should similarly reject Defendant-Intervenors' effort to disqualify Judge Walker based on his sexual orientation."
Perhaps, Lithwick concluded, "this is a good a time as any to recall that the proponents of Prop 8 failed so miserably at trial precisely because vague, unsubstantiated charges of conspiracy, secret agendas and inchoate social harms aren't really legal arguments in the first place."
Nielson's Senate confirmation hearing
Nielson's motion failed, but as Vanita Gupta, president and CEO of The Leadership Conference on Civil and Human Rights, pointed out in a letter opposing his nomination to the federal judiciary, Nielson apparently still holds the same conspiratorial views as he did during his Prop 8 days.
"In 2015, Mr. Nielson wrote an amicus brief in the landmark Supreme Court case Obergefell v. Hodges in which he argued against marriage equality," Gupta wrote. "In his brief,  Mr. Nielson made the insulting insinuation that same-sex couples were not capable of being capable parents, writing that 'through the institution of marriage, societies seek to increase the likelihood that children will be born and raised in stable and enduring family units by both the mothers and the fathers who brought them into this world.' He also wrote that "it is plainly reasonable for a State to maintain a unique institution to address the unique societal risks and benefits that arise from the unique procreative potential of sexual relationships between men and women.' Fortunately, the Supreme Court rejected his arguments."
Equality California also vehemently opposed Nielson. "Howard Nielson's judicial record and writings demonstrate a hard-wired hostility toward LGBTQ people, which means that he fails the very first test of being a judge — impartiality and fairness. History will judge the Senate Judiciary Committee's rubber stamp of unfit judges who will serve lifetime appointments. EQCA will continue to fight Nielson all the way to the Senate floor," Valerie Ploumpis, Equality California's National Policy Director told the Los Angeles Blade. (Ploumpis has been writing blog posts about the nominees at EQCA.org.)
But, to borrow from the musical Hamilton, Feinstein and Harris are in the room where it happens. And both California senators made sure to get their opposition on the federal record.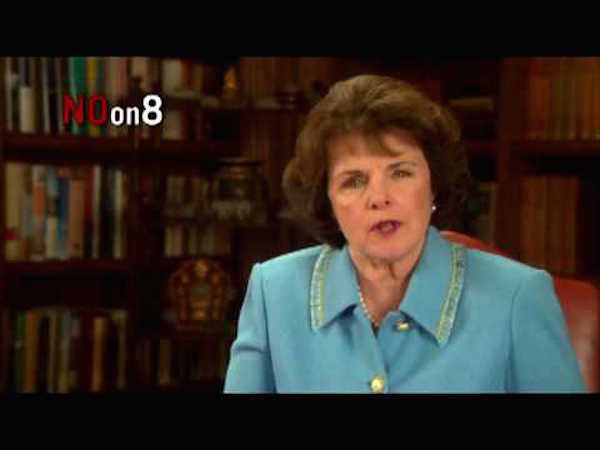 "The idea that someone cannot be impartial simply because of their sexual orientation should be antithetical of our federal judiciary," Feinstein, the ranking Democrat on the committee, said of Nielson's motion to vacate Walker's ruling. It remaindered her of how presidential candidate Donald Trump disparaged.
Indiana-born District Judge Gonzalo Curiel, suggesting he couldn't fairly preside over a class-action lawsuit brought against Trump's now-defunct Trump University.
"Look, he's proud of his heritage, okay? I'm building a wall," Trump said of Curiel in a June 2016 interview with CNN anchor Jake Tapper. "He's a Mexican. We're building a wall between here and Mexico."
During the hearing, retiring Republican Sen. Orrin Hatch defended Nielson's participation in the Prop 8 case. "He doesn't have a bias in his heart. He was part of a legal team that defends the constitutionality of Prop. 8," Hatch said. "He should not be condemned for having worked at that level."
Harris does not demur
But Harris wasn't having it. "Mr. Nielson's record reveals a background beyond that of an attorney just representing his clients," Harris said. "Instead his actions raise serious concerns about whether he would be able to set aside his personal views to adjudicate cases in a fair and impartial manner."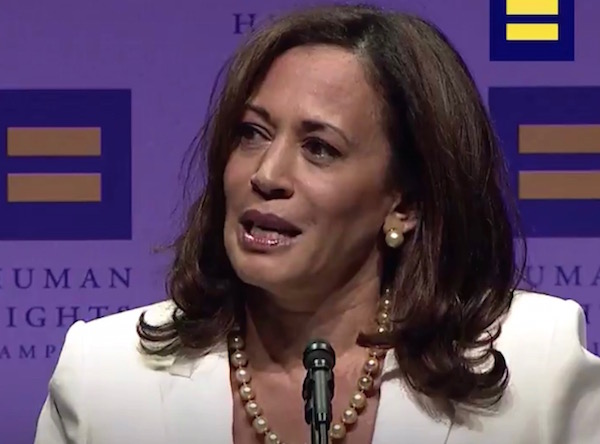 Harris noted that the Human Rights Campaign (whose president Chad Griffin, orchestrated the federal Prop 8 challenge) pointed out that the ProtectMarriage.com defense "heavily relied on outdated science used to further stigmatize LGBTQ people as well as anti-LGBTQ arguments suggesting sexual orientation was a choice rather than an immutable characteristic."
Harris noted Walker's ruling and called Nielson's follow up motion "particularly disturbing." Harris quoted her own brief in opposition, calling the motion "a thinly veiled attempt to disqualify judges based on their race, gender, religious affiliation, or in this case sexual orientation" and each attempt at such disqualifications have been rejected.
Harris said that Nielson has a "troubling and longstanding pattern" that raises question of whether he could set aside personal views "to adjudicate cases in a fair and impartial manner."
Further, Harris said, as a Department of Justice attorney, "Nielson was part of a group of political appointees that politicized the hiring process at the DOJ" by rejected young civil rights attorneys and Democrats.
Additionally, referring to an issue Feinstein also addressed, Harris said "[Nielson] authored a memo that has been criticized for justifying torture, as has also been mentioned this morning—essentially he argued that Americans can legally torture civilians as long as they do so outside the United States. Beth Van Schaack, a Stanford Law professor an expert on war crimes, has called this 'a crazy and dangerous theory.'"
Despite all the criticism, Nielson was confirmed by the Senate Judiciary Committee on a party-line vote of 11-10. The full Senate must now vote to confirm or reject Nielson, perhaps as soon as April.
But with so much at stake for the LGBT community, which has come to rely on the judicial system with both the Presidency and Congress in chaotic right-wing Republican hands, more attention must be paid to who's wielding the gavel or unscientific conspiracy theories could become the law of the land.