Eric Radford becomes first out athlete to win gold at Winter Olympics
the figure skater won alongside his partner Meagan Duhamel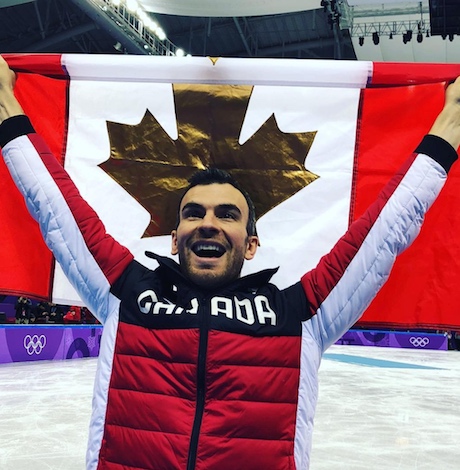 Canadian Eric Radford has made history as the first openly gay athlete to win gold at the Winter Olympics.
Radford, 33, and his partner Meagan Duhamel won the medal for team figure skating for their free skate to "Hometown Glory" by Adele. The first ever openly gay athlete to win gold was Australian diver Matthew Mitcham who received the honor at the 2008 Summer Olympics in Beijing.
"This is amazing! I literally feel like I might explode with pride. #Olympics #outandproud," Radford tweeted about his historic win.
This is amazing! I literally feel like I might explode with pride. #Olympics #outandproud #?️‍? https://t.co/zzNd8ggHhE

— Eric Radford (@Rad85E) February 12, 2018
Radford also celebrated with Adam Rippon who contributed to Team USA's bronze medal win for team figure skating.
"So proud to be wearing these medals and showing the world what we can do! #Represent," Radford captioned a photo of them both along with a rainbow flag.
Mavericks' Reggie Bullock, finalist for NBA award for LGBTQ+ advocacy
The NBA announced this week the guard-forward is one of the finalists for its 2022 Kareem Abdul-Jabbar Social Justice Champion Award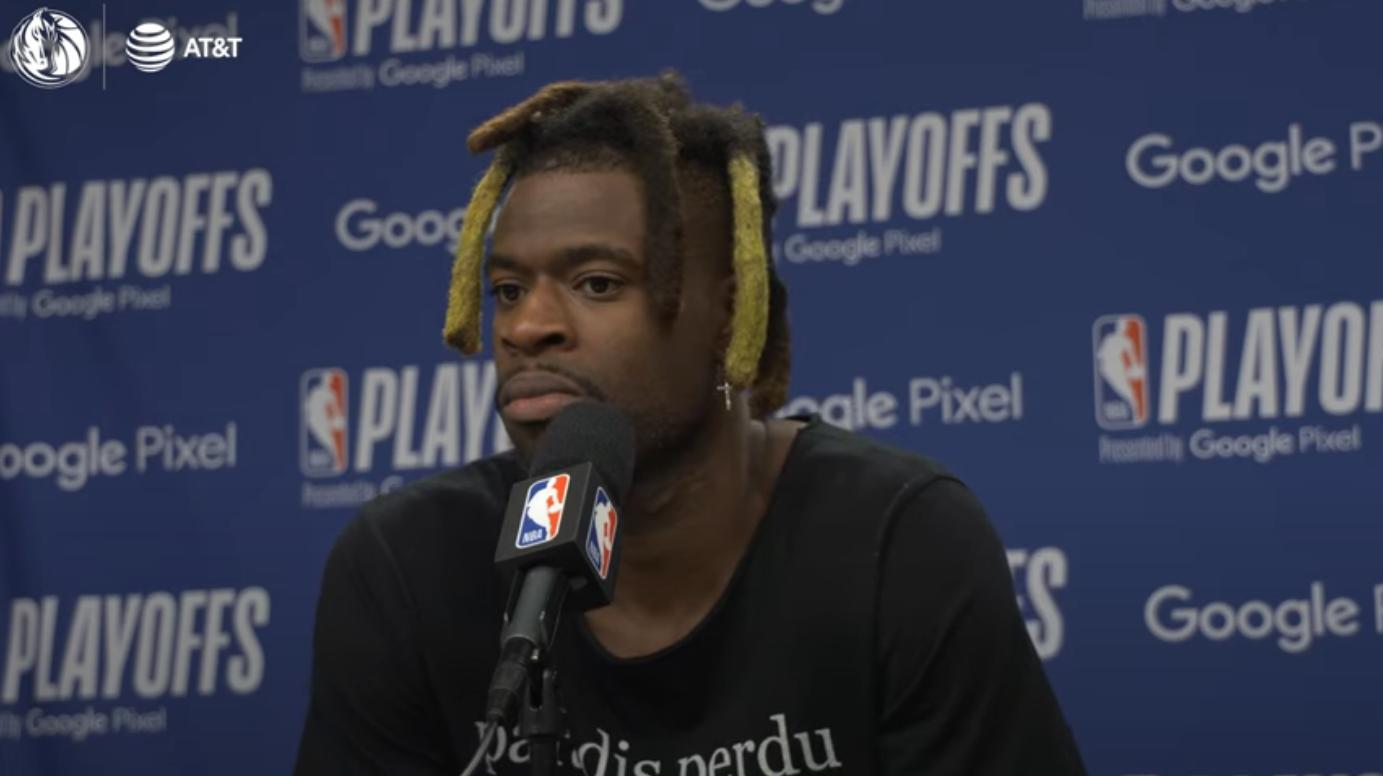 DALLAS – While San Francisco is celebrating the Golden State Warriors' huge Wednesday night Game 1 victory over the Mavericks in the NBA Western Conference Finals, LGBTQ groups in Dallas are cheering on Dallas's Reggie Bullock for his work off the court. 
The NBA announced this week the guard-forward is one of the finalists for its 2022 Kareem Abdul-Jabbar Social Justice Champion Award, which honors players who have made strides in fighting for social justice and advocating for equality.
The NBA today announced Dallas' Reggie Bullock, Milwaukee's Jrue Holiday, Memphis' Jaren Jackson Jr., Minnesota's Karl-Anthony Towns and Toronto's Fred VanVleet as the five finalists for the 2022 Kareem Abdul-Jabbar Social Justice Champion award.

More ➡️ https://t.co/pozsDeMk2P pic.twitter.com/yELJ5x7wdI

— NBA Communications (@NBAPR) May 16, 2022
Other finalists include the Milwaukee Bucks's Jrue Holiday, the Memphis Grizzlies's Jaren Jackson Jr., the Minnesota Timberwolves's Karl-Anthony Towns and the Toronto Raptors's Fred VanVleet.
The NBA said Bullock's push for LGBTQ equity stems from the 2014 murder of his sister, Mia Henderson, a transgender woman.
"Bullock has focused on acceptance of all people by working to create truly inclusive communities through neighborhood engagement and national efforts around the LGBTQ movement, including participating in the NYC Pride March, the GLAAD Media Awards, and NBA events for LGBTQ youth and allies," according to an NBA news release. "Most recently, as part of the Mavs Take ACTION! initiative, Bullock participated in a courageous conversation as part of the HUDDLE series to uplift the trans community, amplify community organizations who are working to support and protect LGBTQ individuals, and create opportunities for allyship."
Since joining the Mavs a year ago, Bullock, 31, has teamed-up with groups that include Abounding Prosperity, Dallas Southern Pride, House of Rebirth, The Black-Tie Dinner, the Resource Center, as well as the Muhlaysia Booker Foundation. That organization was founded in memory of a trans woman murdered in Dallas.
On this year's International Day of Trans Visibility, March 31, Bullock joined the founder of the Muhlashia Booker Foundation, Stephanie Houston, and Leslie McMurray, Transgender Education & Advocacy Associate for a session titled, Voices Unheard, Uplifting Trans Perspectives.
He shared memories of his sister Mia and how her murder motivated him to use his platform as an NBA player to fight for equal rights and visibility for the LGBTQ+ community.
Bullock has also started his own charitable organization, RemarkaBULL, which provides housing and support to members of the LGBTQ+ community in need. Through RemarkaBULL, Bullock wrote an open letter to the NCAA protesting Idaho's anti-trans student-athlete House Bill 500, which was signed into law by Gov. Brad Little in March of 2020. The law is on hold pending a review by a federal court.
The winner of the Social Justice Award will be announced during the Western Conference Finals, now underway. The winner receives $100,000 donated to the charity of their choice, and the other finalists receive $25,000 donations for their organizations. Bullock's charity of choice is Kinston Teens, which empowers young people to engage in activism and community development.
In Wednesday night's Western Conference Final game 1, Bullock scored 12 points, shooting 3/10 3-pt and 3 rebounds in the Mavericks' 87-112 loss to the Golden State Warriors. Game 2 is set to tip off Friday at 9 p.m. ET, Golden State leads 1-0.
New trailer gives first glimpse into new 'Queer as Folk'
The highly-anticipated return looks poised to make some welcome improvements as it reinvents the beloved series for a new era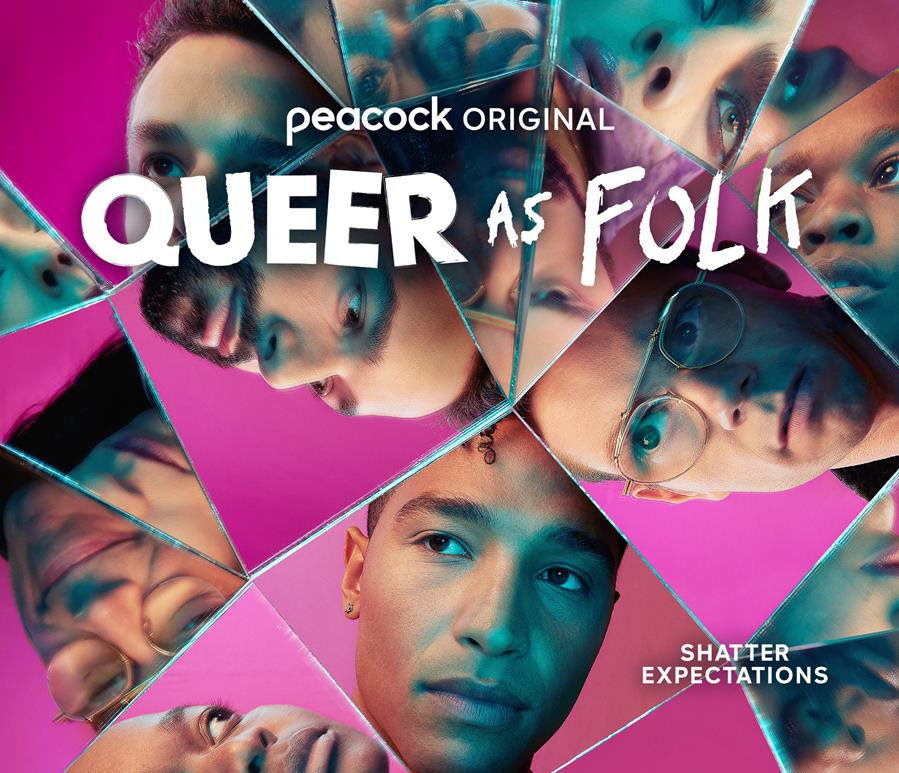 HOLLYWOOD – Depending on who you ask, the soon-to-be-dropped reimagining of "Queer as Folk" could well be the biggest LGBTQ television event – or the biggest mistake – of the year.
The groundbreaking original British version of the series, created and written by Russell T. Davies in 1999 (decades before his recent triumph with "It's A Sin" introduced him to a new generation of queer viewers), has already had an American adaptation in 2000, and each of these installments has its own legion of fans – many of whom have expressed their qualms (to put it mildly) over the entire idea of a new reboot.
That, however, hasn't stopped Davies from joining forces with writer/director/creator Stephen Dunn ("Closet Monster") to executive produce one for Peacock. 
Shade from old-school fans aside, the highly-anticipated return of the franchise looks poised to make some welcome improvements as it reinvents the beloved series for a new era. This time, the story promises to deliver a much more diverse assortment of characters than the group of predominantly white gay men featured by its predecessors, with a story centered on a group of LGBTQ friends in New Orleans as their lives are transformed in the aftermath of a recent tragedy.
The new iteration also scores points by employing queer actors to portray all its queer roles – resulting in an impressive lineup of names on its cast list including Ryan O'Connell ("Special"), Johnny Sibilly ("Pose"), Devin Way ("Grey's Anatomy'), Jesse James Keitel ("Alex Strangelove"), Fin Argus, Candace Grave, Benito Skinner, and Juliette Lewis, and even Kim Cattrall as a "martini-soaked, high society Southern debutante with trailer park roots." 
Of his reason for getting on board a new adaptation of his show, Davies says, "I'm very proud of what we achieved in 1999, but in queer years, that was a millennium ago! As a community, we've radicalized, explored, opened up, and found new worlds – with new enemies and new allies – and there was so much to be said.
Stephen pitched a brand new version of 'Queer as Folk' with so much imagination, insight, and crucially, joy, that I simply couldn't resist. I thought it was about time the title belonged to a whole new generation. The 2022 show is more diverse, more wild, more free, more angry – everything a queer show should be."
As for Dunn, he explains, "I wanted to create a new groundbreaking version of this show for this moment. Our new 'Queer as Folk' is set in New Orleans — one of the most unique queer communities in North America – and I am immensely proud that the new series is comprised of an electric ensemble of fresh characters that mirror the modern global audience.
If there's one person who is able to see 'Queer as Folk' and feel less alone, or who now feels more supported and seen, our job is done. In the true spirit of the original, our show doesn't shy away from the harsh realities of our community, but above all else, the series is about people who live vibrant, vital, unapologetically queer lives." 
Jacklyn Moore, who co-wrote the new series with Dunn and Executive Produced alongside him and Davies, adds, "I believe deeply in the power of storytelling to make people feel seen, but all too often I feel as though queer and trans representation in art is limited to extremes. We are either shown as saintly heroes bravely surviving a bigoted society or two-dimensional queer-coded villains that feel airdropped in from some previous era. With 'Queer as Folk,' we aimed to depict queer characters who live in the messy middle. People who are complicated. Who are funny and caring and flawed and sometimes selfish, but still worthy of love. Still worthy of narrative. As a trans woman, I'm excited to take steps to move past telling stories that seem to just be arguing for our basic humanity. My hope is that Queer as Folk is one such step."
We're sure we speak for the rest of the eagerly-waiting fans when we say that we all hope that, too. We can all find out together when Peacock begins streaming the new "Queer as Folk" on June 9.
Queer as Folk | Official Trailer | Peacock Original
The universe comes out to jazz and violins and you're invited
LA prides itself as home of the stars. Don't limit yourself to the mere mortal stars of Hollywood, when the universe is opening its doors
LOS ANGELES COUNTY – Starlight, starbright: Bathing yourself in the magnificent skies has returned to Los Angeles as the historic Mount Wilson Observatory announces… shall we say it… a heavenly lineup for its 2022 program.
The program offers something for everybody: From the universe-fascinated who want to observe and soak up astronomical knowledge to the bright light and musically discerning who are there just for the mind-blowing beauty alone.
Since its founding in 1904 by astronomer and visionary George Ellery Hale, Mount Wilson Observatory has played host to some of the most important discoveries in modern astronomy. Located on Mount Wilson, a 5710-foot (1740-meter) peak in the San Gabriel Mountains of the Angeles National Forest, Mount Wilson Observatory (MWO) features the Snow Solar Telescope (largest in the world from 1905-1908 and the mountain's first installation), a 60-inch telescope (the world's largest operational telescope from 1908-1917), and the 100-inch Hooker telescope (which featured the world's largest aperture from 1917-1949). Mount Wilson Institute has independently operated and maintained the Mount Wilson Observatory since 1989 under a long-term agreement with the Carnegie Institution of Washington.
The observatory offers a series of tours throughout the season for the scientific tourist in you. For the mechanically inclined, you can take an engineering tour of the huge telescopes and understand how they have enabled historic discoveries. For the stargazers, there are public and private tours to actually use the telescopes and peep in on our nearest planetary and constellation neighbors. For the gazers who want to keep things even closer to home, take a look right into our own Sun with the Lunt Telescope.
There is no better way to observe the universe than to do it wrapped in gorgeous music. The observatory steps up and takes advantage of the dome's sensational acoustics by presenting Sunday Afternoon Concerts in the Dome. Top jazz, violinist, brass talents and more will perform in events at 3:00pm and 5:00pm May 22- October 21. The season aesthetics are capped off with [email protected] Observatory in the later summer months which explores sound art in the dome, plein-air painting and sculpting.
It would be a shame to visit the observatory for its visual and auditory sensual offerings alone, however. For those who want to deepen their mind, the season also offers an incredible roster for the astronomy intellect. Lectures from the top experts include discoveries of the deep space mission, women scientists at the observatory, the work of George Ellery Hale, and more.
The gates to Mount Wilson's acreage opens at 10:00am every day and close at 5:30. Visitors can hike the grounds, gaze at the telescope domes that dot the landscape, and browse through the Historic Museum in the Lecture Hall.  Members from the Los Angeles Astronomical Society will gather around the grounds during each of the events during the season and set up specialty telescopes for a view of various night sky objects while attendees await their turn to look through the grand telescopes in the domes.
Los Angeles prides itself as home of the stars. Don't limit yourself to the mere mortal stars of Hollywood, when the universe is opening its doors to experience stellar wonders that will really blow your heart and your mind. We hope to see you at the observatory to experience magnificence together.
For more information:
Concerts: https://www.mtwilson.edu/concerts
Engineering Tours: www.mtwilson.edu/engineering-tour
Public Ticket Nights: mtwilson.edu/public-ticket-nights
Private Telescope Reservations: mtwilson.edu/observe
Solar Viewing: mtwilson.edu/solar-observing
Tours: mtwilson.edu/weekend-docent-tours
Mt. Wilson Observatory: https://www.mtwilson.edu
MWO Facebook: https://www.facebook.com/WilsonObs
MWO Twitter: https://twitter.com/mtwilsonobs MWO Instagram: https://www.instagram.com/mtwilsonobservatory