February 22, 2018 at 6:23 pm PST | by Karen Ocamb
California Democratic Party Chair Eric Bauman takes charge
It's been eight months since Eric Bauman won his historic but unexpectedly controversial campaign for chair of the California Democratic Party. But serving as the first openly gay chair is less of an issue in this deeply blue state than leading while also being responsive to noisy Democrats still squabbling over the 2016 election.
Bauman is prepared to have his mettle tested at the California Democratic Convention, having already made significant internal changes to modernize the party.
"I'm not the least bit shy about being the man I am," Bauman tells the Los Angeles Blade. And, he adds, "my being a gay man is pretty matter of fact."
This convention from Feb. 23-25 while be the first time an openly gay man is in charge. And unlike when closeted chair Art Torres successfully pulled the party together after the traumatic collapse of Howard Dean's progressive presidential campaign, Bauman is dealing with several cultural movements colliding at the same time on social media and in real life, as well as having the onus placed on California to help
Democrats win back Congress and put an accountability check on Donald Trump.
Democrats, for instance, are facing their own "MeToo" struggles over incidents of sexual harassment allegations against three state legislators. As delegates decide how to deal with those three, Bauman decided to curtail the traditional alcohol-fueled parties and sign on with a 24/7 national rape and sexual harassment hotline, available to anyone who needs counseling, legal information or medical assistance.
Additionally, Bauman added increased security at the convention to ensure that everyone walking around the convention feels safe.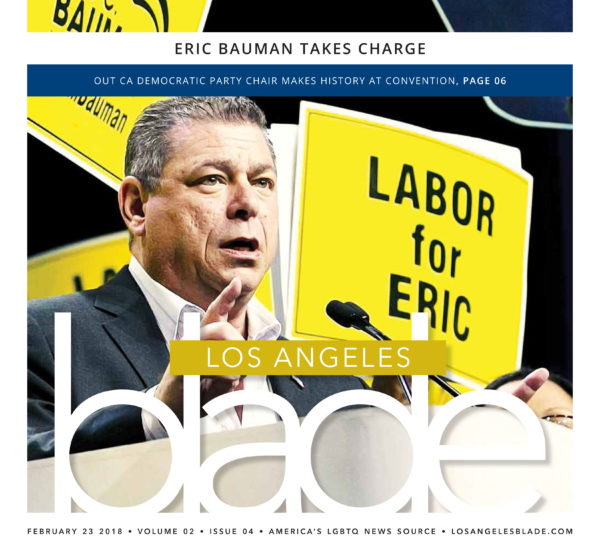 As a professional emergency room nurse, Bauman is no stranger to the effects of violence of word or deed.
In fact, during his campaign for chair against Kimberly Ellis, a Hillary Clinton supporter who won the backing of Bernie Sanders loyalists, Bauman became the target of a vicious homophobic rumor pushed on social media by the Ellis campaign.
"What they're accusing me of is being a child predator!" Bauman told the LA Blade at the time. He "lost it" until comforted by his husband, who produced an emotional video about Bauman and their relationship. Bauman also issued an email calling the rumor "despicable! This is not the Democratic Party! These are Trumpian tactics and it has to stop!" The next attacks were anti-Semitic.
Ellis denounced the attacks but the divisive tone continued. "This is our Tea Party moment,'' one leading Democratic strategist told Politico. "And it's not going away."
And yet, Bauman says, the night he won the election, and the first time he spoke as party chair, he "planted one on my husband" and the throng of 3,400 convention delegates erupted into applause. "The place was on fire," says Bauman. "Even those who voted against me—who hated me—came up and told me that it was a very bold thing to do."
Bauman says he's not sure how his "gayness will manifest," perhaps a pink skirt or high heels, he says jokingly.
"I don't feel the need to wear a flag on my shoulder. I don't feel the need to carry a signboard. But I do feel the need to represent. It was something to walk into the LGBT Caucus the first time after I won and speak to them as their chair," Bauman says. "But you can rest assured that at meals, my husband will be sitting right next to me." While being out is no longer unique, "it has to be that this is normalized. It has to be that it is not a big issue that I am the openly gay chair of the California Democratic Party."
Bauman's been on that convention stage before, serving as vice chair to former chair John Burton since 2009 while also serving as something of a legislative "king-maker" for 17 years as chair of the powerful LA County Democratic Party (LACDP), with its 2.2 millions registered Democrats (2,662,109, as of Jan. 2018).
Prior to that, Bauman built the local gay Stonewall Democratic Club into a statewide political powerhouse recognized at the national level. In 2000, for instance, Vice-President Al Gore chose a meeting with Stonewall as the place to announce his opposition to the anti-gay Prop 22 initiative. Also in attendance was Gov. Gray Davis, who Bauman helped get elected two years earlier over much richer gubernatorial candidates Jane Harman and Al Checchi. Bauman severed as a senior advisor to Davis, which he followed with senior advisor positions to a succession of Assembly Speakers.
It was through his work and visibility in all these high profile positions that Bauman made being an out gay man in a long term relationship with Michael Andraychak "matter of fact."
Last October, he passed the LACDP torch to his protégé, Mark Gonzalez, a 33-year old out gay Latino.
With Democrats registering 8,471,371 (44.6%) of California's almost 19 million registered voters, compared to 4,827,973 (25.6%) for Republicans, and 4,734,847 (25%) for No Party Preference, Bauman's top priority helping Democrats win election should be a breeze.
But these are California Democrats, who sometimes seem to have a penchant for making things difficult. In 2018, that ironically may be having so many Democrats running to be one of the top two vote-getters in the June primaries, they weaken a possible winner's chance in a Republican-leaning district, such as the race to fill retiring Republican Rep. Daryl Issa's seat.
"My job is not to tell people they can't run," Bauman told the New York Times for a Feb. 14 story. "It's not to push people out of races. But to try to help good candidates look to see if they have other options they could run for and make an equally important contribution."
Bauman is not a fan of the top-two system. "That denies people an opportunity to vote for a candidate who represents their interests," Bauman told The Times. "It creates that danger that we could end up with so many Democrats that we split the vote so badly that we get aced out of a spot in November."
Meanwhile, Bauman says he and senior party officials also elected last year have "worked very hard to remake certain aspects of the party," including modernizing how the party is run internally, modernizing systems of governance, information and communication, diversifying staff and changing how meetings and the convention are run. "Our entire team of officers come from activist backgrounds," he says.
Recently, Bauman agreed to a change in how the platform amendment process is handled, allowing "all amendments that were submitted in good faith and which include the signatures of five DSCC members or five Registered Democrats from five different districts to be heard and treated with all due and regular consideration."
The convention will also be broken up into themes instead of an endless list of speaker after speaker. The convention will feature potential 2020 presidential candidates, include Oregon Sen. Jeff Merkley, LA Mayor Eric Garcetti, Sen. Kamala Harris and billionaire environmental activist Tom Steyer and the four gubernatorial candidates—Lt. Gov. Gavin Newsom, former LA Mayor Antonio Villaraigosa, state Treasurer John Chiang and former state schools chief Delaine Eastin. Sen. Dianne Feinstein, and reelection opponent state Senate leader Kevin de León, will also speak.
Women, African Americans, youth will all get their moments to shine. But of particular importance, says Bauman, is recognizing the labor movement which is facing frightening difficulties. The Monday after the convention, the Supreme Court will hear the Janus case.
"The Janis decision is one that will most likely take away the rights of unions that represent public workers to automatically have them enrolled as member or in they chose if they chose not to want to be represented, to force agency fees even though they benefit from the contract," says Bauman. "And the Saturday of our convention happens to organized labor's national day of action—in part because of the Janus case and in part because it's the 50th anniversary of the ASME Sanitation Workers strike in Memphis where Martin Luther King spoke and where he was sacrificed."
And among the key speakers is former Dallas Sheriff Lupe Valdez who is running to be governor of Texas.
"Much of the undertone of the Big Blue Beacon of Hope is that we know this is a year where we can actually reclaim America, not just California," says Bauman. "We already claimed California. And having a Latina lesbian sheriff running somewhat competitively to be governor of a red state like Texas fits the red-to-blue model that we're all recognize is essential for us to be successful. She's a powerful figure and she's running a pretty damn historical campaign."
Just chalk 2018 up to being an historic year.