February 22, 2018 at 11:22 am PST | by Troy Masters
Queery: Joe Landry
In 1992, when Joe Landry walked into my offices on Broadway at Bleecker Street in New York City, I knew someone special had arrived. He was all brains, brawn and handsome with a Boston accent for days and that's exactly what I thought an advertising salesperson should be.

"Why would you," I asked, "want to sell ads in a gay magazine?" Joe had been highly recommended by the art director of my magazine, QW, a glossy gay magazine that was the only LGBT media serving New York City at the time. "This is what I want to do. It's the contribution I want to make," I recall him saying earnestly.
He was on the team and an instant hit.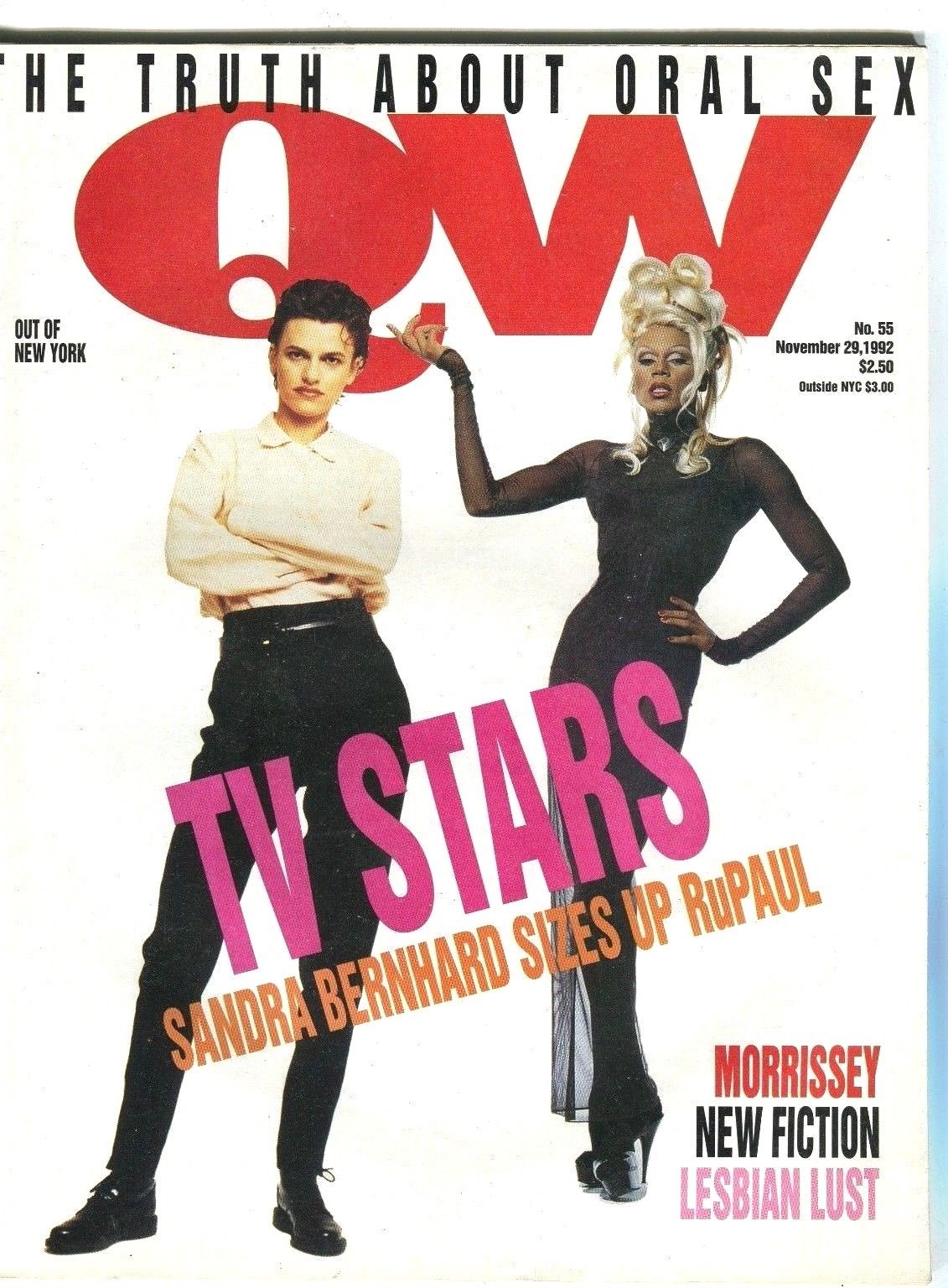 QW was heavy lifting and loads of turbulent, fabulous fun, yet we were in the thick of an epidemic and it seemed almost every day someone close to one of our 15 person staff was consumed by the AIDS crisis, either through their own illness, a partner's illness, imprisonment (most of the staff was in Queer Nation and ACT-UP) or death.
(In the end, the death of the magazine's financial partner, William Chafin, and several team members, forced me to close operations.  A year later I launched a newspaper that continues to this day, Gay City News.)
We were perhaps naive, but determined to change the world.
Joe, like me, has stayed the course with LGBT publishing and has done so for many of the same evolving reasons; fighting AIDS and gaining LGBTQ equality has been an all-consuming, near half-century struggle. Passion roped him in and has kept him here.
Publishing has served as a way to lead, educate, listen, communicate, promote diversity and to advocate to the wider world the value of our community. 
"When I moved to Boston in the late '80s I was walking down the street and somebody handed me a brochure. It said gay people are "going to go to hell." I was like, "this is wrong," Joe said in a recent ad for Lexus posted on Out.com.
"That's how I got started into gay publishing; I wanted to change the world."
He has done so by skillfully navigating the world of publishing and has, since joining the Advocate in 1994, been key to its survival.
The Advocate began as a newsletter for Los Angeles activist group Personal Rights in Defense and Education (PRIDE) in direct response to 1967's police raid on the Black Cat Tavern.  
The magazine has gone through dozens of hands and many iterations, but Landry has survived at its helm longer than anyone in its history.
Lexus OUT100 with Joe Landry **Episode 1** from Daniel Gomez Bagby on Vimeo.
Today it is owned by Pride Media and includes Out magazine, Plus magazine, Pride.com and the soon to be launched Chill brand. Management was recently backed by Oreva Capital, a Los Angeles-based investment firm that also owns cannabis magazine "High Times," in a buyout of the company. Joe is group publisher of The Advocate and Out Magazine.
Oreva Capital CEO Adam Levin told Reuters he was "looking for brands that have strong emotional ties with a community."
"To go from people getting beat up by the police for assembling as gay people to marriage equality in my lifetime, is something that is mind-bending to me," says Landry.
The world has changed a lot since Joe's 1992 foray into LGBT publishing, not to mention the medium itself.
"I was at a restaurant tonight in San Francisco and I watched as a gay couple discussed hashtags they should use for their food which, when it arrived, they were photographing with their phones to the web," he told me in a phone interview from San Francisco.
"Things have really moved along, haven't they? Hashtag: "Who are these people," and hashtag: "what do they want now," I asked.
"That always been our job," he said in typical Joe fashion.
How long have you been out and who was the hardest person to tell?
Well, my mother "sort of" caught me. I was 18. We had a long tearful talk on her bed. She offered to pay for me to go to therapy which was extremely surprising since she never offered to pay for anything else. I told her that if she wanted to spend her money on therapy she should go herself. I had already come to terms with being gay.This was 1982 in Leominster Massachusetts. Totally radical. She did ban my boyfriend from coming into her house so he would pull into the driveway and I would dash out.

Who's your LGBT hero?
Larry Kramer. I was walking down the street in NYC in 1991 during gay pride weekend. I had just moved to NYC the weekend prior. Larry Kramer was speaking in Union Square during a rally pleading with us to love one another. He unapologetically set the world on fire during the AIDS crisis and never backed down. He's the bravest person I've ever met.
What's Los Angeles' best nightspot, past or present?
Wow. I loved the Spotlight Lounge on Cahuenga. It's closed now. It's the only place where my trans best friend and I could each pickup a man. It was seedy and the drinks were cheap. It was fantastic.

Describe your dream wedding.
Eloping to Iceland.

What non-LGBT issue are you most passionate about?
I'm passionate about travel. It opens your minds to different people and points of view and therefore expands your perspective on the world.

What historical outcome would you change?
Hillary Clinton should be President. That being said I doubt the #metoo movement would have altered the cultural landscape so dramatically if she had won.

What's been the most memorable pop culture moment of your lifetime?
The HRC Equality Rocks concert during the Millennium March on Washington. Not only was I front row for Chaka Khan but George Michael sang a duet with Garth Brooks. It was history making.

On what do you insist?
Honesty.

What was your last Facebook post or Tweet?
I posted a photo of my beloved dog cheetah who i'm obsessed with.

If your life were a book, what would the title be?
"Sex, Lies and Videotape."
What do you believe in beyond the physical world?
I believe in energy. Positive attracts positive and negative attracts negative. We have control over the energy we put out and therefore attract. You can call if God, Allah, Krishna, Buddha or Karma.
What's your advice for LGBT movement leaders?
I've built my career on bringing parties together. The LGBTQ community and the business community. My goal from the onset was to change the world through commerce. Find a way to work with your partners. You're better off together.
If science discovered a way to change sexual orientation, what would you do?
Remove the scientist responsible.
What would you walk across hot coals for?
My loved ones.
What LGBT stereotype annoys you most?
People that stand in judgement of anyone in our community bug me the most.
What's your favorite LGBT movie?
That's a hard one. Cabaret, Female Trouble, Basic Instinct.
What's the most overrated social custom?
Valentine's Day. Who needs a manufactured holiday to show someone you love them?
What trophy or prize do you most covet?
I don't covet. I plan a course of action to accomplish or I move on.
What do you wish you'd known at 18?
That all of your feelings both bad and good pass without having to change them with mind altering substances.
Why Los Angeles?
You can live life in Los Angeles. My tenure in New York was not about living but about working. My life in LA is balanced. I have space to contemplate. I also travel alot which helps with my traffic induced anxiety. Driving from Hollywood to Westwood everyday is a nightmare.
Here's a little flavor of the day!