"Occupant" and "Flying Lovers" bring artists to life onstage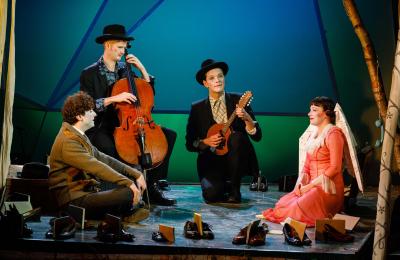 One of the great joys of theatre – or any art form, for that matter – is that it can tackle any individual subject and yield an infinite number of varied experiences, each one as individual and unique as the perspective of the creative mind behind it.
Often, those different interpretations can be starkly opposed to each other in almost every way, and you'd be hard pressed to find a better example of this than with two plays currently onstage in Los Angeles.
The first is the West Coast premiere of "Occupant," at the Garry Marshall Theatre in Toluca Lake.  Written by the late Edward Albee, the out playwright widely recognized as one of America's greatest dramatists, it's an intimate, two-person exploration of the life of sculptor Louise Nevelson.
Constructed as an "interview" with Nevelson, albeit taking place several years after her death, the play juxtaposes the "facts" of her life against her own personal memories – of her childhood in a Jewish settlement outside of Kiev and as part of an immigrant family in Maine, of her failed marriage to wealthy shipping magnate Charles Nevelson, of her experiences traveling and studying art in pre-WWII Europe – to build a portrait of a woman who struggled against the barriers imposed by cultural convention to come into her own as a successful and influential artist.
It's an intriguing premise, and Nevelson is a figure richly deserving of such public exploration.  Her monumental wooden sculptures alone were enough to ensure her lasting significance, but her role in challenging expectations about "appropriate" women's art – and indeed, "appropriate" women's behavior – made her into a feminist icon.
However, Albee's play – which pre-supposes a certain amount of familiarity with Nevelson and her work, despite its own acknowledgement that only "some" audience members will have heard of her – is far less interested in her cultural significance than it is in debating the difference between truth and illusion, the conflict between private identity and public persona, and the reason for creating art in the first place.  All of these are worthy themes; but Albee explored them throughout his legendary career – and while his biting, acerbic dialogue is here as much a treat as always, it must be observed that he doesn't appear to have had much new to say about any of them when he wrote "Occupant."
It doesn't help this production that director Heather Chesley seems unclear in her guidance of the piece; the "post-mortem interview" conceit doesn't take on much import beyond providing a connection to the playwright's absurdist roots, and the back-and-forth antagonism between Nevelson and her nameless interviewer has a shapeless flow that makes it feel more like an exercise in verbal sparring than a conversation with intent.
The performers, Martha Hackett and James Liebman, seem somewhat hobbled by this aimlessness.  It's a particular handicap for Liebman, who as the interviewer should presumably exert some sort of guidance; he never seems sure of where he is taking the conversation, or indeed why he is even having it.  Hackett certainly brings a lot of color and character to her portrayal of Nevelson, and she is given several opportunities to shine with lengthy reminiscences about her experiences and influences; but she, too, suffers from the apparent lack of purpose to the proceedings.
Still, things pull together in the second half, as the play and its characters get around to focusing on the meat of the matter.  It's here where Nevelson discusses her breakthrough, as an artist and as a woman, and brings home the point that her life was about becoming the person she always knew she should be – to fully occupy the persona she had envisioned for herself.  It's a powerful message; unfortunately, its power is considerably diluted by the meandering game of intellectual ping-pong which precedes it.
If "Occupant" takes an intellectual approach to the relationship between art and artist, "The Flying Lovers of Vitebsk"could be said to go as far in the other direction as possible.  This imported production from England's Kneehigh Players, currently onstage at the Wallis Annenberg Center for the Performing Arts, is as emotional, romantic, and fanciful as its title suggests.
Written and directed, respectively, by Daniel Jamieson and Emma Rice, it's the kind of production that thrills to its own theatricality.  Drawing influence from the English "panto" tradition, and heavily incorporating live music (performed by onstage musicians who are often participants in the action), it weaves the story of early modernist painter Marc Chagall and his first wife, Bella, from their courtship in the Russian Jewish community of Vitebsk, through their experiences in St. Petersberg during the Soviet Revolution, to their last years together as expatriates in Europe and America.
Its focus, however, is less on the biographical details of the pair (though it imaginatively dramatizes events from their life throughout) than it is on the way their love for each other informed Chagall's art.  It is, as director Rice says in her program notes, "first and foremost a love story," and its brisk 90 minute runtime is entirely devoted to the subject of love – of these two for each other, yes, but also for their village, for their family, for their country, for their art, and for life itself.  Sometimes it's a bittersweet tale – the Chagalls' life during the roller-coaster of the revolution was harrowing, and throughout their marriage there was always the inevitable pull of artistic creation turning husband away from wife; but ultimately, it's a resounding celebration of the way their love infused all aspects of their lives like the inner glow of Chagall's fantastical creations permeates all of his paintings.
Entertaining, tender, funny, and heartbreaking, "Flying Lovers" dazzles, as a cohesive whole; nevertheless, the work of its two stars deserves to be credited as a major contributing factor to its success.  Marc Antolin and Daisy Maywood are astonishingly good in their roles; adorned in white-face and old-world costumes that pay homage both to the theatrical roots of the piece and the origin of its real-life characters, they are called upon not just to embody these two souls through a script which is simultaneously intimate and presentational, but also to sing, dance, and perform acrobatic feats – sometimes all at once – even as they do so.  That they succeed in all these things is commendable; that they do it with such grace, panache, and obvious talent is remarkable.  These are surely two of the worthiest performances to be seen on the L.A. stage this year (no small feat in this "city of stars"), and they deserve to be singled out as such.
What connects both these plays, of course, is that each one deals with a real-life artist.  Both were Jewish, born (at roughly the same time) in settlements inside of deeply anti-Semitic Russia.  Though one emigrated with her family to America while the other remained in his home country for most of his early career, both of them were heavily affected by their cultural origins; and though each eventually found success, the paths they took to get there were as different as not only the work they created, but as the two plays that now illustrate their lives for L.A. audiences.
As for the plays themselves, while one focuses on the need to self-actualize as the primary creative drive of its subject, the other emphasizes the need to capture and preserve the cherished memories of life and love; nevertheless, they both speak of the need to rise above hardship and oppression and express the self through art.
In today's treacherous era, each of these stories carry the weight and urgency of a much-needed call to action.  They exhort us to find and use our own voices of expression, no matter what form they take, against the barriers we face.
That said, unless you are a die-hard theatre buff (or a hard-core Edward Albee fan), "Occupant" is a show you can afford to miss.
"Flying Lovers of Vitebsk," on the other hand, is a must-see.
"Occupant" – Garry Marshall Theatre, 4252 W Riverside Dr, Burbank, CA 91505
February 2 – March 4, 2018, Thursdays & Fridays at 8pm, Saturdays at 2pm & 8pm, Sundays at 3pm
"The Flying Lovers of Vitebsk" – Wallis Annenberg Center for the Performing Arts, 9390 N. Santa Monica Blvd., Beverly Hills, CA 90210
February 3 – March 11, 2018, Tuesdays thru Fridays at 7:30pm, Saturdays and select Sundays at 2pm and 7:30pm
Vlogger StanChris; My religious mom reacts to Norway's "gay Santa" ad
My religious mom reacts to Norway's gay Santa advertisement! Let's see what she has to say about it.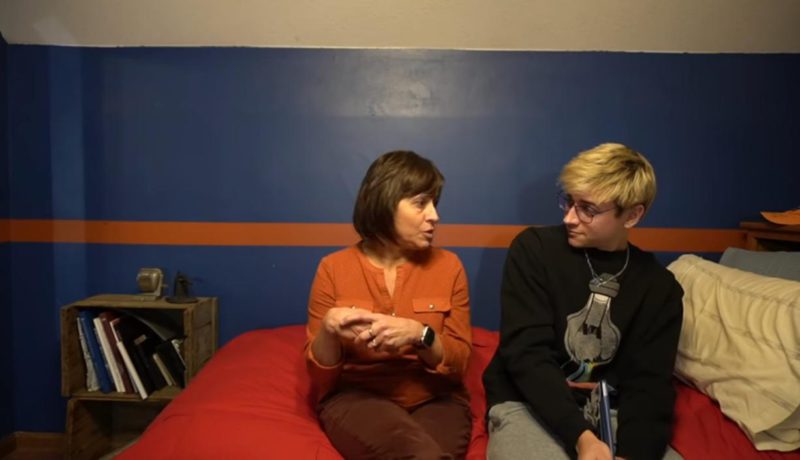 LOS ANGELES – The twenty-something StanChris, the Out YouTuber who has been building his audience on his YouTube channel by vlogging about the ordinary everyday experiences of his life as a young gay guy is back- this time interviewing his mother.
My religious mom reacts to Norway's gay Santa advertisement! Let's see what she has to say about it.
My religious mom reacts to Norway's "gay Santa" ad
********************
S O C I A L – L I N K S
→Instagram : stanchris https://instagram.com/stanchris
→ Twitter : stanchrisss https://twitter.com/stanchrisss
Subscribe here!!: https://youtube.com/c/stanchris
Watch more: https://youtu.be/rjI4c7nSXkw
Verhoeven returns with subversive tale of lesbian nun in 'Benedetta'
Period drama delivers sex, violence, and horrors of the Black Death
There was a time when Paul Verhoeven was a big deal in Hollywood.
The Dutch filmmaker first attracted international attention during an early career in his homeland, with critically acclaimed movies like "Turkish Delight" and "Soldier of Orange," which found an audience outside of the Netherlands and brought him greater opportunities in America, Once here, he adapted his style to fit a more commercial mold and forged a niche for himself with violent, action-packed sci-fi blockbusters, scoring major hits with "Robocop" and "Total Recall" before reaching a pinnacle with "Basic Instinct" – arguably still his most influential and iconic film.
Then came "Showgirls." Although the Joe Eszterhas-scripted stripper drama is now revered as a "so-bad-it's-great" cult classic, it was a box office bomb on its initial release, and its failure, coupled with the less-spectacular but equally definitive flopping of his next film, "Starship Troopers," effectively put an end to his climb up the Hollywood ladder.
That was not, however, the end of his story. Verhoeven moved back to his native country (where he was hailed as a returning hero) and rebounded with the critically lauded "Black Book" before spending the next two decades developing and producing new projects with other filmmakers. In 2016, he assumed the director's seat again, this time in France, and the resulting work ("Elle") put him once more into the international spotlight.
Now, he's back with another French film, and fans of his signature style – a blend of social satire, psycho-sexual themes, graphic violence, and near-exploitation-level erotic imagery that has prompted some commentators to label him as a provocateur – have every reason to be excited.
"Benedetta," which receives its long-delayed (due to COVID) release in the U.S. on Dec. 3, is the real-life story of a Renaissance-era Italian nun (Virginie Efira), whose passionate devotion to her faith – and especially to Jesus – sparks disturbing and dramatic visions. When young novice Bartolomea (Daphne Patakia) enters the convent and is assigned to her as a companion, it awakens a different kind of passion, and as their secret relationship escalates, so too do her miraculous episodes, which expand to include the physical manifestation of stigmata. Soon, despite the skepticism of the Mother Abbess (Charlotte Rampling), she finds herself heralded as a prophet by the other sisters and the local community, leading to controversy, investigation, and a power struggle that threatens the authority of the church itself.
Inspired by "Immodest Acts: The Life of a Lesbian Nun in Renaissance Italy," Judith C. Brown's biography of the real Sister Benedetta, Verhoeven's latest work is perhaps his most quintessential to date. In his screenplay (co-written with "Elle" collaborator David Birke), the Dutch auteur – who is also a widely recognized, if controversial, religious scholar – gives free reign to his now-familiar obsessions, weaving them all together into a sumptuously realized period drama that delivers copious amounts of nudity and sex, bloody violence, and the horrors of the Black Death while exploring the phenomenon of faith itself. Is Benedetta a saint or a harlot? Is she chosen by God or mentally ill? Are her visions real or is she a fraud, cynically exploiting the beliefs of those around her in a bold-faced grab for power and glory? And if she's lying, in the larger context of a world held firmly in the grip of a church that treats salvation as transactional and levies its presumed moral authority to unlimited financial and political gain, which is greater evil? Though the film strongly implies the answers lie somewhere between the "either/or" of absolutes, it shrewdly leaves the viewer to contemplate such questions for themselves.
What concerns "Benedetta" more than any esoteric debate is a sly-yet-candid commentary on the various levels of societal hierarchy and the ways in which the flow of power perpetuates itself through their devotion to maintaining the status quo. As Benedetta's perceived holiness carries her upward through the strata, from unwanted daughter of the merchant class to Mother Superior and beyond, more important than the veracity of her claims of divinity are the shifting and carefully calculated responses of those she encounters along the way. Fearing the loss of their own power, they ally and oppose themselves in whichever direction will help them maintain it. It's a Machiavellian game of "keep-away" in which those at the top will not hesitate to use economic class, gender, sexuality, and – if all else fails – torture and execution as weapons to repress those they deem unworthy.
Inevitably, the above scenario provides plenty of fodder for Verhoeven's movie to make points about religious hypocrisy, systemic oppression, and the way white heterosexual cisgender men keep the deck eternally stacked in their own favor – all of which invites us to recognize how little things have changed in the five centuries since Sister Benedetta's time. That, too, is right in line with the director's usual agenda.
Ultimately though, the signature touch that makes the movie unmistakably his is the way it revels in the lurid and sensational. Verhoeven delights in presenting imagery designed to shock us, and key elements of the film – from hyper-eroticized religious visions and explicit lesbian sex, to the prominent inclusion of a blasphemous wooden dildo as an important plot point – feel deliberately transgressive. This should be no surprise when one remembers that this is the director who brought us not only "Basic Instinct" and "Showgirls" but also "The Fourth Man," a homoerotic psychological thriller from 1983 still capable of making audiences squirm uncomfortably today; and while all this titillation may trigger the most prudish of viewers, it makes "Benedetta" into a deliciously subversive, wild-and-wooly ride for the rest of us. More to the point, it underscores the film's ultimate observation about the empowering nature of sexual liberation.
Helping Verhoeven make maximum impact with this obscure historical narrative is a cast that clearly relishes the material as much as he does. In the title role, the statuesque Efira successfully creates a compelling and charismatic figure while remaining an enigma, someone we can believe in equal measure might be sincere or corrupt and with whom we can empathize either way; likewise, Patakia exudes savvy and self-possession, transcending moral judgment as the object of her affection, and the two performers have a palpable chemistry, which is made all the more compelling by their thrillingly contemporary approach to the characters. Rounding out the triad of principal roles is Rampling, a cinematic icon who brings prestige and sophistication to the table in a masterful performance as the Abbess; more than just a grounding presence for her younger co-stars, she provides an important counterbalance with a subtle and layered performance as a woman who has devoted her life to a belief in which she has no faith, only to find herself overshadowed by a charlatan.
"Benedetta" is not exactly the kind of film that's likely to put Verhoeven back on the Hollywood fast track – it's far too radical in its underpinnings for that. Nevertheless, it's a welcome return to form from a unique and flamboyant filmmaker we've missed for far too long, and his fans – along with anybody with a taste for provocative cinema – should consider it a must-see.
'Capote's Women' is catnip to older pop culture fans
Revisiting iconic author's seven 'swans'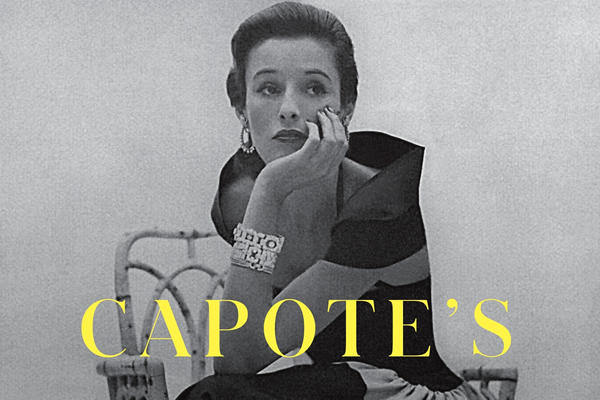 'Capote's Women'
By Laurence Leamer
C.2021, Putnam $28/356 pages
Her lips are locked tight.
Your best friend knows all your secrets, and she's keeping them; you told her things you had to tell somebody, and she's telling nobody. You always knew you could trust her; if you couldn't, she wouldn't be your BFF. But as in the new book "Capote's Women" by Laurence Leamer, what kind of a friend are you?
For months, Truman Capote had been promising a blockbuster.
Following his success with "Breakfast at Tiffany's" and "In Cold Blood," he was "one of the most famous authors in the world" but he needed a career-booster. The novel he was writing, he teased, would be about "his swans," seven wealthy, fashionable women who quite personified "beauty, taste, and manners."
His first swan was Barbara "Babe" Paley, whom he'd met on a trip with the David Selznicks to Jamaica. For Capote, "Babe was the epitome of class," simply "perfect" in every way; it helped that the famously gay writer was no threat to Paley's "madly jealous" husband.
Babe's "dearest friend" was Nancy "Slim" Keith, who quickly learned that if a lady wanted her confidences kept, she didn't tell Capote anything. She shouldn't have trusted Babe, either: When Slim left for a European trip, Babe asked if Slim's husband could accompany Babe's friend, Pamela Hayward, to a play.
Slim was aware of Pamela's predatory reputation, but what could she say?
Of course, Pamela, another of Truman's swans, stole Slim's man, a scandal that Capote loved.
Gloria Guinness was highly intelligent, possibly enough to be a spy in Nazi Germany. Lucy "C.Z." Guest was an upper-crust "elitist" with a "magical aura." Marella Agnelli "was born an Italian princess"; Lee Radziwill, of course, was Jacqueline Kennedy's sister.
Through the late 1960s, Capote claimed to be writing his masterpiece, his tour de force based on his swans, but several deadlines passed for it. He was sure Answered Prayers "would turn him once again into the most talked-about author in America."
Instead, when an excerpt from it was published, his swans got very ruffled feathers.
Every time you stand in line for groceries, the tabloids scream at you with so much drama that you either love it or hate it. Or, in the case of "Capote's Women," you cultivate it.
And that's infinitely fun, as told by author Laurence Leamer.
Happily, though, Leamer doesn't embellish or disrespect these women or Capote; he tells their tales in order, gently allowing readers' heads to spin with the wild, globe-hopping goings-on but not to the point that it's overdone. While most of this book is about these seven beautiful, wealthy, and serially married women – the Kardashians of their time, if you will – Capote is Leamer's glue, and Truman gets his due, as well.
Readers who devour this book will be sure that the writer would've been very happy about that.
"Capote's Women" should be like catnip to celeb-watchers of a Certain Age but even if you're not, find it. If you're a Hollywood fan, you'll want to get a lock on it.