LA Kings host second annual LGBT Pride Night at Staples Center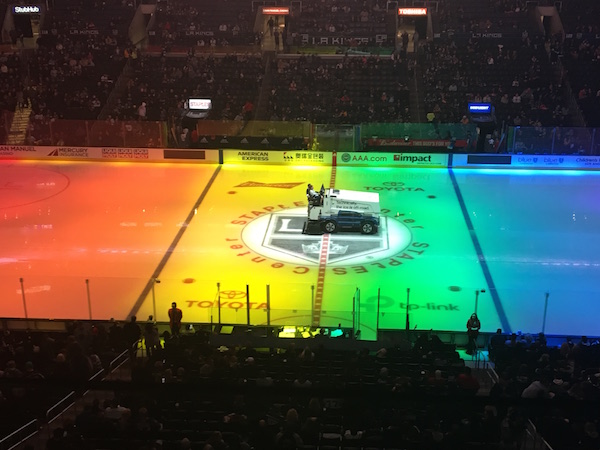 "I came here to support hockey in the LGBT community," said Jamison Lewis, 30, "and to watch my favorite team play." Lewis, an LA native and ice hockey player himself was enthusiastic about the Kings' second annual Pride Night at Staples Center. He attended with his boyfriend Michael Williams.
Mike Altieri, senior vice president of communications and team operations for the Kings would have been glad to know his team's LGBT outreach efforts affected such loyal fans so positively.
Pride Night began "as part of the National Hockey League's 'Hockey Is For Everyone' initiative," said Altieri. What began as a single game "has now evolved into multiple games."
"Hockey Is For Everyone" then became affiliated with another social change campaign called "You Can Play," which is "dedicated to the eradication of homophobia in sports," according to its website.
The Kings, said Altieri, "felt it was important to…drive awareness for the acceptance and inclusion of all individuals in our great sport of hockey."
If the mood at Staples Center was any indication, hockey fans of all persuasions seemed to concur.
One example: public displays of affection. "The Kiss Cam is a random search of the crowd for willing participants," said Altieri. A couple is framed by one of the numerous on-site video cameras. When the couple notices they are being shown on large screens hanging above the ice, they kiss. Several same-sex couples were featured and the auditorium responded with appreciative "Ooohs" and "Awwws."
The Kings also reached out to LGBT organizations, creating a multi-dimensional aspect for those attending. "We had groups from the Trevor Project, You Can Play and the LA Blades out to the game," Altieri said. "Each group set up an informational booth to engage with our fans."
The LA Blades (no affiliation with this newspaper) are a regional gay hockey team. During one of the rest periods the Blades, in uniform, assembled in the visiting team's players box as an announcer introduced them to the crowd. The players smiled and waved, the crowd cheered.
And, according to Altieri, AEG, the facilities management company that owns Staples Center, hosted the LA Gay & Lesbian Chamber of Commerce at the game as part of a corporate diversity and inclusion initiative.
What's the response been from Kings fans overall? "We receive feedback via social media platforms and emails," said Altieri. "Most, if not all, is extremely positive and supportive."
The overall financial impact of Pride Night on Kings ticket sales is minor. "We sold 150 tickets though the Pride Night offer," said Altieri, "which was a ticket and a pair of Pride Night socks."
Still, the social benefits of supporting a multitude of communities is in line with many companies' goals. "Differences with regards to race, gender, gender identity, age, national origin, disability, politics, sexual orientation, education, and religion," said Altieri "[means] we are focused on building a culture that consistently promotes diversity."
Kings players and coaches supported Pride Night. "All of our players," said Altieri, "agreed to use Pride Tape on their sticks, and autographed commemorative LA Kings Pride jerseys that were auctioned off to benefit local LGBTQ organizations."
On a table in the Staples Center team jerseys featuring players' surnames and their number in a rainbow theme were laid out, along with hockey sticks used during that game's warm-up featuring rainbow-colored tape wrapped around them.
How much money was raised? "$24,094 was the total for both the jerseys and sticks," Altieri said. Jonathan Quick's warm-up stick went for $275 while the autographed jerseys signed by Alec Martinez and Dustin Brown sold for $1,025 each. The highest bid was for a Pride jersey signed by the entire team at $1,276.
Pride-themed hockey tape is a thing. Two executives with Pride Tape, an Alberta-based social enterprise whose goal is to reduce the use of casual homophobia and transphobia in hockey, told me what inspired them.
"We wanted a campaign," said Jeff McQuade, "that would speak to young people about the issue of equality and inclusion, particularly in sport." The hockey market was important for two reasons. "One, it was in our own back yard in Edmonton, and, two, it was the last professional sport where there's no openly gay [player]."
McQuade pursued his connections, including one with the Kings' goaltending coach. "We talked to Bill Ranford, who's a friend, talked to him about the landscape out there…and the possible acceptance for an idea like this."
Recognizing the purchasing power of the rainbow segment, advertising messages supportive of and targeting the LGBT community appeared on the oversize screens suspended above the rink.
Blue Shield of California's campaign "Love Covers All" featured a black-and-white photograph of two middle-aged men in an embrace. The insurance giant also screened a commercial narrated by an openly lesbian woman.
From the nonprofit advocacy side the Trevor Project screened facts about the risk of teen suicide amongst LGBTQ minors, closing with a call-to-action on how donors could give time and money.
As far as Pride Night swag, LA Kings t-shirts and caps with rainbow-tinged logos sold out fast, disappointing a number of would-be customers. Altieri promised to have more Pride Night-branded merchandise next year.
All Kings' LGBT-inclusive efforts scored high with fan Lewis. "It's great exposure for our community that anyone can basically go out there," onto the ice, "no matter your sexuality, age, race, all that," he said.
But there is one the Kings could have done better.
Having gone to the Anaheim Ducks' recent Pride Night Lewis and Williams showed me a video on one of their smartphones: a drag queen rode the ice-smoothing Zamboni before the game, waving and blowing kisses into the crowd.
"I mean, they're Anaheim," Williams said. "We're LA. We should at least match that."
The LA Kings crushed the Columbus Blue Jackets 5-2 and are in a strong position heading into the playoffs. Hockey season continues through the first week of April. Tickets available at nhl.com/kings/tickets.
The voice of Los Angeles Dodgers baseball, legendary Vin Scully has died
"The game is the thing, not me," he told The LA Times in 1998. "I am just a conduit for the game. I am the guy between the expert & the fan. I am not the expert"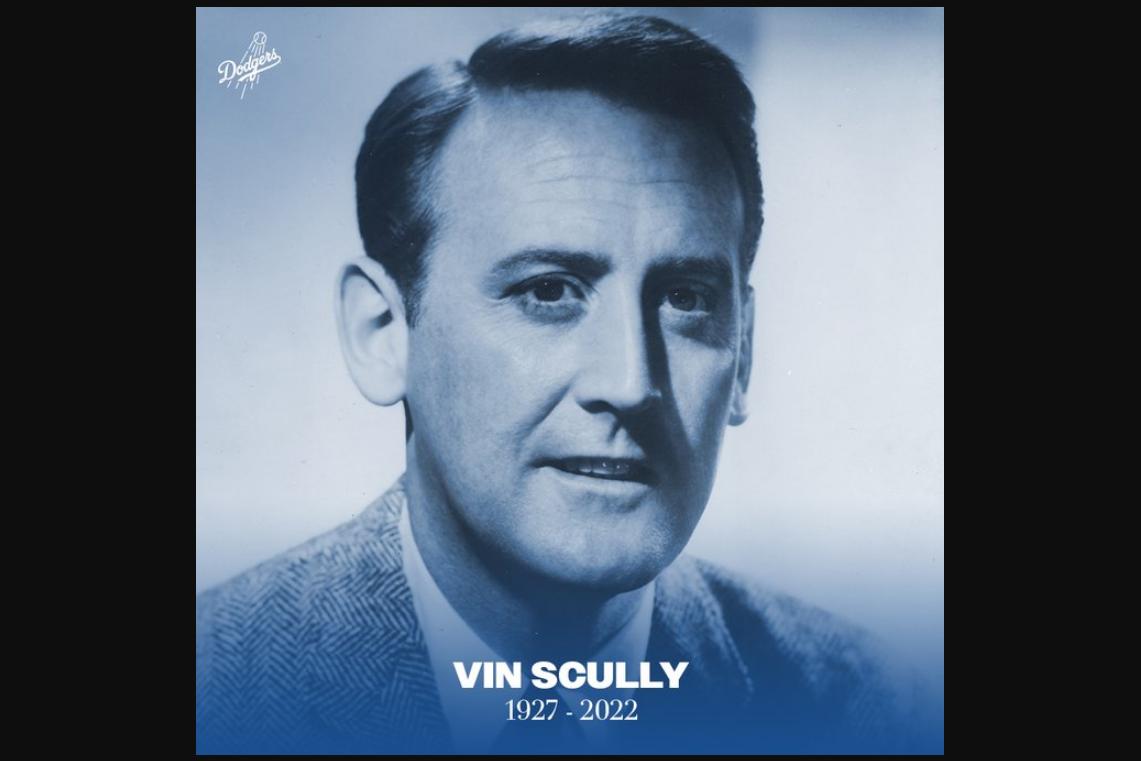 LOS ANGELES – The iconic phrase "It's time for Dodgers baseball" voiced by Vin Scully, ringing out at the home of the Los Angeles Dodgers for over 60 years was termed "the heartbeat of the Dodgers," by the team as it sadly announced the legendary broadcaster's passing at age 94 Tuesday.
"We have lost an icon," said Dodger President & CEO Stan Kasten. "The Dodgers' Vin Scully was one of the greatest voices in all of sports. He was a giant of a man, not only as a broadcaster, but as a humanitarian. He loved people. He loved life. He loved baseball and the Dodgers. And he loved his family. His voice will always be heard and etched in all of our minds forever. I know he was looking forward to joining the love of his life, Sandi. Our thoughts and prayers go out to his family during this very difficult time. Vin will be truly missed."
California Governor Gavin Newsom expressed his condolences Tuesday evening after the news broke of Scully's death. In a statement the Governor said:
"Vin Scully was a master of his craft. A native son of New York, his unmistakable voice will forever be synonymous with Los Angeles.
When the Dodgers moved from Brooklyn in 1958, Vin came with them. For more than six decades, he provided the soundtrack for generations of baseball fans. He was a master storyteller whose calls had an unparalleled musical quality that was a source of comfort for millions.
Over his remarkable career, Vin consistently demonstrated the remarkable ability to improvise poetry, a true artist whose love for the game rang through every Dodgers broadcast. He was quite simply the greatest of all time, and will be sorely missed not just by his family and friends but by millions of baseball fans."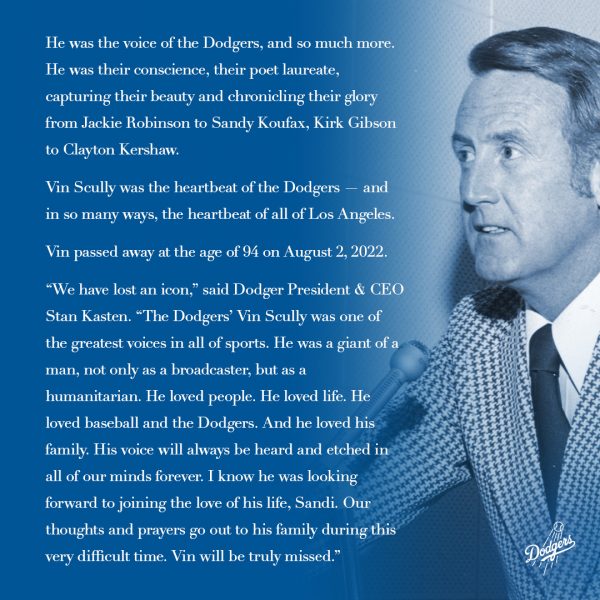 LA's hometown station KTLA 5 reported that Vincent Edward Scully was born on Nov. 29, 1927, in Bronx, New York. He began his legendary career at Fordham University, where he worked on the school paper and for the college radio station.
He latched onto the then-Brooklyn Dodgers in the 1950s and followed the team to the West Coast where he would become synonymous with Dodgers baseball for the next 67 season.
Scully retired from calling Dodgers games after the 2016 season, eight years after announcing his original plans to step away from the game he loved.
He was a MLB Hall of Fame inductee in the 1980s, becoming one of only a handful of announcers to receive the honor. In 2016 he was awarded the Presidential Medal of Freedom by President Barack Obama.
Earlier this year, he was awarded the Baseball Digest lifetime achievement award.
California U.S. Senator Alex Padilla remembered the Dodger broadcaster in a statement:
"Angela and I join Los Angeles—and baseball fans around the world—in mourning the passing of Vin Scully. From Opening Day to the World Series and every inning in between, for generations of fans, Vin Scully's voice meant it was time for Dodger baseball. Growing up in the San Fernando Valley in the 1980s, I spent many evenings dreaming of playing baseball in the major leagues while Vin's voice narrated the action.
"Vin's unparalleled storytelling and love of sports allowed him to transcend baseball. Many fans recall Vin's unique calls on some of the most memorable football games and golf tournaments of the 20th Century.
"While he became a legend for his talents behind the microphone, he will be remembered best for his decency beyond the broadcast booth. A few years ago, as California's Secretary of State, I had the opportunity to introduce Angela and our boys to Vin at a voter registration event before the game. He was incredibly gracious to my family, as he was to all fans. He always made time for fans—regardless of age or occupation—whenever and wherever he met them. Vin Scully was truly an ambassador for the Dodgers, Los Angeles, and the entire sport of baseball. Our hearts go out to the entire Scully family."
In a Facebook post, Out Dodgers executive Erik Braverman expressed his sadness at the passage of the team's legendary broadcaster:
August 3, 2022
From KTLA:
The LA Sparks donate shoes to homeless youth honoring Brittney Griner
The shoe drive was originally an initiative by Griner to help those in need in the Phoenix metropolitan area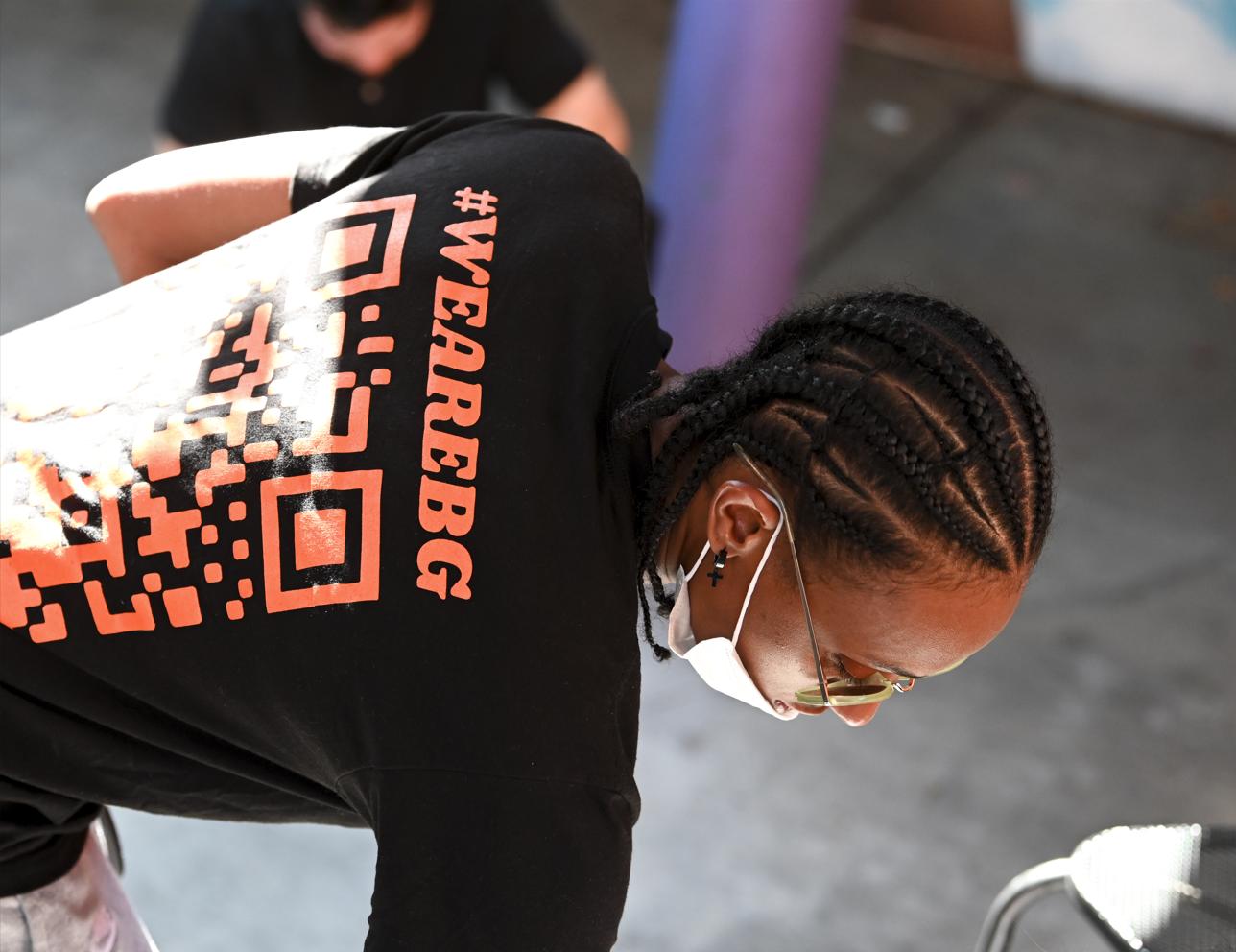 HOLLYWOOD – Led by Los Angeles Sparks guard Brittney Sykes, the WNBA championship team's executive staff donated dozens of pairs of shoes to Covenant House California for children experiencing homelessness this past Monday.
The shoes were donated, in part, to honor WNBA Phoenix Mercury star Brittney Griner who currently remains detained in Russia.
The shoes were collected throughout the WNBA season in collaboration with Griner's team, the Phoenix Mercury, and her annual Heart and Sole Shoe Drive. As the Mercury visited all 12 cities with WNBA teams, people were encouraged to bring new or lightly used shoes to be donated to local causes. The nonprofit HavASole also contributed to the shoe drive.
The shoe drive was originally an initiative by Griner to help those in need in the Phoenix metropolitan area.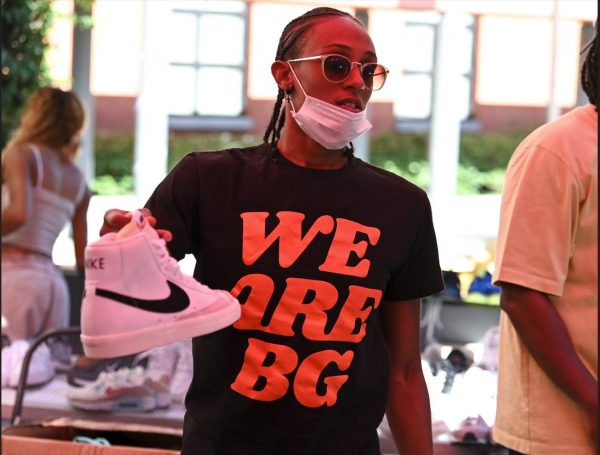 As Griner remains detained in Russia, the drive was expanded throughout the league in her honor. The local shoe drive was held in Los Angeles on July 4 when the Sparks and Mercury faced off in the Crypto.com arena, KTLA reported.
Covenant House California (CHC) is a non-profit youth shelter that provides sanctuary and support for youth experiencing homelessness, ages 18-24. In their mission statement the organization notes: "We believe that no young person deserves to be homeless; that every young person in California deserves shelter, food, clothing, education … and most importantly, to be loved."
CHC provides a full continuum of services to meet the physical, emotional, educational, vocational, and spiritual well-being of young people, in order to provide them with the best chance for success in independence.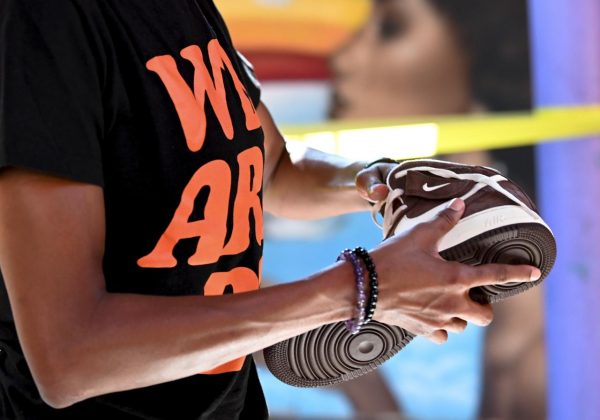 Officials at Moscow's Sheremetyevo Airport in February detained Griner — a Phoenix Mercury center and two-time Olympic gold medalist after customs inspectors allegedly found hashish oil in her luggage. The State Department has determined that Russia "wrongfully detained" her.
"I'd like to plead guilty, your honor, but there was no intent," Griner told a Moscow judge during the second hearing in her trial, according to the New York Times. "I didn't want to break the law."
President Joe Biden and Vice President Kamala Harris spoke with Cherelle Griner earlier this month and U.S. Chargé d'Affaires Elizabeth Rood delivered a letter from the president to the WNBA star in answer to a letter Griner had written to Biden pleading for his assistance in gaining her freedom.
Secretary of State Antony Blinken after Brittney Griner's guilty plea reiterated the Biden administration remains committed to securing her release.
"We will not relent until Brittney, Paul Whelan, and all other wrongfully detained Americans are reunited with their loved ones," tweeted Blinken.
Los Angeles to host 2028 Olympic Summer Games July 14 through 30th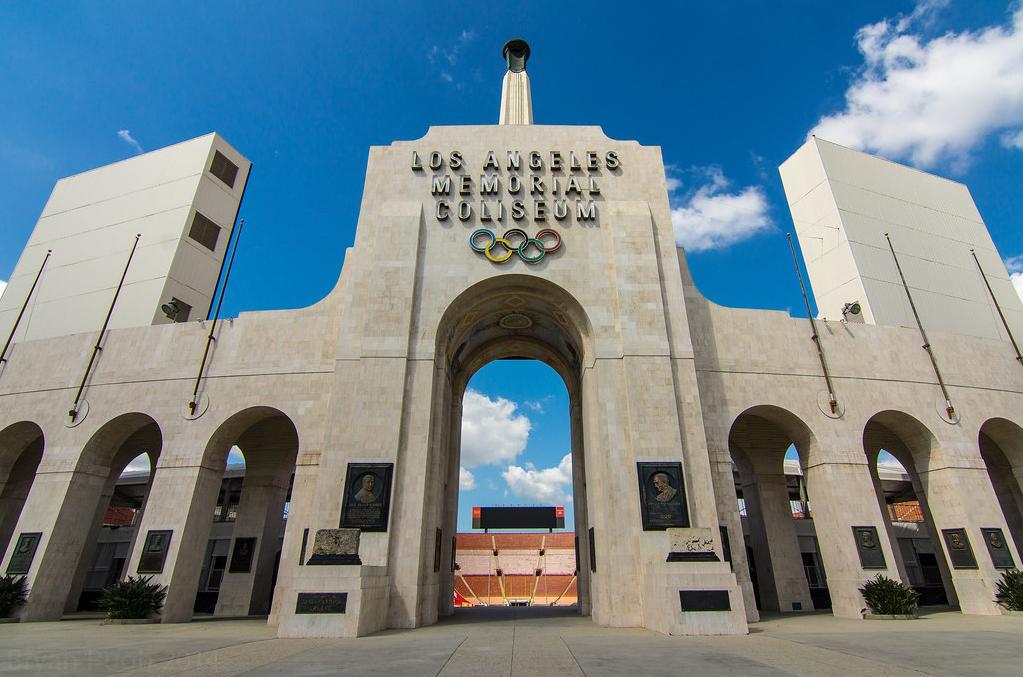 LOS ANGELES – In a news conference Monday, Los Angeles Mayor Eric Garcetti, International Olympic Committee president Thomas Bach alongside IOC member Nicole Hoevertsz, the Los Angeles Olympic coordination commission chair, announced that the City will play host to the Summer Games in 2028.
The Games will begin with a dual opening ceremony at the Coliseum and SoFi Stadium on July 14, 2028, and continue through July 30. The Paralympics will follow, starting on Aug. 15. There will be venues across Southern California for the various international sporting events and completions.
"With set dates in hand, Los Angeles is ready and excited to host the Olympics for the third time and the Paralympics for the first time in history," said Mayor Garcetti. "The Games represent a once in a lifetime opportunity for LA — a bold investment throughout our communities with equity and progress as the main focus. This will bring vast opportunity into every corner of the city ensuring a lasting legacy for future generations of Angelenos."
"Los Angeles is a special place for sport," Hoevertsz remarked. She had competed in the 1984 Summer Olympic Games, which were also held in Los Angeles, as athlete in the synchronized swimming competition for Aruba.
"It's wonderful to see the continued progress of the LA28 Games and especially terrific to witness the positive impact the Games can have on the community well before the Olympic flame ever reaches American soil. We have much to continue to plan and celebrate as we prepare to deliver the beauty and excitement of sport to the world. The confirmation of the Games dates now gives LA a firm deadline when it will need to be ready to welcome the world."
The Orange County Register reported that LA 2028 will receive at least $2 billion from the IOC, up from $1.7 billion had the city hosted the 2024 Games and the largest payout ever to an Olympic host city. Los Angeles also will receive the IOC's 20 percent share of the 2028 Games surplus. With the deal, LA 2028 will receive 80 percent of those Olympics' surplus. LA 2028 initially projected a $166.1 million surplus in 2015 documents, an estimate considered conservative by several longtime Olympic bid analysts.