Oscar 2018 grapples with inclusivity, misogyny
The age of #MeToo and #TimesUp finds a close up at Hollywood and Highland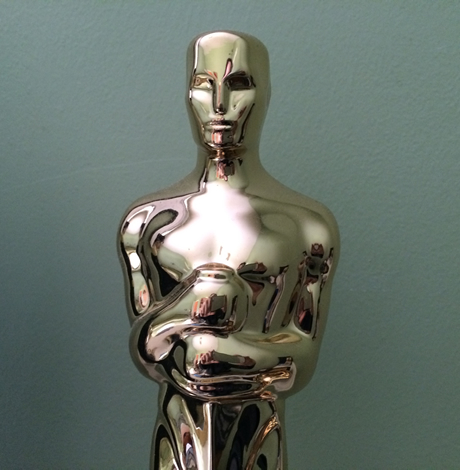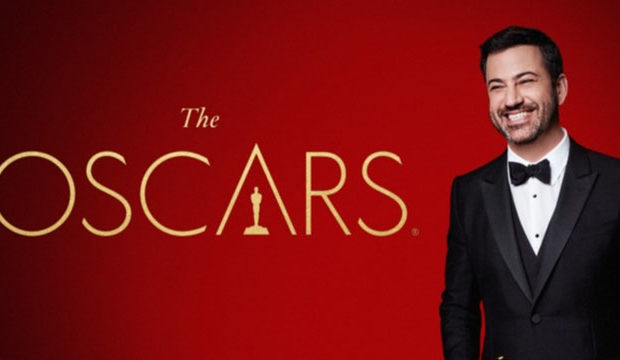 The message, in case you missed it, came through loud and clear in host Jimmy Kimmel's opening monologue.  Referring to the Harvey Weinstein scandal and the subsequent impact of the #MeToo and #TimesUp movements, he said, "What happened with Harvey and what's happening all over is way overdue. We can't let bad behavior slide anymore. The world is watching us. We need to set an example."
He also addressed positive steps towards inclusion in the movie industry over the past year, and pointed out how these were reflected in this year's crop of nominations – singling out Greta Gerwig (the first female nominated for Best Director in 8 years, for "Lady Bird") and Rachel Morrison (the first female nominated for Best Cinematography, ever, for "Mudbound").
It's worth pointing out that, later in the evening, both these women lost the award in their respective categories.
Throughout the evening, it was clear that the Academy had taken pains to ensure the #OscarSoWhite hashtag would not be a thing this year.  From "Black Panther" star Chadwick Boseman to Asian-American "Last Jedi" actress Kelly Marie Tran to Native American actor Wes Studi, the show was all about representation; it became so obvious that, late in the proceedings, presenters Tiffany Haddish and Maya Rudolph joked about "Oscar So Black" before reassuring the audience that there were still plenty of white people backstage (the pair's appearance was one of the evening's highlights, with many online commentators calling for them to co-host a show or be teamed for a movie).
Mary J. Blige – the first person to be nominated for both her acting and songwriting – performed "Mighty River" (from "Mudbound" which she co-wrote with Raphael Saadiq and Taura Stinson), and accompanying Keala Settle in her rendition of "This Is Me" (the inclusive, self-empowering anthem from "The Greatest Showman") was an emphatically diverse back-up choir and dance corps that helped drive the performance toward an enthusiastic standing ovation from the crowd.
Both would later lose the award. It was a running theme throughout the show.
The biggest disappointment of the evening – certainly for LGBT audiences, but also for many others who were rightly electrified by his astonishing performance – was Timothée Chalamet's loss in the Best Actor category for his performance in "Call Me By Your Name."  Though Chalamet is straight, he played a young gay (or, at least, fluid) man experiencing first love during a summer fling with his father's handsome assistant; his portrayal has been widely hailed as one of the best screen performances in years, but the award went to longtime Hollywood favorite Gary Oldman, for his turn as Winston Churchill in "Darkest Hour."  Oldman, who has taken the prize in most of the major awards ceremonies leading up to the Oscars, and was considered the front runner – but there was hope of an upset (particularly after Chalamet's recent win in the same category at the Independent Spirit Awards, and while it was not unexpected, the loss was still a let-down.
Still, there were triumphs, too.  "Call Me By Your Name" did take home one of the prizes for which it was nominated, when out screenwriter James Ivory (a revered cinema veteran and four-time nominee) was given the award for Best Adapted Screenplay.  He thanked André Aciman, author of the novel on which the film is based, for the story, which he claimed drew him because of its "personal relevance" to his own life ("Whether straight or gay or somewhere in between, we've all gone through first love and come out the other side intact"), and his former collaborators – including his producing (and life) partner, Ismael Merchant, who passed away in 2005.
The other writing award, for Best Original Screenplay, was also a celebration of diversity. Only the third filmmaker to be nominated for the writing, directing, and picture prizes, Jordan Peele became the first black winner of the prize for "Get Out," his brilliant, double-edged horror movie that served up biting social satire alongside its hair-raising thrills. In his speech, he said, "I want to dedicate this to all the people who raised my voice and let me make this movie."  Before the ceremony, during his red carpet interview, when asked what message he was trying to convey in his film, he said it was "that we're never done with the conversation about race in America."
The most resounding victory for inclusiveness came with the award for Best Foreign Language Film, which went to "A Fantastic Woman," Sebastian Lelio's Chilean movie featuring a trans protagonist whose life is turned upside down when her lover and protector unexpectedly passes away.  
The film's star, Daniela Vega, took the stage with Lelio and the film's other producers to accept the award, and later became the first trans person to present on the Oscar stage when she introduced Sufjan Stevens' performance of "Mystery of Love," his nominated song from "Call Me By Your Name." The movie's win marks a major moment for trans awareness in the film community. It's telling that it originated in a foreign country – but that also brings recognition for the Latino community.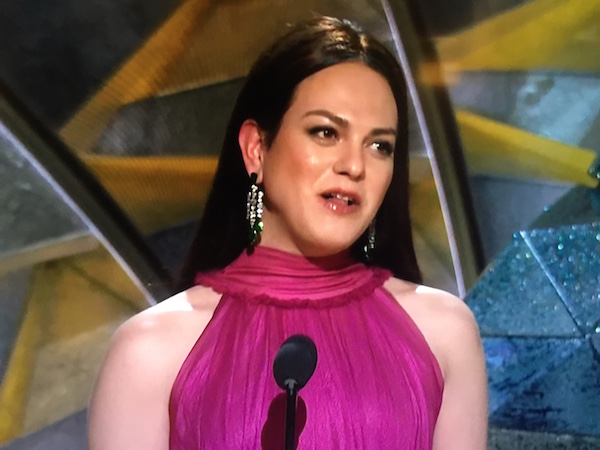 Latino fans got more love with the predicted win by Mexican filmmaker Guillermo Del Toro in the Best Director category (for "The Shape of Water"), and with "Coco," the popular and critically acclaimed Disney/Pixar film about a Mexican boy's journey to the City of the Dead during Dia de los Muertos, which took home the awards for Best Original Song and Best Animated Feature.  Initially criticized for cultural appropriation, the film's creators overcame the protests by drawing heavily on Latino involvement in its development and production, resulting in a movie that has been hailed on all sides for promoting multi-cultural awareness. During the acceptance speech for Best Animated Feature, director Lee Unkrich drew cheers by saying "Marginalized people deserve to feel like they belong.  Representation matters." The film also scored some recognition for the LGBT community when producer Darla K. Anderson and writer Adrian Molina each thanked their same-sex spouses – an act which, not so long ago, might have been a death blow to their careers.
Most of the rest of the evening's wins were predictable, safe choices. Straight ally and fan favorite Allison Janney won Best Supporting Actress for her memorable work as Margot Robbie's cold-hearted mother in "I, Tonya," and Sam Rockwell claimed the Supporting Actor prize for his effective (if somewhat controversial) performance as a racist cop beginning to feel empathy in "Three Billboards."
The last award of the evening provided the biggest surprise, albeit a mild one, when "Billboards" – considered the favorite candidate, despite criticisms over its middle-of-the-road approach to such issues as racism and homophobia (not to mention quibbles about its contrived storytelling) – lost the Best Picture award to Del Toro's "The Shape of Water."  Described by the director as "a fairy tale for troubled times," this haunting fantasy about the romance between a mute woman and an amphibious creature being held in a government lab crossed genres to tell a story about finding empathy for "the other," with characters representing multiple marginalized populations sharing the spotlight. While not delivering an outright political message, it speaks truth to power through parable, and presents a lingering fable of empowerment.  Though not as forceful a victory for women as "Lady Bird" might have been, nor as profound a message of change as "Call Me By Your Name" could have sent, its win was nevertheless a satisfying conclusion to the ceremony – even if it did feel, a little, like a consolation prize.
For all its effort to showcase the Academy's evolving attitudes, the evening's winners still seemed to reflect a certain resistance to change.  While time was given to the #TimesUp movement – represented by Weinstein accusers Ashley Judd, Annabella Sciorra and Salma Hayek – to make an inspiring video presentation designed to encourage "equality, inclusion, and intersectionality," it was hard to ignore the fact that less than thirty minutes earlier the award for Best Animated Short had been handed to Glen Keane and his co-producer Kobe Bryant who was charged with raping a 19-year-old hotel clerk in 2003 (she refused to testify and the case was dropped).
Likewise, though Kimmel in his opening monologue encouraged recipients to use their time in the spotlight as a platform to speak their minds about important issues, scarcely a single controversial word was spoken during the entire proceedings.  Indeed, Kimmel himself was the only one who veered into the realm of non-Hollywood politics, promoting the Parkland students protest march on March 24 and joking that "we don't make movies like 'Call Me By Your Name' to make money, we make them to upset Mike Pence."
The low-key tone of the night may have been partly due to the #TimesUp movement's decision to hold off on protests this time around, in favor of taking a leadership role in promoting awareness and inclusivity moving forward – which they did, and effectively so. Though probably not officially coordinated by any organization, the display of solidarity incited by Frances McDormand (Best Actress, as expected, for her work in "Three Billboards"), who in her acceptance speech invited every female nominee in every category to stand up, was a stirring climax to the current of feminism that flowed through the show.  Even so, one couldn't help but wonder at the number of opportunities missed for political barnstorming – particularly at an event held in the heart, both literally and figuratively, of "liberal Hollywood."
Even so, there was plenty of encouragement to be found at the Academy Awards this year.  Let's hope that all the good intentions haven't been long forgotten by the time the get around to rewarding the films of 2018.
Out track star heads to Tokyo as video of her hugging her Gran goes viral
Her moment of victory and celebration with her Gran was caught on video and later shared thousands of times on Twitter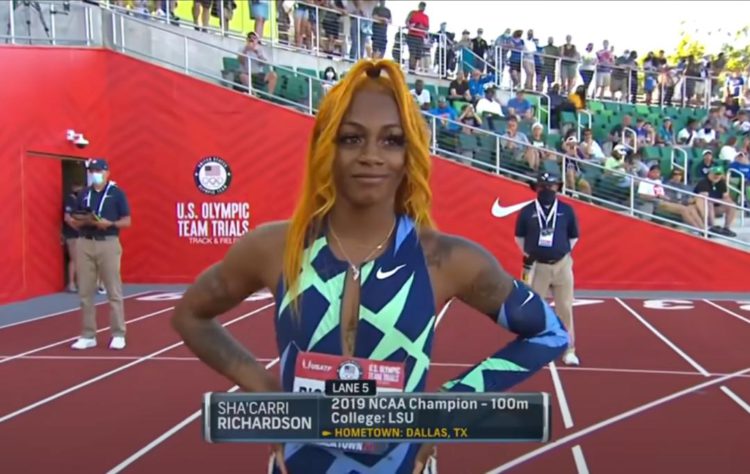 EUGENE, Or. – A 21 year old out female sprinter is headed to the summer Olympic games in Tokyo after winning the 100-meter heat and securing a coveted spot as part of the U.S. women's team in the Olympic trials that were held at the newly renovated Hayward Field at the University of Oregon in Eugene this past weekend.
Sha'Carri Richardson, a former Louisiana State University (LSU) sprinter put on an amazing run, afterwards telling NBC News Sports that her biological mother died just a week before the qualifying Olympic trials. Richardson, who celebrated her win by running up the Hayward Field stairs to hug her grandmother, says that family means everything.
"My family has kept me grounded," Richardson said. "This year has been crazy for me. Going from just last week losing my biological mother passed away and still choosing to pursue my dream, still coming out here and still trying to make the family that I still have on this earth proud."
Her moment of victory and celebration with her Gran was caught on video and later shared thousands of times on Twitter including by Deputy White House Press Secretary Karine Jean-Pierre.
There's nothing like the love of a grandmother. Beautiful ❤️

21 year old Sha'Carri Richardson embraces her grandmother after qualifying for her first Olympic Games.
pic.twitter.com/Rf65ZiTmx4

— Karine Jean-Pierre (@K_JeanPierre) June 22, 2021
The sprinter also took time to thank her girlfriend who she had said inspires her, and also picked out her hair color. "My girlfriend actually picked my [hair] color," Richardson said. "She said it like spoke to her, the fact that it was just so loud and vibrant, and that's who I am."
WATCH:
Hollywood's Peter Kallinteris Agency launching LGBTQ dreams
"It's important to me to actively participate with a platform and space for the LGBTQ community. I want to make a difference and be a leader"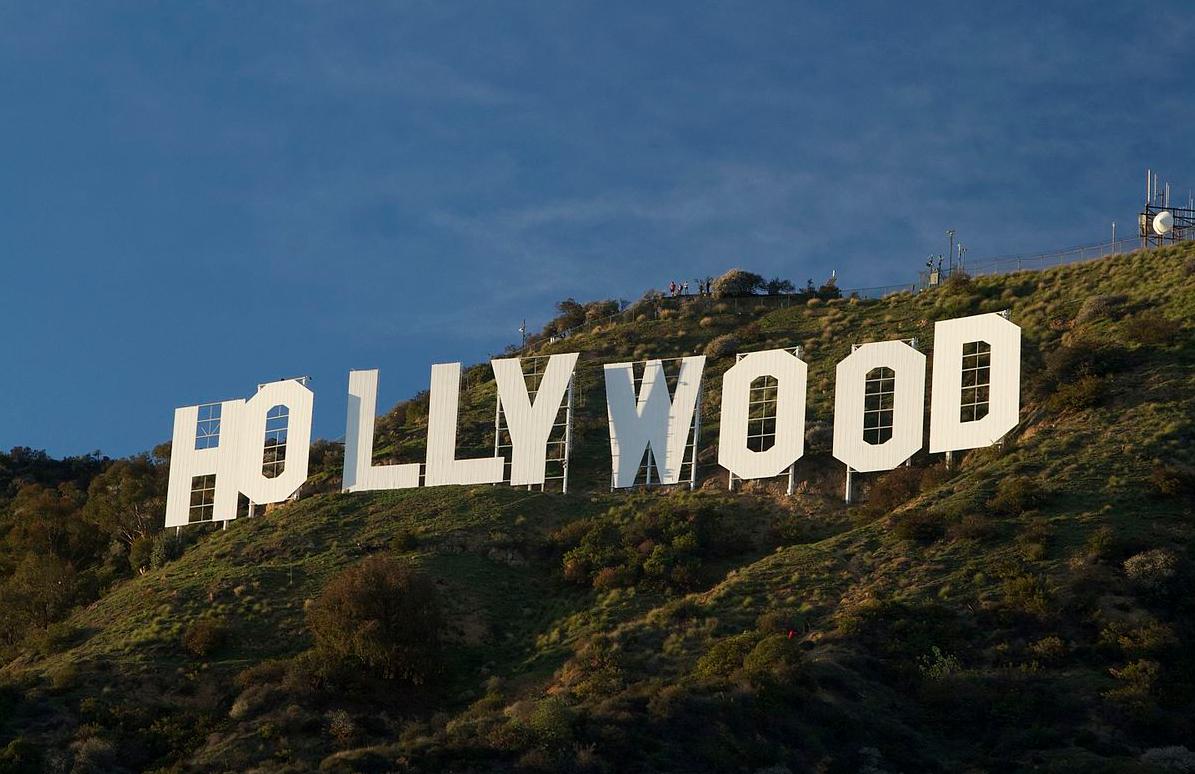 HOLLYWOOD – Whether they'd admit to it or not the aspiration for most actors is to be sitting in the Dolby Theatre at some point in their careers, dressed in their finest fashion ensemble at the most prestigious event of the year and hear, "and the Oscar goes to [insert their name]." Conversely also true for the Emmy awards or the Tony awards, yet for many LGBTQ artists the path to that goal is fraught with obstacles and difficulties.
In 2018, a young Black actor from Atlanta, Georgia, was given a supporting role as Ethan in the surprise hit film Love Simon. That actor, Clark Moore, in interviews with host Rob Watson, journalists Dawn Ennis and Brody Levesque on RATED LGBTQ RADIO and separately with Teen Vogue's Shammara Lawerence spoke of the difficulty landing roles like that of Ethan, but also the conflict inherent with how the film and television industry has seen LGBTQ actors.
Answering a question by Teen Vogue's Lawerence centered on that conflict, Moore bluntly assessed the landscape telling her; "Historically, I think the reason why there haven't been more gay roles or more gay actors playing roles that have lots of layers to them and lots of depths to them is because for whatever reason, people think that the story is done. We've seen the gay character. We know what he says. We know what he thinks. We don't need to tell that story anymore, but if you think about it, we've had a full canon of stories about straight white men that stretch back millennia, and so we're only scratching the surface," Moore pointed out.
"If we can have stories about people all the way back thousands of years ago and we can still be telling the same story now about straight white men and their journey to self-discovery or redemption, there's plenty of stories to tell of people of color and LGBTQ people and anybody who falls in the intersection of those two identities," he added.
Yet in the age of digital moving beyond the traditional film and television as more and more content is streamed online- and there's insatiable need by casting agencies for a wider diverse spectrum of actors, there are still obstacles in the path for LGBTQ actors, especially trans and disabled LGBTQ actors.
Enter Peter Kallinteris, who with his broad based knowledge and understanding of the critical needs of the LGBTQ actor community decided that the time has arrived to have specialized representation for that community.
"Looking to the past, Hollywood hasn't been very kind to the Queer community. Throughout the history of cinema gay men were either played as effeminate, weak, airheads, and lesbians as tough softball or gym coaches, who are often played by straight people," Kallinteris said. "Within the the broader culture, there are subcultures, just as within any community. They are nuances within each that will never find its way between the pages of a table read."
"To create an authentic moment the space has to be made for those who've lived that life every day. Gay, Black, White or Straight ect, our experiences of the world are different depending on how we show up. In many cases that will determine our outcomes," he noted. "Specialized representation is so important because without the lingering trauma, and continued hatred & fear toward our community the Queer division of PKA wouldn't exist, we'd just be accepted. We have important stories to tell and will continue to be telling them. PKA is just the begging for all to feel safe and thrive."
In a statement issued from his offices at the Sunset-Gower Studios, the former historic home of pioneering Columbia Pictures founded in 1918, Kallinteris reflected, "When I was a young Actor being gay was career ending."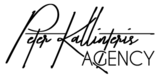 "Today it's celebrated. It's important to me to actively participate with a platform and space for the LGBTQ community. I want to make a difference and be a leader because I can."
To accomplish this he launched the Queer Division of his PKA agency. "The Queer Division of PKA was inevitable, a natural outgrowth of my own personal evolution first by coming out as gay man, from Artist to Agent. The timing was right to make an impact with talent," he said.
"As my Agency grew I was able to gleam that there was a space beginning to open up by which I could represent the full spectrum of Queer humanity & sexuality within the arts. Not as one dimensional static caricatures, but as beings who's emotions run the full gamut of the human experience. This was very exciting to me, I have a opportunity to effect change. I wanted to be apart of history Pioneering a movement," he added.
He said that his message to LGBTQ artists is simple. "I want talent to know they will be given the opportunity to be who they are, live their truth and work for who they are without rejection, humiliation, fear, or hopelessness. People perform at their best, live at their best. And do their best when they are happiest. PKA is not just a brand, we are the LGBTQIA community. If life imitates art, then let's represent it boldly!"
His expectations of the film and television industry's reaction? "My inspiration to launch the Q.D. is truthfully representing talent that reflects the current needs for the industry, and to remain a permanent fixture within the industry that continues to grow stronger. I want the industry to understand I've created this environment specifically for the Queer community. I'm happy & honored to be the first Agency that represents this community in this way," Kallinteris said.
Last week, PKA, whose clients include, Justin Jedlica (TV personality), Steven James Tingus (President George W. Bush's lead for disability research and policy for eight years), Kate Linder (The Young and the Restless), Albert Lawrence (IMDB Host), Deric Battiste aka DJ D-Wrek (MTV's Wild 'N Out), and Leslie Stratton (The Swing of Things, Truth or Dare), announced the launch of the Queer Division in a video.
WATCH:
Carl Nassib comes out as gay, first active player in NFL history
Nassib also announced that he is donating $100,000 to the Trevor Project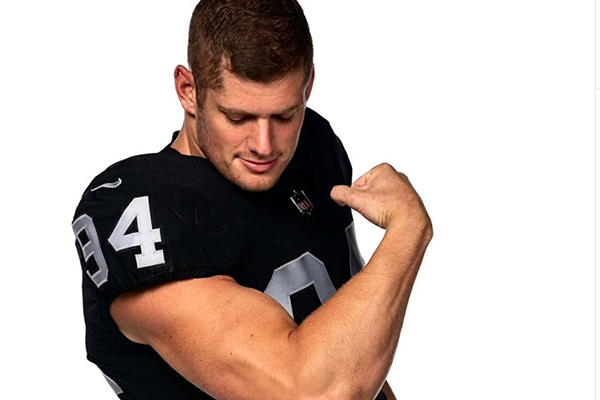 LAS VEGAS – Carl Nassib, who is a fifth-year defensive end for the Las Vegas Raiders, became the first active NFL player to announce he is gay. The Raiders defensive end is now the NFL's only openly gay player.
"I just want to take a quick moment to say that I'm gay," Nassib said in a video he posted on his Instagram account. "I've been meaning to do this for a while now but I finally feel comfortable enough to get it off my chest. I really have the best life. I've got the best family, friends and job a guy could ask for. I'm a pretty private person, so I hope you guys know I'm not doing this for attention, but I think representation matters."
Nassib also announced that he is donating $100,000 to the Trevor Project.
"The Trevor Project is grateful to Carl Nassib for living his truth and supporting LGBTQ youth. This generous donation will help us scale our life-saving crisis services to reach the more than 1.8 million LGBTQ youth who seriously consider suicide each year in the U.S.," said Amit Paley, CEO & Executive Director of The Trevor Project in an emailed statement to the Blade.
"Coming out is an intensely personal decision, and it can be an incredibly scary and difficult one to make. We hope that Carl's historic representation in the NFL will inspire young LGBTQ athletes across the country to live their truth and pursue their dreams.
"At a time when state lawmakers are actively trying to restrict transgender and nonbinary youth's participation in school sports, this news should serve as a clarion call for greater LGBTQ inclusion in the locker room and on the field," Paley added.