Oscar 2018 grapples with inclusivity, misogyny
The age of #MeToo and #TimesUp finds a close up at Hollywood and Highland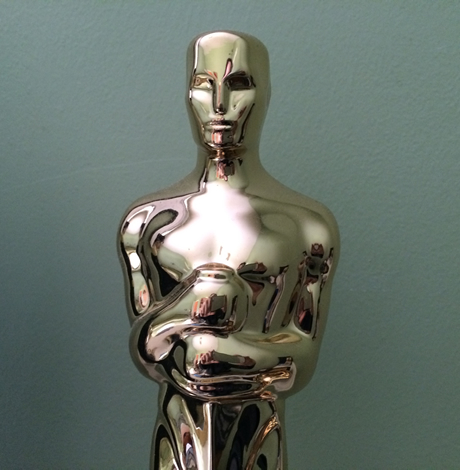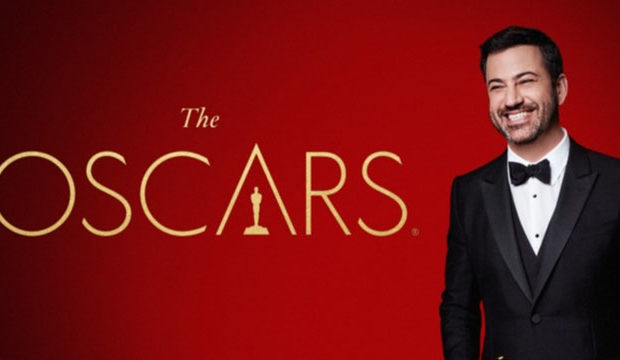 The message, in case you missed it, came through loud and clear in host Jimmy Kimmel's opening monologue.  Referring to the Harvey Weinstein scandal and the subsequent impact of the #MeToo and #TimesUp movements, he said, "What happened with Harvey and what's happening all over is way overdue. We can't let bad behavior slide anymore. The world is watching us. We need to set an example."
He also addressed positive steps towards inclusion in the movie industry over the past year, and pointed out how these were reflected in this year's crop of nominations – singling out Greta Gerwig (the first female nominated for Best Director in 8 years, for "Lady Bird") and Rachel Morrison (the first female nominated for Best Cinematography, ever, for "Mudbound").
It's worth pointing out that, later in the evening, both these women lost the award in their respective categories.
Throughout the evening, it was clear that the Academy had taken pains to ensure the #OscarSoWhite hashtag would not be a thing this year.  From "Black Panther" star Chadwick Boseman to Asian-American "Last Jedi" actress Kelly Marie Tran to Native American actor Wes Studi, the show was all about representation; it became so obvious that, late in the proceedings, presenters Tiffany Haddish and Maya Rudolph joked about "Oscar So Black" before reassuring the audience that there were still plenty of white people backstage (the pair's appearance was one of the evening's highlights, with many online commentators calling for them to co-host a show or be teamed for a movie).
Mary J. Blige – the first person to be nominated for both her acting and songwriting – performed "Mighty River" (from "Mudbound" which she co-wrote with Raphael Saadiq and Taura Stinson), and accompanying Keala Settle in her rendition of "This Is Me" (the inclusive, self-empowering anthem from "The Greatest Showman") was an emphatically diverse back-up choir and dance corps that helped drive the performance toward an enthusiastic standing ovation from the crowd.
Both would later lose the award. It was a running theme throughout the show.
The biggest disappointment of the evening – certainly for LGBT audiences, but also for many others who were rightly electrified by his astonishing performance – was Timothée Chalamet's loss in the Best Actor category for his performance in "Call Me By Your Name."  Though Chalamet is straight, he played a young gay (or, at least, fluid) man experiencing first love during a summer fling with his father's handsome assistant; his portrayal has been widely hailed as one of the best screen performances in years, but the award went to longtime Hollywood favorite Gary Oldman, for his turn as Winston Churchill in "Darkest Hour."  Oldman, who has taken the prize in most of the major awards ceremonies leading up to the Oscars, and was considered the front runner – but there was hope of an upset (particularly after Chalamet's recent win in the same category at the Independent Spirit Awards, and while it was not unexpected, the loss was still a let-down.
Still, there were triumphs, too.  "Call Me By Your Name" did take home one of the prizes for which it was nominated, when out screenwriter James Ivory (a revered cinema veteran and four-time nominee) was given the award for Best Adapted Screenplay.  He thanked André Aciman, author of the novel on which the film is based, for the story, which he claimed drew him because of its "personal relevance" to his own life ("Whether straight or gay or somewhere in between, we've all gone through first love and come out the other side intact"), and his former collaborators – including his producing (and life) partner, Ismael Merchant, who passed away in 2005.
The other writing award, for Best Original Screenplay, was also a celebration of diversity. Only the third filmmaker to be nominated for the writing, directing, and picture prizes, Jordan Peele became the first black winner of the prize for "Get Out," his brilliant, double-edged horror movie that served up biting social satire alongside its hair-raising thrills. In his speech, he said, "I want to dedicate this to all the people who raised my voice and let me make this movie."  Before the ceremony, during his red carpet interview, when asked what message he was trying to convey in his film, he said it was "that we're never done with the conversation about race in America."
The most resounding victory for inclusiveness came with the award for Best Foreign Language Film, which went to "A Fantastic Woman," Sebastian Lelio's Chilean movie featuring a trans protagonist whose life is turned upside down when her lover and protector unexpectedly passes away.  
The film's star, Daniela Vega, took the stage with Lelio and the film's other producers to accept the award, and later became the first trans person to present on the Oscar stage when she introduced Sufjan Stevens' performance of "Mystery of Love," his nominated song from "Call Me By Your Name." The movie's win marks a major moment for trans awareness in the film community. It's telling that it originated in a foreign country – but that also brings recognition for the Latino community.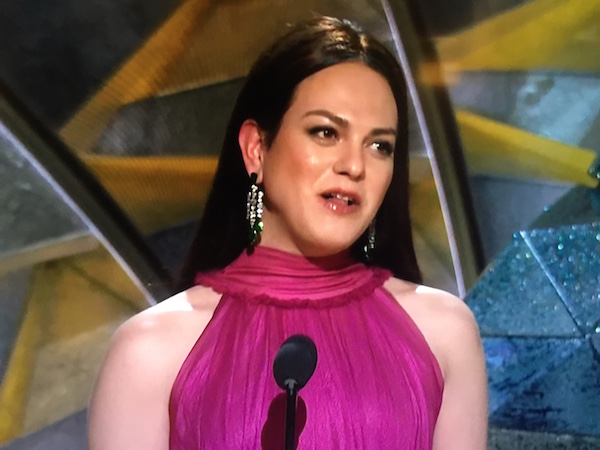 Latino fans got more love with the predicted win by Mexican filmmaker Guillermo Del Toro in the Best Director category (for "The Shape of Water"), and with "Coco," the popular and critically acclaimed Disney/Pixar film about a Mexican boy's journey to the City of the Dead during Dia de los Muertos, which took home the awards for Best Original Song and Best Animated Feature.  Initially criticized for cultural appropriation, the film's creators overcame the protests by drawing heavily on Latino involvement in its development and production, resulting in a movie that has been hailed on all sides for promoting multi-cultural awareness. During the acceptance speech for Best Animated Feature, director Lee Unkrich drew cheers by saying "Marginalized people deserve to feel like they belong.  Representation matters." The film also scored some recognition for the LGBT community when producer Darla K. Anderson and writer Adrian Molina each thanked their same-sex spouses – an act which, not so long ago, might have been a death blow to their careers.
Most of the rest of the evening's wins were predictable, safe choices. Straight ally and fan favorite Allison Janney won Best Supporting Actress for her memorable work as Margot Robbie's cold-hearted mother in "I, Tonya," and Sam Rockwell claimed the Supporting Actor prize for his effective (if somewhat controversial) performance as a racist cop beginning to feel empathy in "Three Billboards."
The last award of the evening provided the biggest surprise, albeit a mild one, when "Billboards" – considered the favorite candidate, despite criticisms over its middle-of-the-road approach to such issues as racism and homophobia (not to mention quibbles about its contrived storytelling) – lost the Best Picture award to Del Toro's "The Shape of Water."  Described by the director as "a fairy tale for troubled times," this haunting fantasy about the romance between a mute woman and an amphibious creature being held in a government lab crossed genres to tell a story about finding empathy for "the other," with characters representing multiple marginalized populations sharing the spotlight. While not delivering an outright political message, it speaks truth to power through parable, and presents a lingering fable of empowerment.  Though not as forceful a victory for women as "Lady Bird" might have been, nor as profound a message of change as "Call Me By Your Name" could have sent, its win was nevertheless a satisfying conclusion to the ceremony – even if it did feel, a little, like a consolation prize.
For all its effort to showcase the Academy's evolving attitudes, the evening's winners still seemed to reflect a certain resistance to change.  While time was given to the #TimesUp movement – represented by Weinstein accusers Ashley Judd, Annabella Sciorra and Salma Hayek – to make an inspiring video presentation designed to encourage "equality, inclusion, and intersectionality," it was hard to ignore the fact that less than thirty minutes earlier the award for Best Animated Short had been handed to Glen Keane and his co-producer Kobe Bryant who was charged with raping a 19-year-old hotel clerk in 2003 (she refused to testify and the case was dropped).
Likewise, though Kimmel in his opening monologue encouraged recipients to use their time in the spotlight as a platform to speak their minds about important issues, scarcely a single controversial word was spoken during the entire proceedings.  Indeed, Kimmel himself was the only one who veered into the realm of non-Hollywood politics, promoting the Parkland students protest march on March 24 and joking that "we don't make movies like 'Call Me By Your Name' to make money, we make them to upset Mike Pence."
The low-key tone of the night may have been partly due to the #TimesUp movement's decision to hold off on protests this time around, in favor of taking a leadership role in promoting awareness and inclusivity moving forward – which they did, and effectively so. Though probably not officially coordinated by any organization, the display of solidarity incited by Frances McDormand (Best Actress, as expected, for her work in "Three Billboards"), who in her acceptance speech invited every female nominee in every category to stand up, was a stirring climax to the current of feminism that flowed through the show.  Even so, one couldn't help but wonder at the number of opportunities missed for political barnstorming – particularly at an event held in the heart, both literally and figuratively, of "liberal Hollywood."
Even so, there was plenty of encouragement to be found at the Academy Awards this year.  Let's hope that all the good intentions haven't been long forgotten by the time the get around to rewarding the films of 2018.
Equality Florida's Nadine Smith named to Time's Top 100 list for 2022
"In the fight for equality in Florida, there has perhaps been no greater advocate for LGBTQ people than Nadine Smith"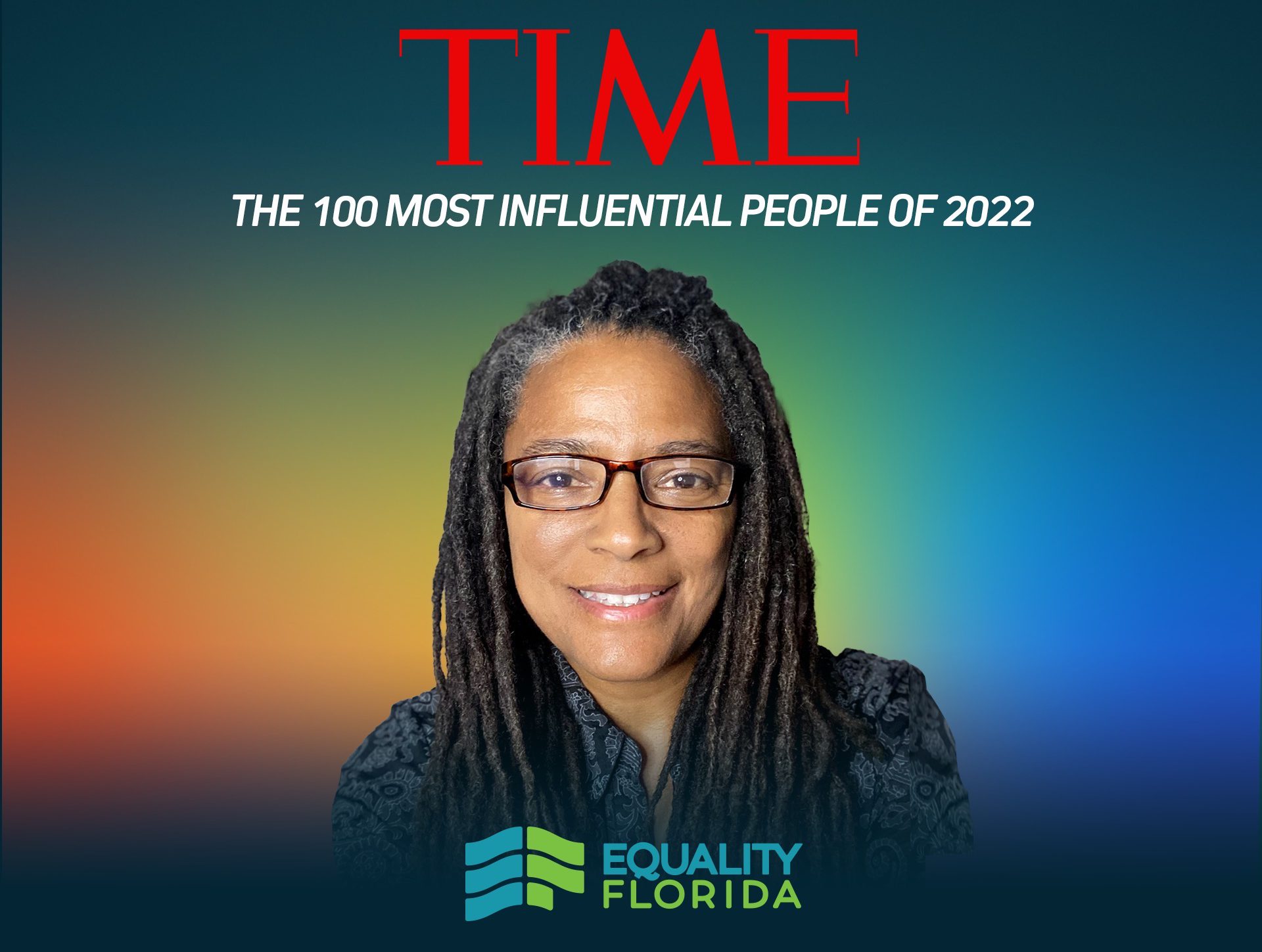 ST. PETERSBURG, FL. – Time magazine released its annual 100 most influential people list and this year one of the honorees was Equality Florida Executive Director Nadine Smith. In the biographical sketch accompanying Smith's listing, Time writer Kristen Arnett noted "in the fight for equality in Florida, there has perhaps been no greater advocate for LGBTQ people than Nadine Smith."
"I am deeply honored to be included in the TIME100," said Smith, a Black, queer woman. "This recognizes decades of work not only by me, but by the dedicated team of volunteers, staff and supporters I've had the privilege to work with at Equality Florida.  Our work is far from done as Florida, once again, stands at the center of the fight against extremism and hate.  We are bearing the brunt of a governor willing to sacrifice the safety of children and destroy our most basic liberties in his desperate bid to be President. But this is not simply Florida's fight. The wave of anti-LGBTQ, racist, freedom-destroying bills sweeping the country calls each of us to fight for our rights and, indeed, our democracy."
The list, now in its nineteenth year, recognizes the impact, innovation and achievement of the world's most influential individuals.
Smith comes from a long line of activists and barrier breakers. Her grandparents helped form the Southern Tenant Farmers Union to fight for the rights of sharecroppers. While in college, Smith co-founded IGLYO, the world's largest LGBTQ youth and student organization. She co-chaired the 1993 March on Washington that drew a million marchers and she was part of the first Oval Office meeting between a sitting President and LGBTQ leaders. In the aftermath of the Pulse Nightclub shooting, Smith and her team coordinated a national response including raising millions in direct resources for survivors and families of the 49 killed.
Smith's recognition comes as Florida has taken center stage in the right wing, anti-freedom agenda aimed at erasing LGBTQ people from classrooms, propagandizing curriculum, censoring history, banning books, and putting politicians in control of personal medical decisions.
"Florida Governor Ron DeSantis' presidential ambitions have fueled bills like Don't Say Gay, the Stop WOKE Act, a 15-week abortion ban, and dangerous national rhetoric that seeks to dehumanize LGBTQ people in service to the most extreme segment of his base," Equality Florida stated in a press release Monday.
The 2022 TIME100, and its annual list of the 100 most influential people in the world, with related tributes appear in the June 6/June 13 double issue of TIME, available on newsstands on Friday, May 27, and online now at time.com/time100.
Blow your mind with today's hottest Queer TV- 2nd annual OutFronts
Queer television is here, and it is just getting started to shine.  Buckle your rainbow belts, this unicorn is ready to fly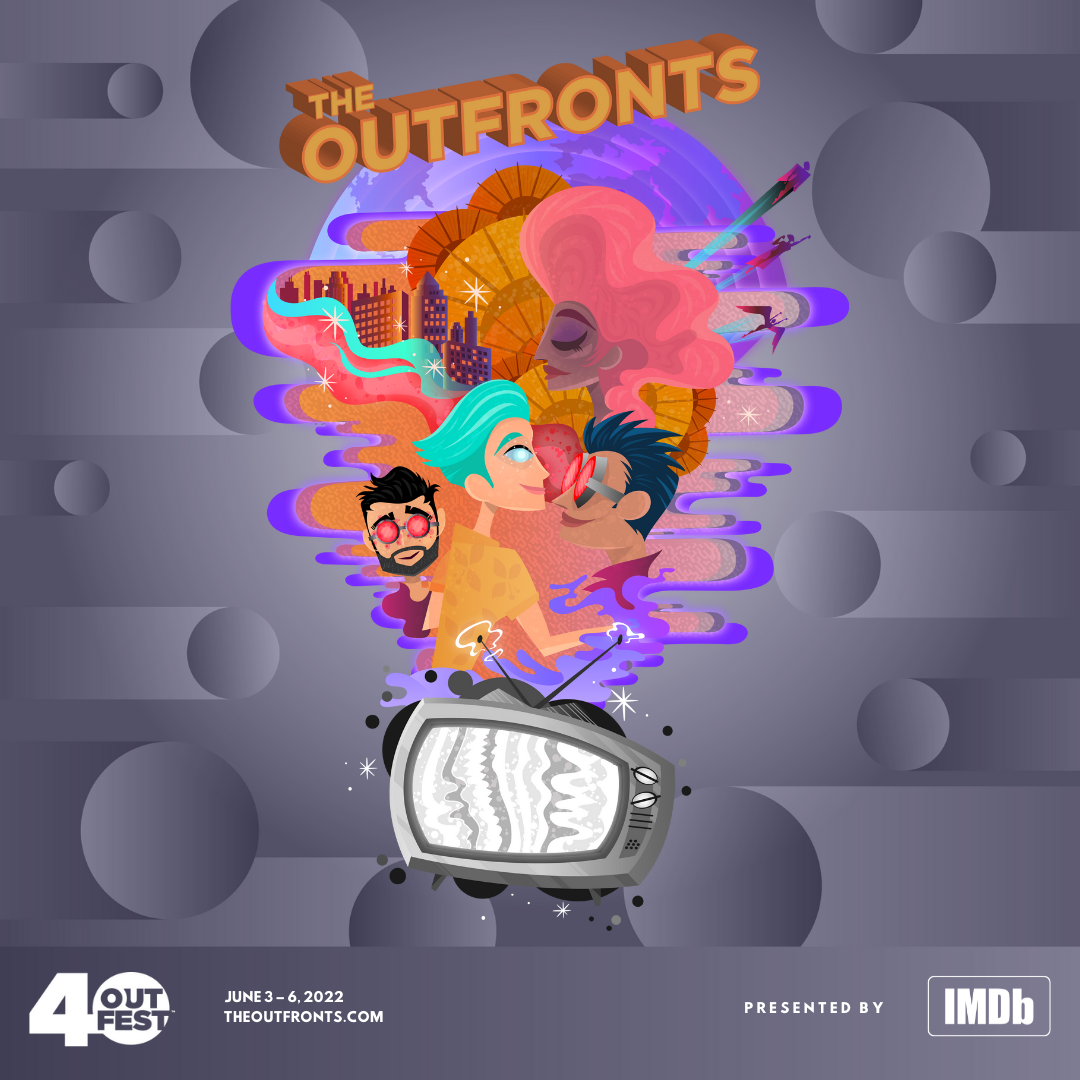 WEST HOLLYWOOD – Back in the day, getting a whisp of any queer media, whether it was a short "gay" movie or a quick queer themed storyline, was hard to come by. Sure, there was OutFest started in 1982 by some UCLA students. Roseanne kissing a girl, a lesbian wedding on Friends, and Ellen's bursting media's mind before it crashed and burned her.
Not anymore. OutFest has made that clear with its second annual OutFronts, a four-day hybrid festival. Queer television is here, and it is just getting started to shine. Buckle your rainbow belts, this unicorn is ready to fly.
The festival combines free-to-view virtual panel discussions with ticketed in-person events as part of the Los Angeles area's Pride season. The festival kicks off on Friday June 3rd and extends through Monday, June 6th. It features episodic premieres, advanced screenings, and both in-person and virtual discussions with the talent from some of the most exciting LGBTQIA+ programs available on television today.
The in-person festival events include:

QUEER AS FOLK presented by Peacock This is the world premiere screening of the new Peacock series, a vibrant reimagining of the groundbreaking British series exploring a diverse group of friends in New Orleans. The program includes a panel talkback with cast and creative team.
"Love, Victor" presented by HULU and DISNEY+ It is the show's third and final season, and OutFronts is proud to show the premier episode of the season! The program includes "Love, Victor's" showrunner and young cast present to discuss the impact of the show's run, what we might expect from season 3, and bid a farewell to the groundbreaking series.
QUEER FIREFIGHTERS ONSCREEN AND IRL Queer firefighters on TV sit down with their real-life counterparts to discuss being queer and saving lives. The in-person discussion will include Ronen Rubenstein (9-1-1: Lone Star), Brian Michael Smith (9-1-1: Lone Star), Traci Thoms (Station 19), others.
LEGENDARY LEGENDARY is the groundbreaking competition series now in season 3 on HBO Max. The OutFronts program includes LEGENDARY host and MC Dashaun Wesley will conduct a talk-show style look back at some of the most earth-shattering moments from the show's history, and a candid talk about all the unfolding drama of the current season.
The virtual events include:

Topic panels
Presented as virtual panels, these panels cover hot queer television topics. These include exploring social media influencers who have used their clout to cross over into the acting world – with Gigi Gorgeous, Kalen Allen, and Boman Martinez-Reid. Another panel looks at "TV's Queer Pioneers", with actors who were among the first to regularly appear as three-dimensional queer characters on television, including Wilson Cruz, Amber Benson, and Jane Sibbett. A panel looking to create the next icons spotlights actors who have created some of the most impactful queer characters of recent years, including Harvey Guillen (WHAT WE DO IN THE SHADOWS), Javicia Leslie (BATWOMAN), Brandon Scott Jones (GHOSTS), and Vico Ortiz (OUR FLAG MEANS DEATH).
Series panels
Presented as virtual panels, these programs feature discussions of hot shows and their new season offerings: a talk on SyFy and USA Network's CHUCKY moderated by Hannibal creator Bryan Fuller, with CHILD'S PLAY franchise creator Don Mancini and cast members Jennifer Tilly, Brad Dourif, Fiona Dourif, Zackary Arthur, and Bjorgvin Anarson; a one-on-one career-spanning conversation with comedy legend Paula Pell upon the release of GIRLS5EVA season two on Peacock; a discussion with the cast and creators of Freeform's MOTHERLAND: FORT SALEM in advance of the series' final season; a talk with GENTLEMAN JACK creator Sally Wainwright and actor Lydia Leonard; a focused conversation with the queer talent and characters from Showtime's smash-hit YELLOWJACKETS; as well as panels featuring talent from HBOMax's SORT OF and THE SEX LIVES OF COLLEGE GIRLS, VH1's RuPaul's DRAG RACE, Prime Video's HARLEM and THE WILDS, The CW's TOM SWIFT and THE 4400, and HIGH SCHOOL MUSICAL: THE MUSICAL – THE SERIES from Disney Plus and Disney Branded Television.
The inaugural year of OutFronts saw nearly 70,000 participants from across the globe. This year should see even more. "It's inspiring to know that one festival couldn't possibly cover all the wonderful LGBTQIA+ stories being told on television today," said Outfest's Director of Festival Programming, Mike Dougherty. "The OutFronts by no means represents an exhaustive account of all that is queer in TV, but they do gather a multitude of brilliantly talented queer artists and allies whose diversity of perspective and experience are on full display in these funny, entertaining, and emotional conversations. I can't wait to share them with the world."
It's time to join the Queer Television Fandom community, whether you want your seat to be in a happening LA theater, or in your own living room, your piece of the rainbow awaits! See you at OutFronts 2022!
All panel discussions will be free of charge to view online and via Outfest's OutMuseum platform. The OutFronts are presented by IMDb and media sponsors are The Los Angeles Blade, ABC7 Los Angeles, Clear Channel Outdoor, Edge Media, KCET/PBS SoCal, Pride Media, Queerty, Rainbow Media, Autostraddle, and Variety. RSVP and view the full calendar of The OutFronts programming at theoutfronts.com
**********************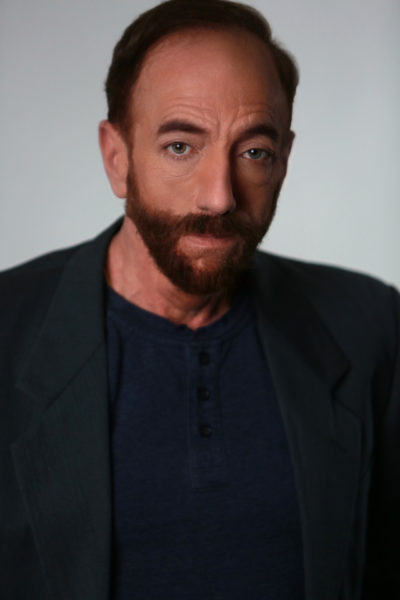 Rob Watson is the host of the popular Hollywood-based radio/podcast show RATED LGBT RADIO.
He is an established LGBTQ columnist and blogger having written for many top online publications including Parents Magazine, the Huffington Post, LGBTQ Nation, Gay Star News, the New Civil Rights Movement, and more. He served as Executive Editor for The Good Man Project, has appeared on MSNBC and been quoted in Business Week and Forbes Magazine. He is CEO of Watson Writes, a marketing communications agency, and can be reached at [email protected] .
Join Joel Kim Booster on 'Fire Island' this summer
Gay rom com features queer Asian cast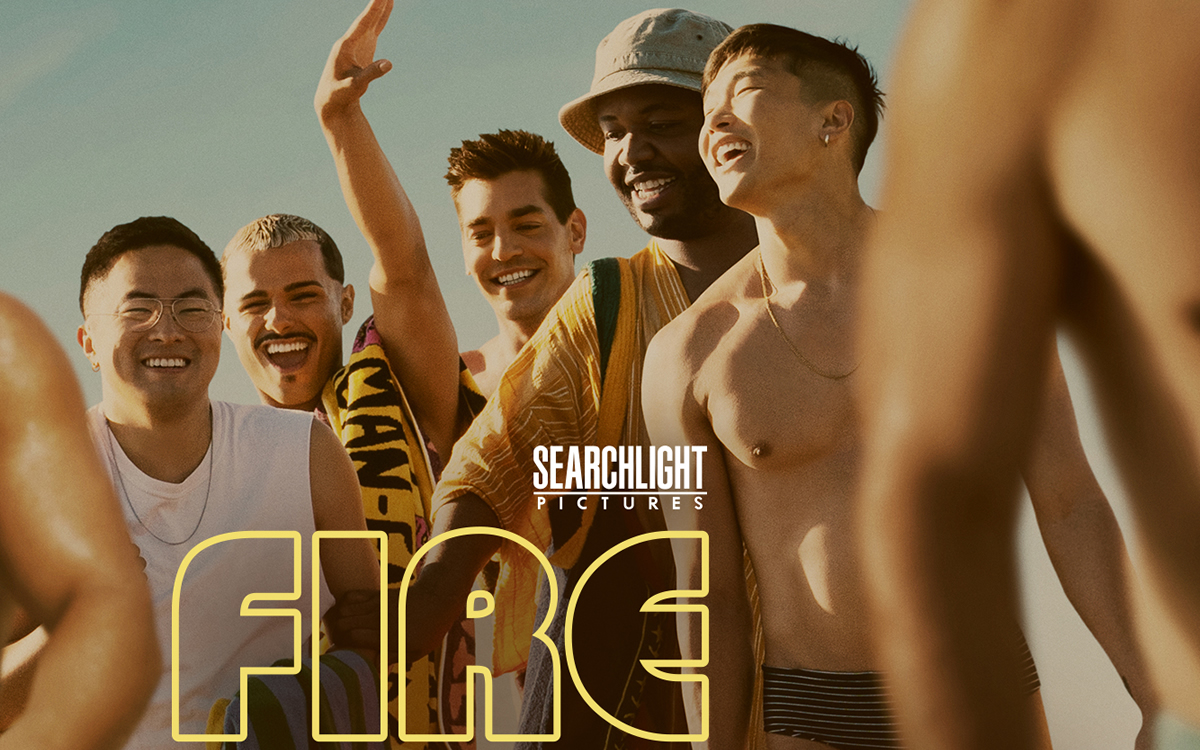 It would be an understandable mistake to see Joel Kim Booster on one of the two "Out Traveler" magazine covers he's gracing this month and assume he was just another sexy fashion model, but the 34-year-old Korean-American comedian is not having a moment in the blazing sun of queer pop culture just because of his undeniable talent for rocking a Speedo.
He is actually in the middle of the publicity push for the upcoming film "Fire Island," which he wrote and in which he co-stars with (among others) close friend Bowen Yang and comedy legend Margaret Cho, and which begins screening exclusively on the Hulu streaming service just in time for Pride month.
Directed by Andrew Ahn ("Spa Night"), it's a movie that's generating a lot of buzz, partly because it's the first predominantly queer film to be backed by a major movie studio (Disney, through its Searchlight Pictures division). We've been burned too many times not to be skeptical about such a project, but anyone already familiar with Booster's work will undoubtedly tell you it's not likely to be another watered-down, safe-for-the-mainstream offering designed to check off boxes on the diversity agenda. Since he first made a splash with an appearance on "Conan" in 2016, he has gained a following among queer and straight audiences alike with his unapologetically gay, unabashedly sex-positive comedy, leading to what some might call a meteoric rise to the brink of superstardom through an acclaimed stand-up career, his roles on TV in shows like the short-lived sitcom "Sunnyside" (on which he was a regular), "Shrill," and "The Week Of" (as well as his writing for shows like "Billy on the Street" and "The Other Two"), and his popular podcasts ("Urgent Care with Joel Kim Booster + Mitra Jouhari" and "The Joy Fuck Club").
Now he's poised to become a movie star with "Fire Island," a gay romantic comedy set in the titular vacation retreat that dares not only to feature a cast made up entirely of queer characters, but doubles down by putting the focus on queer characters who also happen to be Asian. To top it all off, it gives Booster a chance to show off his literate side with a story – which concerns a group of gay best friends out for sexual adventure, and possibly even romance, on what might be their last trip to the iconic gay getaway – adapted from no less esteemed a literary source than Jane Austen's "Pride and Prejudice."
The Blade was fortunate enough to chat with Booster in the middle of this very high-pressure month before his feature film debut, and our conversation was informed by the kind of erudite and compassionate intelligence that has marked the young comedian's career from the start.
BLADE: In your comedy, you've drawn a lot of inspiration from being raised as a Korean adoptee by white American parents in a deeply Christian midwestern community. Does that experience figure into the movie, too?
BOOSTER: Of course! As a transnational adoptee, my entire life I've been fighting against this nagging feeling of not quite fitting in – and that's whether I'm around white people, or Asian people, or even some gay people. It's tough, and it's been such a paramount part of my life to find people who make me feel seen and accepted and to keep them close, so it felt really important for the theme of chosen family to stay in the forefront when I was making this movie. As much as it's a "rom com," it's also about friendship – about relationships with people who, like I say in the movie, "fill in the gaps."
BLADE: How did you hit on using Jane Austen as a source?
BOOSTER: It was really a lucky accident. I brought "Pride and Prejudice" with me on the first trip Bowen and I ever took to Fire Island. I would be lying there on the beach reading it and thinking, "It's amazing how the things she was writing about are so relevant to what we're experiencing on this island right now." It was kinda wild, and it started out as threat, a joke – I would keep saying, 'I can't wait to write an all-gay adaptation of 'Pride and Prejudice' set on Fire Island,' and people would boo and throw things at me. But after that I would always bring an Austen book with me to read on the island, because it felt special to me. There was just something so prescient about what she wrote, and about her observations on class, especially reading it in this place where we had sort of created our own class system, as gay men.
BLADE: When did it stop being a joke?
BOOSTER: Actually, my agent suggested that I should write it, because I was in between projects. I just had a pilot that was passed on by Comedy Central, I was depressed, I had nothing to do – so I ended up writing it as a half-hour pilot script. But nobody wanted it until Quibi [the short-form entertainment platform that launched and folded in 2020 after failing to meet projected subscription levels]. Say what you will about them, but they really invested a lot of money and time into new and young voices, and they took a lot of chances. They took a chance on me, and when they folded I had this script that I could point to which I had written and developed with them. This movie was a tough pitch to sell on just a log line, but I had this finished project, this complicated piece of work to show people, that was much more intricate than I think "Gay 'Pride and Prejudice'" would maybe lead people to believe.
BLADE: Your movie is just one of several big queer titles on deck for 2022, including Billy Eichner's rom com, "Bros." How do you feel about that?
BOOSTER: Honestly, it really takes some of the pressure off. When we get, like, one gay movie a year, a lot of attention and scrutiny gets put on that movie and it's expected to be everything to everyone in our community. And our community is huge, and it's diverse, and there are so many stories that aren't being told. I'm so glad Billy's movie is coming out as well, he was my first comedy boss, and I'm really happy that people in our community are going to have two big gay rom coms to choose from.
BLADE: We haven't seen "Bros" yet, but we've seen "Fire Island." There's a review embargo [until May 23], but I think it's safe to say nobody is going to boo or throw things at you. Do you feel any sense of competition about it?
BOOSTER: My hope is that people love both, but it's nice that if somebody goes to see my movie and says, 'That's not for me, I don't see myself there,' then a couple months later they'll see Billy's and they'll have another shot at it. And I hope both of our movies are successful enough that they create a million clones. I hope it's just the beginning.
"Fire Island," which also stars Conrad Ricamora ("How to Get Away With Murder") and a host of other familiar queer performers, premieres on Hulu on June 3.