Oscar 2018 grapples with inclusivity, misogyny
The age of #MeToo and #TimesUp finds a close up at Hollywood and Highland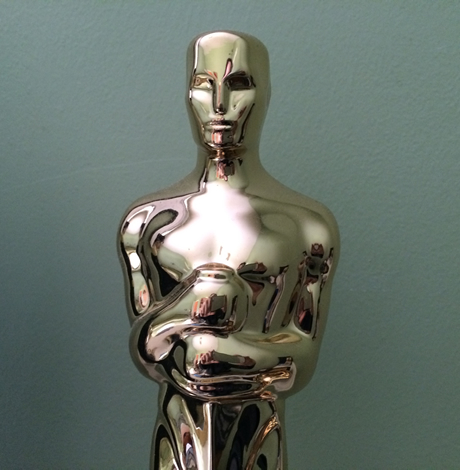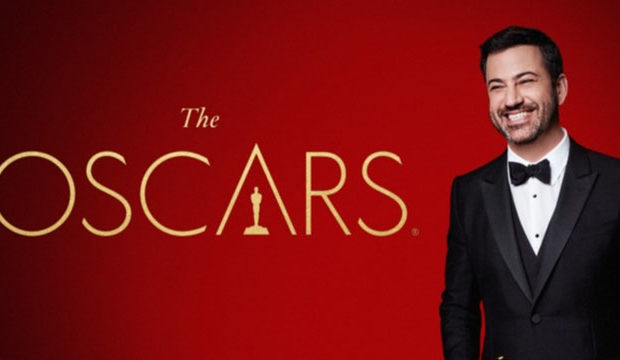 The message, in case you missed it, came through loud and clear in host Jimmy Kimmel's opening monologue.  Referring to the Harvey Weinstein scandal and the subsequent impact of the #MeToo and #TimesUp movements, he said, "What happened with Harvey and what's happening all over is way overdue. We can't let bad behavior slide anymore. The world is watching us. We need to set an example."
He also addressed positive steps towards inclusion in the movie industry over the past year, and pointed out how these were reflected in this year's crop of nominations – singling out Greta Gerwig (the first female nominated for Best Director in 8 years, for "Lady Bird") and Rachel Morrison (the first female nominated for Best Cinematography, ever, for "Mudbound").
It's worth pointing out that, later in the evening, both these women lost the award in their respective categories.
Throughout the evening, it was clear that the Academy had taken pains to ensure the #OscarSoWhite hashtag would not be a thing this year.  From "Black Panther" star Chadwick Boseman to Asian-American "Last Jedi" actress Kelly Marie Tran to Native American actor Wes Studi, the show was all about representation; it became so obvious that, late in the proceedings, presenters Tiffany Haddish and Maya Rudolph joked about "Oscar So Black" before reassuring the audience that there were still plenty of white people backstage (the pair's appearance was one of the evening's highlights, with many online commentators calling for them to co-host a show or be teamed for a movie).
Mary J. Blige – the first person to be nominated for both her acting and songwriting – performed "Mighty River" (from "Mudbound" which she co-wrote with Raphael Saadiq and Taura Stinson), and accompanying Keala Settle in her rendition of "This Is Me" (the inclusive, self-empowering anthem from "The Greatest Showman") was an emphatically diverse back-up choir and dance corps that helped drive the performance toward an enthusiastic standing ovation from the crowd.
Both would later lose the award. It was a running theme throughout the show.
The biggest disappointment of the evening – certainly for LGBT audiences, but also for many others who were rightly electrified by his astonishing performance – was Timothée Chalamet's loss in the Best Actor category for his performance in "Call Me By Your Name."  Though Chalamet is straight, he played a young gay (or, at least, fluid) man experiencing first love during a summer fling with his father's handsome assistant; his portrayal has been widely hailed as one of the best screen performances in years, but the award went to longtime Hollywood favorite Gary Oldman, for his turn as Winston Churchill in "Darkest Hour."  Oldman, who has taken the prize in most of the major awards ceremonies leading up to the Oscars, and was considered the front runner – but there was hope of an upset (particularly after Chalamet's recent win in the same category at the Independent Spirit Awards, and while it was not unexpected, the loss was still a let-down.
Still, there were triumphs, too.  "Call Me By Your Name" did take home one of the prizes for which it was nominated, when out screenwriter James Ivory (a revered cinema veteran and four-time nominee) was given the award for Best Adapted Screenplay.  He thanked André Aciman, author of the novel on which the film is based, for the story, which he claimed drew him because of its "personal relevance" to his own life ("Whether straight or gay or somewhere in between, we've all gone through first love and come out the other side intact"), and his former collaborators – including his producing (and life) partner, Ismael Merchant, who passed away in 2005.
The other writing award, for Best Original Screenplay, was also a celebration of diversity. Only the third filmmaker to be nominated for the writing, directing, and picture prizes, Jordan Peele became the first black winner of the prize for "Get Out," his brilliant, double-edged horror movie that served up biting social satire alongside its hair-raising thrills. In his speech, he said, "I want to dedicate this to all the people who raised my voice and let me make this movie."  Before the ceremony, during his red carpet interview, when asked what message he was trying to convey in his film, he said it was "that we're never done with the conversation about race in America."
The most resounding victory for inclusiveness came with the award for Best Foreign Language Film, which went to "A Fantastic Woman," Sebastian Lelio's Chilean movie featuring a trans protagonist whose life is turned upside down when her lover and protector unexpectedly passes away.  
The film's star, Daniela Vega, took the stage with Lelio and the film's other producers to accept the award, and later became the first trans person to present on the Oscar stage when she introduced Sufjan Stevens' performance of "Mystery of Love," his nominated song from "Call Me By Your Name." The movie's win marks a major moment for trans awareness in the film community. It's telling that it originated in a foreign country – but that also brings recognition for the Latino community.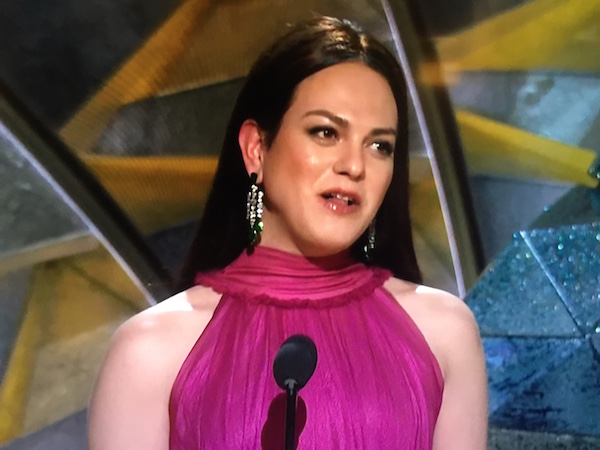 Latino fans got more love with the predicted win by Mexican filmmaker Guillermo Del Toro in the Best Director category (for "The Shape of Water"), and with "Coco," the popular and critically acclaimed Disney/Pixar film about a Mexican boy's journey to the City of the Dead during Dia de los Muertos, which took home the awards for Best Original Song and Best Animated Feature.  Initially criticized for cultural appropriation, the film's creators overcame the protests by drawing heavily on Latino involvement in its development and production, resulting in a movie that has been hailed on all sides for promoting multi-cultural awareness. During the acceptance speech for Best Animated Feature, director Lee Unkrich drew cheers by saying "Marginalized people deserve to feel like they belong.  Representation matters." The film also scored some recognition for the LGBT community when producer Darla K. Anderson and writer Adrian Molina each thanked their same-sex spouses – an act which, not so long ago, might have been a death blow to their careers.
Most of the rest of the evening's wins were predictable, safe choices. Straight ally and fan favorite Allison Janney won Best Supporting Actress for her memorable work as Margot Robbie's cold-hearted mother in "I, Tonya," and Sam Rockwell claimed the Supporting Actor prize for his effective (if somewhat controversial) performance as a racist cop beginning to feel empathy in "Three Billboards."
The last award of the evening provided the biggest surprise, albeit a mild one, when "Billboards" – considered the favorite candidate, despite criticisms over its middle-of-the-road approach to such issues as racism and homophobia (not to mention quibbles about its contrived storytelling) – lost the Best Picture award to Del Toro's "The Shape of Water."  Described by the director as "a fairy tale for troubled times," this haunting fantasy about the romance between a mute woman and an amphibious creature being held in a government lab crossed genres to tell a story about finding empathy for "the other," with characters representing multiple marginalized populations sharing the spotlight. While not delivering an outright political message, it speaks truth to power through parable, and presents a lingering fable of empowerment.  Though not as forceful a victory for women as "Lady Bird" might have been, nor as profound a message of change as "Call Me By Your Name" could have sent, its win was nevertheless a satisfying conclusion to the ceremony – even if it did feel, a little, like a consolation prize.
For all its effort to showcase the Academy's evolving attitudes, the evening's winners still seemed to reflect a certain resistance to change.  While time was given to the #TimesUp movement – represented by Weinstein accusers Ashley Judd, Annabella Sciorra and Salma Hayek – to make an inspiring video presentation designed to encourage "equality, inclusion, and intersectionality," it was hard to ignore the fact that less than thirty minutes earlier the award for Best Animated Short had been handed to Glen Keane and his co-producer Kobe Bryant who was charged with raping a 19-year-old hotel clerk in 2003 (she refused to testify and the case was dropped).
Likewise, though Kimmel in his opening monologue encouraged recipients to use their time in the spotlight as a platform to speak their minds about important issues, scarcely a single controversial word was spoken during the entire proceedings.  Indeed, Kimmel himself was the only one who veered into the realm of non-Hollywood politics, promoting the Parkland students protest march on March 24 and joking that "we don't make movies like 'Call Me By Your Name' to make money, we make them to upset Mike Pence."
The low-key tone of the night may have been partly due to the #TimesUp movement's decision to hold off on protests this time around, in favor of taking a leadership role in promoting awareness and inclusivity moving forward – which they did, and effectively so. Though probably not officially coordinated by any organization, the display of solidarity incited by Frances McDormand (Best Actress, as expected, for her work in "Three Billboards"), who in her acceptance speech invited every female nominee in every category to stand up, was a stirring climax to the current of feminism that flowed through the show.  Even so, one couldn't help but wonder at the number of opportunities missed for political barnstorming – particularly at an event held in the heart, both literally and figuratively, of "liberal Hollywood."
Even so, there was plenty of encouragement to be found at the Academy Awards this year.  Let's hope that all the good intentions haven't been long forgotten by the time the get around to rewarding the films of 2018.
Broadway gathers to honor Sondheim in Times Square
They were gathered to pay homage to legendary Tony, Academy Award, and Grammy Award-winning composer and lyricist Stephen Sondheim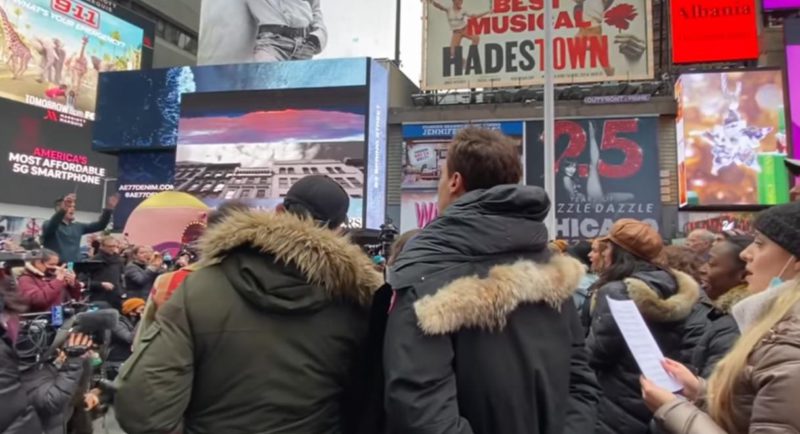 NEW YORK – Light snow flurries swirled around the stars of theatre and stage of New York City's 'Great White Way' as they gathered Sunday in Times Square- members of every Broadway company assembled singing in a powerful chorus "Sunday," the powerfully emotional act one finale to "Sunday in the Park with George."
They were gathered to pay homage to legendary Tony, Academy Award, and Grammy Award-winning composer and lyricist Stephen Sondheim. That piece being performed had garnered Sondheim a Pulitzer Prize for Drama in 1985.
Broadway's best were joined by Lin-Manuel Miranda, Sara Bareilles, Josh Groban, Kathryn Gallagher and Lauren Patton at 'Sunday' Performance in Times Square.
The man who was heralded as Broadway and theater's most revered and influential composer-lyricist of the last half of the 20th century died at 91 Friday at his home in Roxbury, Connecticut.
"This felt like church," Bareilles told Variety after the performance on Sunday. "In his remembrance, we did what theater does best. We sang and raised our voices and came together in community."
Variety also noted that during the celebration, Miranda offered a sermon of sorts. Foregoing a speech, he opened Sondheim's "Look I Made A Hat," an annotated anthology of the composer's lyrics, and read from a few passages before the crowd.
Lin-Manuel Miranda, Josh Groban and Sara Bareilles Honor Stephen Sondheim at 'Sunday' Performance in Times Square https://t.co/LgrYPyMnv0

— Variety (@Variety) November 28, 2021
"Sunday" from Sunday in the Park with George memorial for Stephen Sondheim
'Tick, tick… BOOM!' explodes with the love of Broadway
A perfect film for fans of musical theater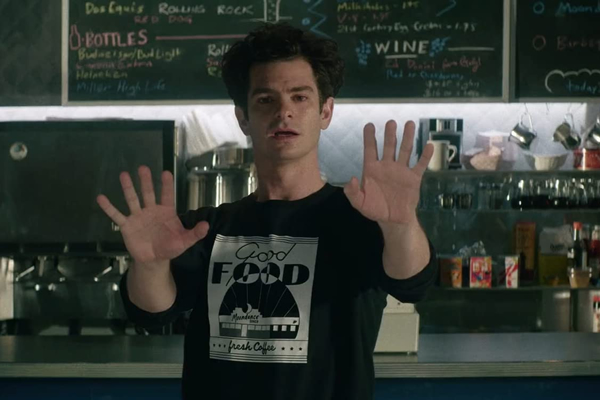 If you are a person who love musical theater – or if you know someone who does – then you know there is something about this particular art form that inspires a strong and driving passion in those who enjoy it, often to the point of obsession. For this reason, perhaps it's no surprise that those who work in musical theater – the creators, performers, and all the other people who make it happen – are often the biggest musical theater lovers of all.
Because of this, "tick, tick… BOOM!" (the new film directed by Lin-Manuel "Hamilton" Miranda and written by Steven "Dear Evan Hansen" Levenson) might be the most perfect movie ever made for such fans. Adapted from an autobiographical "rock monologue" by Jonathan Larson, it follows the future "Rent" composer (Andrew Garfield) for a week in the early 1990s, when he was still an unknown young Broadway hopeful waiting tables in a New York diner. He's on the cusp of turning 30, a milestone that weighs on his mind as he prepares for a showcase of a musical that he hasn't quite finished – even though he's been writing it for eight years. With limited time left to compose the show's most crucial number, his race against the clock is complicated by major changes in his personal life; his lifelong best friend Michael (Robin de Jesús) has quit acting in favor of a five-figure career in advertising, and his girlfriend Susan (Alexandra Shipp) is moving away from the city to accept a teaching job and wants him to come with her. With reminders everywhere of the ongoing AIDS epidemic still raging in the community around him, and with his own youth ticking away, he is inevitably forced to wonder if it's time to trade in his own Broadway dreams for a more secure future – before it's too late.
As every musical theater fan knows, the young composer's obsession with time (hence the title) is laced with bittersweet irony in the context of what eventually happened in his real life: the day before "Rent" opened on Broadway and became a smash hit that reshaped and expanded the boundaries of what musical theater could be, Larson died of an aortic aneurysm at the age of 35. He never lived to see the full fruition of all those years of hard work, and that tragic turn of events is precisely what makes "tick, tick… BOOM!" relevant and provides its considerable emotional power. In that light, it's essentially a musical "memento mori," a reminder that the clock eventually runs out for all of us.
That doesn't mean, however, that it's not also a celebration of life in the theater, and Miranda is probably better suited than anyone to make us see that side of the coin. Now unquestionably in the highest echelon of status as a Broadway icon, he came of age in the era of "Rent," and he takes pains to make his depiction of Manhattan in the '90s as authentic as possible.
Capturing the era with touches like Keith Haring-inspired murals and the use of "Love Shack" as a party anthem, his movie keeps Larson's story within the context of his time while drawing clear connections to our own. His reverence for Larson – whom he cites as a seminal inspiration for his own future work – manifests itself palpably throughout. Yet despite that (or perhaps because of it), so does an infectiously cheery tone. Yes, things get heavy; there are hardships and heartbreaks at every turn, because that's what a life in the theater means. But at the same time, there's just so much fun to be had. The camaraderie, the energy, and the joy of simply living in that world comes leaping off the screen (often thanks to the enthusiastic choreography of Ryan Heffington) with the kind of giddy, effortless ease that might almost make us jealous if it didn't lift our spirits so much. No matter that the lead character spends most of the movie second-guessing his path; we never doubt for a moment that, for him, the rewards of following his passion outweigh the sacrifices a thousand times over.
That's something Miranda also understands. His movie drives home the point that the joy of doing theater is its own reward, and he's willing to prove it by turning up in a bit part just for the sake of being a part of the show. And he's not the only one. The screen is littered with living legends; in one memorable sequence alone, a who's-who of Broadway's brightest stars – Chita Rivera, Bernadette Peters, Brian Stokes Mitchell, Andre DeShield, Bebe Neuwirth, Joel Grey, and at least a dozen more – serve as a high-profile backup chorus of extras for a song at the diner, but there are blink-and-you'll-miss-them cameos in almost every scene. It almost feels like a gimmick, or an effort to turn the movie into a "spot the star" trivia game for hardcore fans – until you realize that these are the best and brightest people in their field, who have willingly chosen to show up and participate even though they did not have to. They are there purely for love, and you can see it in their faces.
Miranda scores big across the board as a director – this is his feature film directorial debut, which confirms the standing assumption the man can do anything. But "tick, tick… BOOM!" is a star turn for its leading player, and full credit must also go – and emphatically so – to Garfield, who surpasses expectations as Larson. The one-time "Spiderman" actor trained extensively to be able to master the demands of singing the role, and it shows; he comes off as a true musical theater trouper, worthy beyond doubt of sharing the screen with so many giants. Even better, he integrates that challenge into the whole of a flamboyantly joyful performance that makes Larson endearingly, compellingly three-dimensional. It's a career-topping piece of work.
The rest of the principal cast – a refreshingly inclusive ensemble that reminds us that Larson was instrumental in making Broadway a much more diverse place – are equally fine. De Jesús gets a long-deserved chance to shine as Michael, and Shipp brings a quiet calm to the easily-could-have-been-overshadowed Susan that makes her the perfect balance to Garfield's high-octane energy.
Joshua Henry and Vanessa Hudgens contribute much more than their stellar vocal talents to their pair of roles as Larson friends and collaborators, and there are delicious supporting turns by Judith Light and Bradley Whitford – who gives an affectionately amusing and dead-on accurate screen impersonation of Broadway legend-of-legends Stephen Sondheim, one of Larson's (and Miranda's) biggest influences and inspirations, who accordingly looms large in the story despite his relatively short amount of screen time.
It should be obvious by now that "tick, tick… BOOM!" is a delight for people who love musical theater. But what if you're not one of those people? The good news is that there is so much to enjoy here, so much real enjoyment, so much talent, so much hard work on display that nobody will have any reason to be bored.
Even people who DON'T love musical theater.
James Ivory on movies, beauty — and a love of penises
If you enjoy film and wit you'll love 'Solid Ivory'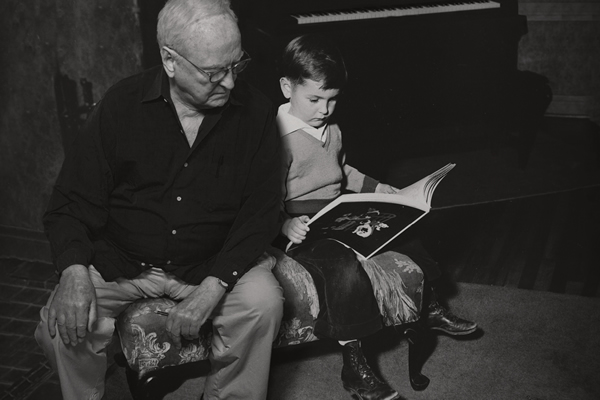 'Solid Ivory: Memoirs'
By James Ivory
C.2021, Farrar, Straus & Giroux
$30/399 pages
Few things have been more pleasurable to me during the pandemic than Merchant/Ivory films. COVID becomes a dim memory as I ogle the costumes, beautiful vistas from Italy to India, music and spot-on dialogue of "A Room with a View," "Maurice," "Remains of the Day" and other Merchant/Ivory movies.
For decades, fans from gay men to grandmas have enjoyed these films, directed by James Ivory and produced by Ismail Merchant in partnership with the writer Ruth Prawer Jhabvala.
In "Solid Ivory," Ivory, 93, gives us his memories of movie making, growing up gay, his decades-long romantic and professional partnership with Merchant and (you're reading this correctly) the penises he has known.
If you believe that elders don't enjoy sex, Ivory's memoir will blow your ageism to smithereens.
From watching the movies he's directed and knowing his age, you might think (as I did) that Ivory would be shy about talking of his sexuality. Wow, was I wrong!
Ivory appreciates penises as a sommelier savors fine wine.
Ivory knew that he liked boys early on. Ivory recalls playing at age seven with a boy named Eddy. He and Eddy were "putting our penises into each other's mouths," Ivory writes, "…I made it clear that Eddy's dick must not touch my lips or tongue, nor the inside of my mouth. I had learned all about germs at school by then."
Though Ivory and Merchant were devoted partners, they each had other lovers. Bruce Chatwin, the travel writer who died from AIDS, was Ivory's friend, and sometimes, lover.
Chatwin's penis was "Uncut, rosy, schoolboy-looking," Ivory writes.
Ivory's memoir isn't prurient. His sexuality doesn't overpower the narrative. It runs through "Solid Ivory" like a flavorful spice.
The book is more an impressionistic mosaic than a chronological memoir. Ivory, often, tells the stories of his life through letters he's written and received (from lovers, friends and professional contacts) as well as from diary entries.
Many of the chapters in the memoir were previously published in other publications such as The New Yorker.
"Solid Ivory" was originally published in a limited edition by Shrinking Violet Press. The Press is a small press run by Peter Cameron, a novelist, and editor of "Solid Ivory." Ivory grew up in Klamath Falls, Ore. He was originally named Richard Jerome Hazen. His parents changed his name when they adopted him.
Some of the most engaging moments of the memoir are when Ivory writes about what life was like for a child during the Depression.
Ivory's father lost his savings when the stock market crashed, and his mother frequently gave food to "tramps" who came to the door.
His "eating tastes were definitely formed during the Depression," Ivory writes.
Since that time, Ivory has lived everywhere from England to Italy. "But although I consider myself an advanced expert in the more sophisticated forms of cuisine," Ivory writes, "My gastronomical roots remain dug deep in the impoverished soil of the American Depression."Ivory became smitten with movies when he saw his first picture when he was five.
He and Merchant, a Muslim from India who died in 2005, fell in love when they met on the steps of the Indian consulate in New York in 1961. I wish Ivory had written more about the 30+ movies that he made (mostly with Merchant and Jhabvala, who died in 2013).
Yet, he provides tantalizing recollections of filmmaking, actors and celebs.
The chapters on "Difficult Women like Raquel Welch and Vanessa Redgrave" are fun to read.
Welch, a bombshell brat, doesn't want to play a love scene in "The Wild Party." During the filming of "The Bostonians," Boston is captivated by the drama of Redgrave's off-screen politics.
Ivory isn't that impressed when in 2018, at age 89, he becomes the oldest Academy Award winner when he receives the Best Adapted Screenplay Oscar for "Call Me By Your Name." "Its fame eclipses even Michelangelo's David and the Statue of Liberty," Ivory says, with irony, of the Oscar statue.
If you enjoy the movies, beauty and wit, you'll love "Solid Ivory."