NCLR's Kate Kendell steps down and into LGBT history
It's time for a younger leader, she says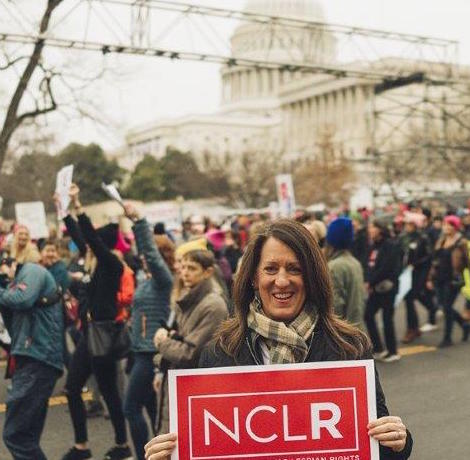 LGBT politicos nationwide were struck by the March 15 announcement that National Center for Lesbian Rights executive director Kate Kendell was stepping down after more than 22 years of service advancing social and economic justice through the lens of LGBT civil rights.
"Kate literally changed the world. Her leadership in advancing the rights of LGBT people from being criminals to being able to marry has transformed the lives of millions of people. She always pushed the envelope and was a constant voice for our movement to embrace our communities' diversity, partner with others and embrace a progressive agenda," says Geoff Kors, Palm Springs City Councilmember, former Equality California Executive Director, and Kendell's "brother from another mother." "She has an ability to connect with people on our shared humanity and move them to do the right thing even when it is politically challenging."
"We are so grateful for Kate's decades of leadership in the fight for full LGBTQ equality and social justice," says Equality California Executive Director Rick Zbur, noting that NCLR is currently co-representing Equality California in Stockman v. Trump, a lawsuit challenging the Trump administration's transgender military ban. "They broke the mold when they made Kate Kendell. And while her leadership at NCLR will be missed, her legacy will live on in the work of generations of LGBTQ civil rights advocates who will stand on her shoulders."
It is that passionate commitment to justice and human dignity that helped Kendell grow the small San Francisco-based national non-profit into a powerhouse legal advocacy legal organization.
"Kate Kendell's charisma, passion and vision have resulted in NCLR becoming one of the most creative and effective advocacy organizations in this country. Every LGBTQ person has benefitted because of her incredible leadership," said Donna Hitchens, the retired San Francisco Superior Court judge who founded NCLR in 1977.
"Kate Kendall is one of the most fearless and tireless advocates the LGBTQ equality movement has ever known," says Human Rights Campaign President Chad Griffin. "Kate's profound work is woven into the fabric of our movement and millions of Americans have felt the impact of her unwavering leadership. I am proud to call Kate a friend, colleague, and a true champion for equality."
Even journalists pay Kendell respect. "Authentic, empathetic, fully present, flawless mix of PC and un-PC, openminded, Mormon good-girl ethics, rebellious lesbian side, a hard worker not a brander, and a fully spin-free zone. It don't get much better," tweeted San Diego-based semi-retired reporter Rex Wockner.
Kendell started thinking about her career trajectory a few years ago. "I've engaged in a fair amount of self-interrogation and reflection about when might be the right time" to leave, Kendell says in an extensive March 15 phone interview.
"It just really felt like this was the right time for me—I hit 58 next month—to pursue whatever my next chapter is," Kendell adds. "And it's the right time for NCLR to have a new, obviously younger leader."
The NCLR board and management team is working on a succession plan. The search for the new executive director will officially launch on April 1.
"I had no idea when I took the job as legal director in 1994 or even as executive director in 1996 that I would be in the role this long, that I would be a part of some of the most powerful resonant and culture-changing moments in the LGBTQ movement, or that I would be able to look back on a 22-year run with such a profound sense of gratitude and humility," she says.
"I was lucky enough to meet Kate back in 1994, when she started as NCLR's Legal Director after working at the Utah ACLU and we clicked right away," Mary L.Bonauto, longtime attorney with GLAD (GLBTQ Legal Advocates & Defenders), tells the LA Blade. "For one, there were few women working in the legal organizations at that time, and we were both eager to use our legal skills to stick up for our community—for liberty, freedom and equality, even as others tried to stuff us back into the closet. And we were able to collaborate across the miles on cases and policy issues sometimes, too, including parenting cases." NCLR's "docket of protecting all families and children…is foundational to many of our other successes."
Parenting issues were NCLR's first priority as lesbian parents in heterosexual marriages came out and lost custody of their children. For generations, invisibility "protected us from the worst of this nation's bigotry and assaultive approach to LGBTQ people. But it also rendered us unable to be our own advocates because we couldn't be open and fight for what we wanted," Kendell says.
"And then AIDS—which galvanized our community like nothing else could have," Kendell continues. "And while it was never worth the death count, it still put in stark relief that being hidden, being silent, being invisible was a matter of life and death. Our visibility, our coming out, our being adamant about our own humanity and demanding that this nation recognize and honor that humanity is how we got to where we are now—in very short order by civil rights-time measurement."
But while "the rapidity with which we've seen landmark change is breath-taking," Kendell says, family issues such as adoption and child custody issues are "still a huge problem in many states."
Some of the most heart-wrenching cases in the 1990s involved lesbian couples separating with the biological parent treating the non-biological parent as a "legal stranger" with no right to even see the child.
"To this day, I find it abhorrent in the extreme that there are lesbians who would use heterosexist homophobic legal arguments against not just their former partner but our entire community. It still haunts me the cases that we lost with children four, five, six-year olds being denied any ongoing relationship with their parent! Forget how traumatic and hard this is for the lesbian co-parent—as a parent myself, my kids were about the same age when we were in the thick of these cases—imagine the trauma to this child!" Kendell says. "The venality and the self-loathing and the selfishness embedded in such an action still makes my blood boil."
Lorri L. Jean, CEO of the LA LGBT Center, says she is sad Kendell is stepping down. "Personally, she has been a valued colleague and friend and I'm going to sorely miss her indomitable presence, her support, her insight and her sense of humor," says Jean, who also took a stand against the "legal stranger" arguments. "She has done her work with a rare and admirable combination of selflessness, courage and integrity. LGBTQ people everywhere have better lives thanks to her leadership."
NCLR made history arguing for Sharon Smith's right to file a wrongful death civil lawsuit after the 2001 murder of her beloved domestic partner of seven years, Diane Alexis Whipple.
Whipple, a lacrosse coach, was coming home with groceries when she was viciously attacked by two large dogs and mauled to death in her apartment hallway. Neighbors Marjorie Knoller and her husband, Robert Noel were eventually convicted of second-degree murder and manslaughter, respectively.
Smith, a vice president at a brokerage firm, filed a wrongful death suit—but California only allowed surviving spouses, children and parents to file such claims. NCLR argued to San Francisco Superior Court Judge James Robertson II that the committed couple was essentially married. Robertson agreed that limiting the right to sue to straight spouses violated the Equal Protection Clause of the state constitution.
"Up until Sharon's case, it was virtually unheard of for a same-sex partner to be permitted to sue for wrongful death. In every prior case, the surviving partner was deemed a 'legal stranger,' regardless of the length or depth of the relationship," Kendell wrote on her NCLR blog in 2011. "But that measure of vindication, while enormously important, could never bridge Sharon's terrible loss."
Kendell and Smith remain very close friends. "Sharon's case really made history and changed the way people viewed our relationships," Kendell says.
In 2004, Kendell witnessed history again. The week before Valentine's Day when Kendell got a call from Mayor Gavin Newsom's chief of staff saying Newsom was going to begin issuing marriage licenses to same sex couples on Monday, Feb. 9.
"At the time, I thought it was not a good idea," Kendell says, since the marriage victory in Massachusetts prompted calls for a federal constitution ban on same sex marriage, endorsed by President George W. Bush. "It's like a little bit of a powder keg right now," she told him before he made it clear the action would happen "no matter what."
Kendell talked to NCLR Legal Director Shannon Minter and Bonauto, who won the Massachusetts marriage equality case. By Sunday, Kendell concluded: "You know what—game on. Let's just do it."
However, Monday morning it became clear that more time was needed, including for Newsom to do some homework on the movement. "He was humble enough to understand that he needed a few more days," Kendell says.
They prepared the new proper forms then Joyce Newstadt, Newsom's policy director, and Kendell decided the first couple to marry had to be lesbian icons Del Martin and Phyllis Lyon.
"I called Del and Phyllis' home and Phyllis answered and I said, 'Phyllis, I know you and Del have already done so much for the movement, but I have one more request. Would you be willing to be the first couple that would be issued a marriage license by the City and County of San Francisco because Mayor Newsom wants to begin issuing marriage licenses to same sex couples. And she said, 'Well, just a minute. Let me ask Del.' I heard her put the phone down and then I heard her say, her voice a little bit muffled, 'Kate wants to know if we want to get married.' I didn't hear what Del said but Phyllis came back and said, 'Del said we'll do it,'"Kendell recalls.
The clandestine team included Kors, Newsom's office, the City Attorney's office—and on Thursday morning, Feb. 12, history happened.
Kendell drove the couple to City Hall in her 1972 Mercedes sedan, escorting them through the basement to avoid being seen. They waited outside Treasurer Mable Tang's office until—"one of the greatest privileges of my life—I was there when Mable Tang did the wedding vows for Del and Phyllis and witnessed Del and Phyllis' wedding—Feb. 12, 2004, the 51th anniversary of the day they first met."
"In 2004—at a time when many in the Democratic Party were not ready to support marriage equality—Kate was a force whose advocacy and leadership gave us the courage to marry over 4,000 same-sex couples," California Lt. Gov Newsom tells the LA Blade. "That's just one in a long list of fights Kate and NCLR have taken on, and won, to benefit LGBTQ folks across the country. I am grateful for her counsel and friendship, and for her decades of bold leadership at the forefront of the movement for equality."
"I always knew when Kate was at the table that we would be on solid ground to do the right thing," says Newstat, now CEO of Rocket Science Associates.
"Kate is a force of nature, and her leadership of NCLR has been nothing short of brilliant! I will remember always the day we stood shoulder to shoulder with tears in our eyes and love in our hearts as Phyllis and Del said their vows and ignited the marriage revolutions! That, and so much more, our Kate has helped make possible," says Roberta Achtenberg, former San Francisco Supervisor and historic high-ranking official in the Clinton administration.
Kendell is proud of NCLR's role in winning the consolidated 2004 case that resulted from that event. Minter argued, In Re Marriages before the California Supreme Court, which treated the transgender NCLR attorney with dignity and respect during oral arguments. The Court ruled marriage equality was a fundamental constitutional right in May 2008.
"Shannon was an employee of NCLR before I even got to NCLR. In fact, he and I had met a couple of years prior when I was at the ACLU and he came to Utah because we were trying to get a young lesbian girl released from a psychiatric facility where she had been institutionalized by her parents when she came out," Kendell recalls.
"Shannon and I had been through so much together and to see him standing before the California Supreme Court as our Legal Director and my partner in so much of what had been great about NCLR and my job and to be someone I had so much respect and love and affection for was just a spectacular moment. I was proud, I was moved, I was emotional. I was inspired. It was fantastic. And he was brilliant," Kendell gushes warmly.
Minter became the first individual to transition at an LGBT organization and the first full time transgender employee at a national LGBT organization.
Minter remembers Kendell's reaction when he announced he was going to transitioning at work.
"I first talked to her about it in 1995, a time when transgender issues were not yet much on the radar of any national LGB group," Minter tells the LA Blade. "Like most other LGB people at the time, Kate knew very little about transgender issues, but her response was always completely spot-on. She didn't pretend to know more than she did, but she was enthusiastically supportive on both a personal and professional level from day one.
"When I actually transitioned in 1996, she sheltered me from any negative responses and offered unflagging acceptance and support," Minter continues. "She set such a positive example for the whole movement in that regard. At the same time, she was always real, including telling me when I complained about having a hard time finding men's shirts that fit that my arms, which were too short! I have loved teasing her about that over the years."
He adds, "Kate has never flinched from a fight. She has empowered our staff to launch innovative new projects and then trusted them to take risks. As a result, she has nurtured some of the most impressive leaders in our community."
One of the hardest issues was Proposition 8, the anti-gay marriage ballot initiative that passed in November 2008.
"What happened in Prop 8 was the lowest point of my career and it just followed on the heels of one of the highest points of my career," Kendell says. "When we won marriage in California, I was ecstatic….I knew that the resonance of ending discrimination in marriage was going to be a huge lift to every other facet of the lives of queer people. And I believe that has been borne out to be true," she says.
"I knew Prop 8 was an existential threat and I knew it had a very good chance of passage. But it was impossible to get people to focus on it because everybody was still elated that we'd won marriage and they couldn't believe that California voters would vote to take away marriage!" Kendell says, her voice rising as if reliving the fall of 2008. "So when Prop 8 passed—I remember the entire night. I remember the growing feeling of dread and nausea. And I remember a sleepless night absolutely devastated and then having to face the next morning. It was a brutal, brutal experience" that left her seriously depressed for six months.
But there was an upside. "I believe that had it not been for Prop 8, we wouldn't have won marriage as quickly as we did in this country. It shocked the shit out of people that we could see marriage taken away at the ballot box and it galvanized and energized a huge new generation of LGBTQ folks to engage in the fight. And that moment really changed everything, in terms of our momentum," Kendell says.
"We have admired her courageous leadership and ability to build support for NCLR for many years but we will be forever grateful to Kate for her unequivocal support during our challenge to Proposition 8 and subsequent friendship," successful federal Prop 8 plaintiffs Kris Perry and Sandy Stier tell The LA Blade.
Kendell and NCLR have also worked hard on intersectional issues that "deeply impact LGBTQ people," such as immigration, policing, criminal justice, asylum and poverty issues. "If those issues are not an essential part of every LGBTQ organization, we are doing a disservice and we are leaving people behind," she says. "There can be no more important work for us to do than actually saving lives."
"Kate has a clear vision of the intersections in our communities. Whether as an advocate for LGBT immigrants, same sex parents, or transgender youth, she has the best interests of all of us impacted by the range of prejudice and bigotry when she bravely steps forward time after time," says longtime Democratic Latina politico, Gloria Nieto. "She is the definition of fierce and our communities are more fierce thanks to Kate Kendell."
"Having worked side-by-side with Kate Kendell—including as co-counsel in a number of path-breaking cases—for three decades," says Jon Davidson, former Legal Director of Lambda Legal, "I often have had the pleasure of seeing Kate's inspired leadership, passion, smarts, and tenacity up close. She fought tirelessly for the full breadth of our communities, ensured that the LGBTQ rights movement incorporated essential feminist perspectives, and successfully built alliances that have been key to our success. We collectively owe her a huge debt of gratitude, as we certainly would not have made the progress we have but for her many years of hard work."
Kendell feels that the fight for social justice and intersectionality is "baked into DNA" at NCLR. And while the Right "is still going to fight us at every turn," her 22 years have taught her that "people are generally good and want to be good but are stopped by being scared." So, she says, "it's important to meet people where they are, even when that's difficult."
The stakes now are high. "We are in a fight about who we are as a nation," Kate Kendell says. "But I do have hope. Like Harvey Milk said, we have to give them hope. Because if we lose hope, we concede ground to our enemy. And I do not concede!"
Charlie Kirk smears Out Calif. State Sen. Scott Wiener on Twitter
"Kirk is leading the movement to slander gay men and trans people as 'pedophiles' and 'groomers,' & these heinous words have consequences"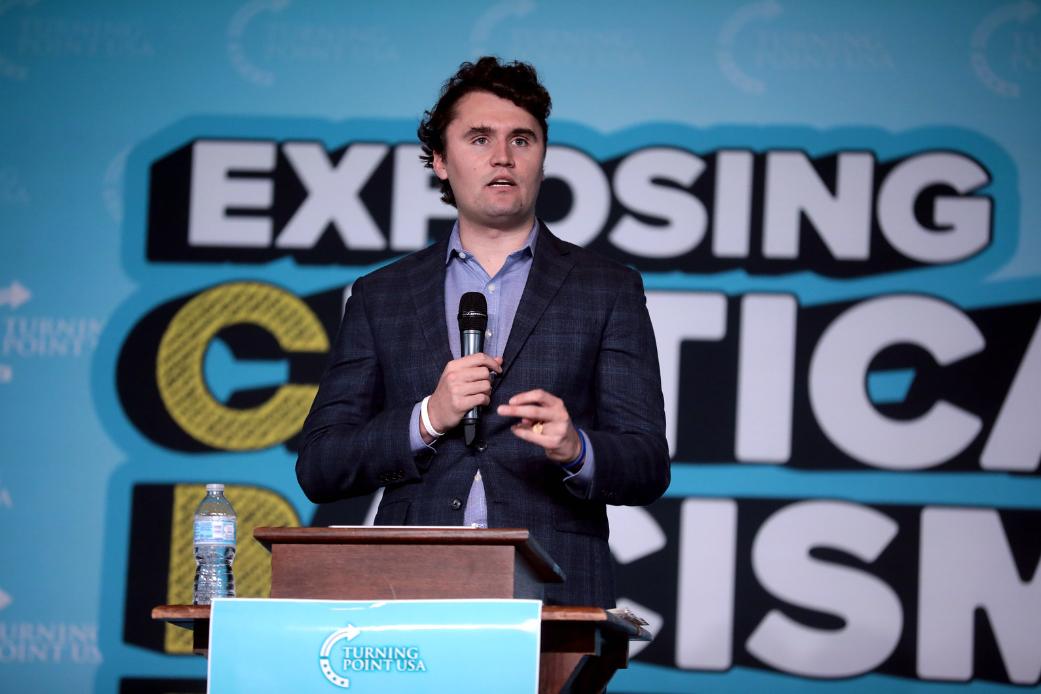 SAN FRANCISCO – In a lengthy tirade on Twitter Tuesday, far-right extremist radio chat show host Charles J. Kirk, while loosely channeling an InfoWars host Alex Jones style-attack, went after California State Senator Scott Wiener, (D-SF District 11) implying that the veteran lawmaker endorses and supports child molestation.
Kirk, 29, is a co-founder of Turning Point USA, a conservative right-wing political group aimed at influencing college and university students and young people. Ironically, Kirk himself dropped out of Harper College, a junior community college near Chicago, without having completed any degree or certificate.
Kirk hosts a daily three-hour radio talk show, called The Charlie Kirk Show, on Salem Media which is known for owning conservative websites Townhall.com, RedState, Hot Air, and PJ Media, as well as Twitter aggregator Twitchy, calling itself a " for-profit Christian broadcast corporation."
He is also an avid supporter of impeached former president Donald Trump, consistently refers to himself as a MAGA Republican and has asserted that the concept of white privilege is a myth and a "racist lie." He also has spread false information and conspiracy theories about COVID-19 on social media platforms, such as Twitter, in 2020.
Recently Kirk has been attacking the LGBTQ+ community on the subjects of trans youth and also following the lead of far-right Republican U.S. Rep. Marjorie Taylor Greene, (R-GA) in attacking Senator Wiener:
Kirk's attack on the senator commenced with: "Thousands of pedophiles in California are going free after just a few months in jail, thanks to the state's radically reduced penalties for child molestation. One reason so many of these predators are going free so early is California lawmaker Scott Wiener."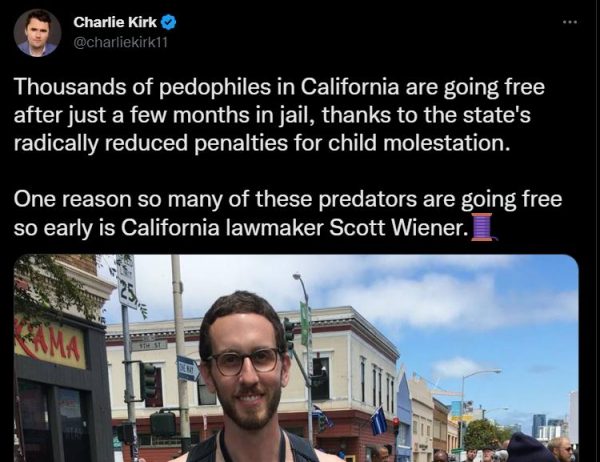 Then he went on to state in the thread: "That name and photo might ring a bell. Wiener is one of the most effective lawmakers in the entire country. He's behind California's new law that will protect parents who kidnap their children and take them to California to receive mutilating surgeries.
Wiener was also behind California's law lowering penalties for intentionally spreading HIV to other people, and their law creating a third "nonbinary" gender for government documents.
If there's some horrifying idea related to modern gender and sex ideology, Wiener has probably written and passed a bill about it in California.
If elected Republicans cared as much about their voters' concerns as Scott Wiener cares about freeing pedophiles and mutilating children, they'd have won total victory long ago."
Editor's Note: It needs to be made clear, California has NOT reduced penalties for child molestation.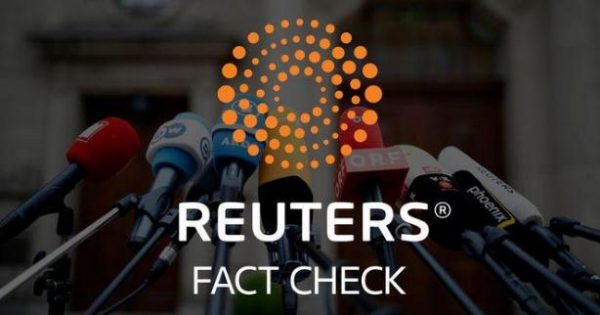 (REUTERS) Posts on Facebook claim that SB-145, a bill passed by the California State Senate on August 31, 2020 seeks to "legalize pedophilia." This claim is false, as the bill is intended to reform the state's sex offender registry to be fairer to young LGBT adults who may be in technical violation of statutory rape laws. The bill seeks to treat all statutory rape cases—regardless of what kind of sex they involve—equally.
Senator Wiener responded to Kirk's attacks saying on Twitter:
Charlie Kirk — one of the biggest attention-seeking liars around — is spreading bald-faced lies about me. These statements are absolutely false & defamatory. These are the lies bigots have always spread about LGBTQ people — lies that lead to violence against our community.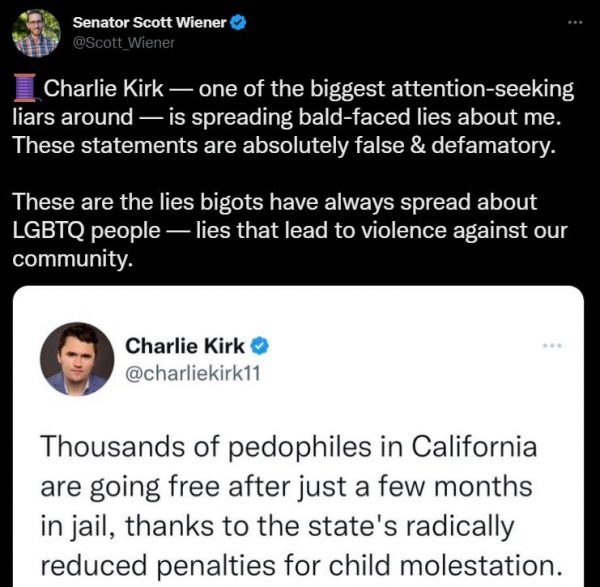 In an emailed statement to the Blade Wiener said:
"LGBTQ leaders around the country are under attack by toxic, far-right ideologues and elected officials. These MAGA talking heads – whose party performed far worse than expected in the midterm elections – have no meaningful policy solutions for the issues facing our country. Instead, they are focused on slandering and demonizing gay and trans people, and using us as scapegoats. Specifically, they're employing the age-old slander that LGBTQ people are threats to children, and that is what Greene and Kirk tweeted about me.
"Charlie Kirk is a prime example of this type of extremist right-wing grifter, and he joined Congresswoman Marjorie Taylor Greene in tweeting about me repackaged versions of centuries-old homophobic lies. Kirk and Greene are leading the movement to slander gay men and trans people as 'pedophiles' and 'groomers,' and these heinous words have consequences. Be it the massacre at Club Q or the death threat I just received this morning referencing Kirk's tweet, LGBTQ people everywhere are experiencing an onslaught of violence and threats.
"People like Kirk and Greene are a stain on our country, and they should be held accountable for spreading vile, homophobic misinformation."
In his statement Wiener was referencing last week's attack by Far-right Republican U.S. Rep. Marjorie Taylor Greene, (R-GA) who called the Senator a "communist" questioning Wiener's loyalty and service to both the State of California and the U.S. she then went on to accuse Wiener of being a "groomer" implying that the Senator was a predator of minors for sexual purposes:
"Pass my Protect Children's Innocence Act to stop communist groomers like this from using state government power to take children away from their parents to allow a for-profit medical industry to chop off these confused children's genitals before they are even old enough to vote."
Wiener made a point of calling out use of the word "groomer," as the abusive reaction and fallout from right-wing sources regarding the mass-shooting at Club Q in Colorado Springs, continues to ratchet up against the LGBTQ+ community.
"The word "groomer" is categorically an anti-LGBTQ hate word. It's super homophobic/transphobic. It plays into the slander that LGBTQ people are pedophiles. It's no different than calling someone a fagg*t. If you call someone groomer, you're inciting violence against LGBTQ people," Wiener stated in a tweet.
Equality California, the largest statewide LGBTQ equal rights advocacy group reacted to Kirk's smears Wednesday afternoon. In an text message to the Blade, Equality California spokesperson Jorge Reyes Salinas said:
"It is disgusting but not surprising that days after a mass shooting fueled by dangerous rhetoric from extremists like Marjorie Taylor Greene, Charlie Kirk posts lies to spread anti-LGBTQ+ hate. The statements made are false, defamatory and lead to violence against our LGBTQ+ community. This is another performance to build up hatred."
The organization had previously tweeted at Kirk defending the senator:
"This is a lie. It's false, offensive and dangerous — the exact type of disinformation that has fueled violent attacks like the Club Q shooting in #ColoradoSprings. Shame on you, and shame on @elonmusk [Twitter owner and CEO] for allowing these dangerous lies to proliferate."