March 21, 2018 at 4:19 pm PDT | by Troy Masters
Los Angeles Blade set to publish weekly

PRESS RELEASE | LOS ANGELES — Just one year after its biweekly debut, the Los Angeles Blade today announced plans to expand and publish a weekly print edition.
It is the first weekly LGBT media product serving Los Angeles since the mid-1980s and the first newspaper, according to One Archives and Rivendell Media.
The Los Angeles Blade covers LGBTQ Los Angeles and California news, politics, opinion, arts and entertainment and features national and international coverage from the award-winning reporting team of its sister newspaper, the Washington Blade.
Troy Masters, a veteran of LGBT media, serves as publisher; longtime Los Angeles journalist Karen Ocamb is news editor.
"After a successful first year on a biweekly print schedule, we determined that Los Angeles needs and deserves even more robust coverage of LGBTQ issues," said Masters. "To that end, we're excited to deliver the Blade each week starting May 4."
In addition to the expansion news, the Los Angeles Blade announced it has hired media veteran Michael Jortner as its new advertising and marketing director. Jortner served as principal of WeHo Digital, a digital marketing agency serving small businesses in the area. Jortner is certified in digital marketing solutions by Gannett and MarketMotive and has years of experience in print and digital sales.
"I'm a big believer in LGBTQ media and thrilled to join the Blade team," said Jortner. "I look forward to working with Los Angeles businesses to reach and connect with LGBTQ consumers."
UCLA's Director of Marketing and Communications, Kathy Budas, welcomed the news. "The Los Angeles Blade has been a fantastic partner over this past year in helping us connect to the LGBTQ community for shows with artists such as Taylor Mac, Meow Meow and Thomas Lauderdale, Tony Kushner and Sarah Vowell, Eve Ensler and Anne Lamott," she said. "We look forward to a long and successful relationship."
The Board of Christopher Street West, organizers of LA Pride Festival and Parade said, "The team at LA Pride is excited to work with the Los Angeles Blade as a media partner in the lead up to LA Pride 2018. We'd also like to congratulate the paper on hitting a major milestone in its expansion to weekly distribution. It's a testament to the value that the publication brings to the LGBTQ+ community nationwide. For this reason – and many more – we're looking forward to collaborating with the Los Angeles Blade across print, digital, and social to help tell the story about why everyone should #JUSTBE at LA Pride this year."
The first weekly edition of 20,000 copies will hit the streets May 4 at Los Angeles-area bars, restaurants, gyms and other locations popular with area LGBTQ residents. Visit losangelesblade.com for updated local, national and international news and features.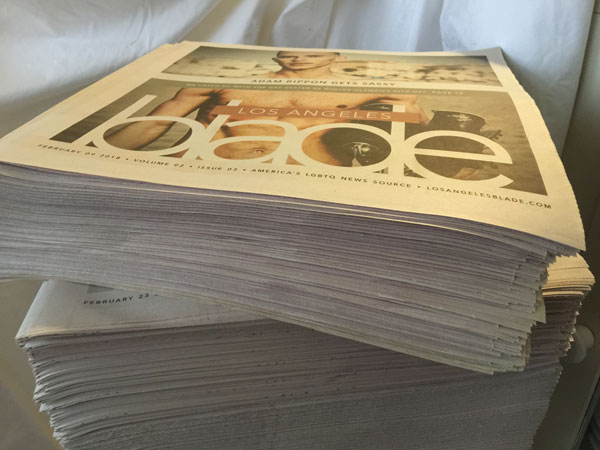 The Los Angeles Blade and the Washington Blade are published by Brown Naff Pitts Omnimedia. The Washington Blade is the only LGBT media member of the White House press corps. Founded in 1969, the Washington Blade is the nation's first LGBT newspaper, which the New York Times dubbed the "newspaper of record for the LGBT community."
Both newspapers are represented by Rivendell Media, the leading LGBT media placement company in the United States and Canada.  Both newspapers are also part of the National LGBT Media Association, a group of top newspapers, one per major market.
To advertise in the Los Angeles Blade, call Michael Jortner at 323-637-7180.