Before we loved 'Simon,' other movies paved the way
Watch these landmark LGBTQ movies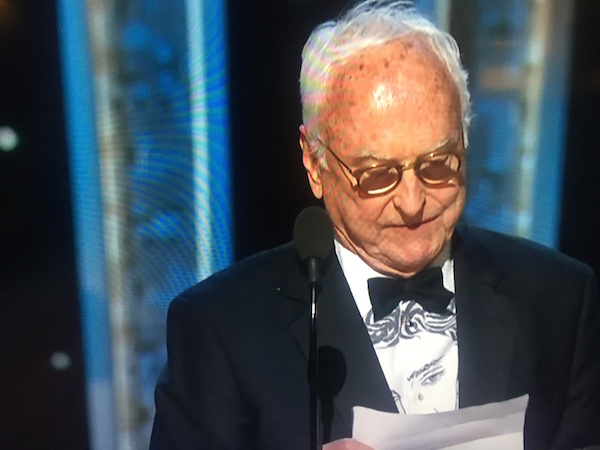 The arrival of "Love, Simon," as multitudes of commentators have already pointed out, is a groundbreaking moment for positive LGBT representation and presence in mainstream cinema.
While it's undoubtedly the highest-profile release to focus on young people coming out, it's certainly not the first. To celebrate this new milestone for LGBT inclusion, we've put together a list of other landmark movies that have tackled the same theme. In the era of streaming media, all of them should be readily available on one or more platforms, so look at this as a chance to catch up on some important titles you may have want to revisit.
In chronological order:
"My Beautiful Laundrette" (1985, dir: Stephen Frears) – Not so much a coming-out movie, but a must-see classic offering a positive depiction of gay love amid oppressive surroundings. Omar (Gordon Warnecke) is a young Pakistani in London whose entrepreneur uncle gives him a job restoring a run-down laundry and turning it into a profitable business; he enlists the help of a white street-thug (Daniel Day-Lewis), who is looking for a better life, to help him with the task, and the two oddly matched young men find themselves falling in love as they face the challenge of building both a business and a sanctuary for themselves in a community embroiled with racism, cultural intolerance and corruption. Audiences, gay and straight alike, adored it – the superb early work by director Frears, who has gone on to create a long list of acclaimed films, and Day-Lewis, here at the start of his remarkable acting career, certainly helped win them over – and it became one of the most lauded films of the '80s, still counted as one of the decade's finest.
"The Incredibly True Adventure of Two Girls in Love" (1995, dir: Maria Maggenti) – A funny, tender, and refreshingly non-exploitative teen lesbian romance about a troubled tomboy (Laurel Holloman) and a pretty rich girl (Nicole Ari Parker) who find first love with each other – much to the dismay of family and friends. Concentrating more of its attention on the development of a relationship than the process of coming out, it drew praise for its realistic portrayal of non-stereotypical characters. After its Sundance debut it enjoyed relative commercial success – sufficient to boost the careers of its two stars, along with supporting player Dale Dickey – and won the GLAAD media award for Outstanding Film – Limited Release.
"Beautiful Thing" (1996, dir: Hettie MacDonald) – Originally made for British television, this kitchen-sink "dramedy" proved so popular it was released theatrically. Following the story of two working-class London teens (Glenn Barry and Scott Neal) who fall for each other amid the drug-and-alcohol-fueled drama of their council estate community, it's based on a play by Jonathan Harvey (who also penned the screenplay) and appears on numerous lists of "essential" LGBT films. Featuring a sweet ending and a fun, retro soundtrack of songs by The Mamas and the Papas.
"Edge of Seventeen" (1998, dir: David Moreton) – Another early entry in the gay-teen-coming-of-age canon, set in the '80s and starring Chris Stafford as an Ohio high school boy whose summer flirtation with a college student (Andersen Gabrych) starts him on the path toward coming to terms with his sexuality. A favorite at Outfest and many other LGBT-themed film festivals on the circuit, it received a limited theatrical release and garnered acclaim from many mainstream critics as well – an all-too-rare accomplishment for the time. It also features Lea DeLaria in a supporting role.
"Get Real" (1998, dir: Simon Shore) – Another British film, also based on a play, about a gay 16-year old (Ben Silverstone) living in a rural town where homosexuality is viewed as the ultimate taboo. While cruising local restrooms, he finds his school's star athlete (Brad Gorton) doing the same thing, which leads to a tentative romance and forces both boys to grapple with the idea of coming out.
"But I'm a Cheerleader" (1999, dir: Jamie Babbit) – Though not well-reviewed by mainstream critics upon release, this deliberately "trashy" satire found a friendlier reception from festival crowds and commentators in the LGBT media, and it has since become a fondly-remembered cult favorite. Starring Natasha Lyonne as a high schooler whose parents suspect her of being a lesbian and send her to a conversion camp, where instead of being "cured" she learns to embrace her sexuality and helps to lead a rebellion among the other campers. Cute and quirky as it may be, this comedy was also deeply subversive for its time, and fearless in its condemnation of religion-based intolerance and bigotry; it also features a colorful cast that includes Clea DuVall, Melanie Lynskey, Cathy Moriarty, Michelle Williams, Mink Stole, and RuPaul in a rare non-drag role.
"Latter Days" (2003, dir: C. Jay Cox) – Another festival favorite that met with opposition from the mainstream press, this highly personal romance from writer-director Cox also faced controversy over its portrayal of a young Mormon missionary in Los Angeles (Steve Sandvoss) who falls in love with his openly gay neighbor (Wes Ramsey) and is subsequently excommunicated, shamed by his family, and sent to a mental hospital to be "cured" of his homosexuality after he attempts suicide. Bleak as it may sound, it's actually a watershed moment for gay moviemaking in that it offers the kind of sappy, crowd-pleasing love story (and yes, there's a happy ending) that straight audiences had been enjoying since the beginning of cinema. For that reason, it's a movie with a lot of fans (attempts to ban it by religious groups, Mormon and otherwise, likely only increased its popularity), and can still elicit a smile and a tear today. Joseph Gordon-Levitt, Mary Kay Place, and Jacqueline Bisset add some star power to the supporting cast – but the two leads are endearing enough to carry the movie on their own.
"Pariah" (2011, dir: Dee Rees) – Like "Moonlight," this movie is a double landmark in that, in addition to its depiction of a teenager coming out, it also portrays that process from the perspective of a person of color. It deals with 17-year-old Alike (Adepero Oduye), whose growing awareness of her sexuality brings even more turmoil to her already-turbulent home life. Expanded by Rees from an earlier short film, it was praised for its authenticity and for Oduye's powerful performance, in addition to the work of Charles Parnell and Kim Wayans as Alike's parents.
Nonbinary activist Alok Vaid-Menon; gender labels hurt everyone
"I'm nonbinary, which means it's not just that I'm challenging the binary between male, female, man and woman, but between us and them"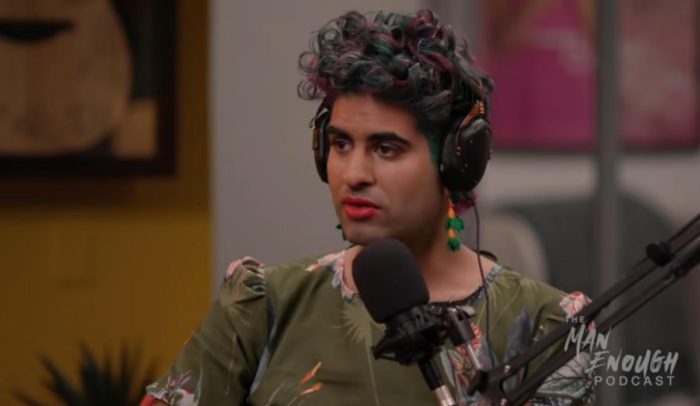 LOS ANGELES – This past week on the Wayfarer Studios new national podcast "Man Enough," nonbinary activist and poet Alok Vaid-Menon appeared alongside hosts actor Justin Baldoni, writer and MSNBC columnist Liz Plank and composer Jamey Heath.
During the broadcast Vaid-Menon noted that "people need to have compassion before "comprehension" — meaning they need to have empathy for trans people even if they don't understand them."
The activist-poet also deconstructed the gender binary — the idea that there are only two genders rather than a spectrum — and the traditional expectations associated with binary gender labels hurt everyone, not just transgender people, and these fixed ideas of what it means to be a man or a woman make it difficult for people to find out who they truly are.
In the podcast Vaid-Menon, who is the author of "Beyond the Gender Binary," said in response to Heath, who had asked what he needs to "unlearn" and what he needs to do to help other men unlearn, in order to better support them, referring to trans and nonbinary people like Vaid-Menon;
"I'm nonbinary, which means it's not just that I'm challenging the binary between male, female, man and woman, but between us and them," Vaid-Menon said, adding, "And in your statement, you said, 'Why don't I help them?' as if this struggle is not your struggle. The reason you don't fight for me is because you're not fighting for yourself fully."
Reporting on the premiere of the podcast episode, NBC News OUT contributor Jo Yurcaba noted;
They said though trans and nonbinary people face violence and death for challenging traditional gender norms, they don't want people to fight for their rights "because you want to protect me or you want to help me."
"I don't need your help," they said, adding that they "have an unshakable and irrevocable sense of who I am" and don't need to prove anything.
'The Man Enough Podcast' was launched in June in partnership with Procter & Gamble who will also co-finance and co-produce other projects with Wayfarer across film, TV and new media.
The Man Enough Podcast | ALOK | The Urgent Need for Compassion
IOC: 'Trans Women Are Women' Laurel Hubbard set to make sports history
Laurel Hubbard is set to make sports history on Monday and the International Olympic Committee clearly has her back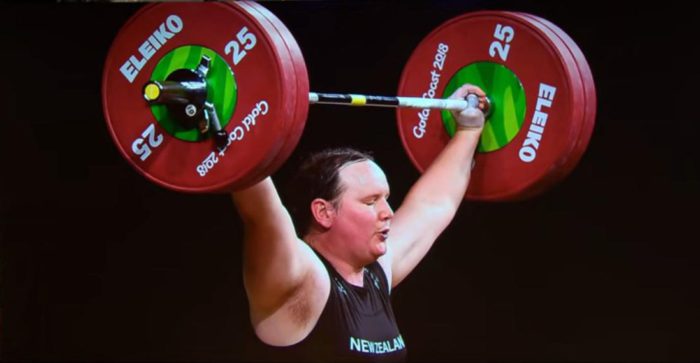 TOKYO – The director of medicine and science for the International Olympic Committee praised weightlifter Laurel Hubbard's "courage and tenacity" as she prepares for her upcoming competition as the world's first out transgender woman Olympian.
In speaking to reporters in Tokyo Thursday, Dr. Richard Budgett directly addressed those who have attacked and mocked the 43-year-old New Zealander and claimed she shouldn't be competing with cisgender women, saying "everyone agrees that trans women are women."
"To put it in a nutshell," he said, "the IOC had a scientific consensus back in 2015. There are no IOC rules or regulations around transgender participation. That depends on each international federation. So Laurel Hubbard is a woman, is competing under the rules of her federation and we have to pay tribute to her courage and tenacity in actually competing and qualifying for the Games."
Hubbard herself has not made any public comments except for a statement following her qualifying for the Summer Games, saying she was "humbled" by the support which had helped her "through the darkness" following a near career-ending injury in Australia in 2018.
Reports around the world have claimed Hubbard is the first trans Olympic athlete, which is actually not the case. As the Los Angeles Blade has reported, Quinn, a trans nonbinary soccer midfielder for Team Canada, last Wednesday became the first out trans athlete ever to complete in the Olympic Games. They posted about it on Instagram, saying, "I feel proud seeing 'Quinn' up on the lineup and on my accreditation. I feel sad knowing there were Olympians before me unable to live their truth because of the world."
The IOC is expected to review and likely revise its policies on transgender participation following Tokyo. Trans athlete and researcher Joanna Harper, who has advised the organization and other sports policy groups, told the Los Angeles Blade her recommendation will be for the IOC to continue to regulate trans athletes sport-by-sport. "There shouldn't be a one-size fits all policy," said Harper.
She also noted how the mainstream cisgender media is consumed with coverage of Hubbard and missing out on the bigger picture, and what it will mean for the next generation watching on TV and online.
"The lack of attention paid to Quinn and to Chelsea Wolfe has been interesting," said Harper.
"A few news outlets have commented on their presence in Tokyo and in Quinn's case the comments have been mostly favorable. On the other hand, the storm of mostly negative press heaped on Laurel Hubbard has been disappointing, although predictable. I hope that the negative press that Laurel has gotten won't dissuade young trans athletes from following their dreams. I think that the next trans woman to compete in the games will get less negative press, and eventually (although probably not in my life) there will come a time when trans women in sport generate little or no controversy."
Hubbard issued a statement Friday via the New Zealand Olympic Committee in which she said: "The Olympic Games are a global celebration of our hopes, our ideals and our values. I commend the IOC for its commitment to making sport inclusive and accessible."
According to a French news outlet, NZOC spokesperson Ashley Abbott told reporters the committee had seen a "particularly high level of interest" in Hubbard's Olympic debut, and much of it has been negative.
"Certainly we have seen a groundswell of comment about it and a lot of it is inappropriate," Abbott said. "Our view is that we've got a culture of manaaki (inclusion) and it's our role to support all eligible athletes on our team. In terms of social media, we won't be engaging in any kind of negative debate."
Abbott reminded the media that the NZOC's job was to support its athletes, including Hubbard. "We all need to remember that there's a person behind all these technical questions," she said. "As an organization we would look to shield our athlete, or any athlete, from anything negative in the social media space. We don't condone cyberbullying in any way."
RELATED: CBS This Morning from 22 Jun 2021
LGBTQ+ ally Jamie Lee Curtis reveals her 25-year-old child is Trans
Curtis and her husband Christopher Guest, British screenwriter, composer, musician, director, and actor have two daughters.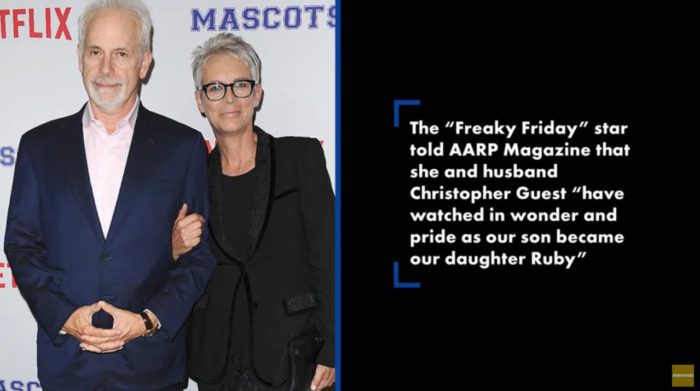 LOS ANGELES – In a new interview with the American Association of Retired Persons' magazine, Golden Globe and BAFTA winning actress Jamie Lee Curtis disclosed that her youngest child is transgender. In the interview Curtis reflected that she has "watched in wonder and pride as our son became our daughter Ruby."
Curtis and her husband Christopher Guest, British screenwriter, composer, musician, director, and actor have two daughters. Ruby, 25, works as a computer gaming editor while Curtis and Guest's 34-year-old daughter, Annie, is married and works as a dance instructor. Curtis also noted that Ruby and her fiancé are getting married next year in a wedding that Curtis will officiate.
The longtime Hollywood couple have been married for more than 36 years but have no grandchildren, "but I do hope to," she told the magazine.