March 23, 2018 at 12:34 pm PDT | by Staff reports
March For Our Lives/LA – What you need to know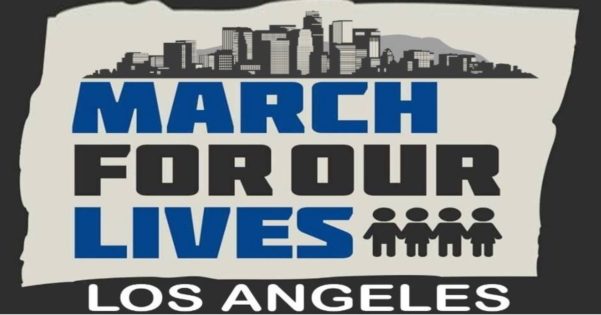 At least 60,000 Los Angeles students and adults are expected to march Downtown Saturday to demand that legislators take action so that  #NeverAgain will gun violence steal the lives of students in schools, nightclubs like Pulse, concerts like Las Vegas, or local communities every day.
"We are not too young to make change happen! We will no longer wait for someone else to take action to stop the epidemic of school shootings that has become far too familiar to all of us," say March for Our Lives organizers.
March for Our Lives Los Angeles https://www.facebook.com/events/1489561971152365/  is acting in response to the nationwide call from Parkland Florida's Marjory Stoneman Douglas High School shooting victims. The student-led and student-organized march demands that "our lives and safety become our elected official's number one priority."
The March is happening Saturday, March 24 from 8:30am to roughly 1:00pm. Marchers will convene one block from Pershing Square at 5th Street and Broadway in Downtown LA.
CityLineX, the City of West Hollywood's free mini-bus service for commuters, will operate special service on Saturday, March 24 for the Rally, according to WeHo City press release. CityLineX will connect West Hollywood residents to the Metro Red Line at Hollywood and Highland; event attendees can use the Red Line to reach the Pershing Square/5th Street Station. View the CitylineX March for Our Live Route Map[PDF]
The first CityLineX shuttles will depart at 7:30 a.m. from stops at the West Hollywood Library located at 625 N. San Vicente Boulevard, and from Santa Monica Boulevard and Crescent Heights. A second CityLineX shuttle departure from the West Hollywood Library is scheduled to depart at 8:20 a.m. In addition to the shuttles coming from the library, stops from Crescent Heights east will have additional service with runs starting at 8 a.m. and 8:30 a.m.
All times are approximate; passengers should allow several minutes leeway to allow for varying traffic conditions. CityLineX will pick passengers up at its regular stops along Santa Monica Boulevard, which include San Vicente, Westbourne, La Cienega, Sweetzer, Crescent Heights, Fairfax, and La Brea, en route to the Metro Red Line Station at Hollywood & Highland. March for Our Lives attendees are advised to use Metro Red Line service toward Downtown Los Angeles and exit at Pershing Square/5th Street.
The rally will start there at 8:30a-9:00am, with speakers expected to include students, survivors of previous mass shootings including Columbine, Las Vegas and the Seal Beach California salon shooting.
The march begins at 10:00am down Broadway and Spring streets, culminating in Grand Park with a program of speakers and performers.
CityLineX returning shuttles will bring people back from Hollywood & Highland at approximately 30-minute intervals beginning at 2:30 p.m., with the final shuttle scheduled to leave at 4 p.m.
Passengers may board from the CityLineX stop located on the west side of Highland Avenue, south of Hollywood Boulevard. CityLineX will drop-off passengers at all of its regular stops along Santa Monica Boulevard, which include La Brea, Gardner, Fairfax, Crescent Heights, Sweetzer, La Cienega, Westbourne, and San Vicente, en route to its final stop at West Hollywood Library.
For more information about CityLineX, including links to schedules and maps, please visit www.weho.org/cityline or call the City of West Hollywood's Social Services Division at (323) 848-6510. For people who are Deaf or hard of hearing, please call TTY (323) 848-6496.
CLICK FOR MORE INFO/ASSETS: