March For Our Lives/LA – What you need to know 
WeHo providing free rides to Red Line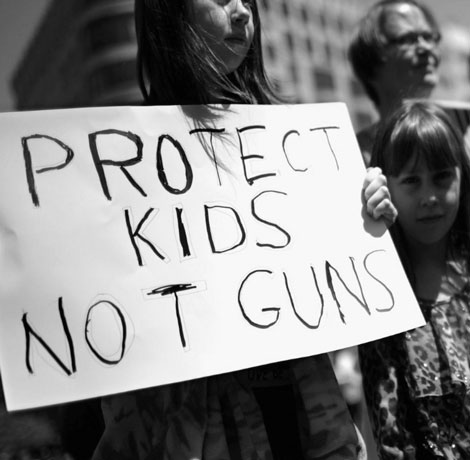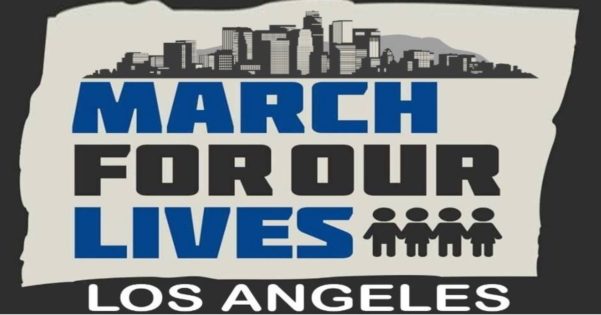 At least 60,000 Los Angeles students and adults are expected to march Downtown Saturday to demand that legislators take action so that  #NeverAgain will gun violence steal the lives of students in schools, nightclubs like Pulse, concerts like Las Vegas, or local communities every day.
"We are not too young to make change happen! We will no longer wait for someone else to take action to stop the epidemic of school shootings that has become far too familiar to all of us," say March for Our Lives organizers.
March for Our Lives Los Angeles https://www.facebook.com/events/1489561971152365/  is acting in response to the nationwide call from Parkland Florida's Marjory Stoneman Douglas High School shooting victims. The student-led and student-organized march demands that "our lives and safety become our elected official's number one priority."
The March is happening Saturday, March 24 from 8:30am to roughly 1:00pm. Marchers will convene one block from Pershing Square at 5th Street and Broadway in Downtown LA.
CityLineX, the City of West Hollywood's free mini-bus service for commuters, will operate special service on Saturday, March 24 for the Rally, according to WeHo City press release. CityLineX will connect West Hollywood residents to the Metro Red Line at Hollywood and Highland; event attendees can use the Red Line to reach the Pershing Square/5th Street Station. View the CitylineX March for Our Live Route Map[PDF]
The first CityLineX shuttles will depart at 7:30 a.m. from stops at the West Hollywood Library located at 625 N. San Vicente Boulevard, and from Santa Monica Boulevard and Crescent Heights. A second CityLineX shuttle departure from the West Hollywood Library is scheduled to depart at 8:20 a.m. In addition to the shuttles coming from the library, stops from Crescent Heights east will have additional service with runs starting at 8 a.m. and 8:30 a.m.
All times are approximate; passengers should allow several minutes leeway to allow for varying traffic conditions. CityLineX will pick passengers up at its regular stops along Santa Monica Boulevard, which include San Vicente, Westbourne, La Cienega, Sweetzer, Crescent Heights, Fairfax, and La Brea, en route to the Metro Red Line Station at Hollywood & Highland. March for Our Lives attendees are advised to use Metro Red Line service toward Downtown Los Angeles and exit at Pershing Square/5th Street.
The rally will start there at 8:30a-9:00am, with speakers expected to include students, survivors of previous mass shootings including Columbine, Las Vegas and the Seal Beach California salon shooting.
The march begins at 10:00am down Broadway and Spring streets, culminating in Grand Park with a program of speakers and performers.
CityLineX returning shuttles will bring people back from Hollywood & Highland at approximately 30-minute intervals beginning at 2:30 p.m., with the final shuttle scheduled to leave at 4 p.m.
Passengers may board from the CityLineX stop located on the west side of Highland Avenue, south of Hollywood Boulevard. CityLineX will drop-off passengers at all of its regular stops along Santa Monica Boulevard, which include La Brea, Gardner, Fairfax, Crescent Heights, Sweetzer, La Cienega, Westbourne, and San Vicente, en route to its final stop at West Hollywood Library.
For more information about CityLineX, including links to schedules and maps, please visit www.weho.org/cityline or call the City of West Hollywood's Social Services Division at (323) 848-6510. For people who are Deaf or hard of hearing, please call TTY (323) 848-6496.
CLICK FOR MORE INFO/ASSETS:
Sen. Alex Padilla & Santa Monica College- Thanksgiving grocery giveaway
"As we approach Thanksgiving, it is important to support each other and our communities, and give back when we can"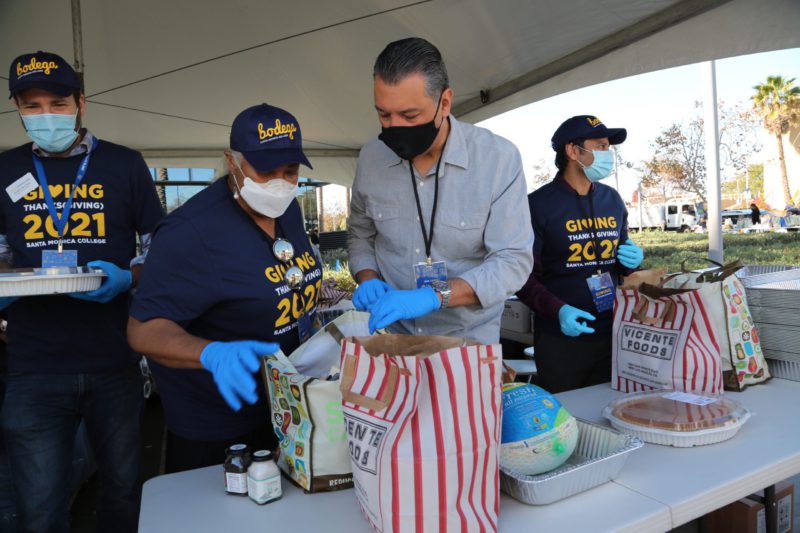 SANTA MONICA — Ahead of Thanksgiving, U.S. Senator Alex Padilla (D-Calif.) on Tuesday volunteered with Santa Monica College (SMC) for their 2nd Annual GIVING THANKS(giving) Holiday Grocery Drive-Thru Giveaway.
Padilla joined dedicated SMC volunteers, along with state and local officials to provide fresh holiday groceries to 1,500 food insecure students.
"As we approach Thanksgiving, it is important to support each other and our communities, and give back when we can," said Senator Padilla. "I was proud to join Santa Monica College and regional partners for their annual holiday food drive to make sure students have access to fresh food and groceries this holiday season. But this is also a stark reminder that there is more work to be done to address student food insecurity, an issue that existed since before the pandemic. I've introduced the BASIC Act to give students the resources they need to stay focused on their education. No student should have to worry about meeting their basic needs while pursuing their education."
"Having Senator Padilla attend today's event is so powerful because it raises the importance of giving back to our community," said Lizzy Moore, president of the Santa Monica College Foundation and Santa Monica College's dean of institutional advancement. "The Santa Monica College community is grateful for his leadership in the Senate to push for the BASIC Act and other legislative proposals to address the dramatic rates of food insecurity that exists on all college campuses including Santa Monica College."
Even before the pandemic, 50 percent of California Community College students were food insecure.
Senator Padilla has been a strong advocate for addressing food insecurity and ensuring students can meet their basic needs while pursuing a higher education. This year, Padilla introduced the Basic Assistance for Students in College (BASIC) Act, bicameral legislation to ensure college students are able to meet their basic needs while pursuing their education. Specifically, the legislation provides $1 billion for grants to ensure institutions of higher learning have the resources they need to support their students' most fundamental needs, and directs the federal government to streamline data sharing across agencies to help students qualify for aid – particularly Pell Grant recipients and attendees of community colleges and minority-serving institutions.
Senator Padilla also joined his colleagues in introducing the Student Food Security Act of 2021. This bicameral legislation helps address food insecurity on college campuses by enabling more low-income college students to access the Supplemental Nutrition Assistance Program (SNAP), improve data collection and sharing, and create a new grant program to help colleges and universities support their students.
2022 Best of LGBTQ LA Readers' Choice Award Nominations
Nominate your favorites in our 2022 Best of LGBTQ LA categories through December 5th.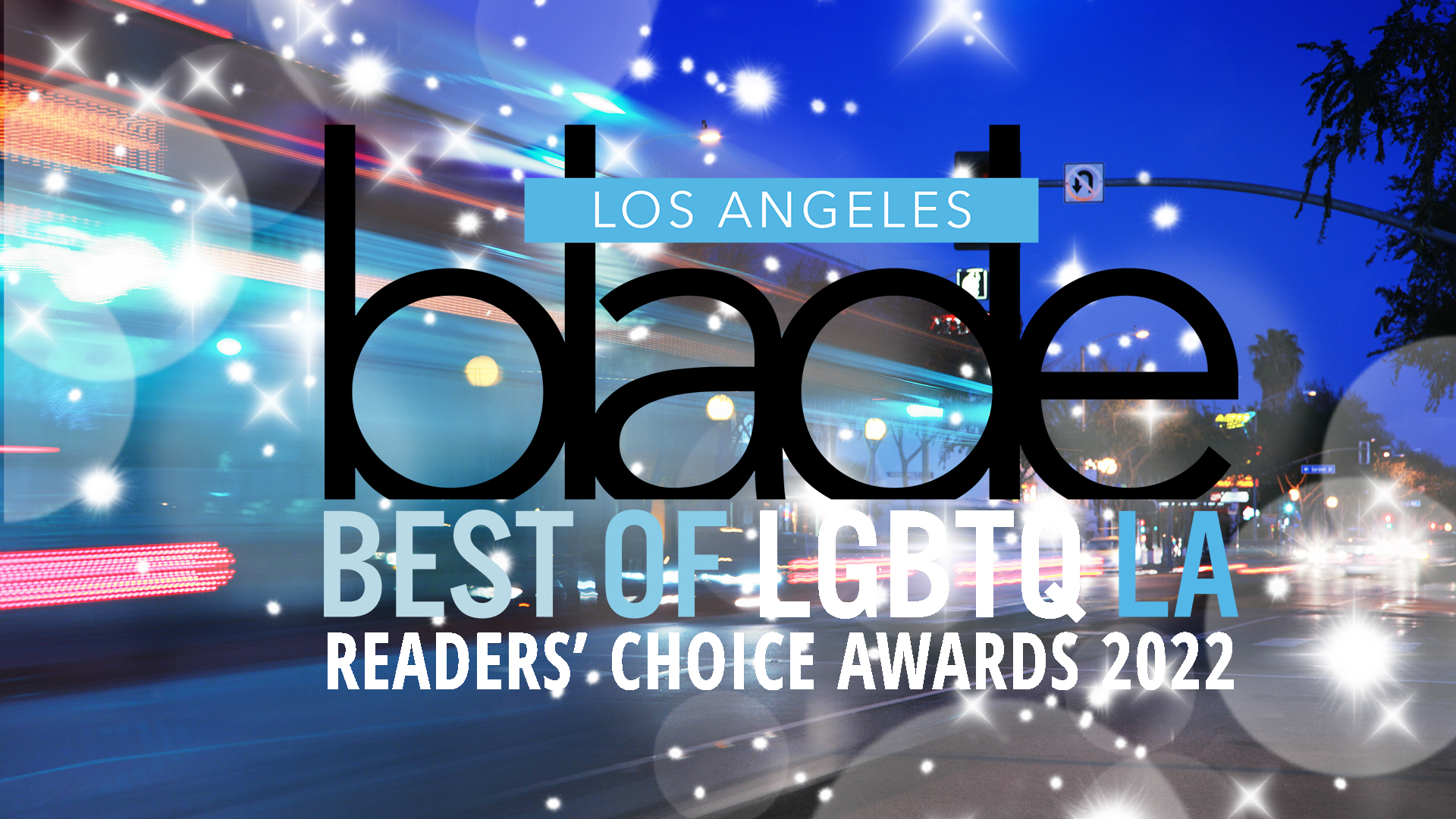 It is Decision 2022! Nominate your favorites in our 2022 Best of LGBTQ LA categories through December 5th. The top 5 nominees from each category will become a finalist with voting starting December 15th. Our 2022 Best of LGBTQ LA will be announced at the Best of LGBTQ LA Awards Party and special issue on January 28th, 2022.
Nominate below or click HERE.
City of West Hollywood marks World AIDS Day
World AIDS Day is to unite in the fight against HIV/AIDS, show support for people living with HIV, & commemorate people died from HIV/AIDS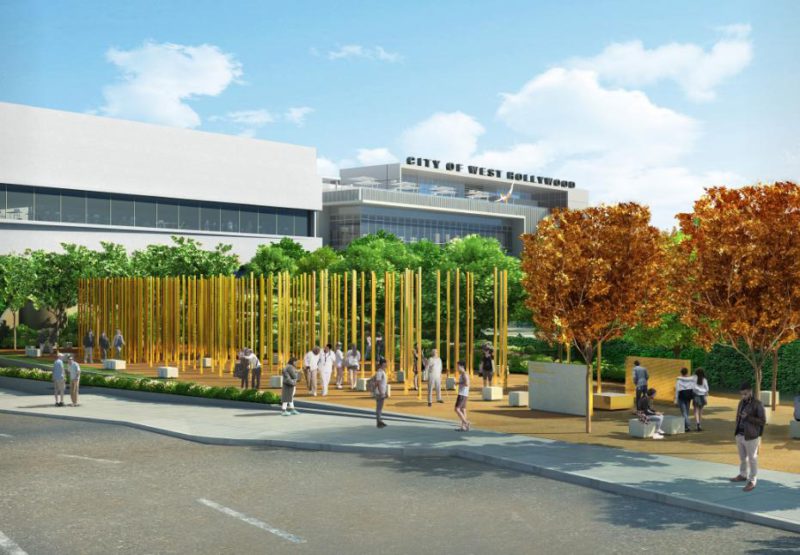 WEST HOLLYWOOD – Each year, the City of West Hollywood recognizes World AIDS Day. World AIDS Day originated at the 1988 United Nations World Summit of Ministers of Health on Programmes for AIDS Prevention and is held each year on December 1.
Every year, United Nations agencies, governments, nonprofit organizations, and civil society join together to campaign around specific themes related to AIDS. World AIDS Day is an opportunity for people worldwide to unite in the fight against HIV/AIDS, to show support for people living with HIV, and to commemorate people who have passed away due to HIV/AIDS.
The international theme of this year's #WorldAIDSDay is "End Inequalities. End AIDS. End Pandemics."
"So many have left us much too soon due to HIV and AIDS. The City's annual recognition of World AIDS Day is an opportunity for us to commemorate those lost to AIDS and support those living with HIV," said City of West Hollywood Mayor Lauren Meister. "We remember the extraordinary loss of loved ones over the last four decades, as well as our community's remarkable resilience in the face of that loss. The City will continue to fight to end stigma, to support access to medical and emotional care, and to provide resources and support for those in need as we continue to work toward the day we can celebrate the end of suffering and loss caused by AIDS."
This year, the City of West Hollywood will recognize World AIDS Day with special events and programming, including:
AIDSWatch, the electronic memorial to those lost to HIV, which will be viewable on the City of West Hollywood's WeHoTV broadcast channel — Spectrum channel 10 within the City of West Hollywood — on Wednesday, December 1, 2021 beginning at midnight through 11:59 p.m.; and
The Paul Andrew Starke Warrior Awards presentation, which will take place virtually on Wednesday, December 1, 2021 at 6 p.m., and can be viewed on the City's WeHoTV YouTube Channel at www.youtube.com/wehotv. The event will feature the Warrior Awards, which are given to outstanding employees or volunteers of local agencies that offer HIV/AIDS and/or substance abuse prevention and care services. This year's honorees are: Darrin Aiken – APLA Health; Jamie Baker – Being Alive; Derald Hunter – Los Angeles LGBT Center's WeHo Life program; Triana Maldonado – Friends Community Center; Anil Patel – Alliance for Housing and Healing; William Alexis Rogel – The C.I.T.Y. x1 Youth Group; and Desiree Jade Sol – AIDS Healthcare Foundation. The event will also feature an update about the City of West Hollywood's HIV Zero Initiative from Aaron Celious, Ph.D. of the Maroon Society. 
The City of West Hollywood is currently seeking feedback about stigma experienced as a result of sexual orientation, gender identity, or HIV status. The City's Social Services Division has launched a short survey, as part of efforts to implement the City's HIV Zero Initiative. Community members, regardless of HIV status, are encouraged to provide feedback. A goal of the survey is to understand how stigma impacts access to care and overall health and wellness. The survey is available at: https://www.weho.org/services/social-services/hiv-aids-resources.
The onset of the HIV/AIDS epidemic had a significant impact in West Hollywood. The disease's elevated infection rate among gay men caused a devastatingly high number of deaths in the City. The City of West Hollywood was one of the first government entities to provide social services grants to local HIV/AIDS organizations. The City of West Hollywood sponsored one of the first AIDS awareness campaigns in the country in October 1985 and the City's response to the AIDS crisis has been recognized as a model for other cities, nationally and globally.
The City of West Hollywood actively participates in the development of programs that can bring awareness about the HIV/AIDS epidemic and services to people living with HIV/AIDS. In January 2015, the City announced its vision to become an 'HIV Zero' city. The City is currently implementing its HIV Zero Initiative.