Jimmy Kimmel apologizes to gay community for Sean Hannity jokes
the late night talk show host was blasted for his tweets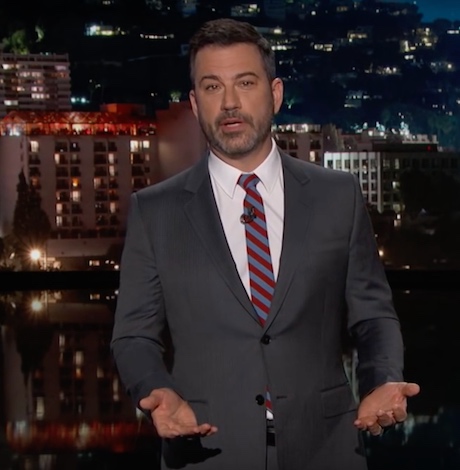 Jimmy Kimmel has apologized for using gay jokes to fuel his ongoing feud with Sean Hannity.
Kimmel made fun of first lady Melania Trump's accent during a segment on his late night talk show earlier this week. Hannity blasted Kimmel for the joke on his Fox News show calling him a "despicable disgrace" and an "ass clown."
"If I'm an ass clown, you are the whole ass circus," Kimmel shot back during his monologue on Thursday night.
Hannity retaliated by airing old clips of Kimmel asking women to grab his crotch during a segment of his Comedy Central series "The Man Show." He referred to Kimmel as "Mr. Weinstein Jr." and insisted he wouldn't stop taking jabs at Kimmel until he apologized for insulting the first lady.
Dear Mr Weinstein jr. you are a disgusting pervert. Stop projecting. How you treat the First Lady helping kids is disgusting. How you treat 18 year old girls is disgusting. And your show is a failure. Game on you pervert pig. I'll be on this till you apologize. https://t.co/wfisPQoaLs

— Sean Hannity (@seanhannity) April 7, 2018
Kimmel continued the spat on Twitter by tweeting numerous jokes poking fun at Hannity's sexuality and his close relationship with President Donald Trump.
When your clown makeup rubs off on Trump's ass, does it make his butt look like a Creamsicle? https://t.co/DEhmfOh0Hn

— Jimmy Kimmel (@jimmykimmel) April 6, 2018
Don't worry – just keep tweeting – you'll get back on top! (or does Trump prefer you on bottom?) Either way, keep your chin up big fella..XO https://t.co/R4QJCoGYCL

— Jimmy Kimmel (@jimmykimmel) April 6, 2018
I'm starting to think SOMEONE has a crush on me! https://t.co/PPhSOqBeWn

— Jimmy Kimmel (@jimmykimmel) April 7, 2018
His remarks were deemed homophobic by some people on Twitter who didn't appreciate that Kimmel made being gay a punchline.
Stop making shitty fucking gay jokes. Hire me to write you better gay jokes. Hire any queer person to write you literally any other jokes.

— Ryan Houlihan (@RyanHoulihan) April 6, 2018
There is nothing wrong with being gay and Kimmel is using homosexuality as an insult.

Not ok https://t.co/kZZCzoZ01t

— Tim Pool (@Timcast) April 7, 2018
And again from Jimmy Kimmel! Lazy humor to consistently use gay men as punchlines or homophobic? pic.twitter.com/LBYIVbs3Dm

— Perez (@ThePerezHilton) April 7, 2018
And your true colors show. It was only a matter of time before you fell off script. Well now conservatives and LBGT will hate you. Well done!

— Tyler Ochs (@tyochs) April 8, 2018
.@JimmyKimmel, you had to go with derogatory gay insults? .@Disney, this is the mean-spirited man you want to represent your brand? Does #Disney support this hate speech? Sure, looks like it.

— Glen Woodfin (@GlenWoodfin) April 7, 2018
After the backlash, Kimmel issued an apology to Hannity and the gay community on Twitter.
re. @seanhannity pic.twitter.com/DMtWJTMsDU

— Jimmy Kimmel (@jimmykimmel) April 8, 2018
LGBTQ ally Olivia Newton-John has died at 73
Newton-John had been battling breast cancer for over three decades, her first cancer diagnosis in 1992 when she was 44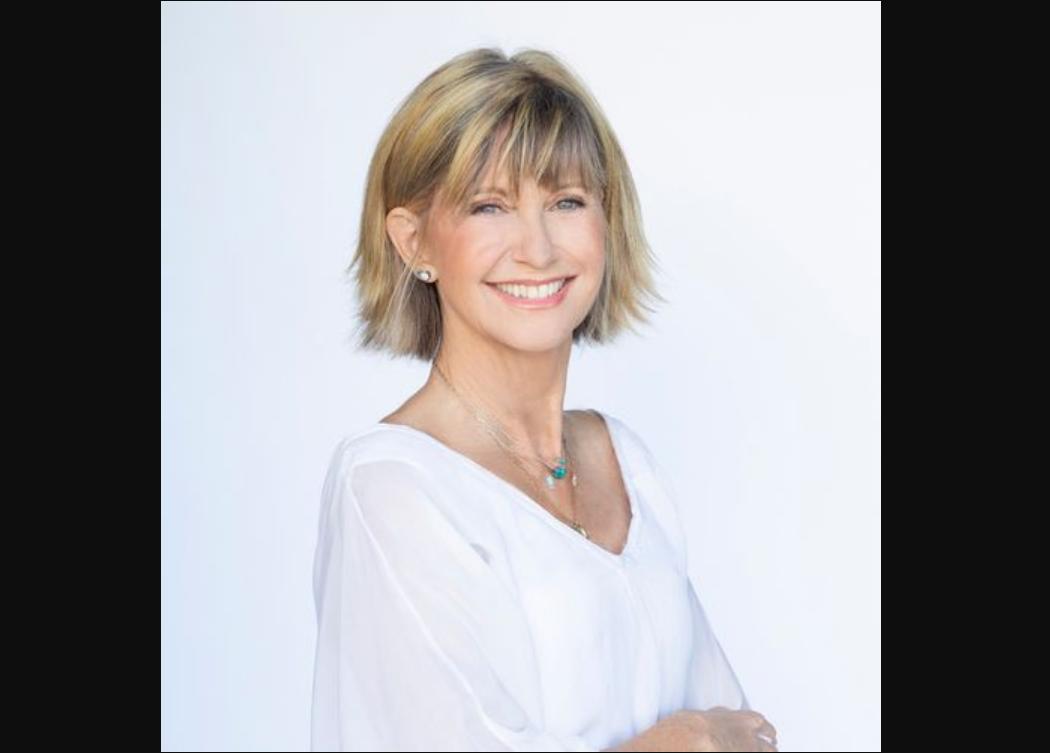 SANTA BARBARA – In an announcement on Facebook Monday, John Easterling, the husband of singer and actress Olivia Newton-John relayed the news that she had died at age 73.
Newton-John had been battling breast cancer for over three decades, her first cancer diagnosis in 1992 when she was 44. Although she had previously seen her cancer in remission, in 2017 she was diagnosed again.
In October of 2020 in an interview with The Guardian the pop star and actor spoke about her third diagnosis of cancer. "Three times lucky, right?" she smiles warmly. "I'm going to look at it like that. Listen, I think every day is a blessing. You never know when your time is over; we all have a finite amount of time on this planet, and we just need to be grateful for that." She genuinely sounds as if she means every word.
The cancer's return in 2017 was, she told The Guardian, not unexpected. "It's been a part of my life for so long. I felt something was wrong. It's concerning when it comes back, but I thought: 'I'll get through it again.'"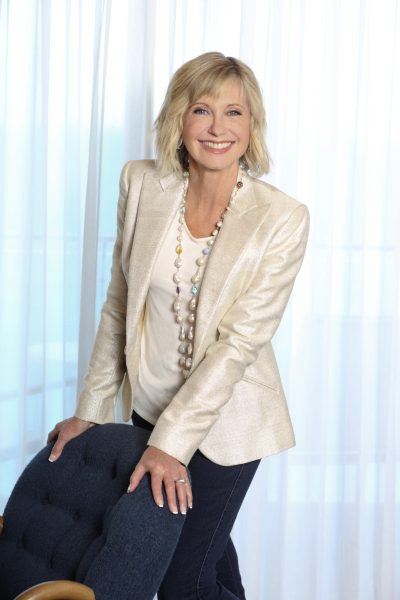 What of her health problems? "I don't think of myself as sick with cancer," she says firmly. "I choose not to see it as a fight either because I don't like war. I don't like fighting wherever it is – whether it's outside or an actual war inside my body. I choose not to see it that way. I want to get my body healthy and back in balance. Part of that is your mental attitude to it. If you think: 'Poor me,' or 'I'm sick,' then you're going to be sick."
The popstar-singer was arguably best known for her breakout role in Grease, the 1978 American musical romantic comedy film based on the 1971 musical of the same name by Jim Jacobs and Warren Casey, which co-starred Oscar nominated actor John Travolta.
Travolta paid tribute to his co-star in a post on his Insta:
Newton-John was an ally to the LGBTQ community who was appreciative of her LGBTQ fans. In an interview with Logo/MTV she noted: "The gay fans have always been very loyal, they are a really great audience and have always been there for me."
Out actor George Takei tweeted his remembrance:
We have lost a great, iconic artist in Olivia Newton John, gone too soon from us at age 73. I trust she is now in the great Xanadu beyond. Know that we are forever hopelessly devoted to you, Olivia. Rest in song and mirth.

— George Takei (@GeorgeTakei) August 8, 2022
In addition to her husband she is survived by her 36-year-old daughter, Chloe Lattanzi.
The family asked for donations to be made to her cancer organization, the Olivia Newton-John Foundation Fund, in lieu of flowers.
Director of 'They/Them' on queering the horror genre
John Logan puts conversion therapy where it belongs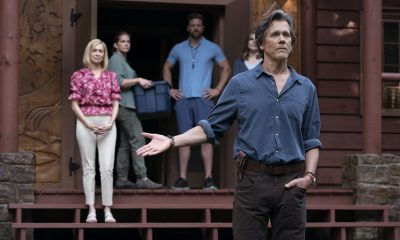 Even if you've never heard of John Logan, the odds are pretty good you've heard his words.
That's because the former playwright, now writer and director of the new horror film "They/Them" (premiering on Peacock Aug. 5), has been bringing his literate sensibilities to Hollywood screens for more than two decades now, earning three Oscar nominations during a career that has included screenplays for movies ranging from "Gladiator" to "Sweeney Todd" to "Star Trek: Nemesis," not to mention a pair of James Bond blockbusters ("Skyfall" and "Spectre"). He's also the man behind "Penny Dreadful," Showtime's Victorian horror "mashup" series that became a cult sensation during its all-too-brief three season run.
Now Logan has returned to the horror genre he loves to make his debut as a feature film director, and he's brought more than just a queer sensibility. He's brought a whole bloody queer story, as well.
Diving headlong into classic '80s slasher movie territory from its very first frames, "They/Them" brings together a collection of queer teens at a retreat deep in the woods – the Whistler Camp, run by third-generation proprietor and chief counselor Owen Whistler (Kevin Bacon) – where their parents have sent them in hopes of making them straight. Though the staff seems friendly and understanding enough at first, it's not long before the "therapy" starts to become more aggressive; to make matters worse, a sinister outside presence seems to be menacing the camp, and the campers, led by trans nonbinary rebel Jordan (Theo Germaine), are soon fighting for their lives as well as their identities.
Apart from the genius of putting conversion therapy into a horror movie where it belongs, Logan's movie scores high points all around for solid LGBTQ representation. Indeed, it's as much a rousing queer empowerment story as it is a horror tale, and though hardcore horror geeks might find its scares to be relatively tame, it reaches beyond shock value to turn the genre itself into a vehicle for cinematic queerness – something long overdue for the countless queer audiences who have always been drawn to horror.
The Blade talked with Logan about his vision for "They/Them" on the eve of the film's world premiere at LA's Outfest. Our conversation is below.
BLADE: Queer audiences have always loved horror movies, but horror movies haven't loved them back until recently. Is that part of the reason behind this one?
JOHN LOGAN: That was the entire reason behind this one. When I was a kid, it would have meant so much to me to see a gay hero in a horror film. It's a genre that SHOULD celebrate queerness, because horror is about the "other" – about the realization that people are not all the same. But queer characters in the '70s and '80s were mostly nonexistent, or they were jokes, or victims, or killers. They were never admirable people you'd aspire to be. And horror cinema has always had a very complicated relationship with gender and sexual identity, even back to the 1930s and the classic Universal cycle of horror films – except for "Frankenstein," made by a queer filmmaker, where the most sympathetic character is the monster.
When we engage with storytelling in cinema, we want to see ourselves represented in some way. I wanted to write the movie that I didn't get to see when I was 14 or 15 years old.
BLADE: You mentioned wanting to see a gay hero. One of the things that stands out about your movie is that none of these kids are "scream queens." They're all pretty heroic.
LOGAN: We wanted to take the tropes and subvert them completely. So, we have joyously celebrated things like, "There's the camp in the woods, and it's scary, and there's a masked killer, and the killer uses different weapons," and all the things I personally love about slasher movies – but it's all in service of the great subversion, which is that these kids are not victims. They are not running and hiding, they are fighting for their identities. They are heroes.
BLADE: Speaking of subversion, the setting isn't the only "camp" in the movie. There's a lot of humor in it, from a certain perspective.
LOGAN: [Laughs] I would like to think there's a "raised eyebrow" throughout. I mean, we have a singing and dancing musical number in it, we have some outrageous humor in it, as well. It's meant to be a sort of exuberant exploration of the queer lifestyle in all its forms, from the most extravagant to the most romantic to the most erotic – as extreme as we could possibly get it. But it's all played very straight, which is a testament to the actors, really.
BLADE: That's another thing that stands out. You have a terrific cast, and Theo Germaine is a charismatic lead.
LOGAN: Thank God Theo fell into my lap. The movie begins, essentially, with Jordan's face and it ends with Jordan's face, so I knew it was really going to be important to find the right actor. Theo is so extraordinary, they're so accessible to the audience. My heart breaks watching that character, because they're emotional, but they're empowered and strong – and that's all from Theo.
Also, I'm not trans, I'm not nonbinary, and I'm also 60 – so I had to ask Theo to help me understand this character – not just the language around them, but how this young, trans, nonbinary human being moves through the world. And not only Theo, but Quei Tann and all the other actors were very generous with their own experiences, which is what, for me, makes them seem very authentic on screen, because they are playing versions of themselves that they can believe in.
BLADE: That's the difference authentic representation can make.
LOGAN: Yes, and it also helped that the process of shooting really mirrored the story, in a way. None of the actors knew each other, and they were suddenly in Georgia, all slammed together in the middle of nowhere with no phone reception – and gradually, they built this tribe, this family, going through an experience much like the campers in the film go through. It was amazing to watch how they bonded and got together.
BLADE: One last thing – for the cinema buffs among our readers, it will be impossible not to notice shots and references that seem like nods to some of their favorite classics of the past. Are those on purpose?
LOGAN: All intentional. I may never direct another movie as long as I live, so I want to tip my hat to all the movies I love. There are shots that are a direct mirror of 'Psycho,' for example, or 'Blue Velvet,' or obscure slasher movies like 'The Burning' that nobody would know but me – and I worked really close with my DP, Lynne Moncrief, to find those moments. It felt important for us pay homage to the whole continuum of horror movies behind us, because we are building on all those as we try to step gingerly – or bravely – into a future where queer horror is finally the popular mainstream entertainment it deserves to be.
If she was your girl, oh the things Peppermint would do to you
Performer talks love of Janet, new music, and political attacks on drag queens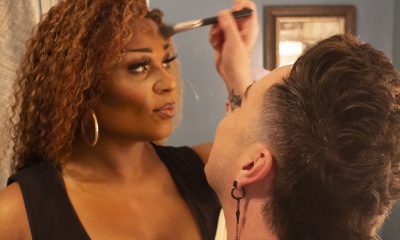 If she was your girl, oh the things she'd do to you. I'm not talking about Janet Jackson — I'm talking about Peppermint.
The "RuPaul's Drag Race" season 9 runner-up has parlayed that success into a diversified career in music, theater, LGBTQ advocacy, and more. From her work with RuPaul as the first out trans woman competitor on that hit show to her groundbreaking role in "Head Over Heels" as the first trans person to originate a starring role on Broadway, to her work as a GLAAD board member, Peppermint is a force in the LGBTQ movement.
She's not shy when asked about recent controversies involving Republican attacks on drag queens, such as Florida Gov. Ron DeSantis announcing he would pursue legislation making it illegal for a parent to take a child to a drag performance. In Arizona, the Trump-endorsed candidate for governor last month also attacked drag queens.
"I think the attacks are terrible and dirty," Peppermint told the Blade. "They are trying and succeeding in distracting us from protecting the most vulnerable of our population — trans children. The drag entertainers are adults and it's a fun celebratory scene that is inclusive of everyone and certainly not harmful. The only people supporting this are insidious and flat out lying or have probably never seen drag in real life."
Peppermint this week announced plans for a November tour of her new show and music. Specific dates are listed at the bottom of this article; visit peppermintonline.com for more information.
But the main reason for a recent conversation with the Blade, was Peppermint's viral video recreation of Janet Jackson's iconic "If." The song was the second release from Jackson's 1993 "janet." album, peaking at No. 4 on the Billboard Hot 100 chart. Its accompanying video and choreography have proven timeless, influencing many other artists, including Peppermint. Her recent meticulous recreation of the video won tens of thousands of fans on YouTube and even led to a re-Tweet by Janet herself.
Jackson's video created a stir when it was released, revealing a bold and overtly sexual Janet that many fans weren't expecting. "If" features intricate choreography that depicted Janet grabbing the crotches of male dancers who simulated oral sex on her. The original video was also groundbreaking in its depiction of technologies that weren't invented in 1993, such as web cams and touchscreens.
"This song, the choreography is so iconic, professional dancers have seen it in other pieces over the years and it's been a blueprint for so many songs and videos by other artists," Peppermint said. "Just as people borrowed from Michael Jackson and 'Thriller.'"
Peppermint fell in love with Jackson's music following the release of "Control" in 1986 and says she learned all the dance routines over the years.
"There's something about the way her music and live performance is packaged and presented, it came off as memorable and iconic and forward thinking and progressive and made a big impact early on in high school," Peppermint said. "I learned the moves to 'If' immediately and remember every chance I got in high school and in summer camp, if you were around me you were not safe because you were learning the Janet moves, I would force everyone around me to do the routines."
Peppermint estimates she spent $30,000 on her "If" recreation and paid for it out of pocket. The video features 10 dancers with about 30 crew on set. It was filmed in one day and she says she studied all angles of the original performance to match the choreography. It took three takes to nail the iconic breakdown dance at the end of the song.
Angel Ayala created the costume; she hand-rolled the bones on the vest (Kim Kardashian recently purchased the original costume at auction for $25,000). Peppermint says she studied Janet's jewelry and replicated it, scouring the internet looking for similar pieces and ultimately making some by hand to match the originals perfectly.
"My look in replicating Janet's look, I wanted it to be as close as possible, which I nailed except for the six-pack abs," Peppermint said, "but I look sexy."
She noted the importance of finding talented dancers since every moment in the video is tightly choreographed.
"I wanted to update it a bit and make it as inclusive as possible with trans and nonbinary dancers, queer dancers, people of color, which is similar to the original video with its mostly Asian cast," she said.
She says "If" is, of course, her favorite Janet video; while her favorite Janet song is "Throb" and her favorite Janet tour is the "Velvet Rope."
Peppermint says she's never met her idol Janet, but hopes to one day, adding, "I did this for myself, it was a passion project." Will there be another Janet tribute video? Peppermint says yes, sometime next year, but declines to specify which video she plans to recreate next.
In the meantime, she's focused on her upcoming fall tour and her own original music about a breakup titled "Letter to my Lovers," a trilogy about the beginning, middle, and end of a relationship. "I wanted to do something that's a love letter to the trans community and letting people know you're deserving of love and deserve to hear a trans woman singing about love to some '90s R&B throwback."
And for those who haven't seen the Hulu rom-com "Fire Island," Peppermint stars in the film.
Peppermint tour dates:
November 2 @ Chop Suey – Seattle, WA
November 3 @ Hawthorne Theatre – Portland, OR
November 5 @ The Chapel – San Francisco, CA
November 7 @ Troubadour – Los Angeles, CA
November 20 @ City Winery – Atlanta, GA
November 23 @Evanston SPACE – Chicago, IL
November 27 @ Ardmore Music Hall – Philadelphia, PA
November 28 @ Brighton Music Hall – Boston, MA
November 29 @ City Winery – Loft – New York, NY