"Disobedience" pits orthodox faith against unorthodox love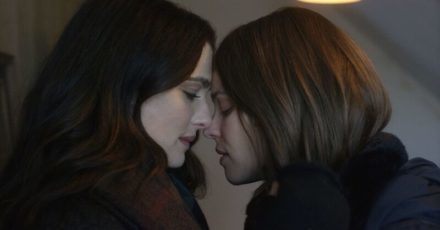 The recent Oscar win of "A Fantastic Woman" as last year's Best Foreign Language Picture may have been at least partly in response to the impressive performance of its trans star, Daniela Vega; but since any film is ultimately only as excellent as the vision behind it, the bulk of the credit must be laid at the feet of Chilean director Sebastián Lelio.
Fresh on the heels of that groundbreaking triumph, Lelio returns with a new film – this one in English – that once again addresses the suppression of non-conforming identities.
"Disobedience" follows Ronit (Rachel Weisz), a successful photographer who comes home to the Orthodox Jewish community in which she was raised for the funeral of her estranged father.  Though her return is met with some initial tension, she is invited to stay with her cousin Dovid (Alessandro Nivola) – a rabbi now married to her childhood friend Esti (Rachel McAdams), with whom she had once shared a "forbidden" relationship.  When the attraction between the two women reignites, Esti finds herself questioning her commitment to the role of obedient wife – as well as to the faith that has forced it upon her.
Adapted from a novel by Naomi Alderman, the screenplay by Lelio and Rebecca Lenkiewicz takes pains to keep the roots of the story firmly planted in the insular world it depicts.  Lelio reinforces these efforts with his sure-handed direction, capturing the characters' environment with an almost sensory completeness while keeping their inner experiences at the forefront of our attention.
From its opening scene, in which Ronit's rabbi father collapses while addressing his congregation on the subject of "choice," the movie wraps itself (and the audience) in the deeply solemn, contemplative atmosphere of the church.  Its characters' conversations never veer far from the traditions and tenets of their faith; even when discussing the mundane matters of day-to-day life, it's clear their thoughts are still tethered tightly to the beliefs that inform every aspect of their existence.
Despite the specificity of its setting, and although the nature of its central relationship is particularly resonant for LGBT audiences, the conflict that drives "Disobedience" is universal.  Its leading characters serve as stand-ins for anyone whose inner life is at odds with the expectations of their cultural backgrounds, and their ways of dealing with that disparity reflect choices made by real-life individuals trapped in such a dilemma.  Ronit has severed ties with her past and built a secular life for herself, while Esti has sacrificed her personal happiness to maintain the connection to her faith – yet each is haunted by guilt and by longing, unable to completely let go of what they have lost or to fully embrace the life they have chosen.
In bringing these women to life, Weisz and McAdams are each superb (though it's McAdams who gets the greater opportunity to shine, thanks to her character's more visible journey); they share a rare and palpable chemistry that makes their onscreen love for each other burn brightly and believably.  Though these two rightfully dominate the film, however, it's male co-star Nivola who may have the more difficult task.
As the third point of the film's precarious romantic triangle, Dovid brings an even wider scope to the story; a pillar of the community's religious life, he must confront the inadequacy of his own knowledge in a situation that is irreconcilable with the customs of which he is a guardian.  A lesser film might have presented him as a mere antagonist, an avatar for patriarchal hetero-normative society.  Here, though he may indeed serve those functions, Nivola brings enough depth and gentleness to the character that he is not only prevented from being unsympathetic, but even made genuinely likable.
Ironically, it's this fair-minded treatment that somewhat weakens an otherwise powerful film.
"Disobedience" walks a delicate line in terms of representation.  It places its spotlight on LGBT characters – and because they are female, it also addresses feminist factors such as equality and empowerment.  At the same time, it explores these issues within a subculture that has itself long been the victim of marginalization, taking care to avoid disparaging the traditions or demonizing the representatives of the Orthodox Jewish community.  It's an admirable stance, but it results in an awkward structural imbalance that the film does not altogether resolve.
The first two-thirds of the movie, which centers on the build of tension as the passion between the two women slowly reawakens, is riveting cinema.  Full of potent verbal and visual subtext, it proceeds at a pace just restrained enough to stoke anticipation without seeming slow or labored, culminating in a physical reconnection that feels as well-earned as it does inevitable.
After this explosive coming-together, however, "Disobedience" seems to drag as it dwells on the fallout and repercussions of the newly-rekindled affair.  The focus shifts to Dovid, giving him equal time in his double role as betrayed husband and community leader; though this adds a crucial facet to the film's perspective, it feels like an extra chapter in a story that has already been told – providing necessary information, but diluting the effect of what has come before it.
More unfortunate, perhaps, is that this later portion of the movie carries with it a sense that "permission" is somehow necessary for the women to fully express their identities and fulfill their needs.  Within the context of the plot, of course, and in terms of the characters' emotional arcs – particularly Esti's – this is an important step towards resolution; the piece is titled "Disobedience," after all.  It also conveys empathy and respect for those trying to reconcile their religious beliefs with evolving attitudes and changing times.  For those viewing the story from the perspective of LGBT or feminist concerns, though, it could be easily interpreted as a validation of sorts for an attitude which continues to be used as justification for the oppression of non-conforming individuals in a society still dominated by straight male privilege.
Despite this potentially divisive challenge to some audiences' "woke" sensibilities, Lelio's film is still a powerful statement.  Not only does it offer an all-too-rare narrative about same-sex love between women (particularly welcome in the wake of so many successful male-centric queer stories like "Moonlight," "Call Me By Your Name," and "Love, Simon"), it presents a message of reconciliation between the values of deeply entrenched tradition and the attitudes of evolving, progressive culture.
Though some might feel it pulls its punches, "Disobedience" nevertheless makes a strong enough impact to call it a worthy and important new entry to the ever-expanding catalog of cinema dedicated to expressing the voice of "otherness" in our popular culture.
"Disobedience," directed by Sebastián Lelio; starring Rachel Weisz, Rachel McAdams, Alessandro Nivola.  Opens April 27 in select theatres.
Ellen signs off after 19 seasons
In her final monologue DeGeneres reflected on the journey across the years then took a moment to dance through the audience with Twitch
BURBANK – The lights went dark forever at the Warner Brothers Stage 1 complex on the lot at Warner Brothers Studio, home to the Ellen show, as comedian Ellen DeGeneres ended her daytime talk show after a 19 season run Thursday.
In a highly charged emotional hour, DeGeneres paid tribute to her staff, executive producers and a global audience of loyal viewers. Highlighting the end run of the show DeGeneres brought on guest Jennifer Aniston, the actress having been the comedian's very first guest on the first show.
My first guest and my last❤️ #JenniferAniston pic.twitter.com/ux046U3ZOH

— Ellen DeGeneres (@TheEllenShow) May 26, 2022
In her final monologue DeGeneres reflected on the journey across the years and she then took a moment to dance through the audience with her 'DJ' Twitch. During the course of the hour she discussed the progress that had been made since the series premiered in 2003, noting that she "couldn't say 'gay' on the show" when it started or make a reference to her wife, Portia de Rossi, because same-sex marriage wasn't legal.
"Now I say 'wife' all the time," she said. Noting that there was resistance to the show and that few gave it a chance of surviving, DeGeneres promised that she wouldn't be gone for long. "Today is not the end of a relationship, it's more of a little break," she said. "You can see other talk shows now."
My final monologue.❤️ #EllensFinalSeason pic.twitter.com/CrnW72klYV

— Ellen DeGeneres (@TheEllenShow) May 26, 2022
Crown Prosecution Service UK charges Kevin Spacey with sexual assault
The CPS told the BBC it could not confirm or deny whether or not Spacey will need to be extradited to the UK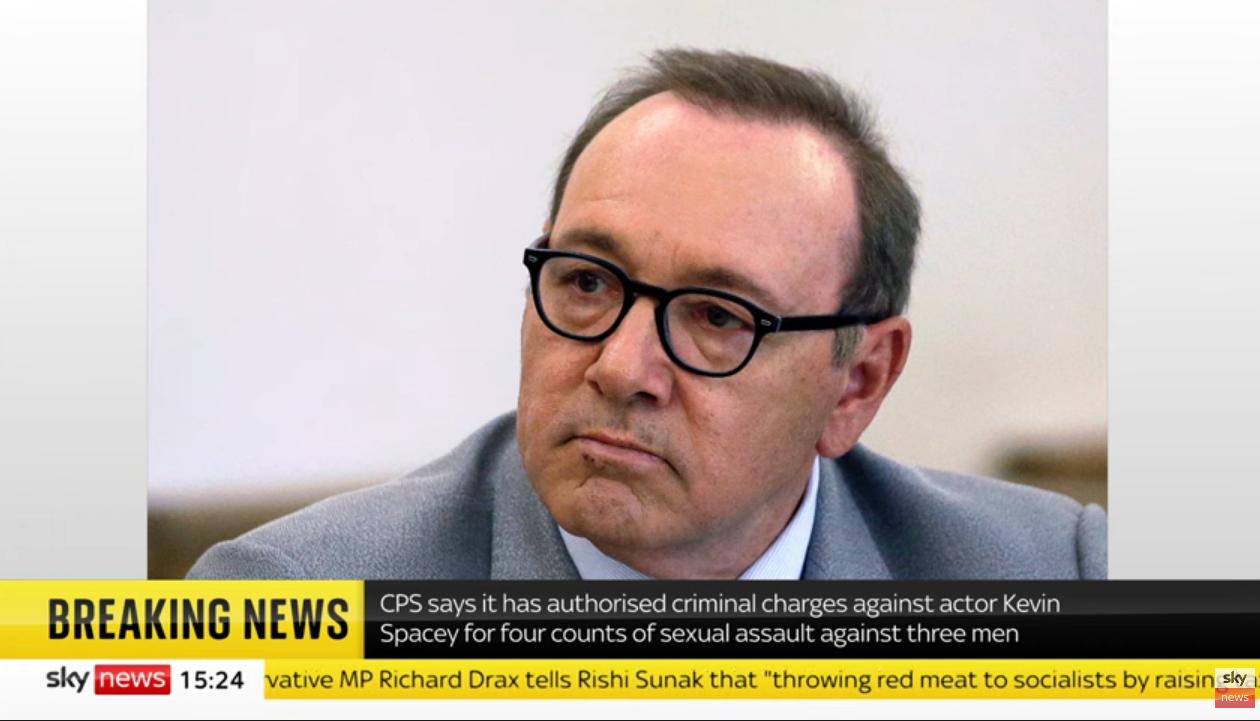 LONDON – The Crown Prosecution Service announced Thursday that actor Kevin Spacey has been charged with five counts including three complaints relating to sexual abuse, which is alleged to have taken place in London, and one in Gloucestershire during the time period between 2005 and 2013.
Crown prosecutors told media outlets that the decision to move forward was based on a lengthy investigation by the Metropolitan Police Specialist Crime Directorate at Scotland Yard. The Directorate is a national police agency which handles specialist crime investigations such as e-crime, sex crimes (paedophile unit) or kidnappings.
In its reporting Thursday, the BBC outlined the cases against the actor.
The first two charges relate to alleged sexual assaults on a man, now in his 40s, in London in March 2005, while a second alleged victim, a man now in his 30s, is claimed to have been assaulted in London in August 2008.
The serious sexual offence charge – causing a person to engage in penetrative sexual activity without consent – also relates to the second alleged victim.
The third complainant relates to an alleged assault on a man who is now in his 30s in Gloucestershire in April 2013.
Rosemary Ainslie, head of the CPS Special Crime Division, told the BBC that following the Met's review of evidence the CPS had "authorised criminal charges against Kevin Spacey, 62, for four counts of sexual assault against three men".
She added: "The Crown Prosecution Service reminds all concerned that criminal proceedings against Mr Spacey are active and that he has the right to a fair trial."
The CPS told the BBC it could not confirm or deny whether or not Spacey will need to be extradited to the UK.
Spacey's alleged sexual assaults occurred while he was living in London and employed as the renowned Old Vic Theatre's artistic director in London between 2004 and 2015.
Spacey has been embroiled publicly and later in court over sexual assault allegations since October of 2017 when Out actor Anthony Rapp told the world that the Oscar-winning actor had tried to "seduced" him when Rapp was 14 years old.
Rumours about Spacey's behaviour had circulated in film and theatre circles for a considerable length of time previous to Rapp's allegation.
Spacey's response was immediate. He apologized and came out. "I'm beyond horrified to hear his story. I honestly do not remember the encounter, it would have been over 30 years ago. But if I did behave then as he describes, I owe him the sincerest apology for what would have been deeply inappropriate drunken behavior, and I am sorry for the feelings he describes having carried with him all these years," Spacey wrote on Twitter.
"This story has encouraged me to address other things about my life. I know that there are stories out there about me, and that some have been fueled by the fact that I have been so protective of my own privacy," Spacey said, adding "I now chose to live as a gay man."
In July of 2019, Cape and Island District Attorney Michael O'Keefe announced that a charge against Spacey which accused the actor of sexually assaulting an 18-year-old boy in a Nantucket, Mass. bar had been dropped.
In court documents, Cape and Island District Attorney Michael O'Keefe said the charge was dropped "due to an unavailability of the complaining witness."
News anchor Heather Unruh accused Spacey of getting her son, William Little, drunk at the Club Car, a bar in Nantucket, Mass., and groping him in July 2016 when Little was 18 years old.
In October of 2019, the office of then Los Angeles District Attorney Jackie Lacey announced that prosecutors have declined to move forward in a sexual battery case against the actor because the accuser had died.
That case, one of several involving accusations of sexual misconduct and assault by the Oscar winning actor, allegedly occurred after an October 2016 incident. A masseur had claimed that Spacey had inappropriately touched him in a sexual manor at a private home in Malibu as he was giving Spacey a massage.
A statement released by the LADA's office notes that the masseur's allegations against could not be proven without his participation in court proceedings. The alleged victim had also civil suit pending in U.S. District Court in Los Angeles against Spacey for the same incident.
Kevin Spacey charged with sexual assault:
Equality Florida's Nadine Smith named to Time's Top 100 list for 2022
"In the fight for equality in Florida, there has perhaps been no greater advocate for LGBTQ people than Nadine Smith"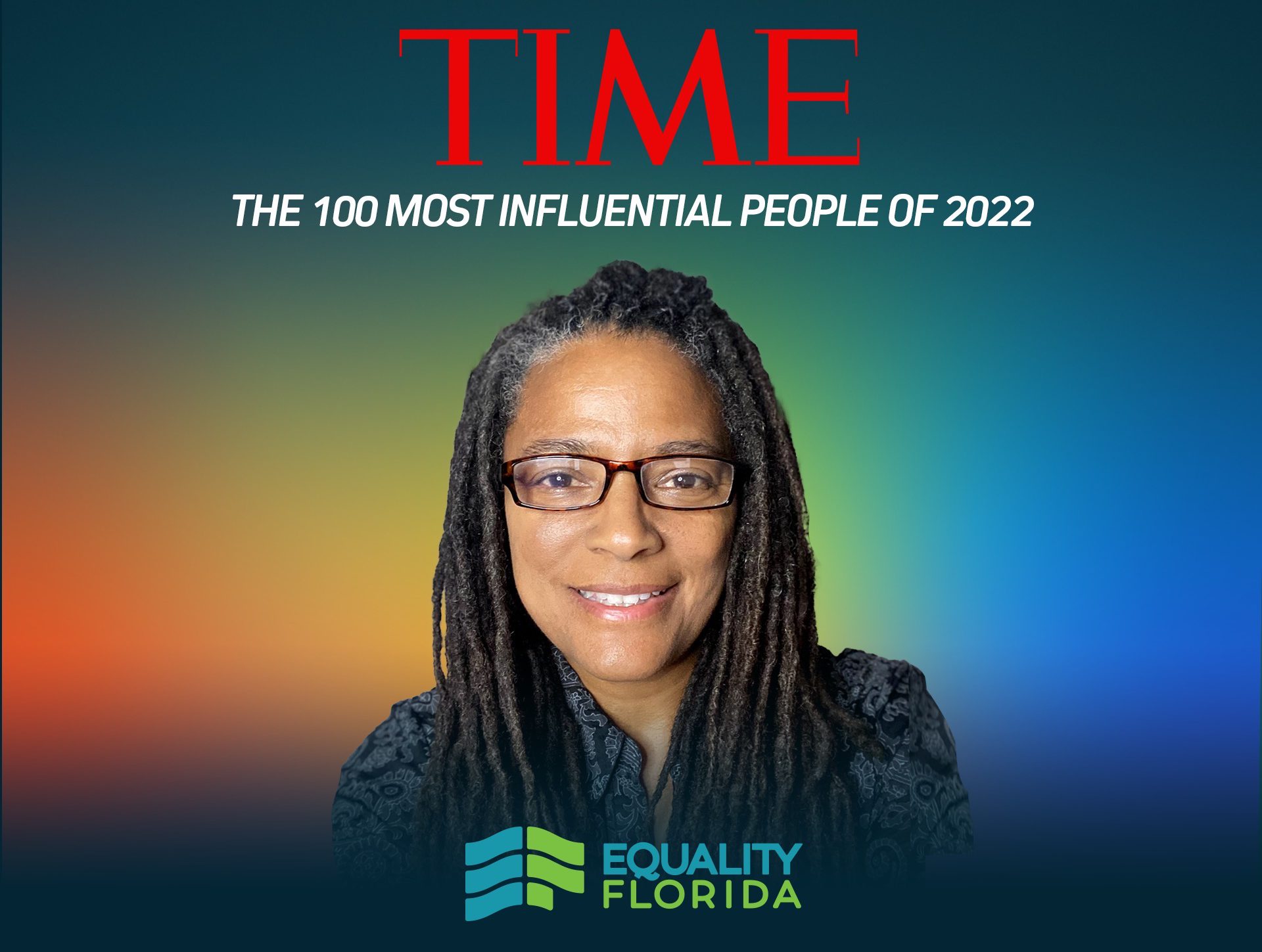 ST. PETERSBURG, FL. – Time magazine released its annual 100 most influential people list and this year one of the honorees was Equality Florida Executive Director Nadine Smith. In the biographical sketch accompanying Smith's listing, Time writer Kristen Arnett noted "in the fight for equality in Florida, there has perhaps been no greater advocate for LGBTQ people than Nadine Smith."
"I am deeply honored to be included in the TIME100," said Smith, a Black, queer woman. "This recognizes decades of work not only by me, but by the dedicated team of volunteers, staff and supporters I've had the privilege to work with at Equality Florida.  Our work is far from done as Florida, once again, stands at the center of the fight against extremism and hate.  We are bearing the brunt of a governor willing to sacrifice the safety of children and destroy our most basic liberties in his desperate bid to be President. But this is not simply Florida's fight. The wave of anti-LGBTQ, racist, freedom-destroying bills sweeping the country calls each of us to fight for our rights and, indeed, our democracy."
The list, now in its nineteenth year, recognizes the impact, innovation and achievement of the world's most influential individuals.
Smith comes from a long line of activists and barrier breakers. Her grandparents helped form the Southern Tenant Farmers Union to fight for the rights of sharecroppers. While in college, Smith co-founded IGLYO, the world's largest LGBTQ youth and student organization. She co-chaired the 1993 March on Washington that drew a million marchers and she was part of the first Oval Office meeting between a sitting President and LGBTQ leaders. In the aftermath of the Pulse Nightclub shooting, Smith and her team coordinated a national response including raising millions in direct resources for survivors and families of the 49 killed.
Smith's recognition comes as Florida has taken center stage in the right wing, anti-freedom agenda aimed at erasing LGBTQ people from classrooms, propagandizing curriculum, censoring history, banning books, and putting politicians in control of personal medical decisions.
"Florida Governor Ron DeSantis' presidential ambitions have fueled bills like Don't Say Gay, the Stop WOKE Act, a 15-week abortion ban, and dangerous national rhetoric that seeks to dehumanize LGBTQ people in service to the most extreme segment of his base," Equality Florida stated in a press release Monday.
The 2022 TIME100, and its annual list of the 100 most influential people in the world, with related tributes appear in the June 6/June 13 double issue of TIME, available on newsstands on Friday, May 27, and online now at time.com/time100.