Matt Bomer tackles trans role in delicate 'Anything'
Should the part have gone to a transgender actress?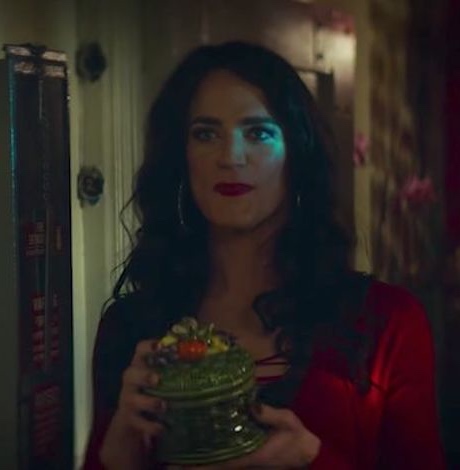 In an entertainment culture largely barren of transgender-inclusive narratives, the arrival of a movie like "Anything" is always a welcome surprise – but one that comes with the potential for being a powder-keg in the arena of identity politics.
Written and directed by Timothy McNeil, this unorthodox indie romance – which debuted at last year's Los Angeles Film Festival and is receiving official release later this month – is the story of Early Landry (John Carroll Lynch), a middle-aged Mississippian whose beloved wife dies in a car crash after decades of happily married bliss. Despondent and suicidal, he is persuaded by his sister (Maura Tierney), to sell his insurance business and relocate to Los Angeles, where he eventually finds a small apartment right in the sleazy heart of Hollywood. Though his polite Southern manners make him a fish out of water in his new surroundings, he begins to connect with his neighbors – one of whom is a transgender prostitute named Freda (Matt Bomer). As they spend more time together, their friendship begins to blossom into something more – but objections from Early's over-protective sister and skepticism from Freda's friends on the street threaten to put an end to their unexpected love story even before it begins.
Looking at its bare bones, "Anything" is standard material; damaged boy meets outsider girl and finds romance. What makes it different, of course, is that the boy is an overweight, over-the-hill "cracker" (as he is dubbed by one of his jaded, initially hostile neighbors) and the girl is a trans streetwalker.
That difference is likely enough to prevent the movie from enjoying a long run in theaters across a wide swath of the country. It's also enough to invite criticism from some members of the trans community or their advocates, who may believe that a film about trans experience written and directed by a cis-gender male cannot help but be problematic, no matter how well-intentioned it may be – especially when that film gives us yet another big screen depiction of a trans woman as a sex worker.
The biggest point of controversy, though, might be the casting of decidedly male Matt Bomer in the starring trans role – particularly at a time when the movie industry is buzzing with talk about appropriate representation and inclusivity. To be sure, Bomer is a talented actor and here gives a sensitive, heartfelt performance (more on that below); in addition, he is not only a star, he's a "gay heartthrob," which lends his presence a certain degree of box office power. Still, it's impossible not to wonder what "Anything" might have been like had it used an actual trans star in its key role. There may not be a trans actress – at least not yet – that could be considered as much of a draw, but for a movie to take a chance on such a performer would be a major step forward.
"Anything," unfortunately, is not that movie – but that doesn't mean it's bad.
McNeil's gender-bent twist breathes new life into an otherwise familiar formula, transforming what might have been just another indie yawner about too-cute tragic hipsters into a paradigm-challenging tale featuring fully formed human beings. Early is uncomfortably real; he's an innately good guy, you sense it from the start – but he is broken, numb, and on the brink of a lonely slide into depression and alcoholism that is all-too-common for men like him in the real world. Freda, though ostensibly a stereotype, is just as authentic; struggling to stay above the dirty, dog-eat-dog world on which she depends for a living, she presents the obligatory mask of caustic humor and defensive anger to protect herself from the growing fear that her aspirations for a better life will forever be out of her reach.
Though the screenplay occasionally cuts corners, eliding a bit of development in the interest of setting up the central relationship, it still manages to create a tangible bond between these two characters. Even better, it gives them each the individual dignity they deserve; neither exists solely to serve as a counterpart for the other, which gives us a much greater investment in their story than we might have in any number of the "normal" romantic movies that perennially come our way.
None of that would be possible, though, without the performances of the two leads.
Lynch, a seasoned character actor who has lent his familiar face to countless roles over the last few decades, is truly wonderful as Early; his seemingly effortless underplaying of the character's grief in the first part of the film provides much of the gravitas needed as a foundation for the delicate story it will later tell, and his tenderness, throughout, is genuine enough to infuse him with a nobility that never seems false or saccharine.
As for Bomer, he quickly defies skepticism to prove that he is not interested in giving a "stunt" performance. His Freda is much more than a display of affected mannerisms, and he dedicates himself to showing us the person underneath them; hard-edged but fragile, bold but insecure, cynical but deeply romantic – she may be an embodiment of clichés, but the actor portraying her makes them all ring true.
There are other praiseworthy contributions as well. The supporting players, particularly Tierney, are equal to the stars in presenting their roles with integrity, which goes a long way in the film's sensitive delivery of its life-and-love-affirming message. McNeil's direction is restrained, never veering too far toward the kind of cloying sentiment that could easily have plagued such a story, but not afraid of allowing a little sweetness to creep in during the bleakest moments. He provides some visual treats as well, particularly for those Angelenos who delight in seeing their beloved local landmarks prominently featured on the big screen.
Ultimately though, it's the performances – and the chemistry – of the two stars that hold it all together. They make the love between these seemingly mismatched misfits not only understandable but entirely believable. Their work provides a lovely core for a movie full of lovely moments, and more than anything else, it's the reason for seeing this film.
First Trans Amazon introduced by DC Comics In 'Wonder Woman'
DC Comics-Warner Brothers became more LGBTQ+ inclusive with the introduction of the character of Bia, a Black trans woman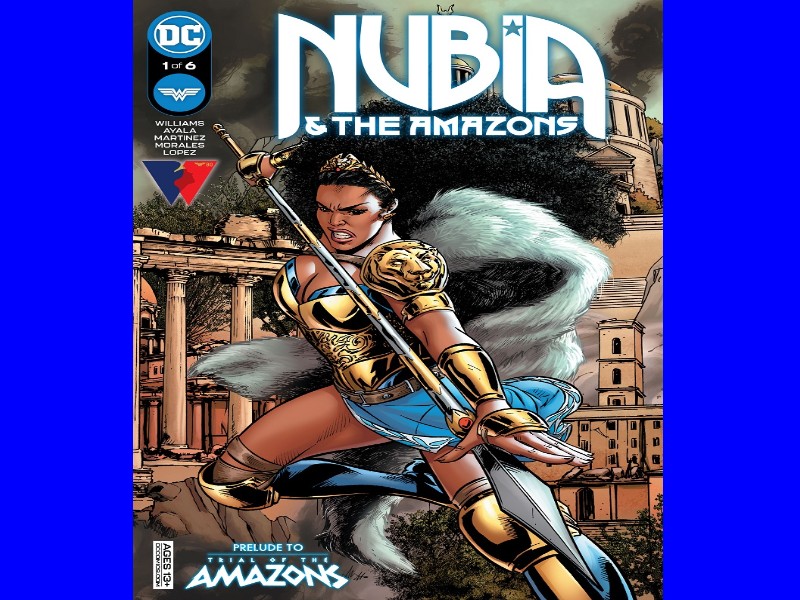 BURBANK – The world of DC Comics-Warner Brothers became more LGBTQ+ inclusive this weekend as the venerable comic book franchise of Wonder Woman expanded with the introduction of the character of Bia, a Black trans woman, in the first issue of the series Nubia & The Amazons.
Earlier this month on National Coming Out Day, the canon of the Superman series changed for the life of Jon Kent, the Superman of Earth and son of Clark Kent and Lois Lane, taking a bold new direction. After initially striking up a friendship with reporter Jay Nakamura, he and Jon become romantically involved, making Kent an Out bisexual character.
In this latest offering, Stephanie Williams and Vita Ayala, writers and creators confirmed that Bia is a Black Trans woman. They stressed that she "isn't a box to tick … [she] is important to her community. Just as Black trans women are important to us in real life."
We didn't want to make An Announcement because we wanted to introduce the character in an organic way, but it is not a secret! We are glad people picked up on it, but if y'all hadn't we would have made sure to say it so it wasn't hand-twaveable subtext! https://t.co/XsHp5wGBLv

— ✊🏾🇵🇷Vita 'Emancipated Blacula' Ayala🏳️‍🌈🎃 (@definitelyvita) October 21, 2021
Of special significance to the introduction of the character in the DC Comic worlds was the endorsement of actress Lynda Carter who played the title role of Wonder Woman on television based on the comic book superheroine, which aired on ABC and later on CBS from 1975 to 1979. Earlier in the week Carter tweeted her support of Trans women;
Trans women are Wonder Women. End of story.

— Lynda Carter 🎃 (@RealLyndaCarter) October 19, 2021
Writing for the DC Comics-Warner Brothers website blog, co-creator Stephanie Williams said;
"It's been a dream to work with the likes of Vita Ayala, a non-binary Afro-Latinx comic writer who has been making quite a name for themselves. And then there is the illustrious and widely talented and dedicated Afro-Latina artist Alitha Martinez who is already in the comic hall of fame for all-time greats. Her passion for Nubia is unmatched. It shows in every cover and panel from Nubia's Future State story written by L.L. McKinney, her Infinite Frontier #0 story written by Becky Cloonan and Michael Conrad, and now the Nubia and the Amazons miniseries written by myself and Vita Ayala."
"I'm so excited about the history we're creating, adding to, and remixing. The foundation has always been there, but needed some TLC. As Nubia embarks on this new journey as Queen of Themyscira, I hope her rebirth will be met with open arms and the desire to keep her always at the forefront. Nubia, now being queen, is poetic in so many ways, but one that stays on my mind is the very personal connection I feel. As I help to add to her legacy, she's opened the door wider to my own," Williams said adding:
"Long may Queen Nubia reign, forever and always."
Nubia and the Amazons #1 by Stephanie Williams, Vita Ayala and Alitha Martinez is now available in print and as a digital comic book.
Along with co-writing Nubia and the Amazons, Stephanie Williams writes about comics, TV and movies for DCComics.com. Check out more of her work on Den of Geek, What To Watch, Nerdist and SYFY Wire and be sure to follow her on both Twitter and Instagram at @steph_I_will.
Ebony Power 100: Deputy White House Press Sec. Karine Jean-Pierre
Her position is historic as the first Black Lesbian who is speaking for the nation's chief executive as Deputy Press Secretary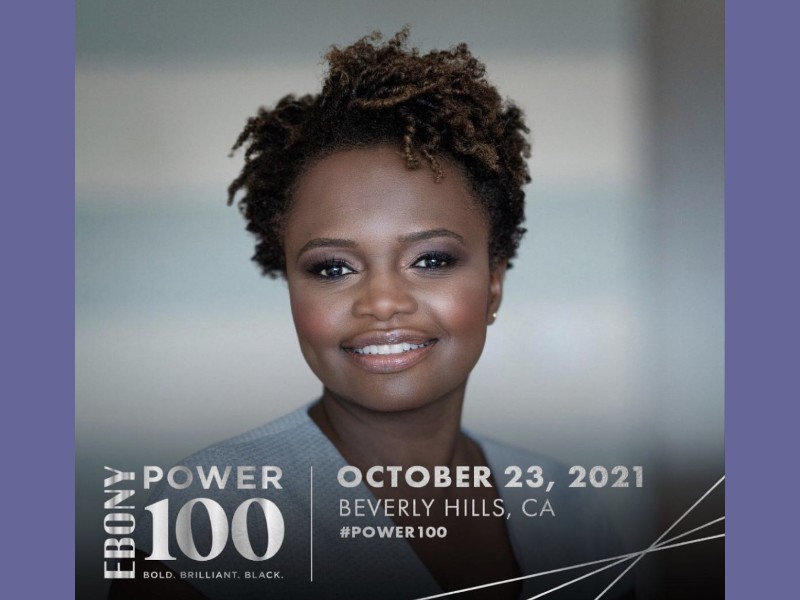 BEVERLY HILLS – Ebony Magazines' iconic annual Power 100 awards ceremony, honoring those individuals who have had a positive impact on the African-American community is making its 2021 post coronavirus pandemic return airing Saturday, October 23 from Los Angeles and hosted by Wayne Brady.
Brady, a television personality, comedian, actor, and singer, will also give a special performance during the broadcast, and he is slated to receive Ebony's Vanguard Award for his decades-plus career "as a consummate, all-around entertainer and performer."
Included in the distinguished list of honorees is principal Deputy White House Press Secretary Karine Jean-Pierre, who is listed in the magazine's category of 'Ceiling Breakers.' As the principal Deputy White House Press Secretary Jean-Pierre conducts the daily press briefing in the Brady Press Room in the West Wing standing in as needed for White House Press Secretary Jennifer Psaki and also she conducts what are referred to as 'gaggles.'
"Gaggles" refers to informal briefings a White House press secretary conducts with the daily press pool rather than the entire White House press corps.
President Joe Biden's selection of Jean-Pierre was a first in the history of presidential administrations. Her position is seen as historic from the perspective of being the first Black Lesbian to hold forth behind the podium of the James S. Brady Press room in the West Wing speaking for the nation's chief executive.
Jean-Pierre has been with the Biden administration since she joined the Biden-Harris campaign in May of 2020 and then accepted the position of Chief of Staff to Senator Harris in August. In late November of 2020, then President-elect Joe Biden named seven women to his incoming White House Communications Team to include naming Jean-Pierre as the Deputy White House Press Secretary.
The daughter of immigrant parents from Haiti, Jean-Pierre was born in Martinique and later raised in Queens, a borough of New York City. A longtime activist and communications specialist, she has a Master's in Public Affairs conferred on her by New York's Columbia University School of International and Public Affairs, where she has taught as an adjunct professor and lecturer in international and public affairs since 2014.
During the first Obama admkistartion term, Jean-Pierre, 43, served as the regional political director for the White House Office of Political Affairs.
Speaking with the Advocate magazine in June of 2011 Jean-Pierre reflected on her tenure working for the Obama Administration as an openly LGBT staffer. "What's been wonderful is that I was not the only; I was one of many. President Obama didn't hire LGBT staffers, he hired experienced individuals who happen to be LGBT," she told the Advocate. "Serving and working for President Obama where you can be openly gay has been an amazing honor. It felt incredible to be a part of an administration that prioritizes LGBT issues."
Speaking with NBC News journalist Tim Fitzsimons; "The sun was setting and the lights got much more prominent," she said, referring to late June 2015, when she watched the White House lit in rainbow colors to mark the historic Supreme Court Obergefell v. Hodges ruling that legalized same-sex marriage nationwide. "People had signs and people were crying, and there was just so much joy."
"I remember thinking how proud I was of this administration, that I had worked for that," Jean-Pierre, said. "It really brought together, in that one moment, how important LGBTQ rights were and how much that administration fought for our rights."
In 2016 after her White House stint, Jean-Pierre served as a Senior Advisor and National Spokesperson for Washington D.C. based MoveOn, a progressive non-profit public policy advocacy group and political action committee. Her primary portfolio at the non-profit was addressing President Trump's rhetoric and platform of hate, violence, racism, immigrant-bashing, and women-bashing.
She also served as the deputy campaign manager for former Democratic Maryland Governor Martin O'Malley's 2016 campaign run for the Oval Office.
Jean-Pierre received national recognition after a June 1, 2019 incident during the MoveOn Big Ideas Forum she was moderating in San Francisco, when 24 year-old Aidan Cook, a member of the animal right activist organization Direct Action Everywhere (DxE), rushed the stage grabbing the microphone out of then California U.S. Senator Kamala Harris's hand. The Senator was a candidate for the 2020 Democratic presidential nomination at the time of the incident.
Jean-Pierre, who had jumped in between Cook and the Senator after he took the microphone kept the activist away from Harris until security arrived and removed him. At the time of the incident, Harris, like most other candidates in early stages of the primary process, didn't have a U.S. Secret Service detail for protection.
Jean-Pierre, her partner, CNN correspondent Suzanne Malveaux, and their daughter reside in Washington D.C.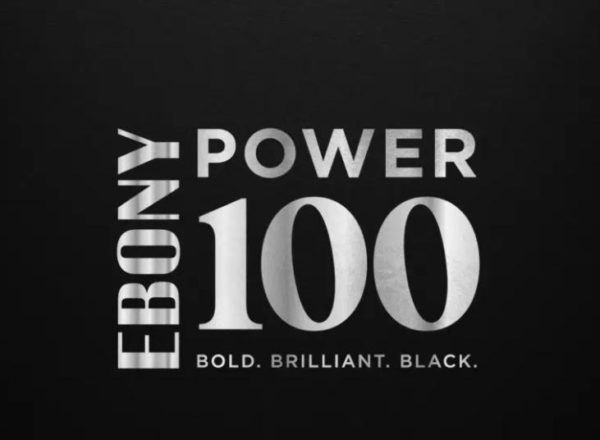 The EBONY Power 100 ceremony also is marking the culmination of Ebonys 75th anniversary year.
For the complete list of honorees please head over to here. (Link)
West Hollywood Halloween Events 2021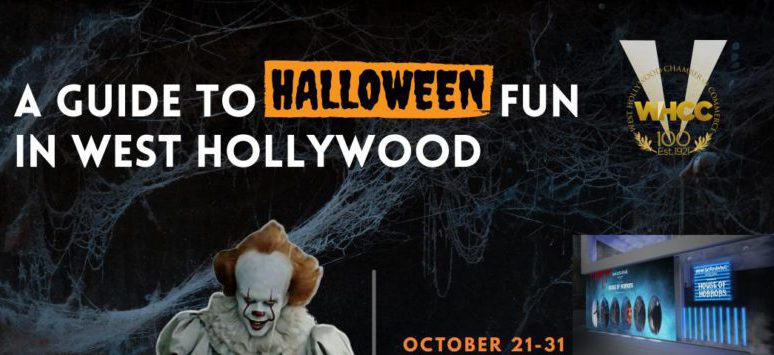 WEST HOLLYWOOD – The West Hollywood Chamber of commerce has released its annual Halloween events guide available here.