Matt Bomer tackles trans role in delicate 'Anything'
Should the part have gone to a transgender actress?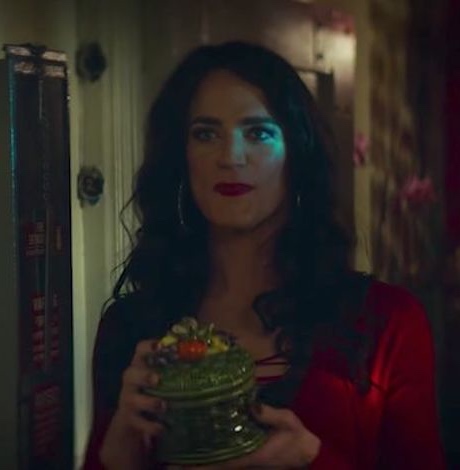 In an entertainment culture largely barren of transgender-inclusive narratives, the arrival of a movie like "Anything" is always a welcome surprise – but one that comes with the potential for being a powder-keg in the arena of identity politics.
Written and directed by Timothy McNeil, this unorthodox indie romance – which debuted at last year's Los Angeles Film Festival and is receiving official release later this month – is the story of Early Landry (John Carroll Lynch), a middle-aged Mississippian whose beloved wife dies in a car crash after decades of happily married bliss. Despondent and suicidal, he is persuaded by his sister (Maura Tierney), to sell his insurance business and relocate to Los Angeles, where he eventually finds a small apartment right in the sleazy heart of Hollywood. Though his polite Southern manners make him a fish out of water in his new surroundings, he begins to connect with his neighbors – one of whom is a transgender prostitute named Freda (Matt Bomer). As they spend more time together, their friendship begins to blossom into something more – but objections from Early's over-protective sister and skepticism from Freda's friends on the street threaten to put an end to their unexpected love story even before it begins.
Looking at its bare bones, "Anything" is standard material; damaged boy meets outsider girl and finds romance. What makes it different, of course, is that the boy is an overweight, over-the-hill "cracker" (as he is dubbed by one of his jaded, initially hostile neighbors) and the girl is a trans streetwalker.
That difference is likely enough to prevent the movie from enjoying a long run in theaters across a wide swath of the country. It's also enough to invite criticism from some members of the trans community or their advocates, who may believe that a film about trans experience written and directed by a cis-gender male cannot help but be problematic, no matter how well-intentioned it may be – especially when that film gives us yet another big screen depiction of a trans woman as a sex worker.
The biggest point of controversy, though, might be the casting of decidedly male Matt Bomer in the starring trans role – particularly at a time when the movie industry is buzzing with talk about appropriate representation and inclusivity. To be sure, Bomer is a talented actor and here gives a sensitive, heartfelt performance (more on that below); in addition, he is not only a star, he's a "gay heartthrob," which lends his presence a certain degree of box office power. Still, it's impossible not to wonder what "Anything" might have been like had it used an actual trans star in its key role. There may not be a trans actress – at least not yet – that could be considered as much of a draw, but for a movie to take a chance on such a performer would be a major step forward.
"Anything," unfortunately, is not that movie – but that doesn't mean it's bad.
McNeil's gender-bent twist breathes new life into an otherwise familiar formula, transforming what might have been just another indie yawner about too-cute tragic hipsters into a paradigm-challenging tale featuring fully formed human beings. Early is uncomfortably real; he's an innately good guy, you sense it from the start – but he is broken, numb, and on the brink of a lonely slide into depression and alcoholism that is all-too-common for men like him in the real world. Freda, though ostensibly a stereotype, is just as authentic; struggling to stay above the dirty, dog-eat-dog world on which she depends for a living, she presents the obligatory mask of caustic humor and defensive anger to protect herself from the growing fear that her aspirations for a better life will forever be out of her reach.
Though the screenplay occasionally cuts corners, eliding a bit of development in the interest of setting up the central relationship, it still manages to create a tangible bond between these two characters. Even better, it gives them each the individual dignity they deserve; neither exists solely to serve as a counterpart for the other, which gives us a much greater investment in their story than we might have in any number of the "normal" romantic movies that perennially come our way.
None of that would be possible, though, without the performances of the two leads.
Lynch, a seasoned character actor who has lent his familiar face to countless roles over the last few decades, is truly wonderful as Early; his seemingly effortless underplaying of the character's grief in the first part of the film provides much of the gravitas needed as a foundation for the delicate story it will later tell, and his tenderness, throughout, is genuine enough to infuse him with a nobility that never seems false or saccharine.
As for Bomer, he quickly defies skepticism to prove that he is not interested in giving a "stunt" performance. His Freda is much more than a display of affected mannerisms, and he dedicates himself to showing us the person underneath them; hard-edged but fragile, bold but insecure, cynical but deeply romantic – she may be an embodiment of clichés, but the actor portraying her makes them all ring true.
There are other praiseworthy contributions as well. The supporting players, particularly Tierney, are equal to the stars in presenting their roles with integrity, which goes a long way in the film's sensitive delivery of its life-and-love-affirming message. McNeil's direction is restrained, never veering too far toward the kind of cloying sentiment that could easily have plagued such a story, but not afraid of allowing a little sweetness to creep in during the bleakest moments. He provides some visual treats as well, particularly for those Angelenos who delight in seeing their beloved local landmarks prominently featured on the big screen.
Ultimately though, it's the performances – and the chemistry – of the two stars that hold it all together. They make the love between these seemingly mismatched misfits not only understandable but entirely believable. Their work provides a lovely core for a movie full of lovely moments, and more than anything else, it's the reason for seeing this film.
Zachary Zane is on a mission to destroy sexual shame
The bisexual influencer, sex columnist, & author of the memoir Boyslut opens up about his career, his anxiety, and his upcoming vasectomy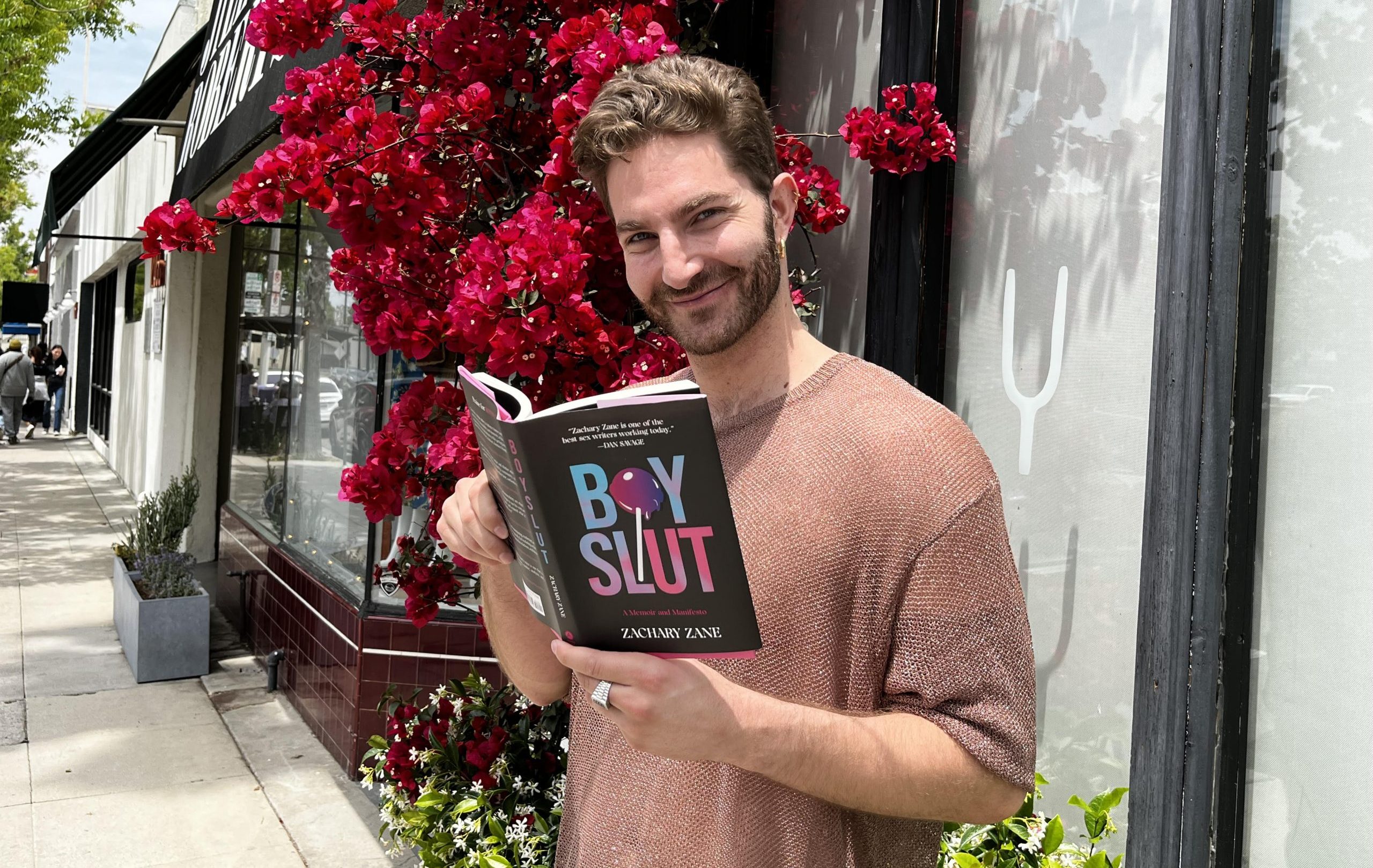 By Rob Salerno | WEST HOLLYWOOD – Zachary Zane isn't having fun this weekend in Los Angeles.
While normally the Brooklyn-based sex columnist and bisexual influencer would have a string of sex parties lined up for a trip to his hometown, Zane says he's had to restrain himself because he's freezing his sperm in advance of an upcoming vasectomy.
"This weekend is particularly boring," he says with a broad laugh over coffees in Studio City. "There are a lot of fun sex clubs and parties here. It's a lot of house parties that turn into orgies. That's one of my favorite things."
It's the sort of frank, guileless admission that's become the 33-year-old's trademark through his "Sexplain It" column at Men's Health and substack newsletter, which has made him an icon of the bisexual community and led to his book Boyslut: A Memoir and Manifesto.
Zane says he was motivated to get the snip after the Supreme Court's Dobbs ruling last year gutted abortion rights in the United States.
"After Roe v. Wade got overturned, I kind of wanted to take control, and no longer have it be that the impetus has to be on the woman," he says. "I do not want to have kids. I like having unprotected raw sex. I like being able to cum in my partners. Over the years, you have close calls, and the science is here, you don't have to worry about it."
And this too is surprising, given that Zane's online presence seems to embody the "chaotic bisexual" character type.
"My editors say I'm cautious and take calculated risks. I've never turned in a story late. In many ways I'm a sexually chaotic bisexual, but I'm also very on top of everything," Zane says.
Reading Boyslut, Zane's tendency for over-preparing, cautious planning, and protecting the feelings of others is evident and oddly refreshing, whether he's writing about his struggles with obsessive-compulsive disorder, anxieties about his remaining sexual hangups, juggling polyamorous relationships, or broaching a truly shocking fetish with his partners (I'll leave that for you to read about in the book).
If you were picking up Boyslut expecting it to be a polemic about sexual libertinism, you might walk come out surprised by the degree to which the book advocates for caution, comfort, and compassion as much as it's an endorsement of reckless, uninhibited sexual pleasure.
Indeed, Zane says an early title for the book was "Cautious Slut." And, lest you think the actual title is exclusionary, Zane defines a "boyslut" as "a person of any gender or sexual orientation who approaches sex without a lick of judgement or shame."
"I'm trying to help people live unabashedly in whatever their relationship is with sex. It's not just about being slutty and having sex with as many people as possible. If you are asexual I want you to own that," Zane says.
Zane also makes a compelling argument for the importance of having a community of people you trust to overcome sexual shame.
"Of course, I experience shame. I'm not superhuman. I live in society," he says. "When I do experience shame, I try to differentiate between feeling shame or feeling guilt. When I'm feeling overwhelmed by it, I think a lot of the answer is having this community and friend group that I can call instead of going home and crying alone."
It's hard to imagine that the guy who regularly writes about his prodigious sexual escapades could suffer from shame, but Zane insists there's plenty he still holds back.
"I'm vaccilating between the things that cause me shame and things I don't need to share with everyone," he says. "I feel very comfortable writing about very raunchy sexual experiences – me getting DP'd and my hairy asshole. But I don't talk about my breakups online, my relationship with my family. Even when I talk about my OCD and anxiety, it's usually from a humorous place and not like, 'oh, this was crippling.'"
Though he insists that he's very sexually open, it was in fact his anxiety over sexual shame that led him to his current career.
"I chose a career where, if my nudes leaked, that would be the best thing that happened to me. I wouldn't get fired – I would get great articles from it," he says. "I did that purposely because I didn't want to have that fear and anxiety."
So is that the answer? Share everything that causes you anxiety?
"I think all of us have different levels of risk tolerance," he says. "Engage with the amount of sharing you want to do. I'm talking about cultivating a friend group or community where you feel loved and embraced by people who really cherish you and know you. I'm not encouraging people to just overshare online and seek validation from headless torsos and strangers. It's about having these more meaningful connections that matter more."
Of course, not everyone has the luxury of a column in a national magazine to exorcise their anxieties into.
But over the three years that Zane has written Sexplain It for Men's Health, he believes he's contributed to a culture shift both at the magazine and in the broader culture.
"Men's Health has always been slightly gay, just by being a men's fitness magazine with half-naked men on the cover," he says. "A lot of closeted bi guys who've been married for twenty years, they don't feel comfortable to read Out or Pride.com, but they do feel comfortable to go to Men's Health and if they're on the site and they see something, they're going to click. So I'm reaching an audience who arguably needs it the most."
"I was really part of this new generation at Men's Health. They have a lot of queer men on staff, a lot of women on staff, and they're making it more feminist and queer and intersectional."
And what even qualifies Zane to be a sex advice columnist anyway?
"First and foremost, I was a journalist. In the first Sexplain Its, I always reached out to an expert in the field." Zane begins to explain how he reads every relationship book out there and sifts his reader submissions to only answer the questions he feels comfortable with.
Then he gets wistful as he begins to tell a story that led him to believe he could write authoritatively on sex.
"It's a weird thing about being a sex expert. I had a date with this woman when I was 22. She was like 50 and a sex expert/therapist. A funny thing was I was the same age as her kids. So, I was at the beginning of my career, trying to break into this, and I asked, 'What constitutes a sex expert?' And she goes, 'For anything, being an expert is when you say you're an expert and people believe you.'"
********************************************************************************
Rob Salerno is a writer, journalist and actor based in Los Angeles, California, and Toronto, Canada.