May 11, 2018 at 12:50 pm PDT | by Susan Hornik
Fashion has a new pronoun and it's not just Him and Her
Author/activist/gender neutral designer Dan/Dannielle Owens-Reid has a vision: to create inclusive, gender neutral fashion. Her brand, Radimo held their first genderqueer runway show/art gallery reception recently at Hollywood's Junior High, where each new and vintage item on the runway was styled femme/masculine/androgynous.
Dan—who doesn't mind if you address her as a he or she—created exacting looks which were repeated on different body types, skin tones, and styles. To represent, his runway featured the models switching clothes, one model to another, one gender expression to another, live on the runway.
"Styling this runway was an incredible challenge because it's never been done this way before," says Radimo's Creative Director, Zoie Harmon.
"The timing of changing clothes was something we planned for weeks but ultimately it came down to tons of improvisation…The energy and dedication from the models is what made it such a success," says Harmon.
While Dan has a razor sharp understanding of the brand, she acknowledged the difficulties in communicating its message.
"Mainstream co-opted the term 'gender-neutral' to mean something it isn't. A lot of us in the queer and trans community—who could really benefit from a gender-neutral shopping experience—don't even trust the phrase anymore because of the way it's been used."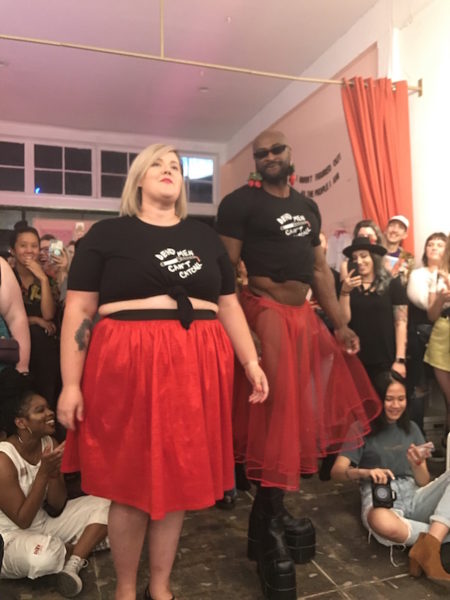 This is why Dan created the ready-to-wear fashion show; her hope is that people walk away recognizing that they have the opportunity to create their own individual gender-neutural closets.
"I believe clothes are inherently gender-neutral and while showing that with photos has been great and very effective, I felt like a live experience gets the message across even more," Dan said.
"If you can see three totally different people (identities, body types, skin tones) in the exact same look, on a runway, one right after the other, I feel like the point really gets driven home."
Dan is furious about the lack of inclusiveness within the fashion industry.
"You really don't have to put in that much of an effort to include different types of people in your brand. Barely any effort at all. It isn't hard to take photos of different identities in your clothes. These giant rich-as-hell brands go to casting agencies to find models—all they have to do is literally change who they're looking for and they can include everyone," she states.
"I don't get it. I think it's pretty lazy and uninspiring."
Dan would love to see streetwear, business casual and lingerie being created.
"I identify as genderqueer and I'm not represented anywhere, especially in fashion. I would love for this trend to actually catch on."
On Radimo's online store, Dan also represents several brands, like Kidd Bell, Garden By Eden, Outplay Swimwear, Tomboy Toes, Wyrding Studios, Indigo Magick, Crossing LA, Roots & Crowns, Surfboard C, ZoieLoves and Kelilah Rose Armor.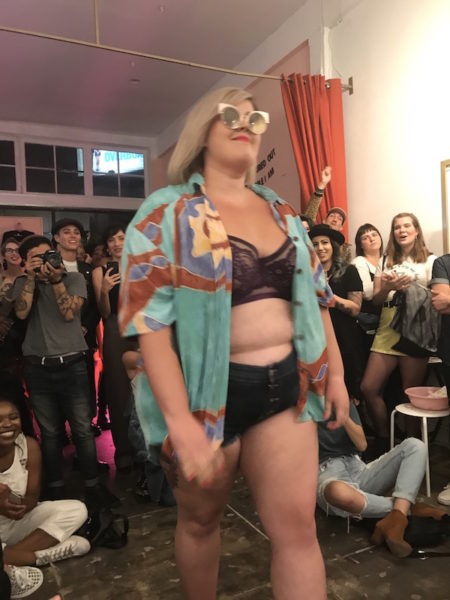 "All of the brands i represent are clothes anyone can wear on any given day. I love dressing up and dressing down. High fashion gender queer stuff is great, but I find that it makes me feel like presenting how I want is really unattainable. I just can't find runway looks on the rack anywhere."
Dan is nothing if not ambitious.
"Any brand can do exactly what I'm doing – hire me to direct a photo shoot. All you need is the right people and the right person with the right vision. I can turn almost any clothing line into a gender-neutral brand within a few hours," she enthuses.
BlackManWhite Baby, a multimedia storyteller and visionary artist, was one of the featured artists showcasing his photographs at the fashion show, and also modeled for Radimo.
"Radimo's philosophy allows me to be exactly who I want to be: me, we share the same philosophies. So wearing the clothing and walking down that runway gave me a strong sense of 'this is the right thing and its important.'"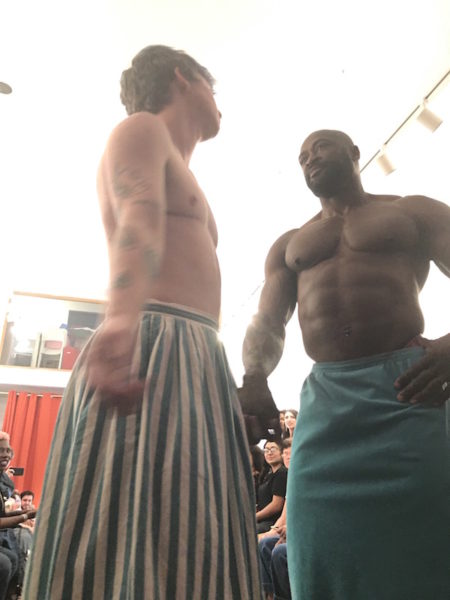 Screenwriter Autumn Reeves, who also modeled in the fashion show, was excited to be a part of an event that catered towards the queer identity.
"It's hard to find queer identifying spaces versus those that identify as gay or lesbian. I think there is a difference of expression when it comes to queer vs gay, lesbian, bi, etc. I think 'queer' has a freedom to it; there's a fluidity of labels that opens it up to so many different types of people," she said.
Backstage, Reeves felt comfortable being around other queer identifying people. "I'm somewhat of a self-conscious person, but when I was around them, it felt empowering to see other queer individuals so proud of their bodies. To me, this show was all about providing a platform to show up how you want — femme, masculine, androgynous…the list goes on."
Somewhere in the universe, David Bowie is smiling.