Trans asylum seekers finally get interviews
Stuck on Mexican border, they claim they're targets for violence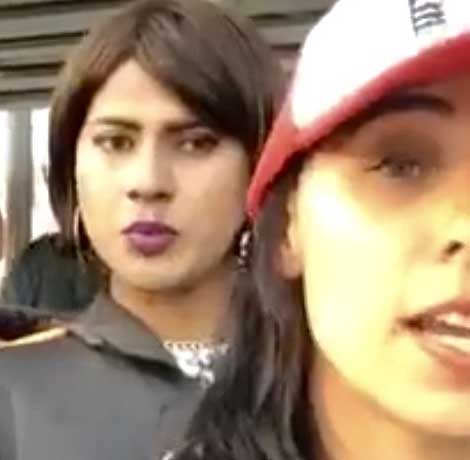 The pleas of immigration attorneys such as Nicole Ramos and organizations such as GLBTQ Legal Advocates & Defenders (GLAD) seem to have secured positive movement for transgender women seeking asylum who've been stuck on the Mexican border and become victims of violent attacks.
"The eleven women and LGBT youth ultimately were able to process later this week," immigration attorney Nicole Ramos told the Los Angeles Blade late Friday. "It was a final group of 17, which included five unaccompanied minors. They are detained and the adults are awaiting the credible fear interview of the interview process. " Ramos, who is based in Tijuana, Mexico, says she is unable to provide more information at this time.
Last Thursday, GLAD issued a strong statement condemning the violent attacks against the transgender women who are seeking entry into the United States and urged U.S. Border Patrol agents to allow them the opportunity to plead their case for asylum. The loosely organized caravan to which they belong is spread from Tijuana to San Ysidro, a district of San Diego that straddles the Mexican border.
The San Diego Union Tribune reported that about two dozen transgender women—who arrived in Tijuana after a long and difficult journey through Mexico—claimed they have been targeted, often violently, "wherever they go." On Monday, the day after the story appeared, the shelter in which they were housed was set on fire. Advocates claim the building was targeted because trans immigrants were staying there.
Tammy Lin, an attorney who chairs the San Diego Chapter of the American Immigration Lawyers Association (AILA), told the Los Angeles Blade that the transgender women who have sought asylum will likely be held by Border Protection agents until they are interviewed. Then, they may or may not be eligible to be released into the community–usually after paying a bond that averages $5,000 to $10,000 but can be as high as $20,000.
In an interview taped Friday for airing tomorrow on Morning Edition, White House Chief of Staff John Kelly told NPR that immigrants from Mexico and Central America "don't integrate well. They don't have skills." Kelly's comments are tame compared with positions expressed by President Trump and Attorney General Jeffrey Beauregard Sessions–who, today, indicated he may "invoke a rarely used power of his office" to deny asylum for victims of domestic violence.
Adding to the challenges unique to this political climate, asylum seekers from El Salvador, Honduras, and Guatemala are turned down 75 percent of the time, according to an analysis conducted by Truthdig. These countries are especially inhospitable for transgender people, a fact that asylum seekers and the attorneys who represent them hope will strengthen their cases.
On April 29, Pasquale Lombardo, attorney and executive board member of the National Lawyers Guild, was joined by a couple dozen lawyers who met with Central American immigrants to assess the strength of their asylum claims. He told the L.A. Blade that the immigrants were subsequently turned away by agents who said they were "at capacity."
Immigrant attorney Nicole Ramos, who worked closely with the transgender immigrants who have sought asylum in San Ysidro, posted a moving video on which she is flanked by transgender asylum seekers. She criticizes Border Patrol agents for failing to uphold Title 8 Section 1225 of the US Code, which entitles immigrants who fear for their lives to interview with an asylum officer.
One Salvadorian transgender immigrant told the San Diego Tribune that 15 of her transgender friends were killed last year in her native country. Murder attempts followed many who survived the long journey to the United States, where asylum seekers must pass a "credible fear" interview at a detention facility.
The treatment of transgender asylum seekers by US Border Patrol was addressed by GLAD, which called for agents to "ensure their safety and dignified treatment while their applications are processed."
Meanwhile, Senator Kirsten Gillibrand has introduced a bill that would apply more broadly to immigrants–and perhaps also to other people of color–in their interactions with immigration agents. Her proposed Department of Homeland Security Accountability and Transparency Act would require agents to document every time in which they stop, question, search, or interrogate people. Along with co-sponsoring Sens. Elizabeth Warren (D-MA), Tom Udall (D-NM) and Jeff Merkley (D-OR), Gillibrand hopes to bring more accountability into the process.
Lin says if Gillibrand can get this passed, it would help immigration lawyers with their cases. And even if the measure doesn't pass, it presents an opportunity to make the public more aware of potential abuses against immigrants committed by law enforcement, especially in areas close to the border.
"The fact that she's put it out there and into the media makes folks aware that this might be an issue," Lin says.
Blinken: PEPFAR shows 'what American diplomacy can do'
Secretary of state spoke at World AIDS Day event in D.C. on Friday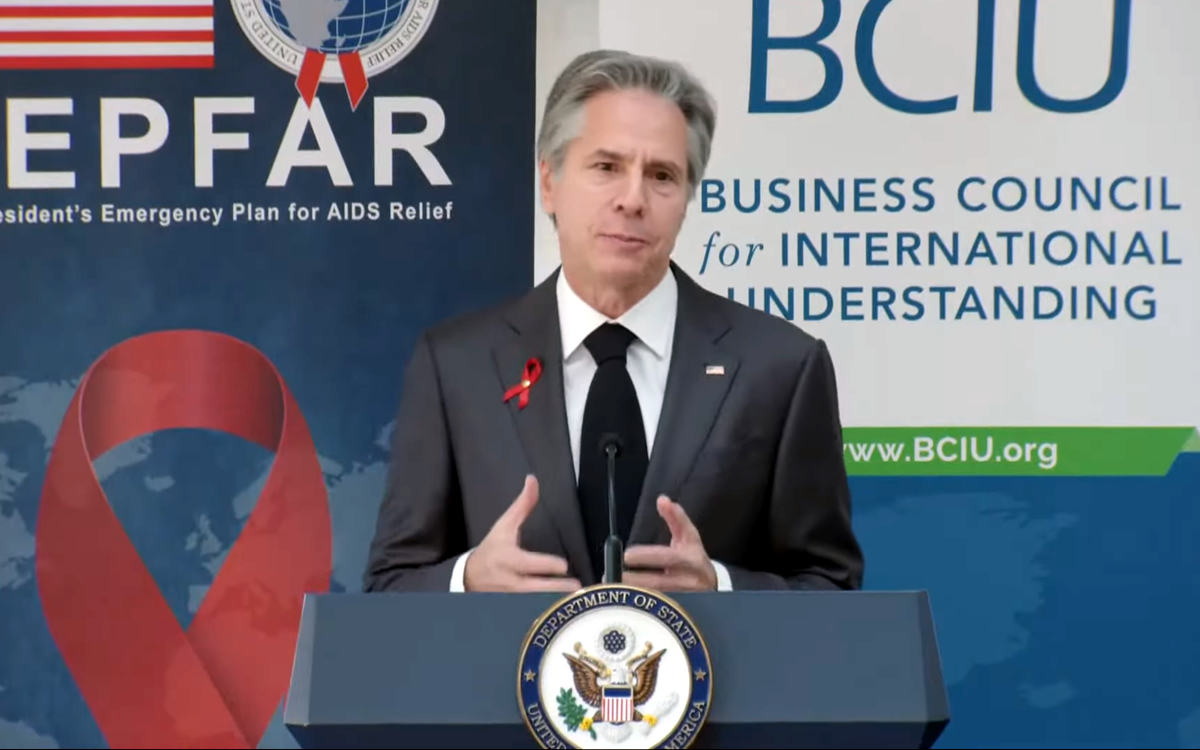 WASHINGTON — Secretary of State Antony Blinken on Friday noted the President's Emergency Plan for AIDS Relief has saved more than 25 million lives since its launch in 2003.
Blinken, who spoke at the Business Council for International Understanding's World AIDS Day event at the Hay-Adams Hotel in D.C., said the more than $100 billion the U.S. has earmarked for PEPFAR over the last two decades has funded 70,000 new community health clinics, 3,000 new laboratories and the hiring of 340,000 health care workers.
"Entire public health systems formed, with over a dozen countries which have either reached their HIV-treatment goals or managed control of the virus altogether," said Blinken.
Then-President George W. Bush in 2003 signed legislation that created PEPFAR. California Democrat Barbara Lee, members of the Congressional Black Caucus and Dr. Anthony Fauci, the director of the National Institute of Allergy and Infectious Diseases and chief White House medical advisor who is retiring at the end of this month, are among those who played a key role in PEPFAR's creation.
"PEPFAR has benefitted from bipartisan support, as we've heard, across four presidencies, across ten Congresses," said Blinken. "It's resulted in an investment of more than $100 billion to the global HIV/AIDS response. This is the largest commitment by one country ever to address a single disease."
Lee and Fauci were among those who attended the event alongside U.S. Global AIDS Coordinator John Nkengasong; Assistant Health Secretary Rachel Levine; Dr. Deborah Birx, the former White House Coronavirus Response Director, and HIV and Hepatitis Policy Institute Executive Director Carl Schmid.
Blinken in his speech noted "the systems put in place by PEPFAR have become an integral part of the health security architecture of countries around the world."
Blinken also said PEPFAR has bolstered responses to COVID-19, Ebola and the avian flu.
"We are continuing to build on PEPFAR's many successes to create a stronger global health security architecture to prevent, to detect, to respond to future health emergencies. Doctor Fauci, you once said that PEPFAR 'shows what the goodwill of a nation can do,' and you were right," said Blinken. "PEPFAR also shows us what American diplomacy can do: Bring together governments, bring together the public and private sectors, communities to tackle challenges that none of us can actually effectively deal with alone and that creates and has created a healthier, safer and ultimately more secure world."
Five-year PEPFAR strategy to target LGBTQ+ people
Blinken acknowledged there is still "very serious work still required for us to end the global HIV health epidemic by 2030," noting HIV/AIDS continues to disproportionately impact LGBTQ+ and intersex people and other marginalized groups.
"Too many countries still have fragile and insufficiently resourced public health systems, which makes it difficult to offer services beyond HIV/AIDS treatments, and that undercuts our capacity to respond to emerging threats," he said.
Blinken noted the U.S. on Thursday announced a new PEPFAR strategy that will help "fill those gaps" over the next five years. It includes the following:
• Targeted programming to help reduce inequalities among LGBTQ+ and intersex people, women and girls and other marginalized groups
• Partnerships with local organizations to help reach "hard-to-reach" communities.
• Economic development and increased access to financial markets to allow countries to manufacture their own antiretroviral drugs, tests and personal protective gear to give them "the capacity to meet their own challenges so that they're not dependent on anyone else."
"This latest PEPFAR strategy will keep making advancements like that possible so that millions more people can live healthy lives and live lives to their full potential," said Blinken.