May 23, 2018 at 5:36 pm PST | by Karen Ocamb
Benefit concert for singer/songwriter Marsha Malamet
Today Katy Perry and Taylor Swift make the job of singer/songwriter look like whimsical, a breeze. But it hasn't always been so. Yes, there were Joni Mitchell and Carole King and every now and then Diane Warren and Carole Bayer Sager would pop out from behind the music sheets. But visibility for lesbians in the music industry was often overshadowed by their frontmen, singers with or for whom they wrote songs.
During the AIDS crisis, that was just fine with Marsha Malamet as she sang and played piano on "Love Don't Need a Reason," the AIDS anthem she co-wrote with friend Michael Callen and Peter Allen. It was a simple love song at a time when love was an almost spiritual act of defiance in the face of abject devastation and fatality.
"What can I say about a modern holocaust that killed so many of my friends and millions worldwide? What can I say about a government—and specifically a president who wouldn't utter the word 'AIDS'? What can I say about hatred and bigotry, homophobia and fear that thousands of writers have heretofore written about," Malamet tells the Los Angeles Blade when asked about writing the impactful song. "I can only give of myself, the one thing I know well – music and songwriting.
"It was in the mid-80s when AIDS was a ravaging monster and I was about to write a song with two very talented men, who would eventually succumb to the disease—Peter Allen and Michael Callen. Little did we all know – that song, 'Love Don't Need a Reason' – would become an anthem for the AIDS movement, during one of the most difficult times in our history," she says.
"We all met in Peter's penthouse on the upper West Side of Manhattan one afternoon and we knew what we were going to write about. Larry Kramer suggested to Michael that he write a song for his play, which was going to be made into a movie –'The Normal Heart.' Literally, it took us the afternoon to finish," Malamet says. "In retrospect, it seemed effortless, even going so far as to say—predestined. However, at the time, we had no grandiose ideas of what we had created and the impact it would have on our community, and frankly, our country and the world. To date, there have been more than 40 recordings, including many gay choruses around the world. The simple truth was that we were just happy to get something down we all liked. That was the one and only time the three of us would collaborate. Just a moment in time when three gay songwriters wrote a song about love."
Malamet sang and played behind Callen on stage at Paramount's Blue Sky lot before the APLA AIDS Walks. And while "Love Don't Need a Reason" didn't wind up in the "Normal Heart," Hugh Jackson sang it in "Boy from Oz," a Broadway play about Peter Allen, for which Malamet received a Grammy nomination.
To her everlasting joy, Streisand did sing a Malamet song—"Lessons to be Learned" on her album "Higher Ground."
"Years after being a young kid from Brooklyn inspired by Barbra, she had recorded my song and I was now listening to her sing it," Malamet told writer Todd Sussman. "I had an out of body experience, then started to cry. For her to record my song 30 years later – and a meaningful song, not just a little pop ditty – was my dream come true. If people followed what this song is about, we would live in a better world. The love has to start from you first. You cannot give something to others if you don't have it for yourself. Love is an inside job."
Malamet has also worked closely with Streisand's son, Jason Gould, contributing four original songs to Gold's CD "Dangerous Man." Malamet, Gould tells the Los Angeles Blade, is "a passionate lover of music and a brilliant collaborator."
Over her 30 year career, Malamet's songs have been recorded by such artists as Faith Hill, Luther Vandross, Diana Ross, Chaka Khan, and Patti LaBelle, to name a few. She recently released two albums of her own in a series of three, the last due out this year.
"Writing with Marsha Malamet was a thrill for me. I have always admired her work, and then to discover what fun she was, as well as how smart and professional. Who could ask for more?" Amanda McBroom, writer of the Bette Midler classic "The Rose," among scores of other songs, tells the Los Angeles Blade.
McBroom joins a slew of other singer/songwriters including Melissa Manchester and host Bruce Vilanch at a May 29 benefit for Malamet who is suffering from an unidentified illness.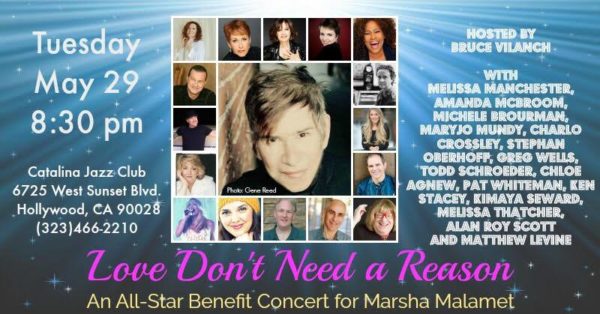 "This benefit is to help pay for all medical needs and some living expenses, due to the fact that what Marsha suffers from (we still don't know exactly) is not covered by insurance. Whether it is an autoimmune disorder, or a metabolic disease, treatments are expensive. In 2015 she was diagnosed with early stage Parkinson's, then a year later, Lyme Disease. She has spent a lot of money to see different doctors, whose treatments have not been successful," says Malamet's friend and PR agent Ralph Lampkin Jr.
In 1985, when Malamet, Callen and Allen wrote "Love Don't Need a Reason," no one really knew what HIV/AIDS was, either. Now it's Marsha Malamet's turn to feel the love she has given so many others.
"Love Don't Need a Reason: A Benefit for Marsha Malamet" on Tuesday, May 29, 8:30pm at Catalina's Jazz Club. VIP Tickets are $75.00 (receive a free CD download) General Admission Tickets: $50.00.
For more information on Marsha and to purchase her recordings, visit WWW.MARSHAMALAMET.COM