Bamby Salcedo calls out ICE for trans woman's death
Salcedo heads the first trans-led organization providing direct services to L.A.'s trans community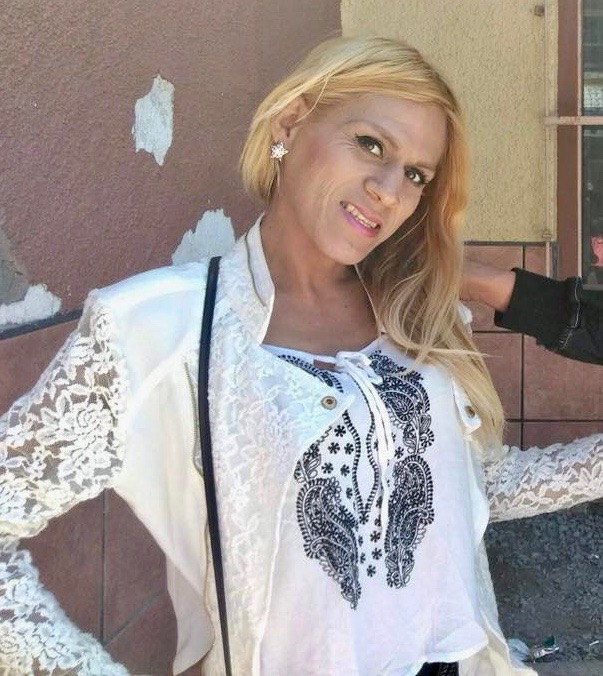 Bamby Salcedo has organized way too many vigils for her murdered trans sisters, shared way too many tears and shouldered way too many burdens of dashed expectations to think progress has come quickly or easily to the transgender community in Los Angeles.
On May 29, as President and CEO of the [email protected] Coalition, Salcedo called for a vigil to mark the death of Roxanna Hernandez, one of 25 trans women who travelled from Central America to the U.S. border as part of a 300-person caravan seeking refuge from the violence in the countries they fled. Hernandez had AIDS and turned herself in seeking help.
"Jeffry Hernandez, 33, entered ICE custody May 13 in San Diego. Two days later, ERO San Diego transferred her to ERO El Paso, and on May 16 Hernandez arrived at the Cibola County Correctional Center in Milan, New Mexico, where she was housed in the transgender unit," the May 25 ICE press release says. "On May 17, Hernandez was admitted to Cibola General Hospital with symptoms of pneumonia, dehydration and complications associated with HIV. Later in the day she was transferred via air ambulance to LMC, where she remained in the intensive care unit until her passing. LMC medical staff pronounced her deceased May 25 at 3:32 a.m. (MDT), and identified the preliminary cause of death as cardiac arrest."
The press release also notes that "Hernandez is the sixth detainee to pass away in ICE custody in fiscal year 2018, which began Oct. 1, 2017." The agency also insisted it followed proper medical care service protocols, adding: "Pursuant to our commitment to the welfare of those in the agency's custody, ICE annually spends more than $250 million on the spectrum of healthcare services provided to detainees."
"Roxana was one of those 25 trans women, who came to seek a better way of life," Salcedo told a group of about 25 demonstrators outside the US Citizen and Immigration Services field office in Downtown LA on May 25. "And now because she was trying to get a better life, and because she was running away from the violence she experienced in Honduras, she came to the U.S. to find death. The system is the one that killed her."
Salcedo wasn't buying ICE's explanation. "This news release by ICE is trying to diminish and devalue the life of our sister Roxanna!! The fact is, ICE let Roxanna die while she was detained," Salcedo said on Facebook. "ICE could have sent her to received treatment and care. People do not die from AIDS complications now days. People die because of denial of treatment and the institutional red tape that has been set up for us to not be able to receive the help and support that we need in order to save our lives. The processing standards that ICE has (are) just one more obstacle that impedes for us to be able to receive the assistance that we need while we are in the horrific hands of ICE detention."
Salcedo called out the inhumanity of the system. "ICE and immigration detention is a murder machine!! They do not care about who we are and why we are running away from our countries. We come here because they say that there is hope in this country. What hope is there when ICE and Homeland Security kill us?" she asked.
"ICE separates us when we disclose that we are HIV+ and Trans. That is what they did to Roxanna—they isolated her to let her die. They did not care for what she needed, the kind of treatment that she could have gotten, because ICE do not even have doctors who know and understand HIV/AIDS. It takes many weeks for one of us who discloses that they are HIV+ to be able to receive the treatment that we need and deserve. ICE is a killer machine! The current administration is creating assassins for pay—that is exactly what ICE does to our community!!!"
Salcedo says Hernandez was isolated "and died by herself, with no one to hold her hand and tell her that she was loved. This exact same experience happened to Victoria Arellano in 2007 when she was murdered by ICE. Eleven years later, history repeats itself. ICE is a murderer! This administration are murders! We remember and honor Roxanna, because #RoxannaVive en nuestros corazones!"
When she's not challenging ICE or anything or anyone else with anti-trans attitudes or actions, Salcedo runs the first trans-led organization in the country to provide direct services and advocacy to L.A.'s trans and gender non-conforming population through The Center for Violence Prevention & Transgender Wellness. Studies have long shown a disproportionate impact of discrimination and violence against trans and gender non-conforming individuals, resulting in high rates of unemployment, violence, suicide, homelessness, and incarceration.
"We decided that in order for us to empower our community directly, we needed to move into doing direct service provision for our community," says Salcedo. With a budget just over $1 million and a staff of ten employees, she has already outgrown its new space at 3055 Wilshire Center.
Salcedo's first grant for her new endeavor came from the Elton John Foundation in January 2016 for a re-entry program providing emergency support services to trans people being released from prisons, jails and immigration detention. Subsequent funding has come from the State of California Workforce Development Board and the City of Los Angeles to connect trans people with skills and training needed for a variety of jobs in California's hospitality industry as well as develop opportunities for trans people in existing work resource centers throughout the City.
At the start of 2018, the State of California's Office of Emergency Services began funding support services to transgender victims of violence and Salcedo's organization is most likely the first trans led organization to receive such funding from the state. The staff will provide case management and victim advocacy, including court accompaniment, assistance reporting crimes to police, and medical visits to clients. They are also in the process of setting up a free hotline for victims of violence to be staffed by a cohort of ten people who will be trained on how to answer calls and provide rapid response. Until the hotline is set up a "warm line" will be in place where victims can leave a message and expect a return call from staff within 24-48 hours.
Vital services also include a Drop-In Center that provides daily lunches; support to survivors of immigration detention and incarceration; leadership development; computer lab; ESL courses and employment and workforce development.
The primary reason Salcedo founded the organization is to respond to the continuous daily discrimination trans and gender non-conforming people experience when attempting to access basic services, oftentimes within the larger LGB community, and to step up and be proactive in addressing these issues.
"We, as trans people, better understand our specific needs and issues" she says. "So we wanted to make sure we address that and have a place where trans people can come and not only access services but also feel comfortable. We are building a safe place that is a family place, a safety net where people can come." And why not, she notes, after all there are specific places for men, women, youth… so why not a transgender specific place?"
A warm, family feeling permeates Salcedo's office, with a comfortable room for clients to sit down, relax, eat and have conversations with one another and the friendly staff there to provide peer support and mentoring. Spanish monolingual immigrants will find staff members who are able to communicate with them and support and advocate for them, especially clients who may have just been released from immigration detention. Many of them have fled their home countries to escape anti-transgender violence, including beatings and sexual assaults.
One client, a 22-year old Latina trans woman, learned about The Center for Violence Prevention & Transgender Wellness services through their volunteer pen pal program and financial assistance (money for calls, commissary, stamps) for trans detainees. She came there upon release from immigration detention last year, shattered from her experience and in search of support, which she found. Salcedo emphasizes, however, that non-Latina trans and non-gender conforming people are welcome, as well.
The center is located at 3055 Wilshire Blvd, Ste, 350, Los Angeles, CA 90010. Phone: (833) 847-2331, and through www.translatinacoalition.org.
British Prime Minster backs ban on trans swimming athletes
When the prime minster was asked whether women can be born with a penis, he replied: "Not without being a man"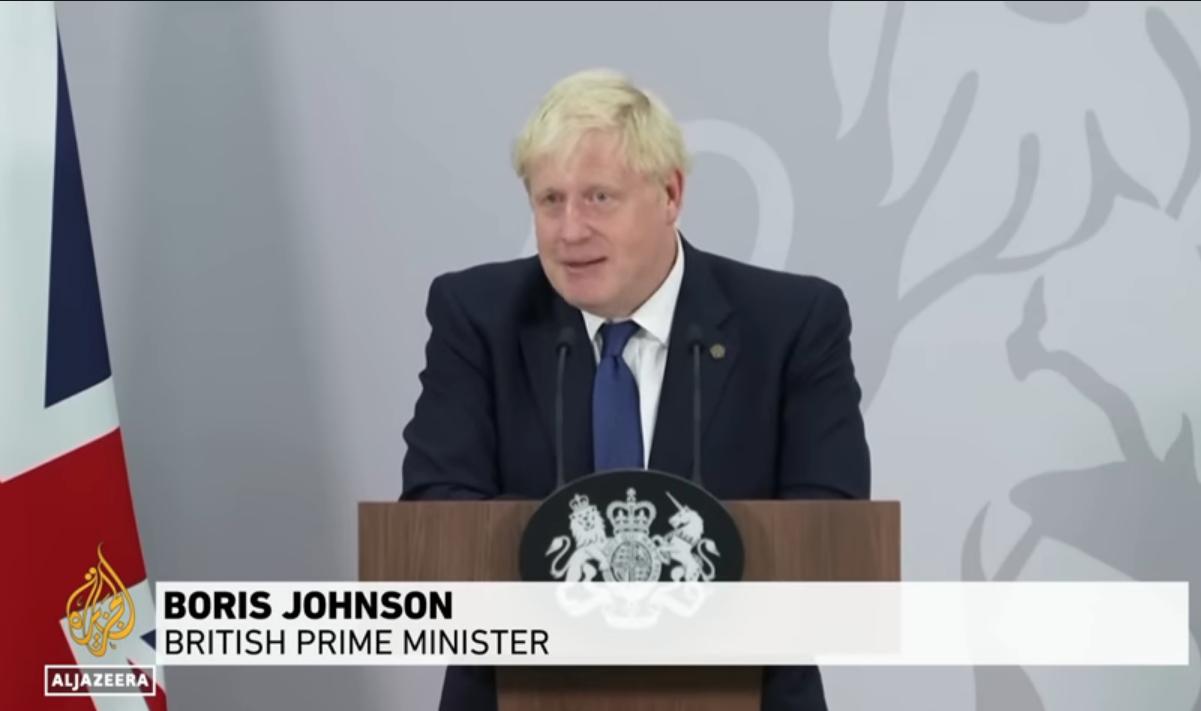 KIGALI, Rwanda – During a break in-between sessions during the first summit meeting of the Commonwealth nations since the coronavirus pandemic in the Rwandan capital this past weekend, British Prime Minister Boris Johnson was asked by a reporter about the FINA ban on trans women athletes.
The prime minster's response was that there were "particular problems" around "issues of gender."
Johnson told reporters, "Look it's very, very important that as a society we should be as understanding of everybody else as possible. I've always stood for that. When it comes to, when you start to move from issues of sexuality to issues of gender, you start to raise particular problems," he said.
In a follow-up question the prime minster was also asked whether women can be born with a penis, he replied: "Not without being a man."
"I think I've spoken of three concerns I've had in the past. They are to do with the age at which you can deem it competent to transition, the question of safe spaces for women, and the difficulties you have with sporting competitions," Johnson continued.
"These are all very difficult problems and you have to be very sensitive. But these are the areas."
Pressed on whether he backed the swimming ban, Johnson said: "I haven't studied it in detail but I see no reason to dissent. That follows from what I've previously said."
Nadine Dorries, the United Kingdom's Secretary of State for Digital, Culture, Media and Sport in a column published this past weekend by the Mail on Sunday wrote:
"I have the greatest compassion for anyone who finds themselves living in a body they don't recognise. But we can't pretend that sex doesn't matter. Sex has biological consequences. If you're born a male, and you go through puberty as a male, your body develops natural physical advantages over a woman's. That makes you stronger and faster.
"I'm setting a very clear line on this: competitive women's sport must be reserved for people born of the female sex. Not someone who was born male, took puberty blockers or has suppressed testosterone, but unequivocally and unarguably someone who was born female. I want all of our sporting governing bodies to follow that policy."
The Guardian UK noted that Dorries, said she will make it "crystal clear" to British sporting bodies that competitive women's sport must be reserved for people born of the female sex when she meets them on Tuesday to discuss their transgender policies.
Dorries will urge organisations representing football, cricket, rugby, tennis, athletics and other sports to follow the lead of Fina, the governing body of swimming, by barring from female events trans women who have "gone through male puberty."
PinkNewsUK reported Monday that since the swimming governing body FINA announced its revised trans eligibility policy, several national and international sporting administrators have followed.
The International Rugby League, FIFA and World Athletics, among others, have either temporarily banned or launched reviews into their trans inclusion policies.
Supreme Court sides with ex-football coach who led prayers at school
"Justice Gorsuch's majority opinion is yet another dangerous example of this Court overturning decades of precedent"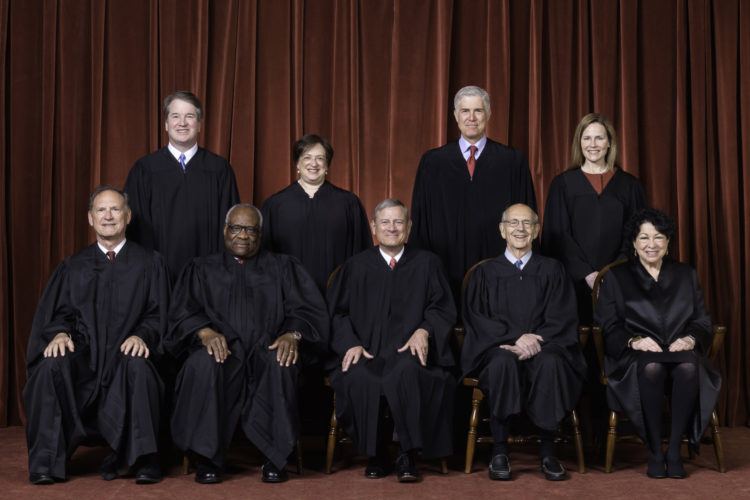 WASHINGTON – The U.S. Supreme Court on Monday in a 6-3 ruling sided with the former Bremerton, Washington assistant high school football coach removed for refusing to halt his practice of praying at mid-field after games on school property.
The ruling is a victory for Joseph Kennedy, who in court documents described himself as a practicing Christian whose religious beliefs require him to "give thanks through prayer, at the end of each game."
When he began his job as an assistant coach at Bremerton High School, a public school in Washington state, he initially prayed alone after games, but over time some of his players – and eventually a majority of the team – joined him. One parent complained that his son, a player on the team, felt like he had to join in the prayer, even though he was an atheist, or face a loss of playing time."
Bremerton School District officials had attempted to accommodate Kennedy after warning him to stop the prayers as District officials clarified that they did not want to violate the Constitution's establishment clause, which prohibits the government from favoring one religion over another.
The district offered Kennedy the ability to pray after the crowd had left the stadium or in a private space both options that he refused. Kennedy had retained counsel and the legal team indicated that they would pursue father legal action.
The case eventually ended up at the high court which agreed to hear it at the beginning of this last term in January.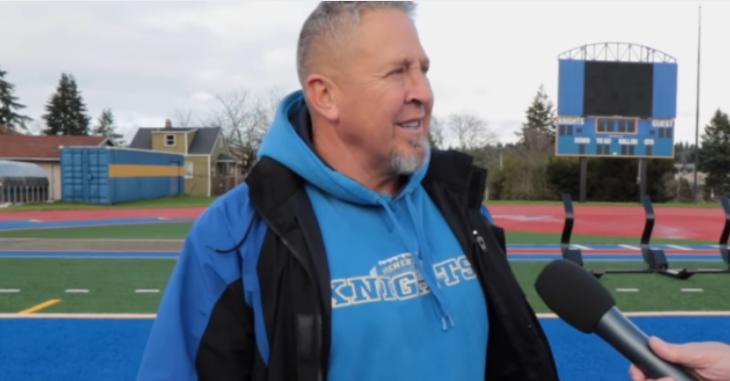 Reaction from groups advocating for greater safeguards in separation of 'church and state' decried the majority decision written by Trump nominated Associate Justice Neil Gorsuch.
🚨BREAKING🚨 — Supreme Court deals another blow to church-state separation, allowing a public school coach to lead students in prayer at the 50 yard line after games. Our full analysis and statement to come. pic.twitter.com/C8USS0Kxt3

— American Atheists (@AmericanAtheist) June 27, 2022
Equality California noted that the Court's ruling in Kennedy v. Bremerton School District effectively was overturning decades of established legal precedent.
"Justice Gorsuch's majority opinion is yet another dangerous example of this Court overturning decades of precedent to impose the personal religious beliefs of some on the rest of the country — whether that be a public school football coach's religious beliefs on his team, a legislator's views on people in their state seeking abortion care or the views of a religious private school on taxpayers now forced to fund them.
"Parents have always been free to send their children to schools that align with their religious beliefs, and coaches who want to lead their players in prayer have always been free to work at private schools where that is encouraged. But students — of any religion or none at all — attending public schools funded by taxpayers should not be coerced into school-sponsored prayer," Equality California's Executive Director, Tony Hoang, said in an emailed statement.
"Every public school student deserves to feel safe, supported and welcome at school. Today's decision undermines that fundamental idea at a particularly dangerous time for our LGBTQ+ students."
Heat Advisory issued as temps expected to be in triple digits
LA County will see hot & breezy conditions Monday. High temperatures will reach 90 degrees. Temperatures at night will fall to 64 degrees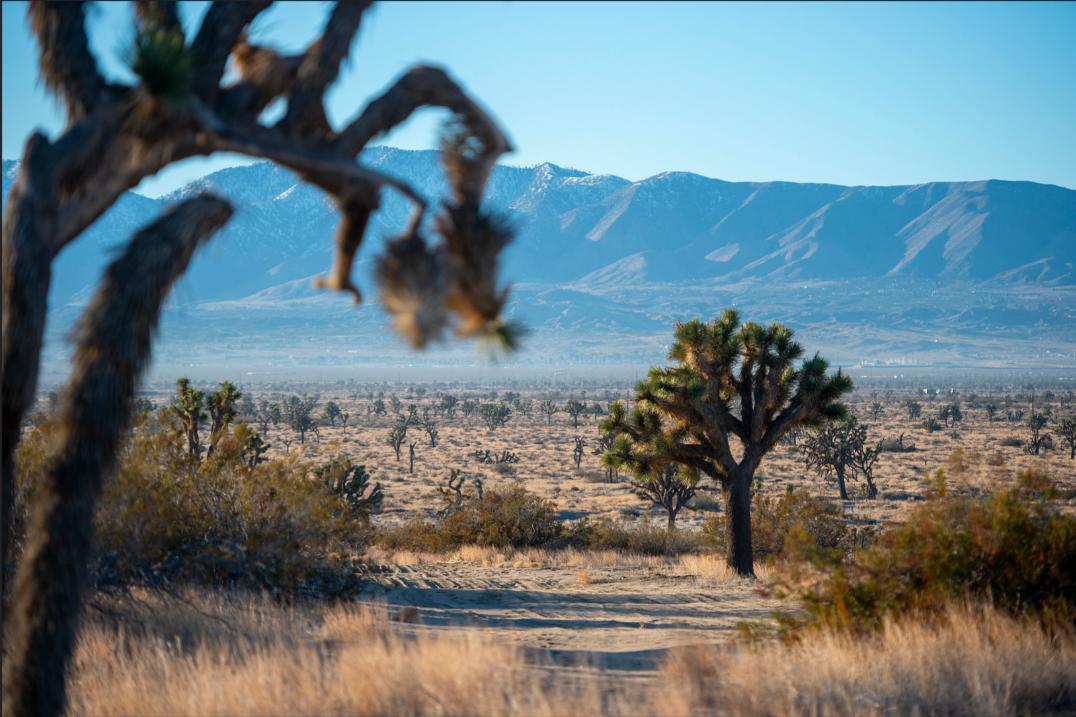 LOS ANGELES – The National Weather Service issued a heat advisory warning for most of Southern California on Monday. Temperatures while remaining lower in the 80s and 70s in the coastal areas are expected to exceed triple-digits for most of the inland areas in the region.
Los Angeles and Orange counties will see hot and breezy conditions Monday. High temperatures will reach 90 degrees. Temperatures at night will fall to 64 degrees.
The valleys and Inland Empire will be very hot and windy Monday as temperatures soar to 105 degrees. Evening temperatures will drop to 72 degrees.
Beaches will see temperatures rising to 78 degrees amid breezy conditions on Monday. Overnight lows will dip to 64 degrees.
Look for a 20% chance of thunderstorms in the mountain communities on Monday, with temperatures reaching a high of 89 degrees. Temperatures will fall to 55 degrees at night.
Desert conditions will be sunny and windy on Monday, with temperatures expected to rise to 104 degrees. Nighttime temperatures will drop to 69 degrees.
Detailed Forecast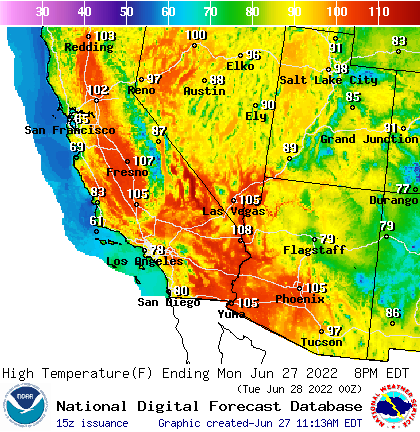 Today
Sunny and hot, with a high near 106. East northeast wind 10 to 15 mph becoming north northwest in the afternoon. Winds could gust as high as 20 mph.
Tonight
Clear, with a low around 69. Northwest wind 5 to 15 mph becoming east northeast after midnight. Winds could gust as high as 20 mph.
Tuesday
Sunny and hot, with a high near 104. Southeast wind around 10 mph becoming northwest in the afternoon. Winds could gust as high as 15 mph.
Tuesday Night
Clear, with a low around 68. West northwest wind 5 to 15 mph becoming east southeast after midnight. Winds could gust as high as 20 mph.
Wednesday
Sunny and hot, with a high near 98. East southeast wind 5 to 10 mph becoming west 10 to 15 mph in the afternoon. Winds could gust as high as 20 mph.
Wednesday Night
Clear, with a low around 62. Breezy.
Thursday
Sunny, with a high near 94.
Thursday Night
Clear, with a low around 58.
Friday
Sunny, with a high near 92.
Friday Night
Clear, with a low around 57.
Saturday
Sunny, with a high near 90.
Saturday Night
Clear, with a low around 56.
Sunday
Sunny, with a high near 89.