Ros-Lehtinen talks retirement, slams Trump's military trans ban
Florida Republican to leave Congress at end of term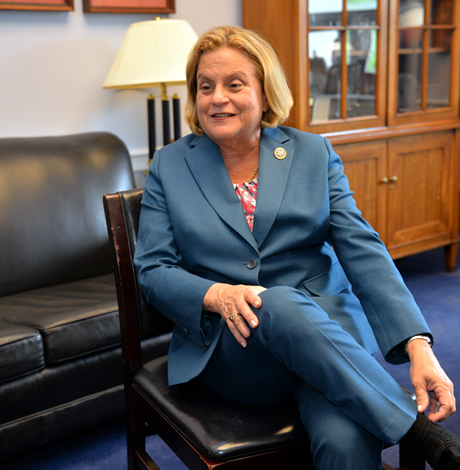 Retiring U.S. Rep. Ileana Ros-Lehtinen (R-Fla.) last week reiterated her criticism of President Trump over a host of issues that includes his effort to ban transgender people from the military.
"We're looking at Americans who want to sign up and serve our country," Ros-Lehtinen told the Washington Blade on May 21 during an interview at her office in the Rayburn House Office Building. "These are the bravest individuals, the most patriotic folks that we would want there."
"It just doesn't make any sense when we are still fighting in so many parts of the world," she added. "We need patriotic, committed, able to serve individuals, whether they are male, female, transgender."
Ros-Lehtinen, who was born in Cuba, was first elected to the U.S. House of Representatives in 1989. She was elected to the Florida House of Representatives in 1982 and was a member of the Florida Senate until 1989.
Ros-Lehtinen is the first Latina official elected to Congress. She currently represents Florida's 27th congressional district that includes portions of Miami-Dade County and most of the city of Miami Beach.
Ros-Lehtinen in April 2017 announced she will retire from Congress at the end of her term.
She did not vote for Trump and pointed out to the Blade that she doesn't "support him now." Ros-Lehtinen nevertheless stressed Trump did not factor into her decision to leave Congress.
"It was just time to go," she said. "Like the Bible says, to everything there is a season and this was the time to say OK, let's try something new."
Florida state Rep. David Richardson (D-Miami Beach), who is gay, and University of Miami President Donna Shalala, the former Health and Human Services secretary during the Clinton administration, are among the Democrats running for Ros-Lehtinen's seat. Republican candidates include Miami-Dade County Commissioner Bruno Barreiro and María Elena Salazar.
Ros-Lehtinen described Richardson as "a great guy" who is running "a great grassroots campaign." She nevertheless told the Blade she will support the Republican who wins the Aug. 28 primary.
"The voters have a wonderful array of folks," said Ros-Lehtinen. "They're all great candidates."
LGBT rights are personal for Ros-Lehtinen, family
Ros-Lehtinen in recent years has emerged as one of Congress' most vocal supporters of LGBT rights.
Ros-Lehtinen in 2012 became the first Republican member of Congress to publicly support marriage rights for same-sex couples.
She is a co-sponsor of the Equality Act, which would add sexual orientation and gender identity to federal civil rights law. The U.S. House last June nearly unanimously approved Ros-Lehtinen's resolution that condemns the crackdown against gay men in Chechnya.
Ros-Lehtinen told the Blade that she has no plans to leave the Republican Party. She added, however, the GOP will lose the support of young people and women if it continues to oppose "equality, fairness" and nondiscrimination efforts.
"We are in danger of losing the women's vote and young people's vote," said Ros-Lehtinen. "The issue of equality is the cornerstone of getting these folks back."
LGBT issues are also personal for Ros-Lehtinen and her family.
Her son, Rodrigo Heng-Lehtinen, is trans. Ros-Lehtinen and her husband, Dexter Lehtinen, in 2016 appeared in a public service announcement with Heng-Lehtinen that SAVE, a Miami-based LGBT advocacy group, produced.
Ros-Lehtinen said it was "a shock" when her son came out, but "we dealt with it as a family." Ros-Lehtinen described him as a "good man with a lot of integrity."
"Everything is getting a lot better, but it takes guts to come out," said Ros-Lehtinen. "It's not easy, so congratulations to him because it just takes a lot of courage."
There is 'no real equality' in Cuba
Ros-Lehtinen and her family fled Cuba after the 1959 revolution that brought Fidel Castro to power. Ros-Lehtinen remains a vocal critic of the Cuban government, even though Miguel Díaz-Canel last month became the country's first president from outside the Castro family in nearly 60 years.
Mariela Castro, the daughter of former Cuban President Raúl Castro who spearheads LGBT-specific issues as the director of the country's National Center for Sexual Education (CENESEX), during a May 4 press conference in Havana said her organization is planning to submit proposals to the National Assembly that would extend marriage and other rights to LGBT Cubans.
The press conference took place ahead of CENESEX-organized marches and other events in Havana and in the city of Pinar del Río that commemorated the International Day Against Homophobia, Transphobia and Biphobia.
Ros-Lehtinen was quick to dismiss Mariela Castro and her organization's efforts, noting gay men were among those who the Cuban government sent to labor camps in the years after the revolution. Ros-Lehtinen also pointed out the Cuban government until 1993 forcibly quarantined people with HIV/AIDS in state-run sanitaria.
Fidel Castro in 2010 apologized for the camps, known by the Spanish acronym UMAPs, during an interview with a Mexican newspaper. Cuba in 2015 became the first country in the world to eliminate mother-to-child transmission of HIV and syphilis.
Cuba since 2008 has offered free sex-reassignment surgeries through its national health care system, but only a few dozen people have been able to receive them. Mariela Castro, who is a member of the National Assembly, voted against a 2013 proposal that sought to add sexual orientation to Cuba's labor law because it did not include gender identity.
"They had so much backlash that now she is the one who wraps herself in the gay flag . . . and says that Cuba is very forward thinking and very accepting," said Ros-Lehtinen, referring to Mariela Castro.
"There's no real equality (in Cuba,)" added Ros-Lehtinen.
Lawmakers haven't 'done enough' on gun control
Ros-Lehtinen spoke with the Blade three days after a gunman killed 10 people at a high school in Santa Fe, Texas.
She said Florida Gov. Rick Scott, who is challenging U.S. Sen. Bill Nelson (D-Fla.), in March "defied" the National Rifle Association after a gunman killed 17 people at Marjory Stoneman Douglas High School in Parkland, Fla., when he signed a bill that raised the minimum age to buy a gun in the state from 18 to 21 and banned the sale of bump stocks.
Ros-Lehtinen said she supports "common-sense" gun control efforts, including "red flag" laws that allow authorities to temporarily confiscate guns from people who show signs they may be about to carry out an act of violence. The Blade asked Ros-Lehtinen whether Scott, U.S. Sen. Marco Rubio (R-Fla.) and elected officials in general have done enough to address the issue.
"Shame on all of us," said Ros-Lehtinen. "I'm not throwing anybody under the bus. We just haven't done enough."
Ros-Lehtinen spoke with the Blade nearly two years after a gunman killed 49 people inside the Pulse nightclub in Orlando, Fla.
Scott and Florida Attorney General Pam Bondi faced widespread criticism in the days after the massacre when they did not specifically mention the LGBT community in their public comments. Ros-Lehtinen told the Blade it is "a shame that Pulse did not get much attention in terms of action" around the issue of gun control as the shooting at Marjory Douglas did.
"Was it the age of the victims," asked Ros-Lehtinen, referring to the bill that Scott signed in March. "I don't know what it is. And then Texas is not getting any attention. I don't know what happens with certain events that capture people's attention."
'What happens in the world interests me greatly'
Ros-Lehtinen said she is unsure what she will do once she leaves Congress, but she told the Blade she would like to become a consultant or teach. Ros-Lehtinen added she hopes to remain engaged in international affairs with a specific focus on Latin America and the Middle East.
"It's part of my DNA," she said. "What happens in the world interests me greatly."
Florida's Duval County Public Schools censors LGBTQ visibility
Duval County Public Schools slammed for removing 'Safe Space' stickers by Equality Florida as schools across state return to classes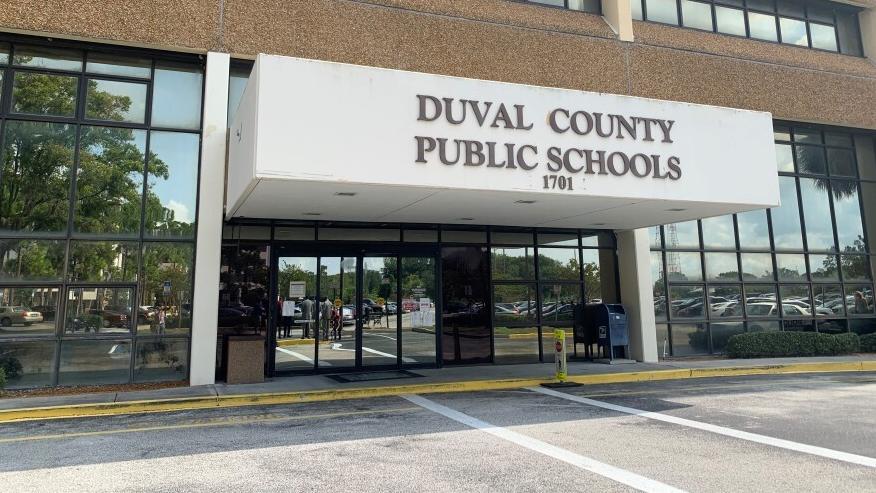 JACKSONVILLE – As Duval County Public School's K-12 students begin their first day of school Monday, they are returning to classrooms that have been stripped bare of visible support for LGBTQ students.
Last week, Duval County Public School's leadership held an emergency meeting with all of the school district's principals in which they were directed to remove all posters, wall decorations, and stickers that support and affirm LGBTQ students, the latest in a wave of what LGBTQ+ advocates say are censorship efforts in the wake of the Don't Say LGBTQ Law (HB 1557) taking effect across the state.
Equality Florida — a statewide civil rights organization focused on the LGBTQ community — published a statement criticizing Duval County Public Schools officials for putting out guidance to principals that advised the removal of the rainbow signage.
"The district's censorship of LGBTQ-inclusive classroom environments sends a dangerous message to young people," said Joe Saunders, Equality Florida Senior Political Director.
"In tearing down rainbow Safe Space stickers and tossing inclusive posters into the trash, Duval County Public Schools is telling students that there is something inherently wrong with LGBTQ people — and telegraphing to LGBTQ youth that they should remain hidden. Despite false assurances from Republican proponents of the Don't Say LGBTQ Law that its scope would be narrow and its impacts limited to grades K-3, we are witnessing sweeping effects of this intentionally-vague policy across the state, with broad censorship of LGBTQ people being applied to every grade level."
The Florida Times-Union newspaper reported Duval Schools officials say the removal is one facet of a district-wide rebrand of its existing "All In For Safe Schools" campaign that will better comply with the new Parental Rights in Education Act, which became law in July. Equality Florida calls the gesture "censorship."
The move from Duval County Public Schools comes as schools across the state grapple with implementing the Don't Say LGBTQ law. Already, the law has resulted in the banning of books and stigmatizing of families in counties across the state. Exactly what advocates say they warned about since the law's inception. This decision by Duval County Public Schools to censor LGBTQ inclusion across the district has angered the community.
It also comes as LGBTQ youth, the very students now seeing their identities scrubbed from Duval classrooms, continue facing higher risks of depression, anxiety, bullying, discrimination, and suicidality than their peers.
A recent study by the Trevor Project showed a staggering majority of LGBTQ youth sharing that recent policy battles like that over HB 1557 and the subsequent impacts have had a negative impact on their mental health.
"We are in the process of rebranding the 'All In for Safe Schools' program," district spokesman Tracy Pierce told the Times-Union. "The purpose of the rebranding is to send a clear message to all students that the support available through the program is open to them and not limited to any specific student population."
"School districts are charged with doing everything in their power to mitigate the harms of HB 1557 and ensure that every student is protected in school and every family is respected. Duval County Public Schools should reverse course and recommit to cultivating an environment that is inclusive of and celebrates all students," said Equality Florida's Saunders.
In another circumstance of Florida's newly minted 'Don't Say Gay' law's negative impact, last month a 12-min training video aimed at teaching middle and high school students how to prevent bullying and support their LGBTQ+ peers in Duval County Public Schools has been removed from student access.
Jacksonville Today journalist Claire Heddles reported at the time that besides the video, the district planned to dramatically reduce a LGBTQ+ support guide.
The video is now inaccessible and, in response to questions from Jacksonville Today, Duval Schools District spokesperson Tracy Pierce said, "The materials you referenced have been removed for legal review to ensure the content complies with recent state legislation."
Inaugural LA County Youth Climate Commission seeks youth leaders
"It's a fantastic opportunity for young people who are both passionate about climate change and interested in public service"
LOS ANGELES (Press Release) – Aiming to empower the region's next generation of environmental leaders, the County of Los Angeles today issued a call for young adults to serve on its inaugural Youth Climate Commission.
On the heels of major climate legislation at the federal level, the County is seeking 25 youth leaders who have a commitment to civic action that will create greater resilience in their communities.
The Board of Supervisors, responding to grass-roots activism from Los Angeles youth climate leaders, adopted an ordinance to create the Commission to inform, recommend, and advise on County goals, plans, actions, and policies related to climate change mitigation and resilience.
The panel – the first County Commission to focus exclusively on climate change – aims to amplify the perspectives and priorities of local youth, since they will be the most dramatically impacted by the ongoing climate impact during their lifetime.
"I am heartened that after years of insufficient action on climate, Congress is advancing a major climate bill that will change the game for lowering our emissions nationally," said Supervisor Hilda Solis who represents the First District and authored the ordinance. "With new federal resources, the stakes are even greater for us to ensure that the very people whose future is most impacted are at the table to effect real change."
"Despite another season of record-breaking heat and extreme weather, I remain hopeful in the next generation's unwillingness to stand idle in the face of the climate crisis. The Youth Climate Commission provides an important structural pathway for new and diverse leadership to advance equitable and bold climate solutions for the Los Angeles region" said Supervisor Holly Mitchell who represents the Second District.
"Young people all across Los Angeles County are an untapped source of energy and ideas that can, and should, influence the County's actions on climate change," said Supervisor Sheila Kuehl who represents the Third District and was the co-author of the ordinance. "I encourage young people who have a commitment to reversing climate change, protecting biodiversity, and reimagining our relationship to our planet's natural resources to consider participating on this exciting body that will help to shape LA County climate policy for years to come."
"We are already seeing the effects of climate change, but many of my colleagues and I will be long gone when the worst impacts of the climate crisis take hold. Young people are leading a movement on this issue and they are proving better at it than the generations before who have failed them. They deserve a seat at the table in shaping our County's climate policy and I encourage the young climate leaders across my district to apply to be a part of this commission", said Supervisor Janice Hahn who represents the Fourth District.
"Our County is very big, so it's important that we attract a diverse group of individuals so that we hear perspectives inclusive of different parts of our County, such as our high desert, foothill, and mountain communities," said Supervisor Kathryn Barger, who represents the Fifth District. "Many of these communities face a higher likelihood of being impacted by natural disasters due to climate change, such as wildfires and flooding. I highly recommend anyone who is interested to come forward and apply to join this new County Commission. It's a fantastic opportunity for young people who are both passionate about climate change and interested in public service."
The findings of the County's recent Climate Vulnerability Assessment, demonstrated that an estimated 56% of residents – nearly 5.7 million people — face high risk to such climate hazards as extreme heat, wildfire, inland flooding, extreme precipitation, coastal flooding, and drought.
Low-income and communities of color face a disproportionate amount of climate vulnerability as well as limited capacity to withstand and weather future threats, the study found.
The commission's recommendations will further the ongoing implementation of Our County Sustainability Plan, the most ambitious regional sustainability blueprint in the nation. Among its 159 action items is creating a fossil fuel-free L.A. County by 2050.
"We are committed to reflecting the diversity of our County in our new Youth Climate Commission. We invite young adults from marginalized communities, communities burdened by pollution, and beyond to co-create with us a future with healthy, sustainable communities by applying to serve as commissioners," said Executive Officer Celia Zavala.
Application materials are available on the website and must be submitted by Sept. 15, 2022. Interested applicants must be age 18 by Oct. 1, 2022.
2nd Recall effort against LA County District Attorney George Gascón fails 
The 520,050 valid petition signatures fell short of the 566,857 required to place the recall question on the ballot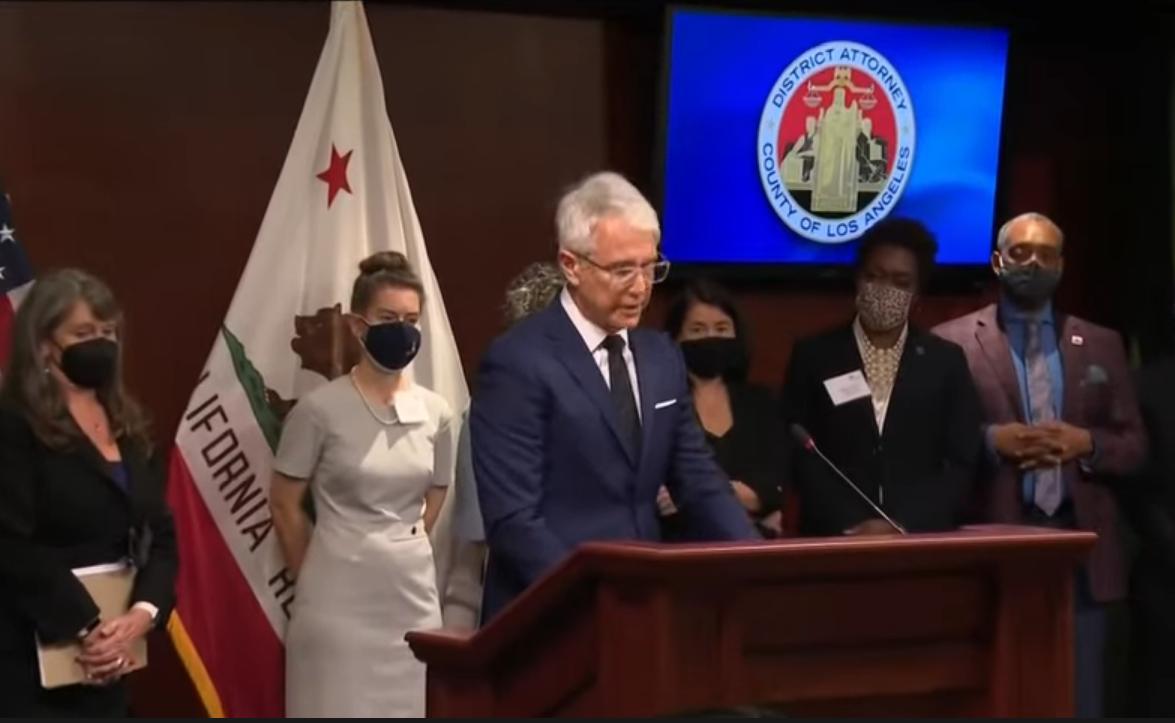 LOS ANGELES – The second effort to recall Los Angeles County District Attorney George Gascón was rejected Monday after the LA County Registrar-Recorder/County Clerk's office announced recall organizers had fallen short of the requisite validated signatures needed to qualify for the November elections ballot.
A spokesperson for Dean C. Logan, the Registrar-Recorder/County Clerk, said that recall organizers had submitted a total of 715,833 petition signatures, of which 195,783 of the signatures were invalid and another 45,000 were duplicate signatures. The remaining 520,050 valid petition signatures fell short of the 566,857 required to place the recall question on the ballot.
KTLA reported that organizers halted their first recall attempt last fall after they were unable to gather the necessary signatures by the end of October.
Gascón, 67, was elected in 2020 on a pledge to reform the county's criminal justice system. Since he took office, juveniles are no longer being charged as adults, sentencing enhancements that he says lead to mass incarceration have been eliminated and cash bail for nonviolent felony offenses has ended. Misdemeanors associated with substance abuse and mental illness are also being diverted out of the criminal justice system, both KTLA and the Los Angeles Times have reported.
Gascón's policies have provoked criticism from Los Angeles County Sheriff Alex Villanueva, as well as officers from the Los Angeles Police Department and others from the 88 jurisdictions within the County.
Recall organizers contend that his policies favor criminal defendants and have contributed to a significant rise in crime rates reported across the County.