May 31, 2018 at 8:58 am PDT | by Rebekah Sager
Christopher Street West gets a reboot just in time for LA Pride 2018
This year's LA Pride isn't so much about resistance or a generally unwanted millennial-focused music festival, but it is about change. This year represents a hoped for return to the community's roots, as the hashtag of the event denotes, it's a #JustBe celebration of your life. 
Last year's #ResistMarch, LA Pride was exactly what it needed to be – focused on politics and the shock and horror of the election of President Donald Trump and Vice President Mike Pence, both clearly out of touch with the LGBTQ+ community and determined to tear down any progresses made. And the 2016 LA Pride was a drama-cluster, prompting some to use the hashtag #NotOurPride and even threaten to boycott the weekend-long event, ending with a march that defied everything after the terror attack in Orlando that killed 49 LGBT people.
But, in the 48 years since its inception, Pride has come a long way. Born out of a response to and in commemoration of the 1969 Stonewall Rebellion on Christopher Street in New York City, LA Pride Parade and Festival has historically been the place to celebrate the LGBTQ+ community – both the work that's been done to elevate people and unite those for all the work still needed to be done – and God knows with the current administration, there's a lot of work.
This year, big changes are in store for Christopher Street West (CSW). Starting with a newly elected board president, Estevan Montemayor, and for the first time in more than a decade, CSW will have a full-time executive director, in Madonna Cacciatore. 
Montemayor, a WeHo resident for six years, succeeds former board President Chris Classen, who stepped down from his role as president after three years of service. 
In his 'day job,' Montemayor is director of communications and external affairs for Los Angeles City Councilmember David Ryu. And he has served in senior management positions for numerous political and advocacy campaigns and started his political career as a legislative assistant to LA Mayor Antonio R. Villaraigosa.
"I look forward to working with Madonna and the entire board to continue evolving our organization, create new and engaging programming, and grow our fundraising efforts while still being inclusive, transparent and representative of our community in everything we do. That is at the heart of our mission," Montemayor said.
"This is an exciting moment in CSW's storied history," said Classen. "I'm confident that Madonna will help propel this amazing organization forward in a big way."
This year's LA Pride Parade on Sunday, June 10, will be hosted by Grand Marshal Michaela Ivri Mendelsohn. She's a trans activist, CEO of Pollo West Corp and the founder of TransCanWork.
Under Mendelsohn's leadership, El Pollo Loco has been committed to hiring transgender people (mostly women of color) in their restaurants. And of her work with TransCanWork, she says it is her chance to use what she does as a longtime CEO and business person to change the landscape of hiring in the U.S. and to encourage those in the restaurant industry to begin accessing the often untapped resources of talented people in the transgender community.
"We are thrilled to have Michaela Mendelsohn – a long-time activist and respected trans woman in business today – as this year's LA Pride Parade Grand Marshal," Montemayor said. "Michaela has been a strong LGBTQ+ advocate, especially by working to boost the hiring and inclusion of trans people in the workplace. She embodies the spirit of our #JUSTBE campaign and is the perfect person to lead this year's LA Pride Parade."
Mendelsohn says she's excited and deeply honored to be named the grand marshal for this year's event, particularly in a year when "self-expression, female empowerment, and trans inclusivity is at the very heart of this year's #JUSTBE message." Adding that, "LA Pride has cultivated a rich, 48-year-old history as a bold and provocative voice for the LGBTQ+ community across Los Angeles County."
Everyone knows you can't show up at Pride not looking fresh. So, this year, LA Pride Festival and Parade is offering the first-ever collection of limited-edition merch. Partnering with Flavour Gallery, a festival merchandise design and production company based in Los Angeles and Nashville, the LA Pride capsule collection is available for pre-order and on sale at 2018 LA Pride Festival. Prices for the tanks, tees, hats, totes and bandanas range from $15 to $28 dollars.
"We loved how the team at Flavour Gallery really harnessed the spirit of the #JUSTBE campaign to bring this collection to life and can't wait to see everyone sporting their LA Pride gear this year," Shayne Thomas, CSW board member said.
Alfredo Malatesta, founder of Flavour Gallery said, "As a proud supporter of the LGBTQ+ community, this was a no-brainer for us. We're proud of the work that's come from this collaboration and look forward to partnering with the LA Pride team on future collections."
For music, this year's festival will be headlined by R&B sensation Kehlani and international pop star Tove Lo. All three stages will feature diverse artists, including some seriously fierce women and a number of gay, lesbian, bisexual and transgender performers.
The Park Stage sees such superstars Eve, Allie X, Leland, Lauren Sanderson, Jessica 6, Saturn Rising, Kim Petras, Lauren Ruth Ward, Superfruit, Jesse Saint John and Icona Pop.
The Boulevard Stage offers Keri Hilson, Keke Wyatt, LeiKeli47, Cece Peniston, JessLove, and LA's own cutie pie Laith Ashley. 
On the Plaza Stage are Tom & Collins, Natalia Jimenez, Oscar Velasquez, Karol Posadas, Gio Bravo, Kid Madonny, Karisma and Crista Bella. 
The festival will run on Saturday, June 9 from noon-1 a.m. and on Sunday, June 10 from 11 a.m.-11 p.m.
VIP tickets, called the "Backstage Experience," will include backstage access to the LA Pride Park Stage where attendees can "mingle with performers, influencers, and friends in a comfortable, relaxed atmosphere." Guests will also receive a daily afternoon meal, two complimentary cocktails per day and access to the "media pit" which gives front stage access to all Park Stage performances. Single-day VIP tickets are $250 and weekend VIP passes are $400.
General admission single-day tickets are $25 and general admission weekend tickets are $35. Discounted $15 passes will be offered for ADA, military and seniors.
Pride kicks off June 2, with an "invite only" Trans Brunch at Flaming Saddles and for those Universal Studios fanatics; the park will be open from 9 p.m to 1 a.m for the second annual "Pride is Universal" night at Universal Studios.
Each ticket gets you all-day access to the Universal Studios Hollywood theme park – gates open at 9 a.m.– plus exclusive after-hours park access from 9 p.m. to 1 a.m. for "Pride is Universal" ticket holders only. 
The unique experience includes live DJs, dance clubs, cash bars and character meet-n-greets.
The event also doubles as a fundraiser for CSW. A portion of the event proceeds will benefit community-wide programs such as Casa del Sol, a joint project with APLA Health that provides low-income housing to people living with HIV/AIDS.
So, get out and enjoy LA Pride Parade and Festival, and support your Los Angeles LGBTQ+ community – there's work to be done, but this event is a time to celebrate the history, change the present and demand a better future and #JustBe..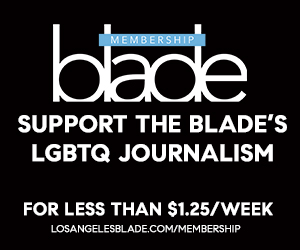 Sign Up for Blade eBlasts