June 15, 2018 at 12:59 pm PDT | by Susan Hornik
Lena Waithe takes queer color to the world
Clearly, Lena Waite is the lesbian belle of the ball this year. The Emmy Award-winning screenwriter, producer, and actor is the best kind of celebrity, one that is committed to making a difference in the world.
During Pride week, she was one of the honorees at a gala for the Trevor Project, the largest nonprofit crisis intervention and suicide prevention organization focused on ending suicide among LGBTQ youth.
"I'm really moved by the stories I'm hearing and the faces I'm seeing and all the love," she told attendees at TrevorLIVE. "But don't treat each other like this just in this room. We need to take it out into the world.
"It's our job to make sure all queer people are human. They weren't born to be perfect. They were born to be whole," she added.
Whether she's onscreen or behind the camera, in a relatively short amount of time, Waithe has proven herself as a badass tour de force. Starting as a writer for the hit FOX series, "Bones," she was then cast as Denise in the much loved Aziz Ansari Netflix series, "Master of None."
Emmy recognition came when Waithe co-wrote "Thanksgiving," her character's coming out episode, which was based on personal experiences in her own life. Riveting scenes between Waithe and guest star Angela Bassett, earned the veteran actress her first Emmy nomination for comedy as Denise's mom.
Waithe and Ansari won the Emmy for Outstanding Writing for a Comedy Series, making her the first black woman to have achieved this recognition. She was also one of the producers on the breakout film, "Dear White People."
Waithe recently received the Trailblazer Award at the MTV Movie Awards. And with nominations just around the corner, there may well be an Emmy this September too, as Waithe created and co-executive produced her first series for Showtime's "The Chi."
Based on her childhood living on the south side of Chicago, Waithe's deft expertise is in showing the human condition.
"I wanted to make sure was in the show, was a lot of levity," Waithe said at the TV Critics Press Tour. "And there is such, because the truth of the thing about black people, is that we are masters at finding joy in the midst of pain and sorrow…because we have seen our fair share of it in this country."
"I think we know how to find a smile, even in the midst of sadness….we never want to paint a picture of us as all dark, because there's so much light in our community."
Because of her struggles as a kid, Waithe talked similar to the children on the show.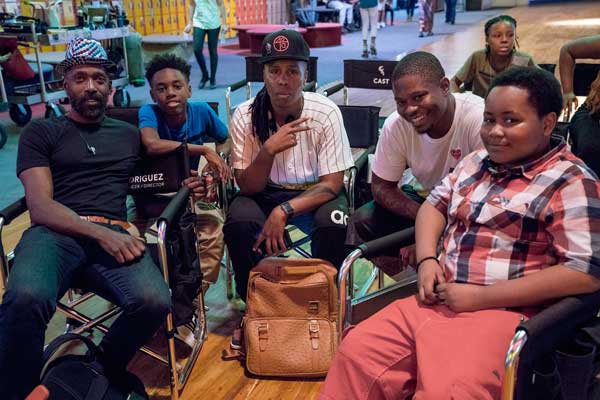 "I was cursing like a sailor at 8 and 9, but it's because I was ear hustling my family. You know what I mean?
I grew up in a house with a lot of women in the house who cursed like sailors, and I was trying to be like them….You learn how to cuss from your family and TV. And also, you hear about things you shouldn't hear about."
Waithe's deceased father suffered from substance abuse.
"Things like that that my family couldn't necessarily keep me away from as much. So there were things that I knew about, that I heard and I saw probably a little bit too young. But what it did was it did grow me up a little bit," she acknowledged.
That kind of "growing up too soon" upbringing impacted the way Waithe writes about black children from the area.
"I just know that they're these little adults," Waithe said. "And the thing is, they think they know everything, and also know they don't know much about nothing. To me, it was really interesting to show that gut innocence, but also the maturity that kids have in inner cities that they are forced to have. But they are still kids…"
For the most part, television critics love the series, which has been picked up for season two.
"I love 'The Chi.' It's a sympathetic and authentic look at life in the black community told through a universal lens," said Mekeisha Madden Toby, senior reporter at CoBird News, a startup news site geared toward millennials.
" It's refreshing to see (the character) Kevin thrive in a household with two moms — a world rarely explored when portraying everyday black people."
Noted NPR Television critic Eric Deggans: "This is a show that started slow, but gained momentum and became one of the year's most intriguing new dramas. Ultimately, Lena Waithe succeeded in her goal of humanizing the people and culture of black folks on Chicago's South Side, though ultimately this first season felt like the story of very specific characters, rather than a look at the lives of average folks from those neighborhoods."
Deggans is also a media analyst and contributor for MSNBC and NBC News. "Lena has said she wants to craft more stories featuring gay characters and The Chi includes a lesbian couple who were mothers to key characters, which is great. But the series didn't spend a lot of time fleshing out their story. One of the things I'm looking forward to seeing next season is whether we'll see more of those characters or characters like them."