June 23, 2018 at 6:55 pm PST | by Troy Masters
Bomb threat disrupts Gay Men's Chorus of LA performance
Just as the star of Gay Men's Chorus of Los Angeles was being introduced to the crowd of more than 700 on Saturday afternoon at Glendale's Alex Theater, the curtain began to lower and stagehands raced to push performers behind it.
A visibly confused Leslie Jordan fell silent as did the entire 300 member cast on stage.
Then this.
"Please find the nearest exit, ladies and gentleman.  Please find the nearest exit and leave the building. This is not a test, this is an actual emergency. Please leave the building calmly."
Stunned audience members, at first unsure what to do, looked around in shock as it began to dawn on them that something had gone very wrong.
But what was it? Everyone was left to wonder.
As people calmly exited to Brand Avenue, one man said:  "Maybe someone didn't like Jonathan's speech about Trump and the border crisis." An elderly woman being pushed out in her wheelchair asked, "Why are we leaving?"  There was a sense of orderly confusion.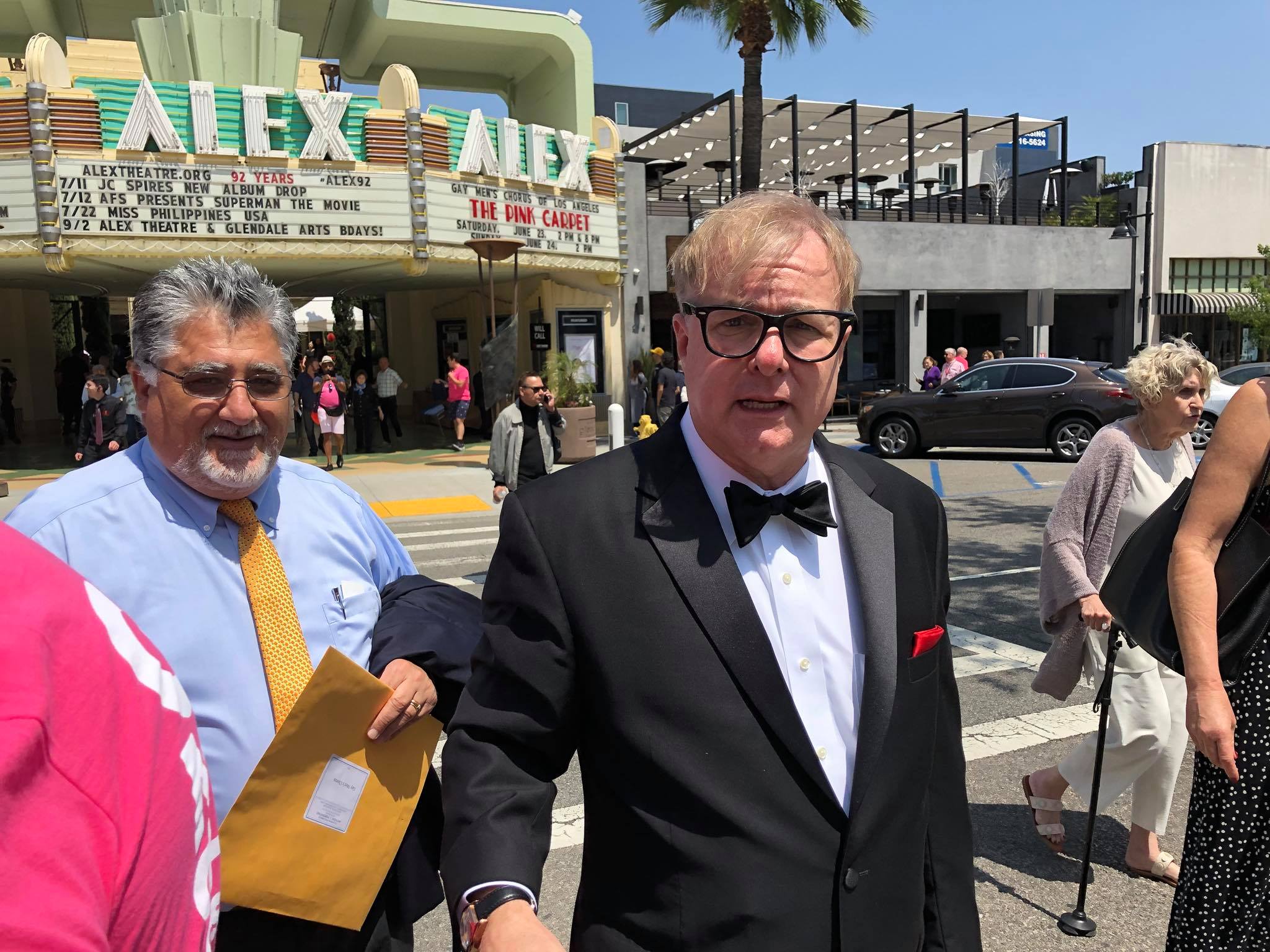 Executive Director Jonathan Weedman told the Los Angeles Blade, "someone called in a bomb threat just before the show began, apparently, and police told us just seconds before we announced it."
Hundreds of people streamed into the streets, awaiting word on return, but the performance was cancelled.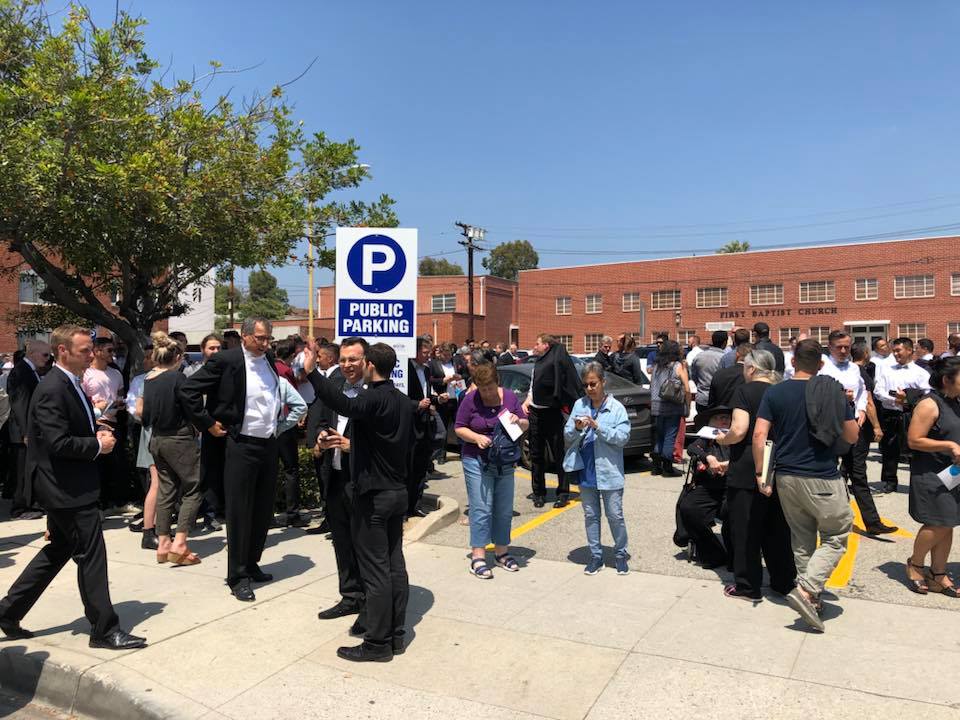 "Out of an abundance of caution, the theater has been evacuated," a post on the GMCLA's Facebook page said. "In our near 40 year history we do not believe this has happened until today. Everyone is safe. WE WILL NOT BE DETERRED."
Milling about on the sidewalks of Brand Avenue, audience members soon realized the afternoon show would not resume. "Yeah, we're going to have a show tonight. Come on back, bring your tickets.  We'd love for you to come," repeated Weedman to passersby.
Many people were left speculating on what may have happened. But one man offered a story that was repeated by several people.
"We saw a very suspicious man in his late 20 come out of the theater, skinny, I would say 5'10 or 5'11" wearing a white T-shirt, black jeans.  He stood there in front of that restaurant, staring at the whole crowd then went down the street and stared again. Then security came out and he left," said Mark Jackson, a volunteer with the chorus.
"I told the cops about this and they said, 'No, he came from inside the theater' but to me he looked like someone who was enjoying the chaos he created; he looked not healthy, he looked weird," said Jackson.
Calls to Glendale Police Department have so far been unreturned.
"We will do a forensic on this and will get to the bottom of it, I can assure you," demanded Weedman.
John Jude Duran, Mayor of West Hollywood and GMCLA's Chairman of the Board said it was "the first bomb threat of a GMCLA event, and the first bomb threat at Alex theater."
Leslie Jordan was undeterred.  "I am going to take my Uber home and get some rest. I'll be back to do the next show and then again tomorrow," he said.
And the 8:00 PM show was indeed stunning.
Jeff Olde, a longtime supporter of Gay Men's Chorus, and his husband Alan Uphold said "Being forced to leave the theater only strengthened the absolute resolve of those in attendance to return for the 8pm show, and it was packed, resilient, joyful and determined. GMCLA handled it beautifully and perfectly. 'The show must and WILL go on' was the message. And rightly so. We will not be silenced. They put on a fantastic, wonderful show that made everyone in that room proud to be there. THIS is who we are"
"The evening was amazing. FABULOUS, a lot of fun and emotion," said Kathryn Davis of the TransChorus of Los Angeles.
Christian Anaya, a Glendale resident said it was a heartwarming, positive connection. It was what we need right now in this day and age.
"M," a chorus volunteer said it (Pink Carpet) brought queer history to the present beautifully." They added,  "It was an amazingly supportive audience."
This is a developing story, please check back for updates.