Is America on a slippery slope to fascism?
The Republican Party 'has become a threat to liberal democracy,' says Steve Schmidt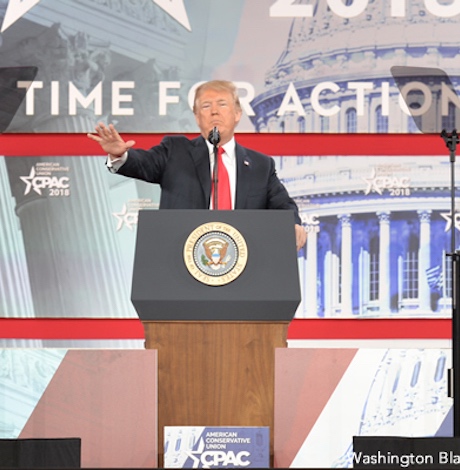 Out journalist Masha Gessen, an expert on Russian President Vladimir Putin and authoritarianism, pulled no rhetorical punches. 
"I don't think we have fascist rule in this country, but what we have is a fascist leader," Gessen told MSNBC's Joy Reid on June 23, referring to President Donald Trump. "We have a nativist, nationalist leader who is devoting all his energy into portraying a group of people as a super dangerous enemy, both sort of subhuman animals, right, 'infestation,' and superhuman at the same time because they're so frightening— because if we don't protect ourselves, terrible things will happen, we don't know what kind of catastrophe will befall us," encapsulating Trump's use of fear tactics and dehumanizing language about immigrants to rile his base. 
"That is fascism," Gessen said. "Whether we allow fascism to take over this entire country is an open question and none of us knows what's going to happen. But it is by no means hyperbole to call Trump a fascist."
Gessen noted how slowly fascism takes hold. "Somebody posted recently the mock cover that The Boston Globe did before Trump's election to try to scare people that said, 'Deportations to Begin.' And we thought it would be so shocking just a year and a half ago—and now we're in the middle of it," she said. "Deportations have long since begun and worse than deportations."
"And soon internment camps," Reid added as an almost throwaway afterthought.
And then came the internment camps—for children.
But first came the announcement. In March 2017, Trump called for an end to the "catch and release" policy whereby migrants crossing illegally into the US, a misdemeanor, would be freed to stay in the country while awaiting a court hearing.  A Department of Homeland Security proposal called for women and children to be separated as a deterrent to mothers.
Implementing the new policy proposal "could create lifelong psychological trauma," Marielena Hincapie, executive director at the National Immigration Law Center, told Reuters for a March 3, 2017 story. "Especially for children that have just completed a perilous journey from Central America."
A year later, on April 6, 2018, Attorney General Jeffrey Beauregard Sessions announced a new "zero-tolerance" policy. Lest anyone miss the point, Sessions went to Friendship Park on the border on May 8 and gleefully spelled out the new policy.   
"People are not going to caravan or otherwise stampede our border. We need legality and integrity in the system. That's why the Department of Homeland Security is now referring 100 percent of illegal Southwest Border crossings to the Department of Justice for prosecution.  And the Department of Justice will take up those cases," he said. "If you cross this border unlawfully, then we will prosecute you.  It's that simple. If you smuggle illegal aliens across our border, then we will prosecute you. If you are smuggling a child, then we will prosecute you and that child will be separated from you as required by law."
The felony criminalization of immigration forced authorities to take a child while the parent was referred for prosecution, which often resulted in deportation without the child. Sessions later declared that asylum would not be granted to anyone fleeing from domestic violence or gangs.
Asked by NPR if separating a child from a mother is "cruel and heartless," White House Chief of Staff John Kelly said on May 11: "I wouldn't put it quite that way. The children will be taken care of — put into foster care or whatever. But the big point is they elected to come illegally into the United States and this is a technique that no one hopes will be used extensively or for very long."
During a May 15 Senate committee hearing, DHS Secretary Kirstjen Nielsen said that families seeking asylum who present themselves at ports of entry stay together. However, DHS later clarified that families may be separated if they can't prove a custodial relationship or if DHS thinks a child may be at risk, being used by a trafficker to gain entry. In practice, asylum seekers who presented themselves at a point of entry were blocked, forced to find another way into the country, thus making their crossing illegal, with the children removed.
On May 29, the Department of Health and Human Services (HHS) announced a 21 percent surge in one month in unaccompanied children in government detention centers. "Although the government has not disclosed how many children have been separated from their parents as a result of the new measures, [HHS] said Tuesday that it had 10,773 migrant children in its custody, up from 8,886 on April 29," the Washington Post reported.
More than 100 children under the age of 4 were taken from their mothers, including breast-feeding infants, The New York Times reported, using data provided by HHS' Office of Refugee Resettlement.
The policy was the last straw for former Republican strategist Steve Schmidt who renounced his membership in the Republican Party, now "fully the party of Trump."
"This child separation policy is connected to the worst abuses of humanity in our history. It is connected by the same evil that separated families during slavery and dislocated tribes and broke up Native American families," he said in the thread. "Today the GOP has become a danger to our democracy and values."
Schmidt also came close to calling Trump a fascist. "Conservatism has become synonymous with obedience to the leader – a leader who says 'I am the law. I am above the law. I will define what truth is.' Truth is what the leader says it is, not what we would have recognized months ago as objective truth," Schmidt told MSNBC. "The last time this happened, it unleashed a tragedy the likes of which the world has never seen. And I think there is a real lack of imagination in this country about how fragile these institutions are and how dangerous a president as unprepared, as authoritarian, as ignorant as he is—the damage he would be able to cause."
The government tried to control the detention narrative. But reporting by Los Angeles native Jacob Soboroff for MSNBC after touring a facility in McAllen, Texas burst through. He described essentially a prison with "babies sitting by themselves in a cage with other babies." He said reporters on the tour were asked to smile at the kids because they "feel like animals locked up in cages." ProPublica released smuggled audio of young children crying for their parents. Reports of "tender-age shelters" and the sight of young people escorted in the dark of night to facilities around the country caused outrage.
Trump said he didn't like the images and on June 20 signed an executive order that kept in place his "zero-tolerance" policy, but allows families to stay together while the parents are being prosecuted. However, many questions remain: what happens if the parents' cases are not adjudicated within 20 days, when a federal court settlement requires that children be released from detention?
And while a San Diego judge ordered family reunification within 30 days of separation, the government has apparently not been keeping track of the children, including infants and toddlers who do not know their names. More than 2,300 children are in government custody since the separation policy started in April.
"I miss my mother and when I see those children on the border it rips my heart out," says Maria (a pseudonym to protect her identity). "She died trying to get me here. She carried me from Honduras, first on a bicycle, then a van, a train, on foot, on bus…We traveled for such a long way, it took months. I remember it. She died in a small town on the side of the road in Mexico trying to get to my brother in California. She was not a criminal. She only wanted to give us both a better life but she didn't make it. I was only 6 years old.

Maria remembers the good part of the journey. "People don't understand.  For 99 percent of the people, the journey is a highlight of their life, sometimes the only family they have in the world are people they meet along the way. They take care of each other, feed each other, share everything and they look out for the children, even the older boys who travel alone," she says.  "When my mother died people took care of me, they knew what my mother wanted for me and they made it happen.

"It's not what Trump wants you to think," she continues. "There were some bad people who took advantage of the good people, but they were not us. Most of the bad people were making money, stealing from the people the journey, making promises they did not keep."
"I am not a bad hombre and neither was my mother," she adds. "I was captured but not separated from the woman who told immigration people she was my mother. She took care of me for 2 years and worked everyday to help me find my brother. I still call her mom and she is still in danger of deportation all these years later."
Maria made that journey in 2003. She was reunited with her brother, who had been adopted by a gay couple in the Palm Springs area and she eventually came out as a lesbian. She is working on getting her citizenship. "I love this country. My brother and I are lucky," she tells the Los Angeles Blade.
Not everyone is as lucky. Last May, among the caravan of 225 asylum seekers fleeing Honduras, Guatemala, and El Salvador to the Mexican border were more than 20 transgender women. Not all arrived in Tijuana.
"Some of us have been kidnapped, assaulted, and disappeared," Ivan Mondragon, 30, who organized the transgender group, told the San Diego Union-Tribune. "Some have been forced into sex work. Here in Tijuana, one of our girls was assaulted, someone broke her rib and we haven't seen her since she posted a video on Facebook after she was beaten."
"I have friends who don't have the opportunity to ask for asylum because they are already dead," Shannel Smith, 28 of Honduras, told the Union-Tribune. She is fleeing gang members who killed her friend.
Roxanna Hernandez, 33, turned herself to ICE in San Diego seeking help—she had AIDS and was also fleeing violence as a trans woman. ICE took her into custody, shuffled her from facility to facility until she died alone on May 25 in New Mexico. 
But asylum for LGBT people is not easy to get. Udoka Nweke, a 29-year-old gay Nigerian, has been in Adelanto Detention Center since Dec. 2016. Fleeing his country after being attacked by an anti-gay mob, Nweke's asylum plea was denied and he attempted suicide. The Black LGBTQ Migrant Project has petitioned for his release on parole so he can access lifesaving medical treatments.
Concern is growing about the psychological and emotional well being of the children now in government detention camps.
Out Rep. Mark Takano is among the congressional representatives who travelled to border towns and detention and prisons to see what's happening. To him, the incarceration and the tent cities dramatically remind him of the Japanese-American internment camps during World War Two.
"I am just taken by how much the history of Japanese-American internment has been made current," Takano tells the Los Angeles Blade. The fact that the family separation policy has been suspended "only proves that the administration was lying when it said it was law and they were forced to do this." In fact, 'the law did not require any of the cruel policies that they were implementing."
Takano says that when he visited the McAllen, Brownsville and Port Isabel detention centers, he met with about 15 women from Guatemala, Honduras and El Salvador. "None of these women posed a danger to our country. None of these women even came close to images of MS 13, which this president likes to broad brush all immigrants with to justify his policies."
At Port Isabel, "you see 15 foot high walls and fences topped off with coiled razor wire," Takano said. "And, of course, that image reminded me of my mother and my father who were two and three years old they went to Heart Mountain in Wyoming and Tule Lake in California. And certainly two and three year olds did not pose a danger to our country. And the executive order that lead to the interment of Japanese-Americans and Japanese immigrants" and Trump's cruelty policy "were motivated by an extreme political agenda that was also further propagated by a media and a press that repeated the exaggerated claims of politicians….Rounding up and interring all Japanese-Americans was discriminatory."
The disproportionate response then and now is based on "some vague notion of national security, some vague notion we're protecting the public. That is simply a fiction and untrue. And it's causing great suffering," he says. "This is an immoral policy," the scapegoating, stigmatization, "the marginalization of a vulnerable minority whose due process rights were not respected."
"How does this connect to LGBT people?" Takano recalls how during the AIDS crisis in the 1980s, members of Congress called for the tattooing, quarantining, "the interment of LGBT people," he said.  "Medical science certainly negated those outrageous claims. We know that the calls to segregate and round up gays and to confine them was motivated by an anti-gay and homophobic animus."
"[History] is repeating itself but it has gone to a new low with Donald Trump. When we were incarcerated [in Japanese-American internment camps], our families were intact. My parents were with me," out actor George Takai told CNN. "But in this case, it's come to a chilling low where babies are torn away from their mothers and placed in separate internment camps."
Takai says Trump's lies and inflammatory rhetoric are similar to what happened to Japanese-Americans in the 1940s. "We were characterized by the government, classified as 'enemy aliens.' We were neither," he said, noting that many young Japanese Americans "rushed to their recruitments centers to volunteer to serve in the US military" right after Pearl Harbor but were denied.
But repeat a lie often enough "and it becomes a reality." That's what happened with "enemy aliens," Takai said, recalling comments from the politically ambitious California Attorney General Earl Warren: "We have no reports of sabotage or spying or fifth column activities by Japanese Americans. And that is ominous because the Japanese are inscrutable. We can't tell what they're thinking so it would be prudent to lock them up before they do anything."
"Taking that stereotype and grotesquely turning it against us—the big lie is happening with Donald Trump now, as well," said Takai. "They are not murderers, rapists and drug dealers. They are literally fleeing for their lives and to call them infestations is absolutely grotesque."
LGBT people should be concerned about Trump's call to do away with immigration judges. "What are we going to do for LGBT people who are fleeing regimes that actually torture and kill them for being gay?," asks Takano. "They don't even get a hearing?" This anti-immigrant attitude harms us morally, to have this be done in our names as American citizens." 
LA County Sheriff's Dept. seeks public's help in missing person case
Jai Rmanii Hicks, or Rmanii, 23, Black female last seen on July 16, 2022 at 3:00 p.m. on the 200 block of West Woodbury Road in Altadena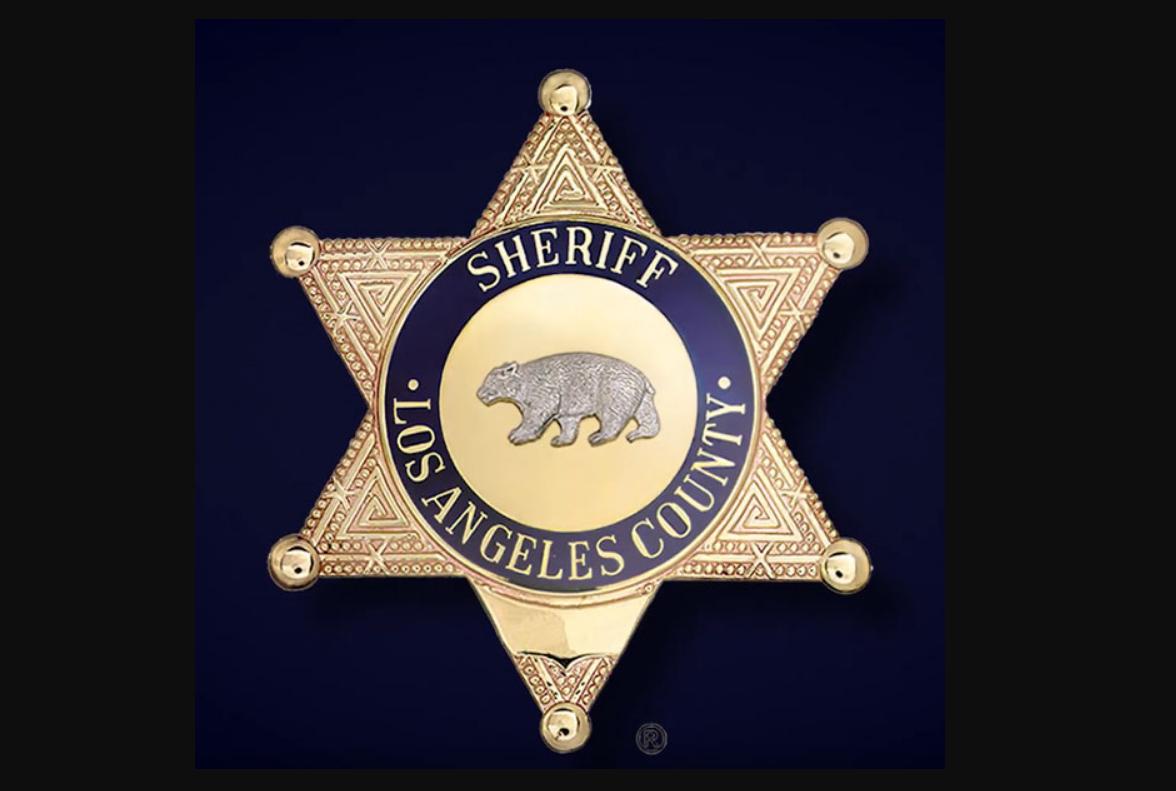 LOS ANGELES – The Los Angeles County Sheriff's Department Missing Persons Unit investigators are asking for the public's help locating Missing Person Jai Rmanii Hicks, also known as Rmanii.
She is a 23 year-old female Black who was last seen on July 16, 2022 at 3:00 p.m. on the 200 block of West Woodbury Road in Altadena.
Rmanii is 5'10" tall, 185 lbs, shoulder length red hair styled in dreadlocks, brown eyes, symbol of an ankh tattoo on back, picture of a girl tattoo on right thigh, and a tribal symbol tattoo below chest. She was last seen wearing a black shirt, black pants, and a brown backpack.
Her family is concerned with her well-being and is asking for the public's help.
Anyone with information about this incident is encouraged to contact the Los Angeles County Sheriff's Department's Missing Persons Unit at (323) 890-5500.
If you prefer to provide information anonymously, you may call "Crime Stoppers" by dialing (800) 222-TIPS (8477), use your smartphone by downloading the "P3 Tips" Mobile APP on Google play or the Apple App Store or by using the website http://lacrimestoppers.org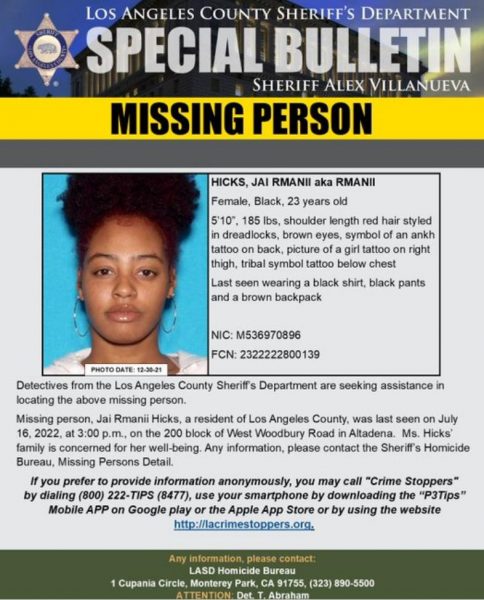 West Hollywood in brief- City government in action this week
'All-Walk' Phase Crosswalks Santa Monica & N. Robertson Blvds, Virtual Workshops, NextGen Summer Social, Women's Equality Day – WeHo Takeover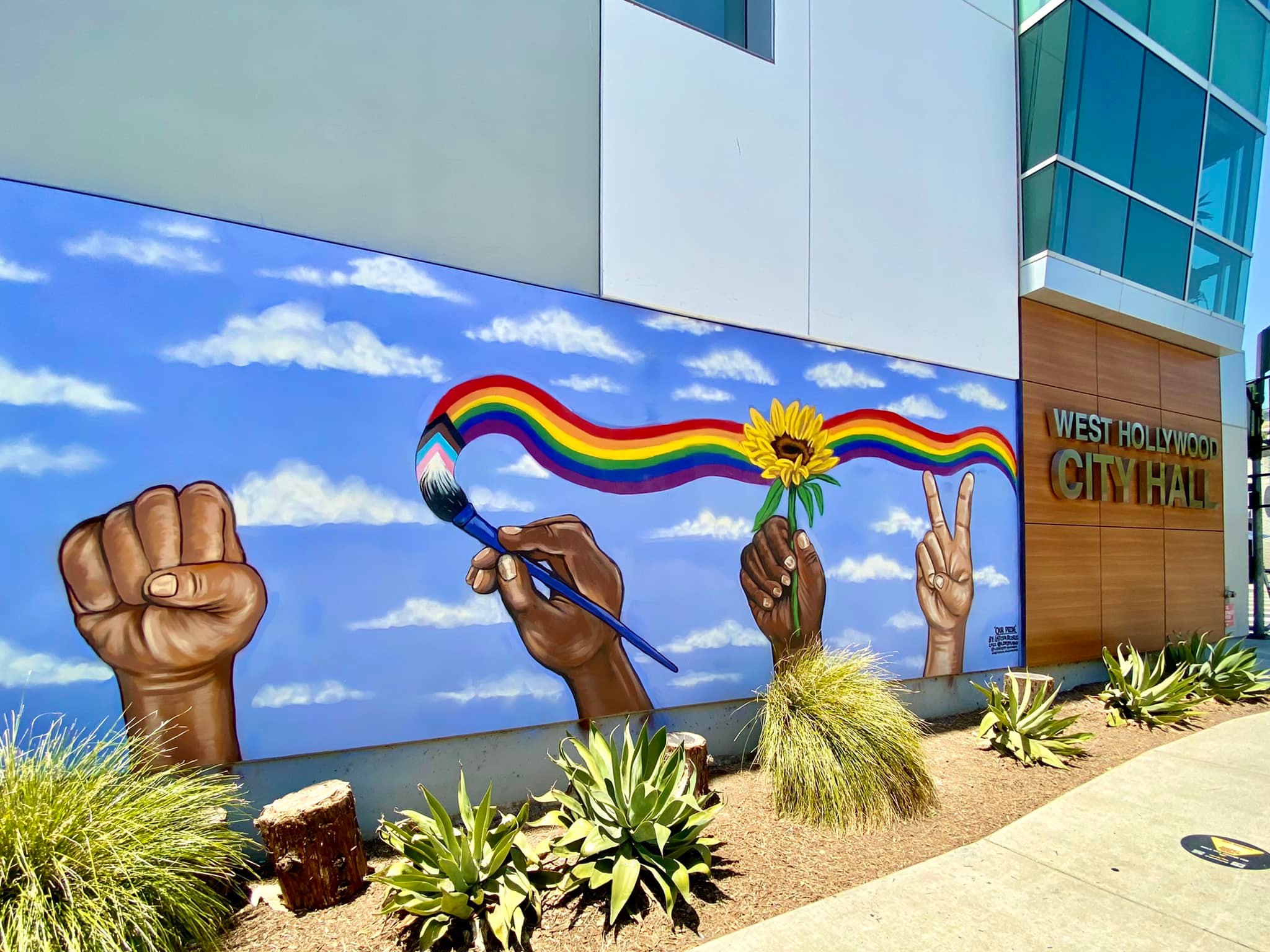 City of West Hollywood Implements 'All-Walk' Phase at Crosswalks at Santa Monica and N. Robertson Boulevards on Thursday, Friday, and Saturday Nights
WEST HOLLYWOOD – As part of an ongoing citywide effort to enhance pedestrian safety, starting on Thursday, August 11, 2022, the City of West Hollywood will implement a nighttime "all-walk" pedestrian-only phase for the crosswalks at the intersection of Santa Monica Boulevard and N. Robertson Boulevard on Thursday, Friday, and Saturday nights between 9 p.m. and 3 a.m.
This nighttime pedestrian-only phase temporarily stops all vehicular traffic in all directions, which then allows pedestrians to cross traditionally or diagonally. The aim is to enhance pedestrian safety and improve traffic flow. This concept was first tested at this intersection in 2019; this re-instates a pedestrian-only phase at this intersection, which is the most pedestrian-trafficked intersection in the City during certain evening hours, accommodating up to 2,000 pedestrians per hour.
Standard traditionally phased signals at intersections are designed to offer vehicles and pedestrians the opportunity to move together in the same direction at the same time. Potential conflicts may arise when there is a high volume of vehicular traffic making left or right turns, which means that cars are able to pass through pedestrian crossings during green walk signals (though drivers of cars are always mandated to yield to pedestrians in accordance with state law).
The City of West Hollywood, in developing a nighttime pedestrian-only phase for the crosswalks at the intersection of Santa Monica Boulevard and N. Robertson Boulevard, seeks to add an additional layer of pedestrian safety by eliminating all vehicle movement at the intersection at the times that pedestrian volume is the highest. During the day and on lower-volume nights when the intersection has a lower pedestrian count, the intersection will function with standard traditionally phased signals, which will offer longer periods of green lights for vehicles to ensure maximum traffic flow at commute hours, while still regarding pedestrian safety.
Intersection improvements are part of the City's continuous commitment to explore a mix of measures to address safety. The constant movement of dense vehicular traffic and pedestrians in close proximity is an ongoing challenge not only in West Hollywood but in cities across the nation. The nighttime pedestrian-only phase for the crosswalks at this intersection joins a variety of improvements as part of comprehensive plan with three unique areas to improve pedestrian safety: Engineering, Enforcement, and Education.
For additional information about the City of West Hollywood's efforts to improve pedestrian safety, please call the City of West Hollywood's Department of Public Works at (323) 848-6375. For people who are Deaf or hard of hearing, please call TTY (323) 848-6496.
City of West Hollywood to Host Two Virtual Workshops at the End of August to Seek Community Input on the Vision for the Willoughby, Kings, Vista/Gardner Greenway Project
The City of West Hollywood is hosting two virtual community workshops at the end of August 2022 to seek community input on the vision for the Willoughby, Kings, Vista/Gardner Greenway Project. The workshops will be a guided discussion led by project partners, Here LA, to provide more information about the pilot project traffic calming strategies that were installed along Willoughby Avenue in April and to discuss the future vision of the streetscape for the Willoughby, Kings, Vista/Gardner Greenway Project. The City seeks community's input about a streetscape plan as the project progresses into the final stages and implementation.
Community members are invited to attend one of two free virtual workshops, pre-registration is highly encouraged:
· The first virtual workshop will be held on Thursday, August 25, 2022 at 5:30 p.m. register on the Zoom platform.
· The second virtual workshop will be held on Saturday, August 27, 2022 at 9:30 a.m. register on the Zoom platform.
For individuals who wish to provide input about the project but who are not able to attend the virtual workshop, the City is providing a number of other ways to provide feedback (via text message, via an app accessed with QR codes at the sites of the temporary installations, or via a web submission form). More information about these feedback opportunities, a brief animated video about the project, and RSVP links for the upcoming virtual community meetings are available at www.weho.org/city-government/city-departments/planning-and-development-services/long-range-planning/mobility-planning/willoughby-vista-gardner-street-design-project.
The pilot phase of the Willoughby, Kings, Vista/Gardner Greenway Project began in April 2022 and consists of temporary traffic improvement strategies such as a traffic diverter at Ogden/Willoughby, corner curb extensions at Spaulding/Willoughby, and a mini-roundabout at Curson/Willoughby. These traffic calming measures were installed, temporarily, to model the impacts of street designs which intend to slow and/or divert traffic in order to make the residential corridor safer for local residents, pedestrians and cyclists.
            For more information about the Willoughby, Kings, Vista/Gardner Greenway Project, please contact Bob Cheung, City of West Hollywood Senior Transportation Planner, at [email protected] or (323) 848-6346.
For assistance regarding the virtual workshops and registration, please contact Paige Portwood, City of West Hollywood Associate Planner, at [email protected]. 
For people who are Deaf or hard of hearing, please call TTY (323) 848-6496.
'CicLAvia—Meet the Hollywoods' will Take Place in the City of West Hollywood on Sunday, August 21
CicLAvia—Meet the Hollywoods Presented by Metro will take place on Sunday, August 21, 2022. The City of West Hollywood, and the City of Los Angeles neighborhoods of Hollywood and East Hollywood will be transformed into car-free open streets for the day.
From 9 a.m. to 4 p.m. on Sunday, August 21, 2022 from the Hollywood Walk of Fame to the City of West Hollywood's inclusive pride crosswalks, everyone is invited to come along for the ride and walk, bike, roll, and stroll through along the area's most iconic streets. The event will close Santa Monica Boulevard from N. La Brea Avenue to N. San Vicente Boulevard to vehicle traffic and thousands of cyclists will fill the streets.
The City of West Hollywood invites CicLAvia participants to make a day of it in West Hollywood and attend the City's free Summer Sounds Concert Series finale on Sunday, August 21, 2022 at 5 p.m. at Plummer Park, located at 7377 Santa Monica Boulevard, featuring M&M The Afro-Persian Experience. The Afro-Persian Experience is a duo featuring Persian kamancheh master Mehdi Bagheri and artist/percussionist Marcus L. Miller. The music consists of all original compositions created by Bagheri & Miller and is deeply rooted in the traditions of ancient Persia and Africa. Their unique sound results from the natural contrast of their individual musical styles as well as the expression of their passion for the music. This concert is presented in partnership with Grand Performances supported by an arts grant from the City of West Hollywood.
For those who wish to attend without attending CicLAvia, Summer Sounds concert parking will be available in the Plummer Park north lot off Fountain Avenue at N. Vista Street; CicLAvia will provide north-south vehicle crossings for through traffic at N. La Brea Avenue and N. Fairfax Avenue.
CicLAvia is a nonprofit organization that catalyzes vibrant public spaces, active transportation, and good health through car-free streets. CicLAvia engages with people to transform our relationship with our communities and with each other. Inspired by Bogotá's weekly ciclovía, CicLAvia temporarily closes streets to car traffic and opens them to Angelenos to use as a public park. Free for all, CicLAvia connects communities to each other across an expansive city, creating a safe place to bike, walk, skate, roll, and dance through Los Angeles County. 1.6 million people have experienced CicLAvia; it is the biggest open streets event in the United States.
For additional information about CicLAvia—Meet the Hollywoods, please visit www.ciclavia.org/hollywood22.
For general information about CicLAvia, please visit www.ciclavia.org.
For more information, please contact the City of West Hollywood's Event Services Division at [email protected].
For people who are Deaf or hard of hearing, please call TTY (323) 848-6496.
City of West Hollywood Commemorates Women's Equality Day with a Pop-Up Experience: Women's Equality Day – WeHo Takeover
The City of West Hollywood and its Women's Advisory Board will present the City's annual celebration of Women's Equality Day honoring the optimism, tenacity, and unrelenting spirit of the people who worked to secure women's right to vote, and to illustrate how much can be achieved in a democratic society by the collective efforts of citizens committed to political reform.
Women's Equality Day – WeHo Takeover is a pop-up experience featuring signage and giveaways celebrating women mobilizing for equal rights and recognizing the anniversary of the 19th Amendment, which gave women the right to vote. It will take place on Saturday, August 27, 2022 from 6 p.m. to 8 p.m. at the intersection of Santa Monica Boulevard and N. San Vicente Boulevard in West Hollywood. Community members can participate by picking up free sashes, buttons, and other mementos, as well as by taking photos to share promoting voting rights, pay equity for women, and support for the Equal Rights Amendment. Face masks are encouraged for attendees. West Hollywood businesses are invited to participate in the Women's Equality Day – WeHo Takeover by displaying signage, sharing messaging, and offering themed promotions. For more information, please visit www.weho.org/19th. 
In addition to the Women's Equality Day – WeHo Takeover, West Hollywood City Hall and the City's lanterns over Santa Monica Boulevard will glow in the colors of purple and yellow in recognition of the women's suffrage movement. 
 For more than two decades, the City of West Hollywood has commemorated Women's Equality Day in a variety of ways. The City of West Hollywood was the first city in the nation to declare itself pro-choice and it has continually supported state and federal legislation protecting and advancing women's reproductive rights and access to healthcare. The City supports the passage of the Equal Rights Amendment and has a strong record of supporting initiatives that call for equal pay for equal work. The City's Women's Advisory Board is involved in a myriad of programming and events that recognize and support women in the community.
For more information, please contact Yvonne Quarker, City of West Hollywood Director of Community Services, at (323) 848-6408 or at [email protected] 
For people who are Deaf or hard of hearing, please call TTY (323) 848-6496. 
City of West Hollywood to Host 'NextGen Summer Social' at the New West Hollywood Park Aquatic and Recreation Center Respite Deck Overlooking the City on Monday, August 29
The City of West Hollywood will host a NextGen Summer Social on Monday, August 29, 2022 at 6:30 p.m. at the West Hollywood Park Aquatic and Recreation Center Respite Deck, located at 8750 El Tovar Place. The event will be an opportunity for West Hollywood's Next Generation to meet neighbors and local business owners, learn more about the City's NextGen initiative, and provide feedback about upcoming programming and events. People who live, work, and play in West Hollywood are encouraged to come, mix, and mingle.  
NextGen is a civic participation initiative aimed at engaging constituents under the age of 40 who would like to get involved with civic life, and particularly people who are interested in being involved in the evolution of government programs and services in West Hollywood over the coming decades. The event is aimed at NextGen community members, but is open to everyone. Attendance at the NextGen event is free, but advance RSVPs are requested. To RSVP, please visit https://nextgensummersocial.splashthat.com.
In 2016, the City of West Hollywood launched the NextGen initiative aimed at enhancing outreach and engagement with the City's 40-and-under population.  The movement represented an intentional shift in the way the City engages with the new generation of residents and community members. Nearly half of residents in the City of West Hollywood are under the age of 40. Yet many younger people in the City are not actively engaged in local decision-making. The NextGen is passionate about a myriad of issues, yet this age group is disproportionately underrepresented at all levels of governmental leadership, as well as in the voting electorate.
For more information, please contact Jasmine Duckworth, Community Programs Coordinator for the City of West Hollywood, at (323) 848-6559 or [email protected].
For people who are Deaf or hard of hearing, please call TTY (323) 848-6496.
LACFD Lifeguard Div. announces death of Ocean Lifeguard Derek Traeger
Trager, 28, whose guard/patrol area was the beaches of Santa Monica North, had worked for the department for the past six years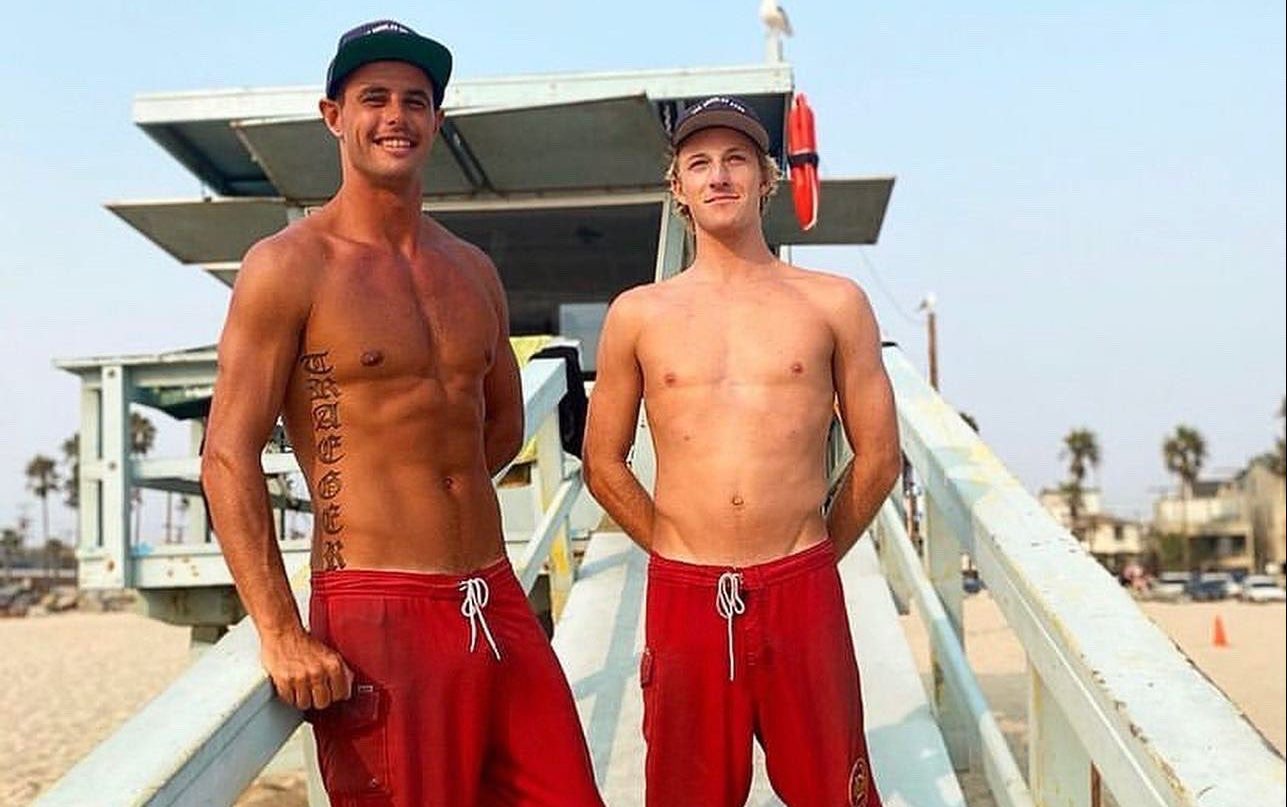 LOS ANGELES – On Monday, the Los Angeles County Fire Department, Lifeguard Division announced that the department lost an active-duty Ocean Lifeguard Derek Traeger on Sunday, August 14.
Trager, 28, whose guard/patrol area was the beaches of Santa Monica North, where the Pacific Coast Highway leads to Malibu, had died on in a freeway accident the L.A. County coroner's office said in a statement. The cause of death was listed as blunt trauma. Details about the crash were unavailable according to the Medical Examiner-Coroner's office.
Trager had worked for the department for the past six years. It's not an easy job NBC News had noted. The county requires viable candidates to perform a 1,000-meter ocean swim and then undergo 100 hours of training — and some lifeguard organizations have had a hard time staffing up for summer.
The division is responsible for 72 miles of coastline, from the Orange County line to its border with Ventura County, and a typical year can demand 10,000 or more ocean rescues.
Traeger was born and raised in San Pedro where he learned to swim and surf. He was a LA County Junior life guard for 9 years, a Cadet for 2 years. He swam for San Pedro High School and was captain of the San Pedro High surf team. He has been a swim instructor since 2011. He was a student at California State University Long Beach, an online bio read.
Julia Almanzan, Principal Deputy Los Angeles County Counsel and the parent of a child assisted by Traeger posted a noted of gratitude on Facebook with a photo of the Ocean Lifeguard and her kid: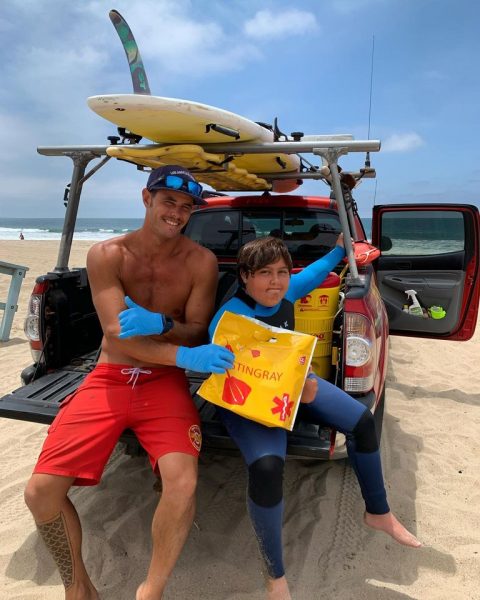 "This 28yo @lacolifeguards Derek Traeger passed away on Sunday. I only know him from his assistance in treating and caring for @lucasalexanderah in my absence during @summerofsurf at Santa Monica beach in July. Derek was really good with kids, especially mine…and really good with moms who are far away from their kids during medical emergencies. I'm so sad such a good human has left this earth too soon. May he Rest In Peace. A huge thanks to @monica.mihaly.5 @christophermihaly for also caring for Lucas pending my arrival, and capturing this helper in action. There couldn't be a better set of caring people circling Lucas at such an unfortunate time."
In a Twitter thread, the department noted;
"OL Traeger understood better than most what it means to wear the red trunks. His passion for life, art, the ocean, and his lifeguard family was evident in every moment he lived," the tweet read. "We extend our deepest condolences to the family, friends, & colleagues of OL Traeger."
(1/3) It is with great heartache the Los Angeles County Fire Department, Lifeguard Division shares the active duty death of Ocean Lifeguard Derek Traeger on Sunday, August 14, 2022. Ocean Lifeguard Traeger faithfully served the County of Los Angeles for 6 years and was last pic.twitter.com/Khbajke4Wz

— LACoLifeguards (@LACoLifeguards) August 15, 2022
(3/3) activated and services are available for family and team members.

We extend our deepest condolences to the family, friends, & colleagues of OL Traeger. More information will be shared when available.

— LACoLifeguards (@LACoLifeguards) August 15, 2022