Baja is Mexico like you never imagined
The quality and detail compares to South of France but with sombreros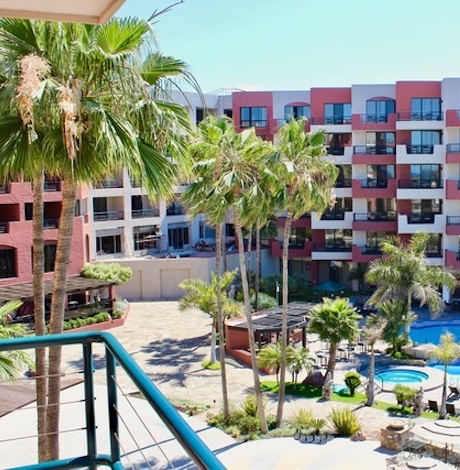 Shhh….I recently returned to Los Angeles after a five-day trip to Baja, California. I stayed in Ensenada and in the Valle de Guadalupe, or wine valley, and explored as much of the region as I could squeeze in. I already want to go back.
I'd like to tell the readers of the Los Angeles Blade that my trip was dangerous and that crossing the border was impossible, but it wasn't.
I'd like to tell you that the food was mediocre and that I got sick from the ice or something undercooked, but in fact everything I ate and drank was better than what you'd find in most of the best restaurants in LA – and it was beyond reasonably priced.
I'd like to tell you it was difficult to get around, and I needed a guide to hold my hand and chauffeur me to all the hotspots, but in fact it was so easy, I drove my own car, easily got car insurance online, and felt like a local immediately.
I'd like to tell you all these things, because I don't really want people from the U.S. to know how incredible Baja is. I'd like to keep it all to myself. My own version of the South of France meets Napa, with Michelin-star-food and service, all in my own backyard.
But, it's my job as a reporter to tell you where in Baja I recommend that you stay and eat. But please, I beg you, keep it to yourself.
First off, the drive from San Diego to Ensenada takes about 90 minutes – add the drive time from LA to San Diego, and it's another two hours. 
We stayed at the Hotel Coral & Marina, located just outside of downtown Ensenada. The Wi-Fi was great, the rooms spacious, the pool expansive, and the view of the marina and Pacific outstanding.  The staff was warm and helpful, and parking is included. Rooms are approximately $200 dollars per night, depending on the season.
I did not bring my incredible rescue dog, Mocha on this trip. Although Mexico is dog friendly, many of the hotels are not. So, while you won't need to quarantine your dog going into or out of Mexico, you should bring paperwork from the vet proving your animal is healthy and up to date on all of their shots. I would use BajaBound.com to answer all of your questions about bringing Fido, including best hotels. Most, if not all of the restaurants we went to are outdoors, so bringing your put isn't an issue.
Now, there are a lot of crappy, touristy restaurants in Ensenada. Places that cater to tourists who don't know Mexican food from a hole in the wall or as my father used to say, "their ass' from their elbows."
Boules, is NOT one of those restaurants. It's one of Ensenada's best-kept secrets.
Named after the French game, Boules offers a menu that is at once Italian, and also Mexican.  The risotto with duck, and the grilled octopus salad were delightful.  And the fish tacos were anything but traditional. The owner, Javier, is the life of the party, and the restaurant is most lively on nights like a Tuesday, when many of the more high-end spots are closed and the chefs from the Valle are off. This is where they come to hang out, play boules, drink wine and eat great food.
After we left Boules, we stopped at Cervecería Doble C, an incredible micro-brew, owned by twins Alan and Omar Celis, 25. These brothers know how to make beer. Like many of the places we visited in Baja, it's the hip kids who have made the trendy food, wine, and beer center that it is. Alan and Omar were trained in the beer craft in San Diego, and have won multiple awards for their brews.
To explore the Valle de Guadalupe, it's best to spend the night there, so we spent one night in Ensenada, then drove the 20 minutes up into the Valle, spent a night and returned back to the Hotel Coral & Marina for another two nights.
One of the newest properties in the Valle is the Maglén Resort, located in the heart of the wine valley.
Off the beaten path, but not too far, Maglén, offers the kind of tranquility not easily found in L.A., but abundant in Baja.
From villas, with full working kitchens, and several bedrooms, with views overlooking the vineyards, to more romantic one bedroom and studio casitas, to traditional resort rooms, Maglén is a quiet and sublime getaway.
We stayed in one of the more modest rooms near the center of the property, and enjoyed our huge walk-in shower, comfy bed, and proximity to the restaurant and pool. Best of all there are no TVs.
We ate at both restaurants, Ha'Che and Cantera, and both were outstanding. Chef Joel Quintana creates a menu fusing Mexican, European and Asian cooking techniques, that both delights and surprises the palate.
Ensenada's food and wine scene may not be on most Americans' radar, but many of the chefs working in the region are trained in Europe and Mexico City. They are geniuses at using the resources in the area, and take the whole "farm-to-table" concept to another level. Dishes are virtually 100 percent locally sourced. They grow it, they pick it and they plate it. It's their thing, and they do it very well.
Prices vary at Maglén, but rooms run from $200 to $400 dollars per night depending on room type, and meals are anywhere from $20 to $50 per person, depending on the entree.
After a restful night at Maglén, we headed to La Cava de Marcelo.
Again, I'd like to point out that as long as you have a major cell phone provider, you should have working navigational help on your phone to guide you. Just follow the directions, and you should have no trouble finding these places. I didn't have any issues, and I drove the whole time.
Located near the town of Ojos Negros, about 20 miles south of Ensenada, La Cava de Marcelo sits on a 100-year-old dairy farm. The family-owned farm makes gourmet, artisanal and all-natural cheeses.
Owned and operated by Marcelo Castro, a fourth-generation cheese maker, La Cava de Marcelo, is the only cheese cellar open to the public in Latin America. 
Built in 2008, the cellar sits on 60 acres of grassy lands in the valley of Real de Castillo, and uses grass, alfalfa, corn, grain and fresh water to feed the 200 or so Holstein cows.
The Swiss/Italian family launched their business in 1911, and has been producing small batches of their creamy, fresh basil, rosemary, and pepper and olive oil cheese varietals prosperously ever since.
A tasting cheese plate, with wine, and bread was $10 dollars per person. Amazing!
Next up we travelled to Vinícola y Olivarera Bodegas del Paraíso, one of the lesser-known vineyards producing olive oil, wine and featuring one of the hottest young chefs in the Valle.
At only 27-years-old, the head chef at Xató, the restaurant on the Vinícola y Olivarera Bodegas del Paraíso property, Victor Jara, is fast on his way to becoming a voice to contend with and should soon join the ranks of some of Baja's best.
For those readers who're not aware, several of the chefs working in the Valle are world renowned in the food scene.
Chefs such as Javier Plascencia, who single-handedly transformed Tijuana's food world, with this restaurant Misión 19, to chef Diego Hernandez of Corazón de Tierra, named one of the 50 best restaurants in Latin America, to Chef Miguel Angel Guerrero, the genius behind what's known as the "Baja Med Movement." These guys, favorites of the late Anthony Bourdain, after his Baja episode of "Parts Unknown," have earned multiple awards and are rock stars to foodies in the know.
I could go on and on, there are great little spots all over Baja and throughout the Valle – too many to name.
I suggest you take a look at AGringoInMexico.com for great tips on places to stay and eat. San Diego-based lifestyle writer W. Scott Koenig has traveled throughout Mexico and Baja California for over twenty years, and he founded the site after years of escorting guests to the region.
Have fun. Don't be afraid. They're not rapists or animals, and their food isn't covered in cheese. Don't do tequila shots, sip a nice tequila or mezcal after dinner, and enjoy your vacation paradise. Everyone is welcome.
Just don't tell a lot of your friends. Let's keep it for ourselves.
Quinn destined to be 1st Trans Nonbinary Olympic medalist
"I'm so proud of my team," Quinn told the CBC. "They're my best friends. I'm so glad we're bringing back a better medal than bronze."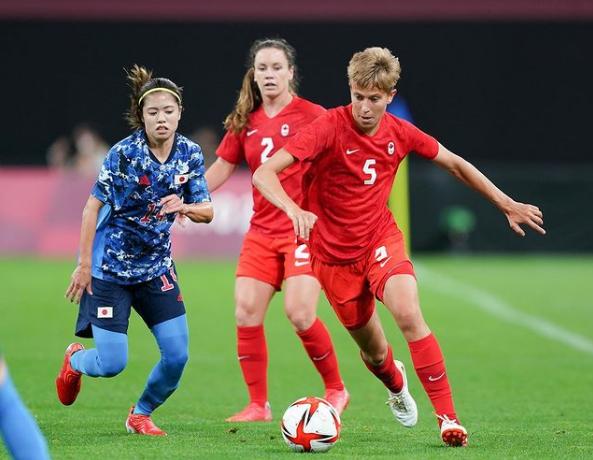 KASHIMA-SHI, JAPAN – Before this week ends, the world will know the name Quinn: They will be the first-ever trans nonbinary athlete to win an Olympic medal. 
Quinn already made history as the world's first trans nonbinary athlete to compete in any Olympic games. Now they and their teammates are on their way to winning either silver or gold. All Team Canada has to do is defeat Sweden on Thursday as handily as it did the number one-ranked USWNT in a 1-0 shutout Monday. Lose, and they get the silver; Win, and Quinn and Team Canada take home gold.
"I'm so proud of my team," Quinn told the CBC. "They're my best friends. I'm so glad we're bringing back a better medal than bronze."
Reporters asked Quinn about the historic nature of their participation, but they were focused on supporting their teammates who have waited almost a decade for this moment.
"I'm doing this for the people I grew up looking up to. Like Sincy," they said.
"We finally won," said Captain Christine "Sincy" Sinclair. "For those of us who were part of the 2012 game, it was nice to get a little revenge in an Olympic semifinal."
On the other side of the pitch, out USWNT legend Megan Rapinoe talked with NBC Sports about how it felt to lose to Canada: "It sucks," she said. "It's a bitter one to swallow. Obviously we never want to lose to Canada. I don't think I've ever lost to Canada. So it's a bitter one."
Rapinoe is engaged to marry Team USA co-flag bearer and Seattle Storm sensation Sue Bird, the longest tenured player in the WNBA. She's in Tokyo chasing her fifth gold medal, in what she said would be her last Olympics. Rapinoe has one, from London in 2012, where Team Canada suffered defeat and heartbreak.
Until Monday, the American women hadn't lost to Canada in two decades. They traveled to Tokyo as back-to-back defending World Cup champions, having not lost a single match in 44 tries. They hadn't been shutout in four years.
Then Canada's Jessie Fleming of London, Ontario converted a penalty kick in the 74th minute to score the only goal of Monday's match, sending the ball past out American goalkeeper, Adrianna Franch.
So, for Team USA to have lost twice and get shutout three times, with bronze as their best hope? It's a stunner for the iconic team with at least four out women: Rapinoe, Franch Tierna Davidson and Kelly O'Hara.
For Quinn, this is also about showing the next generation what they can get from playing sports.
"Athletics is the most exciting part of my life and it brings me the most joy," Quinn told CBC Sports on Monday. "If I can allow kids to play the sports they love, that's my legacy and that's what I'm here for."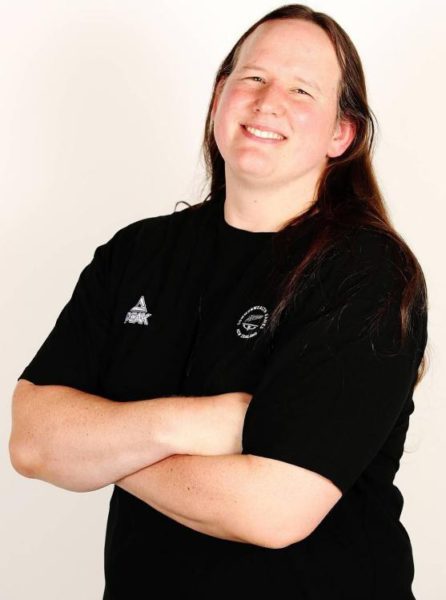 Also Monday, weightlifter Laurel Hubbard of New Zealand became the first out transgender woman to compete in any Olympic Games. Unfortunately, her history-making appearance was short.
Hubbard, 43, had three chances to advance in "the snatch" first round of the Women's Super Heavyweight Division competition in Tokyo Monday, but failed to complete a lift that counted. She was the only one of the 13 finalists to not complete at least one lift in the competition that was ultimately won by China's Li Wenwen.
Before leaving the stage, Hubbard pounded her chest and made a heart gesture with her hands, sending a message of gratitude to the judges, the audience and everyone watching online and on television around the world. 
Photo courtesy New Zealand Olympic Team
Later, Hubbard told reporters she was grateful to the International Olympic Committee, which supported her entry and last week declared, "Trans women are women." 
"Of course, I'm not entirely unaware of the controversy which surrounds my participation in these Games," Hubbard said after leaving the competition. "And, as such, I'd particularly like to thank the IOC, for, I think, really affirming their commitment to the principles of Olympism, and establishing that sport is something for all people. It is inclusive. It is accessible."
The International Weightlifting Federation also earned Hubbard's thanks, she said, because "they too have shown that weightlifting is an activity that's open to all of the people in the world."
Out Olympian Kenworthy & Paralympian Dunkin on Tokyo & LGBTQ Sports
"The fact that LGBTQ youth drop out of sports at twice the rate of their heterosexual & gender counterparts, it doesn't have to be that way."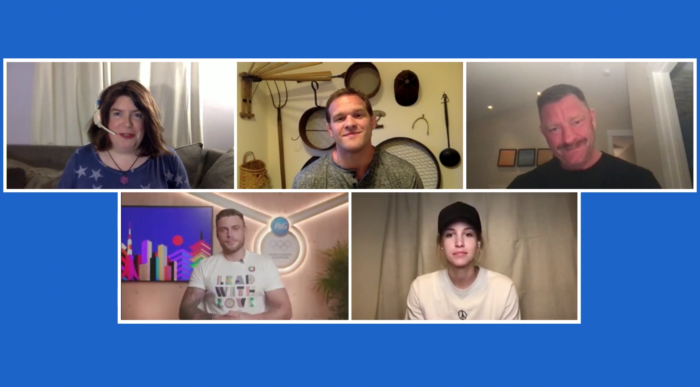 TOKYO – Gus Kenworthy is in Tokyo for the Summer Games, but not to compete. The  Olympic Gold Medalist recently joined Paralympian Gold Medalist Abby Dunkin in a Zoom conversation with Athlete Ally founder and executive director Hudson Taylor and the head of LGBTQ+ equality and inclusion for Procter & Gamble, Brent Miller. 
"I felt like I knew that if I came out, there must be someone else," Kenworthy said. "I was like, there's someone else in skiing or an action sports or another kid who is going to resonate with my story. And if I can even help one person, then it will be worth it."
This group of athletes and allies tackled the difficult issues of coming out in sports, fears of rejection, suicide attempts and competing authentically as well as the controversy over transgender inclusion in sports, both at the Olympics and in high schools and colleges across the U.S.
"Only 24% of LGBTQ youth participate in sports," noted Taylor. "The fact that LGBTQ youth drop out of sports at twice the rate of their heterosexual and gender counterparts, it doesn't have to be that way."
Dunkin credited Paralympian gold medalist Stephanie Wheeler as an inspiration both on the court and in everyday life as an out lesbian. 
"Stephanie really creates such a great environment for me and other athletes and also our staff, too, that were out at the time," said Dunkin. "And that really impacted me to come out and be myself." Wheeler is also head coach of the Univ. of Illinois women's wheelchair basketball team.
As the Los Angeles Blade has reported, there are more than 142 out LGBTQ athletes competing in Tokyo, a record for any Olympic Games. And with trans nonbinary soccer player Quinn on their way to a potential gold medal, making history with out trans woman Laurel Hubbard and out trans BMX competitor Chelsea Wolfe in Tokyo, Miller says their first steps are inspiring to people all around the world, no matter what their gender identity or sexual orientation is. 
"It's about bringing people together, supporting people, creating mutual understanding, and really celebrating all of humanity," Miller said. "And now for us, bringing those LGBTQ+ stories forward is critically important because we see the value of what sport can bring."
Watch their conversation with sports editor Dawn Ennis by clicking here.
Equal Representation in Sports: Why LGBTQ+ Visibility Matters
Rapper DaBaby pulled by Lollapalooza over homophobic comments
"Lollapalooza was founded on diversity, inclusivity, respect, and love. With that in mind, DaBaby will no longer be performing."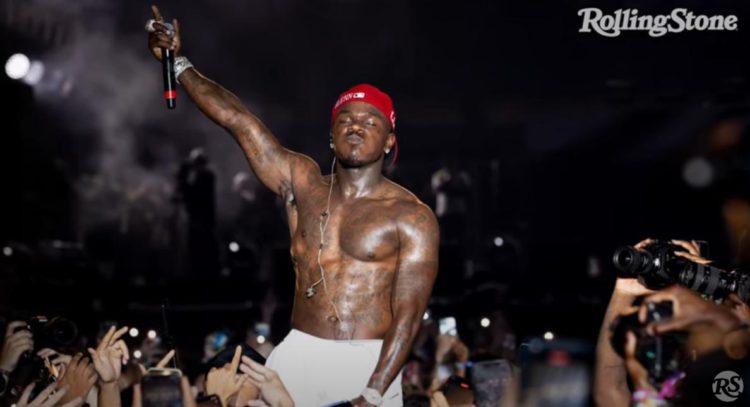 CHICAGO – In an announcement Sunday morning, the organizers of Chicago's Lollapalooza Music Festival said they had pulled artist DaBaby from tonight's closing show after a series of public homophobic remarks by the rapper last weekend in Miami at the Rolling Loud music festival.
On Twitter Lollapalooza officials wrote; "Lollapalooza was founded on diversity, inclusivity, respect, and love. With that in mind, DaBaby will no longer be performing at Grant Park tonight. Young Thug will now perform at 9:00pm on the Bud Light Seltzer Stage, and G Herbo will perform at 4:00pm on the T-Mobile Stage."
Lollapalooza was founded on diversity, inclusivity, respect, and love. With that in mind, DaBaby will no longer be performing at Grant Park tonight. Young Thug will now perform at 9:00pm on the Bud Light Seltzer Stage, and G Herbo will perform at 4:00pm on the T-Mobile Stage. pic.twitter.com/Mx4UiAi4FW

— Lollapalooza (@lollapalooza) August 1, 2021
The Grammy-nominated rapper's comments onstage at the Miami festival last weekend brought swift condemnation from other artists in the music industry including British Rockstar Elton John and Madonna among many others.
In the middle of his set last weekend in Miami the rapper told the crowd, "If you didn't show up today with HIV/AIDS, or any of them deadly sexually transmitted diseases, that'll make you die in two to three weeks, then put your cellphone lighter up! Ladies, if your pussy smell like water, put your cellphone lighter up! Fellas, if you ain't sucking dick in the parking lot, put your cellphone lighter up!"
DaBaby later issued an apology via Twitter that read, "Anybody who done ever been effected by AIDS/HIV y'all got the right to be upset, what I said was insensitive even though I have no intentions on offending anybody. So my apologies" However, the addendum in the same tweet of; "But the LGBT community… I ain't trippin on y'all, do you. y'all business is y'all business." was immediately decried as further proof of the rapper's intolerance of the LGBTQ community.
Anybody who done ever been effected by AIDS/HIV y'all got the right to be upset, what I said was insensitive even though I have no intentions on offending anybody. So my apologies 🙏🏾

But the LGBT community… I ain't trippin on y'all, do you. y'all business is y'all business.

— DaBaby (@DaBabyDaBaby) July 27, 2021
Michael J. Stern, a Los Angeles attorney and a former federal prosecutor who is now a noted featured columnist for USA Today blasted DaBaby's 'apology;'
Yeah, we've got the right to be upset.

We've also got the right to refuse to accept an apology that was prompted by public outcry and not a genuine understanding of, and remorse for, the horrific things you said.

— Michael J. Stern (@MichaelJStern1) July 28, 2021
In his response to Dababy's remarks Elton John, who founded the Elton John AIDS Foundation in 1992, a nonprofit organization which funds frontline partners to prevent infections, fight stigma and provide care for the most vulnerable groups affected by HIV, responded in a lengthy series of tweets:
(2/5)

👉 HIV has affected over 70 million people globally: men, women, children and the most vulnerable people in our communities.

— Elton John (@eltonofficial) July 28, 2021
(4/5)

👉 You can live a long and healthy life with HIV. Treatment is so advanced that with one pill a day, HIV can become undetectable in your body so you can't pass it onto other people.

— Elton John (@eltonofficial) July 28, 2021
(5/5)

👉 Homophobic and HIV mistruths have no place in our society and industry and as musicians, we must spread compassion and love for the most marginalised people in our communities.

A musician's job is to bring people together.

— Elton John (@eltonofficial) July 28, 2021
Madonna took to her Instagram telling the rapper to "know your facts," before spreading misinformation.
"AIDs is not transmitted by standing next to someone in a crowd," she wrote on Instagram. "I want to put my cellphone lighter up and pray for your ignorance, No one dies of AIDS in 2 or 3 weeks anymore. Thank God."
This year's Lollapalooza festival, which is one of the first major festivals to return in full force since the start of the coronavirus pandemic in the United States, concludes Sunday with headlining performances by musical acts Brockhampton, the Foo Fighters, and Modest Mouse.
Dua Lipa 'Horrified' at DaBaby's Homophobic Remarks at Rolling Loud | RS News 7/28/21