Your daily guide to Outfest 2018: July 17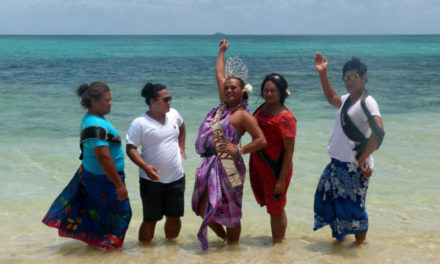 Outfest is a great experience for LA film fans, but it can be a little intimidating.  With so many films and events to choose from, it can be difficult to even know where to start.  That's why the Los Angeles Blade is here to break it all down for you, on a daily basis.
For the duration of the festival, we'll be posting a daily roundup here with a brief look at the selections of the day.  Whether you're a hard-core movie buff who plans to see as many screenings as possible, or a casual moviegoer looking for a date night treat, we've got you covered!
Just take a look at the offerings of the day and then head on over to www.outfest.org for ticket information.
TUESDAY, JULY 17
The venues for today are:
DGA 1 and DGA 2, at Director's Guild of America, 7920 Sunset Blvd., L.A., 90046
PDLR (Plaza de la Raza), 3540 N Mission Rd, L.A., 90031
THE SCREENINGS:
Leitis in Waiting (DGA 2, 5pm):  Fighting for the right to openly express their true genders and to challenge their traditional roles in the culture, leitis confront resistance from the deeply religious parts of Tongan culture. In the face of poverty and opposition from fundamentalist Christians, leitis organize a beauty pageant and host a community dialogue, challenging their limited social mobility and fighting for inclusivity in a country they love. Presented in partnership with the Red Nation Indigenous Film Festival; directed by Dean Hamer, Joe Wilson and Hinaleimoana Wong-Kalu.  Preceded by 3 Siblings (Dir: Sheena Rossiter, 23 min.).
Reinventing Marvin (Marvin Ou La Belle Éducation) (DGA 1, 7pm):  Martin Clement is about to give the performance of his life: his life story, that is, in an autobiographical stage play. As a child, young Marvin Bijoux was bullied by homophobic classmates at school and misunderstood by his often-neglectful parents, making him feel like a lonely outsider in his small rural French village. But when a kind school principal guides him to join the drama club, Marvin discovers his gifts for play-acting the misery that surrounds him. When he qualifies to attend a theatrical school, Marvin acts the role of the brash straight stud until he meets an older mentor who encourages him to acknowledge his sexuality and to exorcise his pain by putting it all on the stage.  This sweeping drama from director and co-writer Anne Fontaine (The Innocents, Coco Before Chanel) captures a life in the theater, as we see timid young Marvin (Jules Porier) blossom into adult Martin (Finnegan Oldfield, Nocturama) — with a little help along the way from Isabelle Huppert, playing herself. Fontaine masterfully spins a powerful yet subtly heartbreaking tale that reminds us that no matter how far we get from our upbringing, a piece of it remains with us always. Post Screening Reception: DGA Atrium, 9:00-11:00pm.
AIDS Diva: The Legend of Connie Norman (PDLR, 7pm):  As the self-appointed "AIDS DIVA" and ACT UP/LA spokesperson in early 90's Los Angeles, Connie Norman stood proudly in her multiple, fluid and evolving LGBTQ identities. Both beloved and confrontational, Connie's soulful and salty rantings and intersectional politics were heard widely through her newspaper column, and pioneering radio and cable TV talk shows. Serving as a bridge in both gender and politics, and modeling "wokeness" in an early era of crisis, Connie's piercing and compassionate voice urges us again into action, to fully engage with our lives and our world. Followed by an extended conversation with filmmaker Dante Alencastre and other special guests.  Preceded by Fusion One Minute Movie Contest Program Two: Eden (Dir: Chanelle Tyson), Dusted (Dir: Calvin Lam), Can Also Play (Dir: Mildred Lewis, 3 min.).
Beyond Binaries – Shorts (DGA 2, 7:15pm):  Each of these exceptional stories expand our limited definition of gender and breathe authenticity back onto the screen with every frame. From beating back fears of discrimination to expressing yourself through experimental dance, demonstrating bravery in the face of unwelcoming family members or blazing trails for fellow young students, the extraordinary individuals at the heart of these stories showcase a proud love of truth over fear.  Curated by Angelica Ross.  Shorts: Anima X Animus (Dir: Frances Chen, Dorian Tocker, 3 min.), October (Dir: Maegan Mann, 9 min.), Sunken Plum (Dir: Roberto F. Canuto, Xiaoxi Xu, 20 min.), Do I Have Boobs Now? (Dir: Milena Salazar & Joella Cabalu, 7 min.), First Day (Dir: Julie Kalceff, 18 min.), There You Are (Dir: Lisa Donato, 17 min.), Beauty (Dir: Christina Willings, 23 min.).
Latin American Shorts (PDLR, 9pm):  Be prepared for our most eclectic Latinx program ever. It embraces all LGBTQ communities at once. Shorts from Brazil, Colombia, Mexico, Costa Rica, and the Dominican Republic show us that it doesn't matter in which America we live — South, Central, or North — we need to be united to empower our community in the fight against discrimination and for equal rights, gender equity, and freedom of expression.  Curated by João Federici. Shorts: Tailor (Dir: Calí dos Anjos, 10 min.), Elena (Dir: Ayerim Villaneuva, 22 min.), Profane Cow (Vaca Profana) (Dir: René Guerra, 15 min.), Julia's Piece (Una Pieza Para Julia) (Dir: Amelia Eloisa, 9 min.), Afronte (Dir: Bruno Victor & Marcus Azevedo, 16 min.), Naranja (Dir: Hanna Isua, 3 min.), Sandra Calling (Dir: João Cândido Zacharias, 13 min.).
Sodom (DGA 1, 9:45pm):  It's the beginning of a beautiful friendship when former pianist Michael happens upon 20-year-old soccer player Will; it's Will's bachelor party, and his friends have left him naked and handcuffed to a lamppost. Michael takes Will home and an immediate attraction blossoms. But does Will have the courage to pursue his obvious interest in the elegant older man? Or will these guys merely pass in the night? Sexy and intimate, this new British import by director Mark Wilshin features a pair of powerhouse performances from Jo Weil and newcomer Pip Brignall.  Preceded by Night Shift (Dir: Chris Phillips, 13 min). Pre-Screening Reception: DGA Atrium, 7:30-9:30pm.
Queers for Fears – Shorts (DGA 2, 9:45pm):  It's time to write our own stories to tell in the dark! Genre films have proven lethally unkind to queer characters over the years — which is why it's crucial that we flip the script. From eerie rituals in suburbia to sexual voyeurs in the park, student loan slashings and nightmarish mazes of urban development, this year's electrifying collection of pulse pounding thrills stretches the possibilities of what it means to go bump in the night. Shorts: Malik (Dir: Nathan Carli, 15 min.), Disforia (Dir: Heidi Hartwig & Lio Mehiel, 8 min.), The Cleanse (Dir. Lucas Omar, 12 min.), Sell Your Body (Dir: Jaanelle Yee, 12 min.), Shadow Animals (Skuggdjur) (Dir: Jerry Carlsson, 21 min.), Islands (Les Îles) (Dir: Yann Gonzalez, 24 min.), Cake (Dir: Alan Friel, 6 min.).
My Unorthodox Life's Ra'ed Saade dishes up Reality TV spunk
Is America's Reality TV genre ready for frank discussions on open relationships?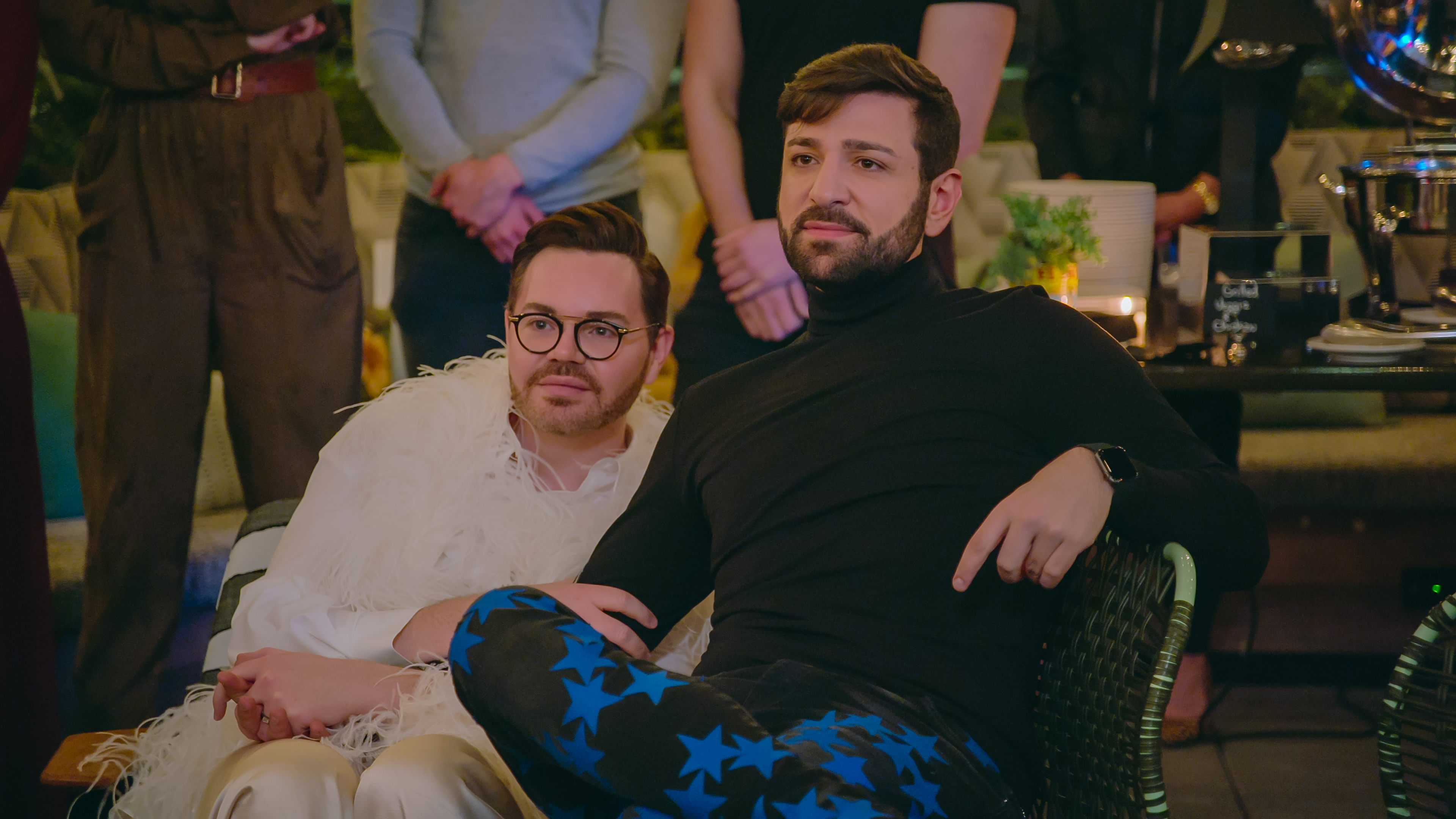 HOLLYWOOD – If you are like many who have reacted harshly to Real Friends of WeHo, you may feel a bit hopeless regarding reality television and its representation of gay men.
For all its misses, the reality TV genre still explodes across broadcast and streaming services. There are endless contests, there are weird matchmaking gimmicks and through it all, you can still find some gay fingerprints. And of course, there is Drag Race.
One of my personal guilty pleasures has been various "Real Housewives" franchises. Each franchise seems to study the behaviors of women who possess big egos, lots of money and are plied with a sloshing amount of alcohol. Sitting back in an armchair, shoveling popcorn and watching, is gay man, and executive producer, the boss and god of the Real Housewives world, Andy Cohen… (and oh yeah, me.) There is a perverse pleasure observing a hetero world where the Higher Power is gay and watching them all descend into madness.
It is all theatrical and somewhat staged, of course. We are the fourth wall of their world, and situations are played out and exaggerated for our benefit, and from the accounts of the people we are observing, only represent a fraction of their real lives.
Against this backdrop, Netflix's My Unorthodox Life plays on this voyeuristic concept but is refreshingly unique and insightful. While it certainly has Real Housewives trappings, it centers around the uber-wealthy and has even had Jill Zahn, an OG New York Real Housewife, drop in to give advice, the core is less about superficial squabbles and more about cultural oppression and the quest for personal empowerment.
The show centers around Julia Haart. Her life is literally "unorthodox" as her story arc describes her escape from the orthodox lifestyle of the ultra-conservative Haredi Jewish Community in Monsey, New York. In season one, three of her four children follow her and she mentors them into living life in the secular world as they each make personal strides to find their own unique identities. Julia herself becomes a fashion and design mogul, married to an incredibly wealthy husband Silvio Scaglia Haart, and best friend to her gay business partner, Robert Brotherton. Robert and Julia could not be more "Will and Grace" if they tried. Julia ends season one trying to matchmake Robert and find him true love. Apparently, she did not need to bother, as he had already been working on something off camera on his own.
As the sun rises on season two, we see seismic shifts have been made in the relationship statuses of the cast. Julia is now going into a divorce war with Silvio, and her oldest daughter has left her husband and their marriage which had been originally rooted in Haredi orthodox standards. Robert on the other hand, is no longer single, but has a boyfriend, with whom he has had a seven-year relationship.
Enter Ra'ed Saade, the boyfriend. Handsome and positive with a killer smile, he is somehow reminiscent of a male, Lebanese, gay Mary Richards as Lou Grant defined her in the classic sitcom.
Lou: You know what? You've got spunk…
Mary: Yeah, well (slight giggle)
Lou: I HATE spunk!
Ra'ed has spunk. In every sense of the word—double entendre intended. Will America "hate" his brand of spunk?
Mary, in her day, was one of the only single working women representations on network TV. Ra'ed is the first gay Arab man on Netflix reality TV. He is sex positive and allows himself to be a walking commercial for open relationships. On the show, he mixes a deep sense of romance and being the ultimate boyfriend, a superior friend and confidant, with being frequently horny, or as he himself describes it, "a slut."
Ok, so maybe Mary Richards never called herself a slut.
While Ra'ed is from Lebanon, he seems to have lived elsewhere most of his life. This is not unusual, he tells me, "The majority of the population of Lebanon live outside. We have more Lebanese people in Brazil than there are in Lebanon." Ra'ed was born in Dubai, moved to the Philippines, lived in Holland, and then spent his high school years in Saudi Arabia. He credits those high school years as being the ones that shaped him. "Saudi Arabia is a very conservative, Muslim country. There is when I discovered that I was a homosexual gay man. Surviving three years in Saudi Arabia as a homosexual man and keeping it to myself, acting and putting on… doing all the things you do when you're acting to cover up. That shaped a lot of things for me in my life. All the trauma of that period made me into this funny guy that knows, if I survived that, I could survive anything… I was considered an abomination and could have gotten up to the death penalty, especially in Saudi Arabia, and especially during the time that I was there. It was very frightening and scary. I didn't tell a soul other than the people I was sleeping with, of course they knew."
When he came to America and Syracuse University, everything changed. He met Robert. "It was like, opening a cave and letting the puppy come out. I smelled freedom. I felt I saw the rainbow colors in the sky every day. I just obviously fell in love. And here I am. I feel like I've arrived."
It was with that survival instinct that gave him the courage to go for the Middle East edition of The Voice, and to audition for America's Got Talent. When he hit the AGT stage, the audience loved his personality. His act? Not so much. He got booed off.
Spunk.
In the second season of My Unorthodox Life, Ra'ed and Robert starred in the first episode describing how they were living together. While the show misleadingly implied that their relationship was new, it was not only not new, but tried and true. "Rob and I have been soul mates for 16 years. We know each other through thick and thin, through rich and poor, famous and non-famous and good and bad. All of it. We know each other inside and out," Ra'ed told me on a recent Rated LGBT Radio discussion.
Haart's eldest daughter Batsheva was harsh when Ra'ed revealed that he believed in open relationships. She advocated for the couple to break up immediately. She made her comments right to Ra'ed's face on camera.
He has no regrets. "I'm such an open book and it's sometimes bad for me… I didn't have any hesitation because I stopped caring what people think and I am shameless, as you've seen on many shows. I just know the truth that is the truth," Ra'ed said to me about his stance. "The truth of the matter is Rob and I have been together as friends as you know, sexually active or whatever for 16 years, I mean, there is no doubt the loyalties– the love, is there. There's no doubt that I would jump off a cliff, I would take a bullet for Rob. All of these beautiful things– but when I'm going to Ibiza …Rob and I are going to go and flirt with everybody in the club. A lot of people do that in secret. It is okay to have an open relationship when you are honest and open with your partner and you guys have set the ground rules and you both are saying, yes, we agree, both say yes, we love, we love this idea. There's no problem with this and it's a way more fun lifestyle. I mean that's the truth. When you're in a relationship, you are together to lift each other up encourage each other and just build a beautiful life. You just don't own another person, you know."
Hi answer is direct, unapologetic and almost innocent. Spunk.
Will there be a season three of My Unorthodox Life? Ra'ed hopes so. "The assignment was my unorthodox life." Even if season two was the final he feels "like I completed the assignment." If there are more seasons, "There's a lot of facets and a lot of a lot of dynamics in my life that are unorthodox so I would love to open up more in coming seasons."
In the meantime, while Mary Richards famously twirled and threw her hat in the air on a Minneapolis street corner, Ra'ed is tossing his on a New York City Time Square street corner.
It is from there that he TikTok promotes his February 10th "Club Ra'ed" DJ evening of Middle East disco sounds, a one-time event he hosts. He has proven that spunk is alive and well.
The modern version is just a tad more exciting with a unique Arabic feel and a fun infectious rhythm.
Listen to the complete interview:
****************************************************************************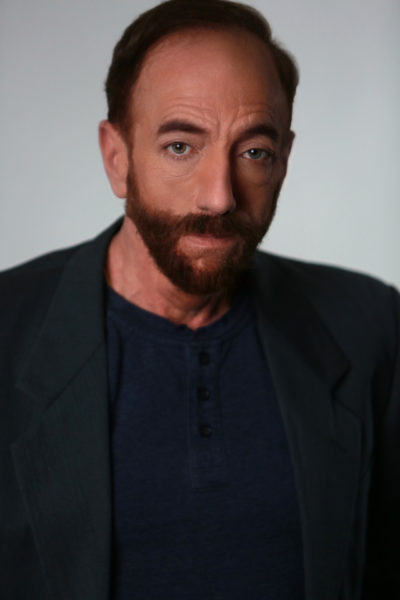 Rob Watson is the host of the popular Hollywood-based radio/podcast show RATED LGBT RADIO.
He is an established LGBTQ columnist and blogger having written for many top online publications including Parents Magazine, the Huffington Post, LGBTQ Nation, Gay Star News, the New Civil Rights Movement, and more.
He served as Executive Editor for The Good Man Project, has appeared on MSNBC and been quoted in Business Week and Forbes Magazine.
He is CEO of Watson Writes, a marketing communications agency, and can be reached at [email protected] .