An artful homage to LA queer space
The mightily ambitious Dirty Looks: On Location arts festival honors the city's LGBTQ legacy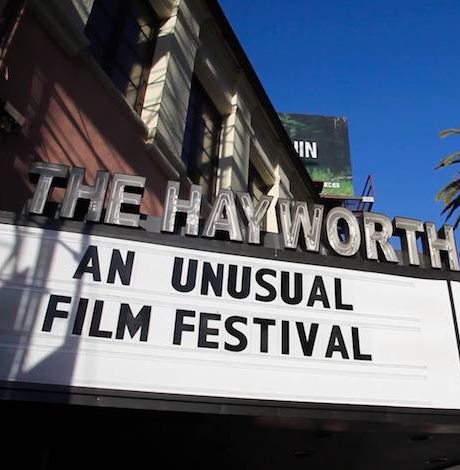 A 50th-anniversary tribute to LA's first-ever gay film festival. A one-night-only recreation of iconic LA cruise bar Cuffs. A celebration of the work of Jewel Thais-Williams, in the space that was once her Catch One club. These are just a few of the events that have already been a part of Dirty Looks: On Location, an incredibly ambitious and provocative multi-media exploration of the queer history of Los Angeles, making use of unique and often legendary queer spaces across the city to show rare films and mount special performances, with a different event happening every single evening of the month of July.

We spoke with Dirty Looks Founder and Creative Director Bradford Nordeen about the stimulating and expansive On Location festival, which he organized with 13 local curators, and which continues daily through July 31.
LOS ANGELES BLADE: How did you and your curators go about choosing the films and locations to include as part of the festival?
BRADFORD NORDEEN: We met over a series of dinners and bar moments, talking about the different LA stories that everyone was interested in telling. We passed around some books. It's not a literal festival, in that what you're watching doesn't necessarily relate to the space directly, more like the combination of site and film evoke a historical moment or element. So we took those opportunities to get to know one another and kind of plan how this year was going to pan out.
BLADE: Did the films always dictate the locations, or was it sometimes the other way around?
NORDEEN: In a way, I would say it's the action that dictates what's going on. The history that we are celebrating becomes the glue that brings together the venue and the film or performance. I feel like our event above The Masque, LA's first punk club (now World of Wonder's production offices) was a good example of this, where the punk films weren't about that exact venue, but about a distinctly Los Angeles, Latinx punk sensibility. That event was also made up of three separate proposals that we brought together to make a really strong and unlikely night that merged LA video art, documentary and live performance. It was funny, because someone came down from their office upstairs and was like, "I've always wanted to know the history of this space," and I bit my lip and was kind of like, "Well…"
BLADE: The schedule has such a broad spectrum of voices. Was that an important element for you?
NORDEEN: 100 percent! I think the landscape of Los Angeles begets all of these amazing micro-communities of experimentation, with nightlife, noise shows, filmmaking, queer community organizing, so bringing together the performing arts venue Coaxial, with Women's Center for Creative Work and Young Joon Kwak + Marvin Astorga — who front the band Xina Xurner and collaborate on the project Mutant Salon — covers so many different art forms and approaches, but each shares a kind of mutual respect and collaborative passion towards bringing queerness to the surface of LA 2018. Also, LA's history felt unwritten for so long, and it pops up in such fascinating and disparate events, so it felt silly to limit everything to movies.
BLADE: What are you most excited about that's still to come?
NORDEEN: I'm thrilled that we're screening Gregg Araki's "Nowhere" on 35mm at The Vista for a midnight screening on July 27th. I've watched that movie a million times on VHS, but I've never seen a print. I know that Graham Kolbeins from Massive has some great surprises in store for the closing night at Tom of Finland Foundation, which is centered around the art and inspiration of Gengoroh Tagame. The Tom boys always know how to host a real fun time — I never miss their Christmas party!
BLADE: Were there any films or locations that you wanted to use in the festival, but just couldn't get access to for whatever reason?
NORDEEN: Yes, there were one or two. Los Angeles can be tricky for this approach because of how the industry creates a hypothetical economy for venue rentals. But I would say that, as a whole, the project is easier today than when we founded it in 2012 because now it's more in vogue to be woke or to honor legacy. A lot of the venues said yes without batting a lash.
BLADE: Along the same lines, any films or locations that you felt especially lucky that you were able to include?
NORDEEN: I have to say, doing our event at the Plaza just felt so amazing, there's so much history there and it's such a beautiful location. I've also never screened in the main theater at The Egyptian or The Vista. Our night resurrecting Cuffs bar in Silverlake was beyond special, I think because a lot of people went into it thinking it was going to be some kind of neutered, Epcot-style reenactment, but it was probably 110 inside without AC and wall-to-wall sweating flesh, so it felt kind of like the bowels of hell in a way that perhaps fidelitously recreated the original vibe of the space for 2018.
BLADE: I know you've been asked about this before, but since On Location is happening at the same time as Outfest, do you see it as an alternative Outfest, or completely unrelated?
NORDEEN: I ran Outfest's experimental programming for four years. What I was able to do with that platform is SO different from what I'm able to accomplish with this one. Festivals tend to operate as a commercial network, and this project is about Los Angeles history and space. It was great when people went to a Platinum performance last weekend then popped into our event at Chico's later that night. I mean, we work with film, and so naturally it's somewhat related. But can't we all just get along?
Full schedule and ticket info for Dirty Looks: On Location is at dirtylooksla.org/map
STAGE RAW announces 2023 Theatre Awards Finalists
This year, Stage Raw is recognizing productions in venues of all sizes, rather than focusing entirely on venues of 99-seats or fewer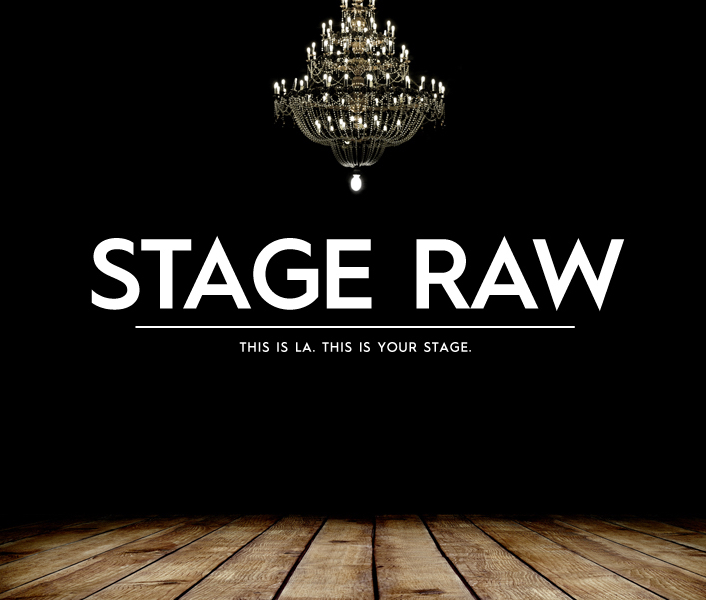 LOS ANGELES – The Stage Raw Theater Awards celebrate excellence on Los Angeles-area stages. This year's Stage Raw "I'm Still Here" Theater Awards Party will recognize productions that opened in the calendar year 2022.
Stage Raw is a community funded professional journalism website that was launched in 2014, in response to the decline of arts coverage in local mainstream and alternative media.
The Awards party will be held Monday night, April 17, 2023 at the Sassafras Saloon, 1233 N. Vine Street in Hollywood. Tickets are $20 for everybody, if purchased in advance. $25 at the door. (Capacity is limited and tickets will no longer be available once that capacity is reached.) Admission includes complimentary food, music, dancing and a cash bar.  All proceeds will be used to support the professional journalists of Stage Raw, and their ability to continue covering Los Angeles-area theater.  
Tickets can be purchased here: (Link)
Be sure to use the discount promo code "StageRaw" to bypass the $2.50 ticketing fee. (This is a service of ticketing agency onstage411.com).
CHANGES FROM PRIOR STAGE RAW AWARDS CEREMONIES:
This year, Stage Raw is recognizing productions in venues of all sizes, rather than focusing entirely on venues of 99-seats or fewer. 
Also, Stage Raw has changed its system of allocating recognition in response to the flaw in prior years of excluding excellent productions that were unable to attract a "quorum" of contributors. This year, each Stage Raw contributor has been allocated a number of votes, in proportion to the number of Stage Raw-reviewed shows they saw, and they have cast their votes to any person, production or in any category they choose.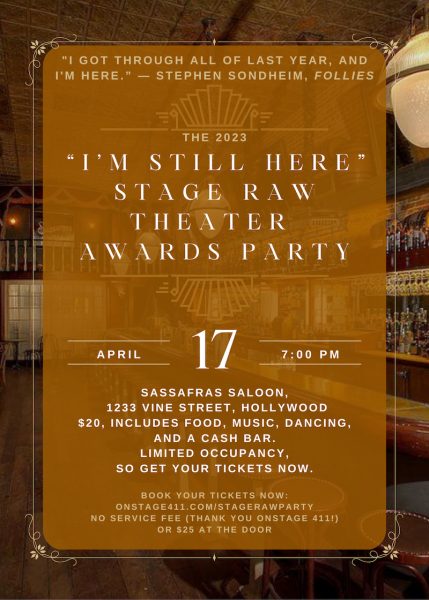 Explains Founding Editor Steven Leigh Morris: "The hoped-for effect of this system is to diversify the number of companies receiving awards by honoring the generational, ethnic, gender and aesthetic diversity of our individual contributors, who will each be selecting award winners."
And finally, the entire feel of the event will be more of a party than an awards show. The actual ceremony will be 30-45 minutes dedicated to announcements, and the presentation of the "Queen of the Angels" and "Lifetime Achievement" awards. All of the other awards recipients will be named during this ceremony and can retrieve their awards at a table.
THE 2023 STAGE RAW AWARD FINALISTS/RECIPIENTS:
FIGHT CHOREOGRAPHY
Ahmed Best, Hooded, or Being Black for Dummies, Echo Theater Company
SOUND DESIGN
Dean Harada, Tea, Hero Theatre at Inner-City Arts
LIGHTING DESIGN
Lap Chi Chu, The Search for Signs of Intelligent Life in the Universe, 
Center Theatre Group, Mark Taper Forum
VIDEO/PROJECTION DESIGN
Hsuan-Kuang Hsieh, The Great Jheri Curl Debate, East West Players
Nick Santiago, Green Day's American Idiot, Chance Theatre
SET DESIGN
Ann Beyersdorfer, Afterglow, Midnight Theatricals at the Hudson Theatre
John Iacovelli, The Brothers Paranormal, East West Players
Cindy Lin, Untitled Baby Play, IAMA Theatre Company
Rachel Myers, Power of Sail, Geffen Playhouse  
SUPPORTING PERFORMANCE
Aimee Carrero, Who's Afraid of Virginia Woolf?, Geffen Playhouse
Alexandra Hellquist, On the Other Hand We're Happy, Rogue Machine Theatre
Michael Matts, Angels in America: Perestroika, Foolish Production Company
Eileen T'Kaye, A Doll's House, Part II, International City Theatre
COMEDY PERFORMANCE
Brent Grimes, Hooded, or Being Black for Dummies, Echo Theater Company
SOLO PERFORMANCE
John Rubinstein, Eisenhower: This Piece of Ground, New Los Angeles Repertory Theatre Company, Theatre West and Hudson MainStage Theatre
SOLO WRITING-PERFORMANCE
Alex Alpharaoh, Wet: A DACAmented Journey, Greenway Court Theatre  
Colin Campbell, Grief: A One-Man Shitshow, The Broadwater
Ben Moroski, Dog, The Broadwater
Jesús I. Valles (Un)documents, Latino Theater Company

WRITING-PERFORMANCE
Judy Carter, A Death-Defying Escape!, Hudson Guild Theatre
LEAD PERFORMANCE
Hugo Armstrong, Uncle Vanya, Pasadena Playhouse
Kevin Ashworth, A Public Reading of an Unproduced Screenplay About the Death of Walt Disney, Theatre Planners at the Odyssey Theatre
Ramón de Ocampo, Hamlet, Antaeus Theatre Company
Jenny O'Hara, Little Theatre, Rogue Machine Theatre
Zachary Quinto, Who's Afraid of Virginia Woolf?, Geffen Playhouse
Jennifer Shelton, A Doll's House, Part II, International City Theatre
Michael A. Shepperd, Valley Song, International City Theatre
Kalean Ung, Macbeth, Independent Shakespeare Co.
DIRECTION
Nancy Lantis, The Sandman, Eclipse Theatre LA and Santa Clarita Shakespeare Festival
COMEDY DIRECTION
Ahmed Best, Hooded, or Being Black for Dummies, Echo Theater Company
DIRECTION/ENSEMBLE
Will Block and the ensemble of All is True or Henry VIII, The Porters of Hellsgate Theatre Company
Gregg T. Daniel and the ensemble of Radio Golf, A Noise Within
COMEDY ENSEMBLE
Can't Pay? Don't Pay!, The Actors' Gang
ENSEMBLE
Anna in The Tropics, A Noise Within
Blues for an Alabama Sky, Center Theatre Group/Mark Taper Forum
The Colored Museum, Loft Ensemble 
Freestyle Love Supreme, Pasadena Playhouse,
If Nobody Does Remarkable Things, Pandora Productions at the Garage Theatre 
The Inheritance, Geffen Playhouse
Masao and the Bronze Nightingale, CASA 0101 and the Japanese American National Museum
ADAPTATION
James Fowler, A Midsummer Night's Dream, Open Fist Theatre Company
PLAY WRITING
Carla Ching, Revenge Porn, Ammunition Theatre Company
Bernardo Cubria, The Play You Want, Road Theatre Company
Kelly McBurnette-Andronicos, The House of Final Ruin, Ophelia's Jump
Murray Mednick, Three Tables, Padua Playwrights at the Zephyr Theatre
PRODUCTION EXCELLENCE IN QUEER STORYTELLING
Interstate, East West Players
DISTINGUISHED MUSICAL REVIVAL
Oklahoma! Center Theatre Group/Ahmanson Theatre
DISTINGUISHED PRODUCTION
A Midsummer Night's Dream, Open Fist Theatre
The Penelopiad, City Garage
Roe, Fountain Theatre
Uncle Vanya, Pasadena Playhouse
DISTINGUISHED SEASON
The Road Theatre Company (The Play You Want, Beloved, Bright Half Life, According to the Chorus) 
LIFETIME ACHIEVEMENT
Maria Gobetti and Tom Ormeny (Victory Theatre Center)
Frédérique Michel and Charles Duncombe (City Garage)
QUEEN OF THE ANGELS
The SB116 Coalition (Teri Ball, Beatrice Casagran, Elina DeSantos, Emmanuel Deleage, Martha Demson, Christopher Maikish, Leo Marks, Marc Antonio Pritchett and Vanessa Stewart)
*****************************************************************************************
The 2023 Stage Raw "I'm Still Here" Theater Awards Party is supported through the generous sponsorship of the following companies and individuals: Antaeus Theatre Company, Crimson Square Theatre, Dina Morrone, DEMAND PR, The Geffen Playhouse, The Hudson Theatres, IAMA Theatre Company, Lucy Pollak Public Relations, Macha Theatre Company, Ophelia's Jump, Road Theatre Company, Sandra Kuker Public Relations, Santa Monica Playhouse, Sierra Madre Playhouse, Theatre 40, Theatre of NOTE, and The Victory Theatre Center.