Your daily guide to Outfest 2018: July 19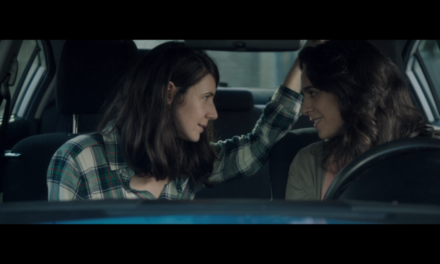 Outfest is a great experience for LA film fans, but it can be a little intimidating.  With so many films and events to choose from, it can be difficult to even know where to start.  That's why the Los Angeles Blade is here to break it all down for you, on a daily basis.
For the duration of the festival, we'll be posting a daily roundup here with a brief look at the selections of the day.  Whether you're a hard-core movie buff who plans to see as many screenings as possible, or a casual moviegoer looking for a date night treat, we've got you covered!
Just take a look at the offerings of the day and then head on over to www.outfest.org for ticket information.
THURSDAY, JULY 19
The venues for today are:
DGA 1 and DGA 2, at Director's Guild of America, 7920 Sunset Blvd., L.A., 90046
THE FORD THEATRE (THE FORD), 2580 Cahuenga Blvd. East, L.A., 90068
SAMUEL GOLDWYN THEATRES (The Goldwyn), 8949 Wilshire Blvd, Beverly Hills, 90212
THE SCREENINGS:
Strangers and Féminin/Féminin (DGA 2, 5pm):  Catch up with some of the most charming, bold, and relatable ladies on either side of the US-Canadian border, in the second seasons of these fresh episodic series. When we last left Isobel in Facebook's episodic "Strangers" (our 2017 US Centerpiece), she was exploring her newfound bisexuality while navigating the stream of random guests renting out her spare room. Catch Isobel's next adventures in the first two episodes of the new season.  Meanwhile, the Francophone women of "Féminin/Féminin" are navigating life, love, and the insecurities in between, in Chloé Robichaud's ("Sarah Prefers to Run," Outfest 2014) honest and witty episodic portrait of being young and queer in Montreal. With several international nominations and awards to its name, the first season was featured on Amazon Prime and Hulu, and on French television channel France 4. Followed by a Q&A with the cast and crew.
Montana (DGA 1, 7pm):  Returning home to attend her grandfather's funeral, Efi (Noa Biron) finds that nothing has changed. Her grandmother, aunt, and uncle are all living their lives just as she left them years before. A romance with a local teacher causes Efi to extend her visit, but her past comes rushing back when she discovers that her uncle is still up to his devious ways. Set on revenge, Efi takes matters into her own hands. Limor Shmila's empowering directorial debut speaks volumes about the healing power of justice. Preceded by A Prayer (Dir: Alon Borten, 14 min.). Post-Screening Reception: DGA Atrium, 8:30-11pm.
The Finding Home Series: LGBT Immigrants & Asylum Seekers (DGA 2, 7:30pm):  Roughly 65 million people are displaced globally — including tens of thousands of LGBTQ refugees and asylum seekers. Since assuming office, Trump has cut refugee admissions from 110,000 to 50,000. In this timely and inspiring docu-series, explore the journeys of three queer immigrants in Los Angeles who have escaped persecution and violence in their native countries. Afterward, join us for an urgent discussion with the subjects, along with experts on all facets of this growing crisis, from mental health to community building, advocacy and policy.
A Long Road to Freedom: The Advocate Celebrates 50 Years (Goldwyn, 7:30pm):  Narrated by Laverne Cox and with music by Melissa Etheridge, this moving documentary focuses on major events and watershed moments in LGBTQ history through never-before-seen archival footage and engaging interviews (Ricky Martin, Cleve Jones, Caitlyn Jenner, Gloria Allred, Gavin Newsom, Don Lemon, Dustin Lance Black, Margaret Cho, Armistead Maupin, and many more). Starting with the Black Cat Riots, the film covers Stonewall, the disco sexual revolution that continued from the late 60s, the AIDS crisis, marriage equality, and the trans movement to present day. We've come a long way, but we've still got a long way to go. Directed by William Clift. Post-Screening Reception: Samuel Goldwyn Theater Lobby, 9:00-11:00pm.
When the Beat Drops (The Ford, 8:30pm):  Drop into the electric and subversive underground dance scene known as "bucking." As voguing exploded out of the ballroom scene of NYC, bucking was boldly pioneered in the clubs of the Deep South as a new form of self- expression. This film presents a fresh glimpse into the magnetic artistry and flair behind this emerging dance culture. In his feature debut, famed choreographer and filmmaker Jamal Sims, who has worked with the likes of Madonna, Jennifer Lopez, and RuPaul's Drag Race, illuminates the warm-hearted and fierce queer black performers who make up one of the leading "bucking" groups in the city of Atlanta. As they train for their biggest competition yet, they face the risk of losing their jobs and family to compete at the top levels of this dance scene. Jamal Sims calls dance a "super power," and with this film he crafts a vision of the power of dance to bring movement to new heights and elevate the queer community. Post-Screening Reception: TBA
Two in the Bush (DGA 1, 9:30pm):  After losing her job, Emily arrives home early from work to find her girlfriend in the throes of passion with someone else. In an instant, her entire life is turned upside down. Moving in with her best friend, Emily lands a new gig working for a dominatrix, and promptly falls for her new boss, and her boss's boyfriend. In this wise and witty look at the world of bisexuality, polyamory and dungeons, filmmaker Laura Madalinski asks us to consider what risks are worth taking for love. Preceded by Spark (Dir: Aharonit Elior, 6 min.). Pre-Screening Reception: DGA Atrium, 7:30-9:15pm.
Boys' Shorts (DGA 2, 10pm):  There's no denying the heart and soul in this year's stunning showcase of boys' shorts — across genre, borders, and walks of life, from Puerto Rico to Israel. Between breaking out of your shell and back into the dating pool to coming out after social media stardom, falling in love with a very famous corpse to stalking your father's lover, these unforgettable films capture the laughter, melancholy, and hope that bind us together.  Curated by Andrew Ahn. Shorts: Sam (Dir: Stephanie Camacho Casillas, 11 min.), Share (Dir: Barna Szász & Ellie Wen, 13 min.), Sam Did It (Dir: Dominic Burgess, 11 min.), Heritage (Dir: Yuval Aharoni, 25 min.), The Things You Think I'm Thinking (Dir: Sherren Lee, 15 min.), We Forgot To Break Up (Dir: Chandler Levack, 16 min.).
Retired Supreme Court Justice Sandra Day O'Connor dies at 93
O'Connor was a trailblazer as the first woman nominated and then confirmed to have a seat on the High Court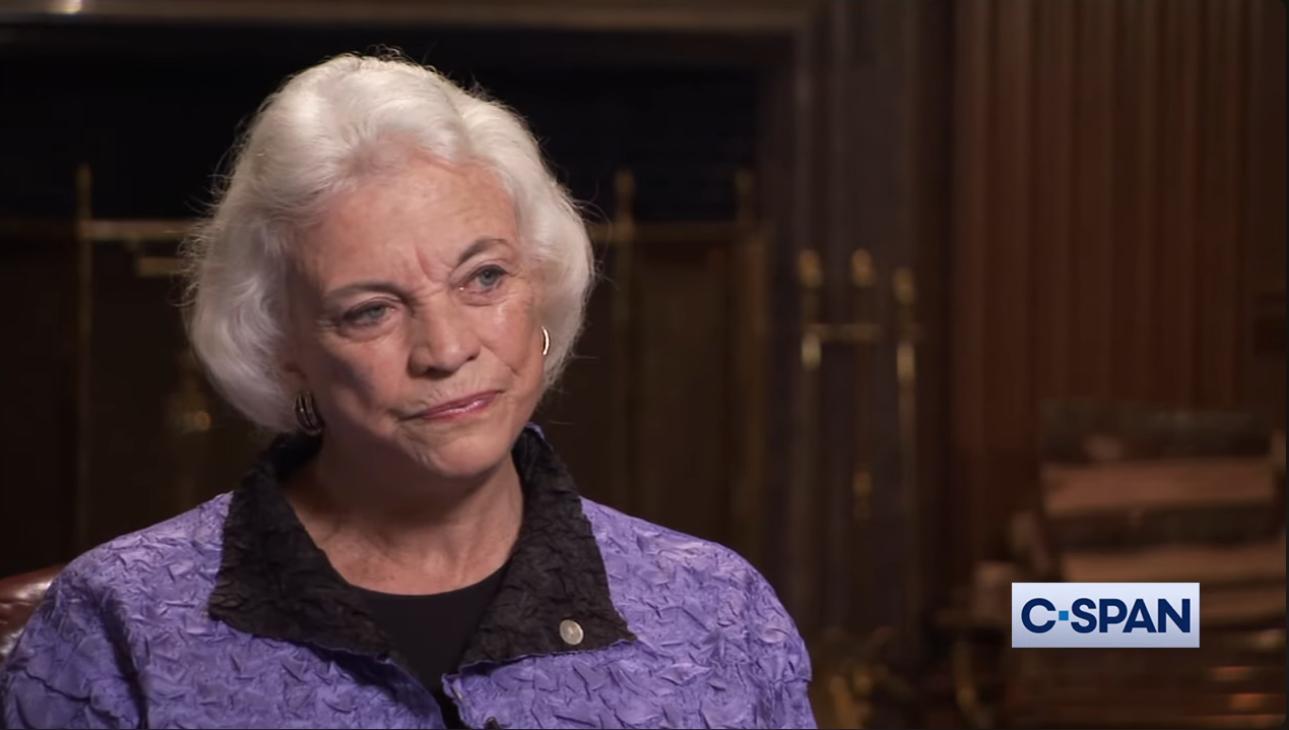 "Do the best you can in every task, no matter how unimportant it may seem at the time. No one learns more about a problem than the person at the bottom." ~ Sandra Day O'Connor
PHOENIX, Az. – Retired Associate Justice of the Supreme Court of the United States Sandra Day O'Connor died this morning in Phoenix, Arizona, of complications related to advanced dementia, probably Alzheimer's, and a respiratory illness. She was 93 years old.
Justice O'Connor was appointed to the Court by President Ronald Reagan during his first term in office in 1981 and retired in 2006, after serving more than 24 years on the nation's highest court.
A widely respected jurist, O'Connor was also a trailblazer as the first woman nominated and then confirmed by the Senate to have a seat on the Court. Her judicial record showed progressive support on issues ranging from LGBTQ+ rights, abortion, affirmative action and campaign finance.
In a statement released by the Court Friday morning, Chief Justice John Roberts said: "A daughter of the American Southwest, Sandra Day O'Connor blazed an historic trail as our Nation's first female Justice. She met that challenge with undaunted determination, indisputable ability, and engaging candor. We at the Supreme Court mourn the loss of a beloved colleague, a fiercely independent defender of the rule of law, and an eloquent advocate for civics education. And we celebrate her enduring legacy as a true public servant and patriot."
A lifelong Republican, O'Connor's early judicial record mirrored conservative values on most cultural legal issues. In 1986, O'Connor joined with Justice Byron White's five-member majority in Bowers v. Hardwick, in a case out of Georgia regarding the state's statute that criminalized sodomy.
According to court documents, Michael Hardwick was observed by a Georgia police officer while engaging in the act of consensual homosexual sodomy with another adult in the bedroom of his home. After being charged with violating a Georgia statute that criminalized sodomy, Hardwick challenged the statute's constitutionality in Federal District Court. Following a ruling that Hardwick failed to state a claim, the court dismissed. On appeal, the Court of Appeals reversed and remanded, holding that Georgia's statute was unconstitutional. Georgia's Attorney General, Michael J. Bowers, appealed to the Supreme Court and was granted certiorari.
The majority, including Chief Justice Warren Burger, Justices Lewis Powell, William Rehnquist, O'Connor with White writing the opinion, ruled that there was no particular constitutional protection against states prohibiting specific sex acts between consenting adults.
White argued that the Court has acted to protect rights not easily identifiable in the Constitution only when those rights are "implicit in the concept of ordered liberty" (Palko v. Connecticut, 1937) or when they are "deeply rooted in the Nation's history and tradition" (Griswold v. Connecticut, 1965). The Court held that the right to commit sodomy did not meet either of these standards. White feared that guaranteeing a right to sodomy would be the product of "judge-made constitutional law" and send the Court down the road of illegitimacy.
Seventeen years later however, O'Connor reversed her position in a later case, in Lawrence v. Texas, 539 U.S. 558 (2003), voting with Justices John Paul Stevens, David Souter, Ruth Bader Ginsburg, Stephen Breyer and Anthony Kennedy who wrote for the majority overturning a Texas "Homosexual Conduct" law, which criminalized sexual intimacy by same-sex couples, reversing the Court's ruling in Bowers v. Hardwick.
According to court documents, responding to a reported weapons disturbance in a private residence, Houston police entered John Lawrence's apartment and saw him and another adult man, Tyron Garner, engaging in a private, consensual sexual act. Lawrence and Garner were arrested and convicted of deviate sexual intercourse in violation of a Texas statute forbidding two persons of the same sex to engage in certain intimate sexual conduct. In affirming, the State Court of Appeals held that the statute was not unconstitutional under the Due Process Clause of the Fourteenth Amendment, with Bowers v. Hardwick, 478 U.S. 186 (1986), controlling.
Justice Kennedy wrote in the 6-3 opinion, after explaining what the Court deemed the doubtful and overstated premises of Bowers, the Court reasoned that the case turned on whether Lawrence and Garner were free as adults to engage in the private conduct in the exercise of their liberty under the Due Process Clause.
"Their right to liberty under the Due Process Clause gives them the full right to engage in their conduct without intervention of the government," wrote Justice Kennedy. "The Texas statute furthers no legitimate state interest which can justify its intrusion into the personal and private life of the individual," continued Justice Kennedy. Accordingly, the Court overruled Bowers.
Justices Clarence Thomas and Antonin Scalia, with whom Chief Justice William H. Rehnquist joined, filed dissents.
Interestingly enough though, Justice O'Connor weighed in on LGBTQ+ rights in a case prior to Lawrence v. Texas, seven years earlier when she joined with Justices Stevens, Souter, Ginsburg, Breyer and Justice Kennedy, again writing for the majority, in Romer v. Evans.
Colorado voters had adopted Amendment 2 to their State Constitution precluding any judicial, legislative, or executive action designed to protect persons from discrimination based on their "homosexual, lesbian, or bisexual orientation, conduct, practices or relationships."
Following a legal challenge by members of the state's LGBTQ community and other aggrieved parties, the state trial court entered a permanent injunction enjoining Amendment 2's enforcement. The Colorado Supreme Court affirmed on appeal.
The high court was weighing in on the question of did Amendment 2 of Colorado's State Constitution, forbidding the extension of official protections to those who suffer discrimination due to their sexual orientation, violate the Fourteenth Amendment's Equal Protection Clause?
In the ruling, the Court said Yes. In a 6-to-3 decision, the Court held that Amendment 2 of the Colorado State Constitution violated the equal protection clause. Amendment 2 singled out homosexual and bisexual persons, imposing on them a broad disability by denying them the right to seek and receive specific legal protection from discrimination.
In his opinion for the Court, Justice Kennedy noted that oftentimes a law will be sustained under the equal protection clause, even if it seems to disadvantage a specific group, so long as it can be shown to "advance a legitimate government interest." Amendment 2, by depriving persons of equal protection under the law due to their sexual orientation failed to advance such a legitimate interest.
He concluded: "If the constitutional conception of 'equal protection of the laws' means anything, it must at the very least mean that a bare desire to harm a politically unpopular group cannot constitute a legitimate governmental interest."
In 2006, she retired from the bench. In its 2019 eleven part profile of O'Connor, the Arizona Republic highlighted her record writing:
Sandra Day O'Connor disliked the term "swing vote" because "it suggests something that's not thoughtful," according to Ruth McGregor, a former Arizona Supreme Court chief justice and a longtime friend to O'Connor.
And because O'Connor saw herself as an old-school conservative, the opinions she wrote on controversial matters — such as abortion and gay rights — didn't come out of liberal leanings, but rather out of a firm belief in the rights of individuals to decide crucial issues in their own lives, free of government interference," the Republic noted.
On other issues such as women's reproductive rights, in the landmark ruling Roe v. Wade, which arose during her confirmation hearings before the Senate Judiciary Committee in 1981, because as the Republic noted, O'Connor was a woman who had presided over the Arizona Senate when it decriminalized abortion in that state, she was suspect, even though she declared her personal abhorrence for abortion.
However during the course of that confirmation hearing, she maintained that she had respect for opinions handed down by the Supreme Court, and she believed there needed to be good reason to overturn them.
In the 1992 case of Planned Parenthood v. Casey, then Justice O'Connor joined with fellow Justices Blackmun, Stevens, Kennedy and Souter, in upholding Roe v. Wade.
In a bitter 5-to-4 decision, the Court again reaffirmed Roe, but it upheld most of the Pennsylvania provisions. For the first time, the justices imposed a new standard to determine the validity of laws restricting abortions. The new standard asks whether a state abortion regulation has the purpose or effect of imposing an "undue burden," which is defined as a "substantial obstacle in the path of a woman seeking an abortion before the fetus attains viability." Under this standard, the only provision to fail the undue-burden test was the husband notification requirement.
In a rare step, the opinion for the Court was crafted and authored by three justices: O'Connor, Kennedy, and Souter.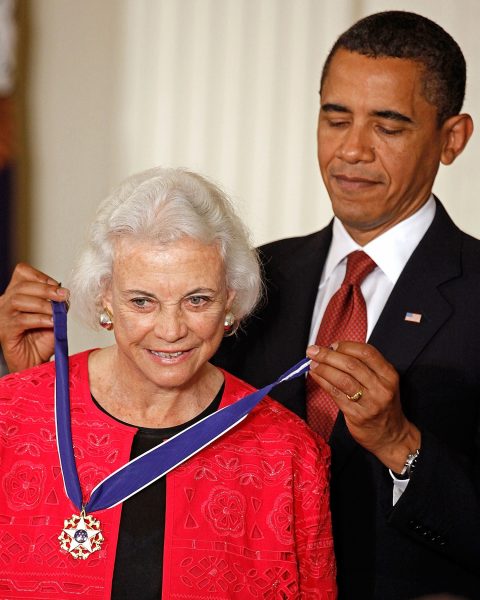 Washington D.C. based lawyer, journalist, and LGBTQ+ rights activist Mark Joseph Stern writing in a Slate magazine article dated Oct. 30, 2013, about O'Connor's stance on same-sex marriages noted:
"On Tuesday, retired Supreme Court Justice Sandra Day O'Connor officiated a same-sex marriage at the Supreme Court, the first gay wedding to take place in the court's halls. (It wasn't the first officiated by a justice, though; Ruth Bader Ginsburg beat O'Connor to that honor.) The event serves as a heartwarming confirmation that O'Connor's shift to the left has continued through retirement—but it's also a poignant reminder that the justice's early retirement cut short what might have been an evolution from Reagan conservative to gay-rights luminary."
California Governor Gavin Newsom issued a statement on the passing of O'Connor Friday:
"Jennifer and I are saddened by the passing of Justice O'Connor, an American icon who left a profound mark on history as the first woman to serve on our nation's highest court.

"Surmounting countless barriers, Justice O'Connor graduated from Stanford Law School near the top of her class, rose to prominence in the Arizona statehouse as the first woman in the nation to serve as a majority leader, and served on the bench in Arizona before being nominated to the Supreme Court by President Reagan – with widespread support on both sides of the aisle.
"A strong voice for judicial independence and the rule of law, Justice O'Connor was known for her discerning and fair-minded approach and served a pivotal role at the center of the Court, including key votes reaffirming the right to abortion and upholding affirmative action in higher education.
"With deep Arizona roots, Justice O'Connor was also an important voice on the Court for the entire American West, championing states' freedom to craft solutions that meet local needs across our diverse country.
      
"Justice O'Connor opened doors for generations of women in politics and public service, and her enduring legacy is an inspiration to all of us. Our thoughts are with her family, colleagues and friends during this time of loss."
O'Connor was born in El Paso, Texas, on March 26, 1930. She married John Jay O'Connor III in 1952. She received her B.A. and LL.B. from Stanford University. She served as Deputy County Attorney of San Mateo County, California, from 1952 to 1953 and as a civilian attorney for Quartermaster Market Center, Frankfurt, Germany, from 1954 to 1957.
From 1958 to 1960, she practiced law in Maryvale, Arizona, before serving as Assistant Attorney General of Arizona from 1965 to 1969. She was appointed to the Arizona State Senate in 1969 and was subsequently reelected to two two-year terms, during which she was selected as Majority Leader. In 1975 she was elected Judge of the Maricopa County Superior Court and served until 1979, when she was appointed to the Arizona Court of Appeals.
O'Connor authored five books: Lazy B: Growing Up on a Cattle Ranch in the American Southwest (2002); The Majesty of the Law: Reflections of a Supreme Court Justice (2002); Chico (2005); Finding Susie (2009); and Out of Order: Stories from the History of the Supreme Court (2013).
Following her tenure on the Supreme Court, she founded and led iCivics, the Nation's leading civics education platform.
She is survived by her three sons, Scott (Joanie) O'Connor, Brian (Shawn) O'Connor, and Jay (Heather) O'Connor, six grandchildren: Courtney, Adam, Keely, Weston, Dylan and Luke, and her beloved brother and co-author, Alan Day, Sr. Her husband, John O'Connor, preceded her in death in 2009.
Additional research and legal records material provided by Oyez, the free law project from Cornell's Legal Information Institute (LII), Justia, and Chicago-Kent College of Law.