Outfest 2018 closes with awards reflecting diversity among LGBTQ filmmakers
Closing Night Gala included L.A. premiere of conversion camp drama, "The Miseducation of Cameron Post"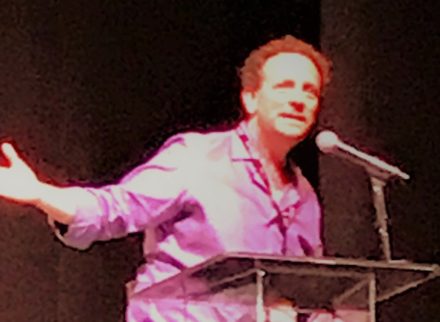 Outfest 2018 ended its 10-day run on Sunday, July 22, with a jam-packed turnout gathered at the Theatre at the Ace Hotel to hear the announcement of winners from this year's festival and watch the Closing Night Gala screening of Sundance Grand Jury Prize winner "The Miseducation of Cameron Post."
The festival is an annual tradition among LA's LGBTQ and film communities.  Founded in 1982 by UCLA students, Outfest promotes LGBTQ equality by creating, sharing and protecting LGBTQ stories on the screen.  It stresses the building of community through the connecting of diverse populations through film, where they can discover, discuss and celebrate stories of LGBTQ lives.  For three decades, Outfest has showcased thousands of films from around the world, while educating and mentoring hundreds of emerging filmmakers and protecting more than 20,000 LGBTQ films and videos.
This year's installment was true to Outfest's mission statement, with a particularly strong showing of selections among its screenings of narrative and documentary films, both narrative and short, and its newly-expanded highlighting of queer-centered episodic programming.  In addition to the high quality of material this year there was a clear focus of diversity and inclusion, with a record number of projects created by women, trans individuals, and people of color.
The evening kicked off with actor-comedian Drew Droege, who took the stage to start the awards ceremony.  Before announcing the first set of winners, he began with some remarks about the inspirational nature of the Outfest experience and the importance of sharing LGBTQ experience and narratives onscreen – particularly in our current era – and a call to everyone in the audience to participate in that effort.
"If you have an idea, make it!  If you have a phone in your pocket, you can make a movie," he said.  "Now is our time to tell our stories.  We're in a terrifying world right now.  All we can do is just tell our stories, and be seen, and see each other.  And just fucking take care of each other!"
As for the awards themselves, they reflected Outfest's emphasis on diversity, with the winners representing a wide and balanced mix of identities within the larger LGBTQ (and allied) community.
One of the big winners of the night was the film "Man Made," a documentary profiling MTF trans bodybuilders as they prepare for Atlanta's "TransFit" competition.  The movie took home two prizes, the viewer-voted Audience Award for Best Documentary Award and a Special Programming Award for Inclusion.
In his acceptance speech for the first of these, trans director T Cooper said, "As a trans man, I don't see my story out there very often, and so I took care of these guys' stories like it was my own story." He continued, "I just can't say how grateful I am to Outfest for supporting trans stories like this."
Director Amara Cash, whose film "Daddy Issues" won the Audience Award for Best Narrative First Feature, was gushing when she took the stage – after a lengthy run from her seat in the balcony all the way to the podium – to accept.  "I just want to thank Outfest for programming this film – it's very racy, and fluid, just like me!"
She went on to add, "To be accepted by the community has been such a meaningful thing for my life.  I'm bisexual, and it's really hard to figure out what you are, and who you are, and why you are – and for Outfest to embrace me, and embrace this film, it means the world."
Black first-time filmmaker Jamal Sims – already famous as a choreographer for his work with the likes of Madonna, Jennifer Lopez, and "RuPaul's Drag Race" – took home the Grand Jury Prize for Best Documentary Feature for his film "When the Beat Drops," which explores and celebrates the world of "bucking."  An electric and subversive underground dance scene and a new form of self-expression, bucking has emerged in the clubs of the Deep South much as voguing exploded from the ballrooms of NYC during the 1980s.
Queer activist, author, producer, and TV personality Jacob Tobia, when presenting a Grand Jury Special Mention Prize to Reina Gossett and Sasha Wortzell for their short film "Happy Birthday, Marsha," threw in a dig at last year's documentary "The Death and Life of Marsha P. Norman" – a film which met with controversy when its director, David France, was accused by Gossett of co-opting a trans narrative and blocking her own efforts to bring the trans icon's story to the screen.  "From Netflix documentaries to history books," he said, "credit has not always been given where credit is due – but Not. Any. More."
The three top awards of the festival, arguably, were presented to filmmaker Yen Tan for his bittersweet, black-and-white AIDS drama "1985" (Grand Jury Prize, Best Screenwriting), Droege for his tour-de-force one man turn in the Broadway HD filmed version of his Michael Urie-directed stage piece, "Bright Colors and Bold Patterns" (Grand Jury Prize, Best Performance), and Jeremiah Zagar's haunting queer coming-of-age story "We the Animals" (Grand Jury Prize, Best U.S. Narrative Feature).
At the conclusion of the ceremony came "The Miseducation of Cameron Post," which was the film's Los Angeles premiere.  Based on the best-selling YA novel by Emily M. Danforth, it's the story of a teen-aged girl who is sent by her religious conservative aunt to a gay conversion camp after being caught having sex with her female best friend.  Before the movie, star Chloë Grace Moretz, joined onstage by co-stars Sasha Lane and Forrest Goodluck, introduced the screening with a sobering statement.
"Nearly 700,000 adults in the U.S. have undergone conversion therapy," she said.  "An additional 77,000 LGBTQ teens will go through conversion therapy in the U.S. over the next five years – unless the United States pass more additional protections.  We hope that this film not only raises to raise public awareness about the harm done by conversion therapy, but also serves as a beacon of hope for LGBTQ youth who are searching for their stories onscreen."
"The Miseducation of Cameron Post" will begin wide release in August, beginning here in L.A. on August 3.
The complete list of Outfest award winners is below:
Audience Awards
Best Experimental Short Film: These Are My Hands (Dir: Evi Tsiligaridou)
Best Documentary Short Film: Mama Dragons (Dir: Andria May-Corsini & Adam Wolffbrandt)
Best Narrative Short Film: Tooth and Nail (Dir: Sara Shaw)
Best Episodic Series: Bonding (Created by Rightor Doyle)
Best Documentary Feature: Man Made (Dir: T Cooper)
Best Narrative Feature: Tucked (Dir: Jamie Patterson)
Best Narrative First Feature: Daddy Issues (Dir: Amara Cash)
Special Programming Awards
For Freedom: Shakedown (Dir: Leilah Weinraub)
For Emerging Talent: Dykes, Camera, Action (Dir: Caroline Berler)
For Artistic Achievement: Malila: The Farewell Flower (Dir: Anucha Boonyawatana)
In addition to these, Fox Inclusion, dedicated to promoting diversity and inclusion across the Fox company, sponsored two Special Programming Awards for Inclusion.
For Inclusion, Short Film: Rani (Dir: Hammad Rizvi)
For Inclusion, Feature Film: Man Made (Dir: T Cooper)
Grand Jury Awards
Best Documentary Short, Special Mention: These Are My Hands (Dir: Evi Tsiligaridou)
Best Documentary Short, Grand Prize: Between Us Two (Dir: Tan Wei Keong)
Best International Narrative Short, Special Mention: Dressed For Pleasure (Dir: Marie de Maricourt)
Best International Narrative Short, Grand Prize: The Things You Think I'm Thinking (Dir: Sherren Lee)
Best U.S. Narrative Short, Special Mention: Tooth and Nail (Dir: Sara Shaw)
Best U.S Narrative Short, Special Mention: Happy Birthday, Marsha (Dir:  Reina Gossett & Sasha Wortzel)
Best U.S. Narrative Short, Grand Prize: Fran This Summer (Dir: Mary Evangelista)
Best Documentary Feature, Special Mention: Transmilitary (Dir: Gabriel Silverman & Fiona Dawson)
Best Documentary Feature, Special Mention: Call Her Ganda (Dir: PJ Raval)
Best Documentary Feature, Grand Prize: When the Beat Drops (Dir: Jamal Sims)
Best International Narrative Feature, Special Mention: Montana (Dir: Limor Shmila)
Best International Narrative Feature, Grand Prize – TIED:
Hard Paint (Dir: Filipe Matzembacher & Marcio Reolon)
Tucked (Dir: Jamie Patterson)
Best U.S Narrative Feature, Special Mention: Skate Kitchen (Dir: Crystal Moselle)
Best Screenwriting, Grand Prize: Yen Tan, 1985
Best Performance, Grand Prize: Drew Droege, Bright Colors and Bold Patterns
Best U.S. Narrative Feature, Grand Prize: We the Animals (Dir: Jeremiah Zagar)
Nonbinary activist Alok Vaid-Menon; gender labels hurt everyone
"I'm nonbinary, which means it's not just that I'm challenging the binary between male, female, man and woman, but between us and them"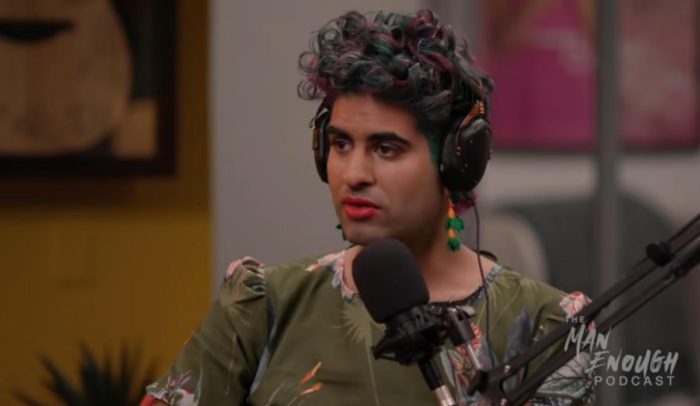 LOS ANGELES – This past week on the Wayfarer Studios new national podcast "Man Enough," nonbinary activist and poet Alok Vaid-Menon appeared alongside hosts actor Justin Baldoni, writer and MSNBC columnist Liz Plank and composer Jamey Heath.
During the broadcast Vaid-Menon noted that "people need to have compassion before "comprehension" — meaning they need to have empathy for trans people even if they don't understand them."
The activist-poet also deconstructed the gender binary — the idea that there are only two genders rather than a spectrum — and the traditional expectations associated with binary gender labels hurt everyone, not just transgender people, and these fixed ideas of what it means to be a man or a woman make it difficult for people to find out who they truly are.
In the podcast Vaid-Menon, who is the author of "Beyond the Gender Binary," said in response to Heath, who had asked what he needs to "unlearn" and what he needs to do to help other men unlearn, in order to better support them, referring to trans and nonbinary people like Vaid-Menon;
"I'm nonbinary, which means it's not just that I'm challenging the binary between male, female, man and woman, but between us and them," Vaid-Menon said, adding, "And in your statement, you said, 'Why don't I help them?' as if this struggle is not your struggle. The reason you don't fight for me is because you're not fighting for yourself fully."
Reporting on the premiere of the podcast episode, NBC News OUT contributor Jo Yurcaba noted;
They said though trans and nonbinary people face violence and death for challenging traditional gender norms, they don't want people to fight for their rights "because you want to protect me or you want to help me."
"I don't need your help," they said, adding that they "have an unshakable and irrevocable sense of who I am" and don't need to prove anything.
'The Man Enough Podcast' was launched in June in partnership with Procter & Gamble who will also co-finance and co-produce other projects with Wayfarer across film, TV and new media.
The Man Enough Podcast | ALOK | The Urgent Need for Compassion
IOC: 'Trans Women Are Women' Laurel Hubbard set to make sports history
Laurel Hubbard is set to make sports history on Monday and the International Olympic Committee clearly has her back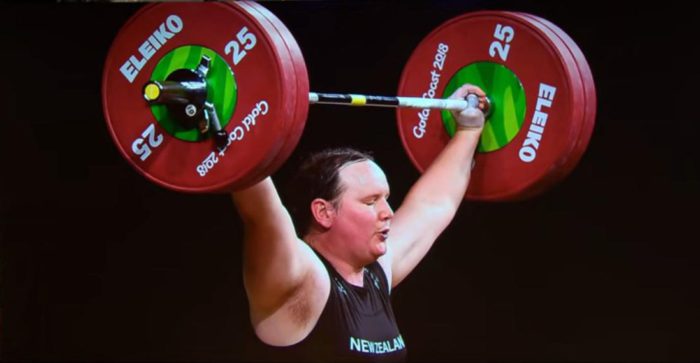 TOKYO – The director of medicine and science for the International Olympic Committee praised weightlifter Laurel Hubbard's "courage and tenacity" as she prepares for her upcoming competition as the world's first out transgender woman Olympian.
In speaking to reporters in Tokyo Thursday, Dr. Richard Budgett directly addressed those who have attacked and mocked the 43-year-old New Zealander and claimed she shouldn't be competing with cisgender women, saying "everyone agrees that trans women are women."
"To put it in a nutshell," he said, "the IOC had a scientific consensus back in 2015. There are no IOC rules or regulations around transgender participation. That depends on each international federation. So Laurel Hubbard is a woman, is competing under the rules of her federation and we have to pay tribute to her courage and tenacity in actually competing and qualifying for the Games."
Hubbard herself has not made any public comments except for a statement following her qualifying for the Summer Games, saying she was "humbled" by the support which had helped her "through the darkness" following a near career-ending injury in Australia in 2018.
Reports around the world have claimed Hubbard is the first trans Olympic athlete, which is actually not the case. As the Los Angeles Blade has reported, Quinn, a trans nonbinary soccer midfielder for Team Canada, last Wednesday became the first out trans athlete ever to complete in the Olympic Games. They posted about it on Instagram, saying, "I feel proud seeing 'Quinn' up on the lineup and on my accreditation. I feel sad knowing there were Olympians before me unable to live their truth because of the world."
The IOC is expected to review and likely revise its policies on transgender participation following Tokyo. Trans athlete and researcher Joanna Harper, who has advised the organization and other sports policy groups, told the Los Angeles Blade her recommendation will be for the IOC to continue to regulate trans athletes sport-by-sport. "There shouldn't be a one-size fits all policy," said Harper.
She also noted how the mainstream cisgender media is consumed with coverage of Hubbard and missing out on the bigger picture, and what it will mean for the next generation watching on TV and online.
"The lack of attention paid to Quinn and to Chelsea Wolfe has been interesting," said Harper.
"A few news outlets have commented on their presence in Tokyo and in Quinn's case the comments have been mostly favorable. On the other hand, the storm of mostly negative press heaped on Laurel Hubbard has been disappointing, although predictable. I hope that the negative press that Laurel has gotten won't dissuade young trans athletes from following their dreams. I think that the next trans woman to compete in the games will get less negative press, and eventually (although probably not in my life) there will come a time when trans women in sport generate little or no controversy."
Hubbard issued a statement Friday via the New Zealand Olympic Committee in which she said: "The Olympic Games are a global celebration of our hopes, our ideals and our values. I commend the IOC for its commitment to making sport inclusive and accessible."
According to a French news outlet, NZOC spokesperson Ashley Abbott told reporters the committee had seen a "particularly high level of interest" in Hubbard's Olympic debut, and much of it has been negative.
"Certainly we have seen a groundswell of comment about it and a lot of it is inappropriate," Abbott said. "Our view is that we've got a culture of manaaki (inclusion) and it's our role to support all eligible athletes on our team. In terms of social media, we won't be engaging in any kind of negative debate."
Abbott reminded the media that the NZOC's job was to support its athletes, including Hubbard. "We all need to remember that there's a person behind all these technical questions," she said. "As an organization we would look to shield our athlete, or any athlete, from anything negative in the social media space. We don't condone cyberbullying in any way."
RELATED: CBS This Morning from 22 Jun 2021
LGBTQ+ ally Jamie Lee Curtis reveals her 25-year-old child is Trans
Curtis and her husband Christopher Guest, British screenwriter, composer, musician, director, and actor have two daughters.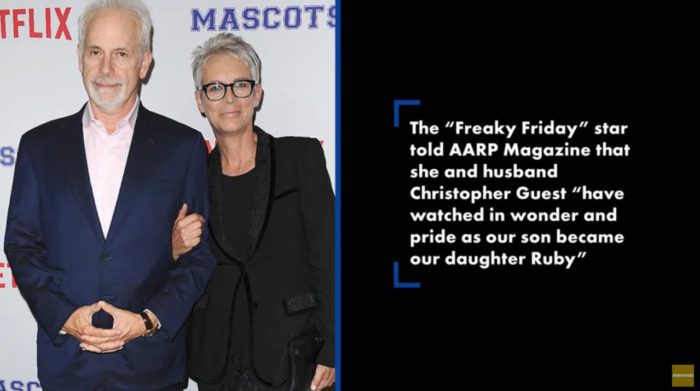 LOS ANGELES – In a new interview with the American Association of Retired Persons' magazine, Golden Globe and BAFTA winning actress Jamie Lee Curtis disclosed that her youngest child is transgender. In the interview Curtis reflected that she has "watched in wonder and pride as our son became our daughter Ruby."
Curtis and her husband Christopher Guest, British screenwriter, composer, musician, director, and actor have two daughters. Ruby, 25, works as a computer gaming editor while Curtis and Guest's 34-year-old daughter, Annie, is married and works as a dance instructor. Curtis also noted that Ruby and her fiancé are getting married next year in a wedding that Curtis will officiate.
The longtime Hollywood couple have been married for more than 36 years but have no grandchildren, "but I do hope to," she told the magazine.