New doc explores vintage Hollywood sex stories of Scotty Bowers
Filmmaker inspired to corroborate claims of juicy 2012 book 'Full Service'  
Scotty Bowers's name had long been floating around as a sort of urban legend from Hollywood's golden age when, in 2012, his memoir "Full Service: My Adventures in Hollywood and the Secret Sex Lives of the Stars" was published.
In the book (co-written by Lionel Friedberg), he claimed to have spent four decades providing sexual services to many of the movie factory's most famous stars, either personally or by connecting them to other attractive young men or women in his stable of sex workers — from whom he says he never took a penny for himself; he just liked "making people happy."
The reaction from most readers was skepticism. Most of the people outed by Bowers were long dead, unable to comment on his claims; on top of that, he never kept written records of any transactions — they were all kept in his head to protect his clients' privacy. Without such proof, it was reasoned, why should he be believed?
For director Matt Tyrnauer — whose documentary "Scotty and the Secret History of Hollywood" hits theaters July 27 — the question is not "why" so much as "why not?"
Tyrnauer spent two years filming with Bowers, now in his 90s, and says, without hesitation, "There's no question in my mind that he is telling the truth."
"I found literally hundreds of instances of corroboration that prove Scotty did what he said he did and was where he said he was," he says. "I've seen interviews with people who were sex workers at the gas station during that period, who confirmed in person, on camera, everything that Scotty claims; there are letters from the period in which he's mentioned, testimony from trustworthy people who knew him at the time, the list goes on and on."
One example is shown in the film, when Bowers takes the director to the home of one of his still-living associates from the old days. This now-elderly former hustler gleefully attests to the veracity of Scotty's claims and pulls out an old book given to him by actor Charles Laughton. Inscribed within is a personal note, signed by Laughton, containing explicit language that leaves little doubt as to the nature of their relationship.
There was more, Tyrnauer says, that was not on camera.
"He produced an index card which is tantamount to the 'little black book' that everyone asks about. Scotty didn't keep a little black book, but this index card contained about a dozen names of clients, with addresses and phone numbers. Among those names was the designer Bill Blass, and there was another name of someone who was still alive who I called and confirmed that he had worked with Scotty."
Bowers ran this operation loosely from the mid-'40s to the mid-'80s. It's perhaps corroborating in some fashion that for some of the A-listers mentioned, this is not the first time their sexuality has been questioned. Spencer Tracy was married and had a family but also had a decades-long relationship with his frequent co-star Katharine Hepburn, who has been posthumously outed by various sources, including a 2006 book by gay biographer William J. Mann. Hepburn and Tracy were two of Bowers' clients, according to both "Full Service" and the "Scotty" movie. Bowers also claims, in both the book and the film, to have had sex with J. Edgar Hoover — no newbie on the gay speculation list — and arranged liaisons for the Duke and Duchess of Windsor.
One of the strongest arguments for Bowers's believability is Bowers himself. Even in his 90s, he's still full of vitality. Imagine his stamina at 30, coupled with the good looks on display in the pictures from his youth, and it's easy to think that movie stars would want to have sex with him. His personality is also a likely factor. Exceedingly personable and still sharp, in the film he serves as his own best character witness.
It's not just how he comes off on camera, Tyrnauer says. "What you see is what you get with Scotty. There is no masquerading or pretense. He is who he is, utterly charming."
Even setting aside Tyrnauer's own discoveries, there's no shortage of information supporting Bowers's tale. Plenty of people with long connections to Hollywood history — authors Gore Vidal and Dominick Dunne, and filmmaker John Schlesinger, among others — have been willing to vouch, on the record, for its accuracy. Yet many still doubt.
 Says Tyrnauer, "I don't blame them, why not question? But why wouldn't it be true? What I'm getting at in the film, is that these Hollywood myths propagated by the studios are mysteriously enduring, but I don't think it's outlandish to think that movie stars had complex sex lives. Why shouldn't they? Why should we pearl clutch and claim that they didn't?"
It's here that Tyrnauer gets passionate.
"There seems to be a propensity to straight wash Hollywood history. It's OK to talk about Cary Grant's romances and his many wives, as long as it's hetero, but the minute it becomes about his lifelong romance with Randolph Scott, the minute it becomes queer history, it's suddenly a problem. What's that about? Why is that permissible? And why should we say that it's irrelevant?"
He goes on, "I think that Hollywood is one of the biggest stories of the 20th century. Hollywood was the myth factory that set the tone for our point of view about what life is and what life should be. Understanding it is important and part of that comes from recognizing how prominent people involved in the Hollywood story had to navigate sexuality off-screen."
Tyrnauer says even in liberal Hollywood, the overall cultural taboo of gay sex in the'40s and '50s has to be considered.
"It wasn't cool to be gay, then," he says. "These people were vulnerable to ruination if their sexuality was revealed. And there were many people out there who were determined to reveal it, including the LAPD vice squad, which was rabid and fascistic in its persecution of queer people, and was ready to extort movie stars, to collude with the press to shame them and destroy their lives. These stories are all of a piece, and Scotty's story touches them."
It's for this reason that "Scotty and the Secret History of Hollywood" spends less time rehashing tales that can be found in Bowers' book and more time exploring the context in which they took place.
It's also why the film focuses mostly on Scotty himself. Though he doesn't identify as gay — he sees himself as what we would now call "fluid," is married to a woman and was even at the height of his exploits — he is presented as a seminal figure in the queer history of American culture, a kind of sexual pioneer. Far from being a shady hustler selling a bill of goods for a little attention and a taste of late-life fame, in Tyrnauer's film he can be seen as a hero.
It's in this role that he garnered the honor of being presented a key to the City of West Hollywood on July 25.
"It's very fitting for Scotty to be honored by the city of West Hollywood," Tyrnauer says. "He helped build the city as a key figure in the LGBTQ community for decades, who was trusted and revered by many men and women who were, decades ago, victims of repression, marginalization and violence at the hands of the vice squad and other oppressive forces."
For some, though, the reason for the presentation is best expressed in the words of WeHo Mayor Pro Tempore John D'Amico, who commented, "It's been said with a wink that Scotty Bowers helped put the 'wood' in Hollywood."
For Scotty, who "just wanted to make people happy," that's probably the best reason of all.
Turning pain into positive & using art as therapy – Carl Hopgood
He knew he wanted to embark on a path toward a "bold, exciting life" among other "creative people" while "doing amazing things and living"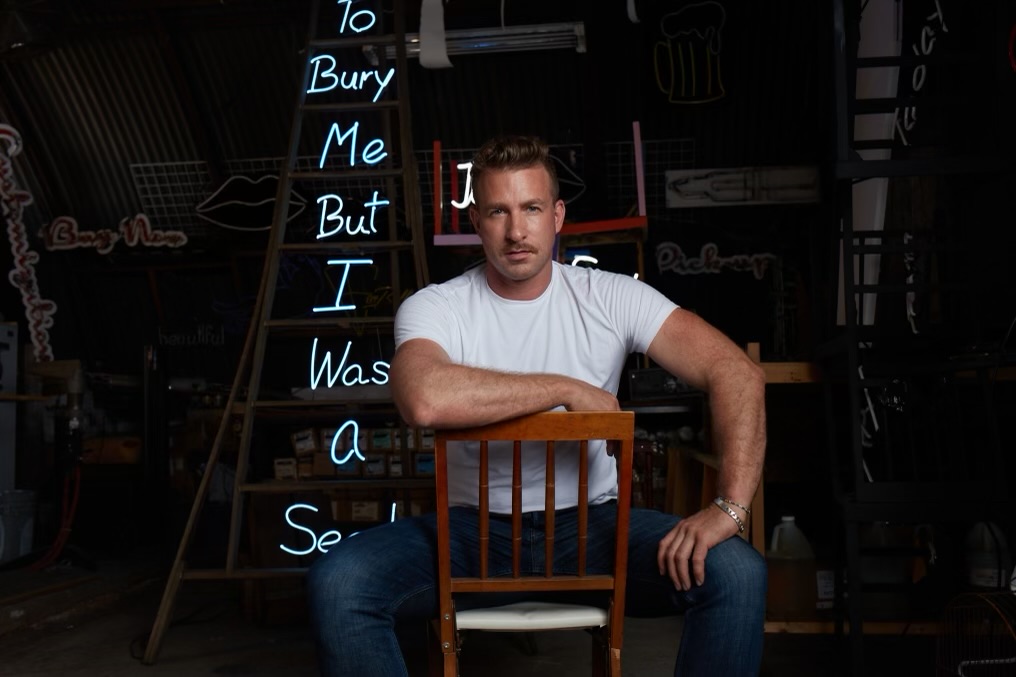 LOS ANGELES – Like many people born with an inclination toward creative expression, Carl Hopgood has known from a very young age that he wanted to be an artist.
Growing up on a small farm in rural Wales, the Cardiff-born Hopgood spent his childhood surrounded by animals and nature, letting his imagination run wild and creating worlds he envisioned with baskets, fruit boxes, flowers, stones, tabloid clippings, and other items that struck his fancy. Then, at 7, he was invited to spend an afternoon with his best friend, whose cousin was visiting; that cousin happened to be Richard Burton, and he happened to be accompanied by his even more famous wife, Elizabeth Taylor.
Hopgood was not just star-struck, he was inspired.
"My world was never the same after that day," he tells the Blade. "They told stories about Hollywood, London, glamorous parties, movies, photography… and Andy Warhol! Andy Warhol was my first artist crush. He was also born on a farm, so I felt an immediate connection."
After that experience, he knew he wanted to embark on a path toward a "bold, exciting life" among other "creative people" while "doing amazing things and living."

Four decades and one continental transplant later, it can safely be said that Hopgood has accomplished his goal.
A successfully established LA-based artist, he's created a unique body of work that includes pieces in Neon, Sculpture, Film / Video Installation, and canvas painting; his collectors include Morgan Freeman, Eugiono Lopez, The Vinik Family Foundation, The Groucho Club and Rupert Everett; and recent exhibitions of his work – like his neon art installations 'Looking For Love In All The Wrong Places', 'My Heart Is Open', and 'You Changed My Life' at the Maddox Gallery in West Hollywood, and 'Chair Therapy' at United Talent Agency's UTA Artspace LA – have garnered a flurry of enthusiasm and increasing national attention.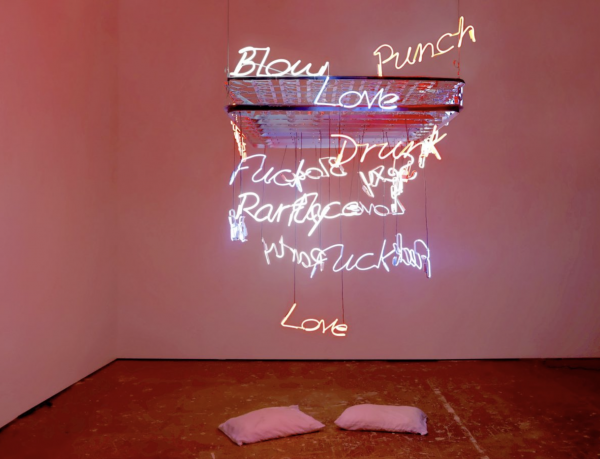 The latter installation created a particular stir with its inclusion of a controversial neon sculpture called "Just Say Gay", Hopgood's response to the draconian anti-LGBTQ legislation championed by Florida Governor Ron DeSantis; that work was acquired by prominent collector Beth Rudin DeWoody and will be on display from December 2023 at her Bunker Art Space in West Palm Beach, Florida.
When talking with the Blade, Hopgood is keen to focus the discussion on a new goal – the completion of a documentary about the creation of "Chair Therapy" – but he's certainly willing to start the conversation by talking about the sense of queer defiance behind "Just Say Gay" and many of his other works, because the two subjects go hand in hand.
"Being a gay man of Welsh and Greek heritage," he proudly proclaims, "the fight against bullying, repression, injustice and discrimination became central themes of my artistic expression."
As he explains, that fight is rooted in a traumatic childhood experience. "I was bullied by classmates," he remembers. "They would chase after me, push me to the ground and kick me in the groin. I managed to escape and found sanctuary under a stack of chairs in the school assembly hall. The school therapist helped me cope by using a technique called Empty Chair Therapy, where you would talk to an empty chair about your feelings.
"I decided turn this pain into something positive and use art as my therapy."

Much later, the young Hopgood would be inspired by the confrontational aesthetic of Damien Hirst – after reading a scathing criticism of one of his works in the paper – and follow in the controversial artist's footsteps to Goldsmiths College in London, eventually becoming part of a movement with fellow graduates like Steve McQueen, Jason Martin, Ceal Floyer, Angela De La Cruz and Alessandro Raho.
"It was an incredible moment to be a young artist in 1990s London."
Nevertheless, after 20 years in the London art scene, he decided it was time for a change.
"I had just watched a documentary featuring David Hockney," he explains. "The freedom and possibility of David's work was clearly inspired by Southern California with its beautiful palette and open, sunny skies. It was a stark contrast to the gloomy weather of the UK, and the anxiety and depression that accumulated over the years. I had heard about the growing LA art scene –LACMA, MOCA and The Broad were beginning to attract an international audience – and I decided that moving to Los Angeles would be good for both my mental health and creativity."
The choice was a fortuitous one for him – "It was the perfect time to go," he says, "and I was ready to work in new mediums and expand my repertoire." Then, like the rest of us, he had to put all his plans indefinitely up in the air.
"In early 2020, when the pandemic hit," he tells us, "I would see all the bars and restaurants shuttered in West Hollywood. It was like a ghost town. Looking through the store front windows, all I could see were chairs stacked on top of each other – and that image took me straight back to my unhappy childhood."
He decided to use it for inspiration and began work on the first sculpture in the "Chair Therapy" series ("My Heart is Open") – which as he describes, addresses "toxic masculinity, oppression and queer identity, themes I've always championed."
Those themes are doubtless also at least partly behind his desire to see the planned documentary – titled "Fragile World" – reach fruition. Filmed during the pandemic, it profiles Hopgood by charting his personal artistic journey, but centers on the development of "Chair Therapy", in which he combined found and vintage wooden chairs with neon lights shaped into positive words to provide hope, love and support for a community who were hardest hit by Covid and the shutdowns it necessitated.
"Seeing those stacked chairs and tables, in those empty establishments, I knew some would be forced to close for good. I felt so helpless, but I knew there was something I could do."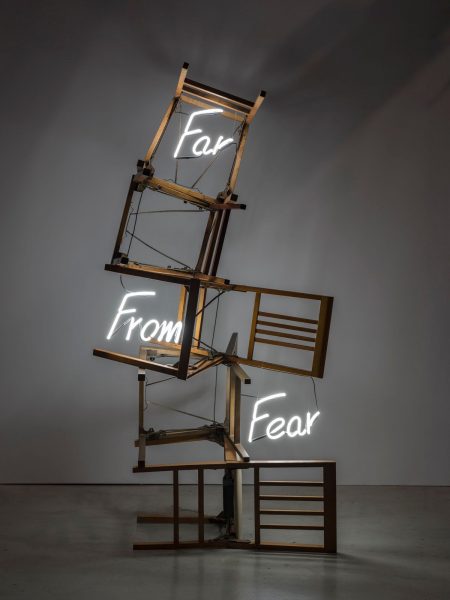 Now, with his own hard-hit community – alongside many others – facing aggressive legislative oppression from the extremist right, he's determined to see the film finished, so that the same empowering message of optimism embodied in his work can be spread to a larger audience as a reminder not to let the bullies break their spirit. To that end, the documentary's director and producer, LA-based British filmmaker Kate Rees Davies, has set up an Indiegogo campaign to raise the funding necessary to finish the project.
Another motivation, perhaps even more personal, might be found in Hopgood's revelation of a hidden influence in another work from the "Empty Chairs" series: "Twelve Steps", which explores the massive financial success of a California citrus industry made possible by the hard work of a segregated Mexican immigrant labor force. "I was also inspired in that piece by a line from Greek poet Dinos Christianopoulos," he says, "who was sidelined by the Greek literary community in the 1970s because he was gay. It's a small but powerful couplet which was included in the collection 'The Body and the Wormwood' that reads, 'What didn't you do to bury me, but you forgot that I was a seed.'"
For Hopgood, perhaps, the documentary also represents a seed, one that he himself has planted in hope of spreading its positive power into the world – and he's counting on the support of his patrons through Indiegogo for the water, light and nourishment it requires to grow.