10 ways Trump is attacking LGBT rights
Ignore the tweets, focus on the assault on our Democratic norms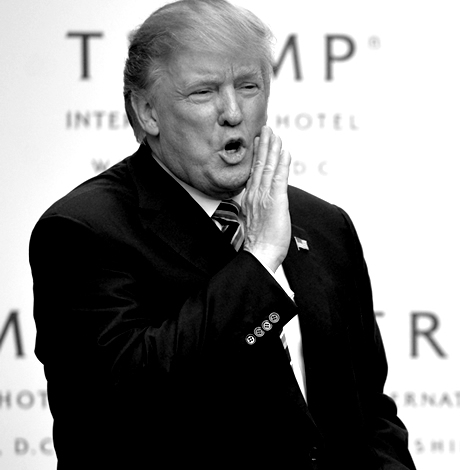 Keeping track of the endless Trump scandals is a Sisyphean task: As soon as you fully dissect one anti-Democratic transgression, the rock rolls back down the hill as our faux president torches another American norm.
Attacking the free press, embracing murderous dictators, retaliating in the pettiest of ways against critics, enforcing an overtly racist ideology, demonizing longtime allies and late night tweets ridiculing everyone from Oprah and Meryl to Trudeau and Merkel. The list goes on.
Sadly, too many of us are taking the bait and wasting time and resources playing along with social media posts of our own responding to Trump and his enablers. Mainstream cable news outlets have devoted endless hours of pearl-clutching commentary to all the tweets. Instead, we should remain focused and resist being distracted by the sideshows. They are a smokescreen intended to hide what's really going on, which is a systematic dismantling of the U.S. government. And it's happening across agencies, from the State Department to the Department of the Interior. As Trump tweets, his sycophants roll back environmental regulations, abandon treaties, gut healthcare. And make no mistake that Obama-era LGBT protections are in the crosshairs. The Blade chronicles these attacks on a near daily basis so it's hard to keep up. Here's a primer on what's been going on while you were vacationing this summer, in no particular order.
#10 Abandoning LGBT people in need around the world. The State Department used to advocate on behalf of LGBT rights in hostile countries. Now we have Trump kowtowing to Vladimir Putin behind closed doors. Do you think he raised the issue of Chechnya's anti-gay crackdown in that meeting? Meanwhile, U.S. Rep. David Cicilline (D-R.I.) recently told the Blade that there is no policy in place that addresses the needs of LGBT immigrant children the Trump administration has separated from their parents. Where the United States once strived to set the example for equality, we now inspire autocrats in other countries to crack down on their press and suppress the rights of minorities. Our example matters. The bully pulpit is real. And it's being used to embolden dictators and to green-light attacks on free speech and assembly.
#9 Undermining LGBT adoption rights. A House committee just last week approved an amendment that would allow taxpayer-funded adoption agencies to deny placement to LGBT families over religious objections. The measure would empower the secretary of health and human services to withhold 15 percent of federal government funds from states and localities if they penalize adoption agencies for acting on their religious beliefs in child placement decisions, as the Blade reported.
#8 Pushing federal workers back into the closet. As we reported, in a letter dated June 28 to Defense Secretary James Mattis, eight House Democrats expressed concern about lack of formal recognition of Pride this year, saying the Pentagon is "backing away from supporting and celebrating" LGBT service members and Defense Department employees. That issue crops up across the government. Where federal workers were proudly out and happy to talk to us about their Pride plans during the Obama years, now they are largely afraid to talk on the record. Trump and his anti-LGBT cronies like Attorney General Jeff Sessions have cast a shadow of fear across the government. The Justice Department, meanwhile, hosted a Pride event for its LGBT attorneys and law enforcement officials — but for the first time in 11 years, the ceremony wasn't held in the building's Great Hall. It was closed to media and attendees were too afraid to talk about it afterwards. The Small Business Administration removed LGBT references from its website, even though the agency won a prestigious award from Harvard University for its groundbreaking outreach to LGBT entrepreneurs during the Obama years. When the SBA reached out to me to assist in putting together its Pride celebration, I declined citing the removal, which was later reversed after much protest, including from the NGLCC. And for the second year, Trump declined to issue a proclamation recognizing June as Pride month.
#7 Stacking government panels with anti-LGBT zealots. Senate Majority Leader Mitch McConnell named Tony Perkins, president of the notoriously anti-LGBT Family Research Council, to a two-year term on the U.S. Commission on International Religious Freedom. Perkins, whose organization was long ago labeled a hate group by the Southern Poverty Law Center, presided over a three-day "religious freedom" conference the State Department held last week in D.C. The event brought together some of the most bigoted homophobes of the far right, granting them the prestige and legitimacy of being endorsed by the U.S. government.
#6 Banning the Pride flag. A Republican lawmaker in the U.S. House has introduced legislation aimed at barring U.S. embassies from flying the Pride flag. Rep. Jeff Duncan (R-S.C.) introduced the measure last week, which seeks to "prohibit the flying of any flag other than the United States flag over United States diplomatic and consular posts, and for other purposes." The State Department didn't respond to the Blade's inquiries on the matter. Will our openly gay ambassador to Germany, Ric Grenell, have anything to say about this effort? Although it's not a Trump initiative, make no mistake that the anti-LGBT forces of the far right and their supporters are now unleashed thanks to Trump and the base tone he has set for the country.
#5 Undoing bias protections for trans people. The Trump administration has asserted that transgender people aren't covered under Title VII of the Civil Rights Act of 1964, which bars sex discrimination in the workplace. In addition, Sessions has rescinded Obama-era guidance requiring schools to allow transgender kids to use the restroom consistent with their gender identity.
#4 Attacks on trans health. The Trump administration plans to roll back an Obamacare rule barring health care providers from denying treatment to transgender people, including gender reassignment surgery.
#3 Advocating for "religious liberty." This is a common theme now, as the far right often pivots from overtly anti-LGBT statements, which don't play well with independent voters, to their favorite code term for anti-LGBT bias, "religious liberty." The White House in June hailed as a win for religious freedom the U.S. Supreme Court ruling in favor of a Colorado baker who refused to serve a wedding cake to a same-sex couple.
#2 Trans military ban. A federal appeals court recently reaffirmed an injunction barring the Trump administration from enforcing its cruel and discriminatory transgender military ban. That's good news, but the move sets up a potential showdown at the Supreme Court. So far, the Trump administration is mum on its next steps.
#1 Anti-LGBT judicial appointments. Last November, New York Times reporter Linda Greenhouse wrote a column about the "conservative plan to weaponize the federal courts." She cited a 37-page plan written by Northwestern University law professor Steven G. Calabresi, founder and board chair of the conservative Federalist Society, in which he declared their intention: "undoing the judicial legacy of President Barack Obama."
To that end, we have Neil Gorsuch and now Brett Kavanaugh likely headed to the Supreme Court. But while the mainstream media are focused on Kavanaugh, there are scores of lower-level judicial appointees moving toward confirmation, many of whom have disturbing anti-LGBT records. Mark Norris, for example, was nominated by Trump for a seat on the U.S. District Court for the Northern District of Tennessee. Norris served for 17 years as a member of the Tennessee Senate, where he advanced anti-LGBT legislation as Senate majority leader. A lawyer who defended Prop 8 in court is nominated for a seat on the U.S. District Court for the District of Utah. And so on.
These attacks, as reported by the Blade, have occurred in just the last few months. They will only increase as the midterms approach and Trump needs more red meat to feed his brainless base of bigots and rednecks. This motley crew was aptly described by Hillary Clinton as "deplorables." They disdain education, ignore hypocrisy and racism and even basic facts, in defense of a bloated con man who will stop at nothing to line his pockets and those of his equally corrupt family and friends. Congressional Republicans in their blind allegiance to Trump have lost the moral authority to criticize any Democrat for any behavior for a generation. They have cast their lot with a wannabe demagogue and are in bed with the murderous Putin, whom they admire for his zero-tolerance of dissent and diversity.
There is one way out of this mess: Everyone offended by it must vote in November and again in 2020. Sadly, a new poll suggests that only 28 percent of millennial-aged voters plan to vote this year. You can march every weekend in protest and launch a million petitions on change.org, but if you don't vote then the deplorable one-third of Americans who still support Trump will win again.
Kevin Naff is editor of the Washington Blade, a sister publication of the Los Angeles Blade. Reach him at [email protected].
In her own words: Somali singer IDMAN on queerness & family
Musical artist, IDMAN, creates a sonic tableau of hybrid R&B that explores the highs and lows of navigating relationships & life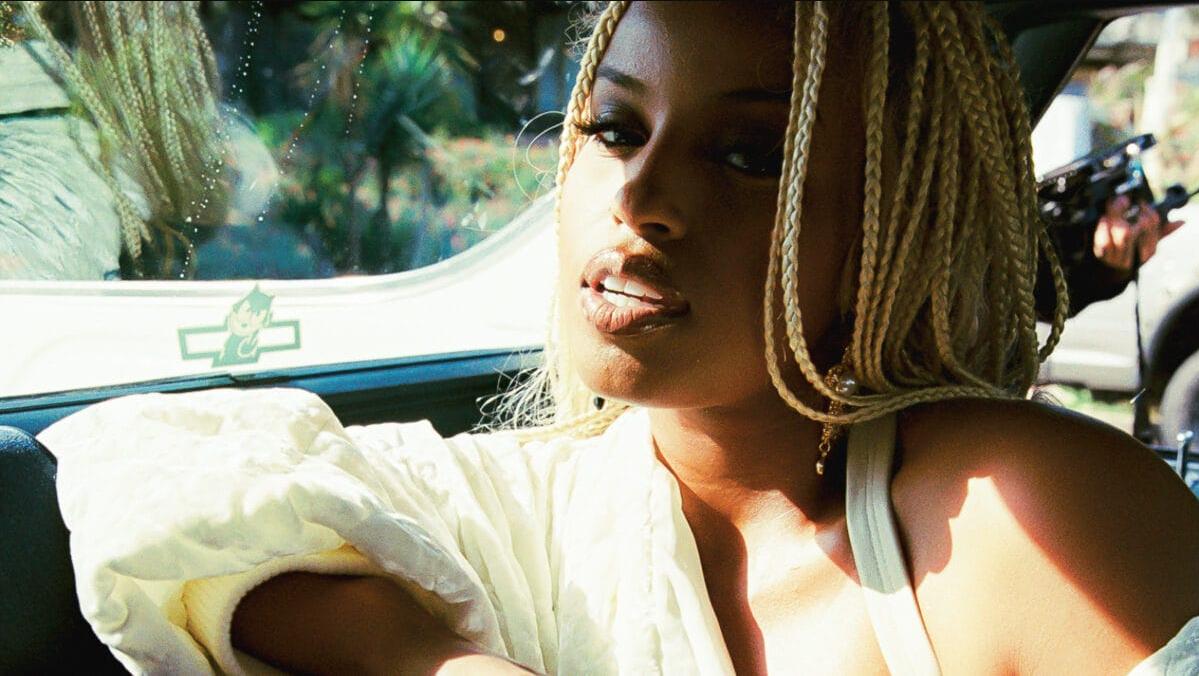 Toronto native and musical artist, IDMAN, creates a sonic tableau of hybrid R&B that explores the highs and lows of navigating relationships and life. Shaped by her Somali heritage and a deep interest in social activism, IDMAN is a burgeoning singer/songwriter who began honing her skill set in childhood, immersing herself in American pop culture, learning English as a result. Her signature sound is credited to blending both North-American and Somali culture and music, alongside the support of her music collective, Golly Geng, Now, in a personal essay IDMAN is sharing a different kind of tune: her truth.
LOS ANGELES – Imagine that I was a stranger who knocked on your door on a random afternoon and asked: "Who are you when no one's watching?"
What would you say?
Would I even deserve an answer?
This question will make sense by the end of this letter, but first, I want to tell you a story.
In 2015, I went on a road trip to Miami for the National LGBTQ Task Force's Trans Justice Miami Power Summit with some close friends and organizer homies. Two of us were hijabis who'd signed up to support our queer/trans family as allies (Talk Valentina).
A few years before, I was involved in activism where I made some friends while volunteering for a couple of marriage campaigns that ultimately won Mainers the right to same-sex marriage.
Only a select few people knew what I was working on, a family member of mine, her friends, and her father.
It was then that my eyes were opened.
Her father was really supportive and truly understood MLK's words: "Injustice anywhere is a threat to justice everywhere." Her father saw me and I respected him dearly for it. He will never know how the nuance and compassion he showed me every time we spoke did so much to counter the narratives I'd been taught about who was or could be tolerant.
The first queer person in my life was my mom's cousin.
I called her Auntie Guruhbadan, which means beautiful (it was a name I gave her not only to protect her identity but because I couldn't pronounce her actual name as a five-year-old). I mention her because she made flyers for her wedding and it was the first instance where my father and I had explicitly talked about queerness.
It was awkward and a bit clumsy but I understood two things: my father was trying to come from a place of respect and was talking from his heart.
A good sign.
The second queer person I knew and loved was my cousin, a trans woman.
She lived in the same building as my grandparents and would come over for meals. She presented as femme and wore traditional Somali dresses, hair coverings, and people honored TF outta her pronouns.
They rationalized the use of her pronouns and transition as the result of a head injury from an accident that would make her fight you if you didn't use the right pronouns.
Yeah…mmmkay. She had them spooked and it was marvelous.
It never felt confusing or out of the ordinary.
They were some of the only adults I truly felt safe around as a kid. It went against everything I'd heard in the West about back home with issues around queerness and gender.
Later that year, I attended my first Pride as an ally.
It was during a speech when a close friend of mine, a Black Muslim woman, came out and referenced Surah Ar Rahman. She related it to our friendship and our presence there together. And it was at that moment that I truly felt the power of the queer community and the importance of family.
"Queer community and family is something different. It is a favor from God that I cannot deny," she said.
To my friends Rana, Edric, Benn, Del Mar, and Samaa, I thank you for being the exact right people at the right time, with open hearts enough to care and say something.
Their presence in my life has allowed me to embrace my true self without reservation – a great gift that I came to know. It's led me to a life full of so much pride and honor that has revealed a rich history and legacy.
Growing up I'd been led to believe that hiding your true self from people not equipped to hold or honor you, meant you were ashamed or embarrassed.
Out-culture has always been something I've felt like I've had to contend with.
I know there are folks out there who feel that silent, personal protest (the rainbow flag in their bag/under their bed) is sometimes the only safe way to feel connected or affirmed.
I feel as though out-culture has set up a dynamic that pressures young people to choose between access to resources like housing, food, security, and feeling valid or authentic to their identity. I hate the parts of out-culture that tugs at the integrity of those already at the bottom of the totem pole. It has always felt wack to me honestly.
I believe that everyone has the right to choose how and when to disclose their personal identity.
No one should feel pressured to explain their desires or preferences. It's essential to nurture a culture of respect and care, focusing on things that truly matter, such as providing resources, safety, and community support. I wish we told queer and trans youth more often that there is no standard within which to measure the authenticity of one's identity, and that they're valid whether they decide to come out or not. That the world's reactions to their truths are not their fault, and that they are no less valid in their identities for deciding to withhold it from those they believe cannot honor them.
Statistics show that LGBTQ+ youth, especially those of color, are disproportionately affected by homelessness.
Out-culture has often perpetuated anti-black, xenophobic, and Islamophobic attitudes. It's crucial to challenge the idea that queer and trans people owe intimate details of their lives to others.
Ultimately, it's up to individuals to decide whom they trust with their identities. It's okay if someone doesn't get to know all aspects of who we are. We must prioritize personal boundaries and respect for one another.
I believe in the agency to decide who we share what with, and my circles feel warm and they see me wholly. They get the benefit and gift of getting to experience all of me unabashedly and fully disarmed in some cases because they have demonstrated the ability to see and accept my agency.
It's a shame, it's a stain and it should be the regret of a lifetime for someone to deny themselves the love of a queer or trans person because they can't see beyond their own projection.
What a flop.
It is always their loss.
I promise.
I wrote this letter today not out of a need to validate who I am.
I'm not more legit in my queerness for writing this letter.
I'm here to say that you are no less valid for choosing not to deal with all that may come with these choices.
It is just that: a choice.
I've been me, and I've been galavanting in my truth for years.
It's just always been with and around those who could honor that much.
And if this letter is vague, I'm sorry that I couldn't be more unapologetic. I hope everyone who hears me loud and clear knows this much: I love you, I love us.
There are no comments, no DMs, no culturally enforced shame, and nothing that could deter me from being able to say that much.
I wrote this because I could, and I felt safe enough to..
My folks understood me and I believe in my family enough to love them enough to give them the gift and honor of learning to love me as I am in this lifetime.
I think they got it.
And I know I've got the necessary after-care in place if they don't. I've got a community of support to lean on, a career that offers the financial independence to be okay without the support of family and pathways to medical resources to support mental health help and gender affirming care. Because of this access, not only do I feel safer in coming out, I also feel a responsibility to amplify our voices and affirm the many of us who can't or might not be able to. It feels that much more important to affirm the validity of those who have been made to feel otherwise. Because I know queerness is universal (it should go without saying) and I know our liberation is bound together. From Palestine to Ferguson, Tigray to Toronto we exist as we always have and our freedom is tied together.
Truthfully, this all started with a friend, a pronoun, and the first line of a song, and it felt necessary to tell the story I want to tell artistically with the proper context. By the time my work is done, it'll all be there. I hope it makes sense to you then.
I hope you understand that I'll probably never address questions about what I like, who I like, or why I like whatever it is that I do like.
Personally, I don't know you like that and it's rude, tuh. I think the world would be a better place if we cared less about surveillance and policing one another and more about the things that matter – if folks are eating, if they feel safe, if they've got a roof over their head or solid community and real friendship around them.
Imagine.
So again, when it's the middle of the night and someone randomly comes knocking at the doors of your boundaries with questions, remember you actually don't have to answer them and that this is your house!!!
May our hearts remain inaccessible to the untrained or unopened heart, I love you 🤍
******************************************************************************************
The preceding essay was previously published by GLAAD and is republished with permission. The essay was edited by Black queer filmmaker and screenwriter, Sabaah Folayan.
IDMAN's current singles "Down For It", "Good Life", "Look At What I'm Doing To You" and "Hate" have garnered coverage from outlets such as COMPLEX, The Fader, V Magazine, PAPER, Ladygunn, and have generated over 7 million streams.
Recently crowned one of Amazon's Breakthrough Artists in 2023 and coming off support slots for both Sampa The Great and Ella Mai, IDMAN's debut EP Risk arrived this summer. Subsequently, a deluxe version, Risk: Reloaded, was released in August and anchored by a remix of Hate featuring Lojay and Highlyy.