10 ways Trump is attacking LGBT rights
Ignore the tweets, focus on the assault on our Democratic norms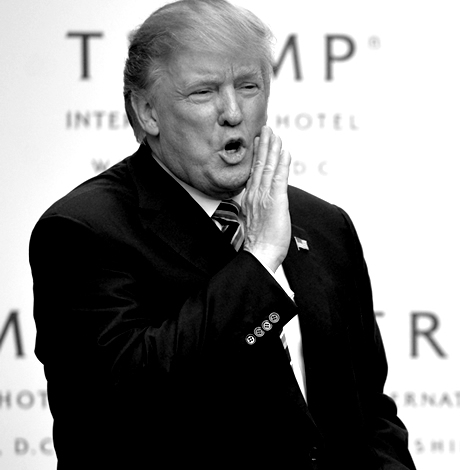 Keeping track of the endless Trump scandals is a Sisyphean task: As soon as you fully dissect one anti-Democratic transgression, the rock rolls back down the hill as our faux president torches another American norm.
Attacking the free press, embracing murderous dictators, retaliating in the pettiest of ways against critics, enforcing an overtly racist ideology, demonizing longtime allies and late night tweets ridiculing everyone from Oprah and Meryl to Trudeau and Merkel. The list goes on.
Sadly, too many of us are taking the bait and wasting time and resources playing along with social media posts of our own responding to Trump and his enablers. Mainstream cable news outlets have devoted endless hours of pearl-clutching commentary to all the tweets. Instead, we should remain focused and resist being distracted by the sideshows. They are a smokescreen intended to hide what's really going on, which is a systematic dismantling of the U.S. government. And it's happening across agencies, from the State Department to the Department of the Interior. As Trump tweets, his sycophants roll back environmental regulations, abandon treaties, gut healthcare. And make no mistake that Obama-era LGBT protections are in the crosshairs. The Blade chronicles these attacks on a near daily basis so it's hard to keep up. Here's a primer on what's been going on while you were vacationing this summer, in no particular order.
#10 Abandoning LGBT people in need around the world. The State Department used to advocate on behalf of LGBT rights in hostile countries. Now we have Trump kowtowing to Vladimir Putin behind closed doors. Do you think he raised the issue of Chechnya's anti-gay crackdown in that meeting? Meanwhile, U.S. Rep. David Cicilline (D-R.I.) recently told the Blade that there is no policy in place that addresses the needs of LGBT immigrant children the Trump administration has separated from their parents. Where the United States once strived to set the example for equality, we now inspire autocrats in other countries to crack down on their press and suppress the rights of minorities. Our example matters. The bully pulpit is real. And it's being used to embolden dictators and to green-light attacks on free speech and assembly.
#9 Undermining LGBT adoption rights. A House committee just last week approved an amendment that would allow taxpayer-funded adoption agencies to deny placement to LGBT families over religious objections. The measure would empower the secretary of health and human services to withhold 15 percent of federal government funds from states and localities if they penalize adoption agencies for acting on their religious beliefs in child placement decisions, as the Blade reported.
#8 Pushing federal workers back into the closet. As we reported, in a letter dated June 28 to Defense Secretary James Mattis, eight House Democrats expressed concern about lack of formal recognition of Pride this year, saying the Pentagon is "backing away from supporting and celebrating" LGBT service members and Defense Department employees. That issue crops up across the government. Where federal workers were proudly out and happy to talk to us about their Pride plans during the Obama years, now they are largely afraid to talk on the record. Trump and his anti-LGBT cronies like Attorney General Jeff Sessions have cast a shadow of fear across the government. The Justice Department, meanwhile, hosted a Pride event for its LGBT attorneys and law enforcement officials — but for the first time in 11 years, the ceremony wasn't held in the building's Great Hall. It was closed to media and attendees were too afraid to talk about it afterwards. The Small Business Administration removed LGBT references from its website, even though the agency won a prestigious award from Harvard University for its groundbreaking outreach to LGBT entrepreneurs during the Obama years. When the SBA reached out to me to assist in putting together its Pride celebration, I declined citing the removal, which was later reversed after much protest, including from the NGLCC. And for the second year, Trump declined to issue a proclamation recognizing June as Pride month.
#7 Stacking government panels with anti-LGBT zealots. Senate Majority Leader Mitch McConnell named Tony Perkins, president of the notoriously anti-LGBT Family Research Council, to a two-year term on the U.S. Commission on International Religious Freedom. Perkins, whose organization was long ago labeled a hate group by the Southern Poverty Law Center, presided over a three-day "religious freedom" conference the State Department held last week in D.C. The event brought together some of the most bigoted homophobes of the far right, granting them the prestige and legitimacy of being endorsed by the U.S. government.
#6 Banning the Pride flag. A Republican lawmaker in the U.S. House has introduced legislation aimed at barring U.S. embassies from flying the Pride flag. Rep. Jeff Duncan (R-S.C.) introduced the measure last week, which seeks to "prohibit the flying of any flag other than the United States flag over United States diplomatic and consular posts, and for other purposes." The State Department didn't respond to the Blade's inquiries on the matter. Will our openly gay ambassador to Germany, Ric Grenell, have anything to say about this effort? Although it's not a Trump initiative, make no mistake that the anti-LGBT forces of the far right and their supporters are now unleashed thanks to Trump and the base tone he has set for the country.
#5 Undoing bias protections for trans people. The Trump administration has asserted that transgender people aren't covered under Title VII of the Civil Rights Act of 1964, which bars sex discrimination in the workplace. In addition, Sessions has rescinded Obama-era guidance requiring schools to allow transgender kids to use the restroom consistent with their gender identity.
#4 Attacks on trans health. The Trump administration plans to roll back an Obamacare rule barring health care providers from denying treatment to transgender people, including gender reassignment surgery.
#3 Advocating for "religious liberty." This is a common theme now, as the far right often pivots from overtly anti-LGBT statements, which don't play well with independent voters, to their favorite code term for anti-LGBT bias, "religious liberty." The White House in June hailed as a win for religious freedom the U.S. Supreme Court ruling in favor of a Colorado baker who refused to serve a wedding cake to a same-sex couple.
#2 Trans military ban. A federal appeals court recently reaffirmed an injunction barring the Trump administration from enforcing its cruel and discriminatory transgender military ban. That's good news, but the move sets up a potential showdown at the Supreme Court. So far, the Trump administration is mum on its next steps.
#1 Anti-LGBT judicial appointments. Last November, New York Times reporter Linda Greenhouse wrote a column about the "conservative plan to weaponize the federal courts." She cited a 37-page plan written by Northwestern University law professor Steven G. Calabresi, founder and board chair of the conservative Federalist Society, in which he declared their intention: "undoing the judicial legacy of President Barack Obama."
To that end, we have Neil Gorsuch and now Brett Kavanaugh likely headed to the Supreme Court. But while the mainstream media are focused on Kavanaugh, there are scores of lower-level judicial appointees moving toward confirmation, many of whom have disturbing anti-LGBT records. Mark Norris, for example, was nominated by Trump for a seat on the U.S. District Court for the Northern District of Tennessee. Norris served for 17 years as a member of the Tennessee Senate, where he advanced anti-LGBT legislation as Senate majority leader. A lawyer who defended Prop 8 in court is nominated for a seat on the U.S. District Court for the District of Utah. And so on.
These attacks, as reported by the Blade, have occurred in just the last few months. They will only increase as the midterms approach and Trump needs more red meat to feed his brainless base of bigots and rednecks. This motley crew was aptly described by Hillary Clinton as "deplorables." They disdain education, ignore hypocrisy and racism and even basic facts, in defense of a bloated con man who will stop at nothing to line his pockets and those of his equally corrupt family and friends. Congressional Republicans in their blind allegiance to Trump have lost the moral authority to criticize any Democrat for any behavior for a generation. They have cast their lot with a wannabe demagogue and are in bed with the murderous Putin, whom they admire for his zero-tolerance of dissent and diversity.
There is one way out of this mess: Everyone offended by it must vote in November and again in 2020. Sadly, a new poll suggests that only 28 percent of millennial-aged voters plan to vote this year. You can march every weekend in protest and launch a million petitions on change.org, but if you don't vote then the deplorable one-third of Americans who still support Trump will win again.
Kevin Naff is editor of the Washington Blade, a sister publication of the Los Angeles Blade. Reach him at [email protected].
Why I'm running: Ron Galperin
My agenda as State Controller is to scrutinize spending and to hold our state accountable for producing results
By Ron Galperin | LOS ANGELES – We are in a pivotal moment in our State and our nation. Trust in government is at an all-time low. Many have lost faith in the ability of government to perform. Our political discourse has devolved and facts are too often substituted with spin.
And so the kind of work that a Controller does – helping to keep government working, honest, and effective – is now more important than ever. That's why I'm running for CA State Controller – and why I'm asking for your vote.
As the elected Controller of the City of Los Angeles, it's my job to be the truth-teller, the adult in the room, the visionary, and the watchdog. I have reimagined what a Controller's office could be – and I want to do the same for our state. And, as L.A.'s first and only openly LGBTQ+ citywide elected official – and the first in my family born in the U.S. – I know how much representation matters, and I feel a special responsibility to be a voice and a leader for inclusion and for equity.
When I first took office in 2013, I brought to the job of Controller my experiences as a journalist, an attorney and a businessperson – along with an understanding of government, having led two city commissions. My office has brought radical transparency to L.A., including our open checkbook, putting every account online, trackers for every dollar spent and dashboards measuring performance.
It isn't just about money – but about how we're impacting people's lives. During COVID, we mapped thousands of free food distribution centers and have continued to update this resource. I have also used my office to be an advocate for increasing equity through our city's first Equity Index, and reports on Pay Equity and Diversity with Equity. I've been a strong proponent of contracting equity – seeking to have more government contracts with small, minority and LGBTQ+ owned businesses. My office has also highlighted and worked to address the impacts of COVID on our LGBTQ+ households and we launched a comprehensive map of resources for homeless LGBTQ+ youth. My intent is to continue this crucial work as State Controller.
The State Controller is the Chief Fiscal Officer of the fifth largest economy in the world. Although this position yields a great deal of power and impacts the day-to-day lives of every Californian — many people still don't know too much about what a Controller does – or can do. In addition to serving as the state's finance watchdog, the Controller is responsible for responsibly disbursing the state's financial resources, independently auditing government agencies that spend state funds, issuing financial reports, and administering the payroll system of state employees.
The CA Controller also serves on more than six dozen boards and commissions, including the California Health Facilities Financing Authority, State Lands Commission, California State Teachers' Retirement System, California Public Employees' Retirement System, Board of Equalization, Franchise Tax Board, California Pollution Control Financing Authority, the California Debt Limit Allocation Commission, California Alternative Energy Source Financing Authority, the California Education Facilities Authority, and the California Victim Compensation Board. In short, it is a job that is charged with keeping our government honest, accountable and effective.
My agenda as State Controller is to scrutinize spending and to hold our state accountable for producing results. I want the Controller's office to be THE place for people to see information that they trust, for ideas and for solutions to our greatest challenges.
I will continue to be a relentless and independent force when addressing the dual crises of homelessness and lack of affordable housing – as I have in L.A., holding politicians accountable through groundbreaking reports on homelessness spending – and how we can and must make more progress with the monies we're spending. And, I have an actual action plan to create transparency and accountability on homelessness and affordable housing across California. We can and must use the resources at our disposal to house people now. For example, using vacant, publicly-owned properties would bring thousands of people off the streets, and help them get access to health, mental health and other critical services they so badly need.
California needs a Controller not only with the experience and credibility to safeguard the people's dollars – but the commitment to making sure California is using its resources to do the most good for our diverse communities. And, as the father of twins with my husband, I want to see a better future for all Californians.

As State Controller, I will use the power of this office to break down injustice and systemic discrimination that exists throughout California and to build a more equitable future for all our residents. You can learn more at www.RonforCalifornia.com. Please join me!
Texas Trans girl assaulted over GOP lies about Uvalde shooting
Why was this teen girl assaulted by a grown man she'd never met, harassed by four strangers who could tell she was trans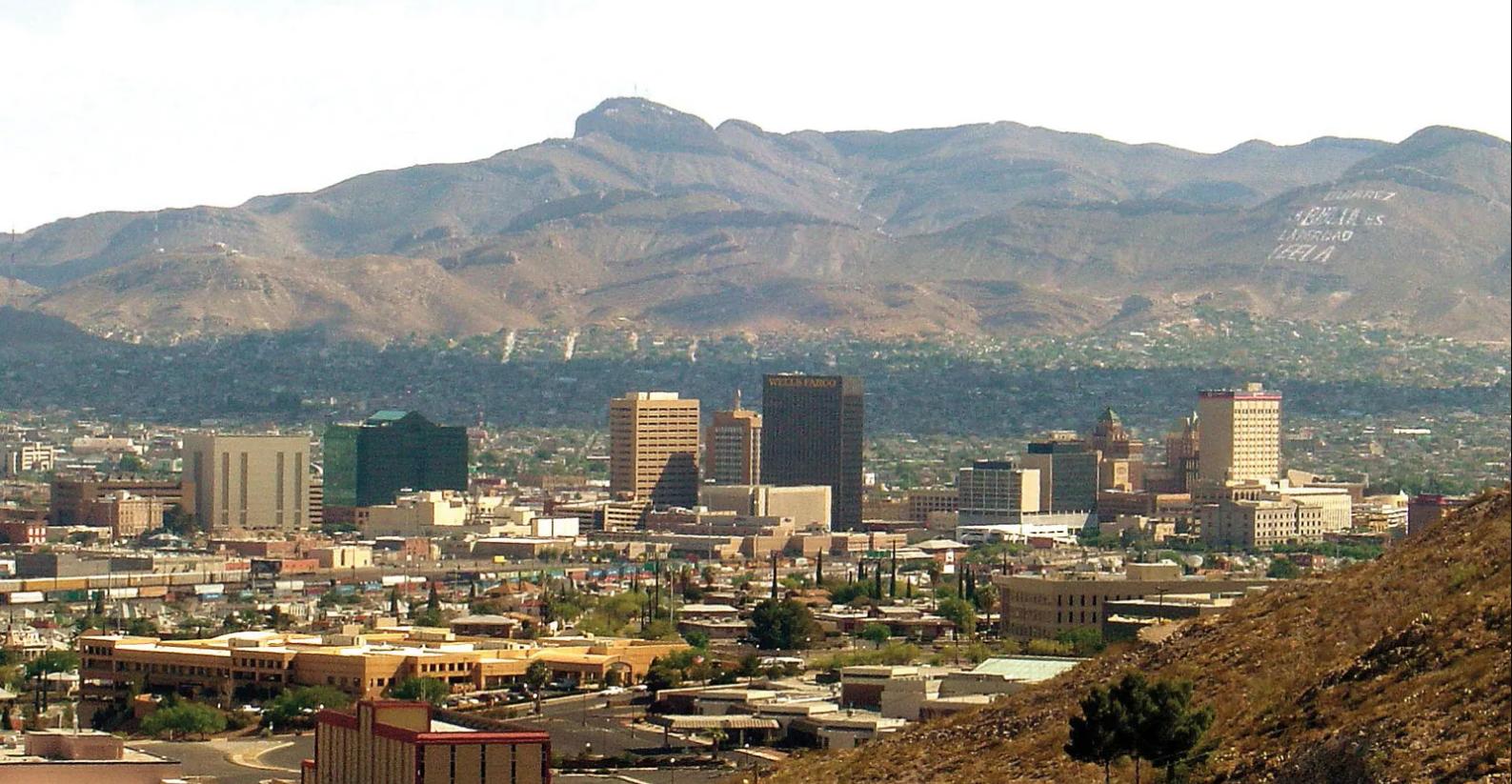 By James Finn | DETROIT – "Oh look, it has a dick," snarled one of four men last night outside an El Paso library where Tracey had just finished her high school homework before heading to the halfway house where she lives because her parents kicked her out for being transgender.
In a phone interview today, Tracey told me the man grabbed her arm and forced her body around to make her look at him, saying "Yeah, you know they're perverting kids instead of killing them."
She had no idea what he meant, but she was scared, like she says she usually is on the streets of El Paso these days. "I'm only 17!" she told the man who grabbed her.
Another man said, "Yeah, you know it was one of your sisters who killed those kids. You're a mental health freak!"
She twisted away and rushed off on her bicycle, stopping to phone the El Paso Police, who refused to take an assault report. Hours later, during a phone session with a Rainbow Youth Project counselor, Tracey heard about false rumors flying around the Internet — that the horrific mass shooting at Robb Elementary School in Uvalde, Texas had been committed by a "transsexual leftist illegal alien." The rumor was amplified in a big way by Paul Gosar, a dentist and Arizona Republican Congressmember who styles himself a doctor on Twitter.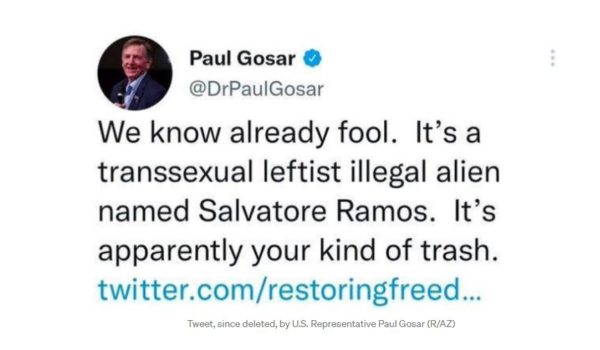 Nobody is quite sure where that false claim got started, but it spread rapidly, based on photos of a person unrelated to the attack. The 18-year-old man who killed 19 children and 2 adults yesterday is neither transgender nor an illegal immigrant.
Gosar amplifying this scapegoating rumor is not unusual. According to Brody Levesque, writing about the Uvalde shooting in the LA Blade, "Gosar is an anti-immigration, anti-vaxxer, radical right hardliner who routinely cozies up to white nationalists." He's typical of the Trump-supporting hard-right faction that now dominates the GOP.
Let's talk about the school shooting, then come back to Tracey, Gosar, and scapegoating
I've felt sick to my stomach since late yesterday when I learned about the horrific mass shooting about 80 miles outside San Antonio. I couldn't stop crying for the parents of those 19 little children who are never coming home again. I despaired at a staunch, reflexive Republican reaction against even minimal gun regulation. I sat glued to President Biden addressing the nation, and I thrilled to Golden State Warriors coach Steve Kerr's impassioned plea for action on gun control.
I had no idea as I was mourning for those children and their devastated parents that a GOP talking point about mental health would soon dominate Fox News and conservative social media. I never could have conceived that the narrative was already twisting itself up with that other GOP mantra, that trans teens are mentally ill and that people who support them are committing child abuse.
But they did come together, in El Paso, with Tracey. So, let's talk about Tracey.
Tracey is not mentally ill. She's not dangerous. She's not hurting anybody. But she spent two months this spring living on the streets because fellow students threatened to out her as trans to her parents. When she tried to get ahead of that by coming out to her parents on her own terms, they told her to get out.
She goes to high school every day watching her back, because students, teachers and other staff are hostile to her. She used to confide in a kind guidance counselor, but she doesn't anymore because the counselor got in trouble after people falsely claimed she'd encouraged Tracey to "become" trans.
Tracey told me that isn't true. She started socially transitioning in 9th grade before she met the counselor. She just liked sitting down for a few minutes with a kind adult.
She can't anymore.
Tracey can't talk to her counselor at a community clinic anymore either. They shut their doors to trans teens a few weeks ago when the Texas government began investigations based on Texas AG Ken Paxton's legal finding that supporting transition is child abuse. It doesn't matter that Tracey just wants to talk and get support. The clinic isn't taking any chances.
The only people Tracey could turn to for support last night were at the Rainbow Youth Project hundreds of miles away in Indiana. They calmed her down after her assault, listened to her fears, and provided as much emotional support as possible over the phone. Then they called the El Paso Police Department for her, who once again refused to take a report. (The EPPD did not immediately respond my request for comment.)
A Rainbow Youth volunteer flew to El Paso from out of state two months ago to advocate for Tracey. They got her off the streets and into a room in a halfway house Tracey calls "nice and comfortable." She says she calls them when she's feeling down, and they often check in on her. She sounds a little weepy when she tells me the only kind people she can to talk to now don't live in Texas. She hopes that changes when she turns 18.
Let's talk about scapegoating
Tracey doesn't want to hang up when I'm ready to start writing this article, but I need to focus, to ask myself why this teen girl with a soft Texas accent got assaulted last night by a grown man she'd never met, harrassed by four strangers in their early 20s to late 30s who could tell she was trans and wanted to blame child killings on that.
Look, the U.S. has an epidemic of mass shootings going on. We must confront that together as a nation. So, how about we stop the scapegoating? I don't know what's happened to Republican leadership, why they won't face up to gun violence, but I can see something clearly. They keep demonizing LGBTQ people. Because that's apparently easier than tackling tough problems.
And last night? That scapegoating terrified a teen girl just trying to ride home on her bike.
How about we knock it off? How about we leave people like Tracey alone? How about we tell Paul Gosar to do his real job instead of stirring up hate? How about we stand up for people who aren't hurting anyone?
I don't know about you, but I'm sick over the Uvalde shooting, and I sure would have liked to focus on that today. What's going on, America? Can we stop bashing trans people, please?
************************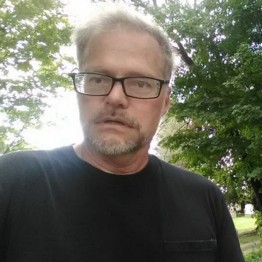 James Finn is a columnist for the LA Blade, a former Air Force intelligence analyst, an alumnus of Queer Nation and Act Up NY, and an "agented" but unpublished novelist. Send questions, comments, and story ideas to [email protected]
********************
The preceding article was previously published by Prism & Pen– Amplifying LGBTQ voices through the art of storytelling and is republished by permission.
Why I'm running: Rick Chavez Zbur
Let me tell you a little more about myself and why I'm running for an Assembly seat to represent Los Angeles AD-51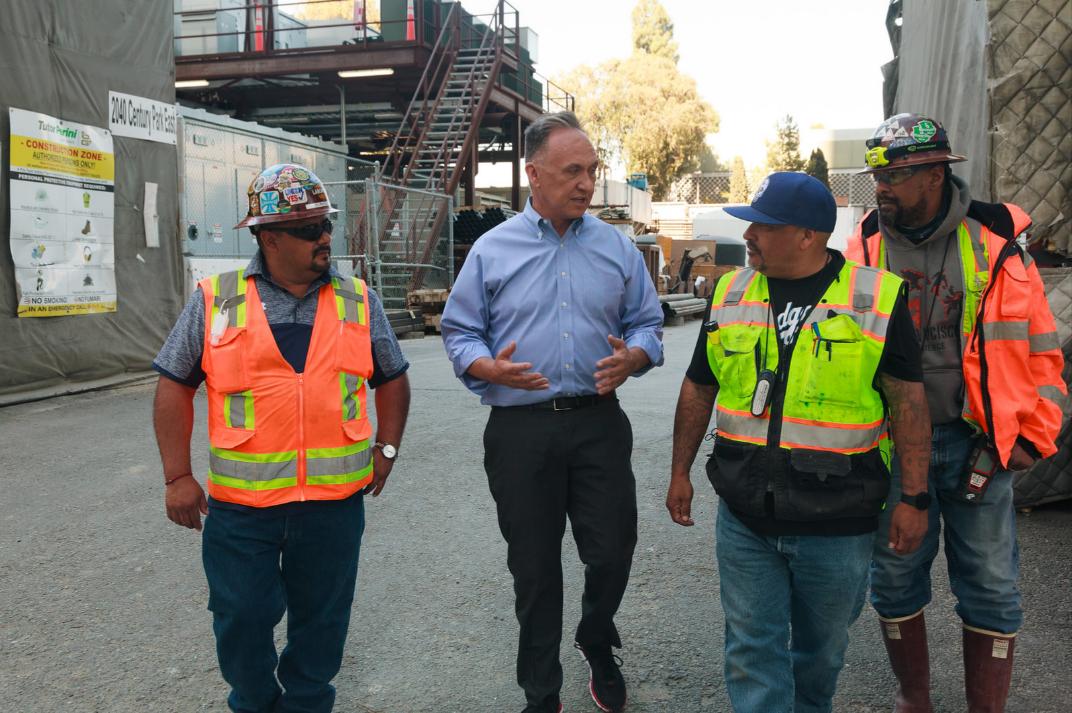 By Rick Chavez Zbur | LOS ANGELES – My name is Rick Chavez Zbur.  You may know me from my time as Executive Director of Equality California, California's statewide LGBTQ+ civil rights organization, but let me tell you a little more about myself and why I'm running for AD-51.
I grew up in a small farming community in rural New Mexico, the same community where my mother, Linda Chavez Zbur, and her family lived for generations. The community was socially conservative and I didn't know a single LGBTQ+ person. Any kid who was suspected of being LGBTQ was relentlessly bullied and taunted, and I could not even let myself think about the fact that I might be gay.
My dad dropped out of high school to help support his family but later used the G.I. bill to go back to high school and college to become a college professor. He taught me the importance of community service. He was a dedicated Democratic activist, and I remember him saying that we needed to support Democrats because that is the party dedicated to improving the lives of working people. My dad and I used campaign candidates together door to door and at the polls. Given my dad's influence, I always thought I might have a career in public service.
But when I began coming to terms with my sexual orientation while at Harvard Law School in the 1980's, I decided that a career in government was not possible for me as a gay man. It was a very different time and there were virtually no "out" gay elected officials. So I moved to Los Angeles and became an environmental lawyer, in large part because I had seen how contaminated groundwater had caused so many people in the farm community I grew up in to become ill, including several uncles and cousins.
Ironically, my lived experience as a gay man that caused me to stay away from government is exactly what brought me back into politics. During the early years of the AIDS crisis, I saw scores of my friends become ill and die, while our elected officials did virtually nothing. The AIDS crisis motivated me to get off the sidelines. So, I came out at work and became the first "out" lawyer at Latham & Watkins. I began supporting, organizing and fundraising for candidates who were willing to fight AIDS and for the LGBTQ+ community. I also joined the boards of Lambda Legal and Children Affected by AIDS Foundation and supported the work of Equality California. More recently, I joined the board of Planned Parenthood—Los Angeles because abortion rights and LGBTQ+ civil rights are inextricably joined.
I also became deeply engaged in the environmental movement. I have served on the Board of the California Environmental Voters (formerly California League of Conservation Voters) for over 20 years — and as President for six of those years. As board president, I led the organization to prioritize environmental justice and the vulnerable communities that are hardest hit by pollution, as well as sustainable housing and green job programs to address climate change.
In 2014, I left my law firm to become the Executive Director of Equality California, the nation's largest statewide LGBTQ+ civil rights organization. At Equality California, I led the organization through a period of significant growth and an expansion of its mission to include advancing civil rights and social justice for the diverse communities to which LGBTQ+ people belong — communities of color, communities of faith, immigrants, women and people living with HIV. I'm very proud of the significant accomplishments during my leadership. With our partners, we passed almost 100 new laws, including a model law to reform our discriminatory HIV criminal laws. We passed laws to protect LGBTQ+ seniors in long term care facilities, transgender and non-binary people who are incarcerated and LGBTQ+ people facing homelessness. We fought for immigration rights, universal healthcare, the $15 minimum wage, gun safety legislation, and criminal justice and anti-racism reform. We banned the use of the gay/trans panic defense in California Courts, and passed laws that allow people to obtain HIV prevention medications (PrEP and PEP) at pharmacies without a prescription. We launched new programs to assure that our schools are safe and supportive for LGBTQ+ and all kids.
I was urged and inspired to run for the Assembly by my sister, Jackie, who lost her three-year battle with ALS. Watching her fight this truly horrendous disease — both physically and financially, spending her entire life's savings on her care — broke my heart and devastated my entire family. I saw first-hand that not only is our healthcare system broken, but so is our social safety net — especially for seniors and people with disabilities.
I know too many families in our community, throughout California and around the world have endured similar pain over the past couple years— and that's why I decided to run for the California Assembly to fight for real solutions on the critical issues facing us today. For decades, I have worked from the outside and I know how to build consensus to pass cutting edge bills in the Legislature. I have the background, commitment and policy-experience to make real change on our communities' toughest challenges—housing/homelessness, hate crimes, climate action, LGBTQ civil rights and more. I am proud to be the only candidate endorsed by the California Democratic Party, Planned Parenthood, Equality California, Stonewall Democratic Club, California Environmental Voters, as well as Governor Gavin Newsom, Supervisor Sheila Kuehl and Congressman Adam Schiff. I would be honored to have your support too!