Queery: Bruce Vilanch
The LA icon answers 20 questions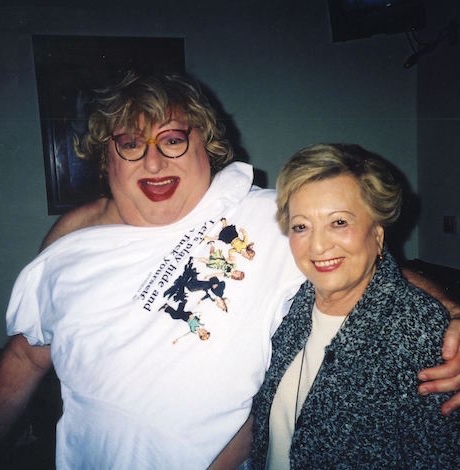 Long before Ellen, Boy George, "Will & Grace," and RuPaul, there was Bruce Vilanch.  You may know him from writing the most memorable moments on the Academy Awards, or from touring as Edna in "Hairspray," or from being front and center on "Hollywood Squares," or from writing for Bette Midler. 
No matter how you know him, and even if you don't know him by name, one thing is certain — Bruce Vilanch always leaves you smiling.
To this gay boy growing up in a Boston suburb, that weirdly wonderful creature who regularly popped up on television brought endless joy – and promise. It proved that somehow, somewhere, there were more people like me; that I could fit in, thrive, work, and more than anything else, have a fabulous time. 
It seemed like it was a party wherever Bruce showed up. "Donny & Marie," "The Brady Bunch Variety Hour," "The Paul Lynde Halloween Special" and "The Star Wars Holiday Special." 
Was it as much fun as it seemed? Vilanch sighs. "Even sex sometimes isn't as fabulous on the inside as it seems from the outside!"
He regularly uses his gifts to benefit causes close to his heart. He's been a tireless advocate for gay rights, raised countless dollars for the fight against AIDS and regularly participates in Pride events – you name it and Bruce has done it. When I ask what drives him, he says, "Renting my body was not an option."
I remember being part of the invited audience for the dress rehearsal before he hit the road in "Hairspray," slipping into Edna's slippers. The first person in his dressing room afterwards was his beloved mother, Henne – who was immortalized in the 1999 documentary about Vilanch, "Get Bruce!" Bruce was still in full makeup (see photo).  Henne gushed, "You were WONDERFUL."  She turned to me and said, "Isn't my son wonderful?"  He certainly is!
How long have you been out and who was the hardest person to tell?   
I've never been in. Before Stonewall, the concept of being publicly out didn't exist. And I've been around since before Stonewall. Shocking, I know. In addition, I was always fooling around with girls, until I realized that any woman I wanted to make a life with deserved more than a guy who would be trolling around looking for other guys. I chose to live an authentic life. When they say homosexuality is a choice, that's the choice they're talking about.
Who's your LGBT hero? 
If I have to pick just one out of the herd, I guess it would be Noël Coward. He lived the life he wanted to live and nobody seemed to make a bother about it. Plus he was funny as shit.
What's Los Angeles' best nightspot, past or present? 
I am of the Studio One/Rose Tattoo era. I was too late for the Coconut Grove in its prime and now I don't last as late, so I can't enjoy Reflex in its prime, which is about 5 a.m.
Describe your dream wedding. 
It's a thrupple. I'm not sure who the other two guys are, but one of them dresses left and the other dresses right and I'm the centrist.
What non-LGBT issue are you most passionate about? 
I'm a tribal Jew, so I'm concerned about my tribe. Working on AIDS-related causes for so many decades has made me more interested in other minority health issues, and being on the board of the LA LGBT Center has certainly gotten me involved in that. Of course, I am dogged about the arts and censorship and preservation and restoration.  And I worry — Tiffany Haddish — she really ready?
What historical outcome would you change? 
I try not to indulge in magical thinking. Magical drinking is enough.
What's been the most memorable pop culture moment of your lifetime? 
Probably Woodstock, but that's just because I am a boomer. I wasn't really a hippie, I wasn't really a rocker, I wasn't really a stoner, but the idea of half a million people hiking into the woods to hear music and to tell the previous generation that there was a new world hatching is still pretty memorable. 
On what do you insist? 
Pleasure. And free WiFi.
What was your last Facebook post or Tweet? 
Probably a postcard eulogy of a friend.  They're thick on the ground now…again.  But this is not because of a plague. This is Mother Nature and Father Time, who are both non-binary.
If your life were a book, what would the title be? 
There was a documentary about me called "Get Bruce!" Maybe the book will be "Had Bruce!"  With a much larger cast.
If science discovered a way to change sexual orientation, what would you do? 
By that time, I will be married to a Martian.
What do you believe in beyond the physical world? 
An ethical dimension. 
What's your advice for LGBT movement leaders? 
Xanax. Just when we thought we had climbed the mountain, they moved the mountain. I don't blame them for being depressed and a bit shell-shocked. Still, our enemies eat a lot of sugar and have boundless energy, and we have to shut down divisive politics amongst ourselves and confront the common orange evil. 
What would you walk across hot coals for? 
A swimming pool, and in a big hurry.
What LGBT stereotype annoys you most? 
Anyone who tells you if you disagree with them, you are worse than Hitler. And that's an awful lot of gay people. We're woefully intolerant of each other and rather than finding common ground, we carpet bomb. This isn't new, but it is especially annoying in the era that began on November 9, 2016.
What's your favorite LGBT movie? 
"Get Bruce!" of course, OK, that wasn't even nominated for a GLAAD Award, even though part of the movie was my acceptance speech when I personally won a GLAAD Award. Aside from that, I am very partial to an indie drama called "Parting Glances," which was the first AIDS movie that I can recall. If you don't think you can handle it, know that the young Steve Buscemi is one of the leads and that alone should get you to Netflix and chill.
What's the most overrated social custom? 
"How are you,"  "Thoughts and prayers,"  "Sorry for your loss," referring to rich kids as "children of privilege."
What trophy or prize do you most covet? 
The World's Largest Penis, which is not the same as the World's Largest Dick, which I have already been called.
What do you wish you'd known at 18? 
That pizza wouldn't make me happy for more than a minute.
Why Los Angeles? 
I'm deeply shallow.
Black Deafhood: A journey at the intersection of sexuality, disability, race
Gallaudet's Bobbi-Angelica Morris on their activism and art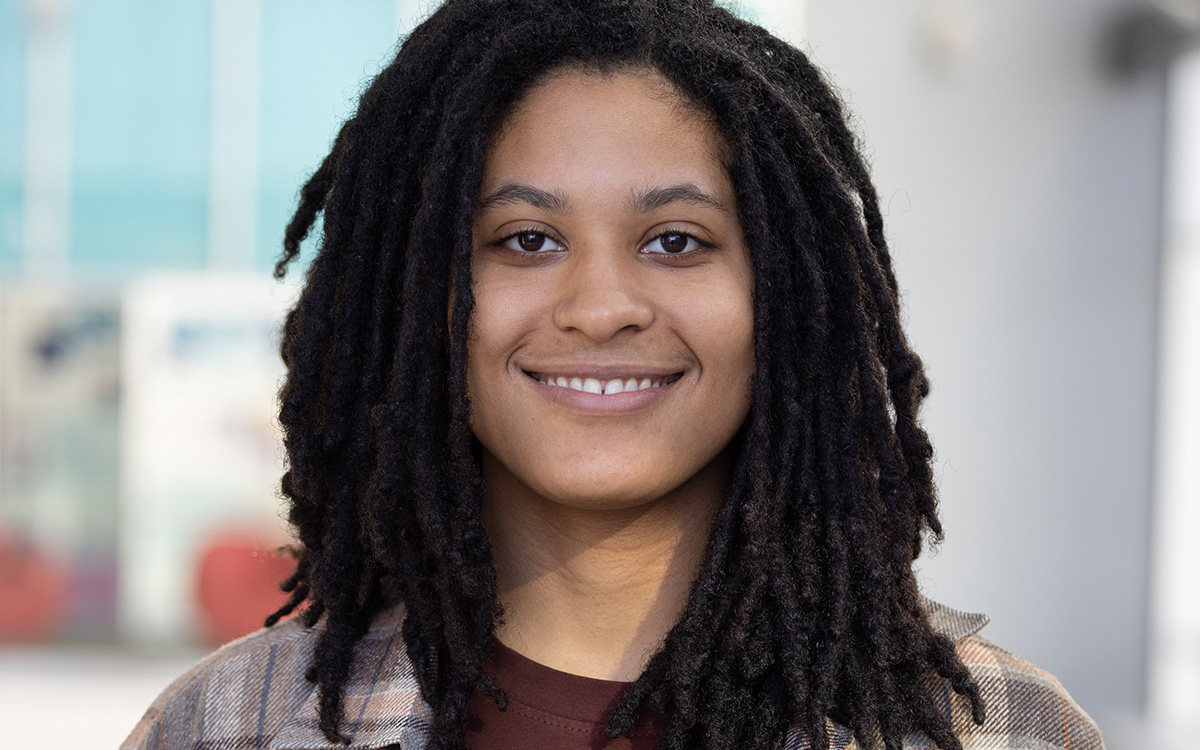 Editor's note: One in four people in America has a disability, according to the CDC. Queer and Deaf/disabled people have long been a vibrant part of the LGBTQ community. Take two of the many queer history icons who were disabled: Michelangelo is believed to have been autistic. Marsha P. Johnson, a hero of the Stonewall Uprising, had physical and psychiatric disabilities. Today, Deaf-Blind fantasy writer Elsa Sjunneson, actor and bilateral amputee Eric Graise and Obama administration Assistant Secretary of Labor for Disability Employment Policy Kathy Martinez are just a few of the people who identify as queer/Deaf/disabled. The stories of this vital segment of this queer community have rarely been told. In its series "Queer, Crip and Here," the Blade is telling some of these long unheard stories.
"My 'coming out' story looks more like me telling someone my favorite cookie flavor is chocolate chip," Bobbi-Angelica Morris, a Gallaudet University graduate student, activist, poet, photographer, videographer and visual artist, told the Blade, "than an emotional roller coaster."
"I've always embodied this carefree energy pertaining to who I am, what my purpose is, and how I show up for others," added Morris, who is Deaf/Hard of Hearing and identifies as a Black, nonbinary, queer and abolitionist artist.
Earlier this year, Morris, 23, received the Mary Bowman Arts in Activism Award from the National AIDS Memorial, the San Francisco organization that displays the internationally acclaimed AIDS Memorial Quilt.
Over the phone and in email, Morris spoke with the Blade about a range of topics – from her "Deafhood" to how she felt safe at a queer Halloween party.
Morris, who uses she/they pronouns, grew up in different parts of the East Coast. They spent most of that time in Richmond, Va.
"Growing up, most of the people around me would ask if I was gay," Morris said, "because I fit into the stereotypical realms of present day msc [masculine] presenting dykes."
"No one questioned me when I actually came to terms with my queer identity," they added.
Before enrolling in Gallaudet, Morris spent most of their time as a student with hearing people in schools, where most teachers and students didn't communicate in American Sign Language (ASL). Morris was the only Deaf student in their classes until they graduated from the University of Virginia in 2022 in Charlottesville. There, they majored in global development studies and minored in ASL with a concentration in disability studies and community development.
Growing up, Morris didn't know about ASL or the creativity and history of Deaf culture.
"It wasn't until I was in elementary school," Morris said, "that an audiologist said I qualified for hearing aids."
In their poetry, Morris, who speaks and signs their work, reflects on their family and their experience of being Deaf.
"I reflect on my own Deafhood:/ my playground fights/ with uneducated parents," Morris writes in a poem, "When little Black Deaf girl doesn't hear someone speak to her,/that someone thinks little Black Deaf girl is disrespectful."
Like many Deaf/Hard of Hearing people, who go to school when they don't know American Sign Language, and there are no ASL interpreters, Morris felt isolated.
"I had no knowledge of the Deaf community or of Black Deaf history," they said.
Some in Morris's family and community couldn't accept that Morris is Deaf. "Some, not out of maliciousness, prayed for my healing," they said.
What Morris calls her "Black Deafhood," has been a long journey at the intersection of sexuality, Deafness, disability, Blackness, gender, activism, and art.
Deafhood is a "journey that a Deaf person undertakes to discover his, her or their identity and purpose in life," according to a Deafhood Foundation statement on deafhood.org.
Hearing people often perceive of Deafness as a disease that should be cured, and of Deaf people as incompetent, second-class, less-valued, citizens.
Just as coming out helps queer people to affirm their sexuality and connect with the LGBTQ community and history, Deafhood empowers Deaf people to have pride in themselves – to connect with the Deaf community, history and culture.
As it often goes with finding and loving your queer self, Deafhood is a process.
In middle school, Morris watched "Switched at Birth," the popular TV series. The teen and family drama features Deaf and hearing actors and scenes in ASL.
The show jump-started Morris's interest in Deafness and the Deaf community. "But, I still didn't understand my connection [with the Deaf community]," Morris said.
Curious to discover something about Deaf culture, Morris started an informal class – a club. There, they and their friends learned signs from YouTube videos.
At the University of Virginia, Morris took a sign language class. They studies abroad for a time in India.
At Gallaudet, Morris began to feel connected to the Deaf community. They are a student in the Master of Social Work program at Gallaudet's School of Civic Leadership, Business, and Social Change. Morris will graduate with an M.S.W. degree in 2024.
They are equally committed to making art and activism – to working for social justice for Black, Deaf/disabled, queer, and other marginalized groups. A love of art and social change is etched in their bones.
"I am an abolitionist and an artist," Morris said, "I cannot be one without the other."
Their abolitionist identity is connected to how they experience intersectionality. Morris sees their life as connected "to the movement for total liberation of all our people, beings, and non-beings in this present day and beyond," they said.
Because they are an artist, they have a responsibility to use their skills to educate, inspire and protect "everyone and everything that abolitionists fight for daily," Morris said.
From early on, Morris loved being creative. During an unstable childhood, art helped Morris to express their feelings.
Fortunately, art ran in Morris's family. "My bio-mom is an amazing artist," Morris said, "so we would draw things together."
Later, Morris's god-mom gave Morris materials that sparked their interest in painting and photography.
In middle school, Morris got into spoken word poetry when one of their Boys and Girls Club mentors showed them a spoken word video. At the University of Virginia, Morris participated in poetry slams. In their Gallaudet social work program, they impressively deploy their artistic and activism chops.
Their advocacy projects are numerous. Morris is developing ASL G, a non-profit organization. The group's mission "is to develop community garden coalitions and programming for art and health wellness through disability justice," Morris said.
Morris was the former creative outreach coordinator of VOCA, a non-profit that supports BIPOC, Deaf artists.
"I have family members that have been incarcerated," Morris said. "Because of that, I want to fight the injustice of the prison industry and mass incarceration."
Morris is the president of Students Against Mass Incarceration (SAMI), a student club at Gallaudet.
Ableism, audism (discrimination against Deaf people), homophobia and racism are issues for Morris. "The white presence is prominent in many institutions," they said, "often they're predominantly white."
Morris likes being a Gallaudet student. But, "there's a lack of racial competency at Gallaudet as there is in the whole of America," they said.
The queer community has provided safe spaces for Morris.
Once, Morris and their partner attended a queer Halloween party in Charlottesville. "Half the people in attendance knew or were learning sign language," Morris said. "I think it was then that I realized how connected the queer community was in ensuring no one was left out."
Morris went to the party as Beast Boy, and their partner went as Raven from Teen Titans.
Follow Morris on Instagram @Blckrainbow5