DTLA's queer community soars to new heights, like its skyline
Neighborhood emerges as hot new core of LGBTQ life in SoCal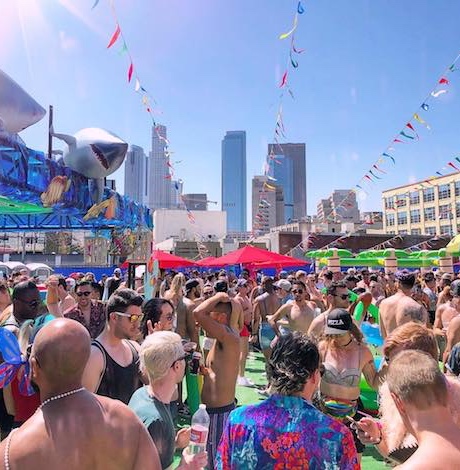 For decades now, the City of West Hollywood has been considered the "Gay Mecca" of Southern California, where LGBTQ pilgrims from all over the world have come to live, work, and play.

While WeHo's historic status as a hub for queer life and culture is not likely to change anytime soon, another neighborhood in the larger Los Angeles community has lately been on the rise as a new hot spot for LGBTQ life in L.A.

That neighborhood, of course, is Downtown, lovingly referred to – by almost everybody – as DTLA, and this weekend it will provide the breathtaking backdrop for the Los Angeles Blade's "Pride in the Sky" event at the OUE Skyspace.

Los Angeles Blade will partner with U.S. Bank to present Visibility Awards honoring 11 important LGBT influencers and activists in entertainment, legal, political and services – including U.S. Bank Vice President Hany Haddad, WeHo Transgender Advisory Board member James Wen, ONE Archives Executive Director Jennifer Gregg, and AHF President Michael Weinstein, among others. The event will also benefit the Blade Foundation, whose mission is to fund enterprise journalism projects focused on LGBTQ and other underrepresented communities and to create scholarships for LGBTQ journalists.

"Pride in the Sky" is also a celebration of the third annual DTLA Proud Festival, which, beginning Friday night, will place the weekend's spotlight squarely on downtown.

An enormous, queer-centric block party, Proud Festival takes over the neighborhood's iconic Pershing Square and transforms it into a raucous wonderland. There's food, drink, dancing, entertainment, shopping – even a water park. There's also community outreach and a significant amount of space dedicated to acknowledging and preserving LGBTQ heritage and history. And it's meant to be a diverse, inclusive safe space where everyone can celebrate and be celebrated, regardless of their race, their gender, or how they identify.

In a lot of ways, it is a kind of microcosm highlighting the very qualities that make DTLA so appealing to the queer community.

Oliver Luke Alpuche, a Highland Park native who moved downtown in 2009, sensed that appeal from the beginning, and has played a major role in nurturing its growth.

"The first couple years I loved it," he says. "There was this great sense of community, not only the LGBT community but the community in general."

He noticed that something was missing, though. He says, "You could walk down the streets and see gay couples holding hands, and in all the bars… but where was that comfortable place where they could actually meet, and just hang out?"

He decided to do something about it. 

Along with Zachary Beus, he came up with the idea for Redline, a "premier nightspot" intended to provide a meeting place for DTLA's LGBTQ community. The bar opened its doors in 2015, and quickly became a major fixture in the downtown scene.

That was just the beginning. "When we were talking about our grand opening for Redline, we wanted to do a block party," he says. "That got scrapped, because we had a two-day notice to open. About a year after we opened – and Precinct DTLA had also opened – we were noticing that there was this amazing force happening downtown, and we said, 'let's revisit this block party idea.' Everyone was on board, and it snowballed into something even larger than we had anticipated."

What it snowballed into was DTLA Proud Festival – along with DTLA Proud, the non-profit organization founded by Alpuche to "strengthen and empower the local LGBTQ+ & ally community in Downtown Los Angeles through visibility, volunteerism, partnerships and events."  Right now, of course, that translates into putting on another successful festival; looking ahead, it involves turning some of those proceeds into proactive efforts to raise the LGBTQ profile in the downtown community on an everyday basis, such as a "gay-borhood map" highlighting all of the neighborhood's gay-identifying businesses, as well as continued participation in DTLA's annual "Night on Broadway" event, which last year drew over 250,000 people and allowed DTLA Proud "to showcase the queer community, and the best that it has to offer, to the larger LA community," as Alpuche puts it. Perhaps most significantly, there are plans for a new downtown LGBTQ Community Center – officially announced at DTLA Proud's pre-festival Gala, from which 100% of the proceeds will go toward its capital campaign.

Alpuche says, "Things are happening, and we're so excited to be a part of that growth, to curate and make sure that downtown stays as accepting and inclusive as possible. That's what DTLA Proud is about, and what we want to ensure will continue."
When asked to sum up the appeal of DTLA for the queer community, Alpuche says, "I think for me it's the fact that we're integrated within the overall community. You have amazing restaurants opening up, celebrity chefs are everywhere; you have amazing architecture, the historic theatres are there – there's so much that's offered that's not specific to the gay community, but it's engaging to the gay community. It's not separated, everything is for everyone down here."

"It's more of a whole city being integrated versus being a separate area. That's what makes it exciting, and comfortable."

As a leader of the DTLA community, Alpuche can be expected to sing the praises of his neighborhood. But what about others, who are not so deeply invested?

Many of them echo his glowing sentiments.

Waylon Allison, a longtime downtown "scenester" who has lived there since before its revitalization, says, "There's a fusion now between the queer and the straight communities.  Everyone's free to be just who they are, regardless of gender or sex or how they want to label themselves. It's become a safe haven, whereas five years ago it was a little, you know, weird – just to dress up, express yourself – especially downtown."

A veteran of some of the edgier LA queer events of decades past, Allison says that now, "Downtown is the core of that scene." He also thinks that what helps the present-day nightlife here stay vibrant is social media – something the "underground" community, of which he proudly proclaims himself a part, did not have in the old days. Parties, such as Danny Fuentes' "Sex Cells" and other ongoing events, are hosted throughout DTLA – not just in the "official" gay bars – and provide a fundamental part of the community's social scene. "These younger people really understand how to work social media, they use it to get the word out and to stay connected in between the events." 

That connection, he says, also translates into the neighborhood's daily life.  "The underground party scene is very communal – everyone knows each other, like an extended family, and it's their life."  He goes on to explain, "Like with me, for instance, it's every day, it's part of who I am.  It's an integral part of my existence – and down here, everybody who's part of that scene tends to live their lives that way.  It's not like a 'weekend warrior' thing, where people just go out and party on the weekends but won't represent it in their everyday life."

Jeremy Lucido, a photographer and longtime fixture of LA's queer art scene, also talks about how the downtown "vibe" fits perfectly to his lifestyle.  He says, "As a photographer, I wanted a place with high ceilings for my backdrops; a downtown loft made sense.  Living in downtown was the first time I got a sense of community, from getting to know the shopkeepers on my daily routine, to always running into someone you know everywhere you go. It feels like my own little Mayberry – well an urban version of it, with taco stands and dog pee, that is."

He says the mutual support he feels from the other members of the community is a big part of why he loves it.  "As a queer artist who lives, works and plays in downtown Los Angeles I know the importance to have not only an LGBTQ presence but a community I can be proud of.  I am active as much as I can be in the queer DTLA community, and the one thing that sets downtown apart is we don't see each other as competitors or rivals, but instead as allies and peers.  It is indeed a community where I feel surrounded by family."

John Ison, who works in Orange County but lives downtown, is also proud to call the neighborhood home.

"I've always wanted to live in a high-rise in a big city," he says, "and DTLA made my wish come true. It's not NYC, but it's the closest thing to Manhattan that we southern Californians can get."

He elaborates, "It's like a dirty Disneyland. With the high concentration of historic neighborhoods, dramatic skyline, museums, galleries, architecture, bars, restaurants and food trucks, and its highly diverse population, walking downtown is like visiting an amusement park."

Even though he doesn't participate much in DTLA's nightlife, Ison has a deep understanding and appreciation for the area's gay history. "DTLA has great social significance for gays – it was a center of gay politics, and activism before Stonewall.  The ONE Institute was located on Hill St near 3rd (Grand Central Market), and Pershing Square was a big cruising area in the '50s, '60s, and '70s.  For decades it has been ignored by mainstream gays — despite its cultural significance – but I think it's safe to say it is now clearly and firmly on the map.

He also has an enthusiasm for drag, and points out that DTLA's venues have embraced and encouraged the art form through events such Precinct's weekly "Queen Kong," which features both local and internationally famous drag queens.

His overall impression of the DTLA community is much the same as Lupache's.  He says, "DTLA has always attracted gays, but in the context of the art, punk and avant-garde scenes that welcomed straights as well as gays. It may or may not have been very ethnically diverse.  At present, DTLA is not so much a segregated haven for LGBTQ people (like, arguably, WeHo), but it is a place where LGBTQ people can contribute in the context of a larger commitment to diversity."

He does add, however, "The REAL dividing line in DTLA is class.  Most gays living downtown are 'affluent' or rich or trust fund kids, like their straight counterparts. The poorer ones might live outside DTLA, or be in some of the hotels or Skid Row housing. The middle class is shrinking at a much faster rate here than elsewhere."

This brings to the forefront the most obvious obstacle to establishing DTLA as a truly inclusive environment for the LGBTQ community – or any community, for that matter.  The resurgence of downtown has meant that real estate in the area has skyrocketed.  With average rental costs in the neighborhood listed at around $2450 a month, finding an affordable place to live is out of reach for a large percentage of the population.

This is not news, of course, and it's true of the entire Los Angeles area.  It's also true that DTLA is not even the most expensive neighborhood – though some of its most extravagant properties are among the priciest in the city, the average is somewhere in the middle range.

What is true is that, as of now, DTLA seems to have a shortage of options available for lower-income residents seeking a place among its inhabitants.  Many buildings sit vacant, their owners holding out for high-dollar tenants looking to join the ranks of downtown's elite or tap into the area's lucrative retail scene.

Like Ison, most downtown residents are keenly aware of the obstacles that exist for those facing economic hardship in their community. Allison comments, "We need something down here that can provide resources and services – especially for homeless youth, or for struggling LGBTQ kids.  Monetary, or food services, housing placement – that stuff is really important."

It's too early to know, yet, whether DTLA Proud's planned community center may take much-needed steps to bridge this gap.  If, like Los Angeles' LGBTQ Center, it offers advocacy and programs aimed at helping distressed segments of the population to find their footing, it could go a long way toward helping downtown truly live up to the shining ideal it has of itself as a place that embraces everyone.

In the meantime, though, it's not necessary to have a downtown address to reap the benefits of DTLA's thriving cultural scene.  Whether you like drag shows and queer dance parties, or just fine dining and theater – not to mention the abundance of museums, galleries, and shops to be found in the area – any one of several public transit hubs will put you within walking distance. 

As Alpuche puts it, "there's always something happening," and you can be right in the middle of it, whether or not you can afford to live there.
If you want a taste of what downtown has to offer, DTLA Proud Festival runs Aug 24-26 at Pershing Square. Advance tickets for Saturday and Sunday (the first night is a free, family-friendly event) can be purchased at dtlaproud.org (where you can also find the entertainment lineup and schedule).
The Los Angeles Blade's "Pride in the Sky" event takes place from 6-8 p.m. on Aug. 25 at OUE Skyspace, 633 West 5th St., Los Angeles.
Turning pain into positive & using art as therapy – Carl Hopgood
He knew he wanted to embark on a path toward a "bold, exciting life" among other "creative people" while "doing amazing things and living"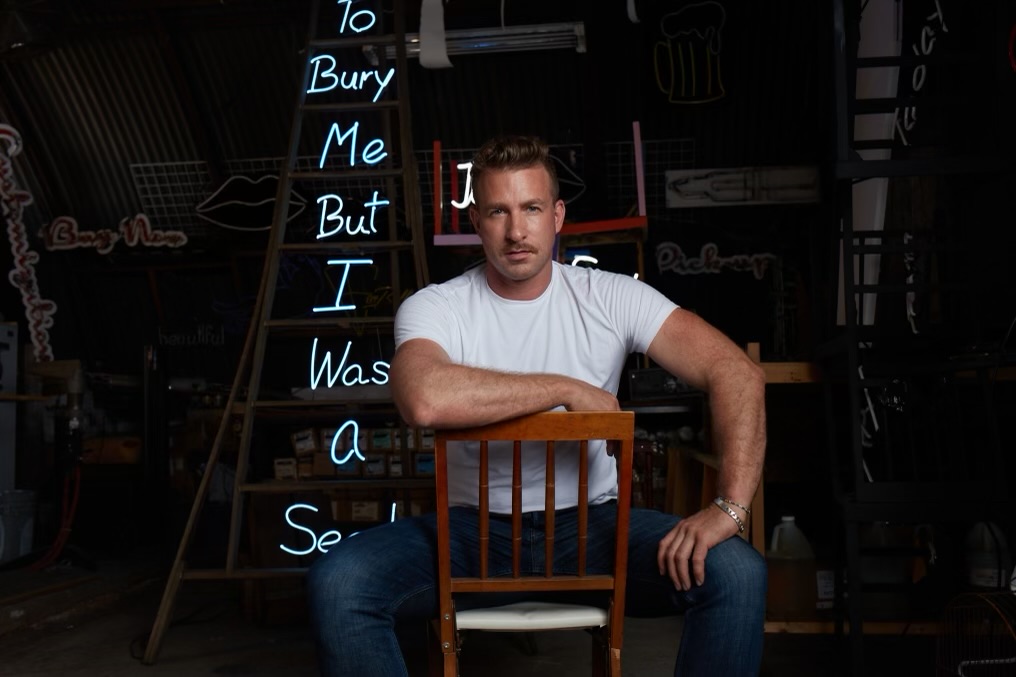 LOS ANGELES – Like many people born with an inclination toward creative expression, Carl Hopgood has known from a very young age that he wanted to be an artist.
Growing up on a small farm in rural Wales, the Cardiff-born Hopgood spent his childhood surrounded by animals and nature, letting his imagination run wild and creating worlds he envisioned with baskets, fruit boxes, flowers, stones, tabloid clippings, and other items that struck his fancy. Then, at 7, he was invited to spend an afternoon with his best friend, whose cousin was visiting; that cousin happened to be Richard Burton, and he happened to be accompanied by his even more famous wife, Elizabeth Taylor.
Hopgood was not just star-struck, he was inspired.
"My world was never the same after that day," he tells the Blade. "They told stories about Hollywood, London, glamorous parties, movies, photography… and Andy Warhol! Andy Warhol was my first artist crush. He was also born on a farm, so I felt an immediate connection."
After that experience, he knew he wanted to embark on a path toward a "bold, exciting life" among other "creative people" while "doing amazing things and living."

Four decades and one continental transplant later, it can safely be said that Hopgood has accomplished his goal.
A successfully established LA-based artist, he's created a unique body of work that includes pieces in Neon, Sculpture, Film / Video Installation, and canvas painting; his collectors include Morgan Freeman, Eugiono Lopez, The Vinik Family Foundation, The Groucho Club and Rupert Everett; and recent exhibitions of his work – like his neon art installations 'Looking For Love In All The Wrong Places', 'My Heart Is Open', and 'You Changed My Life' at the Maddox Gallery in West Hollywood, and 'Chair Therapy' at United Talent Agency's UTA Artspace LA – have garnered a flurry of enthusiasm and increasing national attention.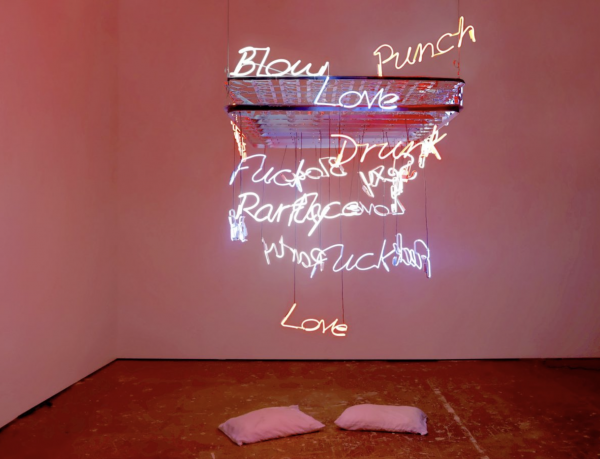 The latter installation created a particular stir with its inclusion of a controversial neon sculpture called "Just Say Gay", Hopgood's response to the draconian anti-LGBTQ legislation championed by Florida Governor Ron DeSantis; that work was acquired by prominent collector Beth Rudin DeWoody and will be on display from December 2023 at her Bunker Art Space in West Palm Beach, Florida.
When talking with the Blade, Hopgood is keen to focus the discussion on a new goal – the completion of a documentary about the creation of "Chair Therapy" – but he's certainly willing to start the conversation by talking about the sense of queer defiance behind "Just Say Gay" and many of his other works, because the two subjects go hand in hand.
"Being a gay man of Welsh and Greek heritage," he proudly proclaims, "the fight against bullying, repression, injustice and discrimination became central themes of my artistic expression."
As he explains, that fight is rooted in a traumatic childhood experience. "I was bullied by classmates," he remembers. "They would chase after me, push me to the ground and kick me in the groin. I managed to escape and found sanctuary under a stack of chairs in the school assembly hall. The school therapist helped me cope by using a technique called Empty Chair Therapy, where you would talk to an empty chair about your feelings.
"I decided turn this pain into something positive and use art as my therapy."

Much later, the young Hopgood would be inspired by the confrontational aesthetic of Damien Hirst – after reading a scathing criticism of one of his works in the paper – and follow in the controversial artist's footsteps to Goldsmiths College in London, eventually becoming part of a movement with fellow graduates like Steve McQueen, Jason Martin, Ceal Floyer, Angela De La Cruz and Alessandro Raho.
"It was an incredible moment to be a young artist in 1990s London."
Nevertheless, after 20 years in the London art scene, he decided it was time for a change.
"I had just watched a documentary featuring David Hockney," he explains. "The freedom and possibility of David's work was clearly inspired by Southern California with its beautiful palette and open, sunny skies. It was a stark contrast to the gloomy weather of the UK, and the anxiety and depression that accumulated over the years. I had heard about the growing LA art scene –LACMA, MOCA and The Broad were beginning to attract an international audience – and I decided that moving to Los Angeles would be good for both my mental health and creativity."
The choice was a fortuitous one for him – "It was the perfect time to go," he says, "and I was ready to work in new mediums and expand my repertoire." Then, like the rest of us, he had to put all his plans indefinitely up in the air.
"In early 2020, when the pandemic hit," he tells us, "I would see all the bars and restaurants shuttered in West Hollywood. It was like a ghost town. Looking through the store front windows, all I could see were chairs stacked on top of each other – and that image took me straight back to my unhappy childhood."
He decided to use it for inspiration and began work on the first sculpture in the "Chair Therapy" series ("My Heart is Open") – which as he describes, addresses "toxic masculinity, oppression and queer identity, themes I've always championed."
Those themes are doubtless also at least partly behind his desire to see the planned documentary – titled "Fragile World" – reach fruition. Filmed during the pandemic, it profiles Hopgood by charting his personal artistic journey, but centers on the development of "Chair Therapy", in which he combined found and vintage wooden chairs with neon lights shaped into positive words to provide hope, love and support for a community who were hardest hit by Covid and the shutdowns it necessitated.
"Seeing those stacked chairs and tables, in those empty establishments, I knew some would be forced to close for good. I felt so helpless, but I knew there was something I could do."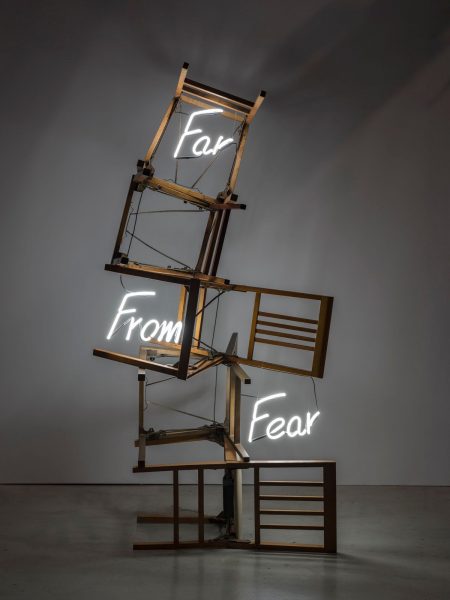 Now, with his own hard-hit community – alongside many others – facing aggressive legislative oppression from the extremist right, he's determined to see the film finished, so that the same empowering message of optimism embodied in his work can be spread to a larger audience as a reminder not to let the bullies break their spirit. To that end, the documentary's director and producer, LA-based British filmmaker Kate Rees Davies, has set up an Indiegogo campaign to raise the funding necessary to finish the project.
Another motivation, perhaps even more personal, might be found in Hopgood's revelation of a hidden influence in another work from the "Empty Chairs" series: "Twelve Steps", which explores the massive financial success of a California citrus industry made possible by the hard work of a segregated Mexican immigrant labor force. "I was also inspired in that piece by a line from Greek poet Dinos Christianopoulos," he says, "who was sidelined by the Greek literary community in the 1970s because he was gay. It's a small but powerful couplet which was included in the collection 'The Body and the Wormwood' that reads, 'What didn't you do to bury me, but you forgot that I was a seed.'"
For Hopgood, perhaps, the documentary also represents a seed, one that he himself has planted in hope of spreading its positive power into the world – and he's counting on the support of his patrons through Indiegogo for the water, light and nourishment it requires to grow.