Aretha and McCain get a lot of R-E-S-P-E-C-T
Barbra sends flowers and lightning bolts, Trump golfs
"When I saw Ariana Grande on the program, I thought that was something at Taco Bell!" – Bishop Charles H. Ellis, who presided over Aretha Franklin's funeral, shares his thoughts on Miss Grande after her performance. What does it say about me that I had the same thought?  Meet you at the Taco Bell, Bishop.
ATTENTION ALL MEDIA OUTLETS: Can you please get your shit together? I hate to start off like this, but it's really getting out of control. First, Fox News used a photo of Patti LaBelle in its tribute to Aretha Franklin. And then, the BBC used a photo of Jenifer Lewis! Y'all, Jenifer's like a generation younger than Aretha. Come on – all black people do not look alike.  Next you'll say all gay people look alike – and I swear to you THAT'S not true.
The confusion stemmed from Jenifer's performance at the Aretha Tribute Concert that took place on the eve of the funeral. Accompanied by the prodigious Marc Shaiman, Lewis sang a self-penned composition, "Thank You, Aretha." Standing under the illuminated "Aretha" sign, the Brits simply got confused — as they are wont to do. But there was no confusing Jen's sentiment, as you'll see on BillyMasters.com.
Prior to Jenifer, people watching the concert at home saw Patti LaBelle sing a teary rendition of "You Are My Friend." Except, she didn't. Sure, she sang it — at a concert at the Dell Music Center in Philadelphia a week earlier. They simply filmed it and rolled it into the tribute concert, and most of the home viewers were none the wiser. That's what I'm here for.
Then there was the funeral. Thank God I was watching from home. I was able to put it on pause, go out to eat, watch a little more, take a nap, etc. Poor Bill Clinton looked like he was gonna pass out. Many people commented on Jesse Jackson's distressed appearance. In case you don't know, late last year he announced that he's been diagnosed with Parkinson's. So, I attribute it to that. Some of the people who didn't come, sent flowers. Folks like Barbra Streisand, Tony Bennett, Sir Elton John, Mariah Carey, and Diana Ross all sent enormous tributes.
Me-oh-my-oh – that was SOME hat on Miss Cicely Tyson! For much of the service, I wasn't even sure there was someone under it! But, God love her, the 91-year-old legend launched into a freewheeling adaptation of Paul Laurence Dunbar's "When Malindy Sings", re-christened, "When Aretha Sings." Then there was Chaka Khan, who I thought was wearing a choir robe…or two.  In case you were wondering, her fan had dual purpose – it not only kept her cool, but also had the lyrics to "Going Up Yonder" printed on the back. A very tasteful and appropriate Jennifer Hudson paid tribute to Aretha with "Amazing Grace," further cementing her position as Franklin's appointed portrayer for the proposed biopic. Fantasia kicked off her shoes and stalked the stage with "Bridge Over Troubled Water." Stevie Wonder was the penultimate act, with "As," backed by Shirley Murdock, Dottie Peoples, Angie Stone, and, wait, once again, Miss Jenifer Lewis wailing "Always." After that, Jennifer Holliday ended the ceremony with "Climbing Higher Mountains" as the casket was taken out of the church.
I believe the whole "show" (for lack of a better term) was stolen by Gladys Knight, who sang rings around everyone with "You'll Never Walk Alone" and "Bridge Over Troubled Water" (you can never hear that enough times). But she inadvertently caused quite a bit of gossip. On her way into the funeral, she revealed that she met with Aretha about a year earlier.  Gladys said, "At that time, we shared the fact that we had the same disease." So, it wasn't a stretch that most people thought Knight revealed she too has pancreatic cancer (she does look quite thin). In a statement she released later that day, she said, "I'd like to clarify that Aretha and I discussed both of us having cancer, mine was stage 1 breast cancer and hers was pancreatic. Due to early detection, I am cancer-free and grateful for that." She also chastised the media for spending time gossiping about her – especially on a day where we should be "celebrating Aretha's life and massive contributions to our world."
The next day, we had John McCain's funeral – more notable for people who were not there (or purposely banned) than for those who were. I will say it did my heart good to see Laura Bush hand Michelle Obama a piece of candy – talk about reaching across the aisle! However, one gesture left me a bit cold. Is it acceptable in the Episcopal tradition for a reverend to take a selfie? First, do reverends typically carry their cell phone during a service, let alone a funeral?  Secondly, isn't it at least a little rude to ask George W. for a selfie when Obama is standing right next to you?  Reminds me of when I ran into Joanna Cassidy at the Emmys, but I'll save that for another time.
Apparently JC Mounduix (the gay little person on "Big Brother" who go-go dances) is involved in yet another scandal.  According to eagle-eyed watchers of the 24/7 feed, he was seen rubbing a sleeping Tyler's arms and kissing his armpits. JC claims he was trying to comfort Tyler, who was having nightmares. Many called for his removal from the show. The producers, clearly trying to avoid another ice cream scooper incident, were quick to respond.  "We spoke with all three of the houseguests separately in detail about the incidents. Tyler and Haleigh explained to the producers that they in no way felt threatened, unsafe or sexually harassed." For the time being, JC (and the entire Moonves family) can keep their jobs!
Lastly, we hear that the Venice Film Festival premiere of Bradley Cooper's "A Star is Born" starring Lady Gaga was interrupted when a freak lightning storm caused a power outage.  Damn, Barbra's powerful!
R.K. Russell's life, sport & bisexual awakening 
This Black queer former NFL player says he's fighting "for us all to be seen, whether it be in the pages or on the screen"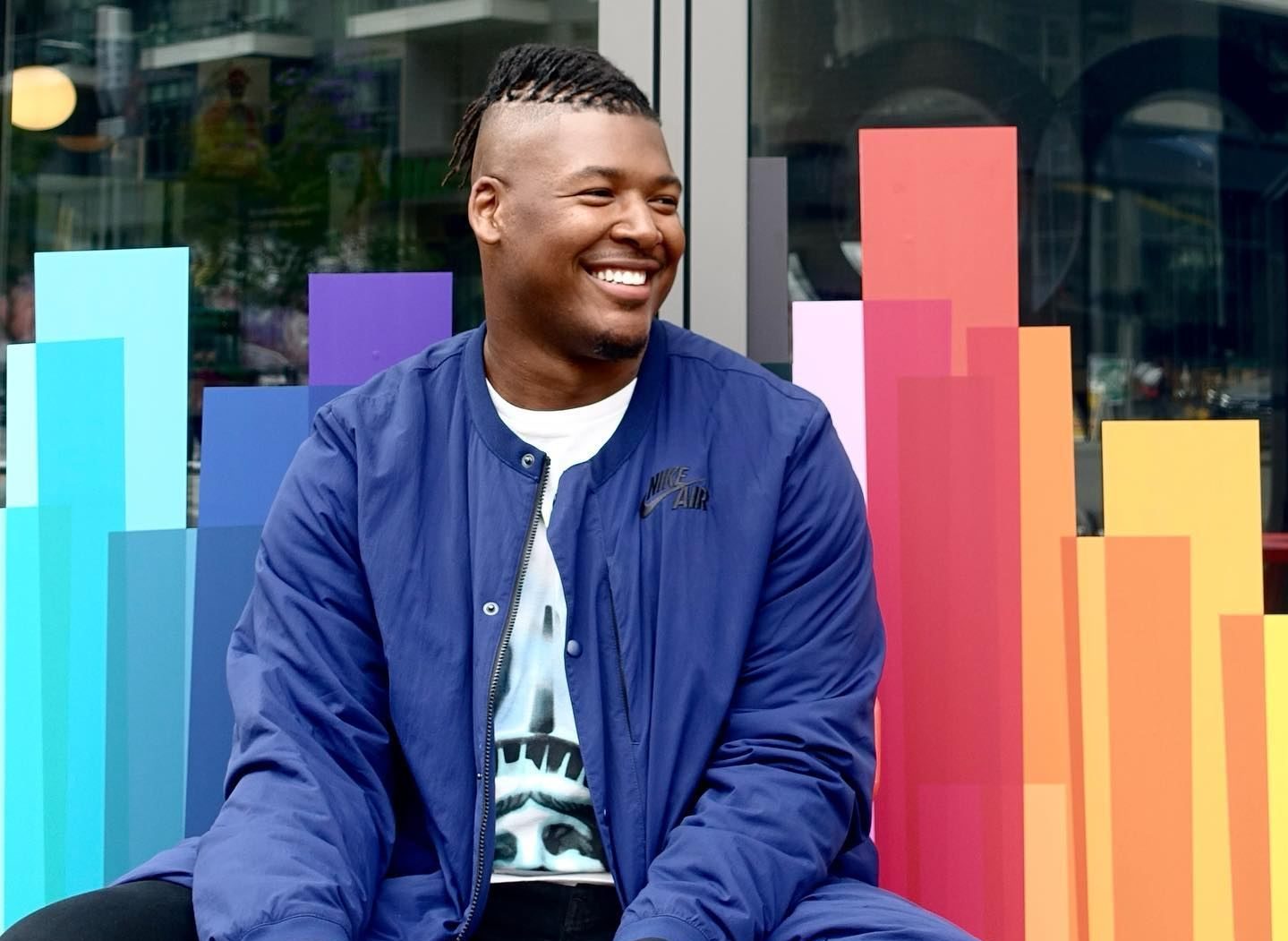 WEST HARTFORD, Conn. – He's tackled opponents on the gridiron, paved a path for out LGBTQ+ athletes and shared his unique voice in words and prose. Now R.K. Russell is celebrating the release of his long-awaited memoir, The Yards Between Us, as well as a Hollywood deal to bring his story to television viewers. 
It's something Russell told the Los Angeles Blade he never dreamed would be possible, even as a child.
"Grown me could barely imagine the book, let alone, little me," Russell said. "It is something I have not seen before, and something that doesn't really exist. Something that is so shocking even to me, this being my life. I think the reason that I continue to take these opportunities that come to use my platform and my voice and my talents, my gift, to not just tell these stories, but to hopefully champion other people in their story. To just fight for us all to be seen, whether it be in the pages or on the screen, everywhere people exist. We exist."
As the Blade reported in August 2019, Russell came out as bisexual in a feature for ESPN. The NFL defensive end was drafted by the Dallas Cowboys in 2015 and played a few seasons for the Tampa Bay Buccaneers and Buffalo Bills. After coming out as a free agent, Russell wasn't able to fulfill one of his dreams — to play professional football as an out and proud bisexual man. But at that time, he said all he was focused on was living his truth.
"It was a powerful time in my life," Russell told the Blade. "It was the first time I really felt that I was taking all this control and I wasn't just at the mercy of the NFL or waiting for that phone call, or at the mercy of friends, family, lovers. It was my decision and my moment and my truth. And I got to express it in a form that felt very genuine to me."
The Buffalo native called the experience "freeing."
"I didn't think I'd realize how much I had been proverbially holding my breath until that moment. And then it just felt like such an exhale. It's such a freeing thing, and the weight of the burden of that secret, of that shroud, or that shame," he said. "I just realized how heavy what I had been carrying for so long. So, definitely a powerful and freeing moment."
Having already told part of his story to ESPN, The New York Times and other news outlets over the years, there was a reason Russell felt it was important to write the rest of his story.
"That was just a very specific part of my life, and it showed me that maybe by sharing my whole story, my life and my journey and my truth and other parts could be just as impactful, if not more impactful," he said. As he set out to write the memoir, he said he first experienced imposter syndrome, until he came to a realization.
"The point that got me through was, 'What would little R.K. read that would have helped him? What was a book that didn't exist when he was young, and that he could have picked up and seen himself, or that people like him can pick up and see themselves? Or even people unlike him, to get a human connection to someone that does not look like them or doesn't play sports?' So, I think the huge, final push was, 'What would I have liked to have read as a child?' And hopefully that will help other people."
The Yards Between Us traces not only Russell's football career and his love for the game, for both men and for women, but also what it was like for him to keep his bisexuality secret and the tension between his private and public lives. As his weighs upon him, he's dealt a devastating loss, an event that leads to an all-enveloping darkness, until finally he recognizes, it's time to make a change.
Since coming out, he's found love with his boyfriend, Corey, grown closer to his mother and this September he'll mark four years sober.
Russell's memoir has won him accolades from LGBTQ+ readers, but not just them.
"I've also gotten a lot of support from people who aren't LGBTQ+ who see the value in the story, but also see the value in the intersections of it all. Because I don't just talk about being a bisexual, I talk about being a Black man. I talk about being a football player, defining masculinity and redefining masculinity. There's a lot of intersections that my story crosses. And I think for people to see all of these layers also coexisting in one person, that's important to see the bridges between these communities that at times can be put against each other, or it can be divided, to see them all exist within one person."
While all that sounds very serious, Sony Pictures Television sees comedy gold in exploring Russell's intersectionality of sports, race, sexuality and masculinity. His memoir is being adapted into a half-hour comedy series, as Deadline reported. Russell is co-writing and executive producing a half hour comedy series with Saeed Crumpler of "Flatbush Misdemeanors," alongside Gabrielle Union, who is a producer in her own right as well as wife to Dwyane Wade and stepmother to their 15-year-old trans daughter, Zaya Wade. As the Blade reported last month, the Wades left Florida because of its anti-trans policies and laws.
"She's fantastic. Amazing," said Russell. "If anyone wants to know what allyship looks like, Gabrielle Union and Dwyane Wade and their whole family, they're so amazing. "
Union, he said, recognizes the importance of representation. "It's important to have genuine representation, whether it be during Pride Month with companies and campaigns or in shows and books that our stories are coming from, that there are Black queer writers writing Black queer stories hopefully also in part started or acted by Black queer artists."
Long before he wrote a word of his memoir, Russell has been publishing his own poems, which he told the Blade was his "way to express life with words." He said he started writing poetry following the death of his stepfather.
"It was a way for me to kind of name grief, without naming it. I didn't have that vocabulary, that word at that time, but I was feeling it so intensely," he said.
One of Russell's poems, Tributes, was an effort at explaining bisexuality and his experiences. "'Bisexuality,' the word, means something slightly different to you, to me, or to someone else. I can talk about the experience in a way that is so varied and so broad and to me, so true and genuine." Below, an excerpt from that poem:
Love is freedom
and the freedom to love is a birthright,
or at least it should be.
These years fill my canvas
and I know too much of life to expect
only one color to leave its strokes across my heart.
Paint is intended to mix no matter the artist. —Tributes, by R.K. Russell