September 11, 2018 at 11:16 pm PDT | by John Paul King
WeHo set to celebrate nation's first Bi Pride
---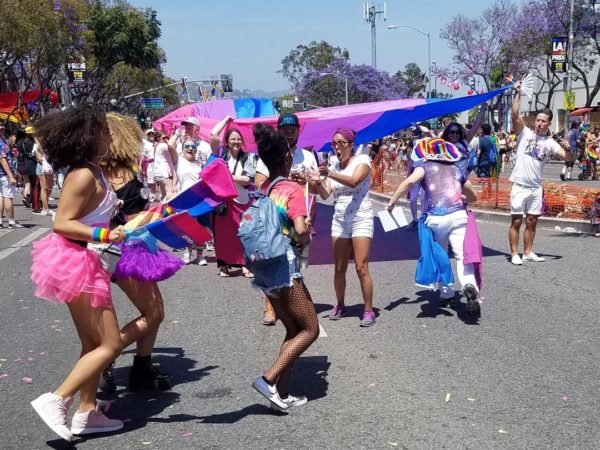 They're the "B" in "LGBTQ," but people who identify as bisexual don't usually get much attention in the public eye – at least not compared with all the other letters in the alphabet soup that makes up the community.
The Los Angeles chapter of amBi is taking steps to change that with the first city-wide Bi Pride celebration in the country, which it will host together with the City of West Hollywood and HRC LA.
The event takes place on Saturday, Sept. 22, the eve of Bi Visibility Day, which was started at the 1999 ILGA (International Gay and Lesbian Association) World Conference in Johannesburg, South Africa and was designated for September 23.
"While a small number of cities have issued proclamations recognizing Bi Visibility Day, this is an historic celebration as the first full-fledged Bi Pride celebration hosted by any US city," says Ian Lawrence-Tourinho, President of the amBi network.
Self-described as a "social club with a mission," amBi was founded in Los Angeles in 2006 and currently has 6 chapters on 2 continents, making it the first international bi network. Their aim is "to build a world in which our bisexuality is a clear source of pride, joy, and strength."
An important step towards that goal is to address the issue of bi-erasure. It's hard to deny that there is a lack of inclusion for bisexuals within the cultural conversation; whenever there is dialogue about the LGBTQ community in the news or other public forums, the focus rarely lands on bi issues, and there is very little bi presence in the narratives we see portrayed in television or movies.
Part of the reason for this lack of visibility may be that it's very hard to tell if someone is bi based on the gender of their partner. As Lawrence-Tourinho puts it, "Short of carrying bi flags around all day, to be visibly bi we'd have to walk hand in hand with at least two people who aren't the same sex."
To make matters worse, he says, "The general public often feels very threatened by bisexuality. We blur the clear lines between straight and gay that people find very reassuring… how can a straight person prove they are straight if just being in a heterosexual relationship isn't 'proof.'"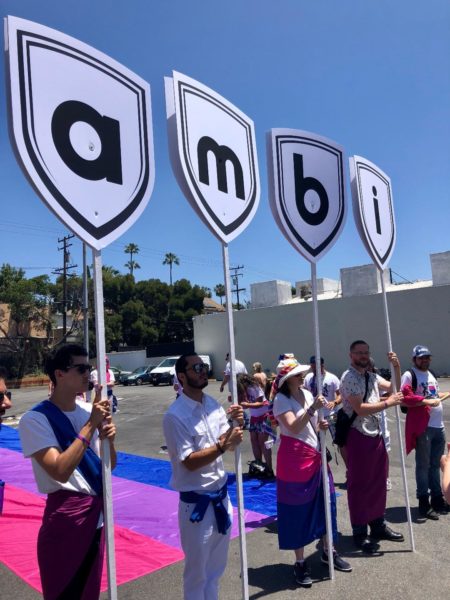 He goes on to say that since the inception of Bi Visibility Day, it has been commemorated more and more around the world with things like talent shows and discussion panels. "All that is great," he says, "but if we're going to live up to the ideal of creating Bi Visibility, we really need to make a big splash and be… well, visible."
Even so, some might question the need for a separate event when bisexuals are already included in the many LGBTQ Pride events that take place every year. Lawrence-Tourinho is adamant that the need is real.
"Ostensibly LGBT events and LGBT organizations fail time and time again to address bi community," he says. "Just a few years ago, it was common for amBi to get booed and heckled by gays and lesbians in the crowd as we marched in the LA Pride Parade. We still get hostile people coming up to us at the festival every year."
He thinks some of this hostility comes from an assumption by some members of the LGBT community that bi individuals "have it easier."
"In fact," he says, "study after study shows that we are a more distressed population than gays and lesbians because we don't typically have many accepting, affirming environments in which to get the support and community most people can take for granted."  He points out that bi-identified people are "disproportionately people of color," and adds that many "tend to be lower income, students, etc."
He adds, "We are also far less likely to be out because we don't have the affirming spaces that gays and lesbians do."
John Erickson, of the West Hollywood Lesbian and Gay Advisory Board, recognizes the misperceptions and hardships faced by bi-identified individuals, seeing it as part of a larger problem that affects many subgroups among the LGBT population.  "Communities of color, trans and non-binary people, bisexuals, and lesbians still receive a lot of discrimination in our community at large," he says.
The LGAB, he adds, is working to help change that. "For over two years," he says, "we have been actively engaged with the bi community through our bi visibility subcommittee that consists of myself, the amazing Robert Gamboa, and now our newest boardmember Sepi Shyne."  David Tiktin, a WeHo resident and founding member of amBi, also works with the board.  According to Erickson, he "helps bring ways that we can better serve as allies and advocates for the bi community through the engagement efforts we do at the LGAB."
It was out of these efforts that the plan for a Bi Pride Celebration emerged.  Erickson says, "After the city formally recognized Celebrate Bisexuality Day last September, it came up as another way to engage the bi community in West Hollywood – outside of the policy work we did internally at the city to draw more attention to the bi related services the city offers as well as has on its website.  The board took it upon themselves to work out this major event and get it cosponsored by the City Council and then work with all the partners that are currently engaged to make it the success that it will be."
Ashlei Shyne, who works with Human Rights Campaign as part of its Community Engagement Subcommittee, was integral in making sure they came on as a co-sponsor of the event.
"Since being involved with HRC," she says, "I wanted to make it possible for bisexuals, especially bisexual people of color to feel equality and to feel part of the community and celebrated.  I hope this is a first step in coming out of the shadows and feeling prideful of our bisexuality in The City of West Hollywood."
HRC is demonstrating its support for the bi community by assisting with volunteers and online promotion, as well as providing financial contributions. They will also conduct a "get-out-the-vote" drive during the party.
In addition to the substantial work of the LGAB in helping to facilitate and organize the event, The City of West Hollywood will make an official proclamation of Bi Pride at their next city council meeting, and is also sponsoring the celebration with use of the auditorium, parking for guests, and waiving the required fees.
It's a promising start for something that Lawrence-Tourinho hopes will grow into an annual tradition.
"This is our first crack at this and the event will certainly evolve a great deal in the future, but we definitely would like to continue every year and create a model of celebration and visibility that can be duplicated in other cities around the globe."
The First Annual Bi Pride celebration will begin at 1pm with a rally in front of the West Hollywood Park Auditorium, followed by a Bi Visibility Walk through the heart of West Hollywood, and will culminate with a party back at the Auditorium.  Artists will include Torrey Mercer (performing her new single, "Boys/Girls"), and LA Department of Cultural Affairs Artist-in-Residence Kai Hazelwood, who will be offering a chance to experience her project, "Story Time Silent Disco."
Admission is free. Free parking is available at the library parking structure on a first-come-first-served basis.
For more information and an updated list of performers, please see the event's Facebook page.