Rust Belt anxiety drives Pulitzer-winning play
'Sweat' is a labor of immersive love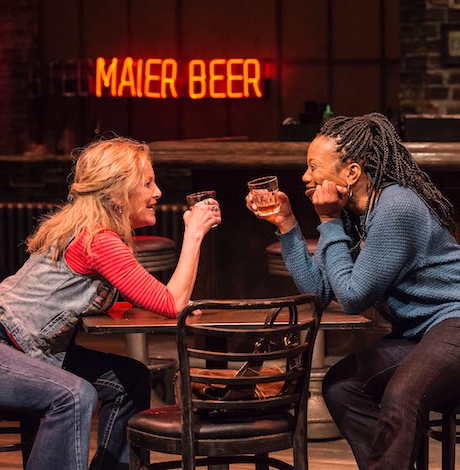 At a recent Habitat for Humanity event in Indiana, former President Jimmy Carter pointed out that in America today, it was rare for those with great wealth to interact with those in need. Given the ticket prices, something similar could be said of contemporary American theater audiences. Lynn Nottage's working-class drama "Sweat" in some way bridges that gap by putting onstage the lives of working-class, financially strapped factory employees in Reading, Penn., a demographic often overlooked in our theater, and one that was pivotal in the 2016 presidential election.
Nottage famously spent two years visiting Reading to immerse herself in a community left behind by globalization, and the play comes to the Mark Taper Forum (135 N Grand Ave., Los Angeles) with almost unfairly high expectations, having collected a Pulitzer Prize and a Tony nomination for Best Play last year. While director Lisa Peterson's production falls short of those expectations, there is much to take away from the affecting drama exploring some of the complex fault lines that turned a reliably blue state red. (Full disclosure: Nottage and I were at Brown at the same time, but we've never met.)
"Sweat" switches back and forth between 2000 and 2008, starting with two scenes in 2008 where we learn that Jason (Will Hochman), a young white man with white supremacist tattoos on his face, and Chris (Grantham Coleman), a young black man who has found religion, have been released from prison for an unnamed crime committed eight years earlier. While Jason is belligerent and resentful toward his parole officer (Kevin T. Carroll), Chris is polite and deferential, although he's "not sleeping too good."
From there the play switches back to 2000, with a series of scenes set a month apart in that year, as we see the events that led up to the young men's incarceration. Most of the action is set in a local bar, a sprawling, industrial space in Christopher Barreca's impressive design, where a gang of locals hang out after work at a nearby factory. Cynthia (Portia) is the mother of Chris, and she has put in 24 years "on the floor," while lifelong friend Tracey (Mary Mara), the mother of Jason, has logged 26 years. Birthday girl Jessie (Amy Pietz) rounds out the trio and drinks way too much. Stan (Michael O'Keefe) has been bartender since a work-related accident ended his time at the factory. Colombian-American Oscar (Peter Mendoza) is the ambitious bar back, working quietly to clean and restock while planning a better life.
The tale unfolds gradually, with small and large resentments accumulating on many sides. When Cynthia applies for a management job, Tracey does the same, even if she doesn't really want it. When Cynthia is selected, Tracey puts it down to racial preferences and the friendship seems permanently changed. Cynthia's ex, Brucie (John Earl Jelks), wrestles with addiction, and causes friction with awkward, desperate interactions with both her and Chris.
Looming over the proceedings is the unseen factory, where automation and cutbacks are threatening many of the lives involved. A prolonged strike heightens the tension for all, creating a financial squeeze on top of the emotional conflicts. When Oscar answers an ad for nonunion workers, politics and prejudice prove a combustible combination. Someone's balance sheet is no doubt improved by the play's events, but in Nottage's microscopic examination of the lives underneath the headlines, we see the steep human price of increased profitability.
The cast has mixed results owning Nottage's challenging dialogue, which often gives characters long, overly self-aware speeches reporting important experiences from their past. Peterson's staging sometimes leaves actors sitting quietly listening when more reaction and interaction should be allowed. Coleman brings heart and brains to Chris, and we believe he has his sights set on bigger things than a life on the floor. Portia is moving as a woman genuinely striving for a better life, caught between her employer and her friends. Mara's spunky Tracey grows more nuanced as the play progresses, but too often she is playing to a bigger room than the Taper. Mendoza, whose character travels farther than most in the play's story, wonderfully captures Oscar's earnest ambition. One wishes there was more of Brucie in the play, as Jelks – the lone holdover from the Broadway production – is superb as an aging man watching the economy leave him behind.
Yee Eun Nam's projections help orient us in time, whether it is the 2000 presidential election or the market crash of 2008. Emilio Sosa's contemporary costumes are perfect, and fight director Steve Rankin is responsible for the evening's most upsetting surprise, when we finally discover the crime at the heart of the story.
Nottage's play is not perfect, but it is a powerful exploration of regular Americans fighting displacement and disregard. After the 2016 election results, many people wondered, "How did this happen?" "Sweat" provides some palpable answers.
Directed by Lisa Peterson and written by Lynn Nottage, "Sweat" will play through Oct. 7. For tickets and information, please visit CenterTheatreGroup.org or call (213) 628-2772.
Zambia soccer captain Barbra Banda fails 'gender verification' test
Despite being barred from competing in this tournament, Banda was cleared to play in last year's Olympic Games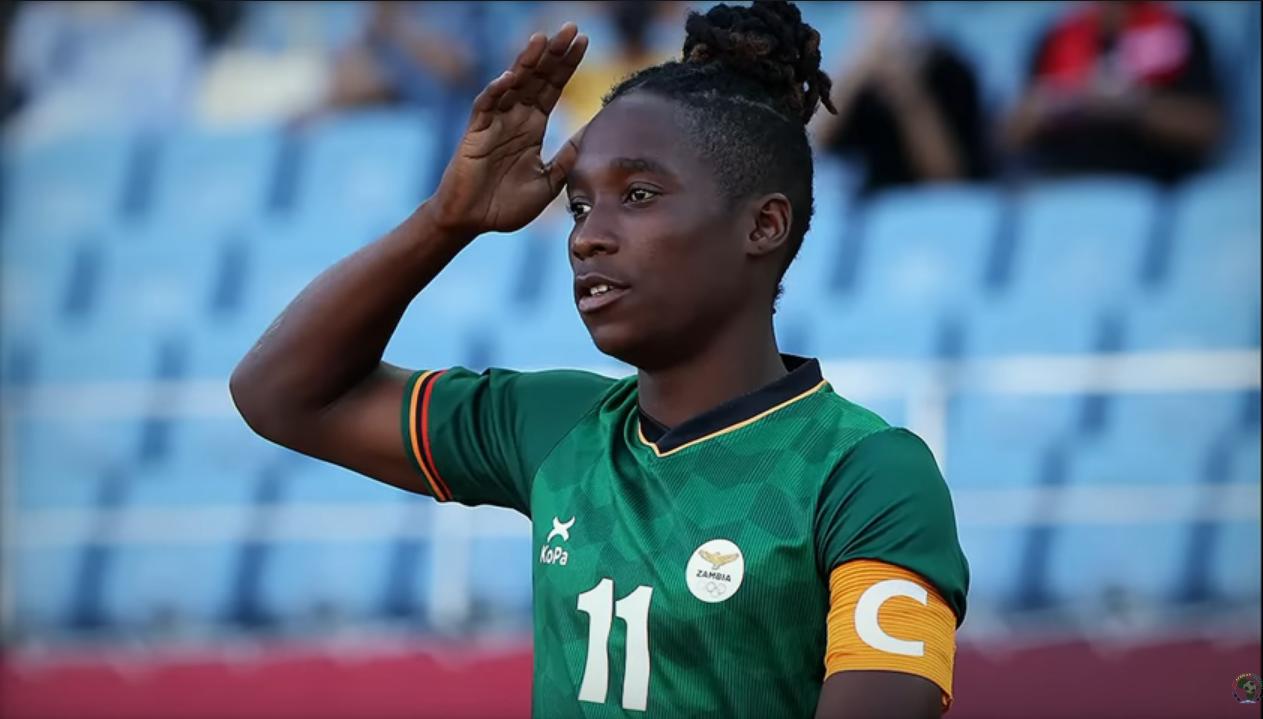 RABAT, Morocco – International soccer star Barbra Banda of Zambia sat out Wednesday's Women's Africa Cup of Nations contest against Tunisia and has been ruled out of competing for the rest of the tournament, because of a test to prove she's a woman.
Banda's testosterone levels were found to exceed those allowed by the Confederation of African Football, according to the BBC. Those rules are established by the global governing body, FIFA, and match those of World Athletics, which required South African Olympian Caster Semenya to medically lower her naturally high testosterone levels in order to compete against other female athletes.
The 22-year-old striker and team captain traveled with her teammates to the tournament in Morocco, and is training alongside them, despite not being able to play. Banda also plays for Chinese club Shanghai and is reported to be contemplating an offer to join Spain's team.
ESPN reports the head of the Zambian Football Association is pressing the CAF for a review.
"Our FA President is in Morocco and has been pursuing this matter with his colleagues in CAF," FAZ communications director Sydney Mungala told ESPN about the efforts by ZFA president Andrew Kamanga. "The Barbra case is just one example, but the broader picture is to strive to see how these regulations can be more responsible for the general situation — not just Zambia. Many players can be affected by these regulations, and football is their livelihood. I think the CAF regulations are a lot more stringent [than Olympic regulations], and they put too much stress on testosterone levels."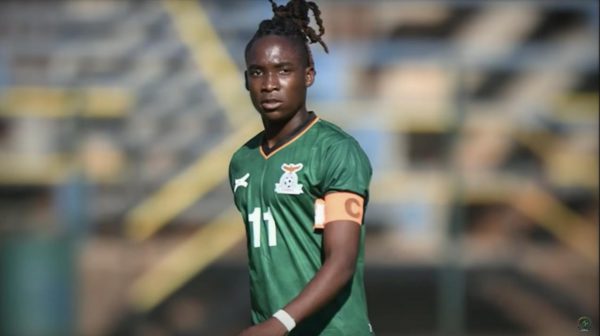 Despite being barred from competing in this tournament, Banda was cleared to play in last year's Olympic Games. Banda scored back-to-back hat-tricks in Zambia's debut in the Tokyo Summer Games last year, the first woman to have done so, and to net six goals across two matches in the history of the women's competition.
But because of her T-levels, Banda was not permitted to play in Sunday's match with Cameroon, which ended in a 0-0 draw, nor Wednesday's 1-0 victory over Tunisia. Striker Siomala Mapepa wore her number 11 uniform for the Copper Queens.
At a news conference Sunday, the BBC asked CAF's communications director Lux September how it was possible for Banda to have played in the Olympics but not in the Women's Africa Cup of Nations. September denied his organization barred Banda, claiming "There is no such decision from the CAF medical committee."
Kamanga responded with irritation, according to the BBC, saying "whatever happened was purely a CAF requirement." The team president called it "unfair" to pin the decision to bench Banda on his team, and labeled the gender verification regulation "discriminatory."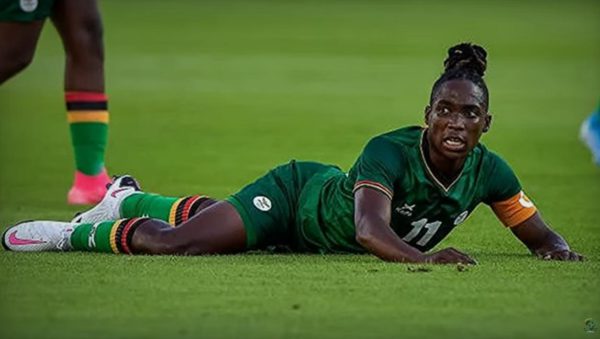 "If you take it to the next level in the FIFA competitions," said Kamanga, "you now start questioning why it should only be enforced in this competition, when it should really cut across all competitions."
FIFA's regulations, which date back to 2011, say "Androgenic hormones have performance-enhancing effects which may provide an advantage in football."
What's unclear is what Banda did or didn't do in order to comply with the rules. The BBC reported she took "medication to help reduce her levels of testosterone" but the team spokesperson, Mungala, told ESPN that Banda and other players declined a course of hormone suppression treatment.
"I think there are possible side effects," he said.
Semenya knows all about those. The two-time 800-meter Olympic gold medalist is currently awaiting a verdict in her case from the European Court of Human Rights after previously losing appeals at the Court of Arbitration for Sport and Switzerland's Federal Supreme Court.
"It made me sick, made me gain weight, panic attacks, I don't know if I was ever going to have a heart attack," Semenya recently told HBO Real Sports about trying hormone suppressant medication earlier in her career. "It's like stabbing yourself with a knife every day. But I had no choice. I'm 18, I want to run, I want to make it to Olympics, that's the only option for me."
Caster Semenya on @RealSportsHBO this week. On when she took testosterone-suppressing medication for eligibility: "I didn't know if I was having a heart attack. It's like stabbing yourself with a knife every day, but I had no choice." pic.twitter.com/QzGMieyCqD

— Nick Zaccardi (@nzaccardi) May 23, 2022
Semenya has since decided to not take testosterone suppressing drugs and attempt to compete in other track and field events that don't require she take medication. When World Athletics officials questioned her sex, she was blunt:
"They thought I had a dick, probably," she said on the HBO program. "I told them: 'It's fine. I'm a female, I don't care. If you want to see I'm a woman, I will show you my vagina. All right?'"
From 'African Football league channel:
Bette Midler's July 4 tweet on women's rights interpreted as 'transphobic'
The immediate response chided the Grammy winner for her use of language that is the consistent transphobic message by right-wing groups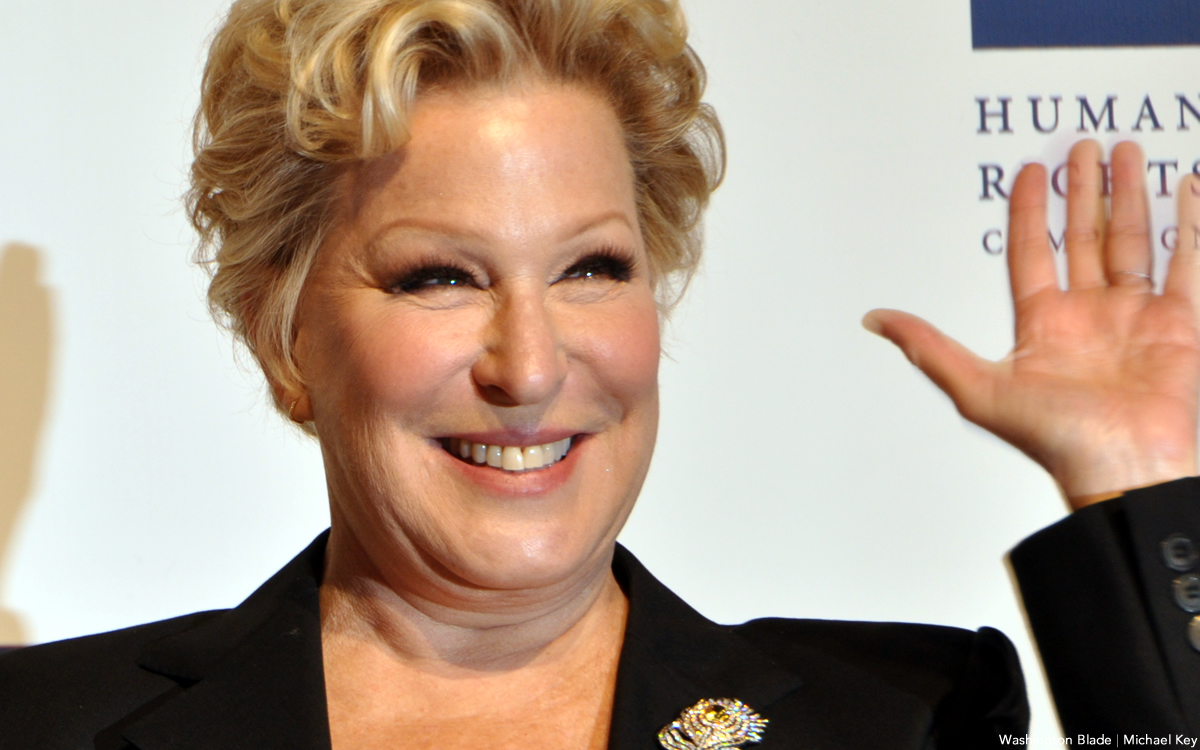 LOS ANGELES – A July 4 tweet by gay icon Bette Midler to her 2.1 million followers has LGBTQ+ advocacy groups and activists labeling the language transphobic. The 76-year-old award-winning actress and singer was responding to the ongoing aftershocks of the U.S. Supreme Court ruling last month that overturned Roe v. Wade.
Midler has been a consistent supporter of LGBTQ+ people including presenting awards at both GLAAD and Human Rights Campaign events. Because of this stance previously, many in the LGBTQ+ community are dismayed at the language chosen in her tweet.
Midler wrote: "WOMEN OF THE WORLD! We are being stripped of our rights over our bodies, our lives and even of our name!
"They don't call us 'women' anymore; they call us 'birthing people' or 'menstruators', and even 'people with vaginas'! Don't let them erase you! Every human on earth owes you!"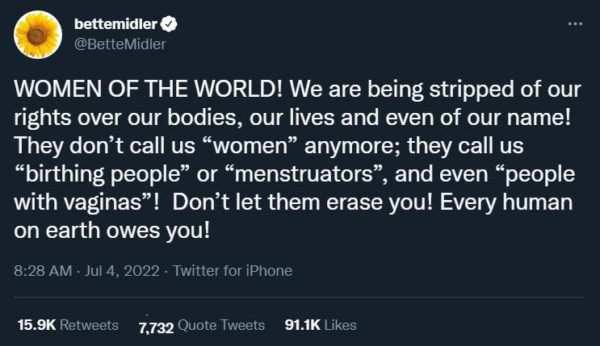 The immediate response chided the Grammy winner for her use of language that has been part of the consistent transphobic messaging by right-wing conservative groups and other celebrities such 'Harry Potter' author JK Rowling who has gained a reputation for being a TERF (The acronym for trans-exclusionary radical feminist), also referred to as 'Gender Critical.'

Evan Urquhart, a senior community manager for Slate magazine expressed his disappointment in Midler, as a fan, and as a trans male.
Really disappointed in this as a trans man and a Bette Midler fan.

Bette, including trans men in the conversation about reproductive health does not harm women. We have the same organs, and even greater vulnerability, as cis woman.

— Evan Urquhart (@e_urq) July 4, 2022
Freelance MSNBC contributor, journalist and columnist Katelyn Burns was blunt in her response to Midler's statement:
Oh Christ almighty you bought this bullshit

— Katelyn Burns (@transscribe) July 4, 2022
Increasingly anti-transgender activists, particularly anti-trans extremists in both the United States and the UK have slammed healthcare officials for encouraging staff to use phrases such as "birthing people" alongside women or co-parent when treating LGBTQ+ patients, among other inclusive terms. Often claiming that using gender-neutral terms all but "erases" women when it isn't actually the case PinkNewsUK noted.
Sarah Kate Ellis, GLAAD President & CEO reacted on Twitter writing:
"From Pamela Paul in the opinion pages of The New York Times to right-wing activists including Jordan Peterson to notables like Bette Midler and Macy Gray, the recent anti-transgender rhetoric in the media and online is contributing to the dangerous and completely inaccurate narrative that trans people are somehow threatening the overall rights of cisgender women. Women and trans people are in a common fight for bodily autonomy and the right to privacy. Cisgender women, trans people, and nonbinary people must stand together against those who seek to divide us. As a feminist and a cisgender woman, I will never stop fighting for my trans and nonbinary friends, family, and colleagues."
From Pamela Paul in the opinion pages of @nytimes to right-wing activists including Jordan Peterson to notables like Bette Midler and Macy Gray, the recent anti-transgender rhetoric in the media and online is contributing to the dangerous and completely inaccurate narrative (1/3)

— Sarah Kate Ellis (@sarahkateellis) July 5, 2022
Outfest LA LGBTQ+ Film Festival celebrates its 40th birthday
Outfest celebrates with a huge lineup of more than 200 LGBTQ+ films & will run from July 14 to 24 at venues across Los Angeles
LOS ANGELES – As it celebrates four full decades of bringing the best in global queer cinema to Los Angeles, Outfest's 2022 edition will present a huge and wildly diverse lineup of more than 200 queer films from 29 countries, including an impressive 42 world premieres, all spread over an exciting 11 days this month.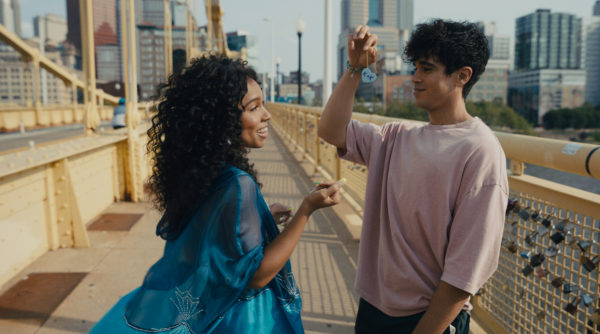 Kicking things off on July 14 will be the Opening Night Gala and Billy Porter's directorial debut Anything's Possible, the sweet coming-of-age romance between trans girl Kelsa and her handsome classmate Khal during their senior year of high school. The world premiere screening will mark Outfest's return to its longtime Opening Night venue, the Orpheum Theatre in DTLA, after a three-year hiatus wrought by the pandemic.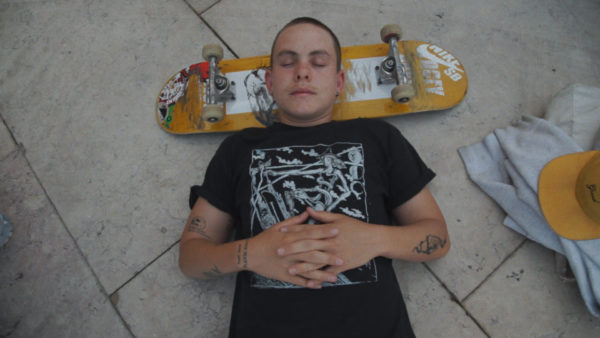 More world premieres at this year's Outfest will include the documentary Stay on Board: The Leo Baker Story, which follows competitive skateboarder Leo Baker as he balances the gendered world of sports, transition, society and skate culture in the leadup to the 2020 Olympics; the UK feature Phea, a modern and politically resonant lesbian spin on the Orpheus myth, starring singer/songwriter Sherika Sherard; Art and Pep, which follows the true story of life and business partners Art Johnston and Pepe Peña, creators of the iconic Chicago gay club Sidetrack (which is also celebrating its 40th birthday this year); and comedian/musician Scout Durwood's feature directorial debut Youtopia, in which Durwood accidentally becomes the leader of a hipster millennial cult after a bad breakup.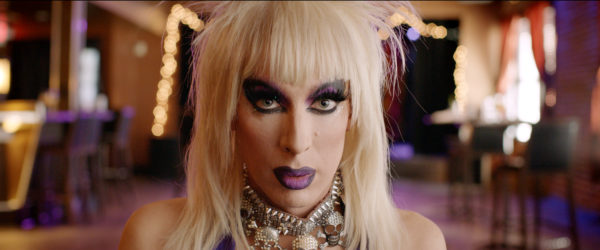 Outfest 2022 also returns to Hollywood's Ford Theater for one of the festival's most popular components, Outfest Under the Stars, this year combining screenings with live performances over three nights. First up on July 21 will be a sneak peek work-in-progress showing of Unconventional, the latest series from Emmy-winner and Outfest favorite Kit Williamson (EastSiders), about eccentric, queer Palm Springs siblings who attempt to create a new kind of family, with cameos from the likes of Kathy Griffin, Willam Belli, Laith Ashley and Beau Bridges. Next at the Ford on July 22 comes the dragstravaganza God Save the Queens, a feature comedy starring RuPaul's Drag Race superstars Alaska Thunderfuck, Laganja Estranja and Kelly Mantle (who'll also perform live before the screening) as struggling Los Angeles queens in crisis who find themselves together at a group therapy retreat. The film boasts appearances by a cavalcade of queer faves like Drew Droege, Honey Davenport, Michelle Visage, and Manila Luzon. Capping things off at the Ford on July 23 will be I Have to Laugh: Comedy Night at the Ford, a live stand-up showcase featuring the cast of Outfest 2022 selection Queer Riot, including Margaret Cho, River Butcher, Brad Loekle, Akeem Woods, and Daniel Webb, all followed by an assortment of gut-busting short films.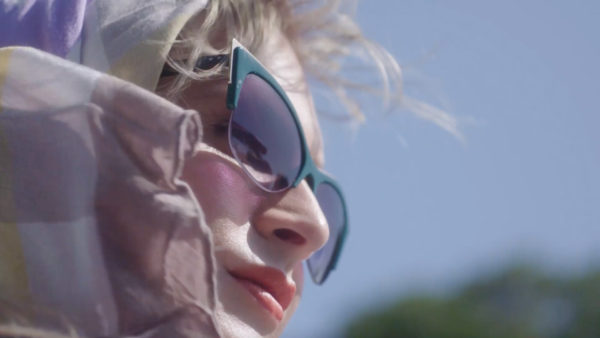 As usual, Outfest's hallmark will be its presentation of some of the most award-winning and well-received LGBTQ+ selections from the world's top film festivals this year, many in their first public screenings in Los Angeles. From Sundance will come the Finnish female coming-of-age story (and Sundance Audience Award winner) Girl Picture; the Lebanese female thrash metal band documentary Sirens; the Brazilian family drama and female love story Mars One (Marte Um); and the innovative Chase Joynt doc Framing Agnes, which tells the true story of a Los Angeles trans woman who in 1958 boldly took part in a UCLA sexuality study. From the Berlin International Film Festival will come the Teddy Award-winning Brazilian film Three Tidy Tigers Tied a Tie Tighter, about a trio of young queer friends in the working-class suburbs of São Paulo; gay film fest favorite François Ozon's latest, Peter von Kant, a remaking of Rainer Werner Fassbinder's 1972 classic The Bitter Tears of Petra von Kant, featuring cinema icons Isabelle Adjani and Hanna Schygulla; and the stylized gender-norm-busting 1950s fantasy Please Baby Please, featuring cameos by Demi Moore and Mary Lynn Rajskub.
And from Tribeca will come the much-anticipated documentary All Man: The International Male Story, which tells the story of the revolutionary gay menswear mail-order catalog International Male; the Danish thriller Attachment, in which Maja and Leah's love story takes a dark turn rooted in Jewish folklore; and the Austrian sports drama Breaking the Ice, in which ice hockey team captain Mira's uptight life gets shaken up by freewheeling new team member Theresa.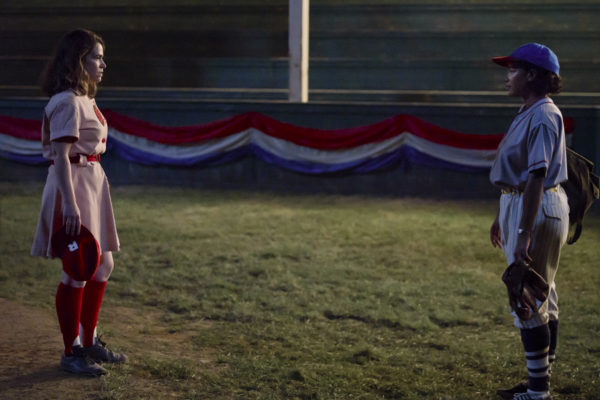 Among the many other Outfest 2022 highlights will be its Legacy Centerpiece, a 20th anniversary screening of Todd Haynes' Far from Heaven with live appearances by Haynes, star Julianne Moore, and producer Christine Vachon. Outfest's Episodics section will include an advanced look at Shudder's forthcoming queer horror history docuseries Queer for Fear; a free sneak peak of the upcoming Prime Video series A League of Their Own; and the first episode of writer/producer Des Moran's new series halfsies, about six Black half-siblings who re-enter each other's lives after a death in the family. Outfest's always intrepid Platinum section will this year include award presentations to Clive Barker and Big Freedia, as well as a host of cutting-edge screenings and the Platinum Alchemy Party at Catch One. The ever-popular roster of Outfest shorts programs will this year include a whopping 15 different categories, including the perennial festival favorite Boys Shorts. And the Trans, Nonbinary & Intersex Summit on July 23 will feature three back-to-back programs and a keynote by writer and activist Raquel Willis.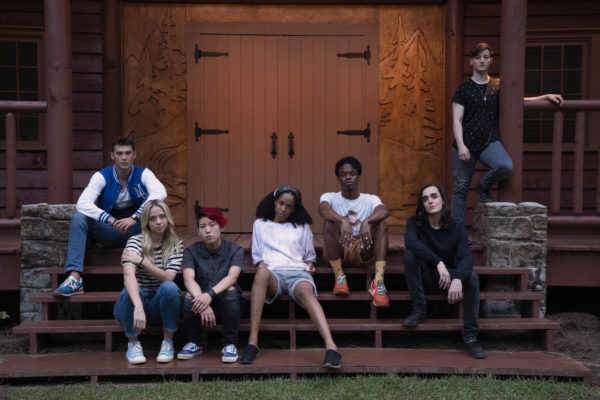 Capping off this year's Outfest will be the Closing Night Gala at The Theatre at Ace Hotel, showcasing the world premiere of the queer and trans teen horror film , in which a masked intruder lurks in the shadows of an already scary conversion therapy camp. The film features Academy Award-nominated writer John Logan in his directorial debut.
Outfest 2022 will run from July 14 to 24 at venues across Los Angeles including the DGA Theater Complex, Harmony Gold and REDCAT. For the full lineup and tickets, visit outfestla.org.