Rust Belt anxiety drives Pulitzer-winning play
'Sweat' is a labor of immersive love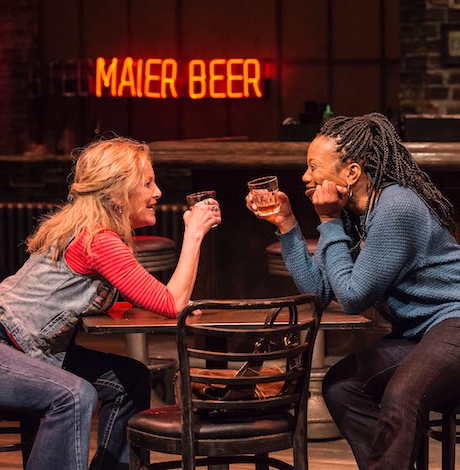 At a recent Habitat for Humanity event in Indiana, former President Jimmy Carter pointed out that in America today, it was rare for those with great wealth to interact with those in need. Given the ticket prices, something similar could be said of contemporary American theater audiences. Lynn Nottage's working-class drama "Sweat" in some way bridges that gap by putting onstage the lives of working-class, financially strapped factory employees in Reading, Penn., a demographic often overlooked in our theater, and one that was pivotal in the 2016 presidential election.
Nottage famously spent two years visiting Reading to immerse herself in a community left behind by globalization, and the play comes to the Mark Taper Forum (135 N Grand Ave., Los Angeles) with almost unfairly high expectations, having collected a Pulitzer Prize and a Tony nomination for Best Play last year. While director Lisa Peterson's production falls short of those expectations, there is much to take away from the affecting drama exploring some of the complex fault lines that turned a reliably blue state red. (Full disclosure: Nottage and I were at Brown at the same time, but we've never met.)
"Sweat" switches back and forth between 2000 and 2008, starting with two scenes in 2008 where we learn that Jason (Will Hochman), a young white man with white supremacist tattoos on his face, and Chris (Grantham Coleman), a young black man who has found religion, have been released from prison for an unnamed crime committed eight years earlier. While Jason is belligerent and resentful toward his parole officer (Kevin T. Carroll), Chris is polite and deferential, although he's "not sleeping too good."
From there the play switches back to 2000, with a series of scenes set a month apart in that year, as we see the events that led up to the young men's incarceration. Most of the action is set in a local bar, a sprawling, industrial space in Christopher Barreca's impressive design, where a gang of locals hang out after work at a nearby factory. Cynthia (Portia) is the mother of Chris, and she has put in 24 years "on the floor," while lifelong friend Tracey (Mary Mara), the mother of Jason, has logged 26 years. Birthday girl Jessie (Amy Pietz) rounds out the trio and drinks way too much. Stan (Michael O'Keefe) has been bartender since a work-related accident ended his time at the factory. Colombian-American Oscar (Peter Mendoza) is the ambitious bar back, working quietly to clean and restock while planning a better life.
The tale unfolds gradually, with small and large resentments accumulating on many sides. When Cynthia applies for a management job, Tracey does the same, even if she doesn't really want it. When Cynthia is selected, Tracey puts it down to racial preferences and the friendship seems permanently changed. Cynthia's ex, Brucie (John Earl Jelks), wrestles with addiction, and causes friction with awkward, desperate interactions with both her and Chris.
Looming over the proceedings is the unseen factory, where automation and cutbacks are threatening many of the lives involved. A prolonged strike heightens the tension for all, creating a financial squeeze on top of the emotional conflicts. When Oscar answers an ad for nonunion workers, politics and prejudice prove a combustible combination. Someone's balance sheet is no doubt improved by the play's events, but in Nottage's microscopic examination of the lives underneath the headlines, we see the steep human price of increased profitability.
The cast has mixed results owning Nottage's challenging dialogue, which often gives characters long, overly self-aware speeches reporting important experiences from their past. Peterson's staging sometimes leaves actors sitting quietly listening when more reaction and interaction should be allowed. Coleman brings heart and brains to Chris, and we believe he has his sights set on bigger things than a life on the floor. Portia is moving as a woman genuinely striving for a better life, caught between her employer and her friends. Mara's spunky Tracey grows more nuanced as the play progresses, but too often she is playing to a bigger room than the Taper. Mendoza, whose character travels farther than most in the play's story, wonderfully captures Oscar's earnest ambition. One wishes there was more of Brucie in the play, as Jelks – the lone holdover from the Broadway production – is superb as an aging man watching the economy leave him behind.
Yee Eun Nam's projections help orient us in time, whether it is the 2000 presidential election or the market crash of 2008. Emilio Sosa's contemporary costumes are perfect, and fight director Steve Rankin is responsible for the evening's most upsetting surprise, when we finally discover the crime at the heart of the story.
Nottage's play is not perfect, but it is a powerful exploration of regular Americans fighting displacement and disregard. After the 2016 election results, many people wondered, "How did this happen?" "Sweat" provides some palpable answers.
Directed by Lisa Peterson and written by Lynn Nottage, "Sweat" will play through Oct. 7. For tickets and information, please visit CenterTheatreGroup.org or call (213) 628-2772.
Tom Daley: Bad Dad Jokes!
Terrible jokes, but I love them! Not sure if Lance does…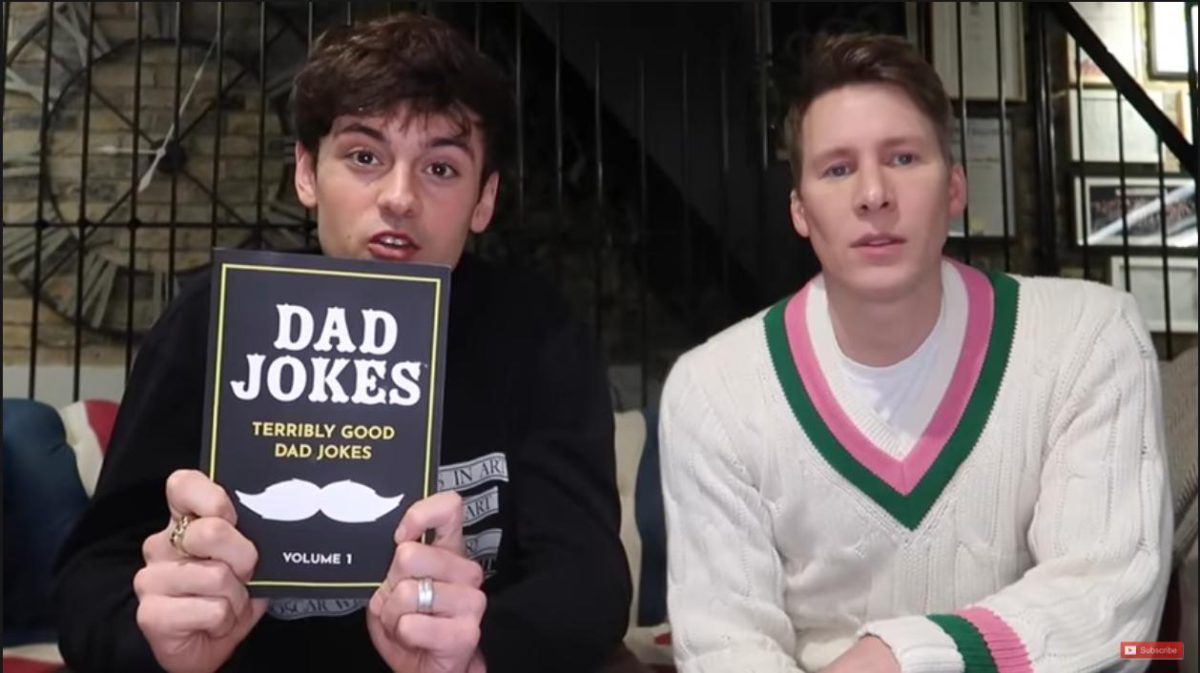 LONDON – British Olympian and gold medalist diver Tom Daley along with his husband D. Lance Black pass along some really terrible 'Dad' jokes.
Out Trans Munroe Bergdorf is covergirl as Cosmopolitan UK celebrates 50
"I believe the people want trans inclusion, racial equality, to end misogyny so women and girls feel safe walking home at night"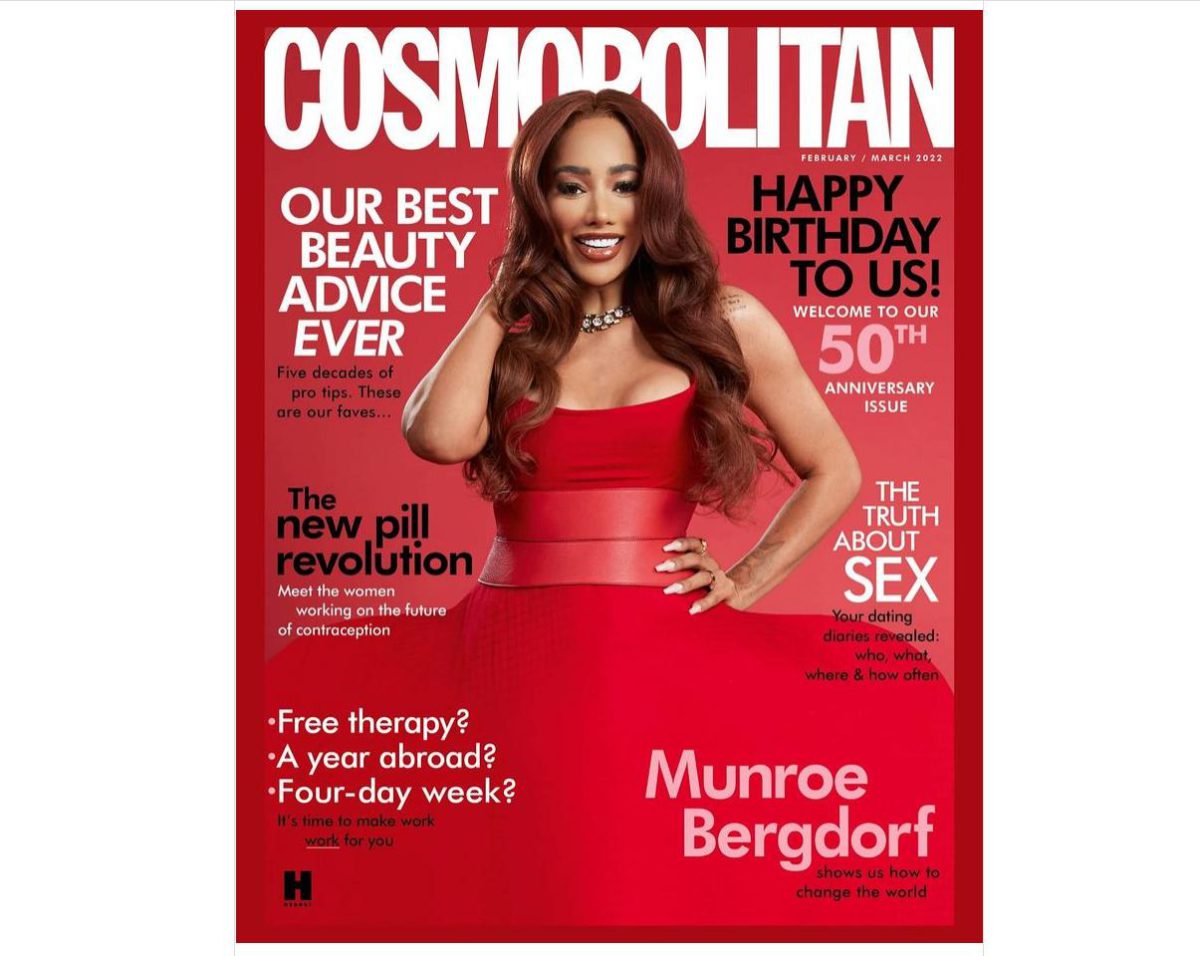 LONDON – Starting this upcoming Friday, January 21, customers standing in the queue at checkout tills and newsstands across the United Kingdom will be greeted by the sight of model and Out Trans activist Munroe Bergdof smiling back at them from the cover of the 50th anniversary special edition issue of Cosmopolitan UK.
In the cover story interview conducted by PinkNewsUK gender and identity journalist Vic Parsons, Salvadoran-American filmmaker, actor, model, and intersex rights activist River Gallo, along with writer, stylist and consultant Aja Barber, Bergdof discusses career, climate change and global warming, cancel culture, pronouns and the future of Trans rights.
"I hope there's a young trans girl looking at this cover thinking: 'I can do it too and who I am is not going to hold me back,'" she says.
Bergdorf adds: "I believe the people want trans inclusion, racial equality, to end misogyny so women and girls feel safe walking home at night."
"I don't think we have ever been as enlightened as a people as we are now, even if there is a lot of misinformation around. I do feel like the spark has been lit. Less people are passively accepting what they have been presented with and that's an incredible thing."
In a commentary piece written for London-based fashion and cultural media outlet Grazia in February 2018, Bergdorf noted;
"A woman is more than a vagina, than her ability to bear children, the gender she was assigned at birth, a socio-economic class, marital status or sexual history – yet every one of these points has been used to define and control a woman's place in society. This is why feminism must serve as an inclusive tool of liberation for all female identities and experiences, not just some. This is where so many women are still getting it wrong."
[…]
"I long to see more cisgender women in positions of influence standing up for trans women, making people aware of issues that may not affect all of us, but that we should all care about deeply."
[…]
"We must learn to see all women's experiences as worthy of being listened to within feminist discourse. Because the fact is not all women possess a functioning reproductive system, not all women have a vagina, not all women's vaginas are pink. So, when 'pink pussies' are used as imagery intended to unify all women, what they are actually doing is excluding a large amount of women from feeling like they have a voice within feminism."
Bergdof deleted her Twitter account due to the torrent of transphobic abuse she received on the social media platform PinkNewsUK reported.
"Tired of being a punching bag. Twitter is not a safe app for transgender people," she wrote.
The activist called on social media platforms take more action to combat the abuse directed at transgender people and women online.
Out soccer player calls out 'homophobic abuse' from crowd
The Adelaide United player said he had "no words" to describe his disappointment at being the target of anti-gay insults from the crowd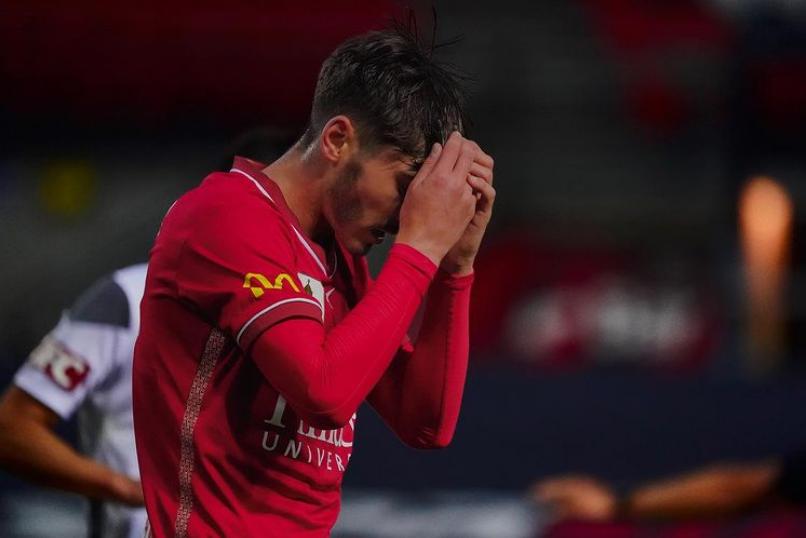 ADELAIDE, Australia – Professional soccer player Josh Cavallo, who became the only openly gay top-flight male professional footballer last year, told his Instagram followers over the weekend that he experienced "homophobic abuse" during his last game.
The Adelaide United player said he had "no words" to describe his disappointment at being the target of anti-gay insults from the crowd at AAMI Park during his team's Saturday game against the Melbourne Victory.
"As a society it shows we still face these problems in 2022," he wrote. "This shouldn't be acceptable and we need to do more to hold these people accountable. Hate never will win. I will never apologise for living my truth and most recently who I am outside of football."
Cavallo added that he was also targeted after the game online.
"To @instagram I don't want any child or adult to have to receive the hateful and hurtful messages that I've received," he said. "I knew truely being who I am that I was going to come across this. It's a sad reality that your platforms are not doing enough to stop these messages."
The Australian Professional Leagues (APL) said it was "shocked and saddened" to hear Cavallo's reports of "homophobic bullying," according to the Guardian.
"Our players, staff and fans have the right to feel safe on and off the pitch," APL CEO Danny Townsend said. "There is no place for bullying, harassment or abuse in Australian football and we have zero tolerance for this harmful behaviour."
The APL is working with both teams to investigate the incident, adding that sanctions will be issued to anyone involved.
In a statement, Adelaide United Chief Executive Officer Nathan Kosmina said that the team was "appalled" at the "verbal abuse" that Cavallo received.
"Adelaide United is proud to be an inclusive and diverse football club, and to see one of our players subjected to homophobic abuse is disappointing and upsetting," he said. "Josh continues to show immense courage and we join him in calling out abuse, which has no place in society, and it will not be tolerated by our Club."
The Melbourne Victory added that it "sees football as a platform to unite fans no matter what background. Spectators found to have breached these standards will be banned from future matches."
At the end of his Instagram message, Cavallo thanked those sending him positive messages, love and support.
"Love will always win," he said.