Trans woman killed by US border agent in Texas
Texas Sheriff changed misgendering of victim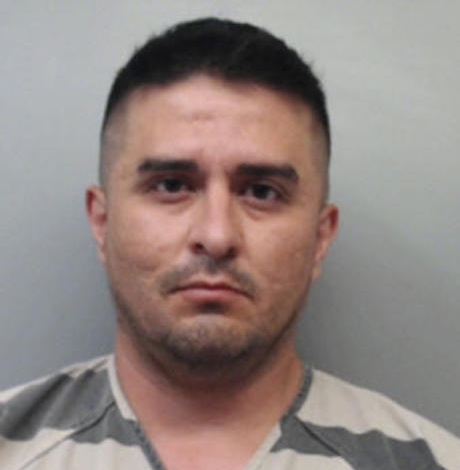 A 10- year veteran United States Border Patrol supervisory agent was arrested Saturday, Sept. 15, in the deaths of four women—one of whom is transgender—and the aggravated assault of a fifth victim who narrowly escaped harm and alerted a police officer.
A spokesperson for Webb County Texas District Attorney Isidro R. "Chilo" Alaniz, told the Los Angeles Blade Monday that Juan David Ortiz, 35, confessed to killing four people between September 3 and September 15.
In the criminal affidavit filed by investigators from the Webb County Sheriff's Office, the break in the case came Friday after a woman narrowly escaped Ortiz.
That woman, identified as Erika Pena, was sitting in a truck with a man named "David" and the two started talking about one of the prostitutes who had gone missing a week earlier. The man then pulled out a pistol and pointed it at her. When she tried to flee, he grabbed her shirt to prevent her from leaving the vehicle.  Pena pulled off her shirt and ran to a nearby gas station where she encountered a Texas state trooper. She was able to provide a detailed description of Ortiz, according to affidavit.
Webb County Sheriff's spokesperson Eduardo Chapa told the LA Blade, as well as other media outlets, that the bodies of four victims were found over the past two weeks. He added that homicide investigators were not ruling out the possibility of more victims.
An affidavit originally described the victims as three women and one man—but Chapa noted that the victim identified as male was, in fact, a transgender woman.
In a news conference posted to NBC Laredo affiliate KGNS's Facebook page, Webb County Sheriff Martin Cuellar told reporters: "We have very strong evidence that he is the person who has been killing."
According to the criminal complaint filed by Cuellar's office, authorities found Ortiz at a gas station in Laredo, about 160 miles southwest of San Antonio. He fled the scene on foot and ran to a Ramada Inn where he was found hiding in the bed of a pickup truck, Alaniz said.
Ortiz was read his Miranda Rights and then he verbally confessed to killing four people over the last two weeks, the affidavit states. Two of the four killings took place in the hours after the woman was able to escape but before police tracked him down.
DA Alaniz, told the Associated Press Saturday that investigators "consider this to be a serial killer" whose victims were believed to be prostitutes. Alaniz described how the Customs and Border Patrol (CBP) supervisor continued going to work as usual throughout that time. "As law enforcement was looking for the killer," he said, "[Ortiz ] would be reporting to work every day like normal."
The killing spree became known to authorities with the discovery Sept. 4 of the body of 29-year-old Melissa Ramirez. According to the police affidavit, Ortiz said he killed Ramirez a day earlier. Like the other victims, Ramirez was shot in the head and left in a road in rural northwest Webb County. She was a mother of two.
A second victim, 42-year-old Claudine Anne Luera, was found shot and left in the road Thursday morning, badly injured but still alive, according to the affidavit. The mother of five died at a hospital later that day.
Authorities told the LA Blade Monday that Ortiz told investigators that after the victim escaped from his truck and ran off, he picked up his last two victims, whose identities have not yet been released and one of whom, Sheriff's spokesperson Chapa confirmed, was the transgender woman.
A spokesperson for the U.S. Border Patrol told the LA Blade that the agency was cooperating with Sheriff's investigators and the District Attorney's Office.
"While it is CBP policy to not comment on the details of an ongoing investigation, criminal action by our employees is not, and will not be tolerated. Out of respect to the victims' family (sic), we ask that deference and due process be given to the investigation so that all the facts are brought to light and they can receive the closure they deserve," the spokesperson said.   
Reporting by The Associated Press, CNN, The Chicago Tribune, the staff of the Los Angeles Blade and wire service reports.
Senator Wiener's No Tax Exemption for Insurrection Act, passes Senate
Senate Bill SB 834 strips state tax-exempt status from organizations that engage in or incite insurrection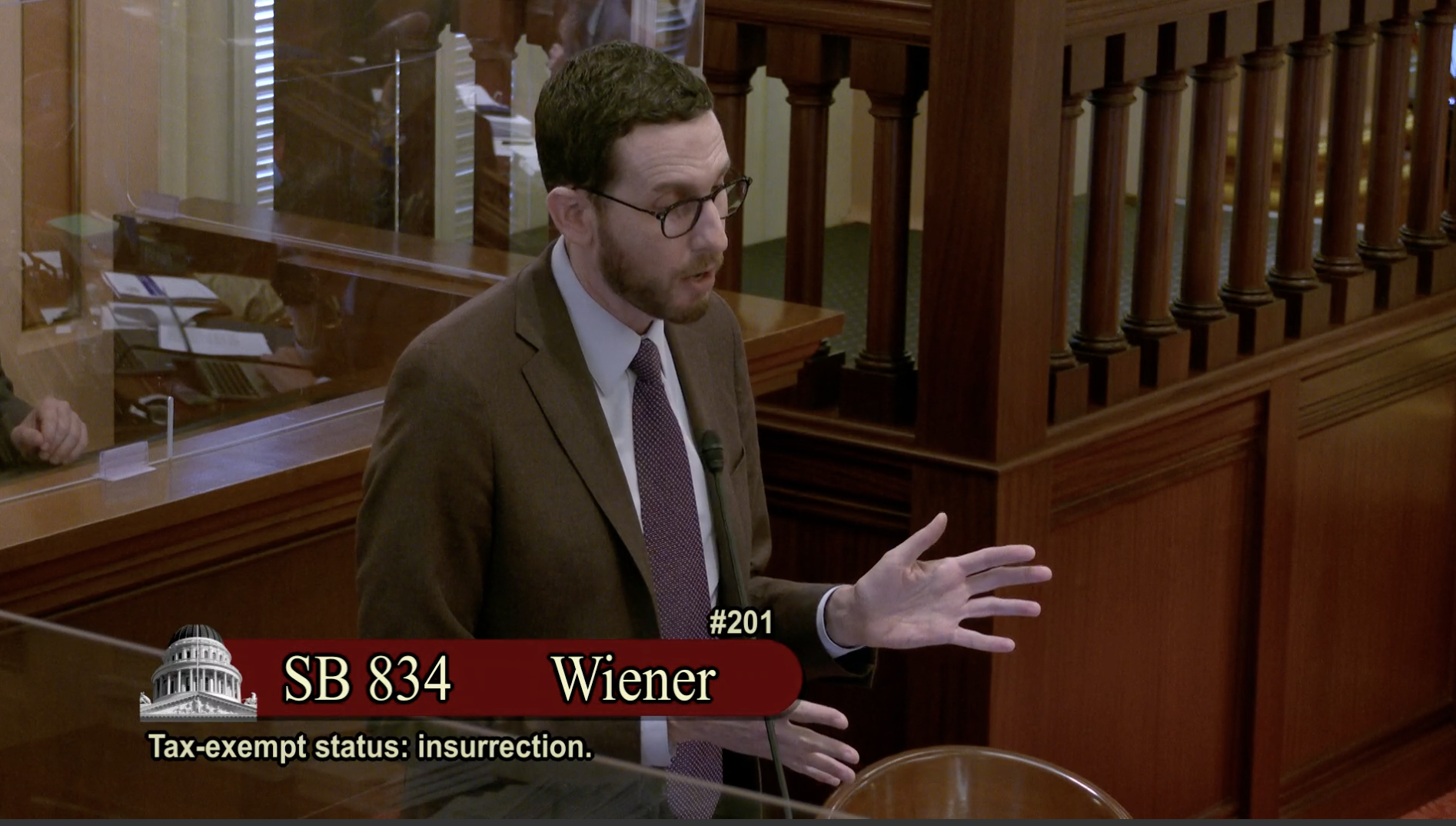 SACRAMENTO – Senator Scott Wiener (D-San Francisco)'s Senate Bill 834, the No Tax Exemption for Insurrection Act, passed the Senate by a vote of 28-0 Monday. It will now head to the Assembly for policy committee hearings.
SB 834 is a first-in-the-nation bill that will revoke the California tax-exempt status of nonprofit organizations that participate in or incite efforts to overthrow the United States government or any state government. Nonprofit organizations have used the "Big Lie" – the fraudulent notion that the 2020 election was stolen – to fundraise for and funnel money to extremist and anti-democratic initiatives like the January 6 insurrection.
Tax-exempt status is a privilege, not a right, and organizations that engage in or incite insurrection or conspiracy to commit insurrection – both of which are illegal – should not be given this special status to help them fundraise. Moreover, non-California nonprofits should not be able to register to raise money in California if they are engaging in or inciting insurrection.
"On January 6, 2021, the peaceful transfer of power in our democracy was threatened," said Wiener. "And for the first time since the Civil War, people died as a result. We cannot and will not let organizations that aid and abet insurrection – that break the law by trying to overthrow the U.S. government – operate with tax-exempt status. The people of California should not be subsidizing insurrection."
The January 6, 2021 insurrection took place, when pro-Trump extremists – in response to the false narrative that the Democrats "stole" the 2020 election and incited by then-President Donald Trump – breached the United States Capitol. Five people were killed as a result of this insurrection, and hundreds were injured.
Vice President Pence and Speaker Pelosi were specific targets of this violent attack on the nation's democracy. Many nonprofits that supported the insurrection and continue to perpetuate lies about the 2020 election in hopes of overturning the results still operate with tax-exempt status, both at the federal and state level.
SB 834 clarifies the Franchise Tax Board's authority to revoke the California tax-exempt status of a nonprofit organization if the California Attorney General determines that the nonprofit has actively engaged in, or incited: treason, misprision of treason, insurrection, seditious conspiracy, advocating overthrow of the government or the government of any State, or advocating mutiny by members of the military or naval forces of the United States (1.)
Under SB 834, if the Attorney General finds that a nonprofit organization has incited, or actively engaged in actions that are directed to or likely to imminently violate one or more of these crimes, they will notify the FTB, which then will have the ability to revoke the nonprofit's tax-exempt status.
For out-of-state nonprofits that engage in or incite insurrection, they will be prohibited from registering to raise money in California.
The United States Supreme Court has ruled that the purpose of charitable organizations claiming tax-exempt status "may not be illegal or contrary to public policy." Trying to overturn elections and violently attacking our legislators fits the bill. SB 834 will ensure that these organizations no longer claim this financial advantage.
Tax-exempt nonprofits are not required to pay corporate income taxes and may be exempt from other taxes as well. Additionally, donations to many nonprofits are deductible from income taxes, and private foundations and donor-advised funds can only donate to tax-exempt nonprofits. Private foundations and donor-advised funds represent a major funding source for many nonprofits.
Authoritarian and anti-democratic organizations have increasingly used the "Big Lie" to fundraise, and this narrative has driven millions of dollars in tax-exempt donations. And many new organizations have cropped up in the past year, hoping to ride the coattails of the insurrection and cash in.
These include California nonprofits and nonprofits registered in other states that fundraise in California. These organizations, which are fundamentally undermining our democracy and cheering for the destruction of free and fair elections in America, should not be allowed to operate with advantages like tax-exempt status.
For example, the leader of the "Oath Keepers," a national militia movement, was charged with seditious conspiracy. While the Oath Keepers does not have California tax-exempt status, it has an "educational foundation" with federal exempt status and tax-exempt branches in several states. In the words of one expert, "It can only be presumed that [funds contributed to the Oath Keepers], which [donors were] able to deduct from their federal taxes, went to transporting and lodging members of the group slated to participate in the ensuing riots." (2.) These organizations should not be allowed, under any circumstances, to use tax write-offs to help fund illegal activities.
There is precedent for making this distinction in California's tax code. Under federal and California law, for instance, if a nonprofit organization supports terrorism, its tax-exempt status is suspended. The nonprofit organizations that support insurrection should receive the same treatment.
Citations:
1. USC §§ 2381-2385, 2387
2. "Dollars against Democracy: Domestic Terrorist Financing in the Aftermath of Insurrection," Virtual Hearing before the Subcommittee on National Security, International Development and Monetary Policy of the Committee on Financial Services, U.S. House of Representatives, Feb 25, 2021.
Senators Josh Becker (D-Peninsula), Dave Min (D-Irvine), Josh Newman (D-Fullerton), Anthony Portantino (D-La Cañada Flintridge), Tom Umberg (D-Orange County), and Bob Hertzberg (D-Van Nuys) are co-authors of this bill. Assemblymembers Buffy Wicks (D-Oakland), Phil Ting (D-San Francisco), Cristina Garcia (D-Bell Gardens) and Marc Berman (D-Menlo Park) are also co-authors of SB 836. Assemblymember Kevin Mullin (D-San Mateo) is principal co-author.
Assembly passes bill protects patients & providers from anti-choice states
AB 1666 protects patients and providers in California from civil liability judgments for providing reproductive health care to patients

SACRAMENTO — In a two-thirds vote Monday, the Assembly passed AB 1666, sponsored by Assemblymember Rebecca Bauer-Kahan (D – Orinda) which creates a legal shield up for California patients and providers from extremist anti-abortion laws from anti-choice states.
The language of the measure reads: "This bill would declare another state's law authorizing a civil action against a person or entity that receives or seeks, performs or induces, or aids or abets the performance of an abortion, or who attempts or intends to engage in those actions, to be contrary to the public policy of this state. The bill would prohibit the application of that law to a case or controversy heard in state court, and would prohibit the enforcement or satisfaction of a civil judgment received under that law."
We're out! #AB1666 just passed the Assembly floor with a 2/3rds vote. This bill puts a legal shield up for CA patients and providers from extremist anti-abortion laws from anti-choice states. #ABORTIONISHEALTHCARE @PPActionCA @acog @AAUW @eqca

— Asm Rebecca Bauer-Kahan (@BauerKahan) May 23, 2022
Planned Parenthood Affiliates of California Legislative Director Molly Robson told the Blade in an emailed statement Monday;
"AB 1666 will allow California providers to continue to provide essential and timely health care, like abortion, with decreased risks of potential liability when helping people forced to seek care here in California rather than in their home state due to hostile, extreme, and dangerous restrictions or outright bans. These precautions and protections are necessary given the increased hostility and frequency of abortion bans in other states seeking to target patients and providers. Taking this action now is crucial as we prepare for the U.S. Supreme Court to overturn Roe v Wade and unleash a flood of hostile bans in more than half the states."
Planned Parenthood Affiliates of California also noted that AB 1666 protects patients and providers in California from civil liability judgments for providing reproductive health care to patients when the claims are based on laws in other states that are hostile to abortion rights and are contrary to the public policy of California.
AB 1666 builds on a recommendation put forth by the California Future of Abortion Council recommendations released in a December report, in which Planned Parenthood Affiliates of California is a member of its "Steering Committee."
A spokesperson for Equality California, Jorge Reyes Salinas, told the Blade Monday afternoon;
"LGBTQ+ people are directly impacted by laws that undermine abortion care. The LGBTQ+ community overall often lacks access to inclusive and affirming health care, and in particular transgender men and nonbinary people who become pregnant face significant challenges when seeking reproductive care.  In addition, many of the clinics that provide abortions also provide hormones and reduced-cost reproductive care for transgender and nonbinary people, efforts to undermine these clinics directly harm the LGBTQ+ community.
AB 1666 is a critical safeguard against the wave of proposals that will harm the health and well-being of vulnerable populations across the country. To the extent that California can provide a refuge for people seeking critical care, we have a duty to do so."
White House blocked from ending Title 42
Advocacy groups say policy further endangered LGBTQ+ asylum seekers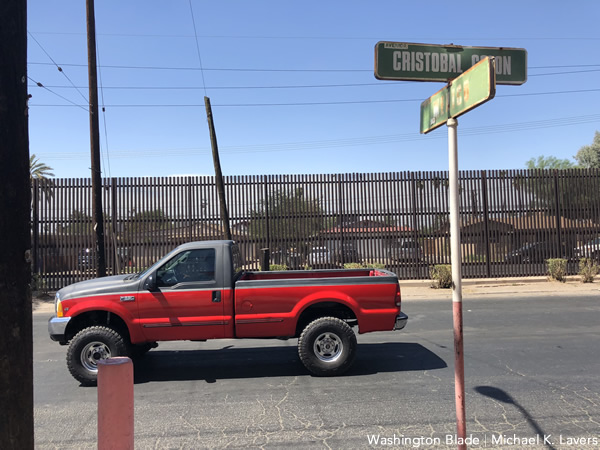 LAFAYETTE, La. — A Centers for Disease Control and Prevention rule that closed the Southern border to most asylum seekers and migrants because of the pandemic was to have ended Monday, but it remains in place after a federal judge blocked the Biden administration's plans to end it.
The White House last month announced it would terminate Title 42, a policy the previous administration implemented in March 2020.
U.S. District Judge Robert Summerhays in Louisiana on May 20 issued a ruling that prevented the Biden administration from terminating the Trump-era policy. White House Press Secretary Karine Jean-Pierre in a statement announced the Justice Department will appeal the decision, while adding the administration "will continue to enforce the CDC's 2020 Title 42 public health authority pending the appeal."
"This means that migrants who attempt to enter the United States unlawfully will be subject to expulsion under Title 42, as well as immigration consequences such as removal under Title 8 (of the U.S. Code)," said Jean-Pierre.
Advocacy groups and members of Congress with whom the Washington Blade has spoken since Title 42 took effect say it continues to place LGBTQ asylum seekers and other vulnerable groups who seek refuge in the U.S. at even more risk.
Oluchi Omeoga, co-director of the Black LGBTQIA+ Migrant Project, last month described Title 42 as a "racist and harmful policy." ORAM (Organization of Refuge, Asylum and Migration) Executive Director Steve Roth said Title 42 "put asylum seekers in harm's way in border towns and prevented them from seeking safety in the United States."
Title 42 was to have ended less than a month after five members of Congress from California visited two LGBTQ+ shelters for asylum seekers in Tijuana.
The Council for Global Equality, which organized the trip, in a tweet after Summerhays issued his ruling described Title 42 as a "catastrophe."
"The Biden administration cannot breathe a sign of relief until it's a matter of the past," said the Council for Global Equality on Saturday. "We remain committed to end Title 42."
#Title42 is a catastrophe — and the Biden administration cannot breathe a sigh of relief until it's a matter of the past. We remain committed to #EndTitle42. https://t.co/9EKJTiJzoV

— The Council for Global Equality (@Global_Equality) May 20, 2022