Disco and Queercore lead pack of new queer-themed documentaries
If you're an Angeleno who likes LGBTQ-centric documentary films, it's a good time to be alive right now.
There's a heavy slate of such movies making appearances on LA screens over the next couple of weeks, and the Los Angeles Blade is here to run them down for you.
"Antonio Lopez 1970: Sex Fashion & Disco" (in theatres Sept. 21) – The name Antonio Lopez might not ring a bell for much of the younger generation, but for anyone who came of age or had their heyday on the cusp between the sixties and seventies, he was – as today's gay glitterati would probably brand him – everything.
Puerto Rican-born, Harlem and Bronx-raised Lopez was the most influential fashion illustrator of his day, taking New York and Paris by storm during an era in when the sexual revolution collided with pop culture and exploded into an unmistakable visual style – which, as an arbiter of taste and a pioneer in bringing street-ready wear into the realm of haute couture, he played a significant part in defining.
In James Crump's documentary, extensive archival footage combines with in-depth interviews to paint a cinematic portrait of Lopez – and of the era over which he held sway – by taking viewers into the studios, clubs, and salons that were the workshops and playgrounds of the decade's fashion elite.  It follows Lopez from his beginnings as an ambitious student at the Fashion Institute of Technology, through his early whirlwind of success in New York City, to his association in Paris with Karl Lagerfield.
The movie preserves the mystique that Lopez (who died of AIDS in 1987) maintained in his life – that of a sleek, charismatic, and unbelievably sexy enigma, whose sensual and passionate persona found expression in both the personal and professional aspects of his life.
It doesn't give us much of a glimpse behind Lopez' mask, although we can certainly infer a lot from the stories of his tempestuous romantic alliances; art director Juan Ramos, his longtime collaborator was one of these, as was model Jerry Hall – who, along with Jessica Lange, Grace Jones, Jane Forth, and many others, was one of his famous discoveries.
What it does offer is a colorful and nostalgic trip into a watershed moment of our cultural past, when the freedom to live and love as we pleased seemed finally to be within our grasp – before trickle-down economics, the "moral majority," and AIDS came along to spoil the party.  In watching the adventures of Lopez and his impossibly young and beautiful circle of friends, but reflect on how abruptly it all fell apart – but, as this lovingly-crafted tribute makes clear, it was magnificent while it lasted.
"Queercore: How To Punk A Revolution" (in theatres Sept. 28) – If Lopez' generation boldly queered the mainstream, the one which followed aimed to do the opposite.  This new documentary tells the story of the underground movement of the eighties and nineties that pushed back against the assimilation of queer identity into mainstream culture by embracing its own radicalism.
Directed by Yony Leyser, it's also a film which relies heavily on archival material and interviews, in addition to film clips and concert footage, as it traces the movement from its origins as a seemingly spontaneous idea born in disparate cities across the US and Canada.  Taking inspiration from such counter-cultural predecessors as William Burroughs, John Waters and Wayne County, as well as the ethos and tactics of AIDS-era activist groups like ACT UP, it grew from a desire by queer and feminist outsiders to forge their own path outside the misogynist and homophobia-steeped cultures of both the mainstream and the punk movement which had risen to oppose it.
As described by Queercore founders like Bruce LaBruce and G.B. Jones (both of whom are featured heavily in Leyser's film), it was an imaginary movement made real, thanks in large part to the "Zines" which spread the word about music and films that communicated its transgressive core beliefs, and which themselves became an important form of cultural and artistic expression.  From these improbable beginnings came a wave of influence which – along with the "Riot Grrrl" movement which grew alongside it – ultimately found its way into the dominant pop culture of the time.
Of course, its success in infiltrating the mainstream also inevitably meant the end for a movement whose very definition required being outside of it – but as Leyser's documentary points out, its spirit lives on among those who reject the conventional wisdom of "normalizing" outsider identity within the larger culture, and who still think the best approach to countering oppression is to proudly embody everything it seeks to erase.
In a time when hateful ideologies feel emboldened to show their true colors, a film like "Queercore" reminds us that sometimes the best way to oppose them is to do the same.
"Tea With the Dames" (in theatres Sept. 28) – While it's not specifically LGBTQ-themed, this one will nevertheless be of interest to many members of the community.  Directed by "Notting Hill" filmmaker Roger Michell, it's essentially exactly what its title suggests – a gathering over a distinctly English meal with a distinctly English group of ladies.  These are, however, not your ordinary English ladies.  Dames Eileen Atkins, Judi Dench, Joan Plowright, and Maggie Smith are four old friends who also happen to be legendary actresses of the stage and screen, and from time to time they meet in the English countryside to gossip, remember, and laugh. This time, they let the cameras in.  If you've ever wished to be a fly on the wall during a conversation between some of the most fabulous women who've ever lived, this is a chance you don't want to pass up.  These are Dames who know how to dish.
"Call Her Ganda" (in theatres Sept. 28) – A deeply personal project by openly gay Filipino American filmmaker P.J. Raval, this acclaimed documentary centers around the story of Jennifer Laude, a 26-year-old Filipina transgender woman and alleged sex worker who was murdered by a 19-year-old US marine on "liberty leave."  Raval's film follows three women who pursued the case amidst a media storm and police inquiry, taking on hardened histories of U.S. imperial rule that have allowed previous American perpetrators to evade consequence.  The women, all from different backgrounds, form an amazingly powerful bond to galvanize a political uprising, while seeking justice for Jennifer and taking on continuing U.S. imperialism in their country.
And as a bonus offering…
"The Classic Porn of Phil St. John" (screening on Sept. 23) – Finally, here's another documentary with a self-explanatory title, which will receive its world-premiere screening as part of a book-signing event for St. John's first novella, "Diary of a Puerto Rican Porno."  The book is "an action-adventure, sexually outrageous filmmaking odyssey" set behind the scenes at a porn shoot in the jungles near San Juan; the film is a retrospective that chronicles St. John's legendary 25 years directing porn all over the world.  See one, pick up a copy of the other, and meet the man behind them both at Tom of Finland Foundation's  TOM House on September 23, from 5-9pm.  Details can be found here.
Oscar-winner Tarell McCraney, new Geffen Artistic Director
The Moonlight co-screenwriter says he wants the theatre to be artist-centered, while attracting top-name talent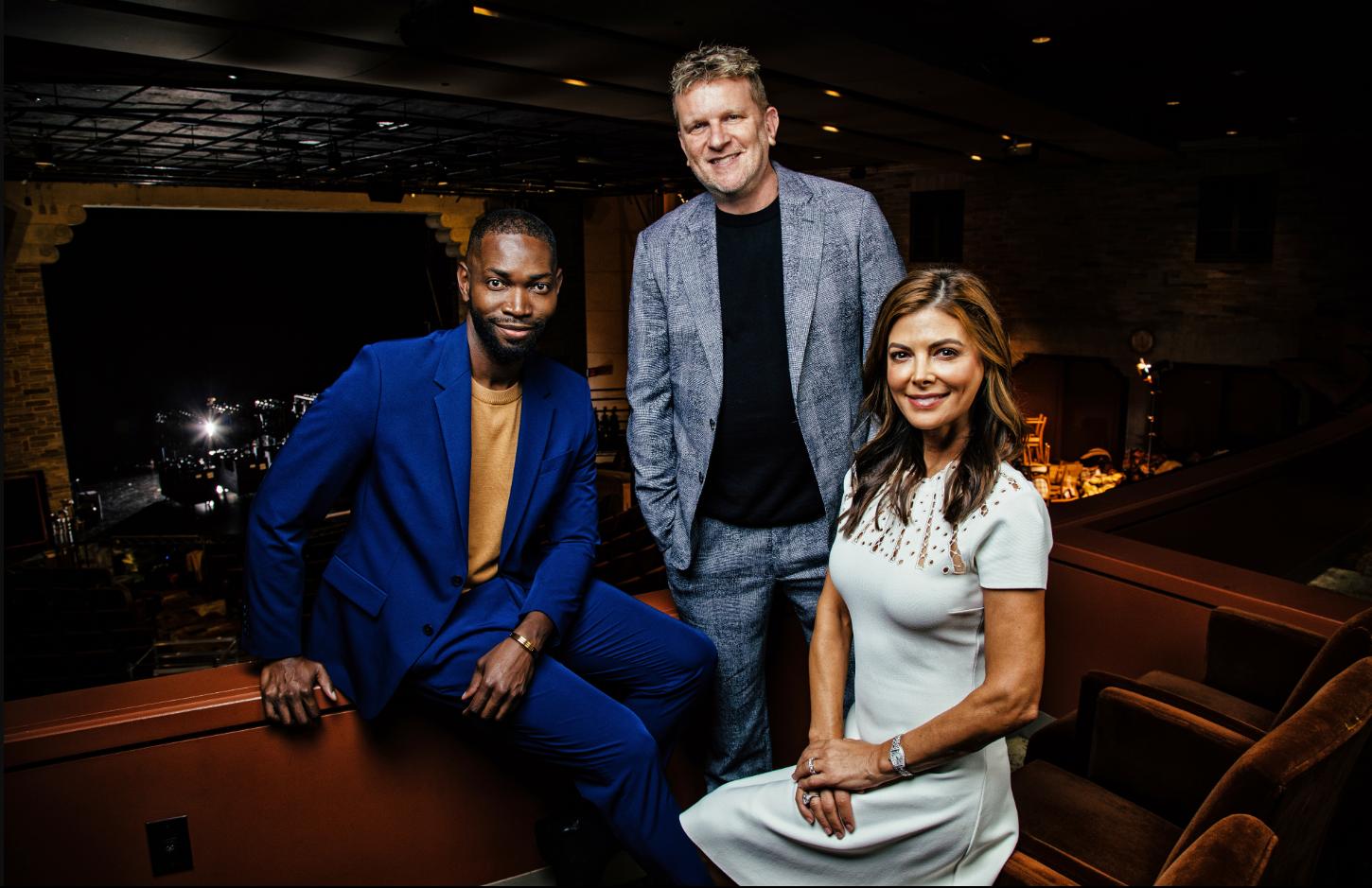 By Rob Salerno | LOS ANGELES – Tarell Alvin McCraney has lofty plans for the Geffen Playhouse, which announced him as its new Artistic Director last week. 
The openly queer playwright who won an Oscar for co-writing the 2016 film Moonlight based on his own earlier play, In Moonlight Black Boys Look Blue, says he wants the theatre to be a place that centers artists' voices while building on the theatre's location in Los Angeles to attract big name talent. But he also wants the theatre to draw in more young audiences from neighboring UCLA and he promises to continue commissioning work by LGBTQ creators.
With a career that has included being a member of Chicago's famed Steppenwolf Theatre, playwright-in-residence at the Royal Shakespeare Company, serving as Chair of playwrighting at the Yale School of Drama, and a Tony Award nomination for his Broadway debut Choir Boy (which was produced at the Geffen in 2014), the 43-year-old playwright has the deep connections across the national theatre scene as well as in Hollywood that just might help him pull this vision off.
The Los Angeles Blade sat down with McCraney to talk about how he sees the Geffen Playhouse fitting into the LA art scene, and why live performance remains so relevant to today's audiences.
Blade: Why are you making the transition from playwrighting to artistic directing? What made you want to run a theatre?
McCraney: That kind of vision-setting is something that I've always done. I certainly will admit that doing it at a major theatre was not on my bucket list. But then something started to happen. A lot of the ways that we were creating theatre began to be corporatized and we started to think in corporate ways and business models. For art making, that can get convoluted. The moment we get into very strict rules about theatre and how it should get created, we get into trouble. We leave no room for expression. And that has been happening in part because leadership hasn't been by artists.
And now I have a whole heap of friends and colleagues who are artists running theatres, saying we need to work in collaboration with each other, in order to make sure that the artists of the future are nourished and told that their voice is necessary. All of our companies, even in TV and film, are run by the imagination of the artists, and to put that at the center is really investing in our future.
What is your vision for the Geffen?
The Geffen already does something pretty amazing. It is that fulcrum in the entertainment industry. There are a lot of film and tv folks who make up our audience and the artists who are on our stage. That feels like we have a role to play in the ecosystem of the great many theatre artists who come out to LA to pursue film and television and also still deeply want the roots of live performance to be honored, and the skills that come with that to be sharpened.
We also have about 30-40,000 audience members across the street who may not have been inside of our playhouse or experienced their first live performance, and we'd love to make sure that that is part of their education. I'm talking about UCLA. We want to make sure that we invite them in to experience what it is to have a live performance affect you and change you and make you think and anger you and call you into action. We also know that a good percentage of those folks are the artists of tomorrow. We want to make sure that they know that they have a space.
How is Los Angeles different from the places where you've made theatre in the past?
It's the center of the TV and film industry in our country specifically. And yes, there are certainly theatre actors who work in film and television in New York and Chicago.
In LA the majority of folks who are in our audience and on our stages work in the film and television industry in some way, shape or form. What that gives us as a playhouse is a place where we can say, hey, theatre is important to you. It's the first thing you did in your life. It's the first experience you had in dramatic storytelling. It's the bad theatre games that led you to this moment playing this role on Wandavision. Now you want to get back on stage and you want to remind yourself what it means to be in Hamlet and why that story is important, in film and television, but also in live performance. What does that do? What part of your humanity is invigorated by doing it in front of people night to night?
Because we have so many people in our community who come from that tradition and background, it makes no sense to me to bifurcate that but to integrate it.
You obviously bring a certain star power to the theatre. Do you think that's important for Los Angeles audiences?
Name recognition is important for sure. Someone could take that negatively. I hear, "Oh, I like the way that person tells a story. I've followed them for a long time."
I'd love to make sure that there are a cadre of artists that folks can say, "Oh yeah, they're at the Geffen pretty often. I love to see them there," or, "I saw their first play there, and it's really interesting to see what they do next. I'm coming back for that." I think it's important to audiences everywhere. We like to train up with people. You've seen that actor before that you're like "he was in that thing!" You like to watch that versatility.
Samuel L. [Jackson] was in The Piano Lesson. One, I love The Piano Lesson. Two, I love Samuel L. And I was like, I have to see this, because this is one of my favorite people telling stories and in a way that I rarely get to see him do it.
I understand the guilt, because people can feel consumerist, but it really is an age-old tradition. You want to see that person tell the stories. It is exciting to say I've seen that actor on so many things, but I'd love to see them live.
Does the Geffen need to find new audiences?
So does every industry. Even in streaming, we know we gotta grow their audiences. What I don't think we should be doing is chasing after the audiences who've said they're not going to sit in the theatre anymore. I think there are people who've gone through a very rough time the last three years, who've said, "Y'know what? One of my biggest things is going to be being outside, or travelling, or moving to that place that I didn't think I could."
What we have to do is reinvest in the 60% of audiences that have come back and said, even during that limited capacity, "The thing I wanted to get to most was this engagement here in the live theatre. It's important to me, it's a part of the tapestry of my life, so I'm here."
Why is theatre relevant in 2023?
It's the difference between [being there and] hearing, "Oh, you had to be there…"
I tell this story all the time about Peter Brook's Hamlet in Chicago [in 2001] with Adrian Lester. It's the first Shakespeare production I've seen at Chicago Shakespeare Theater. I'm seeing this fly zipping around, and Adrian Lester, who is delivering the most eloquent Shakespeare I've ever seen, at some point in the middle of it, I think he's doing one of his great speeches, he [catches the fly in his hands, shows it to the audience and wipes it off], and continues going on as if nothing happened. I think it was during "To be or not to be." Talk about timing. You just had to be there.
I remember my best friend Glenn Davis, the artistic director of Steppenwolf, and my friend André Holland who was in Moonlight, we all saw that production, that performance, and we're all still saying, "You had to be there," this performance 20 years ago, to see this fly driving Adrian Lester wild. I know that's still relevant to folks.
We have a show right now at the Geffen called Every Brilliant Thing, and it's really interesting to see folks who are jostled by how interactive it is, and how much the audience talks to the performer. And those who really lean into it, who are like, "Yeah, this is why I come. I can't just lean back and eat Cheetos, while you divorce someone or run for president. I have to be here right with you as you work out this very complicated thing in your life."
What can queer audiences expect from the Geffen under your tenure?
Thankfully, the artistic leadership before did a pretty good job of forging ahead with queer stories in our space. I can speak to Choir Boy when we did it all those years ago. But since then, there's been multiple plays and paradigm-breaking ways in which we engage our queer stories particularly. I'm speaking of The Inheritance, when we had that block party with community partners.
One of the things I'm challenging us to do is to make sure that when we do invite audiences – queer, black, brown, Asian – into our space, that they do know that we keep something on hand for them. That it's not just that in June we have this 'out' play, but that we have something year-round that… may not be specifically about a topic, but it'll have enough that it'll encourage, delight and engage everyone.
We can't have a play in February for Black History Month and then be like, "Oh, we got our Black audience in, but now what?" We have to make sure that audiences feel like we program with you in mind. The play may not be about your particular home, but it is engaging the world you live in and wanna live in.
Do you think we'll see more commissioned queer works, or productions of queer-themed plays?
For sure, on our roster of people to commission there are same-sex loving folks, there are people who are transgender. We are absolutely leaning into that.
Are we going to see new Tarell Alvin McCraney plays at the Geffen?
That's an easy Yes. Selfishly, that's why I took the job. Directors always take these jobs and go, "I'm gonna direct the thing I never got to direct." There's a bunch of things I want to write for the theatre and I just need the time and space to do it. Maybe I've hoodwinked the Geffen into letting me do that. I'm very excited about it.
What are you excited to write about?
I definitely want to write about marriage and my weird feelings around it. If you just look at the things I've been writing about for twenty years, they're all the same: queer people, finding love, finding a voice. That's not going to change. Just different avenues.
I'm excited to see that as a 43-year-old man who keeps going, "Should I get married? Is marriage for me? Isn't the point of being queer not to get married? Aren't we revolutionary? Is it a tool of the state or whatever, or is it really a romantic thing that I'm missing out on?" I want to grapple with those things. and I think the intimacy of our spaces is the place to do it.
As soon as I can get the time to write it.
(This interview has been edited for length and clarity.)
******************************************************************************************
Rob Salerno is a writer and journalist based in Los Angeles, California, and Toronto, Canada.