Rev. Troy Perry reflects on 50 years of Metropolitan Community Church
'I tried, always, to be fearless and faithful'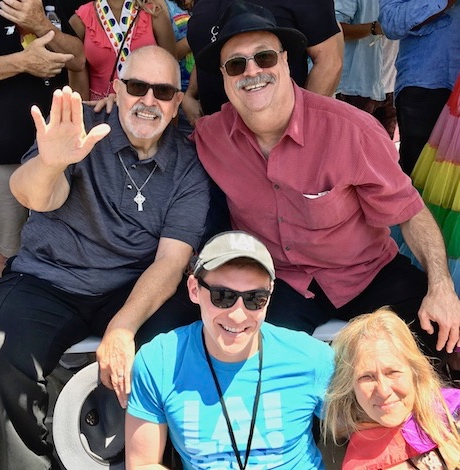 The battles to secure equal rights for LGBT people have played out in marches, demonstrations, parades, courtrooms, the media, houses of worship, houses of government, hospital wards, and boardrooms. They are all places where Rev. Troy Perry has always been front-and-center, advocating for LGBT issues and everyone's civil rights. Now, 50 years after starting the Metropolitan Community Church in his Los Angeles apartment living room, the good gay reverend looks back on an extraordinary life.
"Scripture tells us, 'they overcame him by the word of his testimony and the blood of the lamb.' In my church, your testimonies—your stories—are remembered," Perry tells the Los Angeles Blade in a Sept. 17 interview.  "I always tell our community, 'Remember your stories. Remember how you came out. Remember how you went to your first march with a lot of fear and trepidation. Remember when you talked to your parents for the first time—when you told you best friend that you're different.' So, for me, that's what's going to happen, and for all of us, on the 25th anniversary of the 1993 March on Washington and on the 50th anniversary of the Metropolitan Community Church."
Rev. Perry has a lot to remember. In 1970, with activist Morris Kight and Rev. Bob Humphries, he co-founded Christopher Street West to organize what was then the first Pride parade in the world on the West Coast, in conjunction with a commemoration of the Stonewall riots in New York City. Nine years later, Perry helped plan the National March on Washington for Lesbian and Gay Rights. In 1993, the March on Washington for Lesbian, Gay, and Bi Equal Rights and Liberation saw LGBT and allied participants reach close to 1,000,000. During the historic events, Perry performed mass ceremonial marriages, including one for about 2,600 same-sex couples 25 years ago in front of the IRS headquarters.
On July 16, 2003, Perry and his partner of 18 years, Phillip De Blieck, traveled to Toronto to officially get married. The following year, the couple joined Robin Tyler and Diane Olson in their annual quest for a marriage license at the Beverly Hills Courthouse—only this time their powerhouse feminist attorney Gloria Allred filed a lawsuit against the state for denying Tyler and Olson a license and refusing to recognize Perry and DeBlieck's Canadian marriage as a result of Prop 22. Their 2004 lawsuit was folded into other lawsuits leading to a 2008 victory for marriage equality in the state.
Rev. Perry's conviction that LGBT folks should not be excluded from marriage and family, institutions that are especially valued by people and communities of faith, now seems uncontroversial—the sure sign of an authentic pioneer.
"In 1969," Perry says, "I performed the first wedding at MCC for two young Hispanic men. That's when I started fighting, right then and there, and decided this would be part of our doctrine." He was mocked by other LGBT activists who said: "Who do you think you are—Reverend Moon?" (The Korean religious leader famous for performing mass weddings.) "They couldn't get it through their heads why it was so important. I said, 'I am fighting for the right of every person to be treated equally under the Constitution of the United States.'" It was a position later articulated by Justice Anthony Kennedy in the Obergefell ruling.
As a progressive activist, Perry—along with his congregation—faced opposition from people who opposed marriage equality, conservative religious leaders and bigots who committed acts of violence against them. "In 1975," he says, "our church was burned by an arsonist in Los Angeles. There were four other MCC meeting places that were either burned by arson or desecrated, including the fire in New Orleans where our pastor and his lover and nine of our late members were burned to death in a terrible fire that killed 32 people at the Upstairs Lounge."
In the next few years, 21 MCC churches were burned by arson or desecrated and eight clergy members were murdered. "They'll pay for that one day, if not in this life, in the life to come," Perry says.
Perry was invited to the White House five times—the first on March 26, 1977 in a meeting organized by Midge Costanza, a closeted aide to President Jimmy Carter and twice by President Bill Clinton—one for a conference on AIDS and another on hate crimes, both history-making. "I took a report," he said, "and the other LGBTQ groups were thrilled because we document everything in our denomination. We took good records."
Perry also shared stories about hate crimes when the Cuban organization CENESEX honored him last year with an award for his work for human rights and LGBT rights worldwide. "We had the American, Swiss, and French ambassadors sitting in the Karl Marx theatre in Cuba," he says. "I told the story about all [the violence] that happened. I said, 'that didn't happen in your country; it happened in my country.' And I said that in front of the American ambassador."
Rev. Perry's congregation has not been spared from the discrimination caused by homophobia, regardless of their sexual orientation. "I've had heterosexual people fired from their jobs because they were a part of Metropolitan Community Church," Perry says. "I had a woman member in my church in the 1970s and she was a nurse at White Memorial Hospital here in LA. And that Seventh-Day Adventist hospital—it was reported in the newspapers that she had joined Metropolitan Community Church because she was a minister of our denomination—and they fired her. I've had to watch that and our heterosexual members have had to pay the same price that we have just for being part of an organization." 
Conservative religious leaders such as Jerry Falwell and Anita Bryant scorned MCC's core principle that LGBT identities are perfectly compatible with Christianity. "It gave us a lot of power," Perry says, "because they couldn't quit talking about us. They could ignore other groups but trying to ignore us was impossible."
In the 1970s, he fought against Bryant's "Save the Children" initiative, a campaign that sought to overturn an inclusive non-discrimination ordinance passed in the city of Miami. He worked with grassroots activists in Los Angeles and activists such as gay Supervisor Harvey Milk in San Francisco to defeat the Briggs Initiative, a ballot measure that would have prohibited gay and lesbian teachers from working in California public schools. He launched a 10-day fast to raise funds for the fight, which was successful in 1978.
Perry's congregation also suffered tremendously from AIDS while Falwell preached that the disease was divine comeuppance for immoral behavior. More than 5,000 members of MCC died from AIDS, Perry says. The Westboro Baptist Church picketed an MCC service in San Diego in which the worshippers prayed for people who were sick. But the epidemic also brought forth angels.
"Bishop McKinney of the Church of God in Christ," Perry explains, "which is a black Pentecostal denomination that does not agree with our stance on homosexuality, called a press conference and condemned the Westboro Baptist Church. McKinney said, 'What a sick group of people who are coming to demonstrate against the church just for praying for people who are sick.' It completely turned the city of San Diego on its head." 
To this day, says Perry, MCC is involved in civil rights and believes in inclusion—in both houses of worship and demonstrations like Pride. At the same time, he says, "What worked 40 or 50 years ago for Pride won't necessarily work today. And that's a good thing!" Today, amid outrage over the Trump Administration's policies concerning LGBT issues, Perry supports the inclusion of political protest in Pride. "I absolutely believe with all my heart that it doesn't have to be one or the other—you can have political messages, too." 
"For 50 years I tried, always, to be fearless and faithful. I'm faithful to my concept of being a person of faith; but I've also tried to be fearless in the LGBTQ community as we fought the good fight," says Rev. Troy Perry. "I've never asked anyone in my community, whether in my church or in any other organization, to do more than I would do…I look back at this incredible life, and I say to people, even if I die tomorrow, I have lived history, and it's been an incredible journey for me as a gay man."
Rev. Perry is being honored on Oct. 6 at St. John's Episcopal Cathedral in downtown Los Angles to commemorate the 50th anniversary of MCC. For more, visit: here.
LA Mayor Garcetti volunteers at Project Angel Food's Thanksgiving
For many of the celebrities joining Project Angel Food's Thanksgiving Day volunteers the day was about sharing the experience with family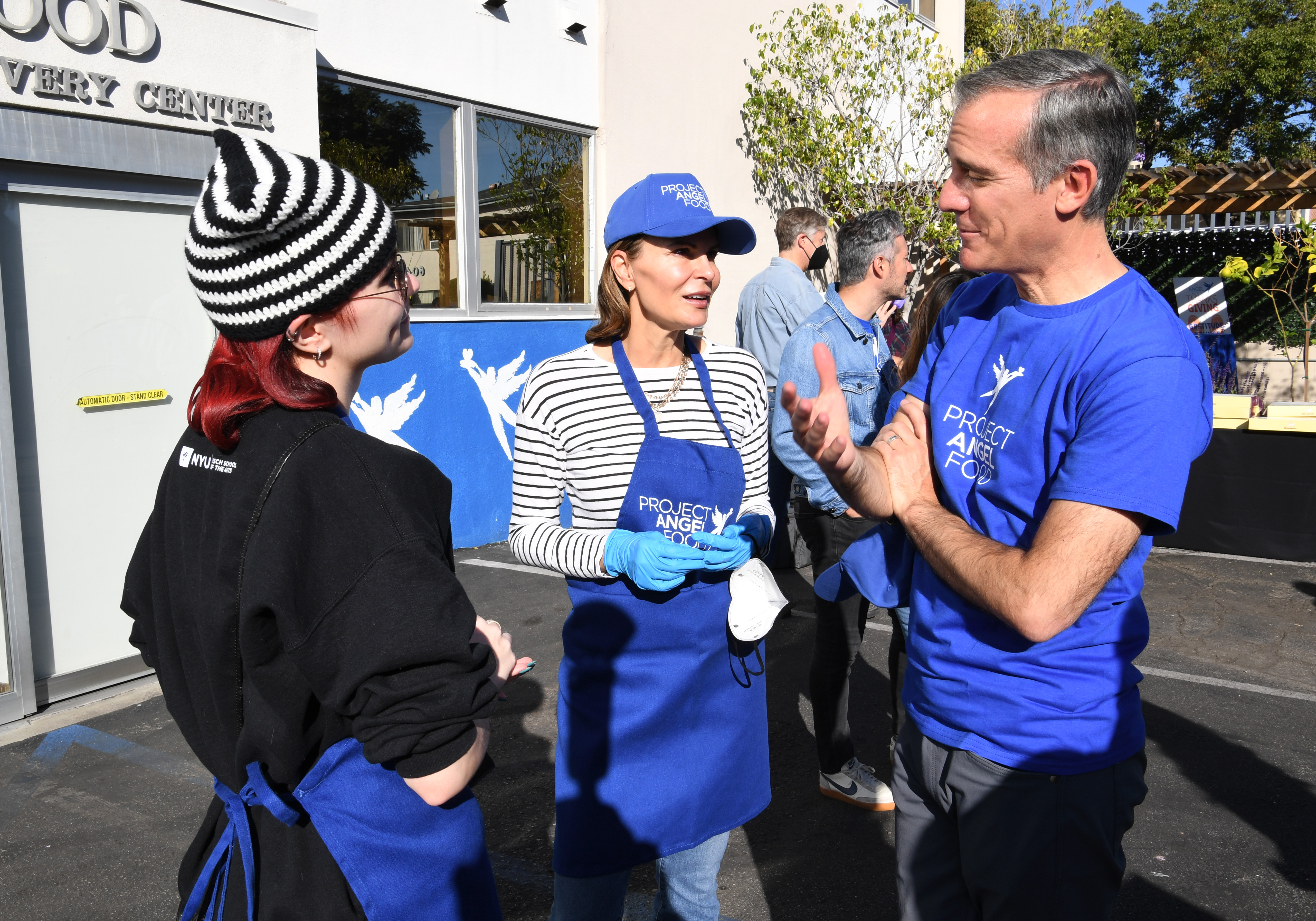 LOS ANGELES – In the early morning hours of Thanksgiving Day, Mayor Eric Garcetti joined Project Angel Food CEO Richard Ayoub, celebrity supporters and 225 volunteers and staff to prepare and deliver 7,400 meals on Thanksgiving Day to seriously ill and housing insecure people throughout 4,700 square miles of L.A. County.
"Mayor Eric Garcetti epitomizes what it is to be part of a community and lift one another through compassion and service. As he rolled up his sleeves and helped plate meals, he brought attention that while this is a day most of us are surrounded by people we love, we need to remember that some people don't have that," Project Angel Food CEO Richard Ayoub said. "He reminded us that no Angeleno should be alone and with a warm smile, a conversation and a meal, our volunteers can change the entire day for our clients, become angels in the City of Angels," Ayoub added.
For many of the celebrities joining Project Angel Food's Thanksgiving Day volunteer pool, the day was about sharing the experience with family. Volunteers included Lisa Rinna and husband Harry Hamlin; "Weird Al" Yankovic with his wife Suzanne and daughter Nina.
Also volunteering was Out actor and singer Cheyenne Jackson and husband Jason Landau with their twins Willow and Ethan. Jackson said the couple brought the children because, "I want to teach my kids to be grateful and thankful for everything that we have, and when you have the capability to give to other people, do it."
He also talked about the death of friend Leslie Jordan, a Project Angel Food supporter who died exactly one month earlier. "He was one of my best friends and it hit me really, really hard like so many people," he said.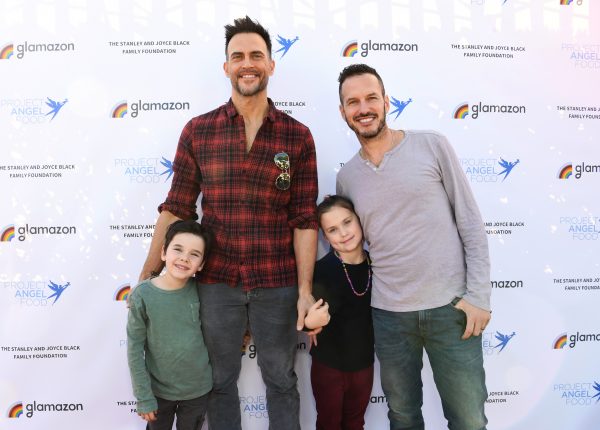 American Idol favorite Ava Maybee with her mother, and Melissa Rivers with son Cooper Endicott, continuing her mother Joan Rivers' legacy of volunteering on Thanksgiving.
Avatar: The Way of Water star Trinity Bliss brought her parents just weeks before the December 16 release of the highly anticipated film. "I'm so honored to work alongside so many people to bring a warm, delicious, tasty meal to people in need."
Of her much-anticipated film, Avatar: Way of Water, Trinity added, "Avatar was amazing, but I think Avatar: The Way of Water is going to be just so much more dramatic and be an experience people are going to need to experience in theaters."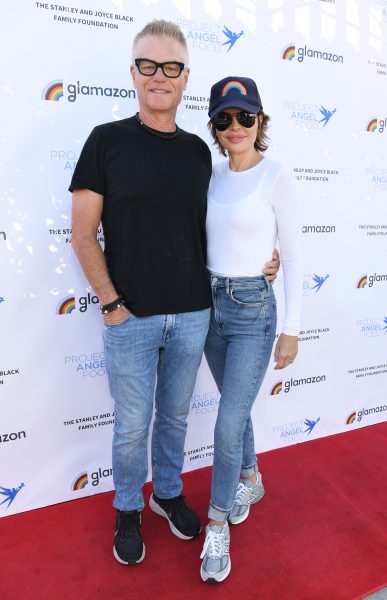 Lisa Rinna reflected on the fact that Project Angel Food is the primary source of food for most of its clients. "It's so important because that is going to be their only meal of the day." her husband Hamlin added, "to have the opportunity to give back is amazing."
Other celebrities included Eileen Davidson (RHOBH, Days of Our Lives), Peter Porte (Days of Our Lives), Juan Pablo Di Pace (DWTS, Fuller House), Olympian Tai Babilonia, Tim Bagley (Gracie & Frankie, Will & Grace), Michael Hitchcock (The Resort, Crazy Ex-Girlfriend), Lawrence Zarian (The Kelly Clarkson Show), Marc Malkin (Variety), James Wallington and Will Jardell (Amazing Race Season 32 winners), Romeo Escobar (Survivor 42 runner-up), and parenting author Donna Tetreault.
The 7,400 meals being delivered on Thanksgiving included 1,600 traditional turkey dinners to critically ill men, women, children and their caregivers, 5,600 Medically Tailored Meals and breakfasts regularly scheduled for Thursday delivery, and another 200 meals were provided to Project Angel Food community partner PATH for residents for two of PATH's Interim Housing and Permanent Supportive Housing sites.
Volunteers provided contactless "drive-by" pick-up of the meals which were then delivered to Project Angel Food clients. Traditional Thanksgiving dinners consisted of roasted turkey, root vegetables, stuffing, gravy, cranberry sauce and a slice of pumpkin cheesecake. Vegetarian meals were also provided.
The meal was sponsored by the Stanley and Joyce Black Family foundation with Glamazon (Amazon's affinity group for the LGBT+ community) sponsoring the volunteer event.
Project Angel Food CEO Richard Ayoub noted that Project Angel Food strives to end food insecurity and improve health outcomes of critically ill men, women and children in Los Angeles with Medically Tailored Meals, delivered with care and compassion.
Over 2,500 clients are fed daily. Project Angel Food delivers 1.3 million meals each year.