Lara could become first LGBT candidate elected statewide
Insurance commissioner hopeful spotlights core values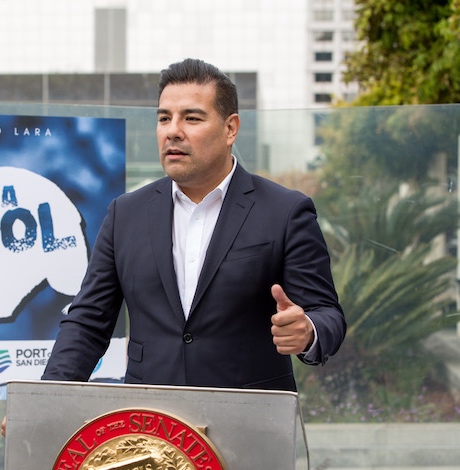 Ricardo Lara has an easy smile, a warm, embracing smile that puts the uncomfortable quickly at ease. It's a smile that may lure cynics into thinking the handsome 43-year-old gay man is tangoing his way into the California Insurance Commissioner job.
But when Lara's smile fades and he gets serious, politely but intensely explaining how this position would be his next step in helping marginalized minorities like his immigrant parents and his poorer friends with HIV/AIDS and children in need of healthcare—attention must be paid.
"I'm running to be California's next state insurance commissioner because I believe at my core that California needs a strong defender, and a counterpuncher, who will stand up to fight our bullying president, Donald Trump, and his increasingly reckless federal government on issues from healthcare access to economic security and more," Lara said in a statement on March 21, 2017.
This is no small next step; Lara is a fervent fighter for human rights stepping up to protect his extended family. And while he would become the first openly LGBT person elected statewide if he wins, the job itself is historically critical to LGBT people. 
Prior to 1988, the state insurance commissioner was a political appointee of the governor. That year it was Republican George Deukmejian, the governor who in 1986 vetoed a bill seeking AIDS non-discrimination in housing and employment because "the provisions of this bill dealing with discrimination are unnecessary. They establish an inappropriate precedent of placing a physical condition in statute that is better left to a more flexible administrative process," according to the Los Angeles Times.
And in November 1988, Deukmejian endorsed Prop. 102, a radical right-wing initiative that would require doctors and blood banks to report anyone they have "reasonable cause to believe" is infected with HIV to state and local authorities and require the HIV positive person to identify their sexual partners.  
In that November 1988 election, voters rejected Proposition 102 but approved Proposition 103, making Insurance Commissioner an elected position, expanding the areas of regulation and giving the commissioner new powers, including "prior approval" of any insurance rate increase. Accustomed to unfettered power in a Republican-controlled marketplace, the insurance companies challenged the measure in court. Pro-gay Attorney General John Van de Kamp won his case before the California Supreme Court and pro-gay Democrat John Garamendi won the post in 1990, becoming the first elected commissioner in 1991. It was an important victory: 1991 was the year Republican Gov. Pete Wilson vetoed the gay rights bill AB 101 and the California State Legislature turned even more deeply red and anti-LGBT.
The non-partisan office has changed political hands, with current progressive Democrat Dave Jones succeeding Republican businessman Steve Poizner—who is trying for a comeback against Lara. This time, however, Poizner is running as an independent, though his policy positions still smell of GOP potpourri. And while Lara may be winning voters with his smile, he cautions that Poizner is seducing no-party preference and Republicans disinclined to vote for a Democrat.
"Recent polling shows that this race is actually tighter and it's gonna be tough," Lara told the Los Angeles Blade in a recent phone interview. "The fact is—Poizner has essentially gone back in the closet, hiding his true Republican ideals, and is running now as an independent. And in many counties, San Diego County, for example, there is a larger bloc of non-party preference voters than there are Republicans."
This is "a new Republican strategy," Lara says, "to run people as independents or no-party preference because they know they can't win otherwise statewide as Republicans. It's truly sad but we can't assume that this is a done deal. We can't rest on our laurels."
Lara says he's going up and down the state "reminding our voters how Poizner "has flip-flopped back and forth on a woman's right to choose" and "wanted to deny immigrant children health insurance." Lara, on the other hand, passed legislation "to insure that any child, regardless of where they come from, their economic income status, or their immigration status, will have access to full scope Medical health insurance in California."
That's the big difference between them, Lara says: "I get things done. I make sure that we help our most vulnerable Californians instead of trying to spread hate and divisiveness, which is no longer a part of our tenor here in California." In some states, he notes,  "insurance companies are denying access to PrEP to our community because they consider that risky behavior."
The Insurance Commissioner position "is one of the most vital positions in the state because it touches every aspect of your life. And some people can even argue in utero, if your mother doesn't have access to health insurance while she's pregnant," Lara says.  "And when it comes to privacy, when it comes to data breeches, when it comes to cannabis regulation, autonomous vehicles—these are all regulations that are pending through the Department of Insurance. And the most important thing is that we keep our insurance industry honest and accountable so that they can pay out the claims to make sure people can move on with their lives. That is the basic work of the Insurance Commissioner."
It was the unexpected fate of a Lara bill that prompted him to run for Insurance Commissioner. He was working on a bill to allow immigrants to pay into the Affordable Care Act since the more people that pay into the system helps stabilize premiums for everyone.
"We know that immigrants are younger, they're healthier and are working—so why not allow them to pay into a system to make sure that we continue to offer the services to folks who actually need it now? It's an important investment," he says.
Gov. Jerry Brown signed the bill. But while Lara was working on the waiver with the Obama administration, "unfortunately President Trump got elected and one of the requirements under that administration was that—if we moved forward—they wanted the names and addresses of the people who were going to be paying into the Affordable Care Act," Lara says. "I had to withdraw the waiver."
On that plane ride back from D.C., "I was so angry and felt so defeated, that that's when I decided to leave the Senate early and run for Insurance Commissioner," he says, "because I have to continue to fight to get a single payer system, that we get universal healthcare in California. I want to be part of those discussions as Insurance Commissioner."
Lara says the issue with SB 562, the bill he co-authored with out Sen. Toni Atkins to provide policy goals for a universal healthcare plan, ran into deadline issues while they were waiting for a study from the University of Massachusetts at Amherst — experts on health care funding — to get back with funding formula. They needed to "keep the momentum going" while they worked on a separate bill to get federal waivers, discussed constitutional amendments with the nurses regarding Prop 98 requirements and figure out spending limits. SB 562 was part of a not quite fully-cooked four-part plan that was sent to the Assembly to start discussions.
"Unfortunately, we fell victim to the legislative timeline of having to move this bill or else it would've died. But there is no doubt in my mind that the work that Toni and I started really has been the emphasis of now the Assembly engaging in a way that they've never engaged before, in terms of talking about healthcare," Lara says. "Hopefully I'm going to be part of those discussions as the Insurance Commissioner."
As commissioner, Lara would also have oversight of some fraud-related issues, including investigating the "troubled teen industry." In 2015 and 2016, Lara worked with the LA LGBT Center and Survivors of Institutional Abuse to pass SB 524, "Protecting Youth from Institutional Abuse Act"— a bill with no religious exemptions that Brown signed in Oct. 2016.
"To the victims that have been victims of this type of abuse in these so-called 'troubled teen' camps or through 'conversion therapy,' we are going to be very vigilant as the Insurance Commissioner to make sure that we not only investigate but we seek out these individuals who are causing our community harm and hold them to justice," Lara says. "We'll work with our Attorney General to make sure that we bring justice to so many victims and we weed out these shams that we know only serve to harm our community."
But first Ricardo Lara must be elected.
"To our LGBT community in California, we have come a long way in such a short amount of time because we remain vigilant, we remain steadfast and more importantly we remain united. The work that we've been able to champion in the state senate, through our LGBT Caucus and through my work is really a testimony to how diverse we are and how much influence we yield to make positive change for the next generation in our community," Lara says.
"It's time now for us to unite—to make sure we can elect somebody statewide that comes from our community, that understands our issues, and most importantly, understands where we need to be in the future to continue to protect our community and insure that the next generation of LGBTQI individuals have an opportunity to thrive and succeed in California, regardless of who is in the White House."
For more, see ricardolara.com.
Governor Newsom announces new gun safety legislation
In 2021, Calif. was ranked as the #1 state for gun safety by the Giffords Law Center, seeing a 37% lower gun death rate than national average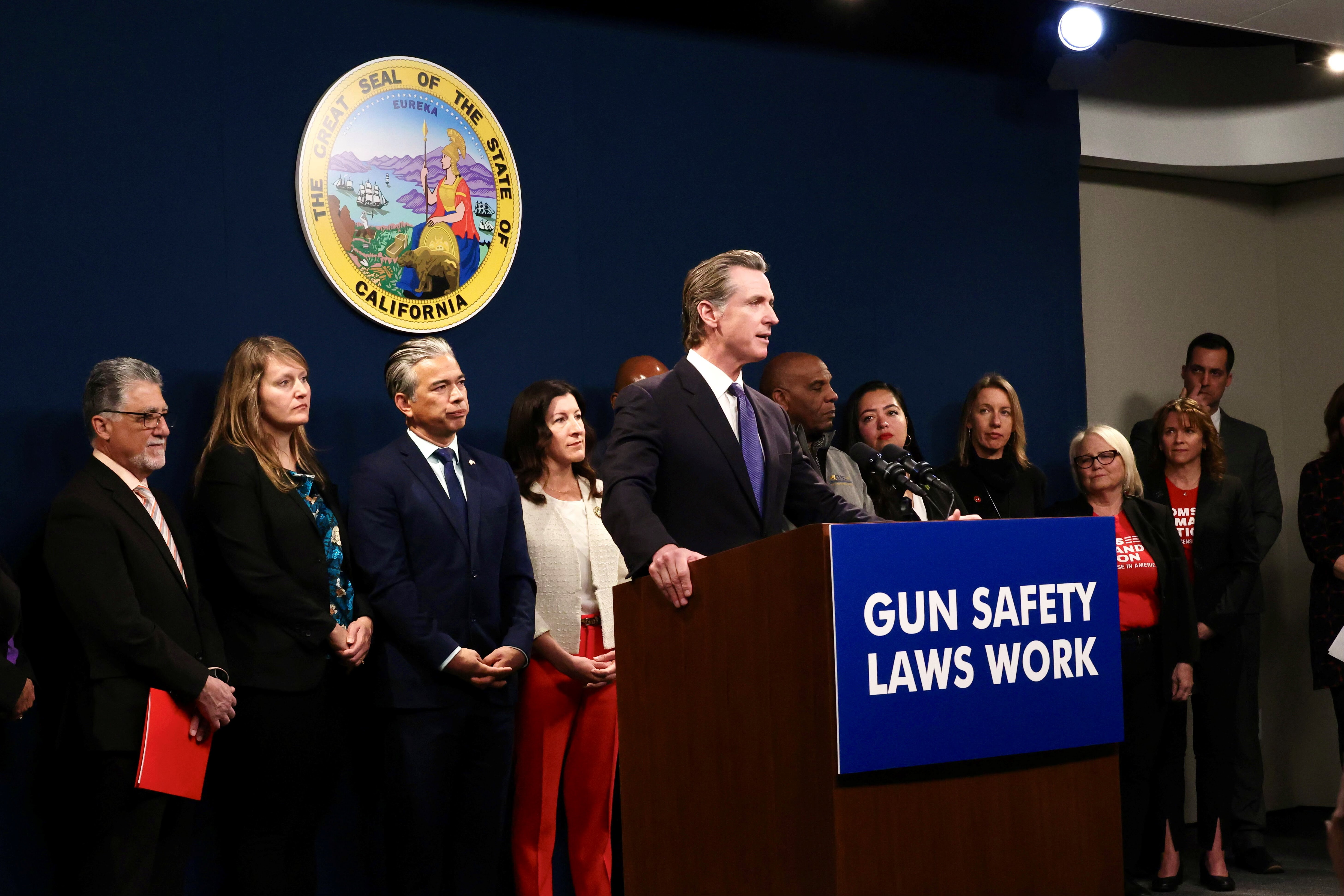 SACRAMENTO – In the wake of multiple mass shootings that took the lives of 19 Californians in just 72 hours last week, Governor Gavin Newsom, Attorney General Rob Bonta, and Senator Anthony Portantino (D-Burbank) announced new gun safety legislation to modernize and strengthen California's public carry laws.
"Only in America do we see the kind of carnage and chaos of gun violence that destroys our communities and our sense of safety and belonging," said Newsom. "America is number 1 in gun ownership and we far surpass every developed nation on Earth in gun deaths – it's not complicated. In California, we've passed common sense gun safety laws and they work: we have a 37% lower gun death rate than the national average. We're doubling down on gun safety and strengthening our public carry law to protect it from radical Republican attacks."
According to the Center for American Progress, efforts to weaken concealed carry laws across the country have increased violent crimes – with studies showing gun homicides increased by 22% in states that passed permitless carry laws and violent crimes with a firearm went up 29%.
Newsom signed a package of gun safety laws last year, making it easier for Californians to sue manufacturers of illegal assault weapons and those spreading them, allowing lawsuits against irresponsible gun industry members, strengthening prohibitions on ghost guns, as well as restricting marketing to minors. 
"The mass shooting incidents we have seen over recent weeks bring to light the need for stronger protections for our communities. The fact is, individuals who are not law-abiding, responsible citizens simply shouldn't possess firearms — and they especially shouldn't be allowed to carry a concealed weapon in public. When a gun is placed in the wrong hands, it is deadly," said California Attorney General Rob Bonta. "The Second Amendment is not a regulatory straightjacket — we must protect our communities. The time for thoughts and prayers has long passed, we need brave and immediate action by our leaders – here in California and beyond. We owe our community stronger protections. I urge our state leaders to quickly adopt SB 2. We can't afford to wait even one minute more."
Last June, the U.S. Supreme Court struck down a New York law, aspects of which mirrored California's public carry laws, and the legislation announced today – Senate Bill 2 by Senator Portantino – would make fixes necessary to update the standards and processes for obtaining a public carry permit in California.
Senate Bill 2 strengthens California's restrictions regarding public carry laws by:
Enhancing the existing licensing system – ensuring those permitted to carry firearms in public are responsible and law-abiding individuals;
Protecting children – setting a minimum age requirement of 21 years of age to obtain a CCW license;
Advancing stronger training requirements – ensuring proper handling, loading, unloading, and storage of firearms; and
Identifying certain sensitive public places – establishing safe community places where people should expect freedom from gun violence.
"In the wake of the recent tragedies in Monterey Park and Half Moon Bay and the continued threat of mass shootings, it's critical that California leads on the issue of gun safety and reform. I am proud to be working with Governor Newsom, Attorney General Bonta and activists on SB 2 to strengthen our existing public carry laws and ensure every Californian is safe from gun violence.  We must be diligent in addressing the gun violence epidemic in our country and public carry laws are a key component of this," said Senator Anthony Portantino.
California launched an 18-month campaign to promote gun violence restraining orders – "red flag laws" – that allow law enforcement, family, coworkers or friends to petition a court to temporarily remove weapons from people deemed dangerous to themselves or others. A study from the Violence Prevention Research Program at the University of California, Davis found that California's red flag law was used to stop 58 threatened mass shootings since 2016.
California's gun safety laws work. In 2021, California was ranked as the #1 state for gun safety by the Giffords Law Center, and the state saw a 37% lower gun death rate than the national average.
According to the CDC, California's gun death rate was the 44th lowest in the nation, with 8.5 gun deaths per 100,000 people – compared to 13.7 deaths per 100,000 nationally, 28.6 in Mississippi, 20.7 in Oklahoma, and 14.2 in Texas.
Moms Demand Action Founder Shannon Watts noted: "The Supreme Court's reckless Bruen decision opened up the floodgates for more guns in more places — but with this bill California once again renewed its commitment to being a national leader in the fight against gun violence. While the gun industry celebrated the ruling that put their profits over our safety, our grassroots army is proud to stand with our Gun Sense Champions in California to pass this critical bill and make our communities safer."
"Following the Supreme Court's egregious decision in the Bruen case, it is vital that the Golden State takes meaningful action to protect all Californians from the threat of gun violence. SB2 would do just this by updating and improving the state's already strong concealed carry license system, and ensure that loaded and concealed weapons are not allowed in certain sensitive places. With SB2, leaders in California are continuing their leadership in prioritizing the public health and safety of all its citizens," said Brady Campaign President Kris Brown, adding "Brady applauds Senator Portantino for introducing this important bill, and thanks Governor Newsom and Attorney General Bonta for their continued leadership on this issue, and urges the California legislature to pass it without delay."
Giffords State Policy Director Ari Freilich stated: "In the face of tragedy, California's leaders act. They've led the nation on gun safety reform and made California a much safer state than most. But today, grieving communities know all too well how much more work there is to do. California achieved an all-time record low gun fatality rate in 2019. But like the rest of the country, we have faced record spikes in gun sales and violence since the start of the pandemic and a flood of new weapons in public spaces as a result of the US Supreme Court's dangerous Second Amendment ruling last year. Passing SB (2) will strengthen communities' ability to respond to these threats by requiring stronger vetting and safety training to carry weapons in public and by designating vital community spaces like parks and playgrounds as off-limits to weapons throughout the state. We thank leaders like Governor Newsom, Attorney General Bonta, and Senator Portantino for their work and commitment to make all Californians safer and freer from violence."