Lara could become first LGBT candidate elected statewide
Insurance commissioner hopeful spotlights core values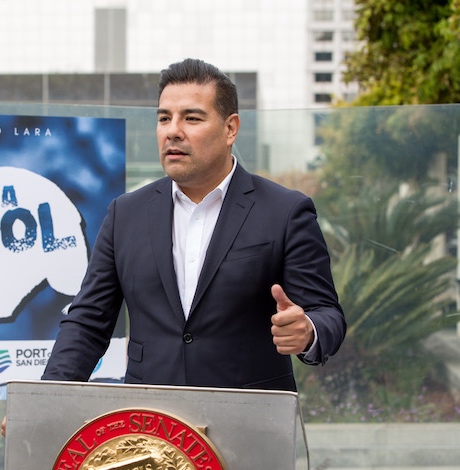 Ricardo Lara has an easy smile, a warm, embracing smile that puts the uncomfortable quickly at ease. It's a smile that may lure cynics into thinking the handsome 43-year-old gay man is tangoing his way into the California Insurance Commissioner job.
But when Lara's smile fades and he gets serious, politely but intensely explaining how this position would be his next step in helping marginalized minorities like his immigrant parents and his poorer friends with HIV/AIDS and children in need of healthcare—attention must be paid.
"I'm running to be California's next state insurance commissioner because I believe at my core that California needs a strong defender, and a counterpuncher, who will stand up to fight our bullying president, Donald Trump, and his increasingly reckless federal government on issues from healthcare access to economic security and more," Lara said in a statement on March 21, 2017.
This is no small next step; Lara is a fervent fighter for human rights stepping up to protect his extended family. And while he would become the first openly LGBT person elected statewide if he wins, the job itself is historically critical to LGBT people. 
Prior to 1988, the state insurance commissioner was a political appointee of the governor. That year it was Republican George Deukmejian, the governor who in 1986 vetoed a bill seeking AIDS non-discrimination in housing and employment because "the provisions of this bill dealing with discrimination are unnecessary. They establish an inappropriate precedent of placing a physical condition in statute that is better left to a more flexible administrative process," according to the Los Angeles Times.
And in November 1988, Deukmejian endorsed Prop. 102, a radical right-wing initiative that would require doctors and blood banks to report anyone they have "reasonable cause to believe" is infected with HIV to state and local authorities and require the HIV positive person to identify their sexual partners.  
In that November 1988 election, voters rejected Proposition 102 but approved Proposition 103, making Insurance Commissioner an elected position, expanding the areas of regulation and giving the commissioner new powers, including "prior approval" of any insurance rate increase. Accustomed to unfettered power in a Republican-controlled marketplace, the insurance companies challenged the measure in court. Pro-gay Attorney General John Van de Kamp won his case before the California Supreme Court and pro-gay Democrat John Garamendi won the post in 1990, becoming the first elected commissioner in 1991. It was an important victory: 1991 was the year Republican Gov. Pete Wilson vetoed the gay rights bill AB 101 and the California State Legislature turned even more deeply red and anti-LGBT.
The non-partisan office has changed political hands, with current progressive Democrat Dave Jones succeeding Republican businessman Steve Poizner—who is trying for a comeback against Lara. This time, however, Poizner is running as an independent, though his policy positions still smell of GOP potpourri. And while Lara may be winning voters with his smile, he cautions that Poizner is seducing no-party preference and Republicans disinclined to vote for a Democrat.
"Recent polling shows that this race is actually tighter and it's gonna be tough," Lara told the Los Angeles Blade in a recent phone interview. "The fact is—Poizner has essentially gone back in the closet, hiding his true Republican ideals, and is running now as an independent. And in many counties, San Diego County, for example, there is a larger bloc of non-party preference voters than there are Republicans."
This is "a new Republican strategy," Lara says, "to run people as independents or no-party preference because they know they can't win otherwise statewide as Republicans. It's truly sad but we can't assume that this is a done deal. We can't rest on our laurels."
Lara says he's going up and down the state "reminding our voters how Poizner "has flip-flopped back and forth on a woman's right to choose" and "wanted to deny immigrant children health insurance." Lara, on the other hand, passed legislation "to insure that any child, regardless of where they come from, their economic income status, or their immigration status, will have access to full scope Medical health insurance in California."
That's the big difference between them, Lara says: "I get things done. I make sure that we help our most vulnerable Californians instead of trying to spread hate and divisiveness, which is no longer a part of our tenor here in California." In some states, he notes,  "insurance companies are denying access to PrEP to our community because they consider that risky behavior."
The Insurance Commissioner position "is one of the most vital positions in the state because it touches every aspect of your life. And some people can even argue in utero, if your mother doesn't have access to health insurance while she's pregnant," Lara says.  "And when it comes to privacy, when it comes to data breeches, when it comes to cannabis regulation, autonomous vehicles—these are all regulations that are pending through the Department of Insurance. And the most important thing is that we keep our insurance industry honest and accountable so that they can pay out the claims to make sure people can move on with their lives. That is the basic work of the Insurance Commissioner."
It was the unexpected fate of a Lara bill that prompted him to run for Insurance Commissioner. He was working on a bill to allow immigrants to pay into the Affordable Care Act since the more people that pay into the system helps stabilize premiums for everyone.
"We know that immigrants are younger, they're healthier and are working—so why not allow them to pay into a system to make sure that we continue to offer the services to folks who actually need it now? It's an important investment," he says.
Gov. Jerry Brown signed the bill. But while Lara was working on the waiver with the Obama administration, "unfortunately President Trump got elected and one of the requirements under that administration was that—if we moved forward—they wanted the names and addresses of the people who were going to be paying into the Affordable Care Act," Lara says. "I had to withdraw the waiver."
On that plane ride back from D.C., "I was so angry and felt so defeated, that that's when I decided to leave the Senate early and run for Insurance Commissioner," he says, "because I have to continue to fight to get a single payer system, that we get universal healthcare in California. I want to be part of those discussions as Insurance Commissioner."
Lara says the issue with SB 562, the bill he co-authored with out Sen. Toni Atkins to provide policy goals for a universal healthcare plan, ran into deadline issues while they were waiting for a study from the University of Massachusetts at Amherst — experts on health care funding — to get back with funding formula. They needed to "keep the momentum going" while they worked on a separate bill to get federal waivers, discussed constitutional amendments with the nurses regarding Prop 98 requirements and figure out spending limits. SB 562 was part of a not quite fully-cooked four-part plan that was sent to the Assembly to start discussions.
"Unfortunately, we fell victim to the legislative timeline of having to move this bill or else it would've died. But there is no doubt in my mind that the work that Toni and I started really has been the emphasis of now the Assembly engaging in a way that they've never engaged before, in terms of talking about healthcare," Lara says. "Hopefully I'm going to be part of those discussions as the Insurance Commissioner."
As commissioner, Lara would also have oversight of some fraud-related issues, including investigating the "troubled teen industry." In 2015 and 2016, Lara worked with the LA LGBT Center and Survivors of Institutional Abuse to pass SB 524, "Protecting Youth from Institutional Abuse Act"— a bill with no religious exemptions that Brown signed in Oct. 2016.
"To the victims that have been victims of this type of abuse in these so-called 'troubled teen' camps or through 'conversion therapy,' we are going to be very vigilant as the Insurance Commissioner to make sure that we not only investigate but we seek out these individuals who are causing our community harm and hold them to justice," Lara says. "We'll work with our Attorney General to make sure that we bring justice to so many victims and we weed out these shams that we know only serve to harm our community."
But first Ricardo Lara must be elected.
"To our LGBT community in California, we have come a long way in such a short amount of time because we remain vigilant, we remain steadfast and more importantly we remain united. The work that we've been able to champion in the state senate, through our LGBT Caucus and through my work is really a testimony to how diverse we are and how much influence we yield to make positive change for the next generation in our community," Lara says.
"It's time now for us to unite—to make sure we can elect somebody statewide that comes from our community, that understands our issues, and most importantly, understands where we need to be in the future to continue to protect our community and insure that the next generation of LGBTQI individuals have an opportunity to thrive and succeed in California, regardless of who is in the White House."
For more, see ricardolara.com.
State of California ends contract with AIDS Healthcare Foundation
State is alleging improper negotiating tactics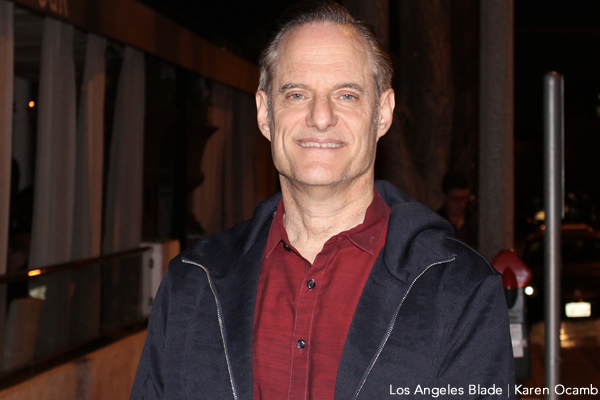 LOS ANGELES – (The Los Angeles Times) California will no longer contract with a prominent L.A.-based nonprofit, the AIDS Healthcare Foundation, to provide healthcare plans for hundreds of HIV-positive patients in Los Angeles County.
The announcement comes after the state accused the foundation of engaging in improper negotiation tactics while negotiating a rate increase.
The group's founder and leader, Michael Weinstein, rejects those claims, calling the state's action "pure retaliation."
The transition announced by the state would affect 770 HIV-positive patients that AIDS Healthcare is contracted to provide care for.
Read the Times piece here: https://www.latimes.com/california/story/2022-06-30/california-aids-healthcare-foundation-state-contract?utm_id=59781&sfmc_id=967189
Bruce's Beach is returned to heirs undoing racially motivated land grab
Anthony Bruce, a family spokesman, said in a statement that the return means the world to them but it is also bittersweet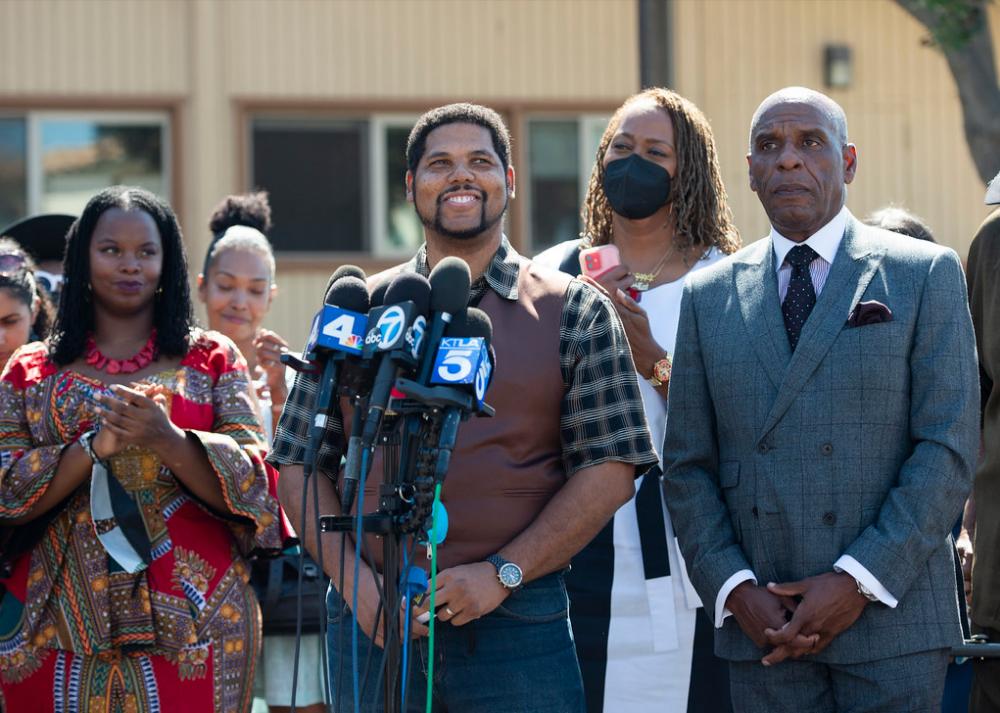 MANHATTAN BEACH – In 1912 Willa and Charles Bruce bought two lots of land for $1,225 with the intent of creating a safe beachfront space for Black Angelenos. But their purchase was met with heavy opposition a July 27, 1912 Los Angeles Times article reported.
Undaunted the Bruce's pushed ahead, "Wherever we have tried to buy land for a beach resort, we have been refused, but I own this land and I am going to keep it," Willa told the Times.
For nearly ten years Willa & Charles's property was a destination and haven for Black people coming there for recreation from all over the rest of southern California. But by 1922 issues with the local white neighbors and the police department began to mount, as the majority white population put pressure on the Bruce family to close down their enterprise.
In the 1920's, like most of the rest of the United States, the Ku Klux Klan was very active in Southern California. Racially motivated animus was then in turn amplified by Klan activity and resulting press coverage, which according to some historians, had a bias towards white supremacist viewpoints.
In an interview last year a descendent of Willa and Charles told the BBC the local police department put up signs limiting parking to 10 minutes, and another local landowner put up no trespassing signs, forcing people to walk half a mile to reach the water.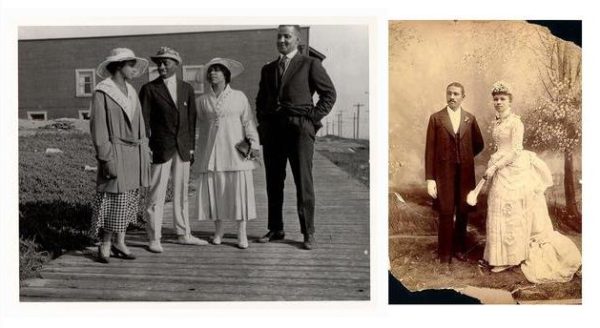 After efforts failed to pressure the family into closing down their little resort, the Manhattan Beach City Council working with County officials seized Bruce's Beach under eminent domain- laws designed to let the government forcibly buy land needed for roads and other public buildings. Officials claimed they planned to build a park which didn't happen.
The city did nothing with the property and it was transferred to the state of California in 1948. Then in 1995, the state transferred it to Los Angeles county, with restrictions on further transfers.
California's legislative leaders along with Governor Gavin Newsom passed a bill that removed the restriction on transfer of the property, making transfer easier, which was a result of Los Angeles County Supervisor Janice Hahn's work to process the return the property to heirs of Willa and Charles begun in April 2021.
This week the Los Angeles County Board of Supervisors unanimously voted in approval of the plan to return the property to the Bruce family. The property will now enter escrow before officially transferring to the family. Once transferred, LA county agreed to rent the property back from the Bruce's for $413,000 per year and will maintain its lifeguard facility there.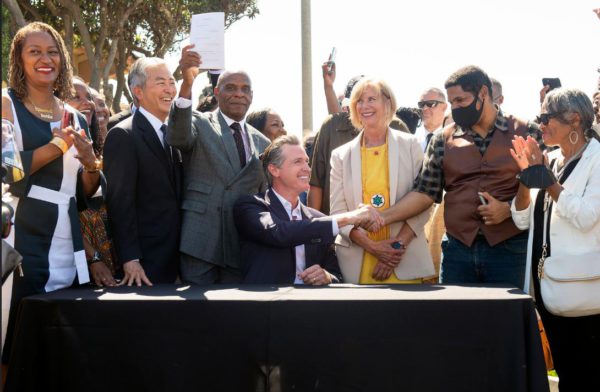 Anthony Bruce, a family spokesman, said in a statement that the return means the world to them but it is also bittersweet.
"My great-great-grandparents, Willa and Charles Bruce sacrificed to open a business that gave Black people a place to gather and socialize, and Manhattan Beach took it from them because of the color of their skin," he said. "It destroyed them financially. It destroyed their chance at the American Dream."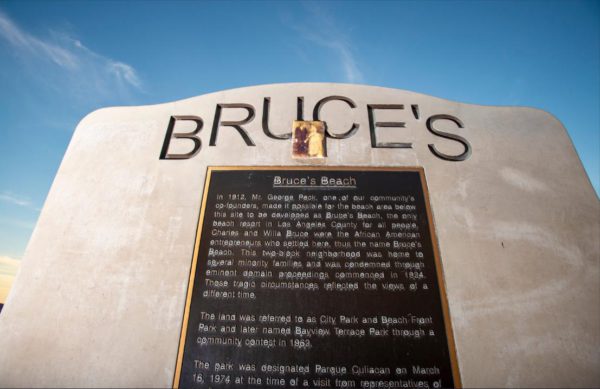 Heat Advisory issued as temps expected to be in triple digits
LA County will see hot & breezy conditions Monday. High temperatures will reach 90 degrees. Temperatures at night will fall to 64 degrees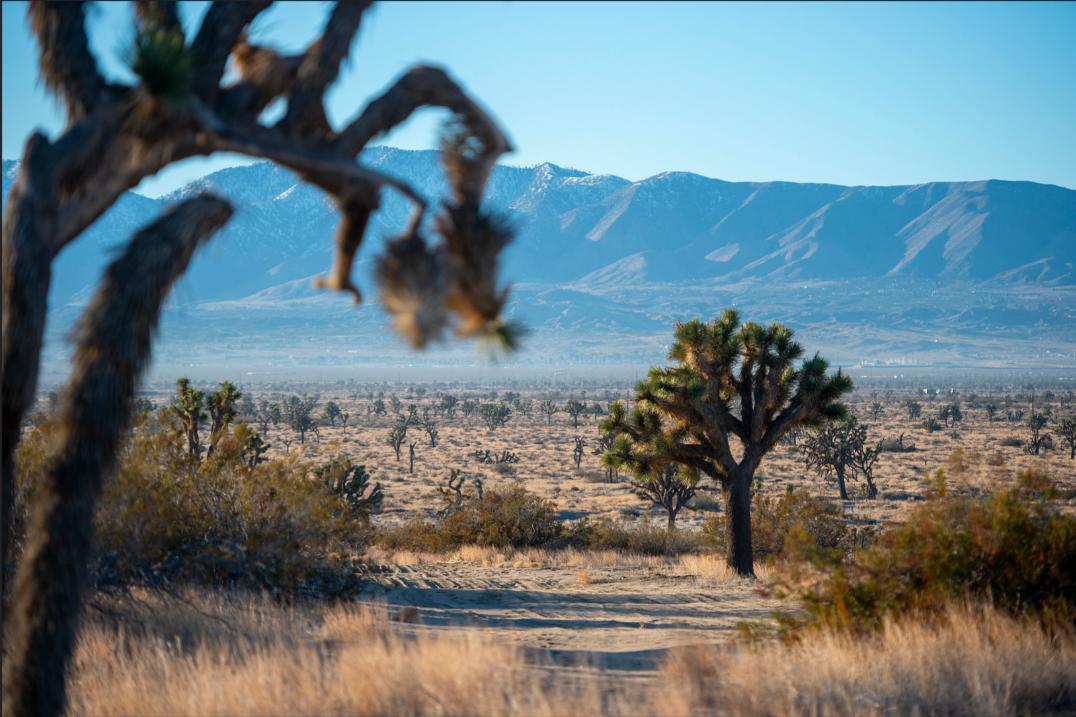 LOS ANGELES – The National Weather Service issued a heat advisory warning for most of Southern California on Monday. Temperatures while remaining lower in the 80s and 70s in the coastal areas are expected to exceed triple-digits for most of the inland areas in the region.
Los Angeles and Orange counties will see hot and breezy conditions Monday. High temperatures will reach 90 degrees. Temperatures at night will fall to 64 degrees.
The valleys and Inland Empire will be very hot and windy Monday as temperatures soar to 105 degrees. Evening temperatures will drop to 72 degrees.
Beaches will see temperatures rising to 78 degrees amid breezy conditions on Monday. Overnight lows will dip to 64 degrees.
Look for a 20% chance of thunderstorms in the mountain communities on Monday, with temperatures reaching a high of 89 degrees. Temperatures will fall to 55 degrees at night.
Desert conditions will be sunny and windy on Monday, with temperatures expected to rise to 104 degrees. Nighttime temperatures will drop to 69 degrees.
Detailed Forecast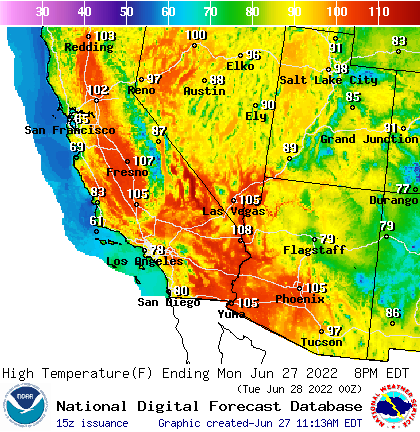 Today
Sunny and hot, with a high near 106. East northeast wind 10 to 15 mph becoming north northwest in the afternoon. Winds could gust as high as 20 mph.
Tonight
Clear, with a low around 69. Northwest wind 5 to 15 mph becoming east northeast after midnight. Winds could gust as high as 20 mph.
Tuesday
Sunny and hot, with a high near 104. Southeast wind around 10 mph becoming northwest in the afternoon. Winds could gust as high as 15 mph.
Tuesday Night
Clear, with a low around 68. West northwest wind 5 to 15 mph becoming east southeast after midnight. Winds could gust as high as 20 mph.
Wednesday
Sunny and hot, with a high near 98. East southeast wind 5 to 10 mph becoming west 10 to 15 mph in the afternoon. Winds could gust as high as 20 mph.
Wednesday Night
Clear, with a low around 62. Breezy.
Thursday
Sunny, with a high near 94.
Thursday Night
Clear, with a low around 58.
Friday
Sunny, with a high near 92.
Friday Night
Clear, with a low around 57.
Saturday
Sunny, with a high near 90.
Saturday Night
Clear, with a low around 56.
Sunday
Sunny, with a high near 89.