October 3, 2018 at 3:07 pm PDT | by Staff reports
Stormy Daniels describes Trump's penis on 'Jimmy Kimmel Live'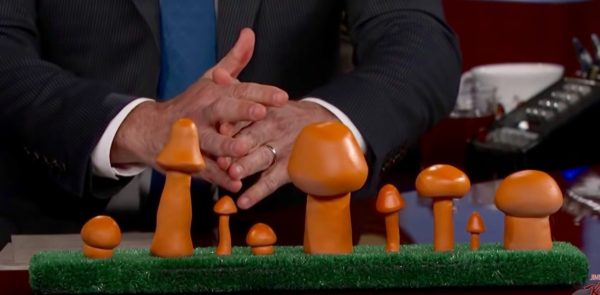 In what has suddenly become a surreal environment for discussions among political observers and the public, TV talk show host Jimmy Kimmel welcomed adult film star Stormy Daniels on his show Tuesday for her first interview about her new book Full Disclosure. When Daniels first appeared on Kimmel's ABC show, she was under the constraints of a non-disclosure agreement regarding her sexual encounter with Donald Trump. Now, with Michael Avanatti as her attorney, the porn star feels free enough to describe her sexual encounters with Trump in detail.
Daniels talked about meeting Trump in Lake Tahoe, the details of the night they spent together in his hotel room, her witnessing a phone call he had with Hillary Clinton, and then she revealed what she found in his bathroom.
The Emmy-winning comedian and the adult star teased the audience, with many expecting her to discuss the size and shape of Trump's penis, as she does in the book. Out "American Horror Story" actress Sarah Paulson—who was Kimmel's first guest and who had insisted on staying for the Daniels appearance—could barely contain her delight as Daniels described the encounter with then-businessman and star of NBC's Celebrity Apprentice.
When asked by Kimmel to describe the encounter, Daniels said, "I laid there and prayed for death."
After a jokingly staged "spanking session" with the TV host, Kimmel pulled out a selection of nine prop orange penises and asked Daniels to pick out the president's penis from the array of toadstool-looking examples.
Daniels picked the small one on the far left.
WATCH: