Prop 10 opposition funded by Trump backers
False ads winning over voters
The coalition to pass California's affordable housing initiative, Proposition 10, has a message for voters ahead of the November 6 midterm elections: "You are the company you keep." 
Yes on 10 released an ad on Sept. 30 that exposes the close ties between Donald Trump and the wealthy real estate tycoons who have financed efforts to defeat the bill. Prop 10 would repeal the Costa-Hawkins Rental Housing Act, thereby allowing state and local governments to pass rent control ordinances, thus hurting the profits of large property developers. 
The campaign for Prop 10—which is sponsored by AIDS Healthcare Foundation and supported by the ACLU and the California Democratic Party, among others—called out four multi-millionaire and billionaire "predatory landlords:" Geoffrey Palmer, Michael Hayde, Jackie Safier, and Stephen Schwarzman. Records show each has contributed financially to Trump's presidential election, reelection, and/or inaugural campaigns.
In August 2016, Politico reported Palmer had emerged as the single largest Trump donor in the United States following his $2 million contribution to the Rebuilding America Now PAC. Also during the 2016 election cycle, Safier and Hayde gave, respectively, $233,900 and $12,500 to the Republican National Committee and Trump's campaign. And for his part, after Schwarzman pledged $250,000 for the President's inaugural committee, The Washington Post reports that by 2018 he became one of the President's most generous donors. The paper also noted the billionaire's role as a "key advisor with rare and regular access" to the White House. 
Together, all four have contributed more than $10 million to defeat Prop 10, bringing the total amount of money raised by opposition PACs to more than $45 million—which exceeds by more than three times the total contributions to pro-Prop 10 groups. 
Despite the use of Trump as a political wedge in hopes of uniting Democratic support for Prop 10, and despite the endorsement from California's Democratic Party, divisions over the measure are not measured across strictly partisan lines. Progressive favorite Lieutenant Governor and gubernatorial candidate Gavin Newsom, for example, is an outspoken member of the "No" camp. At a housing conference in March, he said he was open to restrictions but thinks outright repeal would "have unintended consequences on housing production that could be profoundly problematic," potentially worsening a housing crisis fueled by the dearth of supply and excess of demand. 
Los Angeles Mayor Eric Garcetti, on the other hand, supports Prop 10. "I've always believed that those who live closest to a given block or a street know what's best. Local government should have control over their own city," he said, City News Service reported. 
AHF believes this is a larger fight. "From a social justice point of view," says AHF President Michael Weinstein, "we are seeing mass displacement… and we feel like shelter is the most basic right and people are being deprived of that and we don't believe that the marketplace can handle providing shelter to everyone who needs it."
From a public health point of view, he adds, "we see our clients being rendered homeless or being pushed further and further out from where our healthcare centers are."
Yes on 10 also noted that Big Pharma contributed $500,000 to an anti-Prop 10 PAC, ostensibly with the sole intention of defeating AHF's Weinstein who has long challenged drug pricing and practices of pharmaceutical companies.
Newsom proposes modernizing state's behavioral health system
Newsom proposed a 2024 ballot initiative to improve how California treats mental illness, substance abuse, and homelessness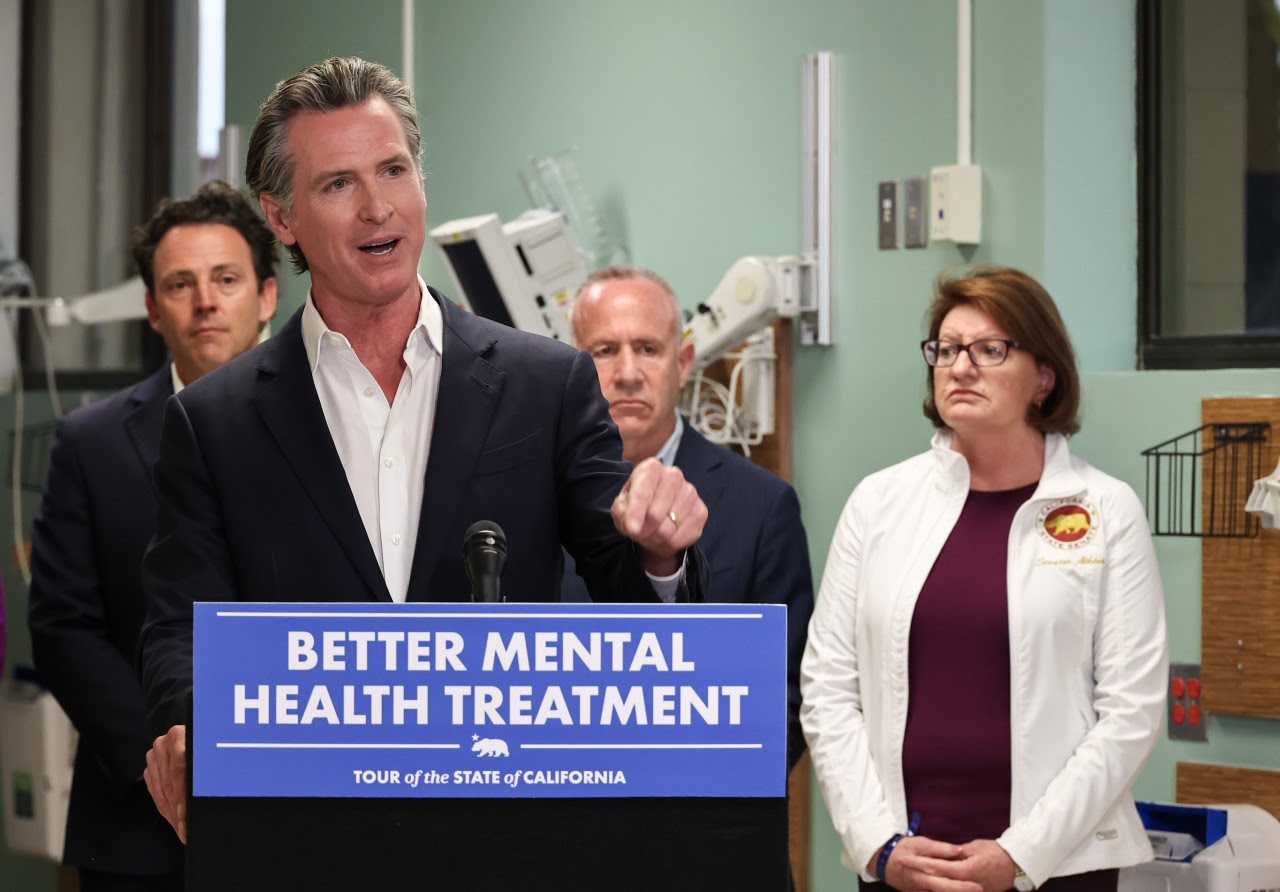 SAN DIEGO – Governor Gavin Newsom, in partnership with state Senator Susan Talamantes Eggman (D-Stockton), has proposed the next step to modernize how California treats mental illness, substance use disorders, and homelessness. 
Governor Newsom proposed a 2024 ballot initiative to improve how California treats mental illness, substance abuse, and homelessness: A bond to build state-of-the-art mental health treatment residential settings in the community to house Californians with mental illness and substance use disorders and to create housing for homeless veterans, and modernize the Mental Health Services Act to require at least $1 billion every year for behavioral health housing and care,
An initiative would go on the 2024 ballot that would:
Authorize a general obligation bond to:

Build thousands of new community behavioral health beds in state-of-the-art residential settings to house Californians with mental illness and substance use disorders, which could serve over 10,000 people every year in residential-style settings that have on-site services – not in institutions of the past, but locations where people can truly heal. 
Provide more funding specifically for housing for homeless veterans. 

Amend the Mental Health Services Act (MHSA), leading to at least $1 billion every year in local assistance for housing and residential services for people experiencing mental illness and substance use disorders, and allowing MHSA funds to serve people with substance use disorders.
Include new accountability and oversight measures for counties to improve performance.
The MHSA was originally passed 20 years ago; it is now time to refresh it so it can better meet the challenges we face. Key changes that the Governor is proposing include: Creating a permanent source of housing funding of $1 billion a year in local assistance funds to serve people with acute behavioral health issues, focusing on Full Service Partnerships for the most seriously ill; and allowing MHSA to be used for people with substance use disorders alone.
 "This is the next step in our transformation of how California addresses mental illness, substance use disorders, and homelessness – creating thousands of new beds, building more housing, expanding services, and more. People who are struggling with these issues, especially those who are on the streets or in other vulnerable conditions, will have more resources to get the help they need."  
According to the Governor's office, the Administration plans to work in close partnership with legislative leaders in this space including Senator Eggman and Assemblymember Jacqui Irwin (D-Thousand Oaks), as well as with the California State Association of Counties, other critical local government stakeholders, community-based service organizations, advocates, and people with lived experience as bill language is developed. 
FACT SHEET (Link)
Previous initiatives include:
$2.2 billion for the Behavioral Health Continuum Infrastructure Program.
$1.5 billion for Behavioral Health Bridge Housing.
$1.4 billion to expand and diversify the behavioral health workforce.
$4.7 billion Master Plan for Kids' Mental Health, of which the Children and Youth Behavioral Health Initiative is the central component.
$1.4 billion to build out a Medi-Cal benefit for mobile crisis response, as well as $38 million to expand 9-8-8 and CalHOPE crisis call center.
Over $600 million to support community-based alternatives to state hospitalization for those who commit felonies who are incompetent to stand trial.
Over $1 billion to address the opioid epidemic.
$7 billion to reform CalAIM – enhanced care management for people with serious mental illness, a no wrong door approach to care, and more.
$1.6 billion proposed to implement the California Behavioral Health Community-Based Continuum Demonstration to strengthen services and supports for those who are at risk of homelessness, incarceration and foster care placements.
$50 million for the California Veterans Health Initiative (CVHI) for veteran suicide prevention and mental health.