Cher gets raided, the Queen's footman is fired
And Katy Perry to be honored at amfAR Gala LA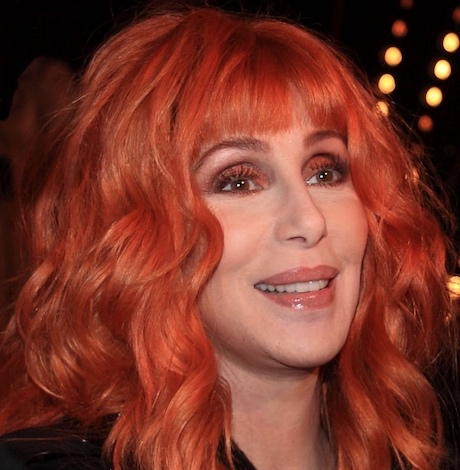 "Please give it up for Garrett Colton." — Mariah Balenciaga introduces Garrett Clayton at Gay Days Anaheim. Oops. Clayton said, "Thanks, Mariah, for getting my last name wrong." I would have added the word "bitch," but y'know, I'm a professional.

With all the news we're being bombarded with day in and day out, it's not surprising that most media outlets didn't cover my being detained by TSA. It all happened after leaving Masters Manor in Boston for Los Angeles. At Boston's Logan Airport, security flagged what was termed as a "suspicious mass" in my luggage. Excuse me – did they inadvertently give my bag a mammogram? Upon further inspection, the officer discovered a large unidentified metallic item.  That's when it hit me – Big Mama Masters had sent me off with a baked potato wrapped in aluminum foil. Imagine, I almost missed my flight over a suspicious potato. Thank God it wasn't loaded!

Moments after I landed at LAX, the police raided Cher's Malibu estate! Although the Dancing Queen was not in residence, the fuzz weren't looking for her – they wanted her assistant's nephew. Allegedly, said 23-year-old lad is accused of supplying narcotics to someone who had a drug overdose. My God, hasn't Cher suffered enough?

In addition to many fabulous things I have on my upcoming agenda (including my virgin excursion to New Orleans – and for Halloween, no less), I am thrilled to be attending the Point Foundation's Gala on Oct. 13. As I've told you many times in the past, this is one of my favorite non-profits. Point supplies scholarships to LGBTQ (and probably other letters of the alphabet) kids to attend college – and most of these kids have been thrown out by their families because they're gay!  At the upcoming gala, Eric McCormack is being honored with the Impact Reward, and there will be a performance by Leona Lewis. Check them out at PointFoundation.org.

Britain's Royal Family is always good for some scandal. This week, we hear one of Queen Elizabeth's gay footmen has quit. First, I have no idea how many footmen QEII has – I mean, she's only got two feet! Be that as it may, the gay footman (as if there's only one gay footman) quit because he was told by the Royal Household management that he needed to "tone down the gayness!" Girl, he's the Queen's footman – it doesn't get gayer than that! As it happens, Ollie Roberts is not only the Queen's first openly gay footman, he was her personal footman.  Apparently the 21-year-old Ollie is quite active on social media and has given interviews to lots of gay press. He was accused of "courting publicity" and demoted to just being a regular footman – which is ultimately why he quit. Unless he was taking selfies with Lizzie's feet or wearing open-toed shoes, I say leave him be.

Have you heard about this ill-conceived remake of "West Side Story" which Steven Spielberg is making? After all the hullabaloo about finding unknowns through an open casting, Spielberg ended up casting Ansel Elgort as Tony. Here's a little footnote to the story – your beloved Billy was actually privy to a conversation between composer Leonard Bernstein and Michael Eisner when he was heading Disney. Eisner wanted to remake "WSS" as an animated feature with cats playing all the roles. Needless to say, it never happened – but he bought us all lunch.
By the by, the AmfAR Gala Los Angeles is on Thursday, Oct. 18 and takes place at the Wallis Annenberg Theater in Beverly Hills. Yes, I'm supposed to tell you that the event is honoring Katy Perry, and that the chairs include such people as Orlando Bloom, Matt Bomer, Gerard Butler, Goldie Hawn, Eva Longoria, Madonna, Robert Pattinson, Ryan Seacrest, and Robin Thicke. And, obviously it raises money for AIDS research. But, as far as I'm concerned, the most important thing is that the evening will feature a rare stateside performance by Dame Shirley Bassey. Trust me, you won't wanna miss that. You can get more info and tickets at amfAR.org.

I've already mentioned that I'll be cavorting in New Orleans over Halloween. But people everywhere can celebrate on Oct. 29 when NBC airs "A Very Wicked Halloween." This special, subtitled "Celebrating 15 Years on Broadway," centers on "Wicked" and brings together the musical's original stars Idina Menzel and Kristin Chenoweth to host and perform. Must see, indeed.
The cast of the Broadway hit "Head Over Heels" just recorded their original cast album – with a bonus track. They assembled the classic Go-Go's lineup to re-record "This Town", which will be the first new studio recording from The Go-Go's in over 15 years. It drops digitally on Oct. 12 and physically on Nov. 9.
When I'm head over heels about a new release from The Go-Go's, it's definitely time to end yet another column. You don't need a presidential alert to remind you to check out www.BillyMasters.com – the site that features lots of guys with their heels over head. If you have a question, send it along to [email protected] and I promise to get back to you before that gay footman gets a job giving pedicures! So, until next time, remember, one man's filth is another man's bible.
R.K. Russell's life, sport & bisexual awakening 
This Black queer former NFL player says he's fighting "for us all to be seen, whether it be in the pages or on the screen"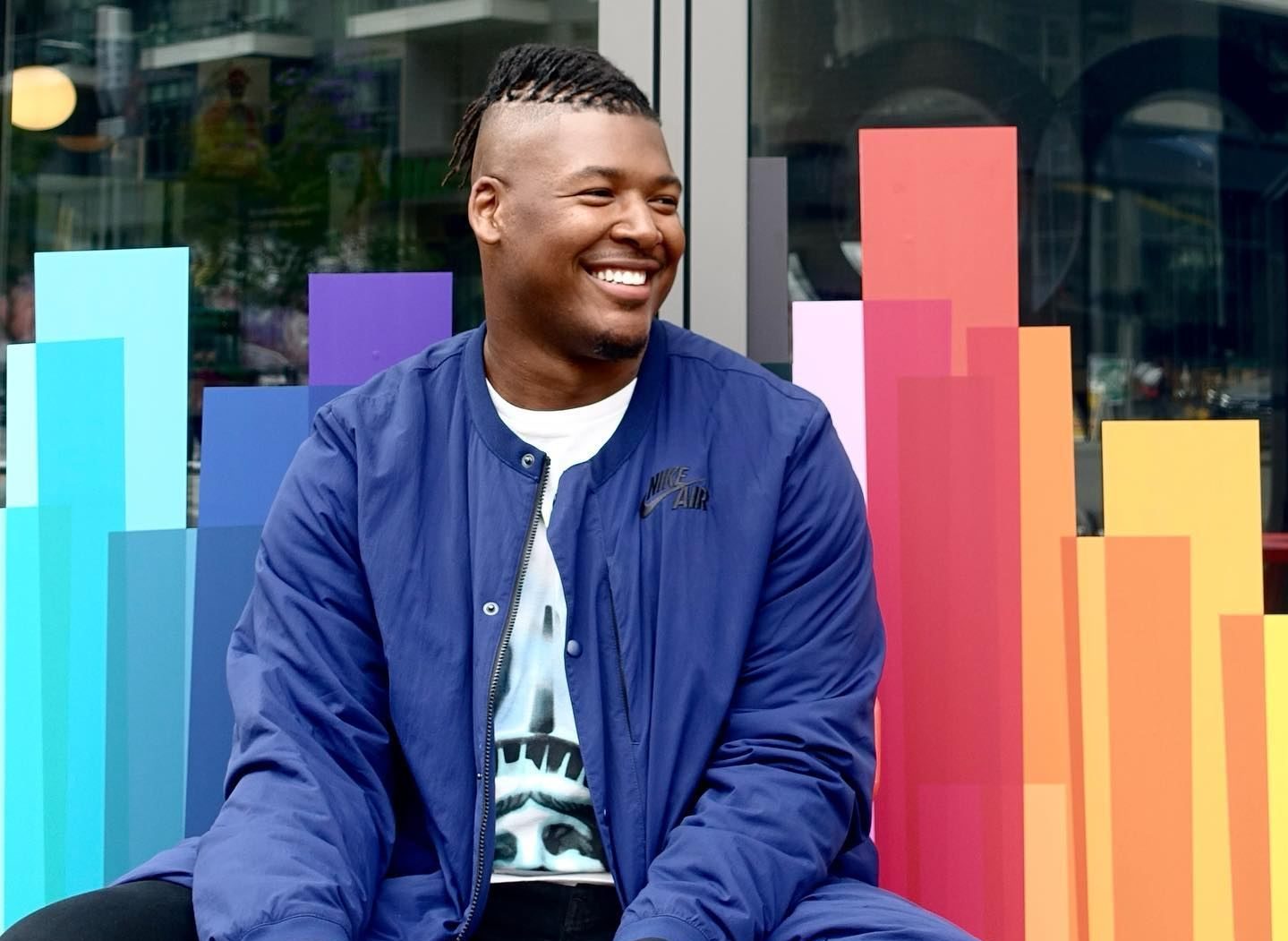 WEST HARTFORD, Conn. – He's tackled opponents on the gridiron, paved a path for out LGBTQ+ athletes and shared his unique voice in words and prose. Now R.K. Russell is celebrating the release of his long-awaited memoir, The Yards Between Us, as well as a Hollywood deal to bring his story to television viewers. 
It's something Russell told the Los Angeles Blade he never dreamed would be possible, even as a child.
"Grown me could barely imagine the book, let alone, little me," Russell said. "It is something I have not seen before, and something that doesn't really exist. Something that is so shocking even to me, this being my life. I think the reason that I continue to take these opportunities that come to use my platform and my voice and my talents, my gift, to not just tell these stories, but to hopefully champion other people in their story. To just fight for us all to be seen, whether it be in the pages or on the screen, everywhere people exist. We exist."
As the Blade reported in August 2019, Russell came out as bisexual in a feature for ESPN. The NFL defensive end was drafted by the Dallas Cowboys in 2015 and played a few seasons for the Tampa Bay Buccaneers and Buffalo Bills. After coming out as a free agent, Russell wasn't able to fulfill one of his dreams — to play professional football as an out and proud bisexual man. But at that time, he said all he was focused on was living his truth.
"It was a powerful time in my life," Russell told the Blade. "It was the first time I really felt that I was taking all this control and I wasn't just at the mercy of the NFL or waiting for that phone call, or at the mercy of friends, family, lovers. It was my decision and my moment and my truth. And I got to express it in a form that felt very genuine to me."
The Buffalo native called the experience "freeing."
"I didn't think I'd realize how much I had been proverbially holding my breath until that moment. And then it just felt like such an exhale. It's such a freeing thing, and the weight of the burden of that secret, of that shroud, or that shame," he said. "I just realized how heavy what I had been carrying for so long. So, definitely a powerful and freeing moment."
Having already told part of his story to ESPN, The New York Times and other news outlets over the years, there was a reason Russell felt it was important to write the rest of his story.
"That was just a very specific part of my life, and it showed me that maybe by sharing my whole story, my life and my journey and my truth and other parts could be just as impactful, if not more impactful," he said. As he set out to write the memoir, he said he first experienced imposter syndrome, until he came to a realization.
"The point that got me through was, 'What would little R.K. read that would have helped him? What was a book that didn't exist when he was young, and that he could have picked up and seen himself, or that people like him can pick up and see themselves? Or even people unlike him, to get a human connection to someone that does not look like them or doesn't play sports?' So, I think the huge, final push was, 'What would I have liked to have read as a child?' And hopefully that will help other people."
The Yards Between Us traces not only Russell's football career and his love for the game, for both men and for women, but also what it was like for him to keep his bisexuality secret and the tension between his private and public lives. As his weighs upon him, he's dealt a devastating loss, an event that leads to an all-enveloping darkness, until finally he recognizes, it's time to make a change.
Since coming out, he's found love with his boyfriend, Corey, grown closer to his mother and this September he'll mark four years sober.
Russell's memoir has won him accolades from LGBTQ+ readers, but not just them.
"I've also gotten a lot of support from people who aren't LGBTQ+ who see the value in the story, but also see the value in the intersections of it all. Because I don't just talk about being a bisexual, I talk about being a Black man. I talk about being a football player, defining masculinity and redefining masculinity. There's a lot of intersections that my story crosses. And I think for people to see all of these layers also coexisting in one person, that's important to see the bridges between these communities that at times can be put against each other, or it can be divided, to see them all exist within one person."
While all that sounds very serious, Sony Pictures Television sees comedy gold in exploring Russell's intersectionality of sports, race, sexuality and masculinity. His memoir is being adapted into a half-hour comedy series, as Deadline reported. Russell is co-writing and executive producing a half hour comedy series with Saeed Crumpler of "Flatbush Misdemeanors," alongside Gabrielle Union, who is a producer in her own right as well as wife to Dwyane Wade and stepmother to their 15-year-old trans daughter, Zaya Wade. As the Blade reported last month, the Wades left Florida because of its anti-trans policies and laws.
"She's fantastic. Amazing," said Russell. "If anyone wants to know what allyship looks like, Gabrielle Union and Dwyane Wade and their whole family, they're so amazing. "
Union, he said, recognizes the importance of representation. "It's important to have genuine representation, whether it be during Pride Month with companies and campaigns or in shows and books that our stories are coming from, that there are Black queer writers writing Black queer stories hopefully also in part started or acted by Black queer artists."
Long before he wrote a word of his memoir, Russell has been publishing his own poems, which he told the Blade was his "way to express life with words." He said he started writing poetry following the death of his stepfather.
"It was a way for me to kind of name grief, without naming it. I didn't have that vocabulary, that word at that time, but I was feeling it so intensely," he said.
One of Russell's poems, Tributes, was an effort at explaining bisexuality and his experiences. "'Bisexuality,' the word, means something slightly different to you, to me, or to someone else. I can talk about the experience in a way that is so varied and so broad and to me, so true and genuine." Below, an excerpt from that poem:
Love is freedom
and the freedom to love is a birthright,
or at least it should be.
These years fill my canvas
and I know too much of life to expect
only one color to leave its strokes across my heart.
Paint is intended to mix no matter the artist. —Tributes, by R.K. Russell