Terrorism an everyday experience for trans people
LA trans activists says they will not be intimidated or erased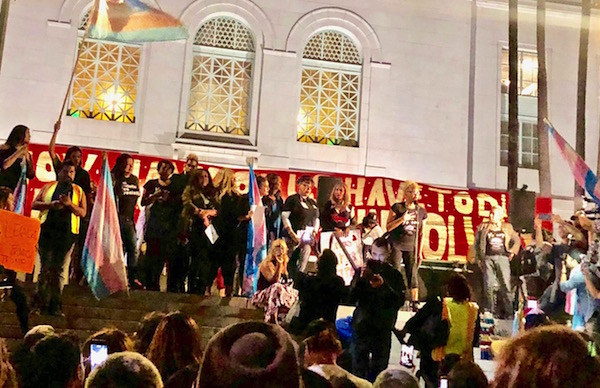 "Everyone needs to be alert," said multiple security experts on multiple TV cable shows Wednesday, Oct. 24, after "live explosive devices" were sent to the Clintons, the Obamas, CNN, Rep. Maxine Waters and others repeatedly denounced as "enemies" by President Donald Trump at angry Republican rallies and on Twitter. The climate of fear throughout the country was so intense, the San Diego Union-Tribune building, which also houses offices of Sen. Kamala Harris, was evacuated after several "suspicious" packages were found at the entrance. Later, the UT tweeted: "San Diego police Lt. Kevin Wadhams said the packages contained: one shoe, two children's books, one football, one empty bag of chips and one hat."
The Los Angeles Times received a bundle of four suspicious envelopes that were scrutinized by a Hazmat team but did not require evacuation of The Times headquarters in El Segundo.
Reading off a teleprompter at a pre-planned event at the White House, Trump called the use of mail bombs "abhorrent" and "upsetting to everything we hold dear." And then he uttered another stunner, as if the mail bomb targets bore no resemblance to his favorite enemy's list: "In these times we have to unify. We have to come together and send one very clear strong unmistakable message; that acts or threats of political violence of any kind have no place in the United States of America."
But for the transgender community in Los Angeles, the grip of terror that faced the nation Wednesday morning is a too-common experience. As the LA County Commission on Human Relations reported recently, there were a record number of anti-transgender crimes for the second consecutive year—94% of which were violent.
Wednesday's terrorism fear "gives a context, an idea of how trans people are terrorized every single day," Bamby Salcedo, founder of TransLatin@ Coalition, told the Los Angeles Blade. "Terror manifests itself in many different ways through people's actions. This is how terrorism comes to be. But we must not despair. It's important that we hold each other with love and hope, understanding that evil minds and hearts will not terrorize our communities."
This was also a theme at the massive #WeWillNotBeErased trans rally Monday night, Oct. 22, at City Hall. The rally was in reaction to a proposed memo from the Health and Human Services Department that a New York Times article suggested expressed based the Trump administration's intention on "defining transgender out of existence." The new regulation would require identifications to only list male or female, according to the person's genitalia at birth. If adopted, the new definition of gender would essentially eliminate federal recognition of an estimated 2 million trans and gender non-conforming people in America, as well as numerous protections for women and some men.
When asked about the proposal to strip civil rights protections from transgender Americans, Trump, leaving the White House for a political rally in Houston, told reporters: "We have a lot of different concepts right now. They have a lot of different things happening with respect to transgender right now — you know that as well as I do — and we're looking at it very seriously." Trump added, walking away: "I'm protecting everybody, I want to protect our country."
California Attorney General Xavier Becerra is among those pledged to protecting the LGBTQ community from Trump. "Time & again, the Trump Admin has attempted to rollback important protections for our #LGBTQ community. In response to these disgraceful actions, we have been here to defend patients, students, employees, foster parents & military servicemembers – we won't stop now.#WontBeErased," Becerra tweeted in response to The Times story.
Becerra, representing the state of California, joined Equality California as a plaintiff in Stockman v. Trump, one of four lawsuits that have so far successfully blocked the implementation of the Trump-Pence administration's ban on transgender military service through a nationwide preliminary injunction.
"The Trump-Pence Administration's heartless, coordinated attempts to erase the existence of transgender Americans illustrates just how low they're willing to go for their radical political base," Equality California Executive Director Rick Zbur said in a statement. "But rest assured, medicine, science and the law are all on our side — not the Administration's — and so are Californians, a majority of whom want our government to do more — not less — to support and protect our transgender family members, friends, coworkers and neighbors….We are strong and resilient. And we will stand together to defeat the Trump-Pence Administration's agenda of hate and fear."
The Stockman v. Trump trial is tentatively scheduled to begin in July 2019.
Meanwhile, on Oct. 22, the National Center for Lesbian Rights and GLAD filed a 72 page brief against the latest government attempt to enforce the transgender military ban by asking a DC appeals court to dissolve the preliminary injunction in Doe v. Trump. NCLR and GLAD challenged the Trump-Pence position that Sec. Mattis' implementation plan is a "new" policy, arguing that it's the same discriminatory policy Trump originally ordered by tweet. NCLR and GLAD will face the government on Dec. 10 to argue this issue before the D.C. Circuit Court of Appeals.
"This proposed policy is a heavy-handed attempt to strip federal legal protections from transgender people," Shannon Minter, NCLR's trans Legal Director, said in a statement. "It is part and parcel of this administration's ongoing attempts to scapegoat vulnerable groups and to promote extremist policies rooted in stigma and stereotypes."
Extremist policies and pronouncements that some believe lead to active domestic terrorism.
ACLU of Arkansas joins public libraries over censorship law
The groups filed suit challenging a new law to amend current law regarding obscene library materials to prevent distribution to minors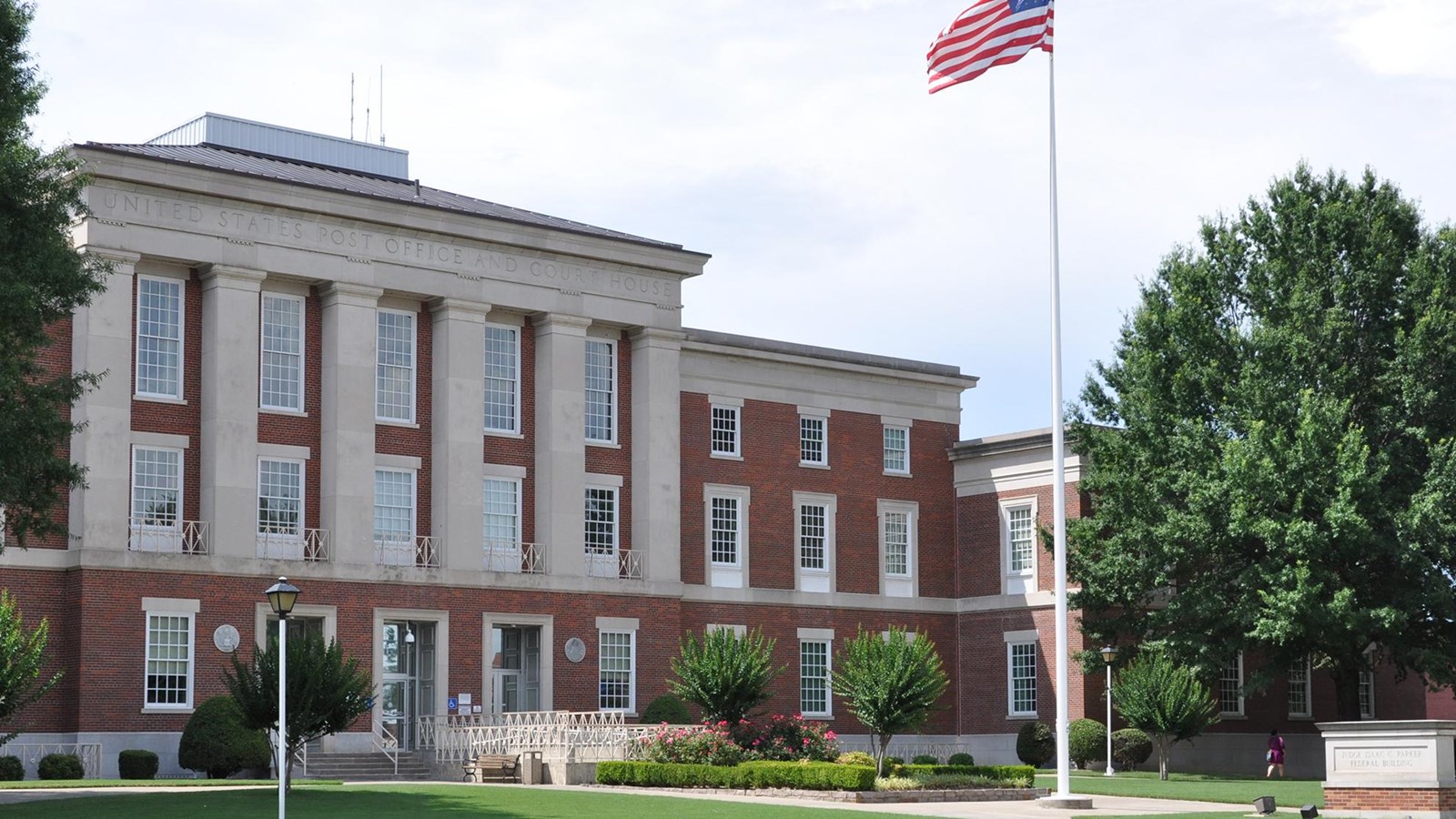 FORT SMITH, Ark. – The ACLU of Arkansas, joined by several Arkansas public libraries, and advocacy groups including the Freedom to Read Foundation, filed suit Friday challenging a new law designed to amend current state law regarding obscene library materials to prevent distribution to minors.
The plaintiffs allege that the law violate the First and 14th constitutional amendments regarding freedom of speech and equal protection and amounts to a form of censorship that endangers librarians.
In the court documents filed with the U.S. District Court for the Western District of Arkansas, the plaintiffs claim:
Section 1 of Act 372 makes it a criminal offense, punishable by imprisonment for
up to a year, to make available, provide, or show to a minor an item that meets the definition of "harmful to minors" (the "Availability Provision"). This will necessarily force libraries and
bookstores to confine to a secure "adults only" area—and so to segregate from their general
patrons and customers—any item that might be deemed harmful to the youngest minor, even if there is no constitutional basis for limiting its availability to older minors or adults.
Where libraries and booksellers lack the space or resources to construct "adults only" areas, their only choice will be to remove all materials which might be deemed harmful to their youngest, least developed patrons or customers"
Hayden Kirby, a 17-year-old high school student plaintiff in the case also states in the legal filings that Act 372 limits her access to information. "By joining this lawsuit, I hope to make a difference in preserving the rights of youth like me across the state," she said.
"To restrict the spaces I've accessed freely throughout my life is outrageous to me. I want to fight for our rights to intellectual freedom and ensure that libraries remain spaces where young Arkansans can explore diverse perspectives," Kirby added.
Three Crawford County parents filed their own lawsuit May 26 against the county quorum court, the library system board and interim library director, alleging that the "unlawful censorship of materials" in the libraries' "social sections" violates the First Amendment.
Some of the books in question include a children's guide to LGBTQ+ Pride flags and a retelling of the Cinderella fairy tale with gay characters, according to the parents' complaint.
"None of these books could fathomably be accused of 'grooming,' 'pornography,' or 'exposing children to explicit sexual ideas or imagery,'" as opponents have said they are, the complaint states.
The Arkansas Advocate reported all five Crawford County library branches moved children's books with LGBTQ+ topics to a segregated "social section" in December after community members objected to their availability at multiple quorum court meetings. Former system director Deidre Grzymala said this was "a compromise." She later resigned in February.
Some of the books in question include a children's guide to LGBTQ+ Pride flags and a retelling of the Cinderella fairy tale with gay characters, according to the parents' complaint.
"None of these books could fathomably be accused of 'grooming,' 'pornography,' or 'exposing children to explicit sexual ideas or imagery,'" as opponents have said they are, the complaint states.
Progressive political groups charge that the rush to have Act 372 passed and signed into law was purely a part of the war being waged across the United States by so-called parental rights groups, such as Florida based 'Moms for Liberty,' objecting to materials that contain LGBTQ+ materials or themes.
Today, a broad coalition of authors, publishers, booksellers, librarians, and readers filed suit challenging AR Act 372, a law that would restrict access to books in bookstores & libraries, and in the process violate the First & Fourteenth Amendment rights of our reading public. https://t.co/IVURTCefxZ

— Arkansas Library Association (@ArLALibrary) June 2, 2023
The bill was signed into law by Republican Gov. Sarah Huckabee Sanders on March 31 and is due to go into effect on August 1.
Related: