EXCLUSIVE: New UN LGBTI watchdog talks global progress, backlash
Victor Madrigal-Borloz spoke at ILGA-Europe conference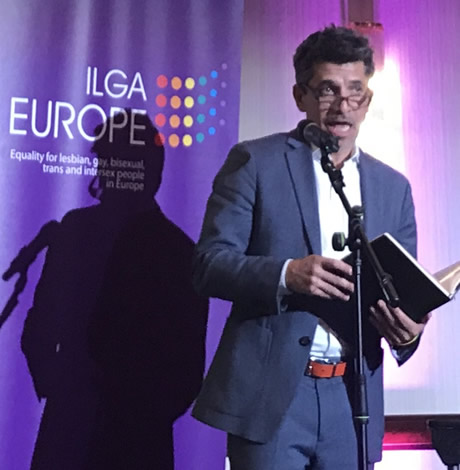 "This movement represents enormous strength, but it is a movement that involves so much pressure and requires self-awareness and the ability to take care of yourself so that you can care and look out for others," said Victor Madrigal-Borloz in his speech that he gave on Oct. 27.
More than 550 LGBTI activists and allies attended the conference.
The conference's theme, "politics for change, from words into action," was announced as a forum to promote change by "putting out a loud call to politicians, institutions, partners and allies."
'Human rights defenders must be vigilant'
Madrigal-Borloz elaborated on his concern for LGBTI activists when he told the Washington Blade during an exclusive interview before his speech that "everywhere in the world there is enormous progress with legal standards, however, there has been backlash and human rights defenders must be vigilant." He also discussed the symbiotic relationship between populism and anti-gender backlash when asked about some of the global challenges the LGBTI community currently faces.
"They feed off of each other because equality can be exploited by populist narratives," added the independent expert. "Where populism is flourishing there seems to be a surge of backlash against LGBTI communities."
Madrigal-Borloz discussed what he feels LGBTI communities can do in response to this backlash.
"People need to be informed, so it's critical for LGBTI people to get their stories out there since stories allow people to connect," he said.
Madrigal-Borloz warned the less visible stories are currently those of women who live in the intersections of discrimination.
"It is important to know the names of Sylvia Rivera and Marsha Johnson," he said.
In addition to the importance of promoting LGBTI people's personal stories, the global data on the number of existing LGBTI populations helps secure the understanding they are everywhere. In an effort to heighten visibility and awareness, the Office of the U.N. High Commissioner for Human Rights pursues a working relationship between human rights interests and the private sector through a set of business standards that many Fortune 500 companies promote in collaborations with regional and national LGBTI chambers of commerce.
"Visibility is a priority for LGBTI communities in every region," Madrigal-Borloz told the Blade.
Madrigal-Borloz: Legal systems don't 'resist human rights'
The U.N. Human Rights Council last December named Madrigal-Borloz to succeed Vitit Muntarbhorn, an international law professor from Thailand who resigned because of health reasons.
Madrigal-Borloz, a Costa Rican jurist who was previously the secretary-general of the International Rehabilitation Council for Torture Victims, says there is a "synergy going on with human rights in the world."
He illustrated the case of Jason Jones, an LGBTI activist who earlier this year successfully challenged the constitutionality of Trinidad and Tobago's anti-gay Sexual Offenses Act. The case was cited in the India Supreme Court's Sept. 6 ruling that overturned the country's sodomy law.
"We see resistance to changing these laws when it becomes a matter of politics," said Madrigal-Borloz. "But eventually legal systems will change them because legal analysis does not resist human rights standards."
In terms of balancing legal frameworks for LGBTI rights with the political arena, Madrigal-Borloz said LGBTI people need to be in more elected positions. Currently, 71 countries still criminalize individuals based on sexual orientation and gender identity.
With a strong background working to support torture victims globally, Madrigal-Borloz also discussed the practice of so-called conversion therapy.
"I think there is a fair deal of evidence linking conversion therapy with an assumption that there is something deeply pathological about sexual orientation and gender identity," he said.
He added that complete evidence gathering on the side of the victims to identify the extent of damage created by conversion therapy is needed because it is key to understanding if conversion therapy can be qualified as torture.
"I have the working theory that conversion therapy happens globally with allegations on its practice having been brought to my attention from every region in the world," said Madrigal-Borloz.
He told the Blade in addition to the harmful narratives that lead to the practice involving conversion therapy, there are anti-gender narratives being promoted in some religious spaces, so dialogues with faith-based communities is a must in the LGBTI human rights movement.
Anti-trans violence rates 'offend the human conference'
The independent expert says he is "determined to support the mandate" with which he is charged through U.N. Human Rights Council Resolution 32/2 to raise awareness of violence and discrimination against persons on the basis of their sexual orientation or gender identity, and to identify and address the root causes of violence and discrimination. The scope of the work on discrimination and violence is carried out with very careful country alliances.
"The levels of violence against transgender individuals offend the human conscience," said Madrigal-Borloz as he stressed LGBTI vulnerabilities are exasperated by humanitarian disasters when documentation is needed to receive humanitarian assistance. "For transgender individuals, if their documents are not recognized then they are most often kicked out of the lines of humanitarian assistance."
Gender identity and recognition acts remain largely scarce in many regions where transgender populations live with no applicable laws regarding the right to their basic dignity as stigma and prejudice so often creates climates of hostility and violence.
"There is no way to deny the existence of transgender persons," said Madrigal-Borloz. "Identity is the very basic principle of freedom."
BRUSSELS — The U.N.'s new LGBTI rights watchdog delivered the closing keynote address at ILGA-Europe's annual conference that took place in Brussels from Oct. 24-27.
Out Vermont state senator wins Democratic primary in U.S. House race
Tuesday's victory makes her likely to become the first woman and openly LGBTQ+ person to represent the heavily Democratic state in Congress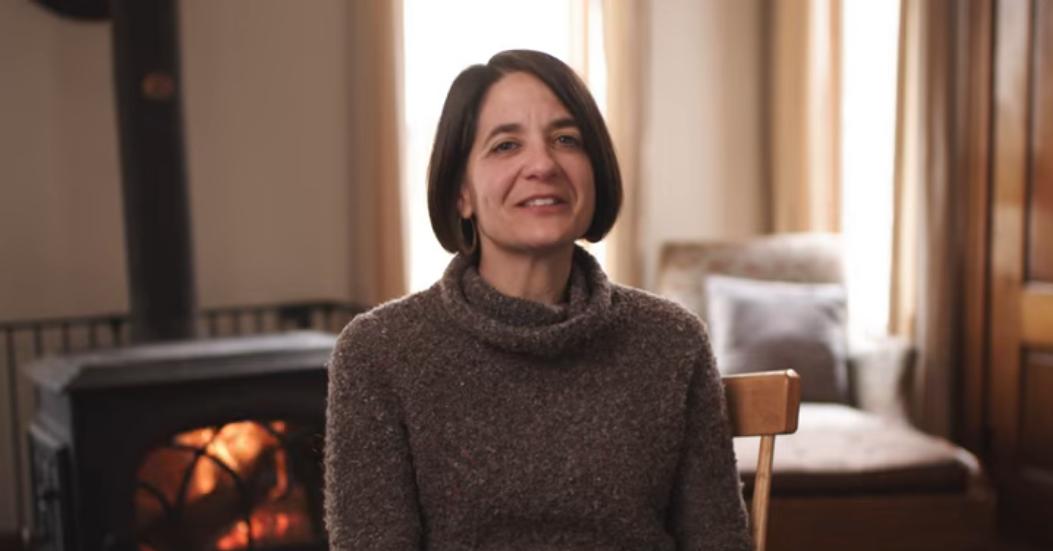 MONTPELIER – The Green Mountain State's state Senate president pro tempore has won the Democratic nomination for the state's at-large congressional seat, the state's lone seat in the U.S. House of Representatives.
Becca Balin is running to succeed U.S. Rep. Peter Welch and Tuesday's victory makes her likely to become the first woman and openly LGBTQ+ person to represent the heavily Democratic state in Congress if elected in November. Vermont is the only state that has never had a female member of its congressional delegation.
The VTDigger, a statewide news website, reported; "Balint, 53, is the first openly gay woman elected to the Vermont Senate and the first woman to serve as its president. The former middle school teacher and stay-at-home mother won her first political contest in a race for her southeastern Vermont Senate seat in 2014.
She rose quickly through the ranks of the Democrat-controlled chamber, becoming majority leader in 2017, at the start of her second term. Four years later, in 2021, she was elected pro tem — the top position in the Senate."
Becca Balint, the president pro tempore of the Vermont Senate, has won the Democratic primary for the state's open congressional seat. She could become the first woman and the first openly gay person to represent the state in Congress. https://t.co/RaAgwmtQJD

— The Associated Press (@AP) August 10, 2022
Pan Africa ILGA: Investigate anti-LGBTQ, anti-intersex murders
"The inhumane violations and slaughter of LGBTIQ+ persons should prompt thorough investigations, aimed at prosecuting those responsible"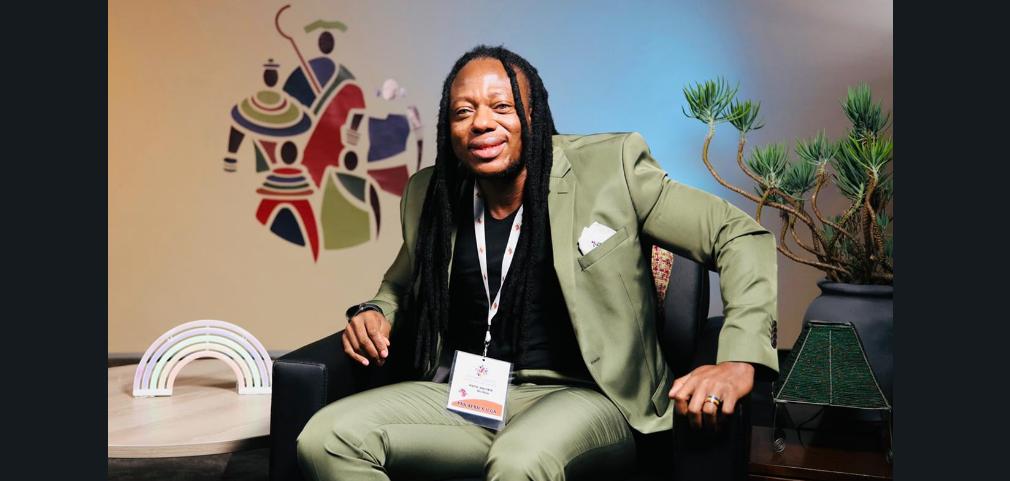 JOHANNESBURG, Guateng, South Africa – Pan Africa ILGA once again urged authorities across the continent to investigate the murders of LGBTQ and intersex people and to work to reduce violence based on sexual orientation and gender identity.
The organization — which comprises 268 groups that work for LGBTQ and intersex rights across Africa — in a report it issued in July noted a number of high profile murders that have taken place this year. They include Sheila Lumumba, a 25-year-old Kenyan woman who was murdered in April, Pinky Shongwe, a 32-year-old South African who was stabbed to death in March, and Obisike Donald Ibe, a 31-year-old doctor in Nigeria who was slain in January.
Lumumba, a lesbian who was reportedly targeted because of her sexual orientation, was raped before her murder. A South African court in April sentenced two men to life in prison for raping a 19-year-old lesbian woman in 2020
"LGBTIQ+ persons deserve to thrive without fear of being persecuted," said Pan Africa ILGA Executive Director Nate Brown. "The recent murder of Sheila in Kenya reflects the realities of the LGBTIQ+ community in Africa. It bears mentioning that unfortunately, these are not isolated incidents. They are part of a pattern of attacks, violence and murders against LGBTIQ+ persons across the continent."
Pan Africa ILGA board co-chairs Star Rugori and Barbra Wangere at the same time said the organization is in the process of developing a crisis reporting center that will document human rights violations against LGBTQ and intersex people in Africa and advocate for increased protections and respect for them.
"The inhumane violations and slaughter of LGBTIQ+ persons should prompt thorough investigations, aimed at prosecuting those responsible," said Rugori and Wangere in a joint statement. "Government needs to protect activists and the greater LGBTIQ+ community and to call a halt to the impunity that links this chain of vicious murders. LGBTIQ+ lives matter and should be protected at all costs just like the rest of our African citizens."
Bishop Sithembele Sipuka of the Catholic Diocese of Mthatha in South Africa during an interview with the Catholic Information Service for Africa said people who identify as LGBTQ or intersex should be treated with dignity.
"The most we can do, for now, is to grapple with it, to try and understand, and to see how to continue treating these people with the dignity that they have because, despite their sexual orientation, they are still children of God, they have the same dignity," said Sipuka. "I have known people, credible people, authentic people who are gay or lesbian, very intelligent, very integral people, very committed people, very loving people, and so it is difficult to say that there's something wrong with this one, you know because some of them really are in terms of integrity full of admiration, the way they are as a person that is difficult for me to condemn them, and say that there is something wrong with them."
Sipuka also touched the issue of marriage equality, which is usually a catalyst for homophobic statements.
"The process and teaching of the church so far is still that marriage is between a man and a woman, but on the other hand, it does not mean at all that we should despise or think of people who are gay and lesbian as any less than heterosexual people," said Sipuka.
I cannot say you can go ahead and get married because I don't have the mandate to do that. I do things on the mandate of the church. I am open to hearing more on how pastorally to deal with this matter. I am also open for it to be discussed theologically. In the end, the teachings about the church are always about love even exactly everything that they touch is about love," added Sipuka.
Log Cabin GOP compares FBI raid on Trump's Mar-A-Lago to Stonewall
In February, the National Archives asked the Justice Department to investigate Trump's handling of White House records
WASHINGTON – As the outraged fallout continued in Republican Party circles Tuesday, after special agents of the Federal Bureau of Investigation executed a search warrant Monday at the South Florida estate of former President Donald Trump, the LGBTQ political group Log Cabin Republicans, (LCR) joined the growing chorus on the right angered by the search.
"Just as the patrons of Stonewall were not intimidated by police, we will not be intimidated by the weaponization of the FBI and DoJ against President Trump or his home, Mar-A-Lago… …where (as we announced hours ago) we will be holding our annual gala later this year!" the group tweeted Monday after news of the search broke.
Reaction to the LCR tweet was swift ranging to from disgust as expressed by LGBTQ writer and radio host Rob Watson to outright anger as noted by former Advocate editor and LGBTQ journalist Matthew Breen.
Good God. You could not be less relevant if you tried. If we were back at #Stonewall , you wouldn't be with the patrons, you'd be buying the cops coffee.

— Rob Watson (@JandJDad) August 9, 2022
Quislings.

— Matthew Breen (@matbreen) August 10, 2022
The FBI's action was described as unprecedented by legal experts and analysts, however the execution of the search warrant underscores the fact that U.S. Attorney General Merrick Garland will order investigations into criminal wrong doing to include the former president.
Trump and his Republican allies in Congress have dismissed the FBI search as politically motivated.
While a copy of the search warrant was delivered to Trump's attorneys, little is known about the predicate probable cause found significant enough that a federal judge authorised the search. The affidavit which is the foundational document showing that a crime had been committed and that evidence would likely be found during the search provided to the judge to make that determination has not been made public.
A Justice Department source told the Blade that last January Trump had been found in possession of 15 boxes of materials at his Florida home, which he relinquished to staff from the National Archives amid concerns he may have violated the Presidential Records Act, (44 U.S.C. Chapter 22).
A certain portion of the paperwork that Trump had in his possession was classified which the Justice Department official noted is by itself criminal in nature.
In February, the National Archives asked the Justice Department to investigate Trump's handling of White House records. The National Archives said some of the documents Trump turned over to them had been ripped up and taped back together CBS News noted.
It remains to be seen whether the search will lead to criminal charges against the former president or anyone in his immediate orbit, but former prosecutors noted there are serious penalties for violating public records laws the Hill reported Tuesday.
"Highly classified information is treated that way because of its extreme sensitivity. There is a whole range of material that is really a crown jewel, national security, high-consequence sequence. And if that's what a person carried away rather than leaving it in the hands of the government and complying with the Presidential Records Act, that's a gravely serious matter," said John Barrett, a former federal prosecutor who worked for the independent counsel investigating the Iran-contra scandal and served in the DOJ inspector general's office.
The former president had issued a lengthy statement Monday evening in which he called the raid an "attack by Radical Left Democrats who desperately don't want me to run for President in 2024."
The House GOP minority leader Kevin McCarthy promised retribution in a tweet should his party retake control of Congress in the Fall midterm elections:
Attorney General Garland: preserve your documents and clear your calendar. pic.twitter.com/dStAjnwbAT

— Kevin McCarthy (@GOPLeader) August 9, 2022
The Justice Department and the FBI both declined to comment.
Former President Trump's Mar-a-Lago Home Being Searched Causes Immediate Political Fallout: