Live Large Locally, on Small Business Saturday
Support LGBT Small Businesses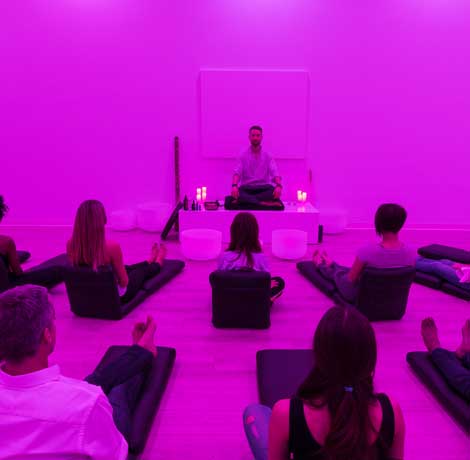 Size matters — and when it comes to shopping local, small is the preference we can all agree on.
So plan now to rock the mom-and-pop look, by saving some of your Black Friday energy, and bucks, for the day after. That's when many of West Hollywood's trove of retailers and restaurants will be offering a slew of treasures. Think discounts, free products, giveaways, gift cards, delicious food samples, and more.
November 24's Small Business Saturday isn't just a way to feel good about supporting the neighborhood merchants who rescue us from poorly decorated box stores and cookie cutter corporate brands. It's a way to check a multitude of boxes off your holiday shopping list, while helping the community you've shown up to support spread that love in a very tangible way.
Here's how that happens: Many of the businesses participating in Small Business Saturday will be giving a portion of their proceeds to a worthy cause, noted Genevieve Morrill, President and CEO of the West Hollywood Chamber of Commerce (WHCC). In years past, that amount has passed the 20k mark, benefitting recipients such as the Foundation for The AIDS Monument. This year, donations will be made to the City of West Hollywood Homeless Initiative, which, the Chamber notes, "seeks to effectively address homelessness with a multi-disciplinary, multi-agency, collaborative response,' by targeting "the problems of homeless LGBTQ youth, as well as homelessness generally."
Along with the WHCC and the City of West Hollywood, American Express is on board for the Nov. 24 event, having chosen WeHo as a city of focus. So while you might see a variety of logos on signage, what it really means, for you, is celebrity sightings and sweet, sweet swag. Visit wehochamber.com/shopsmall for a full list of participating stores. Here's a primer to get you started.
At 1:00 PM, at Fred Segal Sunset (8500 Sunset Blvd.), "Criminal Minds" star Kirsten Vangsness will be sharing holiday gifting ideas. Segal will gift shoppers with cloth tote bags, beauty samples, coffee, and espressos, Other stores on site will also be providing enticing incentives. Fred Segal CEO Allie Samek gave us the scoop on two items that calmed us down, during a pre-Thanksgiving, "What do I give to the hard-to-shop-for?" tizzy. Priced at $480, the 100 percent cashmere sweater is an exclusive item, from the Hartel (men's store) label. "This is for your fashionable guy," Samek said. "It's not too boxy, and not too short — with a slim fit. It's the best cashmere sweater you've ever seen."
No need to bother Samek with proof of that claim. Send a picture of your fashionable self or significant other, wearing the sweater, and whatever else (if anything else) they're modeling, to the publisher and editor of this fine publication: [email protected]. Disclaimer: All photos are fodder for his "tasteful is in the eye of the beholder" holiday card. If you and/or Mr. Masters are all hot and bothered by viewing that cashmere pin-up pix, Samek has the perfect treatment: Refresh with a sip or two of cool, clear, H2O. The Boss Babe Crystal Water Bottle ($160) can be found in the Tesoro gift store. Within its casing are 24-karat gold flakes and citrine stone (whose very proximity to the water, Samek playfully said, "manifests abundance, and will amplify everything you desire."). And if that claim stops short of manifesting a winning lottery ticket, at least you'll be properly hydrated.
Elsewhere in WeHo, at NARS (8412 Melrose Ave.), enjoy a complimentary glass of champagne and a Focus Feature demo with a boutique artist, and then walk away with giveaways, including travel-size products and full-size lip products. The Barber Surgeons Guild (805 Larrabee St.) is offering special prices for grooming and clinical services throughout the day. Call 310-975-7094 for details, and to schedule an appointment. Do drop by IV Drip Doctors Vitamin Therapy & Regenerative Center (8489 Sunset Blvd.), but don't tell them to "just open a vein" — at least when it comes to claiming your energy-boosting booty. That will require prep time to administer. So take away a free, B12 IV gift card and return another day to experience this unique form of vitamin therapy.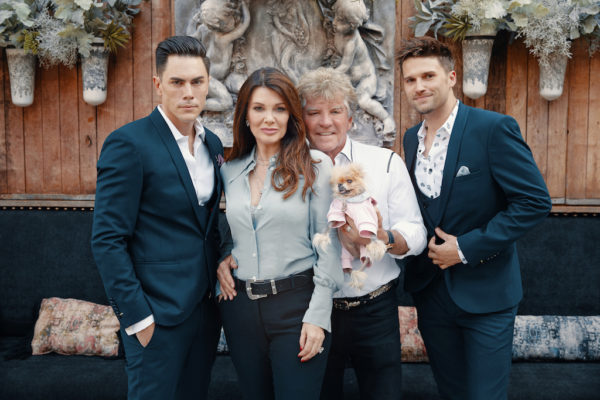 Food, of course, is always bragging about its status as an iconic, old school energy delivery method. Small Business Saturday swag gives you a good excuse to pay your respects, by stopping by Yogurt Stop (8803 Santa Monica Blvd.), for 10 percent off. At Le Pain Quotidien (8607 Melrose Ave), scoop up free samples of cider and pumpkin muffins; and, at Cafe D'Etoile (8941 ½ Santa Monica Boulevard), you'll get a complimentary, house-made, individual-size key lime pie. At 4:00 PM, at Tom Tom Restaurant & Bar (8932 Santa Monica Blvd.), Lisa Vanderpump hosts an open house, where mixers and minglers can sip a signature cocktail made just for the event.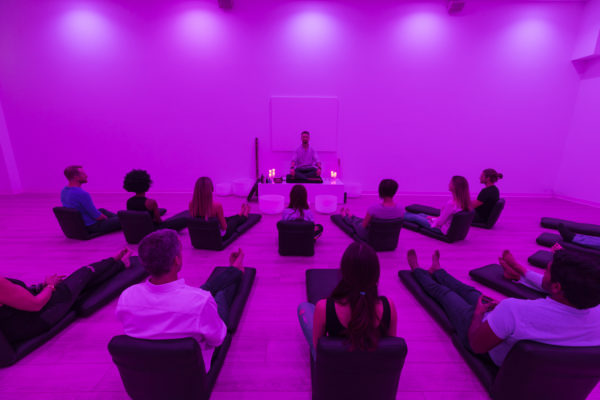 In the midst of shopping for others, and feeding yourself, take some time to take care of the body beautiful. Unplug Meditation (8500 Melrose Ave., Suite 201) will give you 20 percent off their $35 introductory offer, which allows you to take an unlimited number of classes, for two weeks. They're also offering 20 percent off 5, 10, and 20-class packages. LYMBR (603 North West Knoll Drive) makes it easy to shake loose your purse strings, by providing $20 off a stretch session.
In addition to salivating over anticipating the above savings and swag, we spoke with the men behind two of Saturday's participating businesses, to find out what makes their product tick, and why they feel a special connection to West Hollywood.
JustFoodForDogs
Men can be real dogs. But when it comes to the four-legged variety, that's a high compliment. As such, we want only the best for them: beef, chicken, rice, lamb, venison, and potatoes of the sweet and russet variety — and no gluten or preservatives. Sounds like your own dinner menu? That's the point, says JustFoodForDogs founder Shawn Buckley.
"Everybody wants to buy local, and it doesn't get any more local than 20 feet away," noted Buckley, of the WeHo branch, which houses a kitchen where good stuff for good doggies is dished up daily, every day of the year. "It's not like a show, where we act like we're making it," Buckley said of the kitchen. "We're open to the public from 10 to 8, but we're in there from around 6:00 AM to 11:00 PM."
The WeHo branch is the second of what now numbers over 70. "We are thrilled to be there," Buckley boasted. "It helped us launch our business, and it's a hugely successful location for us. There are certain neighborhoods that are just incredibly dog-friendly, and this is one of them. West Hollywood helped us prove the concept."
The JustFoodForDogs concept is a simple one, based on a new trick Buckley brought to an old industry. "When I found out what was allowed to be in dog food," he recalled," I thought, 'There's no way I'm feeding my dogs that.' It's not just gross, it's unhealthy." Typical supermarket chow, no matter how high the quality, he noted, "is from the Midwest. We use a Los Angeles-based company that sells us produce and protein. West Coast Prime Meats sells us chicken, fish, beef, and lamb that's all human-grade. We're the only deliver they make that is not a restaurant, theme park, or hotel." — giving credence to their motto, "It is food for dogs… not dog food!"
Small Business Saturday pet parents can see for themselves on Nov. 24. Right in time for holiday party hosting season, the WeHo location will be offering free cooking lessons, to lean how to make safe, organic, healthy treats for your pets. Emmy-winning NBC4 anchor and reporter Robert Kovacik (Woof!) will also be appearing at the store, at 2:30 PM, to cook up gourmet food recipes with the store's chef.
Your hyperlocal JustFoodForDogs destination is 7870 Santa Monica Blvd. (corner of Fairfax). Hours: Mon.-Sat., 10:00 AM to 8:00 PM and Sun., 10:00 AM to 7:00 PM. Call 323-471-4242 or visit justfoodfordogs.com.
Rounderbum
Yes, it's true: The holidays can leave some of us feeling as if we lack support; that nobody in the world has our back. But what about those of us who go through the whole year feeling as if the whole world can see we have no backside? To the rescue is "Shark Tank" success story Rounderbum — a clever, downright cheeky, line of men's shapewear that not only understands your pain, it knows how to define it. Or, more accurately, give it appearance-altering lifts and tucks.
Asked about the Rounderbum mission, CEO Jonathan Diersing said he co-founded the company to help those who "can't gain muscle mass" back there and, as such, "have not butt — and their pants fall down." Rounderbum's booty-enhancing magic bullet gives your look something extra that no mere belt is capable of, and something else that comes from within: "Our mission is to enhance your body in the areas you desire most, helping you look and feel amazing before walking out the front door," Diersing said, adding, "We are not only changing the way people look, we are changing the way people live."
For the Nov. 24 event, they're also changing their prices: For in-store purchases of $100 or more, Diersing noted, "We will be giving each customer one free underwear from our all-new sister underwear company, Rounderwear." To check out those undies, visit rounderwear.com, where they are "#MUGA: Making Underwear Great Again!" Also in-store and online, Black Friday heralds the start of "the best sale we've ever had," Diersing vowed, and "the most percentage off we've ever offered — up to 50 percent off and more."
And those discounts arrive not a moment too soon, for those of us who might have given in to temptation at the Thanksgiving table — and the buffet tables to come, from now until the ball drops on New Year's Eve. Compression clothing is also part of the product line. "A popular one around this season," Diersing said, "is a boxer brief with a waist slimmer band built into it. Let's say you're wearing a sweater. Sometimes the love handles stick out. This will smooth it all out for you. And the muscle shirt is good, because it has padding on the shirt, and keeps you warm. Our compression tops acts as a layer. It keeps your body heat inside, and firms up your belly — or whatever you might have, that you want to tighten up a little bit."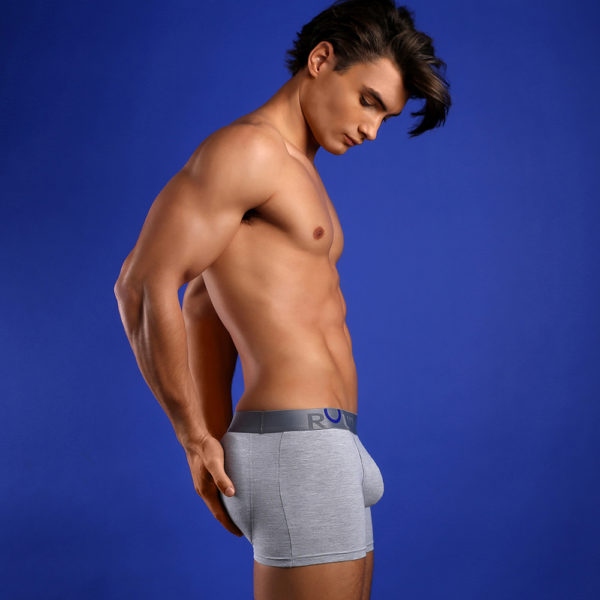 Judging from the photos sent to us, the tastes of LGBT consumers are always on the mind, at Rounderbum. Diersing name-checked "authenticity and acceptance" as qualities the company admires most about its queer customers — and that this desirable demographic appreciates "all forms of expression and creativity… There is so much love in the community, and that love transcends within the very core of our company and values."
But why West Hollywood? "With Beverly Hills being the cosmetic surgery capital of the world," Diersing observed, "it only seemed natural for us to be here and offer an affordable alternative to body enhancement. Being in such an influential, iconic city constantly serves as a reminder of where we came from, and how much further we have to go. This city inspires us to want to make a real difference for all people — one booty at a time."
Rounderbum is located at 802 N. San Vicente Blvd. Hours: Noon to 8:00 PM, daily. Call 424-278-1114 or visit rounderbum.com.
LA Pride Parade Grand Marshals named, LA Pride Village returns
When LA Pride Parade returned home to Hollywood Blvd last year after more than 4 decades, it prompted the start of new traditions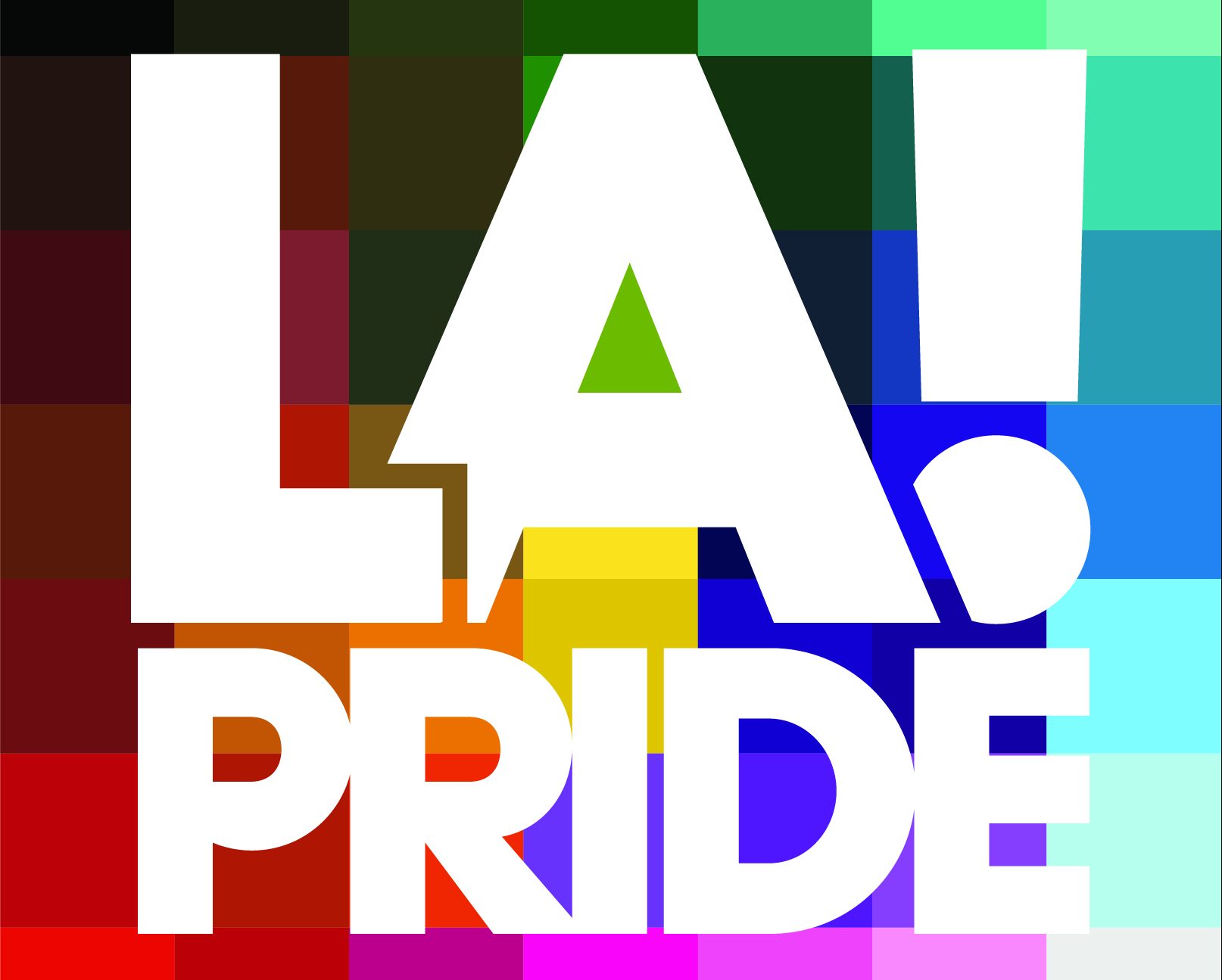 LOS ANGELES – Christopher Street West Association (CSW) announced its trio of grand marshals to be celebrated at the LA Pride Parade on Sunday, June 11 taking place at its original historic location in Hollywood.
This year's LA Pride Parade grand marshals include comedian, actor and activist Margaret Cho as the Icon Grand Marshal, an individual who needs no introduction and achieved major milestones within their career and industry; a posthumous tribute to Emmy-winner Leslie Jordan as the Legacy Grand Marshal, a new title this year in honor of Jordan for his everlasting impact on the community; and the ACLU of Southern California, that helped CSW obtain the permit for the first LA Pride parade, as the Community Grand Marshal, which celebrates a group or individual who has had a powerful influence through their work and dedication to and for the LGBTQ community.
"I'm thrilled and incredibly honored to be the Icon Grand Marshal," said Cho. "We need this Pride more than ever. I have been attending Pride celebrations since 1978 and this time around the need to celebrate as well as unite is more urgent than it has ever been. Our love is greater than their hate. 
"On behalf of Leslie Jordan, we are overjoyed by Christopher Street West's heartfelt recognition to name Leslie as LA Pride's Legacy Grand Marshal," said Jana "Cricket" Jordan. "This honor further solidifies the positive impact he made in the world, but more importantly for the LGBTQ+ community. His spirit continues to bring love and light."
"For a century, we've been on the front lines fighting for people to be their true, authentic selves," said Hector Villagra, executive director of the ACLU SoCal. "We're honored to be the Community Grand Marshal and proud to love, live among, and protect LGBTQ Californians." 
"Christopher Street West is honored and humbled by this year's three grand marshals," said Gerald Garth, president of CSW. "Each have contributed to the LGBTQ+ community in their own unique ways, furthering our fight for acceptance, equality, and justice." 
LA Pride Parade and Village Details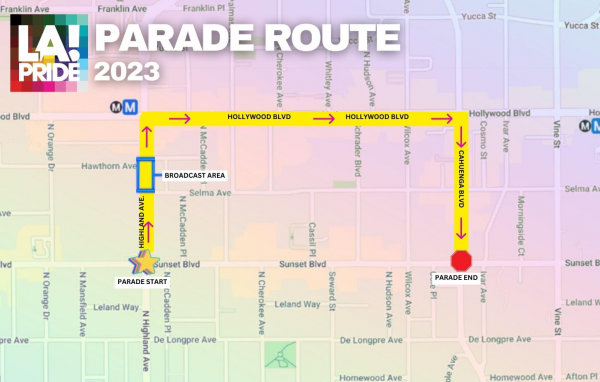 The parade, which will feature a special drag performance presented by the ACLU SoCal and staged by Morgan McMichaels to music by 14-time Oscar nominee Diane Warren, will air LIVE on long-time LA Pride broadcasting partner KABC/ABC7 on Sunday, June 11 beginning at 11:00 a.m. PDT.
It will also air nationally on ABC News Live and Hulu, and wherever viewers stream ABC7 including abc7.com and the ABC7LA mobile app.
Anchor Ellen Leyva and reporter Christiane Cordero from ABC7 Eyewitness News will co-host the ABC7 broadcast. The parade route will begin at Sunset Blvd and Highland Ave heading north, then east onto Hollywood Blvd, then south onto Cahuenga Blvd, ending at Sunset Blvd and Cahuenga Blvd. 
This year's LA Pride Parade partners include: Corona Extra, Corona Hard Seltzer and SVEDKA Vodka: Hero Sponsors: Toyota Mirai, TikTok and H&M; Activist Sponsors: Delta Air Lines – the Official Airline of LA Pride, The Los Angeles County Metropolitan Transportation Authority (Metro) – Official Transit Partner of LA Pride, Glamazon, Kim Crawford Wines, L.A. Care Health Plan, Los Angeles Tourism, Nordstrom, Optum, Sony Pictures Entertainment; Advocate Sponsors: AEG, including the LA Kings, LA Galaxy, and AEG Presents, Albertsons/Vons/Pavilions, Coca-Cola, Grindr, Honda, LADWP, LVMH, Rare Beauty, UCLA Health, Warner Bros. Discovery and Kenvue CARE WITH PRIDEⓇ; Ally Sponsors: Activision Blizzard, the Dream Hollywood hotel, FOX Pride, Moxy/AC Marriott, NBCUniversal, Target, Tiffany & Co., as well as returning television and digital broadcast partner ABC7, and official radio partner iHeartMedia Los Angeles and PRIDE RADIO on the iHeartRadio app.  
Additionally, The Hollywood Partnership, the non-profit organization that oversees the public realm in the Hollywood Business Improvement District (BID), has once again partnered with LA Pride to bring the LA Pride Village back to Hollywood Blvd.
LA Pride Village is the official place to be after the LA Pride Parade, with festivities taking place from 12:00 p.m. to 8:00 p.m., just steps from the official parade route.
When the iconic LA Pride Parade returned home to Hollywood Blvd last year after more than four decades, it prompted the start of new traditions and celebrations in Hollywood, including LA Pride Village, a free and open to the public street festival.
The second annual LA Pride Village celebration promises to be even bigger and better, with a new location on Hollywood Blvd, between Vine St. and Gower St., to make room for more booths featuring local vendors and non-profits, an expanded beer garden, delicious food trucks, two performance stages for twice the entertainment, and more comfortable crowd space for dancing. 
All details can be found here: https://lapridevillage.com/do/la-pride-2023. 
Sponsors of LA Pride Village include Princess Cruises and Royal-bud.com.
Public transit and ride share services to LA Pride Parade and Village are strongly encouraged. For the Parade, connect to the L.A. Metro B (Red) Line and exit Hollywood/Highland or Hollywood/Vine Station. Metro has many Park & Ride lots servicing the county – parking is just $3.00 per day, payable onsite.
If self-driving to LA Pride Parade and Village, vehicles can access parking and the event site via Vine Street or Gower Street.
For additional information about parking and transportation, please visit https://lapridevillage.com/about/parking-and-transit.