Rapturous and rollicking, Isle of Klezbos rolls into town
Joyful music just in time for Hanukkah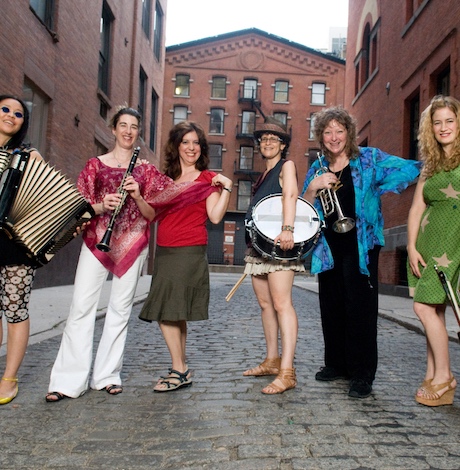 Infused with intersecting interests and individual tastes as compelling as the genre that's been their calling card for two decades, the all-women's sextet, Isle of Klezbos, is the kugel of klezmer — an appetizing casserole of traditional Ashkenazic Jewish influences, queer perspectives and exceptional musicianship.
Don't know kugel? Google it.
As for klezmer, drummer and bandleader Eve Sicular gave us some insight, sure to prove useful when the Isle sets foot on three local venues, Dec. 1-3.
"Classic klezmer," Sicular noted, is a fusion of influences, although, "It's a misnomer to say klezmer is 'Jewish Jazz.'" She noted it's "the celebratory music of Yiddish-speaking Eastern European Jews and their descendants. So that can go in a lot of different directions, in terms of which century one is talking about… There are melodies that are not identical, but are shared variations between, say, a particular set of Yiddish melodies and Greek melodies, Yiddish melodies and Turkish melodies, and certain dance forms named for regions of Eastern Europe and the Ottoman Empire."
This was, Sicular clarified, prior to the 20th-century wave of immigration. Once part of the American melting pot, she recalled, "There was this wonderful way that people could meld whatever was the height of popular fashion, such as swing music, tango, beautiful modal melodies and syncopated dance rhythms… Klezmer music also has ties to liturgical music, but it's a parallel. For instance, you would have things that would refer to the ornamentation, particularly the cantorial voice."
It was "a real exchange," she said, likening klezmer to Yiddish "language rhythms; ways people would communicate with irony, but also, a lot of thoughtful questioning… It's very much an interactive music," Sicular noted, referencing its presence at weddings. "There are processionals, there are big chair-lifting, rollicking, rambunctious pieces. There are meditative pieces, and pieces designed to evoke sadness and wistfulness… It's about emotion, but also creating motion. So it's really special to play music that elicits that."
Every person in Isle of Klezbos, she said, has "their own way they came to know klezmer." The daughter and granddaughter of classical pianists/physicians, Sicular "fell in love with the style when I heard it, but I did not grow up knowing it." The NYC native had a youthful affinity for show tunes, and, later, zydeco, Balkan, and New Orleans Second Line music. "All those things were in klezmer," she discovered, which (long story short) led her to form the Metropolitan Klezmer octet in 1994, then Isle of Klezbos, in 1998.
"I had, over the years, been in all-women's bands," Sicular recalled, "and I just thought it would be a really cool thing to do. Our trumpet player, Pam Fleming, was already in Metropolitan Klezmer… and through asking around, I met fantastic people… Debra Kreisberg [clarinet/sax] came in the year after we formed. She and Pam really bonded. They just have this sense, like a melding of the minds. Debra comes from a background with a lot of Latin jazz, and Pam has played many styles, particularly reggae. And they both have a drive to compose, a sense of groove…  Saskia [Lane], our bass player, is from Julliard, and Shoko [Nagai], she's this champion of the keyboard from Japan, then learned accordion when she got to Brooklyn. So it's not just talented, but innovative, people. If a piece occurs to them, they write it with the band in mind… like a repertory theatre company, you know what's going to be a role for them."
Swinging, soaring, vocals by Melissa Fogarty give Klezbos its linguistic verve. Accurately assessing the veteran opera singer, who's been with the band for 10 years, Sicular said Fogarty "has all the jazz chops and can [scat] improvise. She hits everything with clarity and precision, and yet has this wonderful dimension of being able to play with everything."
As for the origin story of the band's name, Sicular wanted "to have fun with it, definitely queering it in some way — but 'klezbian' was already very much in usage." Then, caught in "that state where you're either about to fall asleep, or just waking up, I went, 'klezbian, klezbos… Isle of Klezbos!' And we just went with it. This was 1998. We did have people say, 'Are you sure? Will people book you?' "
Plenty of people did. The sextet has entertained at parties, colleges, festivals and weddings, collaborated with the Grammy-nominated Scissor Sisters, served as a house band with Jill Sobule, and was personally requested by Kiki Smith to play at the dedication of her stained glass window, at NYC's Eldridge Street Synagogue. Still, 20 years later, Sicular noted, "the 'question' will come up."
Jewish? Queer? Both? Sicular plays that question, well, playfully.
"Rather than say who they are," she demurred, "I'll say over that 20 years, we've had just as many people who are from a Jewish background as a queer life. But sometimes, it shifts." (An early-era bass player, for example, joined before she knew her father's side of the family was Jewish; and more than one member's time in the group saw her with male and female partners.) For the rigid scorekeepers among us, Sicular revealed, "We have a small majority queer, and a small majority Jewish. They do overlap, like the Venn diagram."
Connect your own diagram dots Dec. 1-3, when Sicular and associates play three area venues. The first gig, at the Museum of Making Music (5790 Armada Dr.) in Carlsbad, is "probably the most formal of the three," and officially a Metropolitan Klezmer gig. On Dec. 2, at the Bowers Museum (2002 N Main St.) in Santa Ana, it's a five-member Klezbos show, part of the museum's multicultural Winter Solstice Festival. "We're representing Jewish culture and heritage," Sicular said, adding, "I'll give a little demo of what a menorah is."
Finally, on Dec. 3 in Los Angeles, the full Klezbos sextet performs two shows at Genghis Cohen (740 N Fairfax Ave.), which Sicular said is a kindred spirit. "The two wordplays [Cohen, Klezbos] jostle each other. It's on Fairfax Ave., which is a little analogous to Second Ave., in Manhattan — and Genghis Cohen is an actual Chinese restaurant. So the Jews can nosh!"
For tickets to these shows, and more information about Isle of Klezbos, visit klezbos.com.
Turning pain into positive & using art as therapy – Carl Hopgood
He knew he wanted to embark on a path toward a "bold, exciting life" among other "creative people" while "doing amazing things and living"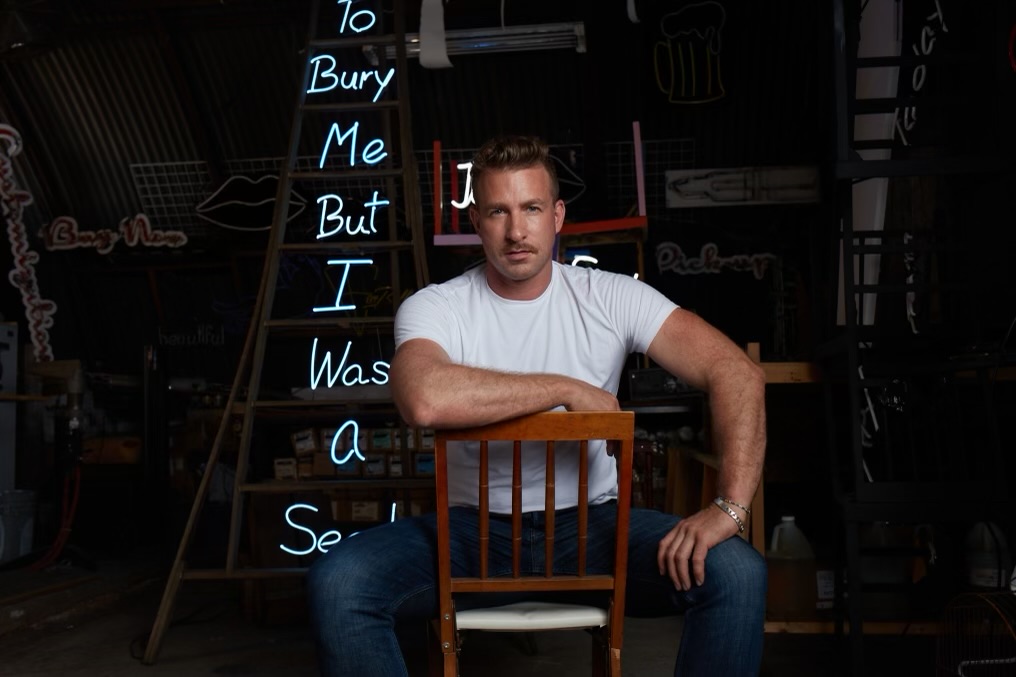 LOS ANGELES – Like many people born with an inclination toward creative expression, Carl Hopgood has known from a very young age that he wanted to be an artist.
Growing up on a small farm in rural Wales, the Cardiff-born Hopgood spent his childhood surrounded by animals and nature, letting his imagination run wild and creating worlds he envisioned with baskets, fruit boxes, flowers, stones, tabloid clippings, and other items that struck his fancy. Then, at 7, he was invited to spend an afternoon with his best friend, whose cousin was visiting; that cousin happened to be Richard Burton, and he happened to be accompanied by his even more famous wife, Elizabeth Taylor.
Hopgood was not just star-struck, he was inspired.
"My world was never the same after that day," he tells the Blade. "They told stories about Hollywood, London, glamorous parties, movies, photography… and Andy Warhol! Andy Warhol was my first artist crush. He was also born on a farm, so I felt an immediate connection."
After that experience, he knew he wanted to embark on a path toward a "bold, exciting life" among other "creative people" while "doing amazing things and living."

Four decades and one continental transplant later, it can safely be said that Hopgood has accomplished his goal.
A successfully established LA-based artist, he's created a unique body of work that includes pieces in Neon, Sculpture, Film / Video Installation, and canvas painting; his collectors include Morgan Freeman, Eugiono Lopez, The Vinik Family Foundation, The Groucho Club and Rupert Everett; and recent exhibitions of his work – like his neon art installations 'Looking For Love In All The Wrong Places', 'My Heart Is Open', and 'You Changed My Life' at the Maddox Gallery in West Hollywood, and 'Chair Therapy' at United Talent Agency's UTA Artspace LA – have garnered a flurry of enthusiasm and increasing national attention.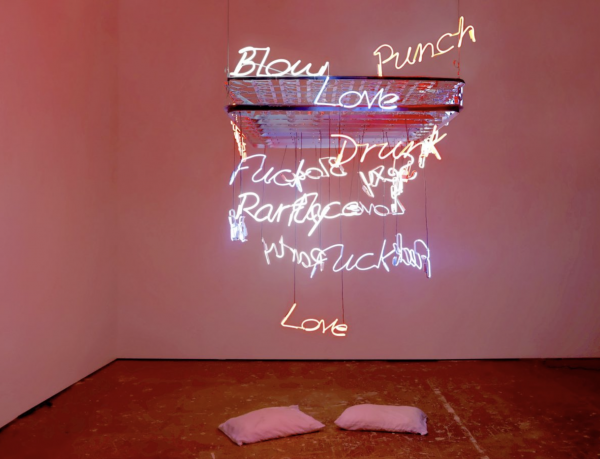 The latter installation created a particular stir with its inclusion of a controversial neon sculpture called "Just Say Gay", Hopgood's response to the draconian anti-LGBTQ legislation championed by Florida Governor Ron DeSantis; that work was acquired by prominent collector Beth Rudin DeWoody and will be on display from December 2023 at her Bunker Art Space in West Palm Beach, Florida.
When talking with the Blade, Hopgood is keen to focus the discussion on a new goal – the completion of a documentary about the creation of "Chair Therapy" – but he's certainly willing to start the conversation by talking about the sense of queer defiance behind "Just Say Gay" and many of his other works, because the two subjects go hand in hand.
"Being a gay man of Welsh and Greek heritage," he proudly proclaims, "the fight against bullying, repression, injustice and discrimination became central themes of my artistic expression."
As he explains, that fight is rooted in a traumatic childhood experience. "I was bullied by classmates," he remembers. "They would chase after me, push me to the ground and kick me in the groin. I managed to escape and found sanctuary under a stack of chairs in the school assembly hall. The school therapist helped me cope by using a technique called Empty Chair Therapy, where you would talk to an empty chair about your feelings.
"I decided turn this pain into something positive and use art as my therapy."

Much later, the young Hopgood would be inspired by the confrontational aesthetic of Damien Hirst – after reading a scathing criticism of one of his works in the paper – and follow in the controversial artist's footsteps to Goldsmiths College in London, eventually becoming part of a movement with fellow graduates like Steve McQueen, Jason Martin, Ceal Floyer, Angela De La Cruz and Alessandro Raho.
"It was an incredible moment to be a young artist in 1990s London."
Nevertheless, after 20 years in the London art scene, he decided it was time for a change.
"I had just watched a documentary featuring David Hockney," he explains. "The freedom and possibility of David's work was clearly inspired by Southern California with its beautiful palette and open, sunny skies. It was a stark contrast to the gloomy weather of the UK, and the anxiety and depression that accumulated over the years. I had heard about the growing LA art scene –LACMA, MOCA and The Broad were beginning to attract an international audience – and I decided that moving to Los Angeles would be good for both my mental health and creativity."
The choice was a fortuitous one for him – "It was the perfect time to go," he says, "and I was ready to work in new mediums and expand my repertoire." Then, like the rest of us, he had to put all his plans indefinitely up in the air.
"In early 2020, when the pandemic hit," he tells us, "I would see all the bars and restaurants shuttered in West Hollywood. It was like a ghost town. Looking through the store front windows, all I could see were chairs stacked on top of each other – and that image took me straight back to my unhappy childhood."
He decided to use it for inspiration and began work on the first sculpture in the "Chair Therapy" series ("My Heart is Open") – which as he describes, addresses "toxic masculinity, oppression and queer identity, themes I've always championed."
Those themes are doubtless also at least partly behind his desire to see the planned documentary – titled "Fragile World" – reach fruition. Filmed during the pandemic, it profiles Hopgood by charting his personal artistic journey, but centers on the development of "Chair Therapy", in which he combined found and vintage wooden chairs with neon lights shaped into positive words to provide hope, love and support for a community who were hardest hit by Covid and the shutdowns it necessitated.
"Seeing those stacked chairs and tables, in those empty establishments, I knew some would be forced to close for good. I felt so helpless, but I knew there was something I could do."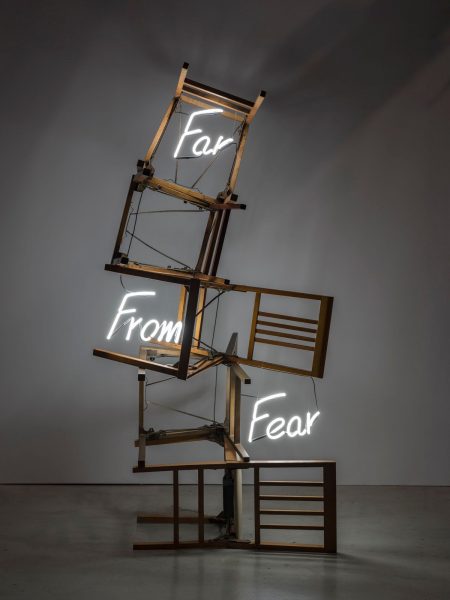 Now, with his own hard-hit community – alongside many others – facing aggressive legislative oppression from the extremist right, he's determined to see the film finished, so that the same empowering message of optimism embodied in his work can be spread to a larger audience as a reminder not to let the bullies break their spirit. To that end, the documentary's director and producer, LA-based British filmmaker Kate Rees Davies, has set up an Indiegogo campaign to raise the funding necessary to finish the project.
Another motivation, perhaps even more personal, might be found in Hopgood's revelation of a hidden influence in another work from the "Empty Chairs" series: "Twelve Steps", which explores the massive financial success of a California citrus industry made possible by the hard work of a segregated Mexican immigrant labor force. "I was also inspired in that piece by a line from Greek poet Dinos Christianopoulos," he says, "who was sidelined by the Greek literary community in the 1970s because he was gay. It's a small but powerful couplet which was included in the collection 'The Body and the Wormwood' that reads, 'What didn't you do to bury me, but you forgot that I was a seed.'"
For Hopgood, perhaps, the documentary also represents a seed, one that he himself has planted in hope of spreading its positive power into the world – and he's counting on the support of his patrons through Indiegogo for the water, light and nourishment it requires to grow.